This blueberry lemon Swiss roll is an easy dessert for any day of the week! Each bite has the perfect amount of fluffy cake, blueberries, and lemon in each bite. A lemon roll is great for spring, summer, potluck desserts, and more.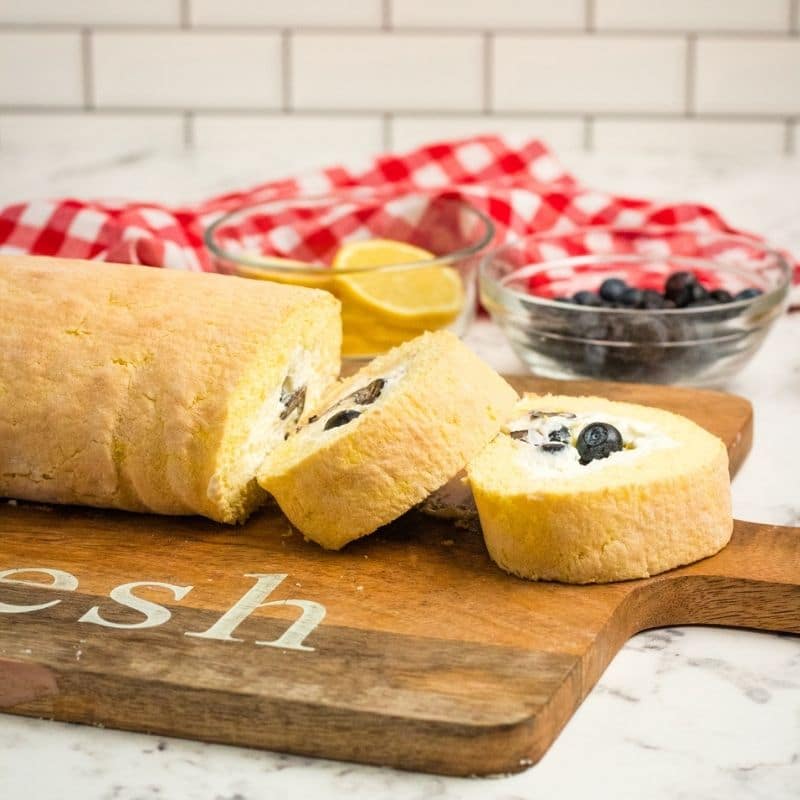 This lemon and blueberry cake is one you can easily whip up using very few ingredients. A jelly roll dessert is easy to do, and I will teach you how to roll a jelly roll cake.
This swiss roll is definitely up there on top of my favorite dessert list with no bake blueberry cream cheese pie and lemon blueberry muffins.
This Lemon Blueberry Swiss Roll recipe is…
Made with fresh blueberries
Perfect lemon flavor
Light and moist cake
Filled with whipped cream
Perfect dessert for any occasion
An easy sponge cake roll recipe
Ingredients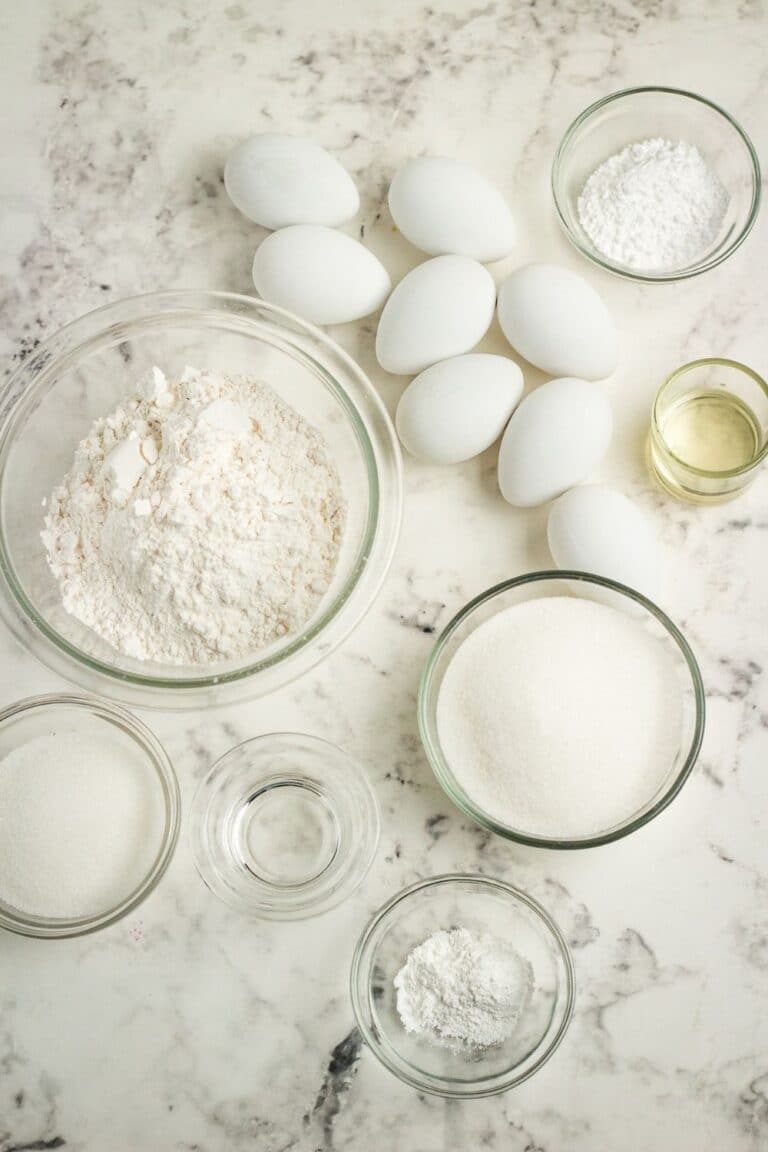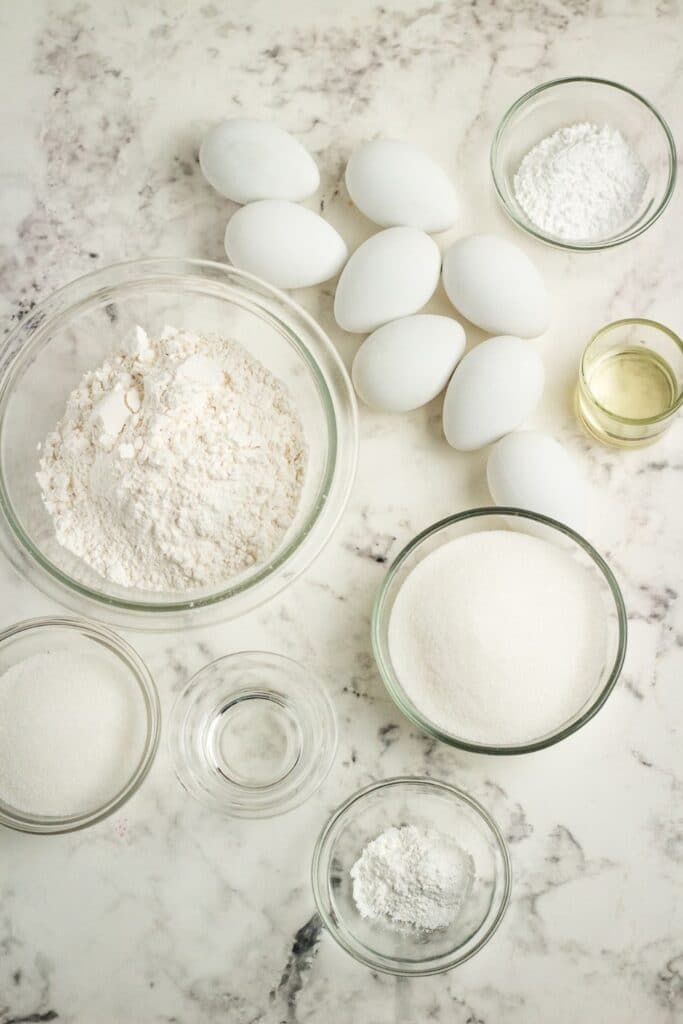 Large Eggs
Granulated Sugar
Lemon Extract
Vegetable Oil
All-Purpose Flour
Baking Powder
Powder Sugar
Cream Cheese
Whipping Cream
Blueberries
Lemon Zest
Try my peppermint chocolate Swiss roll cake as well. This is just as delicious just a different mix of flavors!
How to Make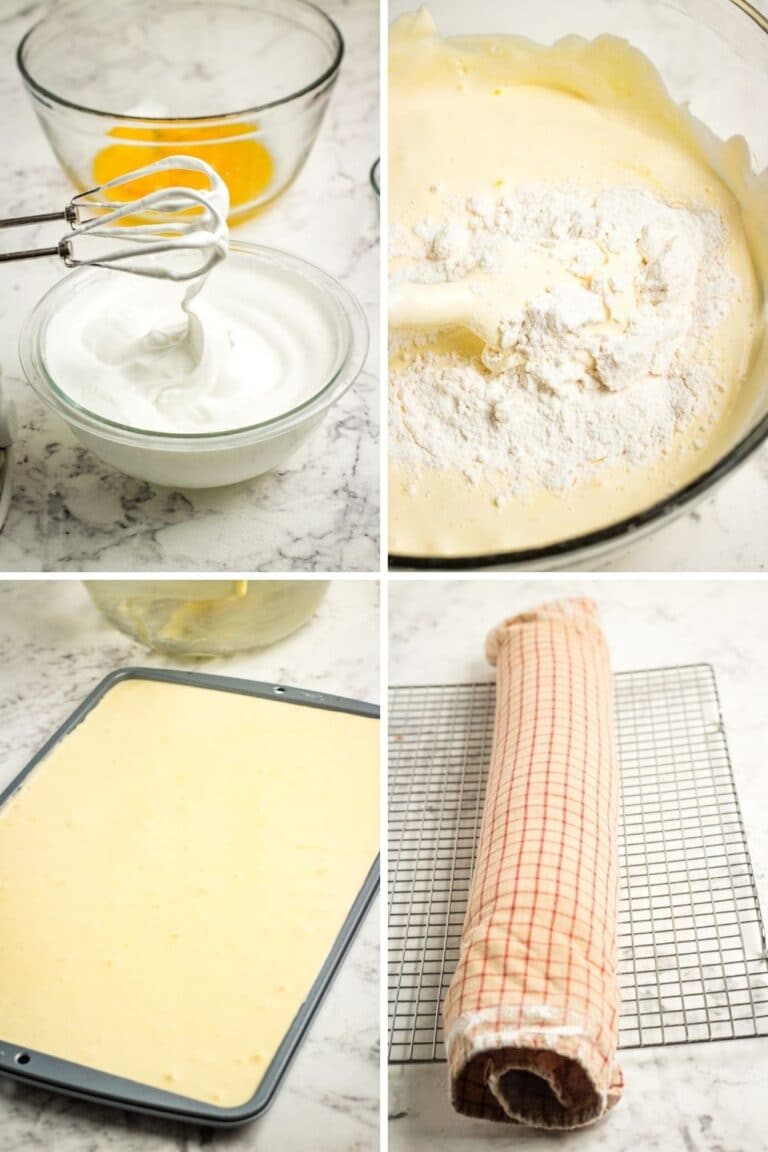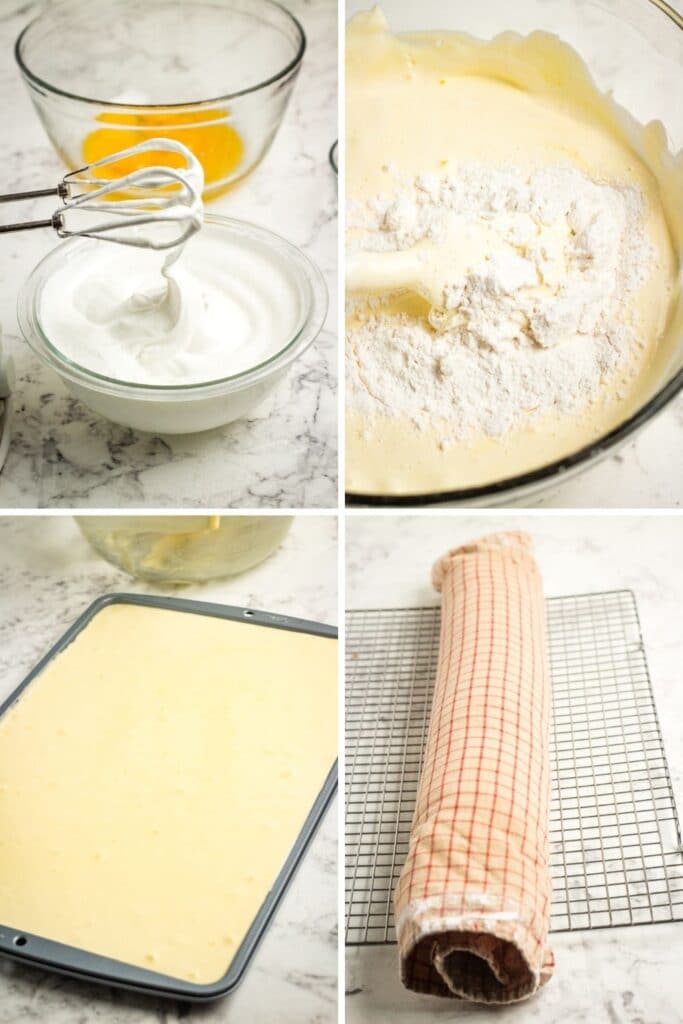 Step 1: Start by preheating the oven. Coat bottom of 15x10x1 inch baking pan with non-stick cooking spray. You will prep your pan with parchment paper, and then dust lightly with flour.
Step 4: Then, in a medium-sized bowl beat egg yolks until foamy. Slowly add in granulated sugar and beat until combined.
Step 5: Next whisk in lemon extract, and oil. Mix until it is fully combined.
Step 6: Now you will fold the egg whites into the egg yolks. Then you will gently mix in the dry ingredients into the wet.
Step 7: Pour the batter into the greased and floured pan. Bake for 10 minutes on the center rack.
Step 8: When the lemon roll cake is fully cooked, remove and turn the pan upside down on a dishtowel that is sprinkled with powdered sugar.
Make sure to leave the parchment paper on, and then carefully roll up the cake with the towel. Let it sit and cool, with the seam side down.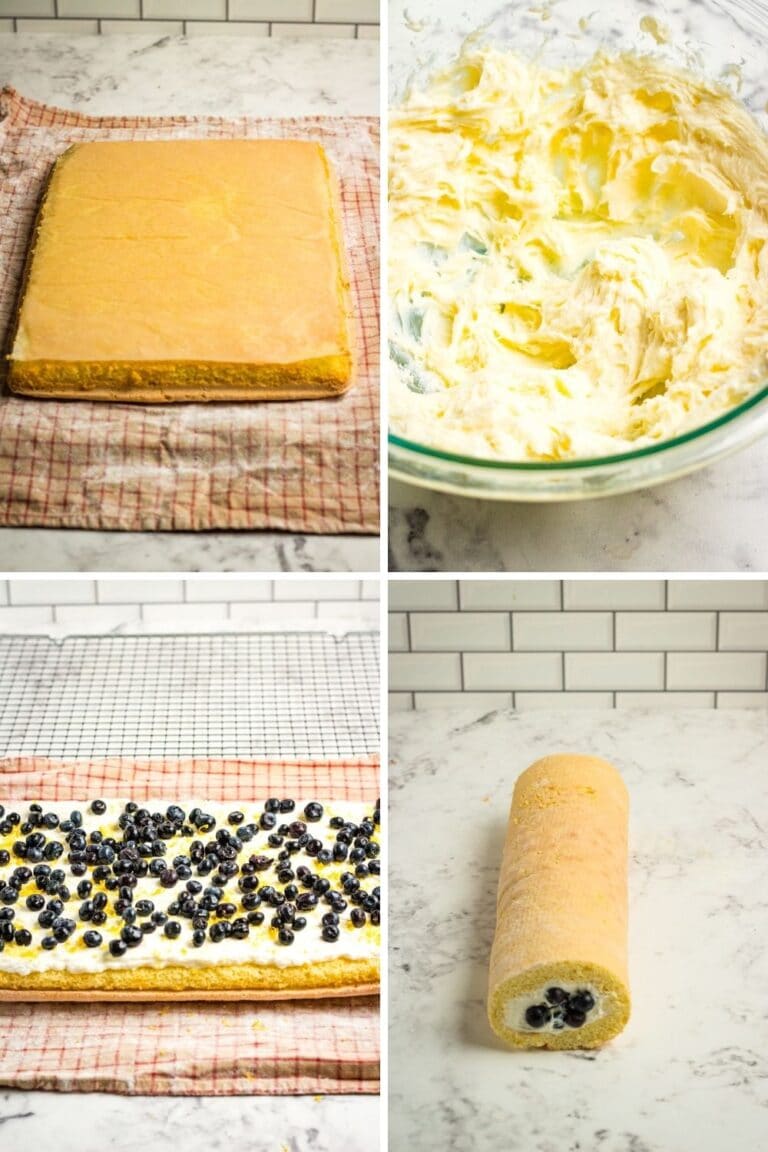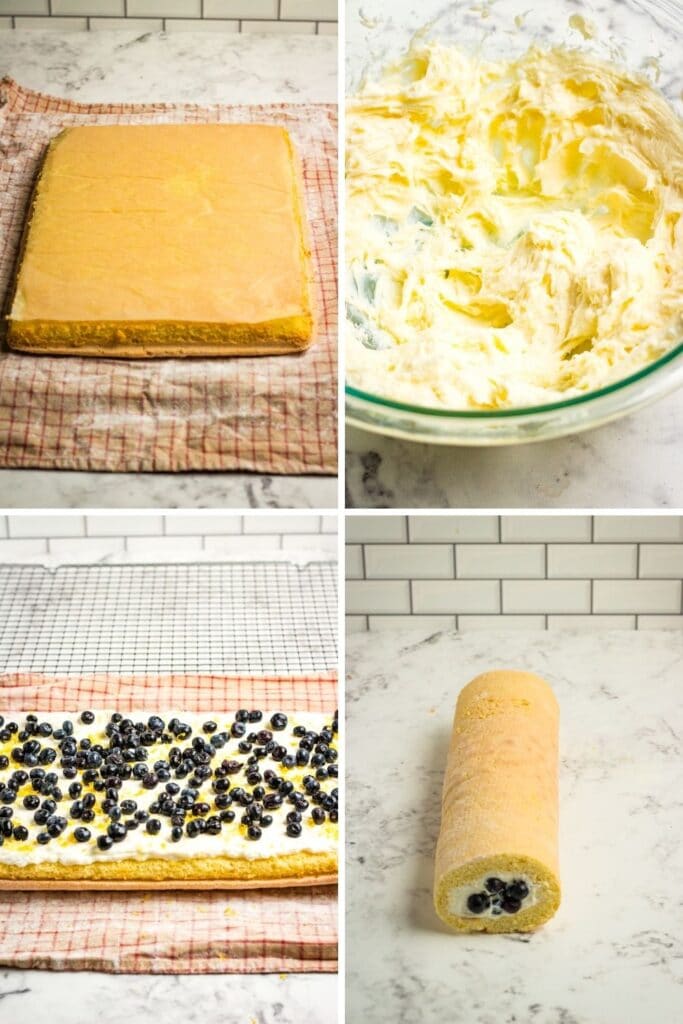 Step 9: Unroll the cooled cake, remove the parchment paper, frost, sprinkle with lemon zest and fresh blueberries.
Step 10: Roll the cake back up, and make sure the seam is facing down and chill for an hour before slicing and serving.
Expert Tips
To keep your cake roll from cracking be sure to roll it in a linen towel right after it comes out of the oven.
To allow your sponge cake to rise properly be sure to beat the eggs and sugar for only the time amount needed to combine the ingredients together.
You do not have to use a stand mixer with the paddle attachment. You can use a whisk and bowl as well.
Replace lemon extract with 2 teaspoons lemon juice that is freshly squeezed.
You can use frozen blueberries in replace of fresh, but it will bleed a little blue into your cake.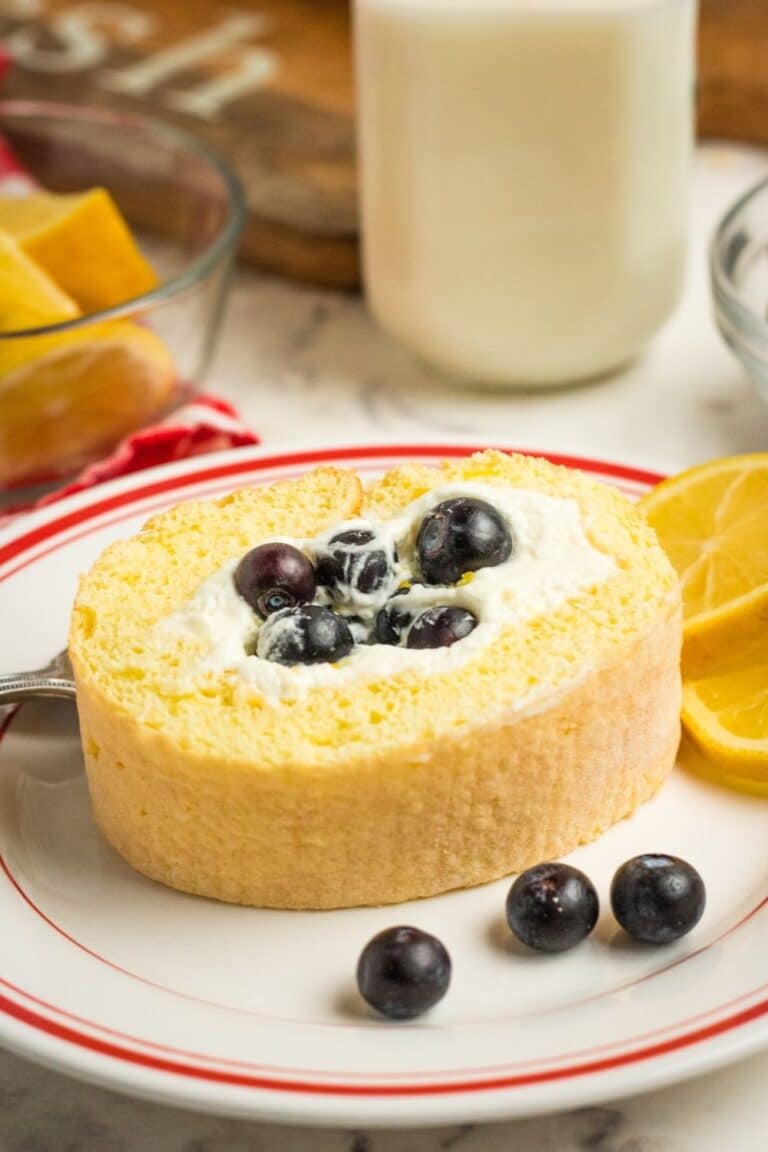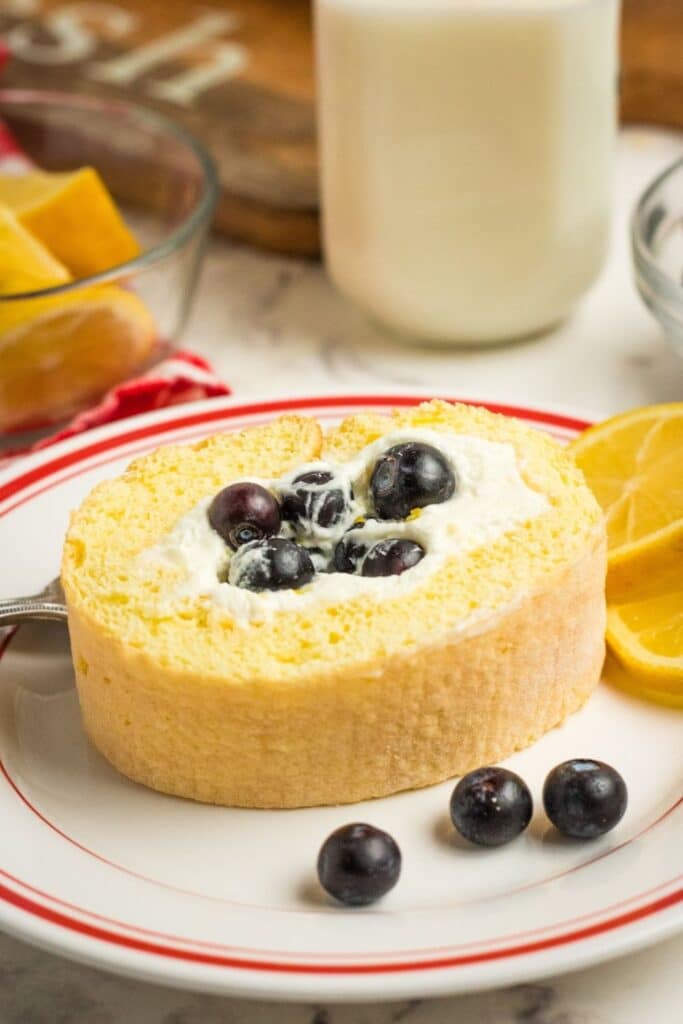 Variations
You can switch out blueberries for whatever fruit is in season. We have made raspberries, strawberries, and even blackberry lemon swiss roll.
Do just a simple whipped cream filling instead of with the cream cheese.
Dust the finished lemon cake with powdered confectioners sugar (icing sugar) for a fun look.
Recipe FAQs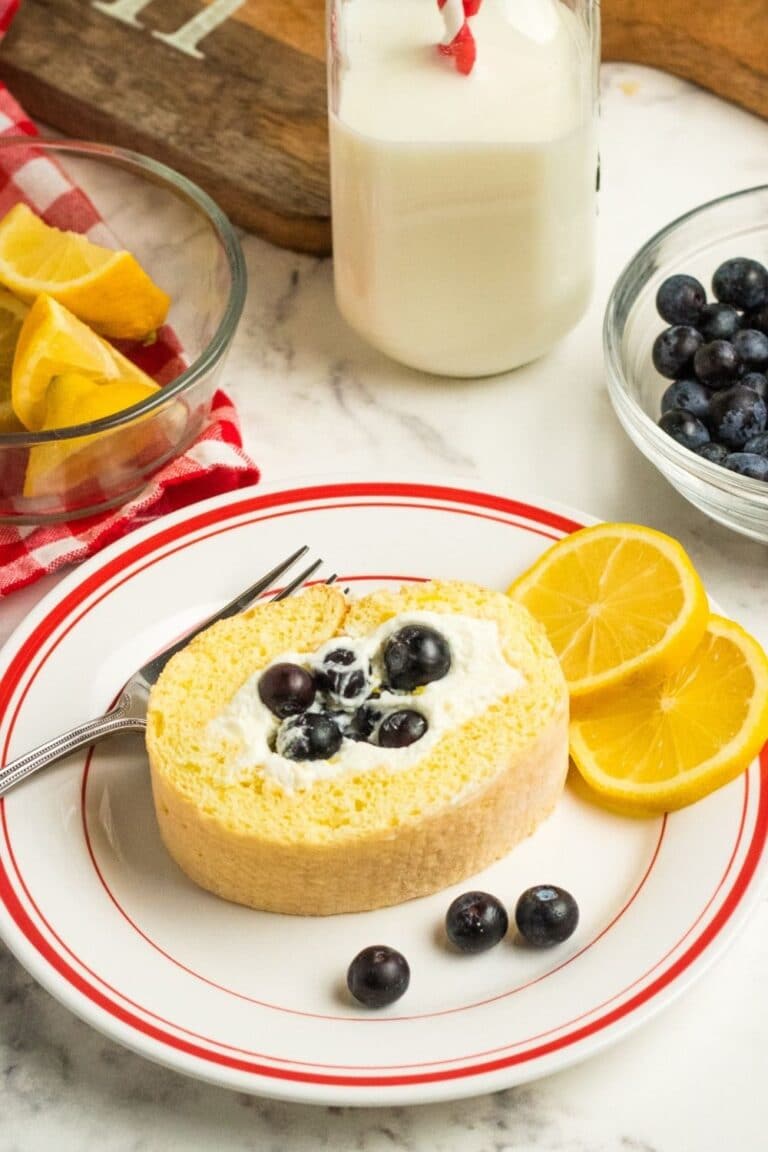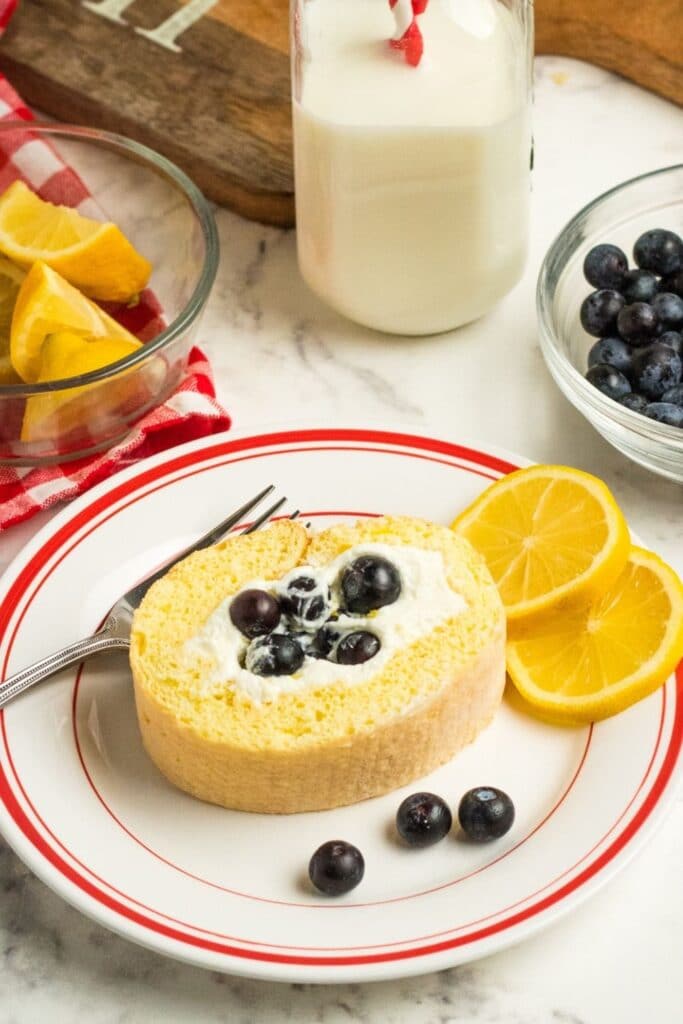 Want More Lemon Recipes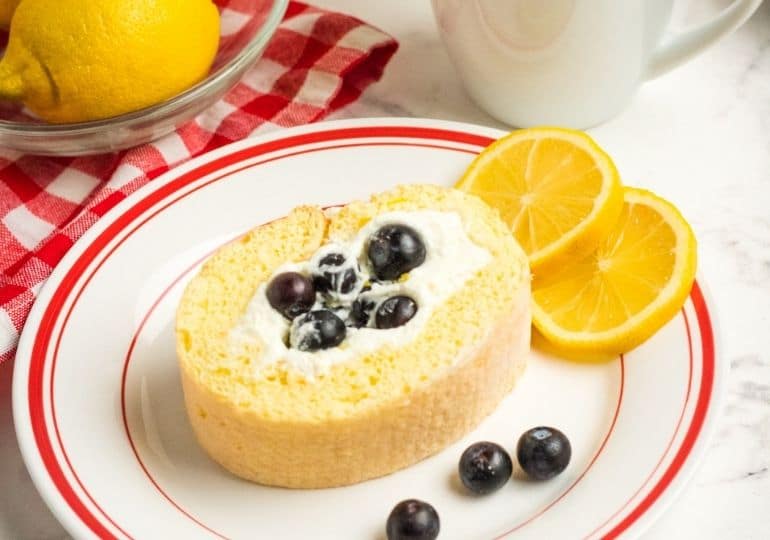 Blueberry Lemon Swiss Roll Recipe
Servings 1 swiss roll cake
Whip up this lemon Swiss roll cake. This is a blueberry lemon cake that is rolled up into a tasty swirled cake. Give this lemon loaf cake a try and me know what you think.
Ingredients
Lemon Swiss Roll Cake Ingredients
8 large eggs separate the whites from the yolks
1½ cups granulated sugar
1 teaspoon lemon extract
2 tablespoons vegetable oil
1½ cups all-purpose flour can use cake flour
2 teaspoons baking powder
¼ cup powdered sugar
4 ounces cream cheese softened
½ cup granulated sugar
1½ cup whipping cream
2 cups blueberries
4 tablespoons lemon zest
Instructions
Preheat the oven to 350 degrees. Then you will spray your

15x10x1 inch baking pan

with cooking spray, and line with parchment paper. Dust lightly with flour.

In a mixer add your egg whites and beat while slowly adding 1 cup sugar. You want it to form peaks, once it has set aside.

Then in a seperate bowl beat the egg yolks, and mix until foamy. Add in the rest of the sugar, mix until combined.

Now whisk in the lemon extract and the oil.

Fold your egg whites into the egg yolk mixture.

Then in a new bowl add your flour, salt, and baking powder.

Now you will fold in the dry to the wet ingredients until it is mixed. Don't overmix or it will flatten the egg whites.

Pour into the pan, and bake for around 8-12 minutes or until the cake is cooked. Now, do not overbake as it will turn dry and not roll.

Once the cake is done, remove from the oven, and flip onto a tea towel that is dusted powdered sugar.

Once the cake has cooled a couple of minutes, begin to roll the lemon cake up, in the tea towel. Place the seam side down, and let it sit and cool.

When the cake is fully cooled, work on the filling. Mix softened cream cheese with sugar, until light and fluffy. Set aside.

In a new bowl whip the heavy cream till it forms heavy peaks to form whipped cream. Fold it into the cream cheese mixture.

Carefully unroll the lemon cake, remove parchment paper. Spread the filling liberally all over the cake. Sprinkle with lemon zest and fresh blueberries.

Carefully Roll the cake back up, seam side down and then cover and chill for an hour before slicing and serving.
Notes
You can use frozen blueberries if you don't have fresh ones. It will just bleed a bit of blue color into the frosting. Instead of lemon extract, you can replace it with 2 tablespoons of fresh lemon juice. This lemon loaf cake can be refrigerated for up to 3-5 days. Freeze any cake you don't plan to eat, for up to three months. Leave the berries out if you don't want blueberries. Or replace them with another type of fruit. Raspberries, blackberries, etc.
Nutrition
Serving: 1gCalories: 424kcalCarbohydrates: 56gProtein: 8gFat: 20gSaturated Fat: 10gPolyunsaturated Fat: 8gCholesterol: 167mgSodium: 180mgFiber: 1gSugar: 40g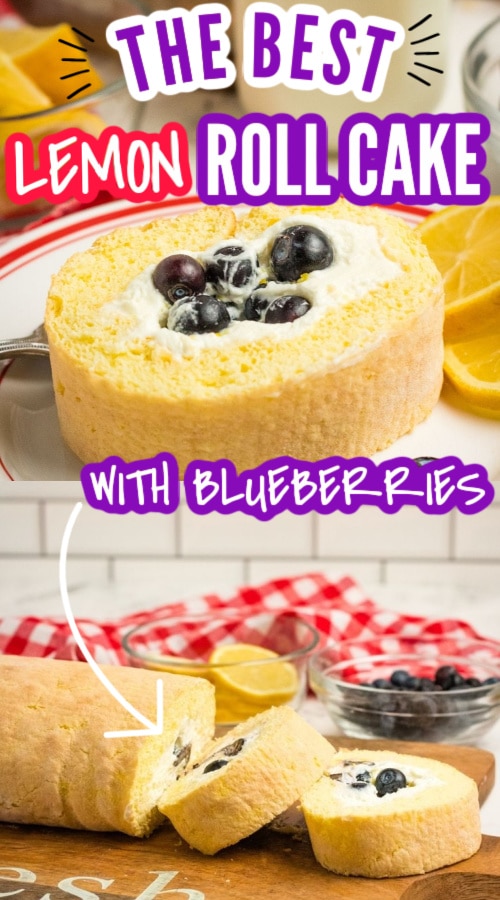 Reader Interactions