Instant Pot Deviled Eggs are my favorite! These everything bagel deviled eggs are loaded with savory flavors in every creamy bite. Try my deviled eggs in an instant pot for a change.
Deviled Eggs in an instant pot truly give you that hands-off approach for the perfect hard-boiled eggs each time. I use the Instant Pot 5-5-5 method for making Instant Pot Hard Boiled Eggs.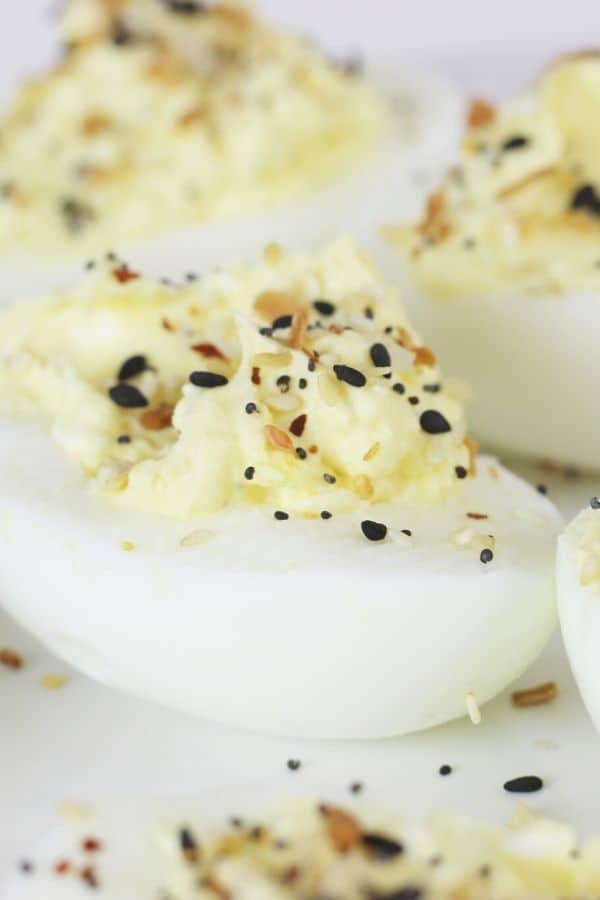 Try my Cream Cheese Deviled eggs , or my WW deviled eggs (low cal) as well. These are ultra velvety! Another delicious appetizer is this buffalo chicken meatballs.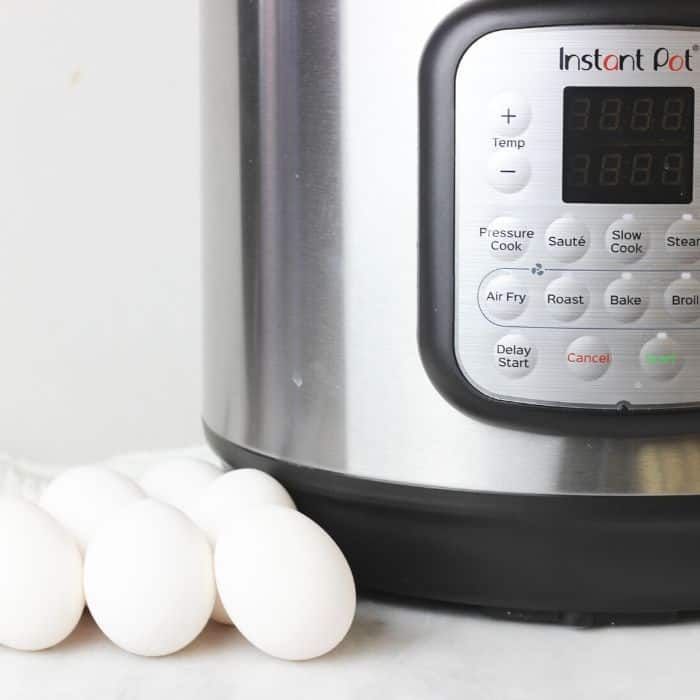 Why you will love this Instant Pot Deviled Egg Recipe…
Make as many or as few eggs as you would like.
Hands off cooking
Everything but the bagel seasoning adds incredible flavor
Affordable appetizer
Easy snack
Easy pressure cooker recipe
I used large eggs and did 6 eggs in my Instant Pot. But feel free to do more like 12 if you want a larger quantity.
5-5-5 Instant Pot method is the only way I cook my eggs in the Instant Pot. It works like a charm and gives me easy to peel hard-boiled eggs.
Ingredients
Eggs
Water
Mayonnaise
Cream Cheese
White Distilled Vinegar
Salt & Pepper
How To Make
Step 1: Start by pouring 1 cup water into the pot of your Instant Pot. Then sit the trivet on top.
Step 2: Next, you will add your eggs (cold from the fridge) and set them on the trivet. If you don't own a trivet you can crumple up aluminum foil to make balls for the eggs to rest on. You just don't want them submerged in water.
Step 3: Then cook 5 minutes, natural release 5 minutes.
Step 4: Next, drop eggs in an ice bath for 5 minutes. Then peel and cut the eggs in half.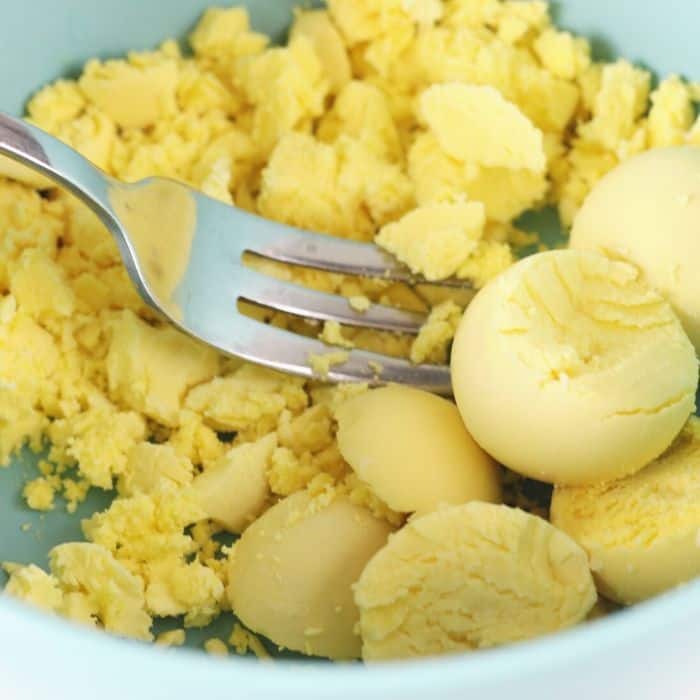 Step 5: Then you will put the cooked yolks in a bowl and the whites set aside.
Step 6: Mas up the egg yolks till creamy. Then mix in the softened cream cheese, mayonnaise and other ingredients.
Lastly, spoon or pipe into the egg whites, sprinkle with seasoning.
Storage
Go right ahead and store these eggs covered and in the fridge for 2-3 days. Now, if you have a deviled egg container this makes it incredibly easy for storage.
The container is so worth buying if you like serving up deviled eggs at the holidays and such.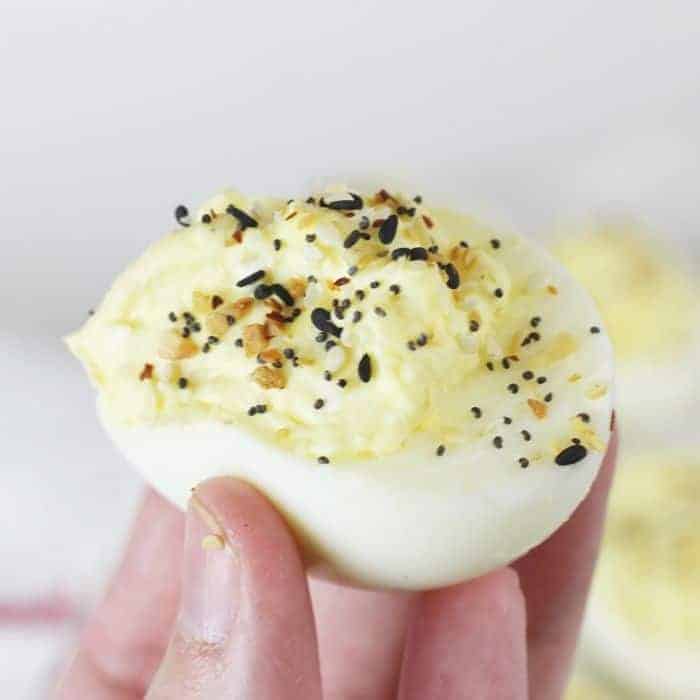 Variations To Recipe
Leave off everything bagel seasoning if you want to change the flavors.
Swap Greek plain yogurt with the cream cheese.
You can make the eggs on the stovetop if you don't own a pressure cooker.
Recipe FAQs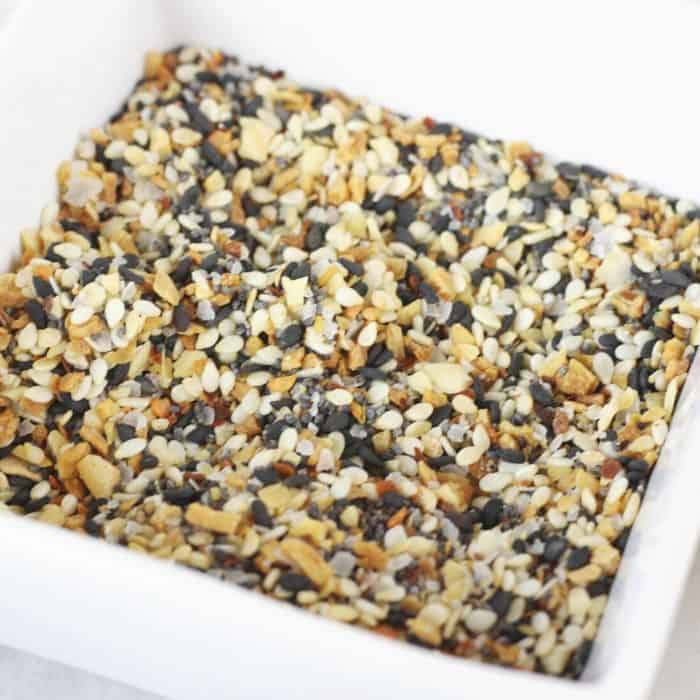 I bought my Everything Seasoning, but you are more than welcome to make your own. I bought the Trader Joe's brand, but any will work that you like.
This is the perfect Instant Pot Appetizer to serve up for Easter, summer cookouts, holiday events, and more. I even make it as a side dish at times or a mid-day snack.
Looking for more appetizer recipes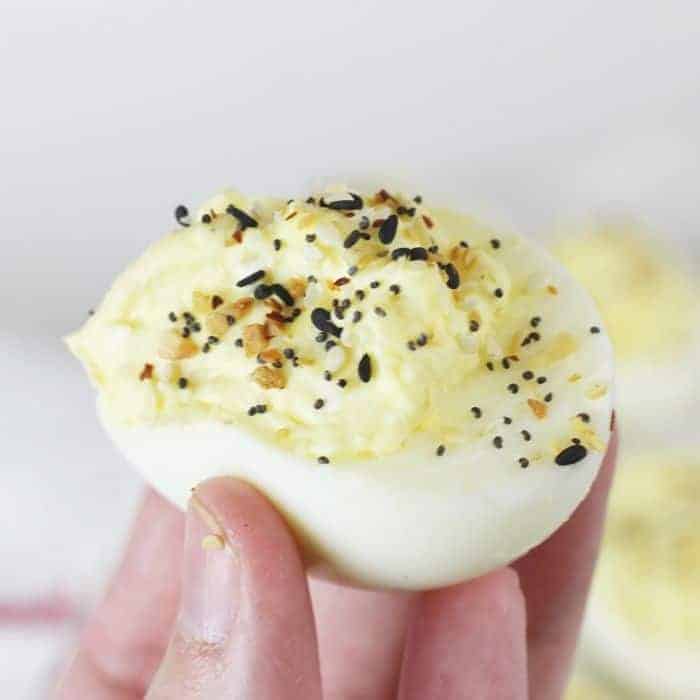 Instant Pot Deviled Eggs – Everything Seasoning Deviled Eggs
Servings 12 Deviled Eggs
Instant Pot Deviled Eggs are my favorite! These everything bagel deviled eggs are loaded with savory flavors in every creamy bite. This Instant Pot hard-boiled egg recipe is a breeze.
Ingredients
6-12 eggs
1 cup water
2 oz cream cheese softened
3 tablespoons mayonnaise
1/4 teaspoon salt & pepper
2 tablespoons Everything Bagel Seasoning
1 teaspoon white distilled vinegar
Instructions
In your Instant Pot add in one cup of water. Place trivet in and place eggs on the trivet.

Cook on high pressure for 5 minutes (with the lid sealed). Natural release for 5 minutes.

Release the rest of the pressure, and then put the eggs in a bowl with ice and water. Let the eggs set for 5 minutes in an ice bath.

Peel eggs. Then slice in half, and scoop the yolks into a bowl. Set the whites on a plate.

With a fork you want to smash the egg yolks until they are nice and crumbly.

Then add in your cream cheese, mayo, vinegar, salt and pepper. Mix until creamy.

Spoon mixture into egg whites.

Top with Everything Bagel Seasoning. Then serve up these Instant Pot deviled eggs!
Notes
You can make more than 6 eggs. I wanted to do a small batch of deviled eggs. If you do not want to use the pressure cooker go ahead and cook your eggs on the stove. How to make eggs on the stove: Place eggs in a pan, cover with water, bring the water to a boil. Once it is a hard boil, turn off the heat and place the lid on the pan. Let it sit for 13 minutes. Then remove and place in an ice-water bath. You can change up the seasoning to sprinkle on top if you would like.
Nutrition
Serving: 2eggsCalories: 236kcalCarbohydrates: 4gProtein: 14gFat: 18gSaturated Fat: 6gPolyunsaturated Fat: 11gCholesterol: 384mgSodium: 349mgSugar: 1g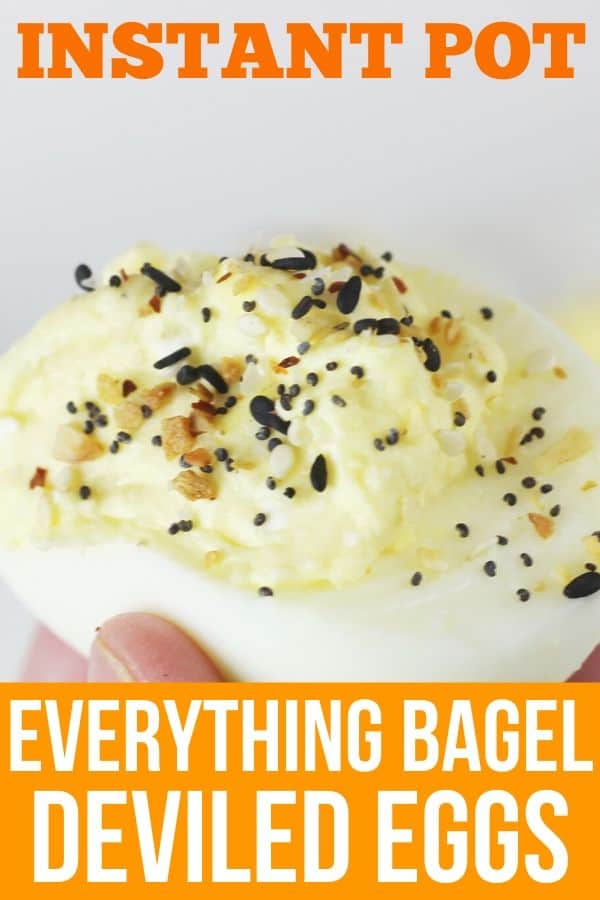 Overall, I hope you love this recipe. In my opinion it is one of our favorites. Let me know if you have ever made Instant Pot Deviled Eggs?
Reader Interactions