Lemon Cream Puffs are light, delicious, and oh so impressive! Fluffy puffs filled with lemon curd and fresh blueberries that oozes out with each tasty bite. Great for parties, barbecues, and events. Learn how to make cream puffs from scratch.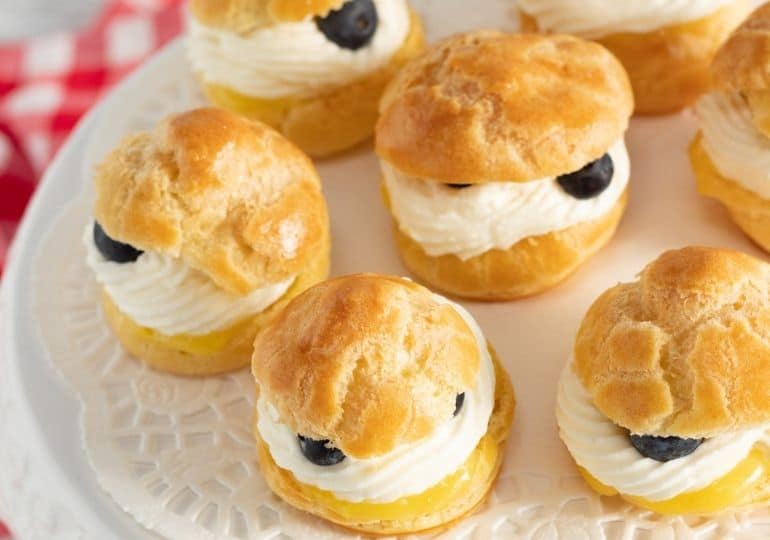 You haven't lived until you have eaten one of these cream puffs…okay, maybe that is an exaggeration, BUT they are amazing. I'm pretty sure you are going to love them. The cream puff filling is what makes this stand out the most.
Can't get enough lemon and blueberries together? No problem, try out my lemon blueberry muffins! They are our go-to breakfast many times throughout the year.
I am an Amazon Affiliate, so if you purchase through my link I can earn a commission on sales.
🍋 Why This Recipe Works
Taste excellent
Easy to make
Everyone devours them
Perfect amount of lemon and blueberry flavors
Great homemade dessert for all occasions
Light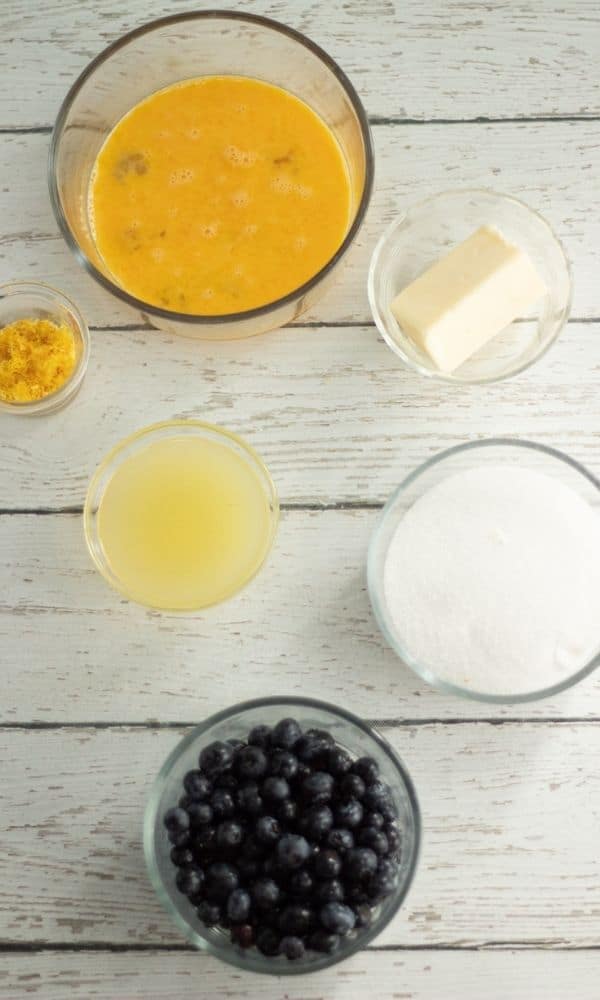 🥚 Ingredients
For the Cream Puffs
Butter
Sugar
All-purpose flour
Eggs
Lemon Filling
Eggs
Sugar
Lemon Zest
Lemon Juice
Butter
Fresh Blueberries
Whipped Cream Filling
Cream Cheese
Powdered Sugar
Vanilla
Heavy Cream
Grab my Free Kitchen Conversions Printable! This shows you how many cups are in a quart, pint, etc. A great printable to keep handy for when you need to convert a recipe.
🥣 How to Make Lemon Cream Puffs
Prepare the Cream Puffs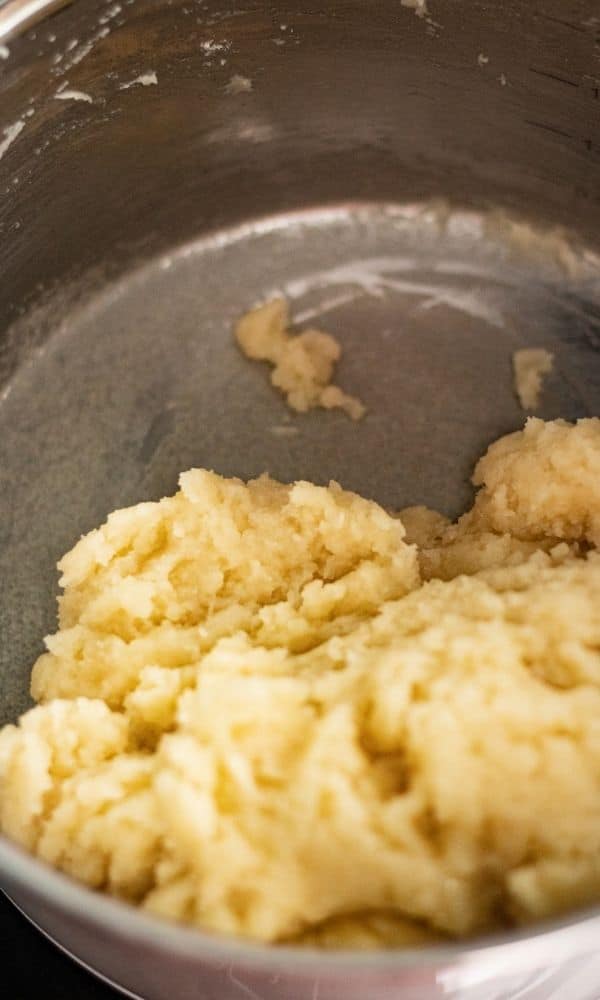 1. Prepare a baking sheet with a silicone mat or parchment paper. Turn on the oven to 400 degrees.
2. In a saucepan, mix the butter, sugar, and water together. After it begins to boil, add in the flour. Be sure to stir constantly. Heat until the mixture starts to dry up on the bottom of the pan.
3. Pour the butter mixture into a bowl and mix in the eggs. After you add each egg, be sure to mix well. The dough should be stiff at this point.
4. Place the puff mixture into a piping bag that has a plain tip. You'll need to pipe out circles that are around 2 inches big. Combine an egg and tsp of water to form an egg wash. Add to the tops of each pastry.
5. Bake the cream puffs for 15 minutes, then turn the temperature down and bake for 20 minutes.
When they are browned, turn off the oven and leave the door open a little bit. Let them sit until they cool down slightly but are still warm.
6. Cut each of the cream puffs in half and take out the excess dough in the center.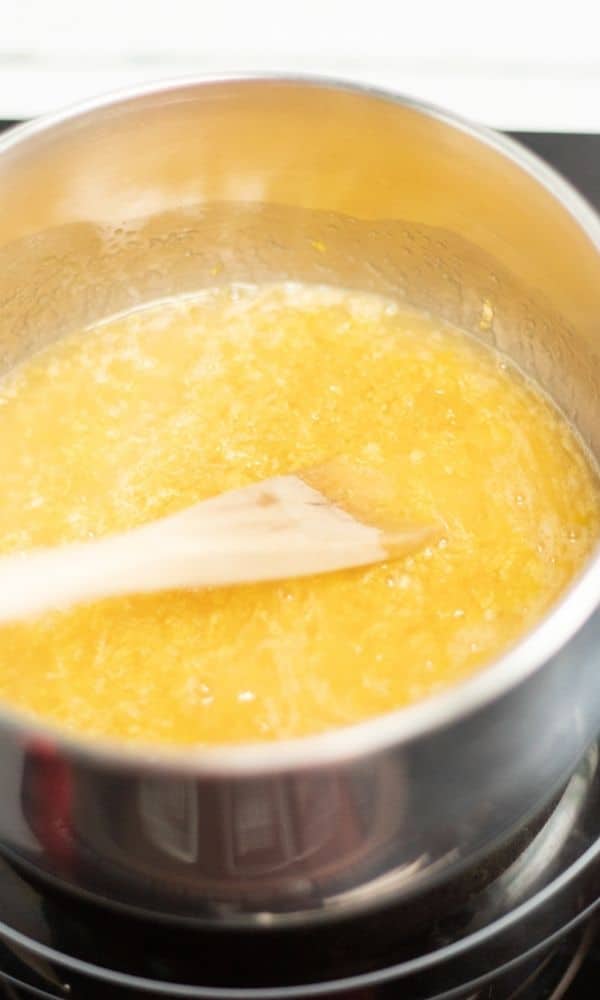 How to Make Lemon Curd Filling
1. Heat the eggs, sugar, lemon juice, and lemon zest in a medium-sized saucepan over medium-low heat. Mix until smooth.
2. Lower the heat and keep stirring until the mixture coats the back of a wooden spoon.
3. Mix in the butter.
4. Take the cream off the heat and let it cool.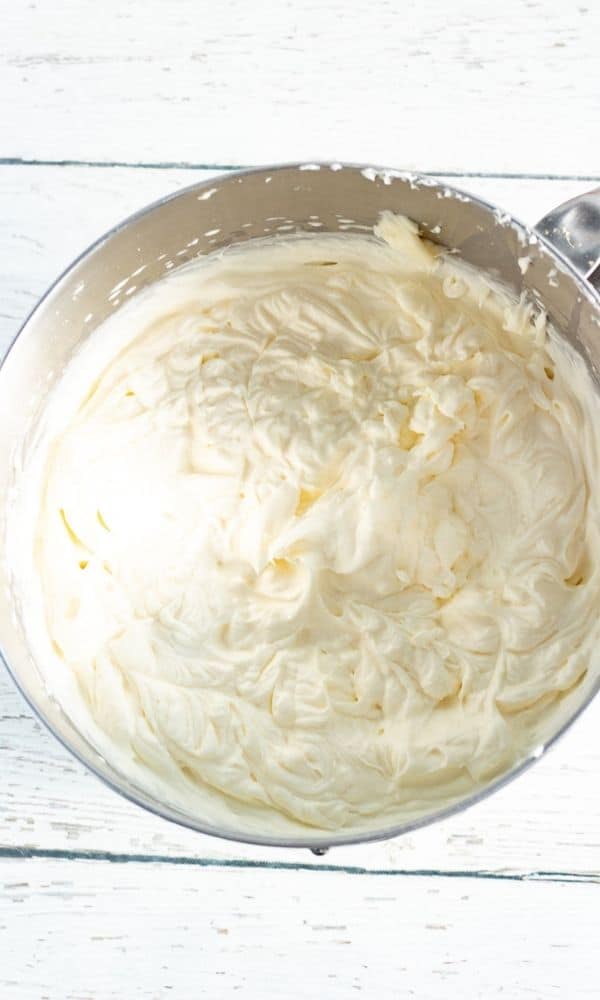 Whipped Cream Filling
1. Combine the powdered sugar, cream cheese, and vanilla together until it's creamy and smooth.
2. Add in the heavy cream while mixing at a medium speed. Combine until stiff peaks have developed.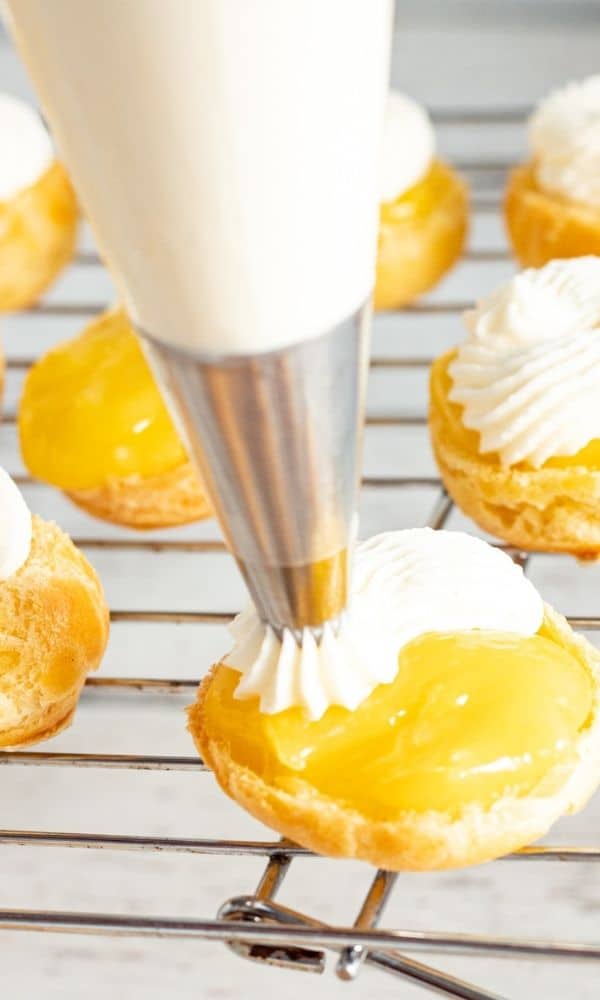 3. Add the lemon filling to a piping bag. Pipe the mixture onto the bottom of the puffs.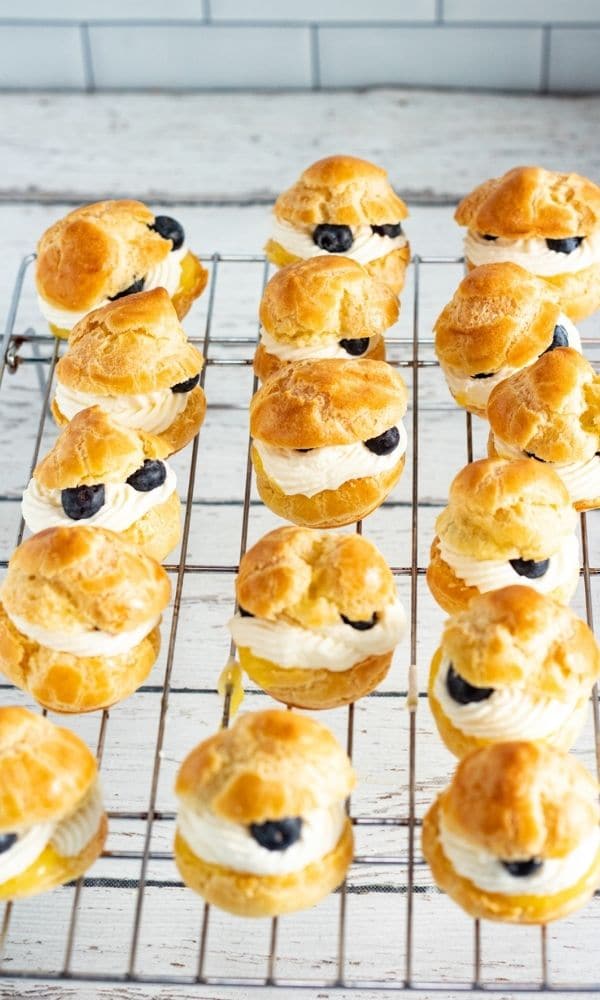 Then add the whipped cream filling in another piping bag. Add on top of the lemon. Add a few blueberries on top and serve.
👩‍🍳 Expert Tips
Leaving your oven door slightly open allows the puffs to stay puffy instead of falling flat. This is a vital step!
To ensure they all turn out looking gorgeous, be sure to pipe the pastries, so they are the same size.
You'll need to cut the centers out of the cream puffs when they are still warm.
Once cream puffs are all the way cool, you can add the filling. Don't add too early, or it's going to melt.
Change up the filling in this cream-filled dessert. Different fruit, just whipped cream, etc.
❓ Recipe FAQs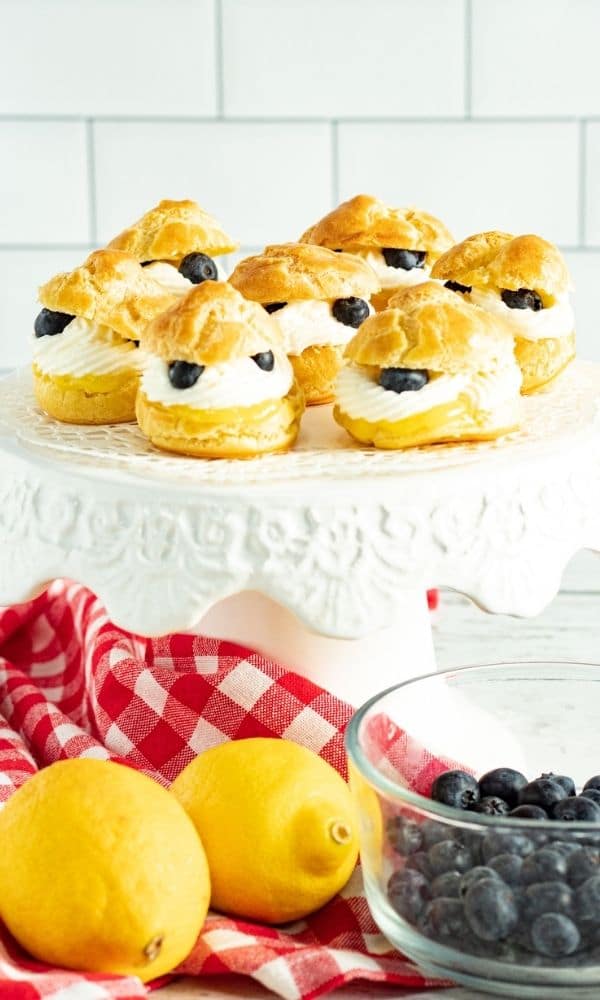 More Delicious Lemon Flavored Desserts
Tried this recipe? Make sure to rate ⭐️⭐️⭐️⭐️⭐️ and leave a comment to let me know how you like it! Plus get more Instant Pot Recipes or Home Cooked Recipes Facebook Page on my Facebook. Stay up to date and Follow Me On Pinterest!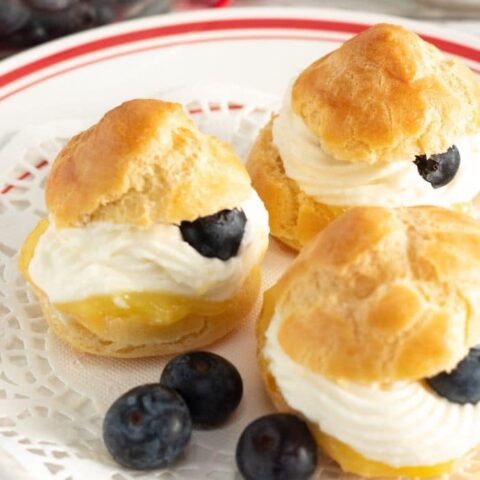 Lemon Cream Puffs
Total Time:
1 hour
5 minutes
Lemon Cream Puffs are a lemon curd cream puff that is a homemade cream puff dessert. Whip these up for any and every occassion. Delicate, light, and the perfect amount of sweetness in this bakery inspired cream puff recipe.
Ingredients
Equipment
Ingredients for Cream Puffs
½ cup Butter (cut into pieces)
1 teaspoon Sugar
1 cup all-purpose flour
5 large Eggs (4 eggs for a recipe, 1 egg to glaze)
Ingredients for Lemon Filling
3 large Eggs
1 cup Granulated Sugar
1 tablespoon Lemon zest
⅓ cup Lemon juice
½ stick Butter
1 cup Fresh blueberries
Ingredients for Whipped Cream Filling
8 oz Cream cheese (softened)
1 cup Powdered sugar
½ teaspoon Vanilla extract
2 cups Heavy whipping cream (cold)
Instructions
Preheat oven to 400°. Line baking sheets with parchment paper or use a Silpat.
Combine butter, sugar, and water in a medium saucepan over medium heat. Bring the mixture to a boil, then quickly stir in the flour, stirring continuously with a wooden spoon. Continue to heat and stir until the mixture appears dry on the bottom of the pan. There should be a light film formed on the bottom of the pan.
Remove from the heat and transfer to a large bowl. Stir in 4 eggs, one at a time, Stir vigorously between egg additions (alternatively, you can use a stand mixer with the paddle attachment). The dough will be stiff and thick.
After thoroughly mixing, transfer the mixture to a piping bag with a large plain tip attached. Pipe dough in approx. 2-inch circles. There is a Silpat with circles marked that makes this process more accurate. Mix 1 tsp water into the remaining egg and brush egg wash on top of each puff.
Bake for 15 min. then lower the oven temperature to 350° and continue to bake for about 20 min. until nicely browned. Turn the oven off and leave the oven door slightly ajar with puffs still in the oven. You can insert a wooden spoon between the door and oven to help with this. Allow puffs to sit in the oven until the oven is just slightly warm. Remove to a cooling rack and cool completely.
Slice each puff in half and remove any excess dough from the center.
How to Make Lemon Filling
In a medium saucepan, over med-low heat, stir together eggs, sugar, lemon juice, and zest, using a wooden spoon until the mix is creamy and smooth.
Turn heat to low and continue stirring until mixture thickens and coats the back of the spoon.
Add butter and stir well.
Remove from heat and allow to cool.
How to Make Whipped Cream Filling
Beat cream cheese, powdered sugar, and vanilla until smooth and thick. Use a hand mixer or a stand mixer with the whisk attachment.
Slowly add the heavy cream while mixing on a medium setting. Continue whipping until the filling forms stiff peaks. It will resemble whipped cream but be thicker.
Fill a piping bag (with a large plain tip attached) with the lemon filling. Pipe the bottom of the puff full. Fill another piping bag (using a large plain tip or a large open star tip) with the whipped filling and pipe on top of the lemon filling. Be sure to pipe nice and full. Place 4-5 blueberries on top of cream filling. Place top of puff on top of the filling.
Notes
You can freeze your cream puffs without having the filling in it. They will store for 2-3 months.
Recommended Products
As an Amazon Associate and member of other affiliate programs, I earn from qualifying purchases.
Nutrition Information:
Yield:

30
Serving Size:

1
Amount Per Serving:
Calories:

204
Total Fat:

15g
Saturated Fat:

9g
Trans Fat:

0g
Unsaturated Fat:

5g
Cholesterol:

87mg
Sodium:

87mg
Carbohydrates:

16g
Fiber:

0g
Sugar:

12g
Protein:

3g
This information is automatically calculated by third-party software, including but not limited to the Create or Bake Me Some Sugar. For accurate nutrition, I suggest running the ingredients in your own system to get a more accurate reading. Nutritional information is approximate and automatically calculated, and should only be viewed as an indication.