Watermelon Pizza is the summers must-have snack. This watermelon fruit pizza is sliced watermelon, topped with yogurt, fruit, and a sprinkle of coconut. Learn how to make watermelon pizza at home!
This watermelon pizza recipe is so simple, it technically isn't a full on recipe. Either way, I wanted to share this fruit recipe with you, so you can enjoy watermelon.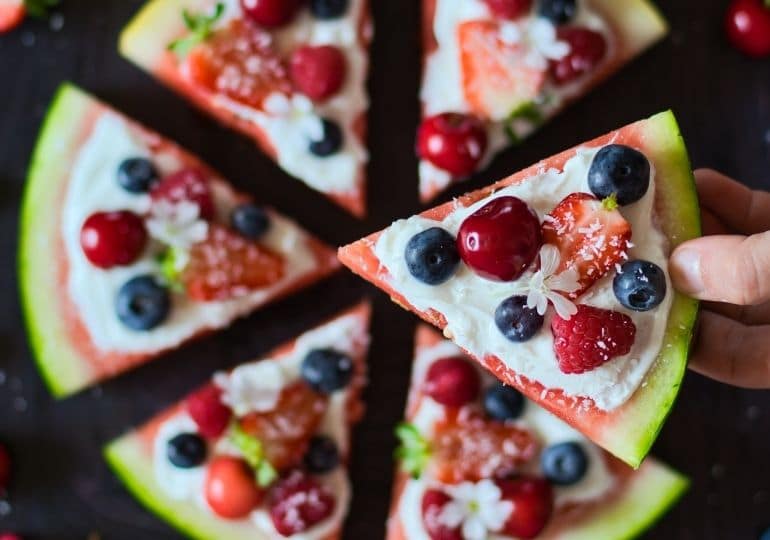 Watermelon pizza toppings are endless. Grab any and all your favorite fruits, and enjoy a custom fruit pizza.
With summer fruits and vegetables are endless, so use up your summer fruit and create a delicious dessert.
Why You Will Enjoy This Watermelon Pizza Recipe…
No baking
Fresh fruit
You pick and choose what fruit to top your pizza with
Simple to make
Serve up right away
A delicious summer dessert for cookouts, picnics, etc.
Ingredients Needed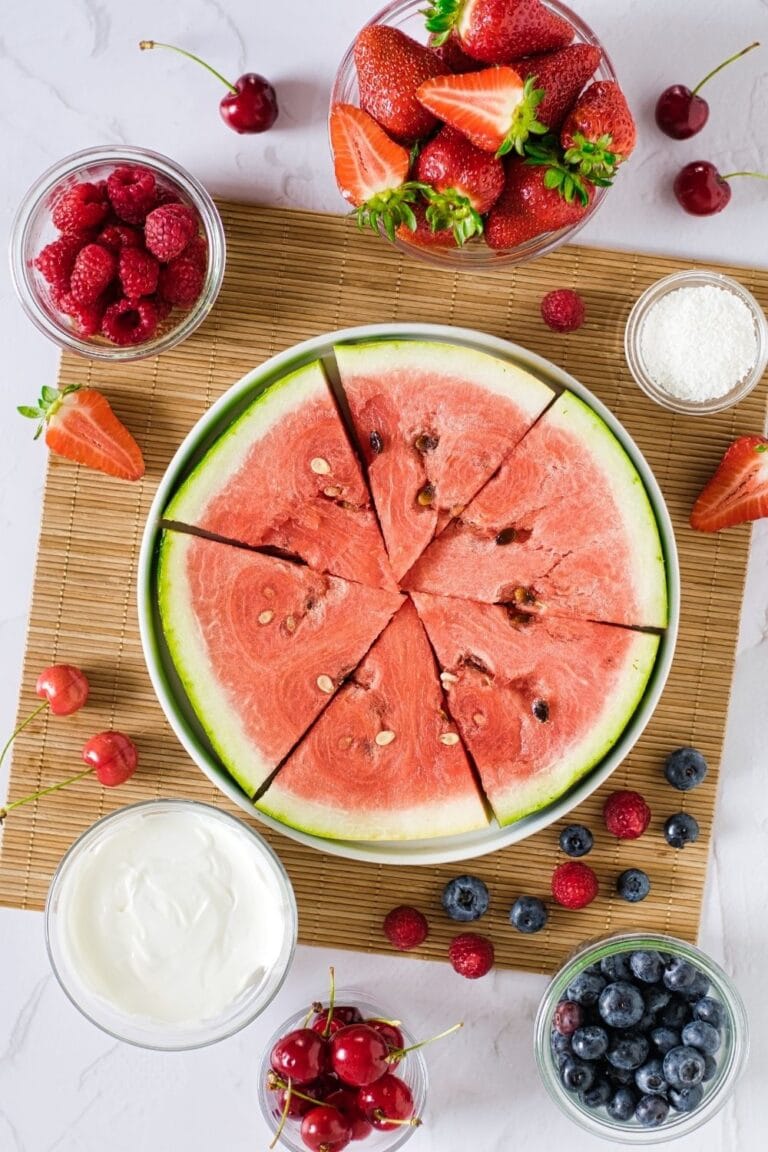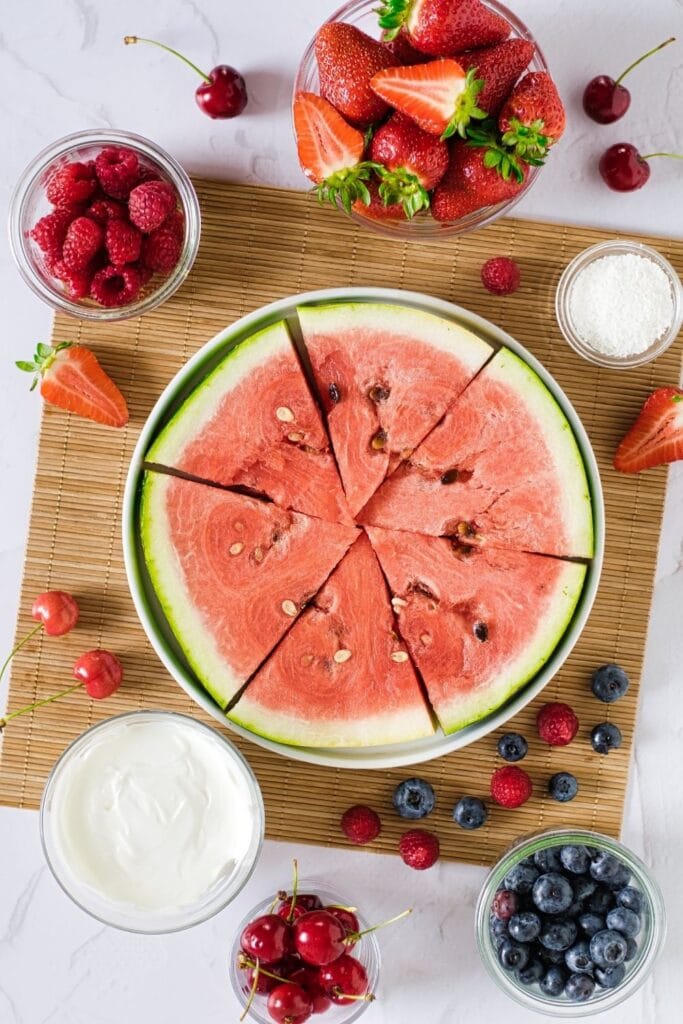 Watermelon
Yogurt
Cherries
Raspberries
Strawberries
Blueberries
Coconut Flakes
How to Make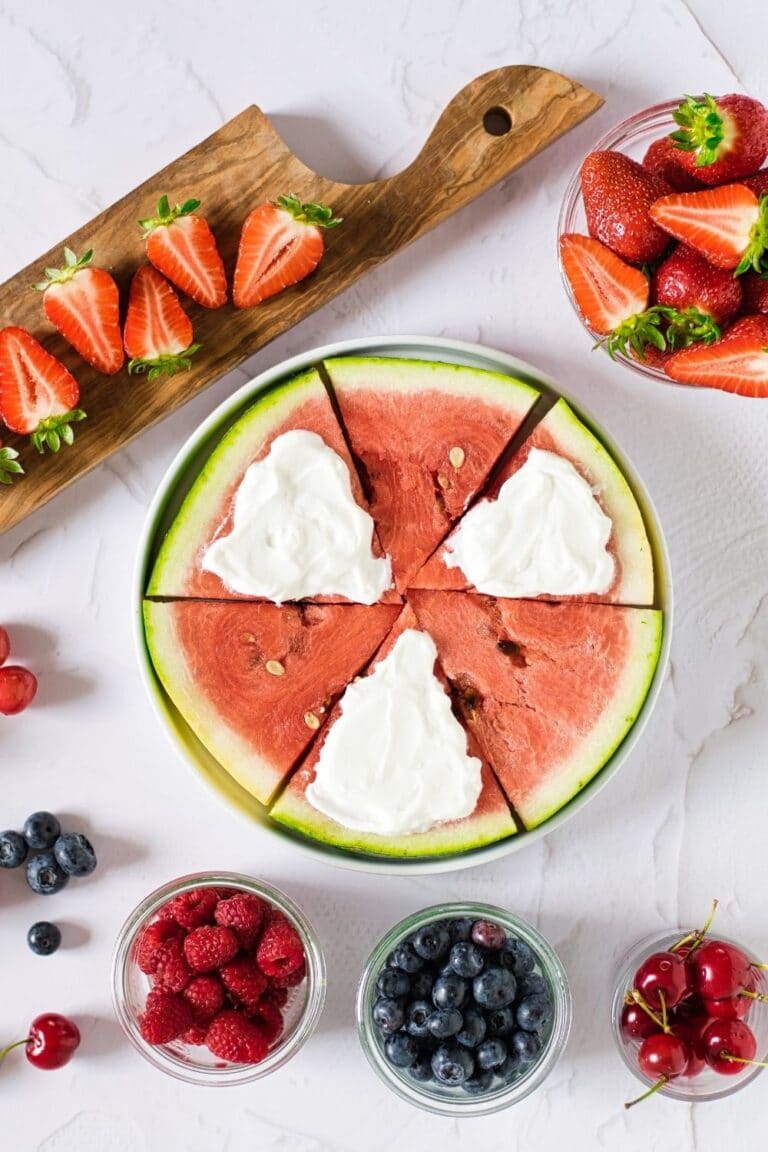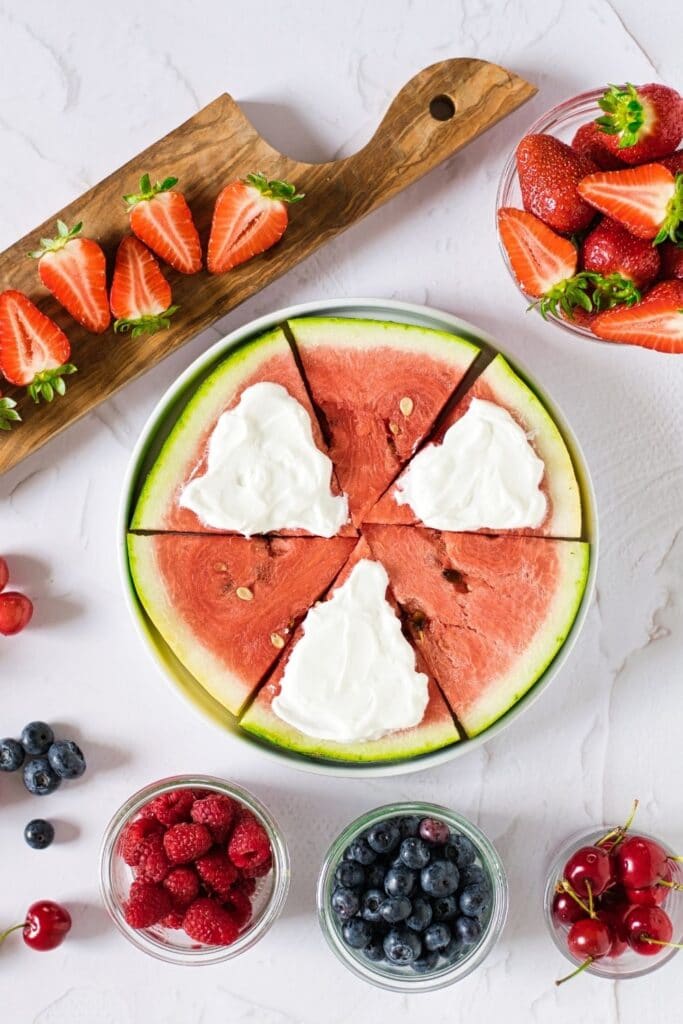 Step 1: Slice your watermelon 2-3 inches thick. You want to create a thicker watermelon slice so it holds up to be held.
Step 2: Place the watermelon on a cutting board, and cut it into wedges like you would a pie.
Step 3: Spread a layer of your yogurt of choice in the center of the watermelon. Then place fruit on the watermelon.
Serve up and enjoy your fresh fruit watermelon pizza.
Storage
For this watermelon dessert you need to store it in a covered dish in the refrigerator.
The dessert will be best served fresh. As the fruit will leak juice over time and sog up a bit. I recommend assembling right before serving.
If you want to store the leftovers in the fridge for 1-2 days.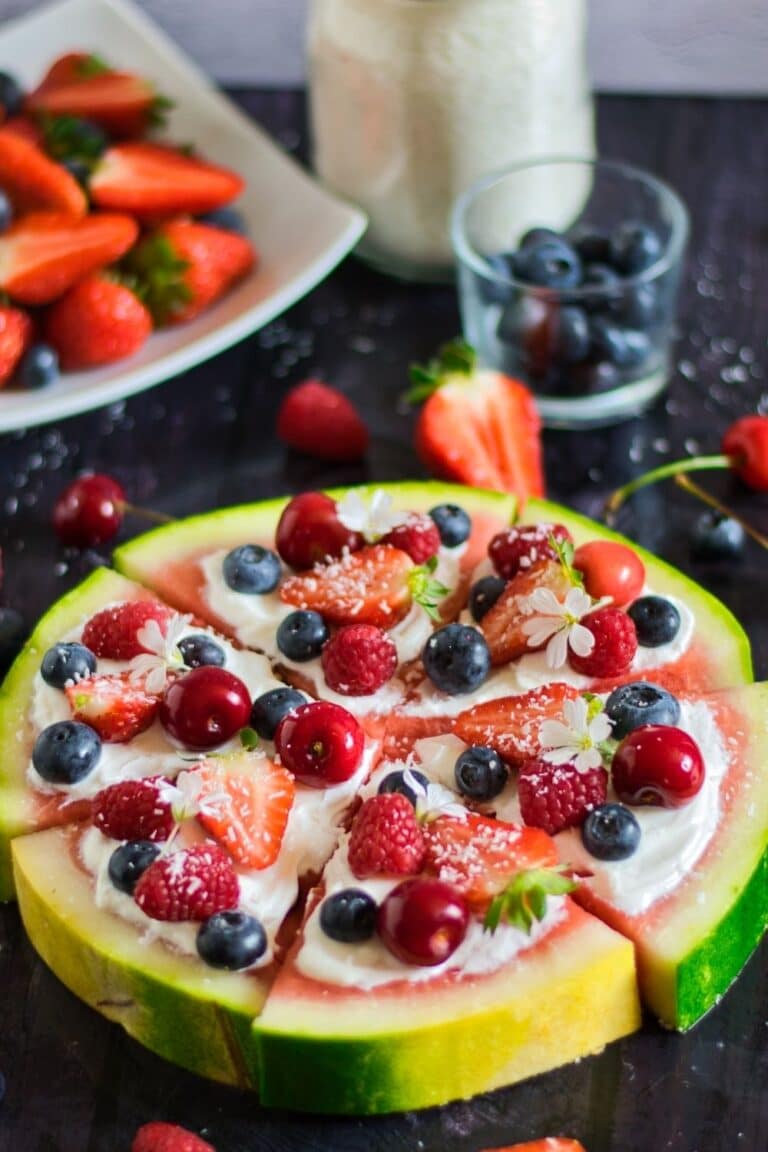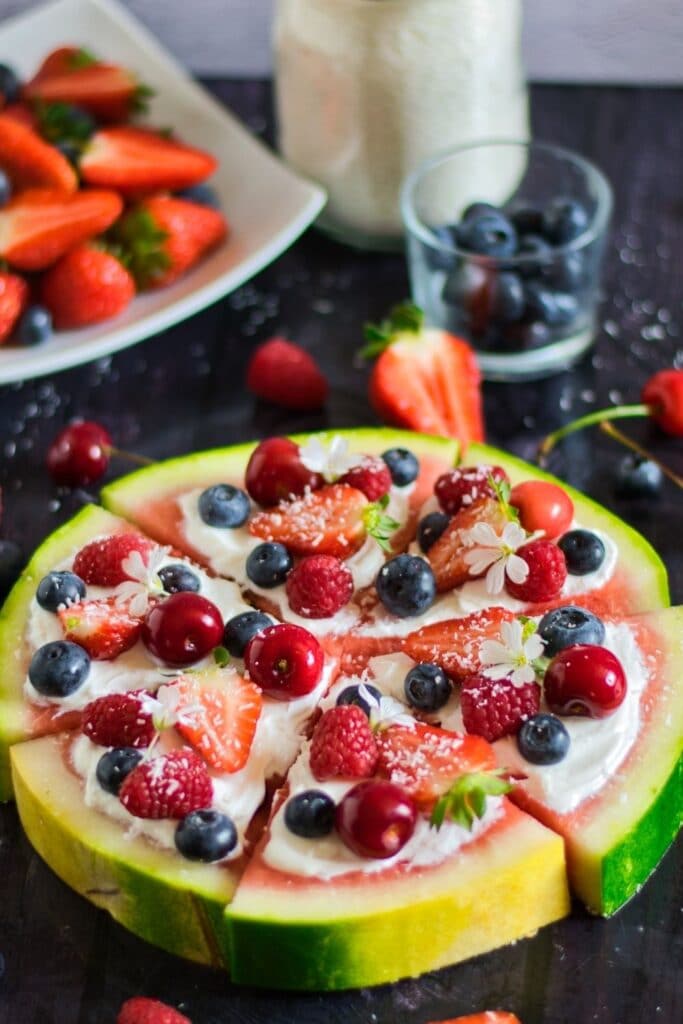 Expert Tips and Variations To Recipe
Make sure to cut thicker slices of watermelon. That way they hold up when you serve them up. Too thin will run the risk of breaking.
If you use cherries, make sure to remove the pits (here is a handy pit remover tool) before placing them on the pizza.
Change up the fruit you put on your pizza. Cantaloupe, honeydew melon, figs, kiwi, etc.
Sprinkle with a little salt to elevate the flavor of the watermelon.
Recipe FAQs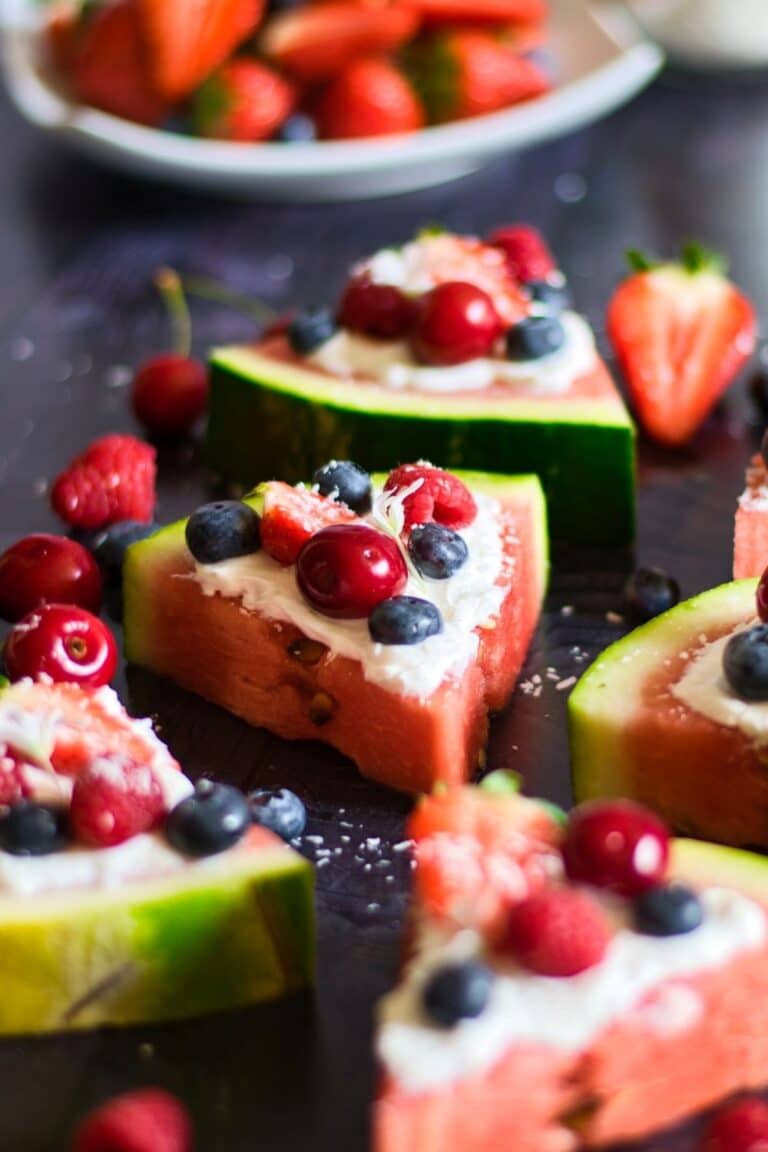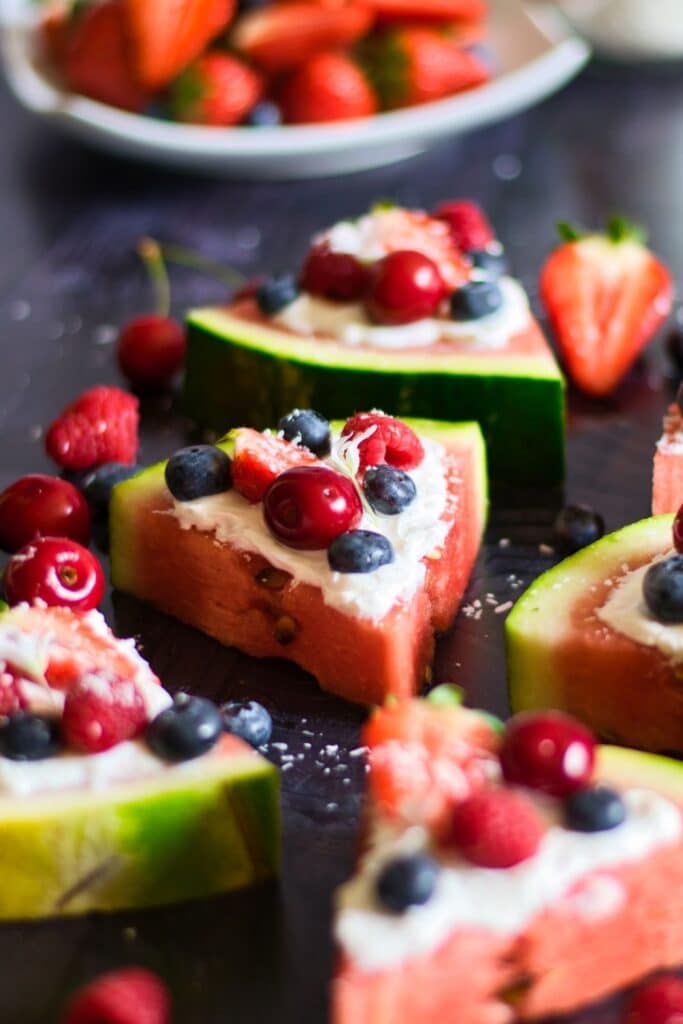 More Watermelon Recipes
Love watermelon? Me too! Here are a few more watermelon recipes to try out.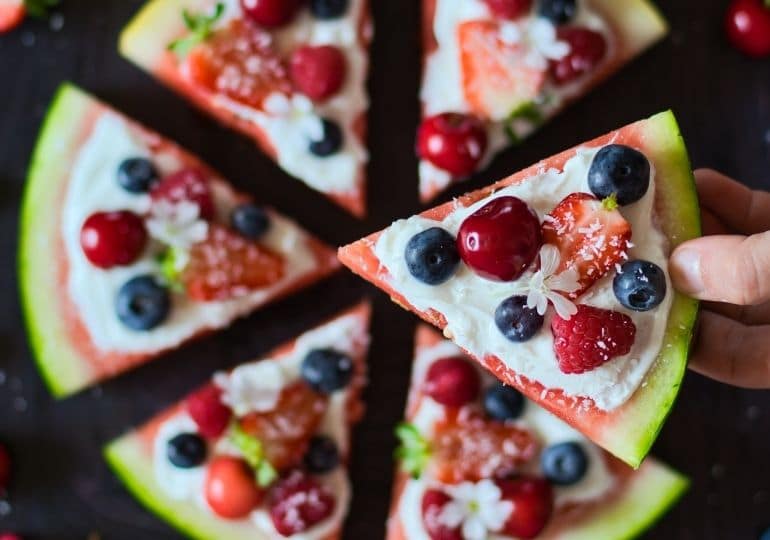 Watermelon Pizza
Servings 1 watermelon
Watermelon Pizza is a watermelon that is topped with fruit galore. A refreshing and delicious watermelon recipe that is perfect for spring and summer. Give this easy watermelon pizza recipe a try today.
Ingredients
1 Watermelon sliced
1 Cup Vanilla or Plain Yogurt
1/2 Cup Raspberry
1/2 Cup Black Cherry
1/2 Cup Blackberry
1/2 Cup Strawberry
1/4 Cup Coconut Flakes optional
Instructions
Start by slicing your watermelon. You will cut off the ends of the watermelon, then do 2-3 inch thick slices.

Once the watermelon is sliced into layers, cut into wedges like a pie. I did around 6-7 wedges per watermelon slice.

Now you will take your yogurt and spread onto the watermelon slices. Leave the rind plain, to act like the crust of the watermelon pizza.

Then add on your fresh fruit, and sprinkle with coconut flakes if you would like.

Once decorated, serve up and enjoy.
Notes
You can use any flavor or style of yogurt. Greek adds nice protein, or do a coconut or almond milk yogurt, for a dairy free alternative. You could also use whipped cream in replace of the yogurt. Any fruit you would like works. Kiwi, honeydew, cantaloupe, fig, etc. Use whatever fresh fruit you would like. You can use frozen fruit, but it will of course offer a softer texture than fresh. This pizza is best to be made and served fresh. You will find the fruit breaks down a bit as it sits in the fridge for so long. Make as much or as little as you would like.
Nutrition
Serving: 1gCalories: 43kcalCarbohydrates: 4gProtein: 1gSodium: 8mgFiber: 1gSugar: 4g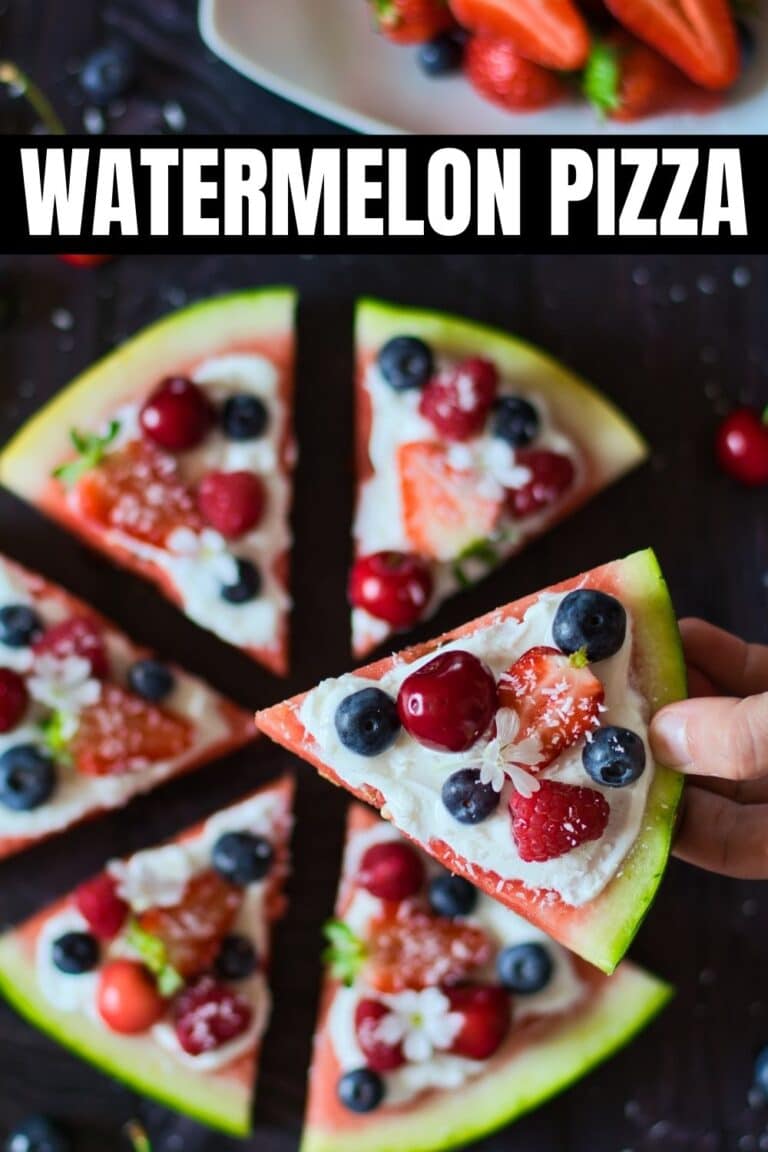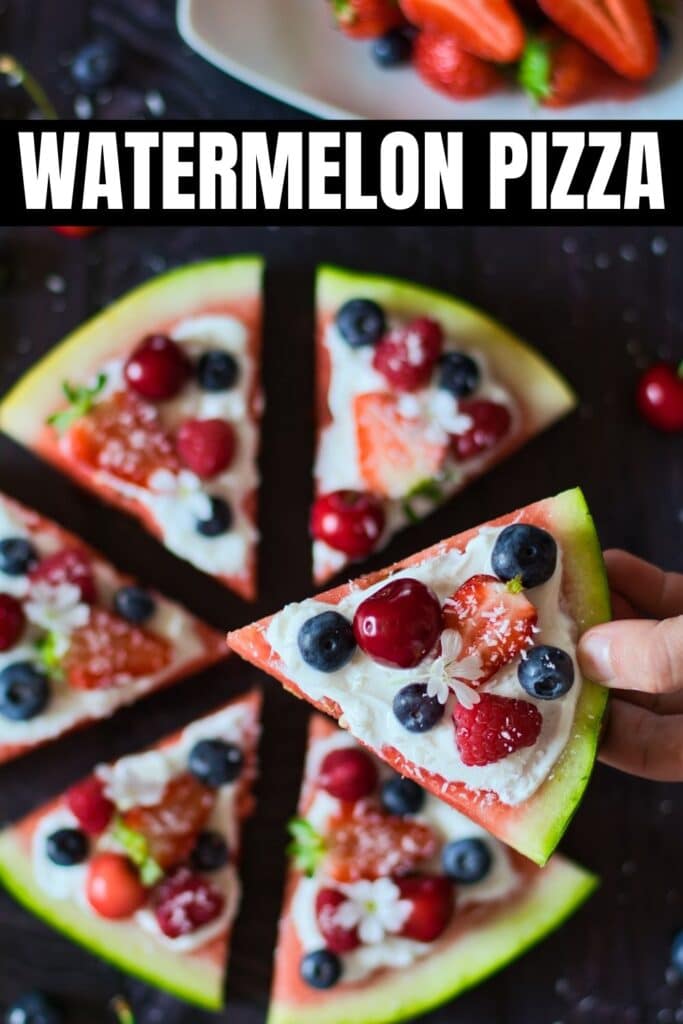 Let me know how you like this watermelon pizza!
Reader Interactions