I have 15 refreshing and delicious watermelon recipes for you all to try out this summer. Watermelon is one of our favorite fruits during the summer months. This pink fleshy fruit offers the perfect amount of sweetness that is so versatile in sweet and savory dishes.  You might be amazed at all the different recipes using watermelon. So if you have an abundance of watermelon you want to use up, or just love watermelon and want variety, I got you covered!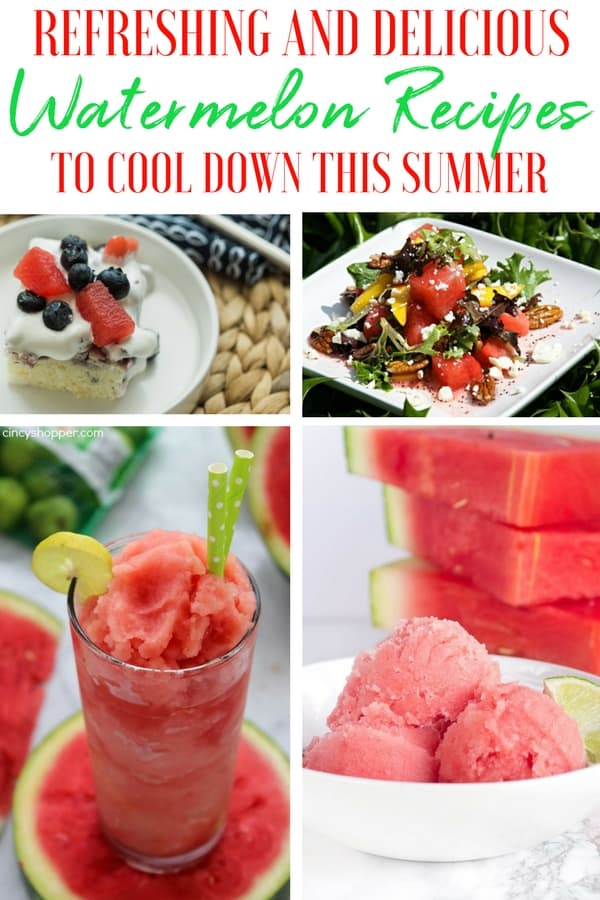 Clay is 2 and he could not get enough watermelon last summer. We would dice it up and sprinkle with a little salt to help bring out the sweet flavors, and he just gobbled it up.  But after so many times of eating straight watermelon, we got bored, so I went to work on creating different watermelon recipes, and below are some delicious dishes to test out.
If you eat a lot of watermelons, consider buying a watermelon slicer, this truly makes life a breeze. There are different kinds, these two are the ones I like. The slicer cutter does a great job of getting all the flesh in pretty slices. The other melon slicer cuts the entire melon at once for perfect bite-size pieces.
Health Benefits of Watermelon
Watermelon is mostly water (around 92%) which is great for getting more water intake on those hot summer days. Watermelon has only about 40 calories per cup, which is great for those looking for a lower calorie snack. With every juicy bite, you get vitamin C, vitamin A, antioxidants, magnesium, fiber, protein, and even some potassium. As you can see this is one super food that is quintessential for summer snacking! 
15 Recipes Using Watermelon
Watermelon, Cucumber & Jicama Salad With Coconut Lime Dressing| You will be amazed by how flavorful and filling this salad is. Fresh ingredients and it's super healthy. The coconut lime dressing is magical. 
Strawberry Watermelon Popsicles| Nothing makes a long hard day better than ending it with a delicious popsicle. These are so easy and only take 3 ingredients. Kids go crazy for them.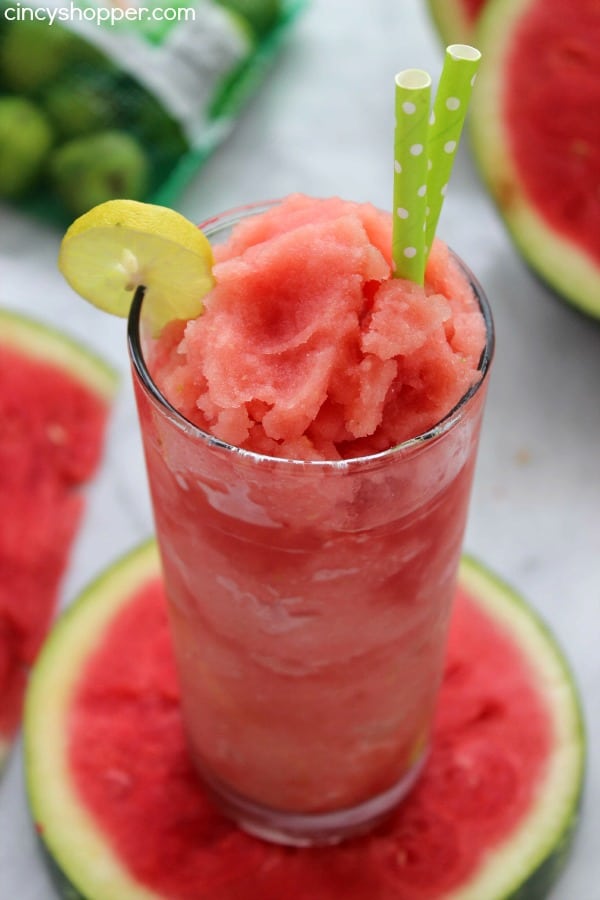 Watermelon Lime Slushie| The combination of watermelon and lime is truly mouthwatering and a slush is a great summer treat after a long day in the garden or at the water park playing. 
Watermelon Caprese Salad| Garden fresh grape tomatoes, basil, watermelon, spinach and arugula, red onion and mozzarella drizzled with a balsamic glaze. Amazing summer dish.
Watermelon, Ginger, Lemongrass, Thai, Basil Cooler| Refreshing and energizing drink that would be great for your next picnic! It is sweet and delicious.
Watermelon Feta Salad| Fresh cut watermelon and feta cheese are the perfect combinations for an amazing salad! You have to try this!
Copycat Chick Fil A Watermelon Mint Lemonade| Enjoy a glass of fresh squeezed lemonade that has watermelon too! This is such a light and fun drink that is great for relaxing after a long day.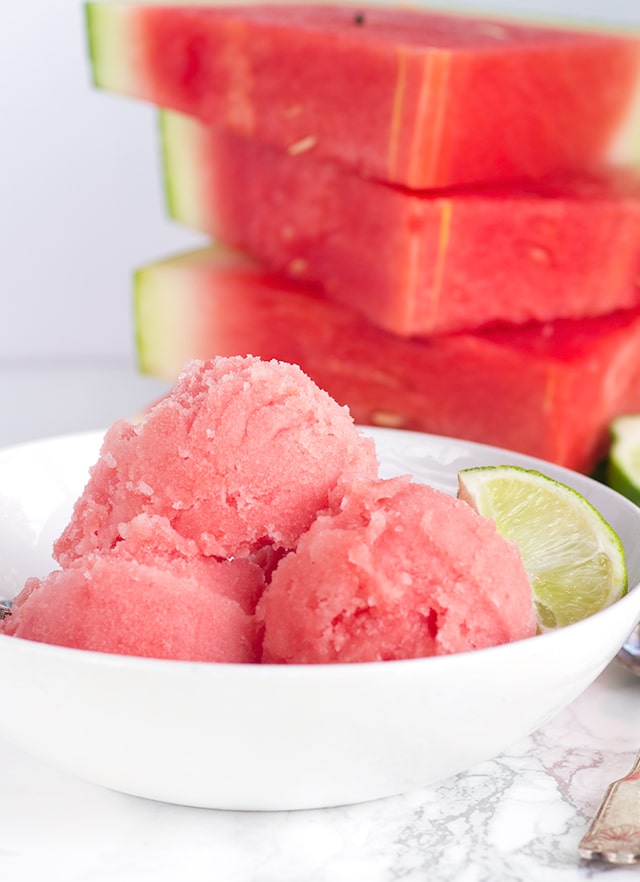 Watermelon Sorbet| Fantastic sweet treat that is healthy and simple to make. This would be a fun idea for your next summer birthday party or a baby shower.
Watermelon Feta Basil Salad| 10 minutes is all it takes to make this flavorful salad. This would make a great light lunch!
Watermelon Peruvian Ceviche| So many ways to enjoy this. You can have with some tortilla chips, on pieces of mini bread or eat it straight out of the bowl. So good!
Watermelon Salsa With Cinnamon Tortilla Chips| Add some fun to your next taco night. This watermelon salsa is the perfect dessert. It feeds your sweet tooth while keeping it healthy.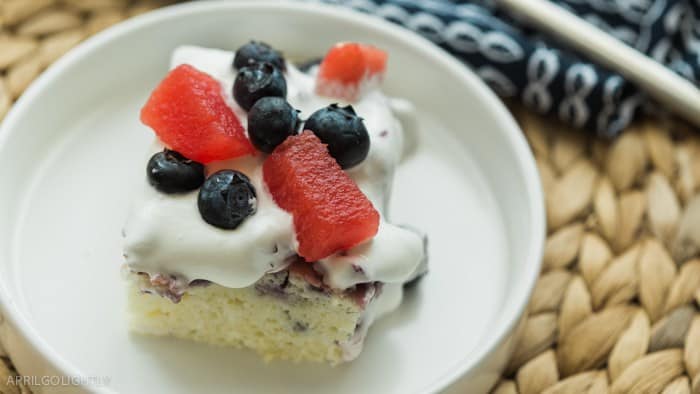 Watermelon Blueberry Poke Cake| Easy poke cake! This would be awesome to throw in the cooler and take camping for a cool dessert!
Healthy Refreshing Watermelon Slushie| Can you ever have too many slushies? This recipe is so delicious and is a great way to cheer anyone up!
Summer Salad With Watermelon, Mango & Feta Cheese| Fresh watermelon, mango, field greens, feta cheese, candied pecans and drizzled with homemade raspberry vinaigrette dressing.
Watermelon Pizza Dessert| Crowd-pleasing and beautiful! Your guests will be impressed with how flavorful it is too! This is one of my favorite desserts especially great for the 4th of July and Memorial day gatherings.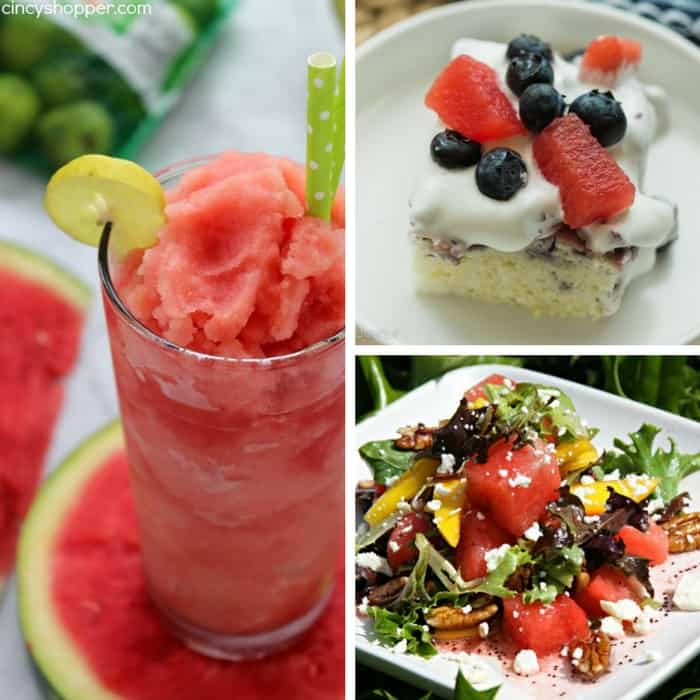 What is your favorite way to eat watermelon?