Skip a kitchen full of dirty dishes and whip up this one-skillet chicken pot pie! Tender pieces of chicken, potatoes, carrots, peas, and more all topped with a buttery flaky pie crust. A skillet pot pie that the whole family will be on board with.
If you are looking for an easy but comfort food style dinner to serve your family, then give this dish a try. Loaded with a creamy sauce, hearty veggies, and tender chicken.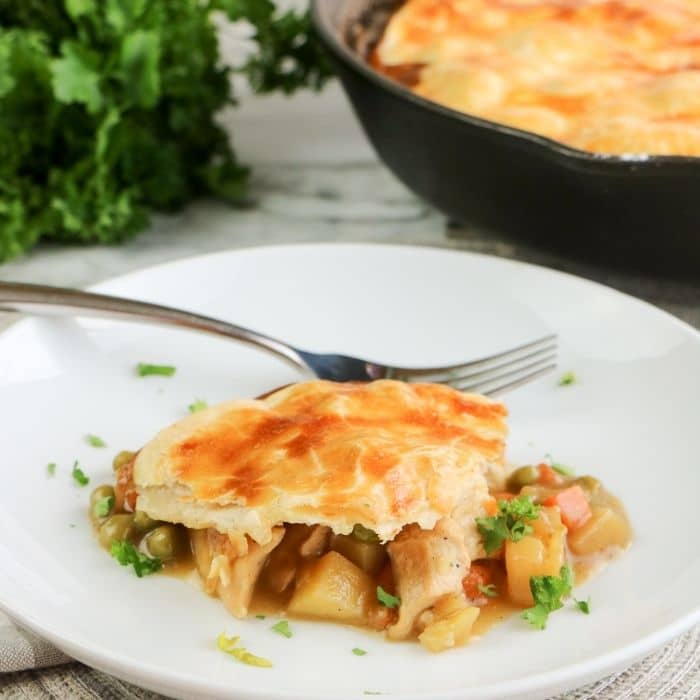 A dinner with pie crust topping that is just melt in your mouth good. A great cast iron chicken pot pie recipe if you own one. If not any oven-safe pan will do.
🐔 Why This Recipe Works So Well
One Pan Dinner so no mess in the kitchen
Store-Bought pie crust for easy prep
Great way to entice little kids to eat vegetables
A great recipe to use up a leftover rotisserie chicken
A cast-iron skillet dinner that is so delicious
Can easily swap top crust with biscuits if you wanted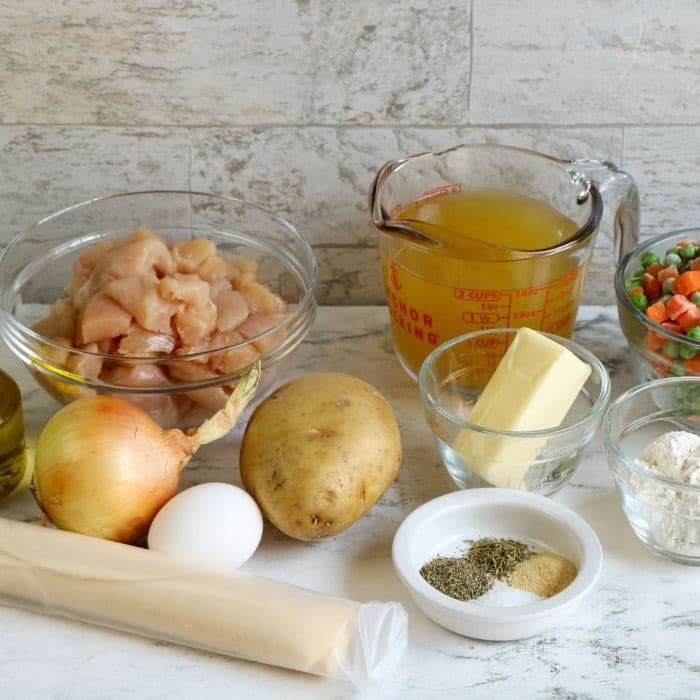 🍳 Ingredients
Diced Chicken | I used a boneless skinless chicken. I cut into even cubes for an even cook.
Vegetables | A potato diced and then some frozen peas and carrots are what I used along with onion to flavor the dish
Seasonings | Salt, pepper, thyme, garlic along with chicken broth help to add even more flavor to this pot pie.
Pie Crust | Now I reached for a store-bought pie crust you roll out. If you want go ahead and make your own pie crust!
Butter | I find real butter works best over margarine.
Flour | The flour in this is your thickening agent, to help give you that thick creamy gravy.
Chicken Broth | Now you can use vegetable stock or even bone broth if you want.
🧅 How To Make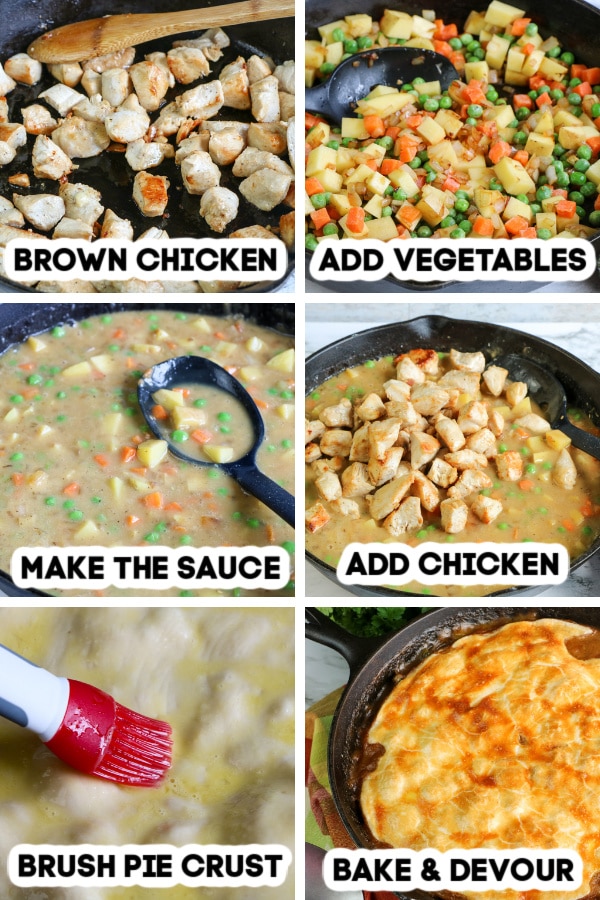 Step One: Start by preheating your oven to 400 degrees. Then in a large oven-proof skillet (I used cast iron) you will want to turn heat to medium, add oil, and brown your chicken. Make sure to cook in batches.
Step Two: Once the chicken is done, remove from skillet, and keep warm.
Step Three: Add in your onions and cook for 2-3 minutes until they begin to soften. Now pour in your potatoes, peas, and carrots along with all the spices and the butter. Stir until butter is melted.
Step Four: Add in your flour, and stir to combine, for 2 minutes. Then slowly pour in the chicken broth stirring constantly. This is going to thicken and become the pot pie creamy filling.
Step Five: Once the mixture is thickened a bit, add in chicken and stir well.
Step Six: Next, remove from heat. Lay the crust over the pan, and cut slits to vent.
Step Seven: Brush with the beaten egg, and bake right in the skillet in the oven for 25 minutes or until the pie crust is golden brown in color.
Allow the pot pie to rest 5 minutes or so before slicing and serving.
Meal Prep And Freezing
This is a great dish to pre-make and then toss in the freezer to heat up one night in the week. To make it from frozen, create the pot pie filling. Then top with the pie crust and freeze it.
Then pull from the oven, and bake it with the frozen pie crust. If you want you can brush with egg wash to help golden up the color.
To meal prep simply save leftovers for a few days in the fridge. Pack for lunches or a quick dinner. Reheat in the microwave for a quick and easy meal.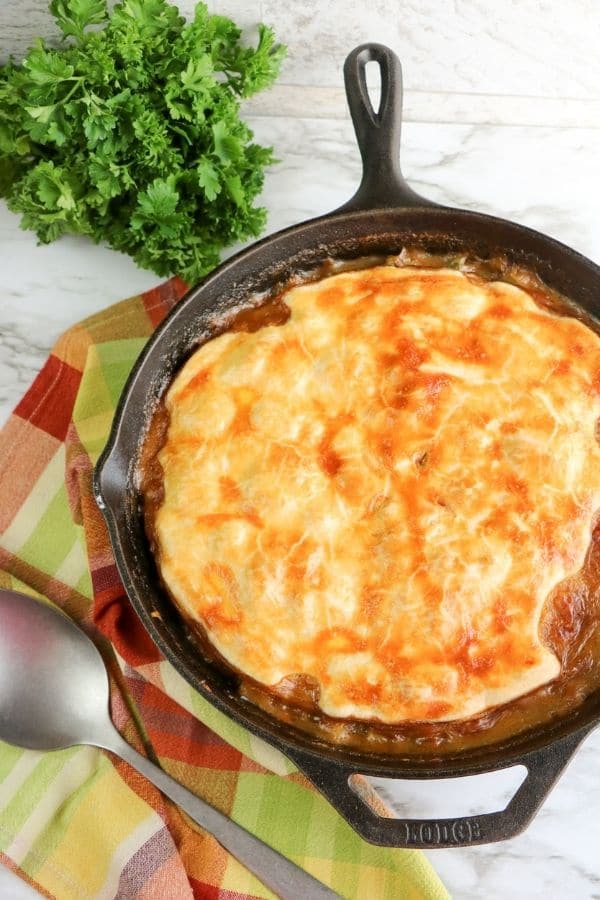 🥔Expert Tips
Feel free to swap around vegetables used in this pot pie recipe.
Make sure to stir in the flour well, so it can incorporate and thicken as you slowly add broth.
Can use chicken bone broth in replace of regular broth or stock.
Feel free to make this a meatless pot pie and use vegetable stock in replace.
Top with refrigerated biscuits or homemade biscuits instead of pie crust for a twist.
Go ahead and add a layer of cheese before pie crust if you want a cheesy pot pie
Cook until the pie crust is fully golden brown in color.
If you don't own an oven proof pan pour the pot pie mixture into 8×8 pan and then top with crust and bake in oven that way.
🍗Recipe FAQs
What temperature should a pot pie be?
You want the internal temperature of a pot pie to be 165 degrees Fahrenheit.
Can I use all fresh vegetables in this pot pie?
If you don't want to use frozen peas and carrots go right ahead and slice your vegetables up yourself. Add in whatever you think your family will enjoy. The key is small similar sized pieces.
How do you know when a pot pie is done?
Your pie crust will be a nice golden brown color. You want the internal temperature to be 165 degrees as well. Then allow your pot pie to rest 5-10 minutes before slicing in.
What to serve with chicken pot pie?
Chicken pot pie is essentially a meal in one. But go ahead and pair with a side salad, dinner roll or even a vegetable side dish if you want.
Check Out These Other Chicken Recipes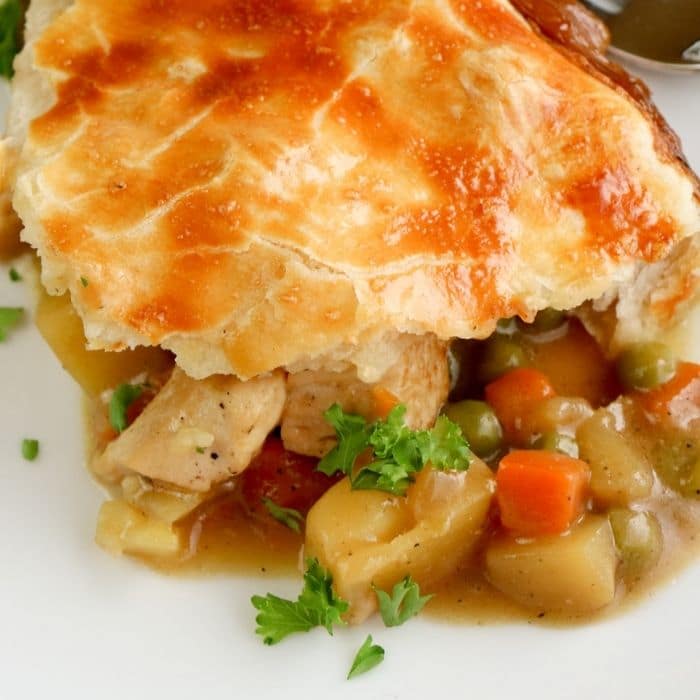 Skillet Chicken Pot Pie
Servings 8 -10 servings
One-Skillet Chicken Pot Pie is a hearty and comfort food chicken recipe you make in an oven-safe skillet. Pie crust topping and delicious as can be. Whip this dinner up in no time and have it baking in the oven. No mess in the kitchen and a hearty dinner to serve up the family.
Ingredients
1 tablespoon oil
2 pounds boneless skinless chicken breast, cut into bite-sized pieces
1 medium onion diced
1 large potato peeled cubed
2 cups frozen peas and carrots
1 teaspoon garlic powder
4 tablespoons butter
¼ teaspoon dried thyme leaves
1 teaspoon salt
½ teaspoon black pepper
4 tablespoons all-purpose flour
2 cups chicken broth
1 frozen prepared pie crust
1 egg beaten
Instructions
Start by preheating your oven to 400 degrees.

In a cast iron skillet or oven proof pan you will want to add your oil and cook your chicken until it is fully cooked and golden brown. Remove from pan and then set aside. If need be batch cook the chicken.

Now you will add in your diced onion to the empty pan and cook for 2-3 minutes or until onions are softened. Then stir in your diced potato, peas, carrots, and spices and salt and pepper.

Stir offen and then toss in the butter and allow it to melt.

Carefully pour in flour and stir for a minute or two letting the flour fully mix. Then pour the chicken stock in slowly whisking the whole time.

Let cook a mintue or two, and then toss in your cooked chicken. Scrape bottom to remove any stuck on pieces.

Cover the skillet with your rolled out pie crust, and then cut slits for the pie crust to vent.

Brush with the beaten egg, and bake for 20-25 mintues or until pie crust is golden brown.

Remove the skillet chicken pot pie from oven and let sit 5-10 minutes. Then dish up this comforting pot pie.
Notes
Chicken: You can use rotisserie chicken or leftover chicken that is diced in up replace of fresh chicken. Vegetables: Feel free to change out the vegetables used in this chicken pot pie recipe. You could even use frozen veggies in replace of fresh or canned. Casserole: If you do not have an oven-safe pan, pour the mixture into an 8×8 casserole pan and top with pie crust and bake that way. Storing: You will want to store your leftovers in an airtight container in the fridge for a few days. You can then reheat in the microwave. Or if you want to reheat in the oven then heat up in a covered dish in the oven.
Nutrition
Serving: 1gCalories: 439kcalCarbohydrates: 28gProtein: 40gFat: 18gSaturated Fat: 7gPolyunsaturated Fat: 9gCholesterol: 136mgSodium: 755mgFiber: 3gSugar: 4g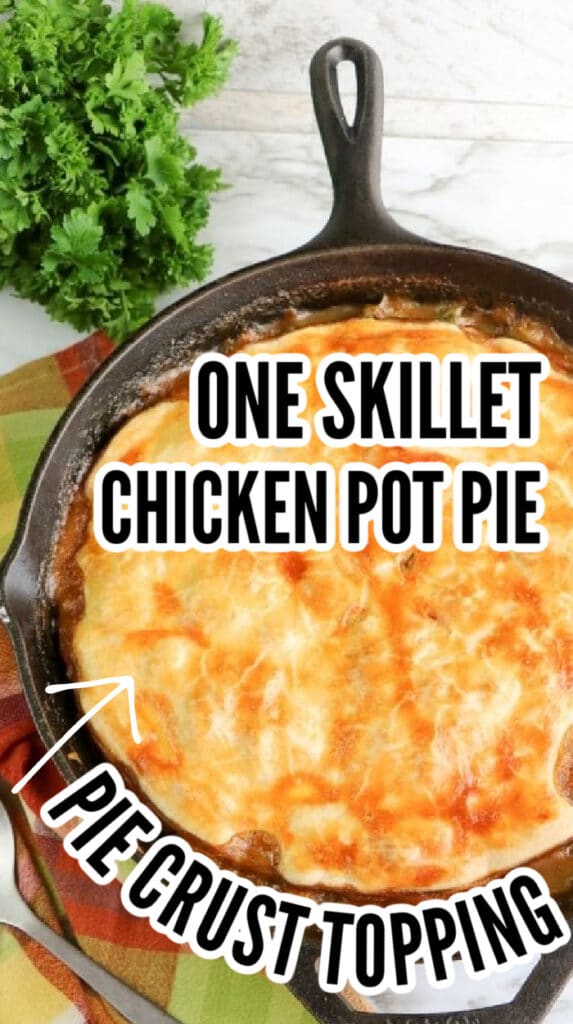 Reader Interactions