Serve up this ham salad recipe for lunch today. A ham salad spread that is great to use leftover holiday ham up. A chopped ham paired with mayo, mustard, pickles, and more. Top bread, serve on crackers, eat plain, etc.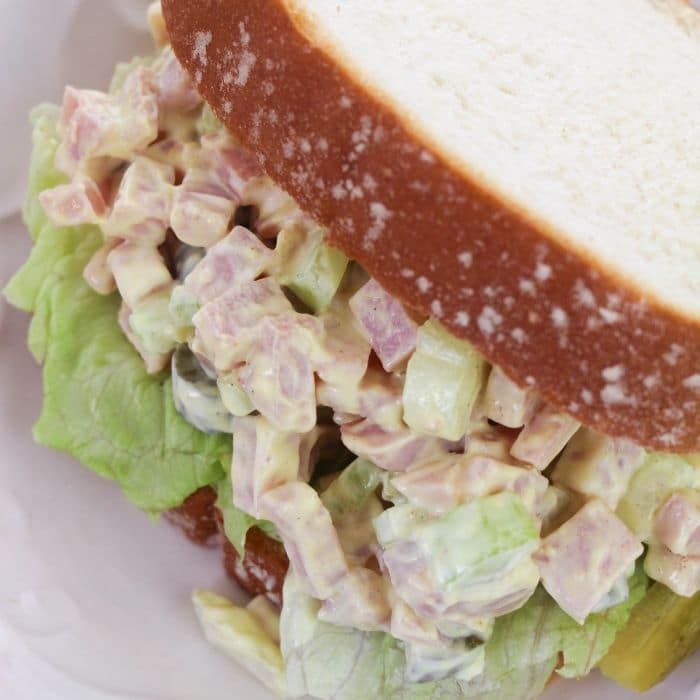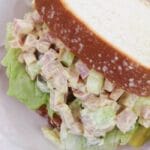 Ham salad is a classic minced ham salad that is delicious spread on some bread, or even crackers. A great leftover ham recipe that is loaded with flavor. Whip up this ham salad sandwich for lunch today. Serve up these ham salad sandwiches for a simple recipe to use up leftover holiday ham.
This ham mixture is so easy to make. It is the best ham salad recipe I have tried. Plus you can throw on slider buns for an easy recipe that is kid friendly. I just used white bread but feel free to adjust.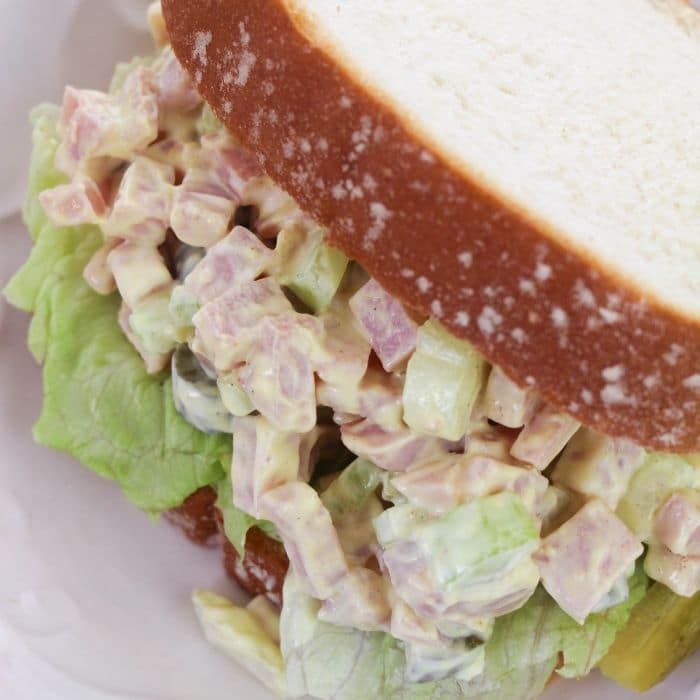 What is Ham Salad
Ham salad is similar to a tuna salad or even chicken salad. Chopped ham paired with mayo and mustard for a creamy and savory ham salad.
The ham is either diced or in some cases or ground. Depending on where you live you will find the texture can vary. A classic ham salad spread that is versatile, and comfort food.
Why I Recommend This Recipe
Easy lunch
Great recipe for leftover ham at holidays
Simple ingredients
Great way to use up shredded ham or even pulled ham
Kid-approved
Affordable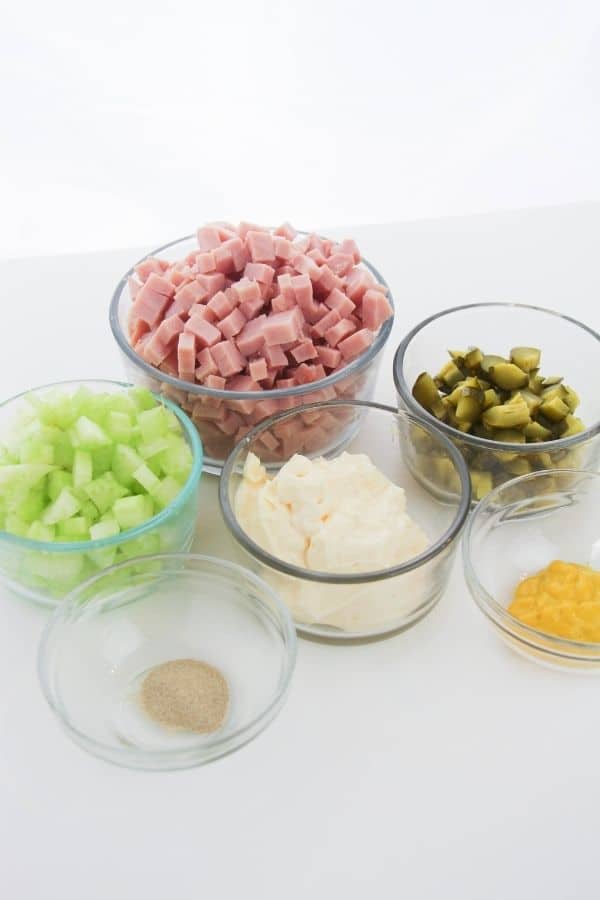 Main Ingredients
Chopped ham 
Celery 
Pickles or opt for a sweet pickle relish
Mustard
Mayonnaise
Pepper
Helpful Tool – Small food chopper is great for a finer consistency of diced ham and vegetables. The key is small chunks so you enjoy a mix of flavors in each bite. The mayonnaise dressing is very creamy, so feel free to enjoy this amazing ham salad.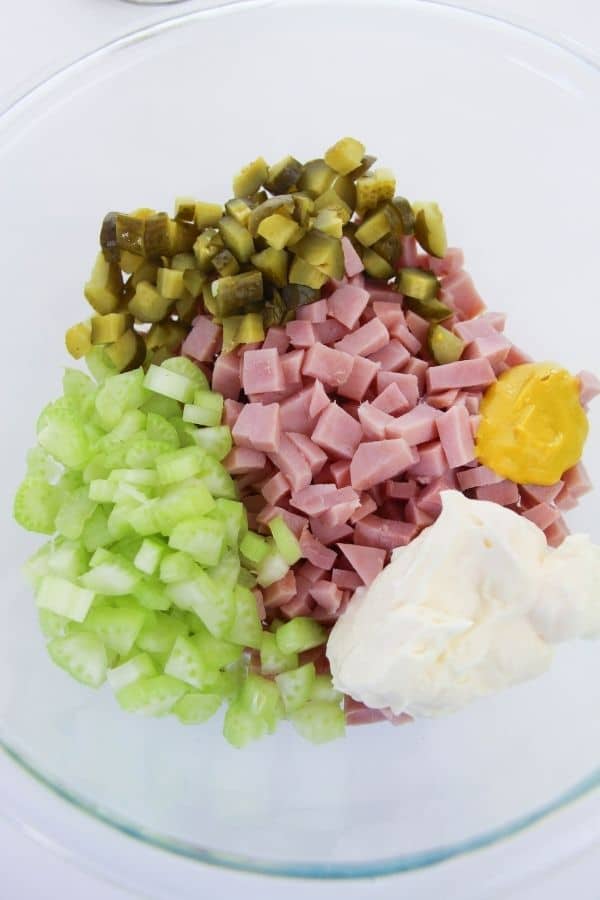 How to make
Full steps and directions are below in the printable recipe card at the bottom of the post.
Step One: Start by taking your ham and chopping it up really fine and small. I did diced ham but you can chop smaller if you want.
Step Two: In a bowl add in your ham, celery, mustard, mayonnaise, dill pickles and pepper to taste.
Step Three: Assemble your ham salad on a roll, wheat bread, on top of a salad, etc. You can even use this ham salad as the filling for a grilled cheese sandwich.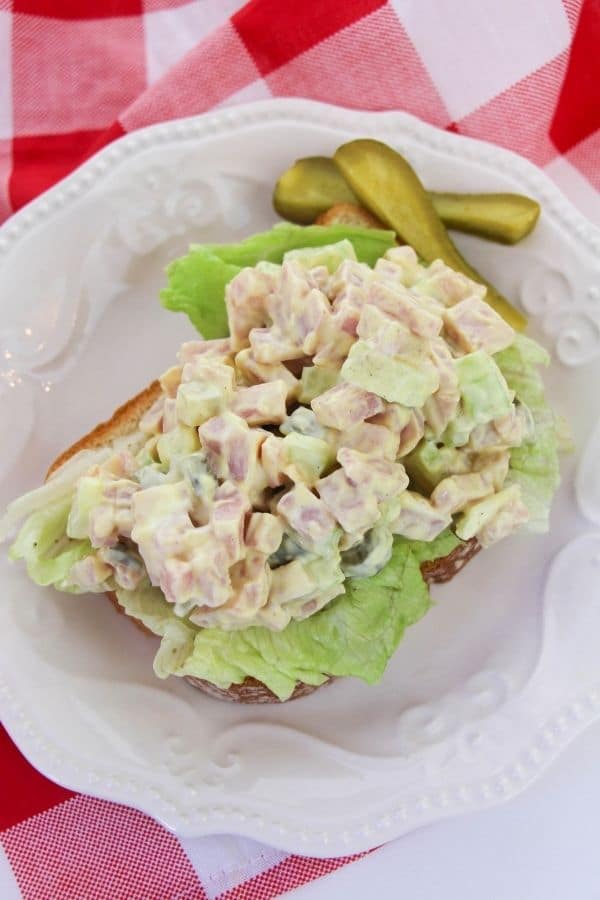 Variations to Recipe
Here are a few changes to this perfect ham salad. Feel free to alter all the changes you see fit.
Use miracle whip or other mayo substitute 
Pair with Swiss cheese, provolone, cheddar, etc.
Sweet relish can be used to replace dill pickle relish. If you don't have relish dice up dill pickle spears in small pieces.
Add a splash of a little pickle juice to mix for a nice tangy.
Add in diced red bell peppers, red onion, etc. for a variety of flavor. 
Stir in chopped hard boiled eggs. 
Use dijon mustard for a tangy twist.
Green onion can add nice flavor and be a a great mix in ingredient.
Season with salt and black pepper to taste once your salad is assembled.
For a little kick add in hot sauce of choice.
Mushrooms can be added to mixture as well, 
Ground bologna can replace ham in this recipe.
Storing
This is a cold ham salad recipe that does need to be stored in the refrigerator.
Once made you can place in an airtight container and store in the fridge for a few days. Before serving just give a quick stir and enjoy.
I have not tried freezing ham salad. So I can't say it would work. In my opinion I would imagine it would not thaw well due to the pickles and mayo in the recipe.
Expert Tips
You can use leftover ham for this recipe. Or reach for any cooked ham you can chop up.
Consider adding in other spices or seasonings to adjust the flavor.
Miracle whip can be used in replace of mayonnaise.
I used a classic yellow mustard but you could easily use a Dijon style if you prefer.
You can use pickle relish if you don't want to chop up the pickles.
Sweet pickles can be used in replace of dill. I just prefer dill pickles next to the ham.
Recipe FAQs
How do you make ham salad from scratch?
Use leftovers or any cooked ham. Trim fat and skin and then dice meat. Pair with mayo, mustard, etc. and stir and serve.
How long does ham salad last in the refrigerator?
Ham salad can last around three days. This all depends on the temperature of the fridge, proper storage, etc. never leave the ham out for more than 2 hours at room temperature as it can spoil.
Can I use a food processor for ham salad?
Go right ahead and reach for a food processor to blend up your ham if you prefer. You can make your ham as fine or chopped as you prefer texture wise. Just pulse until it reaches your desired texture.
How to serve ham spread?
You can serve ham salad on bread, croissants, with crackers, on top of salad, etc. This salad is very versatile on how to serve.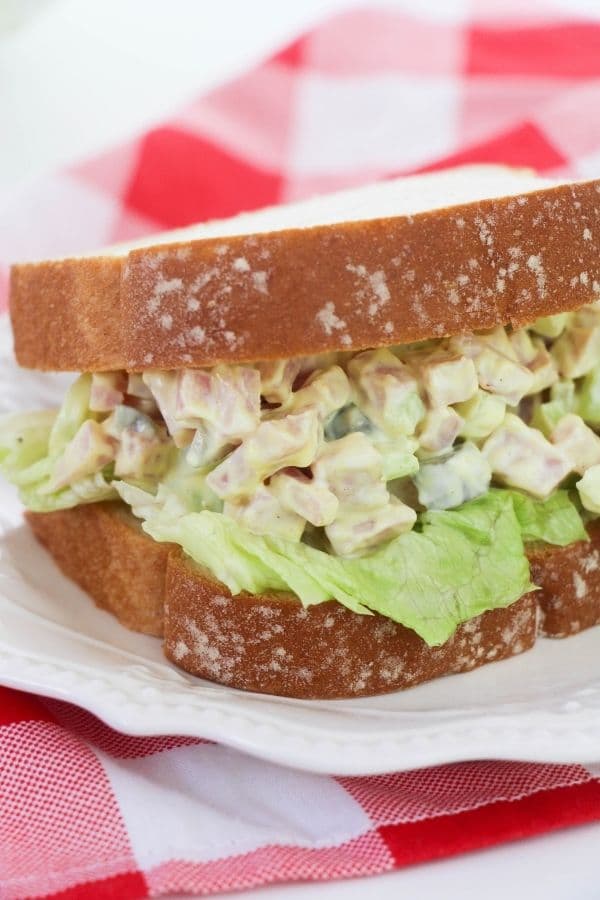 Must Make Recipes
Have you tried the recipe? If so, please leave a star ⭐️⭐️⭐️⭐️⭐️ rating in the recipe card below or drop a comment. Also stay in touch with me through social media by following me on Facebook, Pinterest, or My Facebook Group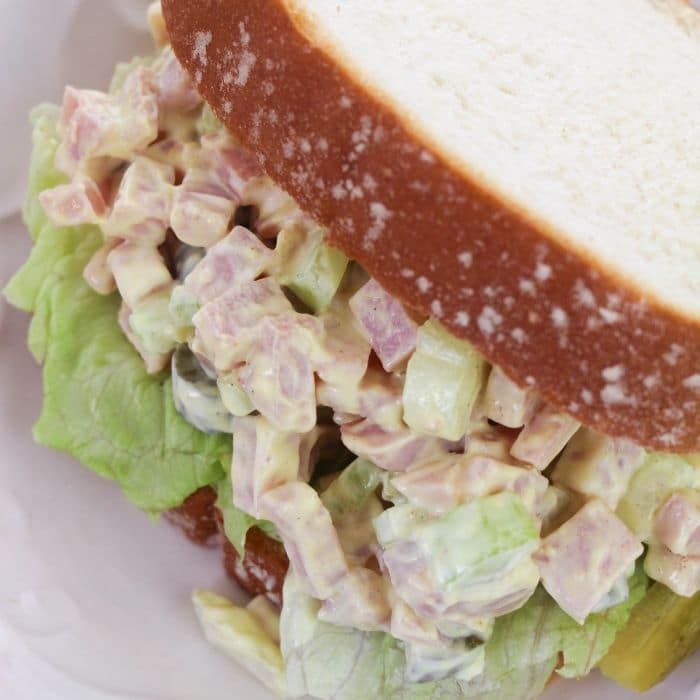 Ham Salad
Servings 6
Serve up this ham salad recipe for lunch today. A ham salad spread that is great to use leftover holiday ham up. A chopped ham paired with mayo, mustard, pickles, and more. Top bread, serve on crackers, eat plain, etc.
Ingredients
2 1/2 – 3 cups cold ham cubed
2 celery stalks diced
1/2 cup dill pickles diced or relish (to taste)
3/4 cups mayonnaise
1 Tablespoon yellow mustard
1 teaspoon white pepper
Instructions
You will start by dicing up your ham into small cubes. Chop your celery and pickles as well.

Add your diced ham, celery, pickles, mayonnaise, mustard, and pepper in a bowl. Mix and season to taste.

Chill your ham salad in the fridge until you are ready to serve. Then place ham salad mixture on bread, crackers, etc.
Notes
This is a great recipe to use leftover holiday ham. You can use relish to replace of diced pickles. Consider using spicy mustard for a kick of flavor. Store the leftover salad in the refrigerator, for up to three days. This ham spread does not freeze well.
Nutrition
Serving: 1gCalories: 195kcalCarbohydrates: 1gProtein: 1gFat: 21gSaturated Fat: 3gPolyunsaturated Fat: 13gMonounsaturated Fat: 5gTrans Fat: 1gCholesterol: 12mgSodium: 303mgPotassium: 26mgFiber: 1gSugar: 1gVitamin A: 48IUVitamin C: 1mgCalcium: 12mgIron: 1mg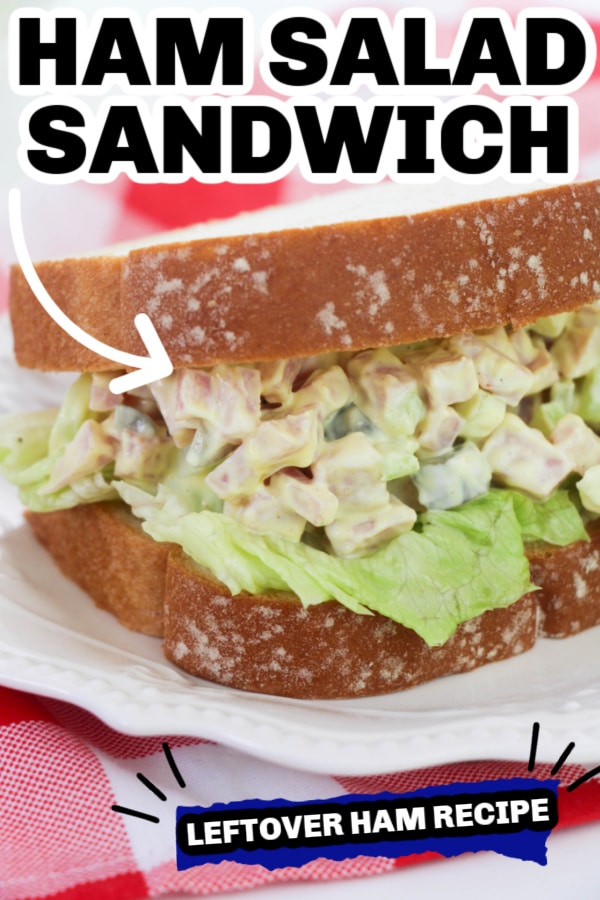 Reader Interactions