Smoked ham on the pellet grill is the way to go! I call this double smoked ham because technically the ham was pre-smoked when we purchased it, so you smoke it again on your grill. Two ingredients are all you need for a flavorful, juicy, and tasty smoked ham to feed your crew.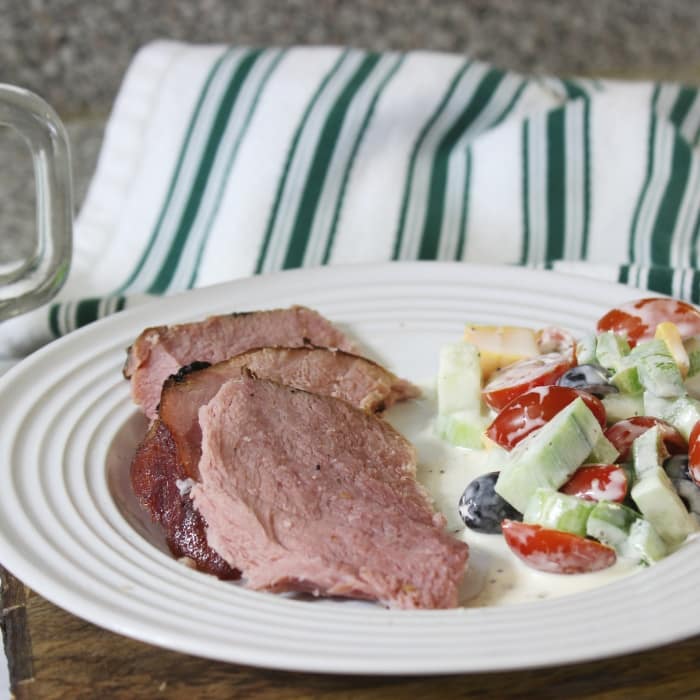 This smoked ham recipe is a breeze! My husband is the grill master around here, and we have cooked our ham this way for a few years now. It is easy to do, no major steps required and leaves you with a juicy ham to slice and serve your family or crowd. This would make a really tasty Easter ham to change things up from a classic pineapple ham.
Smoked Ham
The reason why we smoke our ham is because of the flavors that infuse into the ham as it cooks on the grill. My husband buys mesquite wood pellets for cooking ham, it blends nicely with the ham. A savory smoked ham with a shiny sear on the outside for a pretty presentation. We would be lost without our Green Mountain Grill
! Try my Memphis Dry Rub BBQ Chicken as well, on the pellet grill.
Cooking Smoked Ham
You will find that most ham you purchase in the stores have been cured already and are pre-cooked and ready to eat. Also, almost all hams will be labeled that they are "smoked" and you could technically slice it up and eat it cold.
Because your pre-cooked smoked ham is classified as "smoked" that is why I call this recipe a double smoked ham. I am not just warming the ham up to serve warm, I am smoking the ham and adding in more smoke flavor to really amplify the flavors.
How To Cook A Smoked Ham
A bottle of Pepsi and a bone-in pre-cooked cured ham is all you need! I created a video to walk you through the steps to help you to see how easy it is to toss your ham on the grill and infuse smoke flavor and more. Trust me, it is totally worth it. The flavor is phenomenal and you will never warm a ham up in the oven again!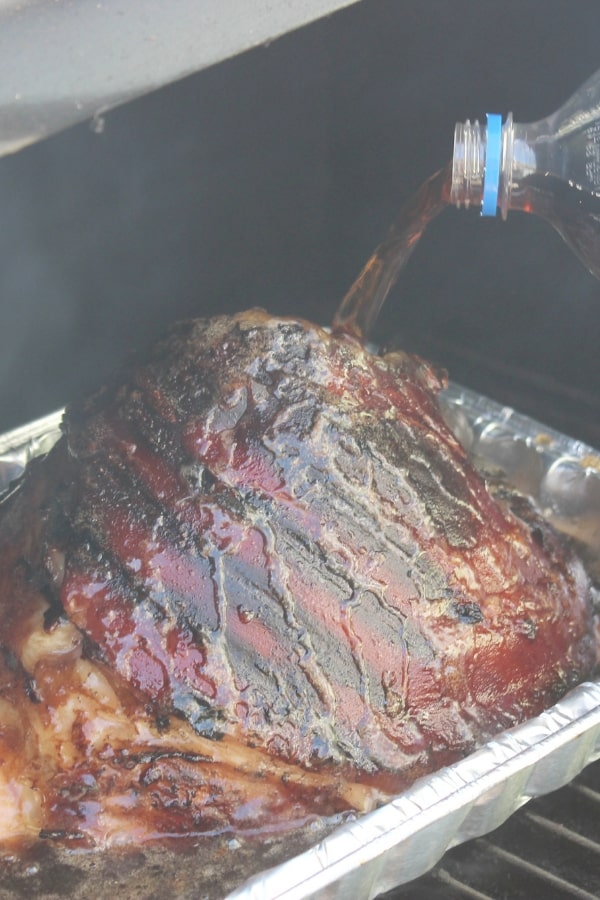 You start by cranking your pellet grill all the way up to 500 degrees. We use man grates
to help give the ham those stunning grill marks and infuse more smoke into the meat. If you haven't heard of them, they are worth looking into!
Sear your ham on all sides to help add in flavor. You want to cook each side of the ham for 10-20 minutes each to really create a nice sear all over the ham.
Once you have all your grill marks and the ham is seared, you want to transfer the ham into a pan. Pour in some Pepsi and reduce the temperature to 225 degrees.
Then baste your ham every 20-30 minutes for 4 hours. This is going to help keep the ham moist as it gets a double smoke in your pellet grill. You can check the internal temperature reaches 140 degrees, and at that time you can pull the ham off the grill.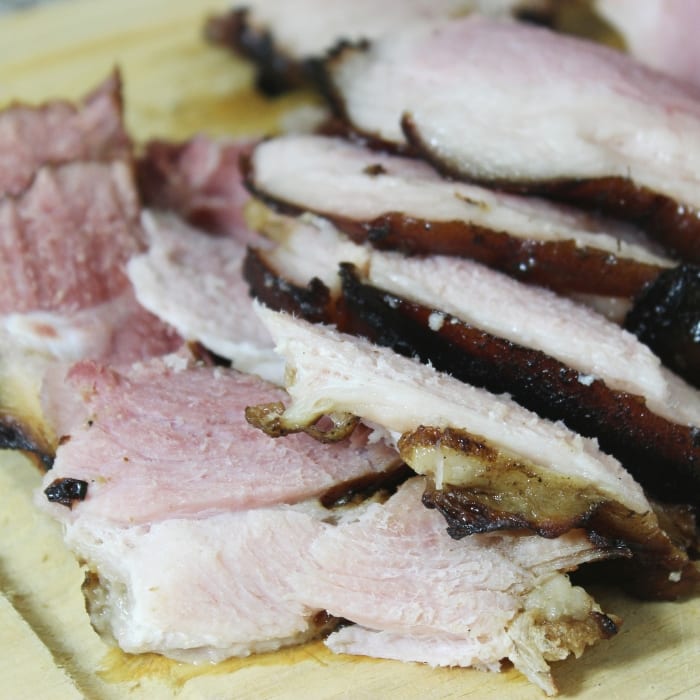 Slice up that ham and serve it however you would like! While it takes some time to cook your ham and infuse the smokey flavors, it will be totally worth it when you go to carve it up and serve your guests or family. We get asked all the time how do you make such flavorful ham.. and this is exactly how!
How Long Should You Smoke a Cured Ham?
Wondering how long should you smoke a cured ham? Good question! I recommend cooking a cured ham for about 15 to 20 minutes per pound. Look at the label to see how much your ham weighs and times it by the minutes. So if your ham weighs eight pounds, you would want to smoke it for around 2 to 3 hours long.
How Long Does Smoked Ham Last in the Fridge?
You can keep your smoked ham that is cooked in the fridge for 3-4 days. After that, you need to toss out any leftovers as bacteria can begin to grow and make you sick.
What To Serve With Double Smoked Ham
Fresh Veggie Salad (this is what is pictured in this recipe next to ham)
Or any other favorite side dish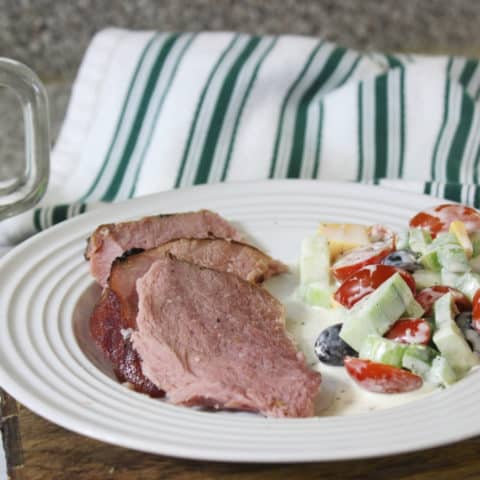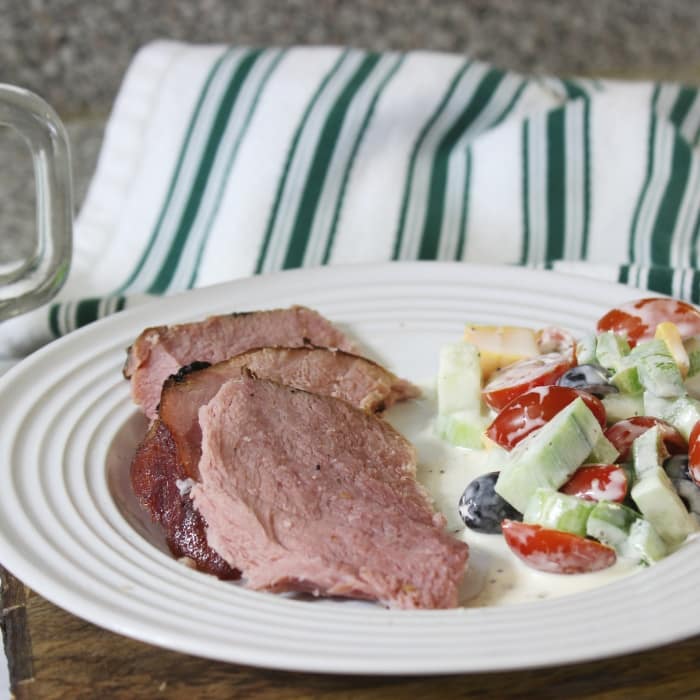 Double Smoked Ham on Pellet Grill
Total Time:
4 hours
5 minutes
Double smoked ham on pellet grill is a way to infuse more smoke flavor into your already smoked pre-cooked ham.
Ingredients
1 pre-cook cured smoked ham
2 liter of Pepsi, Coke, or Dr. Pepper
Instructions
Start by preheating your grill to 500 degrees.
Place your ham long side down on the grill for 10 -20 minutes. You want to sear the ham, on all sides of the outside. So rotate the ham around and build a nice sear all around.
Once your ham is fully seared place in a pan and pour some pop over the ham. This is what you will use to baste throughout the cooking process.
Drop the heat down to 225 degrees and baste your ham every 20-30 minutes for 4 hours.
Once the 4 hours is up, pull the ham from the grill, and slice and serve.
Notes
Average cook time is 15-20 minutes per pound of ham. So you can adjust cook time to the size of ham you purchase.
Recommended Products
As an Amazon Associate and member of other affiliate programs, I earn from qualifying purchases.
Nutrition Information:
Yield:

15
Serving Size:

3 slices of ham
Amount Per Serving:
Calories:

82
Total Fat:

0g
Saturated Fat:

0g
Trans Fat:

0g
Unsaturated Fat:

0g
Cholesterol:

1mg
Sodium:

44mg
Carbohydrates:

20g
Fiber:

0g
Sugar:

19g
Protein:

1g
Can You Freeze Smoked Ham
You can freeze smoked ham. We cook our ham up, and then with what we don't eat that day, we use our Food Saver
system. It vacuum seals the ham up, and then we place in the freezer. Because of the vacuum seal, it can last for up to two years in the freezer. You can see how awesome the shelf life of food is when you use a Food Saver. Totally worth investing in.
Now if you are using a regular freezer bag you can store your leftover ham in the freezer for up to three months.
ManGrate Grill Enhancement System
FoodSaver Vacuum Sealer Machine
Green Mountain Grills
Why Do You Cook Smoked Ham On Pellet Grill
We use our pellet grill because we can maintain and regulate the temperature of the grill. Our Green Mountain Grill plugs in and heats evenly as an oven would. You can select the temperature you want, and your grill will maintain the heat.
So we go from super high heat to sear the ham, and then drop it down to cook low, slow, and infuse the smokey flavor into the ham.
Give this easy double smoked ham recipe a try today, and let me know how you and your family like it!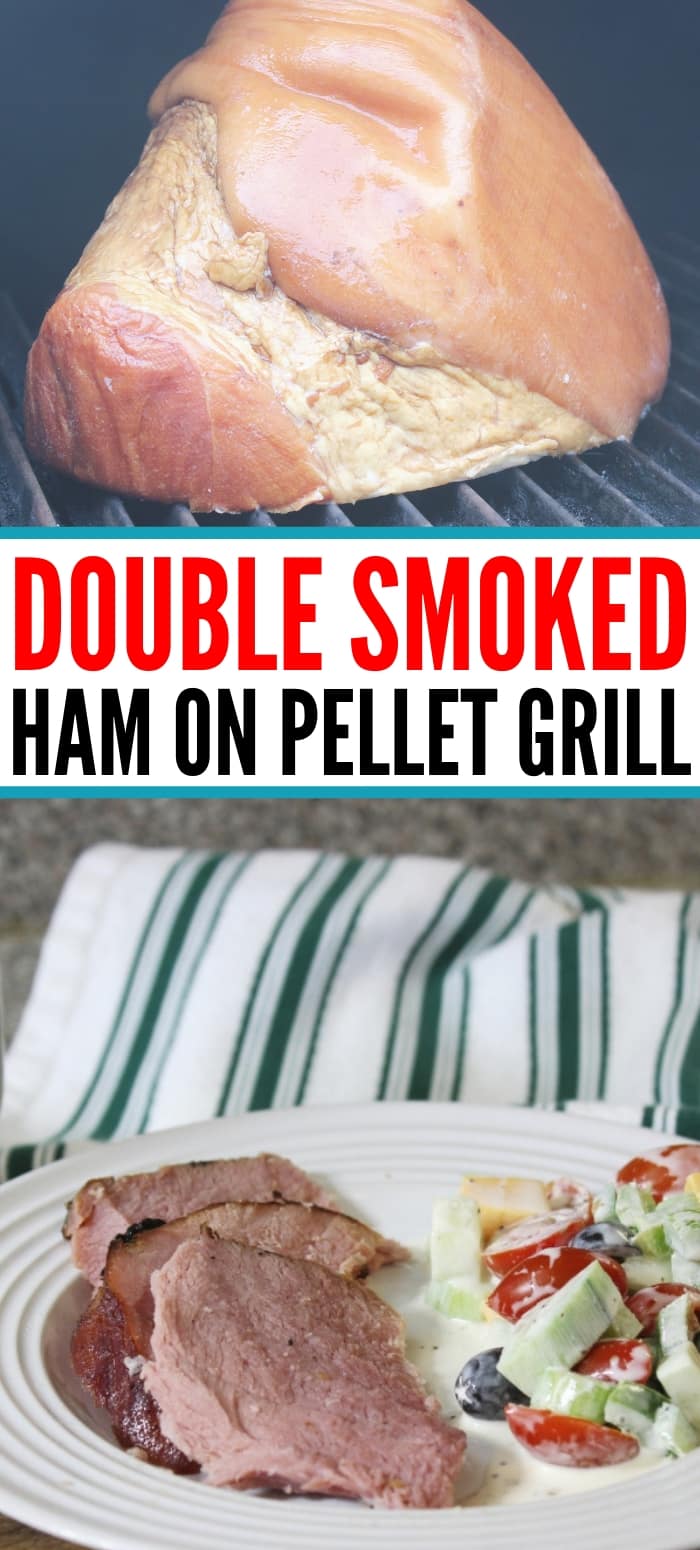 Have you ever made a double smoked ham before?