These gingerbread Christmas Jello Shots will make your party unforgettable. Elevate the fun this year, with a gingerbread jello shot that is flavored with Bailey's Irish cream, vodka, and a gingerbread simple syrup.
This Christmas cookie Jello shots recipe is one you will want to make every year. The flavors are so rich and warm, it is hard to resist eating too many. A fun gingerbread recipe idea to try out. For a kid-friendly treat try my Grinch hot chocolate.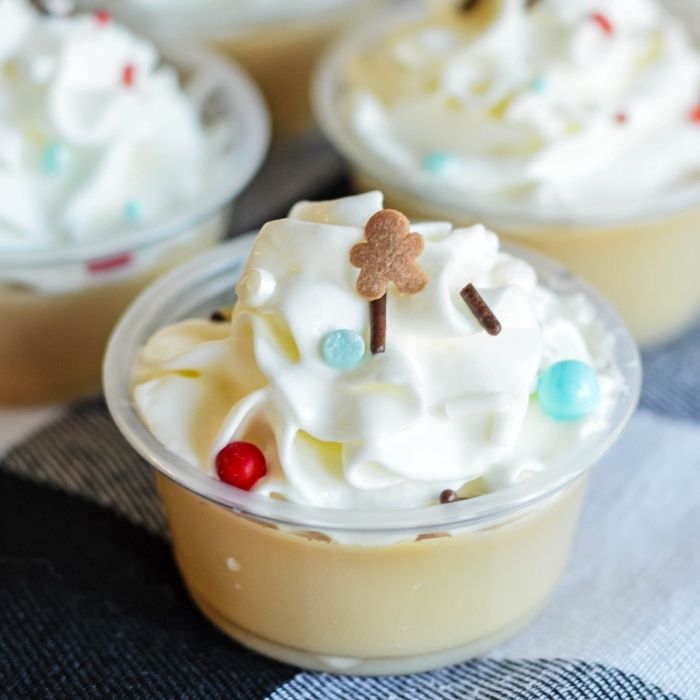 I am not a huge drinker, but on occasion there is something about an adult Jello shot that hits the spot. These are a boozy gingerbread recipe, but can be made kid-friendly by leaving out the alcohol!
This Gingerbread Jello Shot Recipe Is…
Easy to Make
Festive Party Jello Shots Recipe
Warm Spices in each one
Simple To Make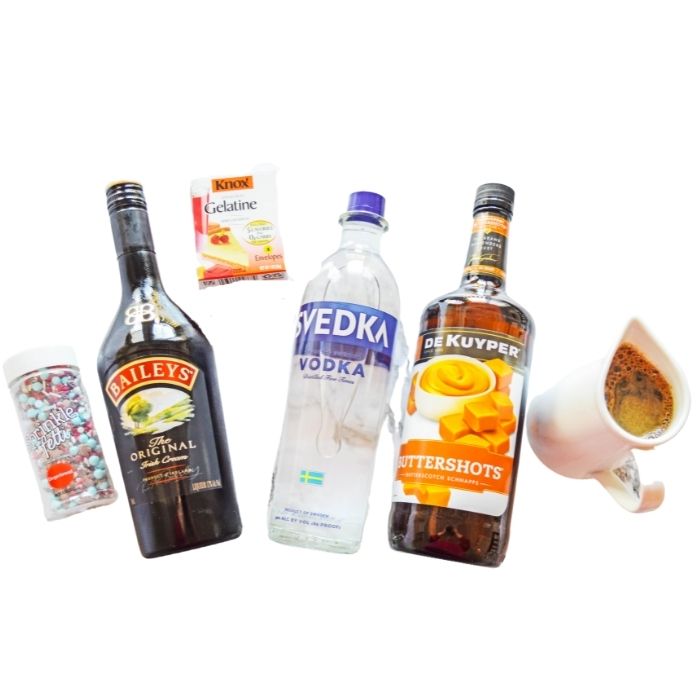 Ingredients You Need
Bailey's Irish Cream – You will use Bailey's to offer a nice creamy richness to the gingerbread Christmas shots!
Butterscotch Schnapps – This is my secret ingredient. I know it might be weird to think of butterscotch for a gingerbread recipe but it is so tasty.
Vodka – Reach for a plain vodka, any brand will work great.
Gingerbread Simple Syrup – Now you can buy gingerbread simple syrup or make the homemade syrup. It is up to you.
Knox Gelatin – Plain gelatin is used for setting up the shots.
Whipped Cream – This is optional.
Gingerbread Sprinkles – Optional as well but is very fun if you add whipped cream on top!
How to Make
Full directions for this Jello shot recipe for the holidays is in the printable recipe card at the bottom of the post.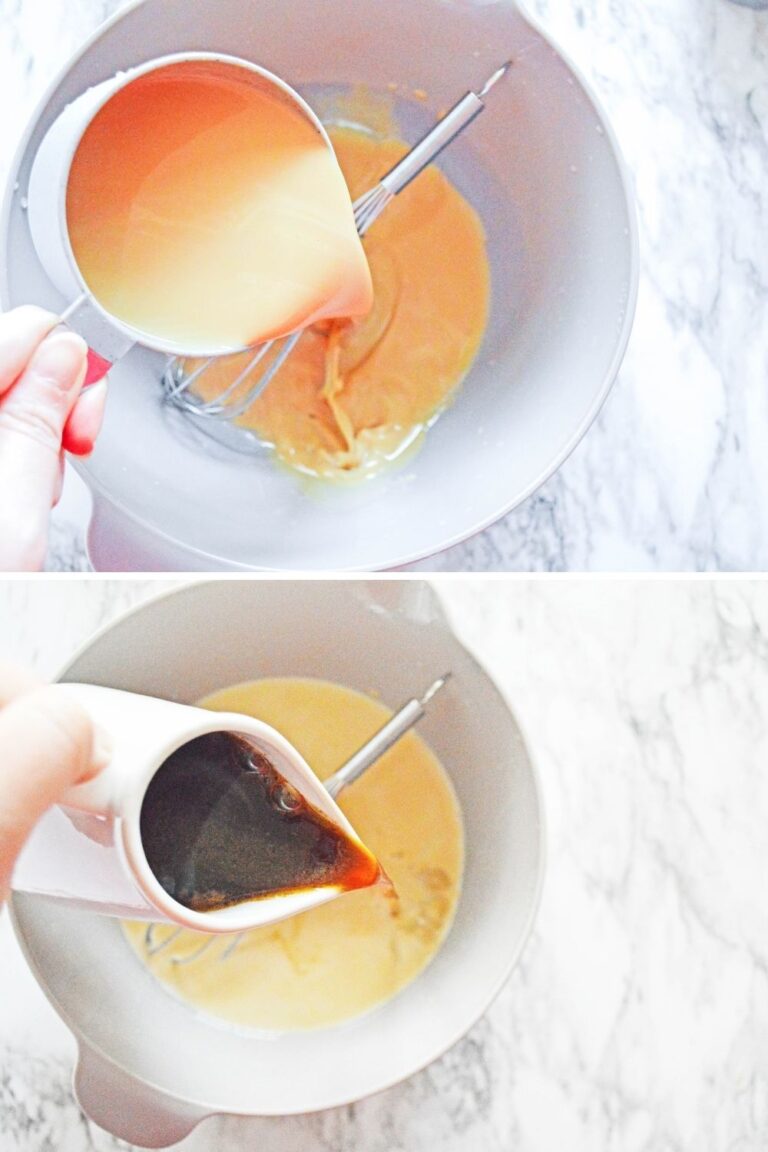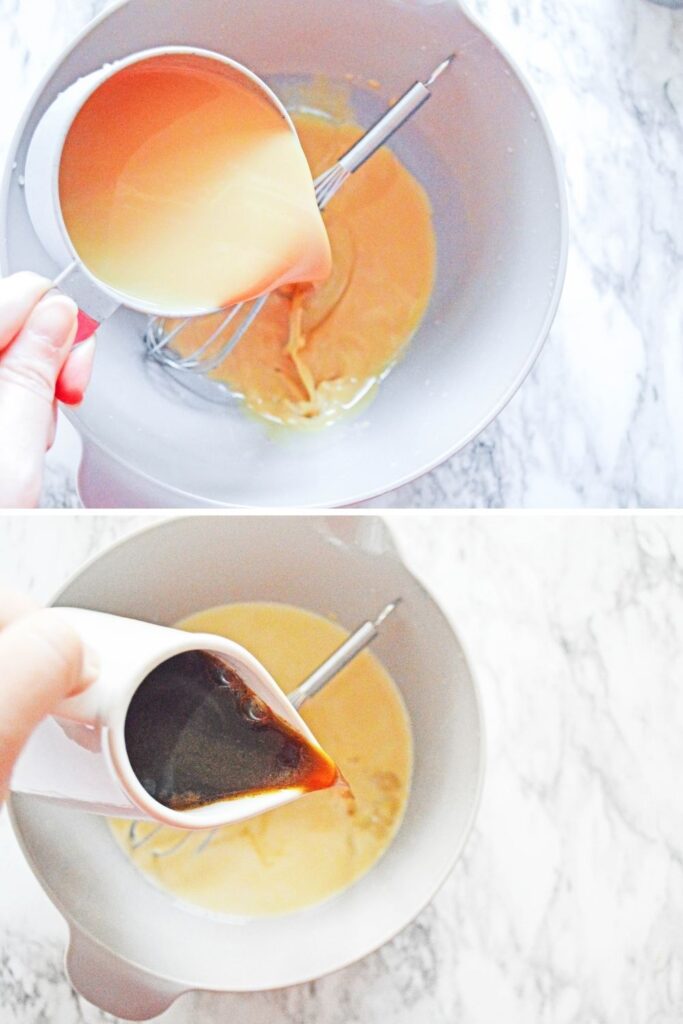 Step One: Add the Baileys, vodka, butterscotch Schnapps, gingerbread syrup, and cold water into a bowl. Mix well.
Step Two: Add in the gelatin, and mix well until it is dissolved.
Step Three: Next, pour in the boiling hot water, and stir for 2 minutes. Make sure it is fully mixed.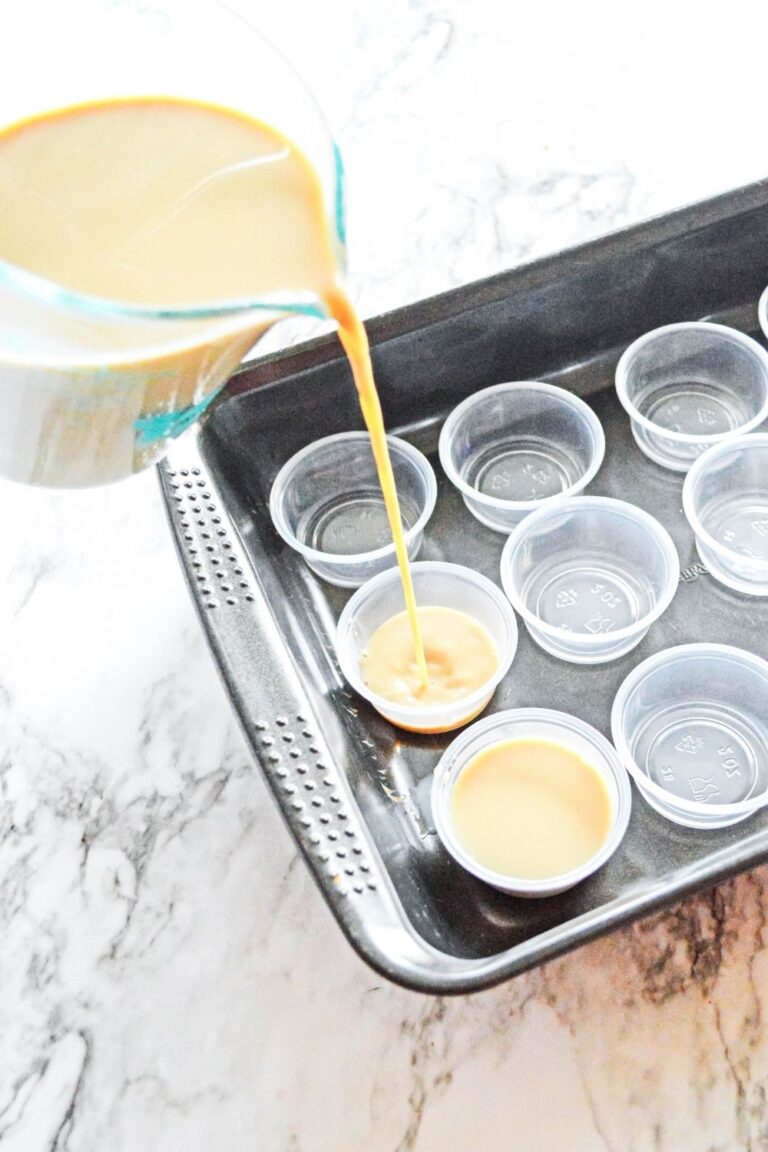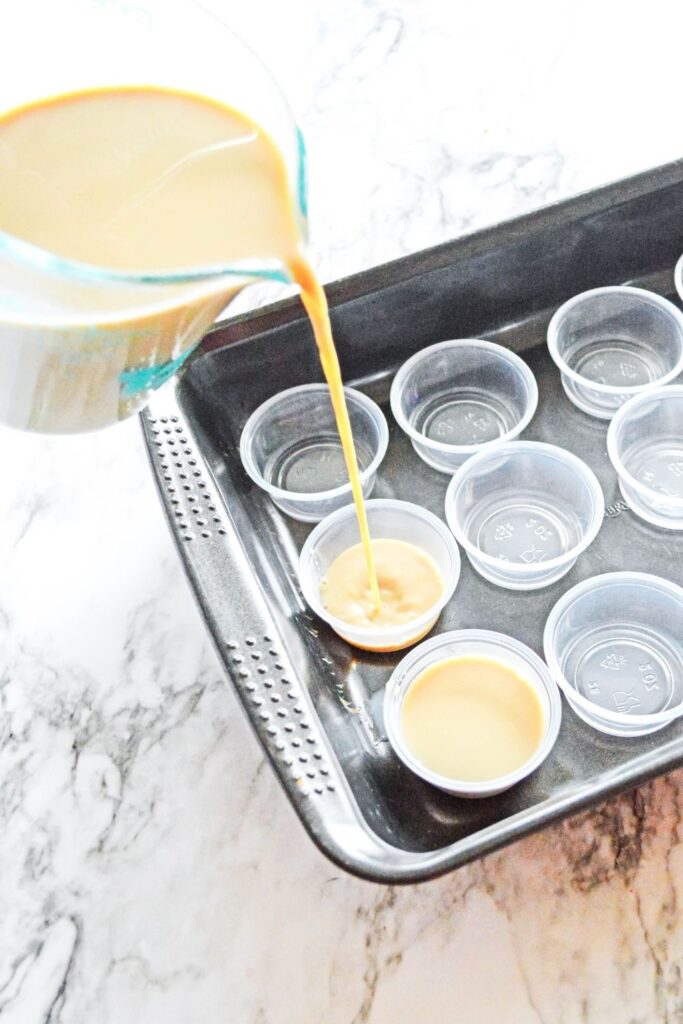 Step Four: Pour the gingerbread shots into the little cups and refrigerate for 2-3 hours. Once set up, top with whipped cream and sprinkles!
Helpful Tips For Making
Make sure to mix well once you pour the boiling water in. It is important to mix up all the gelatin and get it fully melted.
You can make these shots 1-2 days in advance of when you want to serve them. Just put whipped cream on the top right before serving.
Don't add too much alcohol or it will cause the shots to not set up.
FAQs
Common questions about this holiday shots recipe!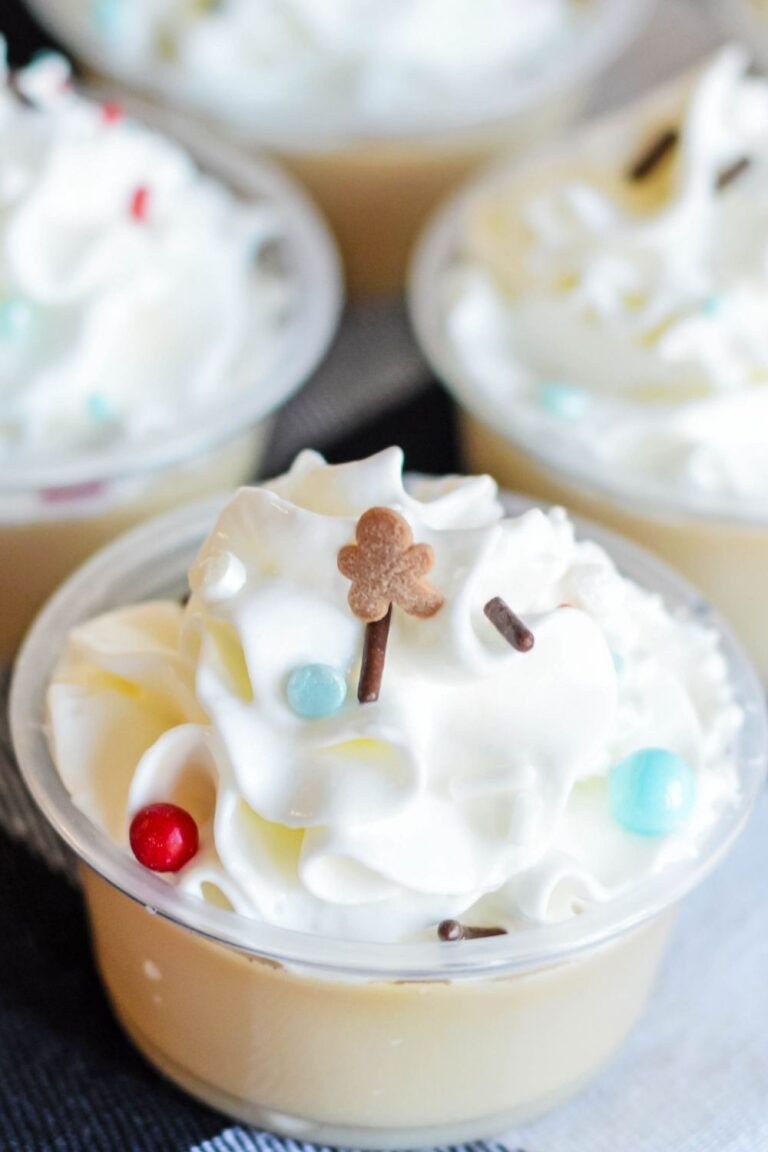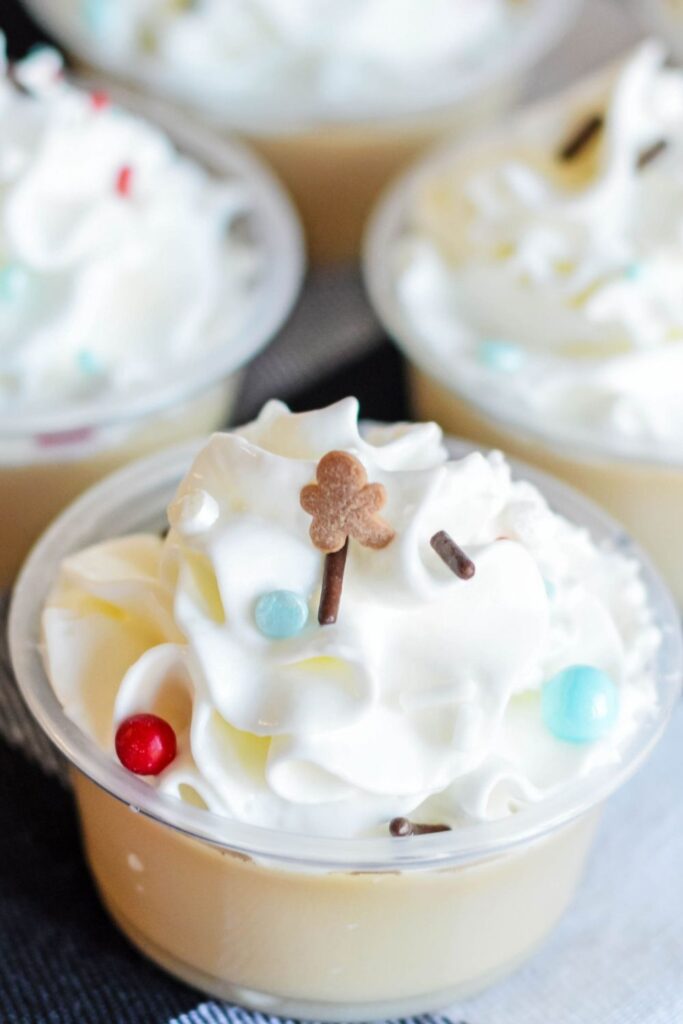 Related Recipes
Have you tried the recipe? If so, please leave a star ⭐️⭐️⭐️⭐️⭐️ rating in the recipe card below or drop a comment. Also stay in touch with me through social media by following me on Facebook, Pinterest, or My Facebook Group!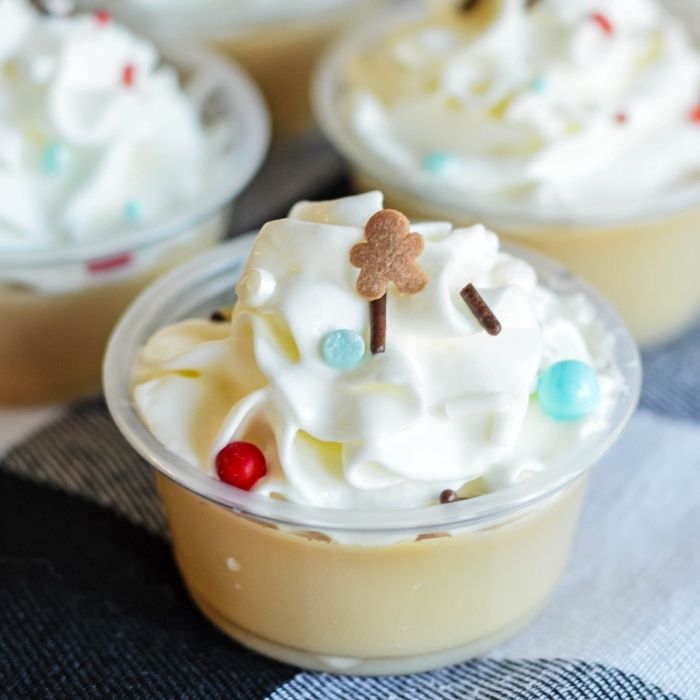 Gingerbread Christmas Jello Shots Recipe
Servings 18 -20
Dive in to these gingerbread Christmas Jello Shots! A fun and festive Christmas Jello shots recipe that is loaded with warm spices! A must try holiday shots recipe great for adults. Or remove the alcohol for a kid-friendly option. Baileys, Gingerbread simple syrup, vodka and more all come together for this gingerbread recipe.
Ingredients
Ingredients For Gingerbread Shots
1/2 cup Baileys Irish Cream
1/2 cup Vodka
1/4 cup Butterscotch Schnapps
1/2 cup cold water
4 Envelopes Knox Gelatin
2 cups Boiling Water
1/4 cup Gingerbread Simple Syrup
Gingerbread sprinkles optional
Whipped Cream optional
Gingerbread Simple Syrup
1 cup sugar
1 cup water
2 tablespoons molasses
1 teaspoon ginger
1 teaspoon cinnamon
Instructions
Add your Bailey's, vodka, Butterscotch Schnapps, gingerbread syrup and cold water into a bowl.

Add in the 4 envelopes of gelatin, and stir until mixed together.

Pour in the 2 cups boiling hot water, and stir for 2-3 minutes or until all of the gelatin is fully melted.

Pour the gingerbread jello shot mixture in the shot cups or on a rimmed baking sheet.

Refrigerate 2-3 hours or until shots are fully set. Then top with whipped cream and sprinkles if you want.

Store your gingerbread Christmas jello shots in the fridge.

Gingerbread Simple Syrup
Start by adding sugar and water to a pot on the stove. Heat on medium heat stirring occasionally until the sugar is melted.

Then you will add in the cinnamon, molasses, and ginger.

Cook for 2-3 minutes, until fully mixed well, and you can smell the spices well.

Store the gingerbread syrup in the fridge in an airtight container for 3-4 days.

Notes
Gingerbread Syrup – You will have leftover gingerbread syrup, and you can use that for flavoring coffee, baking with it, etc. Jello Shot Storage – Store your shots in the fridge for up to 4-5 days. I find these are best to be eaten within the first 2 days of being made.
Nutrition
Serving: 1gCalories: 103kcalCarbohydrates: 17gProtein: 1gFat: 1gCholesterol: 1mgSodium: 17mgSugar: 16g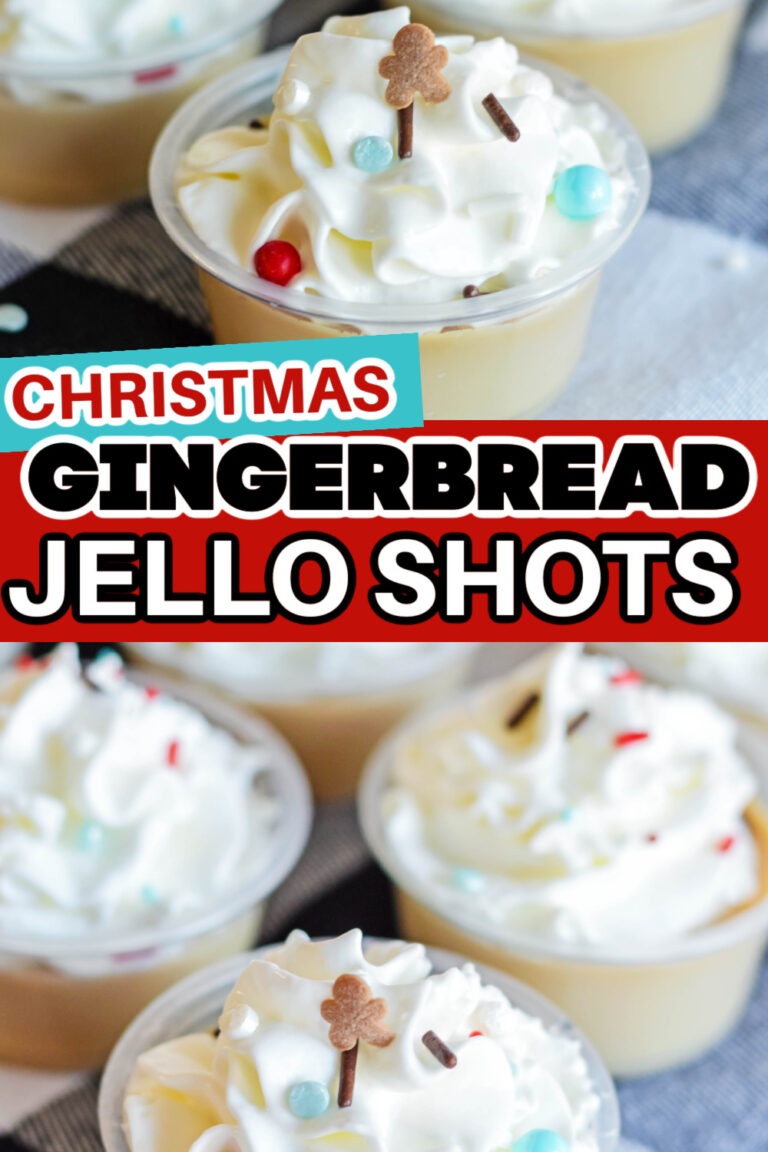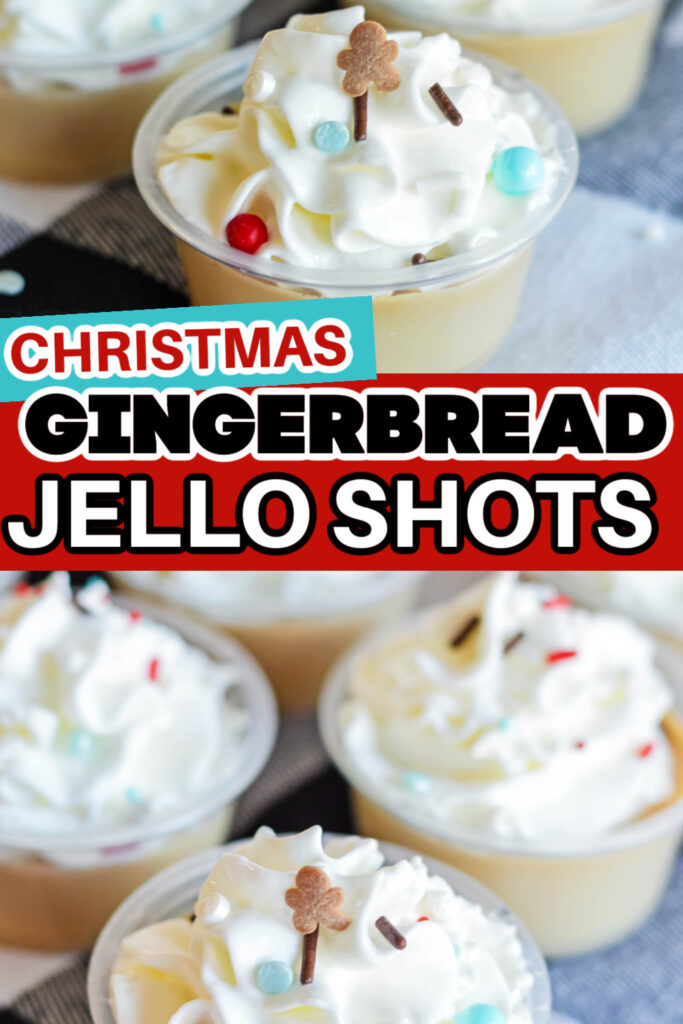 Reader Interactions