Peppermint Martini is an easy and delicious Christmas martini that is refreshing. A white chocolate and candy cane rimmed martini!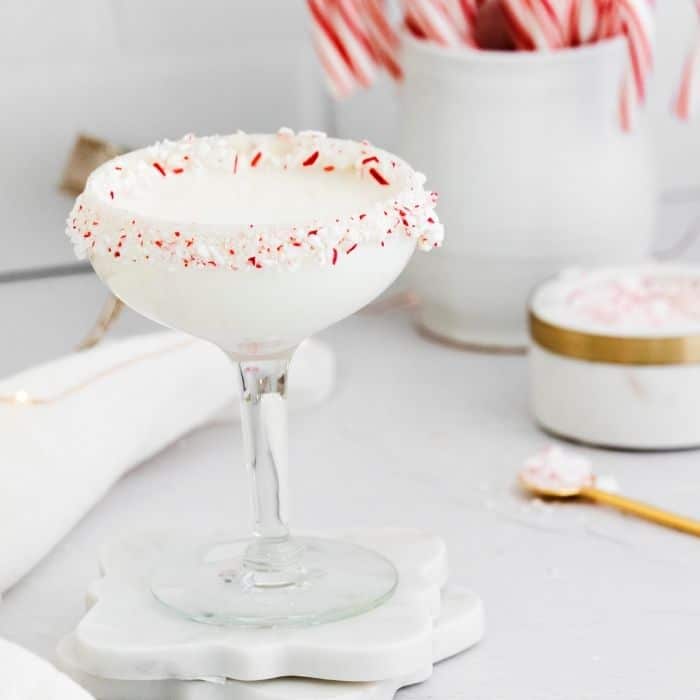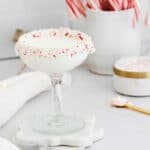 6 ingredients are all it takes to make this minty and refreshing peppermint martini. Candy canes, white chocolate, peppermint schnapps, white chocolate liqueur, and vodka and milk.
Whip up this white chocolate martini for a Christmas cocktail anyone would enjoy sipping on. Peppermintini is calling your name. Or whip up my classic martini for a tasty change. Try this white sangria that is a holiday cocktail.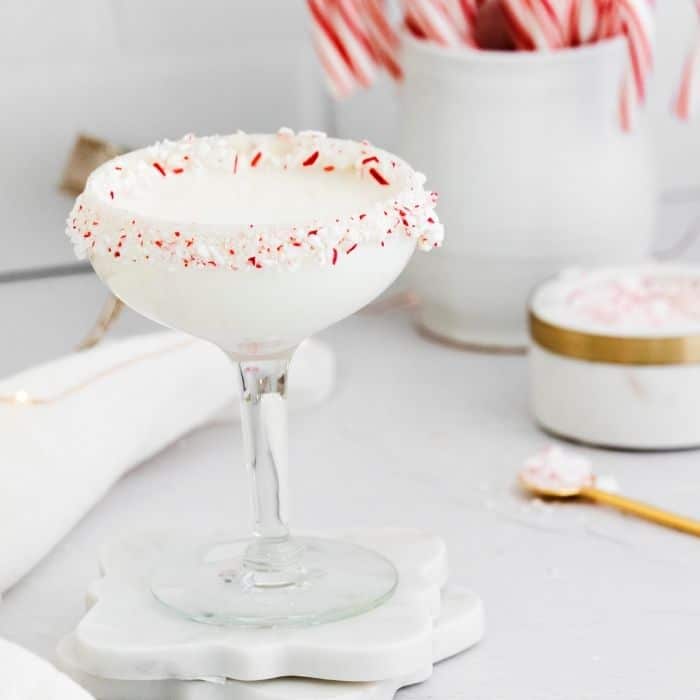 Or add in espresso or Kahula and make this an espresso martini that gives you a nice caffeine boost with each sip.
Why I Recommend This Recipe
Delicious pairing of white chocolate and mint
Easy to make
Elegant presentation
Festive Christmas martini
After dinner drink
Great for entertaining
Here are more alcoholic drinks to make
If you enjoy this white chocolate peppermint martini, here are a few more recipes to consider adding to your drink list.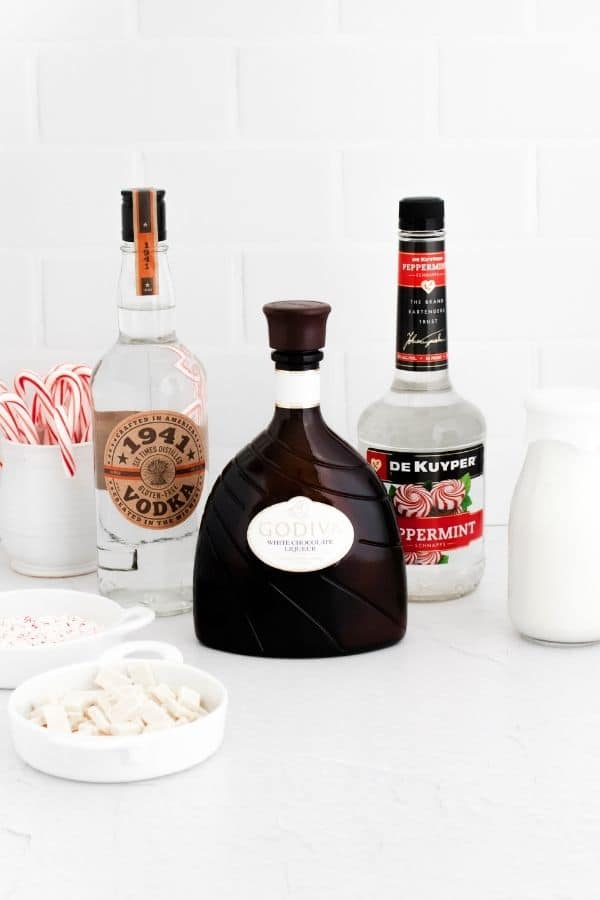 What Do I Need To Make
Candy canes
Vodka
White chocolate liqueur
Peppermint schnapps
White chocolate
Milk or dairy free milk
How to Make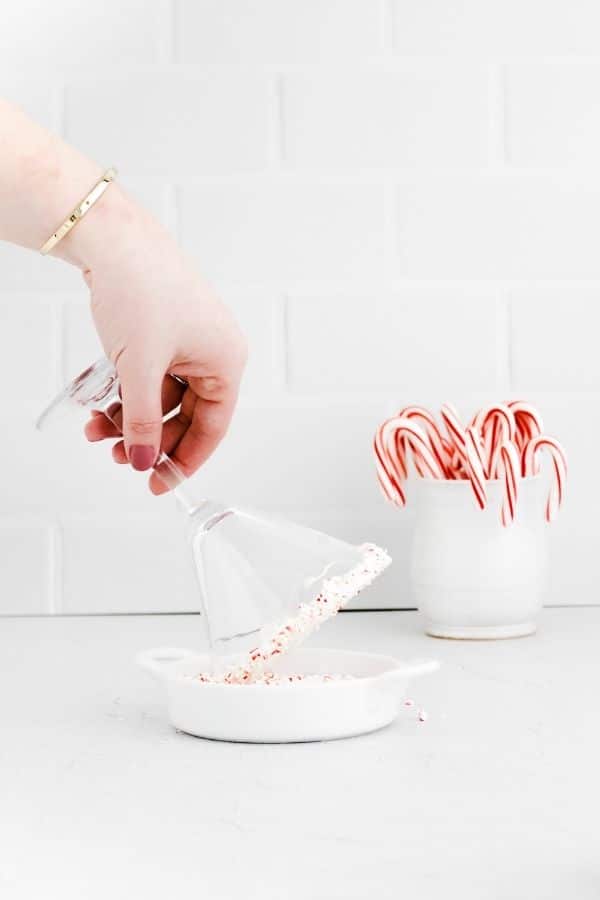 White chocolate is used to rim the glass. Melt your chocolate and place in a shallow bowl. Dip the martini glasses into the white chocolate and then allow excess to drip off.
Place the dipped glass in crushed candy canes to give your glass that candy cane rimmed look.
Now add your white chocolate liqueur, schnapps, and milk in a shaker. Shake up as directed and pour into your glass.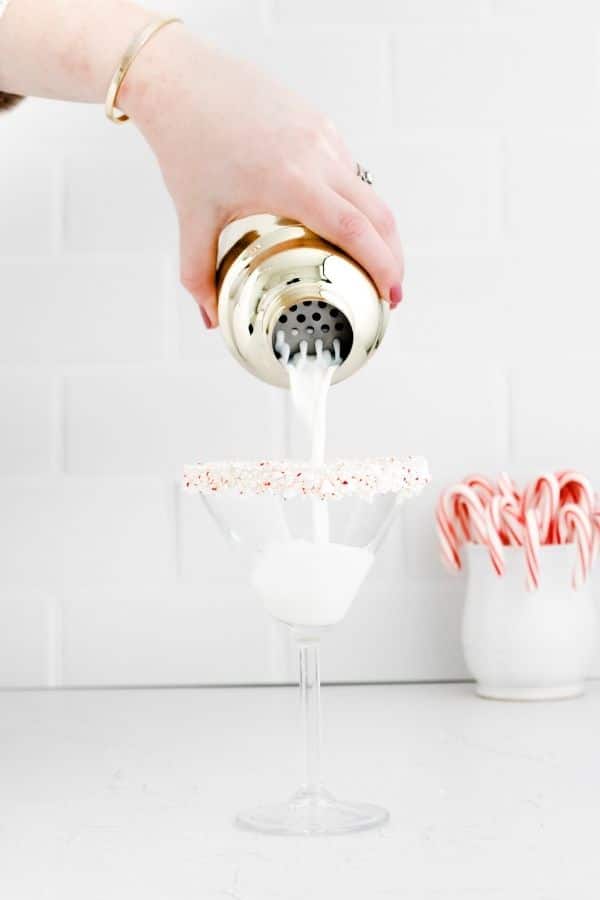 Serve up one incredible and easy mint cocktail that will melt in your mouth.
Variations to coating rim of glasses
Crushed candy canes only, skip the chocolate.
Crush up peppermint bark to dip.
Andes mints crushed.
Etc
Storing
You can go ahead and make your drink in advance partially. Just mix your alcohol together and store. Then right before serving mix in your white chocolate liqueur and milk, shake and pour.
You can do this one hour before serving. It isn't a drink you can fully prep in advance. This Godiva white chocolate martini is so tasty!
Recipe FAQs
What if I don't have white chocolate liqueur?
If you don't have the chocolate liqueur you can swap with a Crème de cacao it makes an incredible swap.
Can I Substitute milk in white chocolate martini?
Go ahead and use any dairy substitute for the milk in this recipe. Just think of the minty flavor and reach for your favorite non dairy milk. You will measure and use the same amount as regular milk.
What kind of alcohol is in peppermint schnapps?
Peppermint schnapps is used with a neutral grain alcohol. Then it is flavored with peppermint leaves or peppermint extract.
How do you Rim a glass with peppermint?
First you will dip your glass in white chocolate, make sure to shake off excess chocolate. Then gently dip the wet chocolate rimmed glass in crushed peppermint. The chocolate will help it stick to the glass.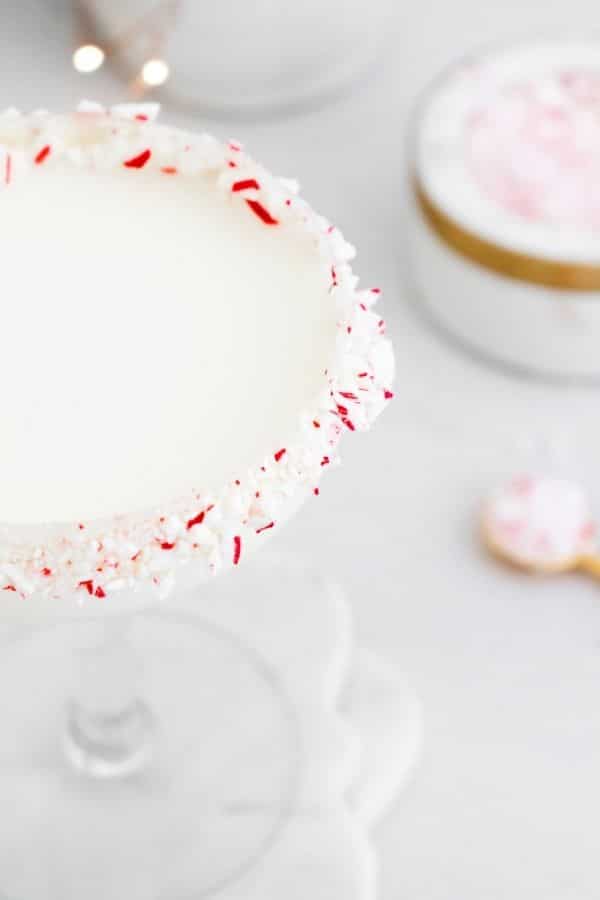 Looking For More Peppermint Recipes
Enjoy this peppermint martini for any night of the week! Pair with a minty dessert.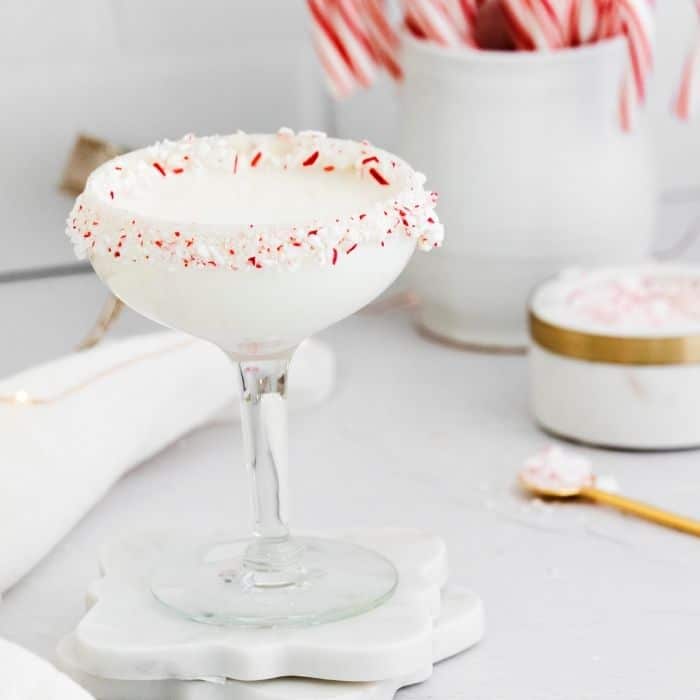 Peppermint Martini
Servings 1
Peppermint Martini is an easy and delicious Christmas martini that is refreshing. A white chocolate and candy cane rimmed martini!
Ingredients
¼ cup white chocolate melted
2 candy canes crushed (or peppermints)
1- ounce vodka
1- ounce white chocolate liquor
1- ounce peppermint schnapps
1- ounce milk or milk alternative almond, coconut, etc
Instructions
Melt your white chocolate in a bowl in the microwave for 20-second increments. Stirring in between each heating cycle. While the chocolate is melting crush up your candy canes and place them on a plate.

Once the chocolate is melted dip your rim of the martini glass into the white chocolate just to coat the edge.

Dip the glass in the crushed candy cane. Then sit and let set up while you make your drink.

Now in a shaker add your milk, vodka, chocolate liquor, and schnapps. Shake with ice and once mixed, pour into your martini glass!

Serve your peppermint martini right away and enjoy a refreshing mint martini!
Notes
You can mix the alcohol together for 1 hour in advance. Then mix with milk and serve. I wouldn't make any farther in advance than that. Feel free to make extra to serve more than one person. You can use peppermint sugar to replace of candy canes if you want.
Nutrition
Serving: 1gCalories: 716kcalCarbohydrates: 84gProtein: 12gFat: 19gSaturated Fat: 12gPolyunsaturated Fat: 6gCholesterol: 31mgSodium: 193mgSugar: 60g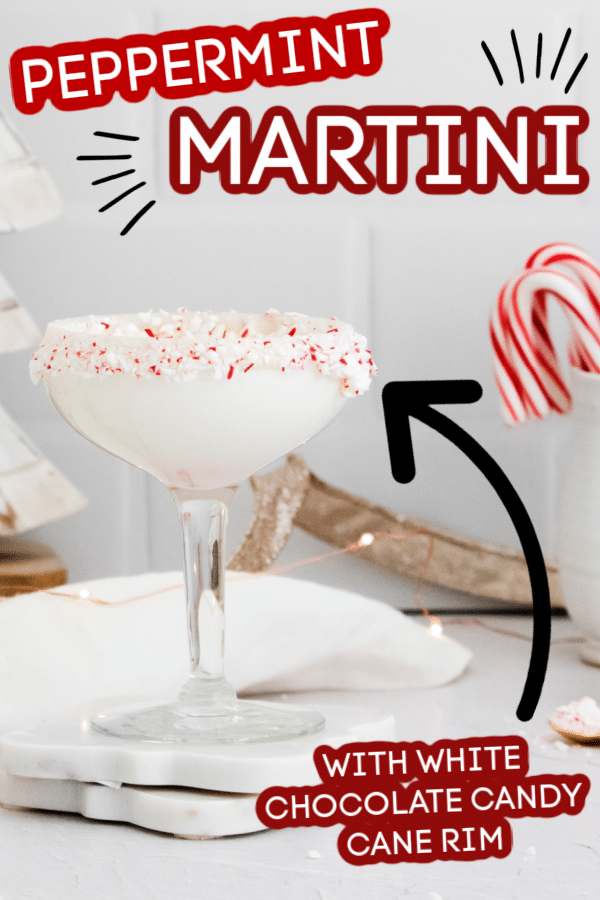 Let me know how you like this candy cane martini!
Reader Interactions