Log Cabin Gingerbread House is a rustic log cabin gingerbread house. Pretzel house with graham crackers. No kit is required for this gingerbread log cabin.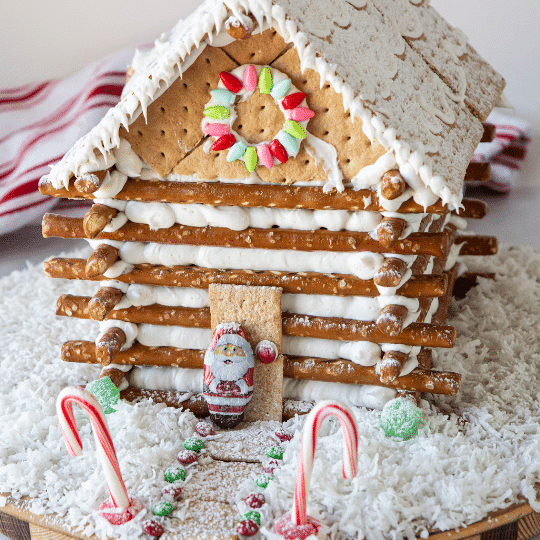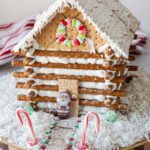 No kit is required with this log cabin gingerbread house! This is a fun and creative Christmas activity, that is a pretzel log cabin. This pretzel house is stunning. Learn how to make a gingerbread house with simple pantry essentials.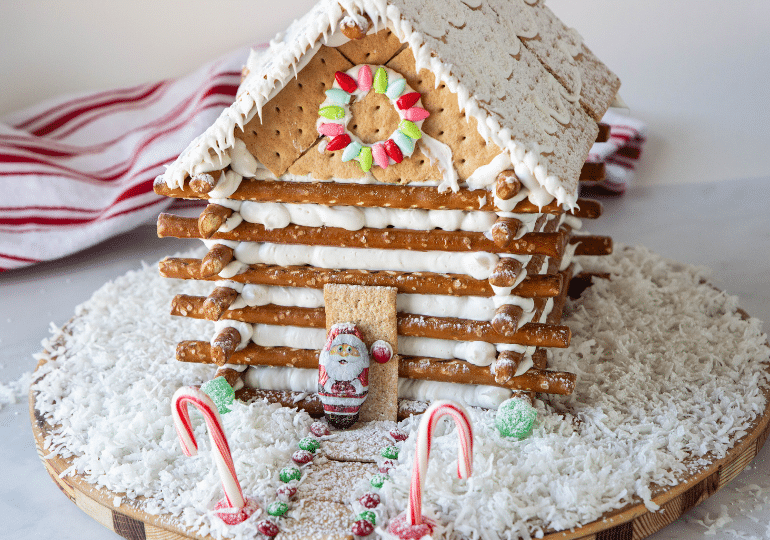 This pretzel gingerbread house is made with pretzel rods, frosting, graham crackers and a few other essentials. This is a fun Christmas activity for kids and grownups to take part in.
If you want to make a gingerbread log cabin, with no kit gingerbread house this is a great guide. I also have a video, to help walk you through how to make the cabin.
Why Make This
So easy to make
Simple pantry ingredients needed
No kit needed
Fun and Creative
Unique
Delicious to nibble on as you decorate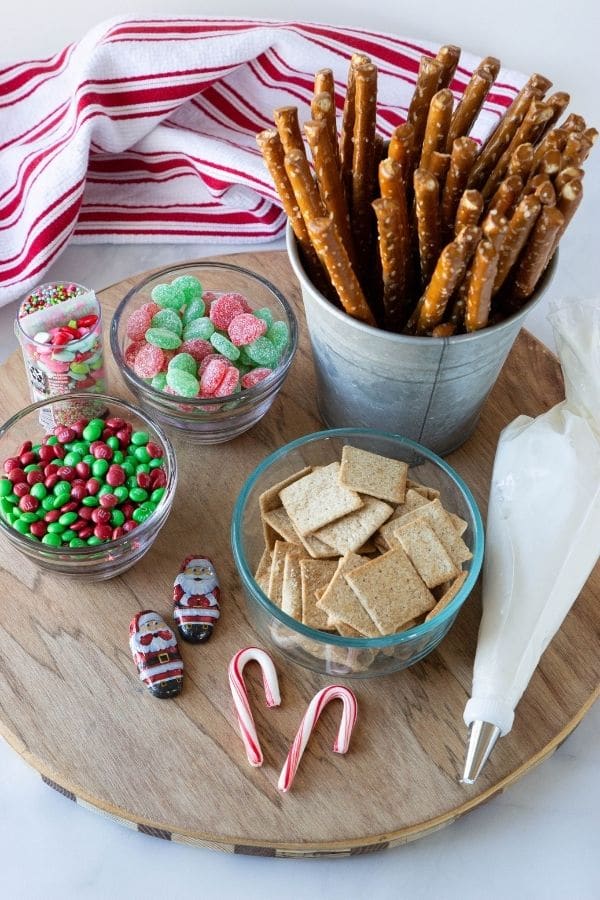 Ingredients Needed
Large Pretzel Rods
Graham Crackers
Frosting or Icing
Wheat Thins
Candies and Sprinkles for Decorating
How to Make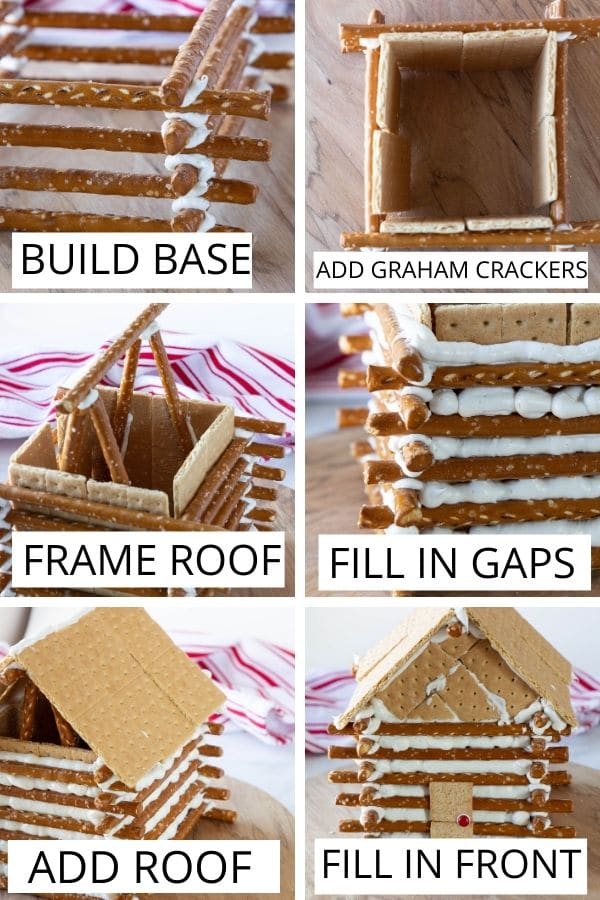 Build Base with pretzels and frosting.
Add Graham Crackers to help support the house.
Create the roof with pretzel rods.
Fill in gaps between pretzel rods around the house.
Add graham cracker roof.
Fill in the front base of the house and add a door with wheat thins and candy door.
Full directions and ingredients are in the printable recipe card below.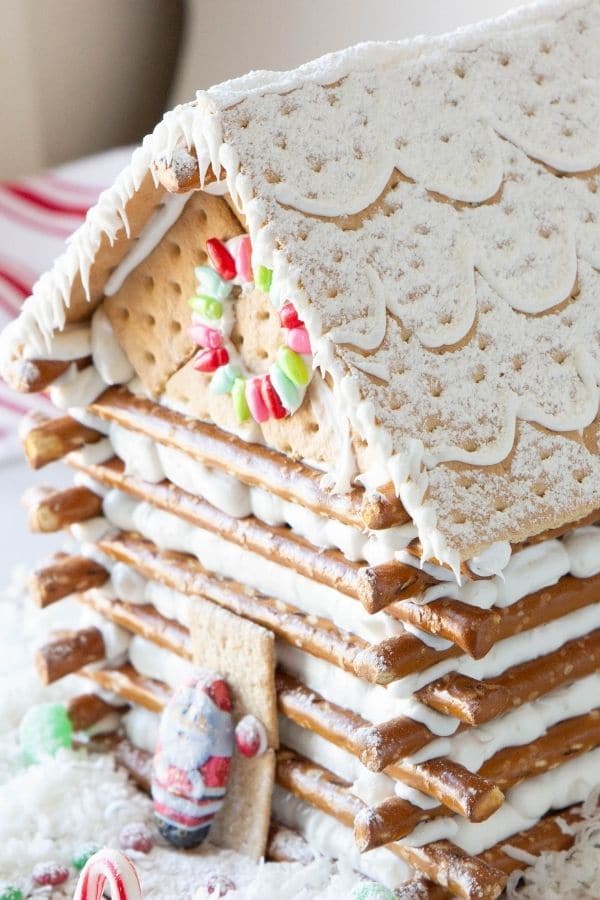 🎅 Ideas For Decorating
Candy Wreath | I adding a circle of icing in the center of the front of the house. Then I used candy Christmas light sprinkles that were lights to decorate as a wreath.
Powdered Sugar | I used powdered sugar to dust my roof. I piped little areas of half hoops, and then dusted it all with powdered sugar to mimic snow.
M&Ms | I used mini Christmas M&M's to decorate the walk way, and for the door knob. You can use any candy or sprinkles you have.
Coconut | I used shredded coconut to dress up around the house to mimic snow. I felt it helped give the log cabin a complete look!
Mini Candy Canes | I used these at the end of the walk way to dress it up a little. I used a Jelly candy to stick it on, and then piped icing to hold them in place.
I didn't add candy all over as I wanted a rustic log cabin look. Now, you can truly use any candies you have.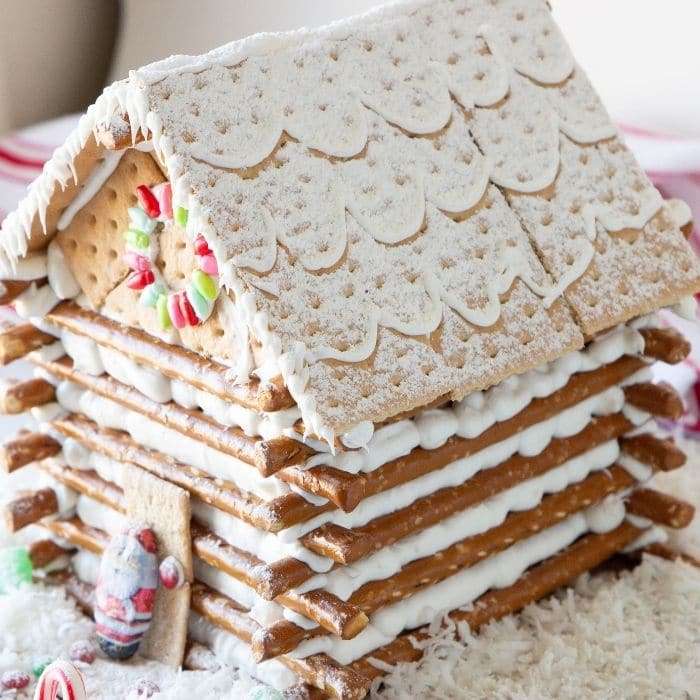 More Ideas to consider
Necco Wafers to decorate the roof like shingles
Jelly Bellys to use to shape a chimney on one side of the roof.
Use Twizzler bites to use as a brick style house.
Use different style pretzels to dress up the log cabin feel.
Add in some Christmas trees candies on the sides
Etc
🏠 Expert Tips
I used pretzel rods for this, as it worked good. You could carve out some ends to chink the logs together if you wanted to take more time.
We used store bought frosting that I put in a piping bag. You can easily make homemade icing if you need.
The graham crackers in the center help add stability, and allow you to frost in between rods and it holds, instead of falling inside the house.
You can honestly decorate your gingerbread with any and all your favorite candies from gum drops to sprinkles!
🍫 Recipe FAQs
What pretzels work best for making a log cabin gingerbread house?
Pretzel rods are the best method. You will use them as wood logs that alternate and stick together. You could use smaller pretzel sticks you stick on a graham cracker as another alternative.
Are you supposed to eat gingerbread houses?
Gingerbread houses are meant to be eaten. You will want to store them in an airtight container if you don't plan to eat it right away. Or you can use it as a decoration for your table. Just throw it out once you are done. It will mold as it sits after awhile.
How do you keep a gingerbread house from falling apart?
Frosting or royal icing is very imperative for keeping your gingerbread together. If you don't use it to act like the glue, it will just fall apart as you are working on keeping it together.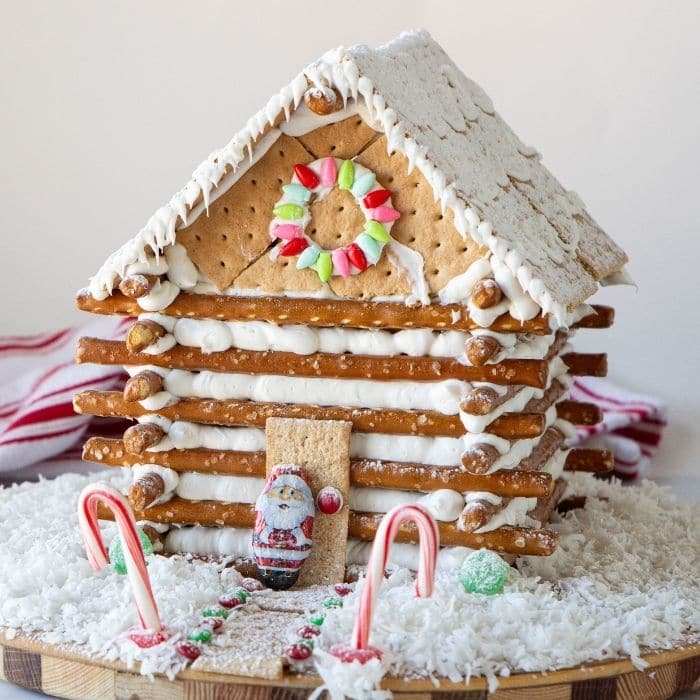 More Christmas Recipes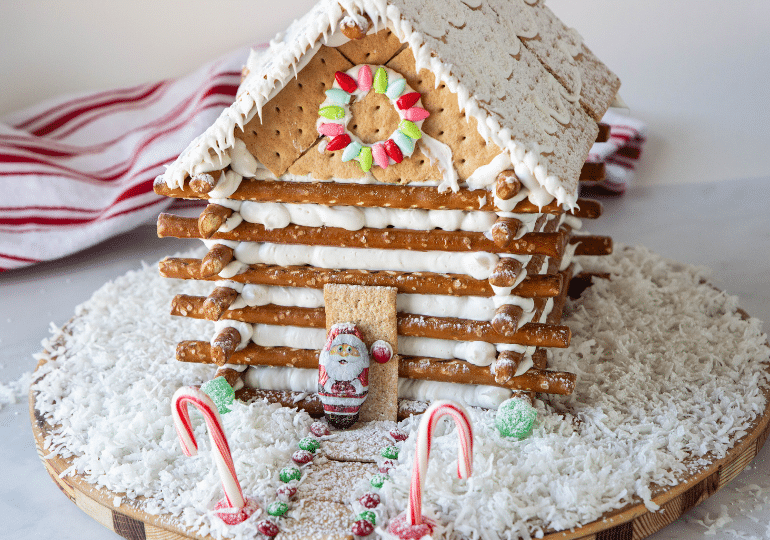 Log Cabin Gingerbread House with Video Tutorial
Servings 1 house
Log Cabin Gingerbread House is a rustic log cabin gingerbread house. Pretzel house with graham crackers. No kit is required for this gingerbread log cabin.
Ingredients
22-26 pretzel rods
2 containers of 16 oz. vanilla frosting or make homemade
2 packets of graham crackers
1 package of shredded coconut
6 wheat thins
Candies and Sprinkles for Decorating
1/4 cup Powdered Sugar
Instructions
You will start by laying 2 pretzel rods down on a flat surface. I used a cutting board. You will add Frosting "glue" to each end of the pretzels and stagger stack the pretzel rods. I used a piping bag for the frosting to make it easy.

I did 6 pretzel rods high and 5 pretzel rods on the sides. You want the front and back side to have 6 rods, to help support the house.

Next you will place graham crackers on the inside to act as walls all around the sides. Then take 2 rods and make a triangle (teepee) shape to be the base of your roof. Do it on both ends. Then take a rod and stick lengthwise.

Now you will add more frosting and begin sticking your graham crackers on as the roof. Use a lot of frosting or they will fall off.

Now you can break down graham crackers to fill in the front triangle area by roof in the front. Frost and then for me, I did frosting and light sprinkles to act as a wreath for decoration.

Then you can take your wheat thins and stick two in the front with a mini M&M to act as a door and knob.

I then made a path with wheat thins, and place mini M&M's on the edge.

I then added shredded coconut all around the house to mimic snow. Add a Santa candy by the door and stuck 2 mini candy canes on.

I piped loops on the roof, and then dusted the gingerbread with powdered sugar.

Decorate your log cabin gingerbread how you would like! It was such a fun gingerbread house to make.
Notes
I recommend watching the video if you are a visual learner. It helps on how to build your house. Get creative with candies used to decorate. I wanted simple. Use homemade frosting or store bought. The frosting is your glue so make sure to not go light on it. Or your house can fall apart.
Nutrition
Serving: 1gCalories: 345kcalCarbohydrates: 59gProtein: 2gFat: 12gSaturated Fat: 3gPolyunsaturated Fat: 8gSodium: 335mgFiber: 1gSugar: 41g
Reader Interactions