Tender, juicy Memphis dry rub chicken that is so delicious and finger-licking good. This is a tasty bbq chicken recipe that uses a dry rub and mustard to flavor the chicken.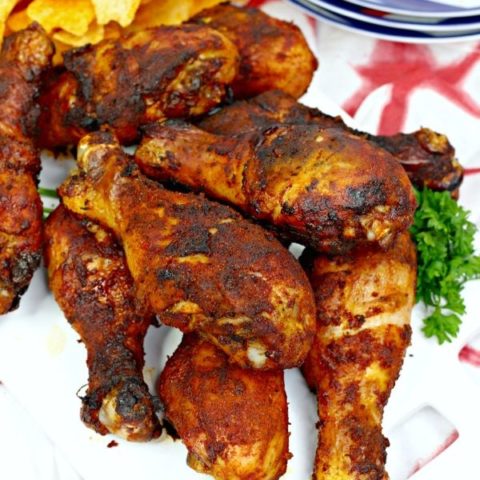 Memphis Dry Rub Chicken is one juicy and flavorful way to grill chicken on the grill. A homemade Memphis dry rub that offers a savory, smokey, and medium spice to your grilled chicken. Memphis dry rub chicken is our go-to way for serving up chicken this summer.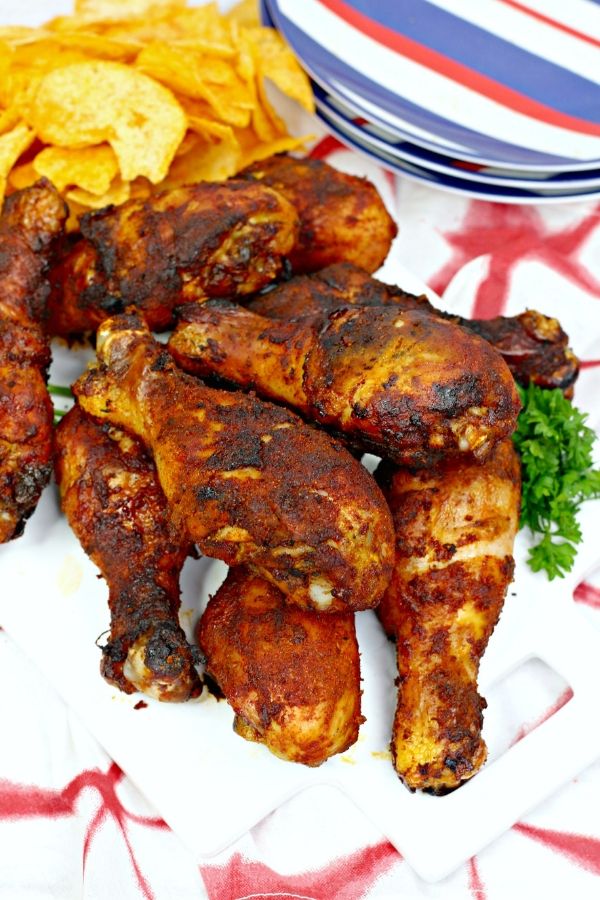 What does Memphis style mean? Well, if you are wondering that, it just means it is a unique flavor blend that if you have Memphis ribs or chicken you know it offers a delicious flavor blend.
Kansas City, Carolina, and Texas are the other three prominent flavors you might have heard of as well.  Serve biscuits with hot honey on top for a spicy side dish.
We have a Green Mountain Grill
that we do a lot of wood pellet cooking. My husband also has a grill that he made years ago that we cook with wood.
While we prefer cooking on the wood, I have to admit, I am a lot handier at cooking on the pellet grill (Try our Double Smoked Ham Recipe) since I can regulate the temperature of the grill. If you haven't tried a pellet grill, it is something to consider if you enjoy cooking outdoors.
Is Memphis BBQ Vinegar Based?
You will see in this recipe I use a dry rub, and then I also have a vinegar-based mixture you will also add to your chicken. It has vinegar, Dijon mustard, and regular yellow mustard. This little mixture offers tons of flavor but also locks in all that juicy flavors of the chicken.
Can I Use This Memphis Dry Rub on Pork
Yes. You can use this on pork or chicken, it is a versatile rub that is tasty. Many use this same recipe on a rack of ribs and love the way it turns out.
What Does Memphis Dry Rub Taste Like
Memphis rub is a mix of spices that offers a slight kick in flavor with a hint of sweetness from the brown sugar.
You will find paprika, cayenne, chili powder, brown sugar, dry mustard, onion powder and more come together for the perfect rub.
As you add the rub to the chicken it will begin to form a paste somewhat, soaking into the chicken for flavor. BBQ chicken legs on grill taste amazing with this easy homemade rub.
What Are Some Good Side Dishes To Serve With BBQ Chicken Legs
We love grilling out, and if you are looking for some good side dishes to serve with BBQ chicken legs, let me help!
Here are some of our favorite sides for barbequed chicken.
Those are just a few of our favorites, but you are welcome to make any of your favorite side dishes.
Can I Use Other Cuts of Chicken For This Recipe
Of course. We used chicken drumsticks but you can use any bone-in chicken. If you do want to opt for boneless just watch it closely so the chicken doesn't dry out as it cooks on the grill.
Expert Tips
Skin Side Down.
Preheat Grill For At least 3-4 minutes before you place chicken on the grill.
Cook until no longer pink and juices run clear. If unsure use a meat thermometer to check the internal temperature to ensure it is done.
Make sure to rotate chicken as it cooks.
Best Way To Store Leftover BBQ Chicken
You can store any leftovers you might have in the fridge for up to three days. Anything after that you will want to toss out in case you run the risk of it going bad. Use your best judgment.
Best Way to Reheat Grilled Chicken Legs
Warm up your chicken legs in the microwave or place in a pan and cover with foil and pop in the oven to reheat. Just heat until warmed through and then serve the barbecued chicken!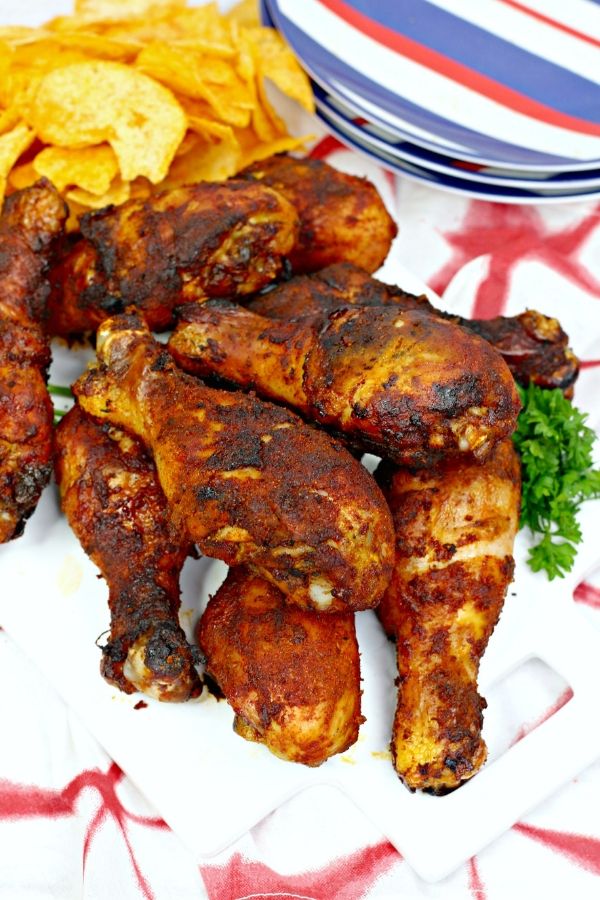 Memphis Dry Rub Chicken Recipe
Servings 3 -4 lbs
Tender, juicy Memphis dry rub chicken that is so delicious and finger-licking good. This is a tasty bbq chicken recipe that uses a dry rub and mustard to flavor the chicken.
Ingredients
For the Chicken:
3-4 lbs skin on chicken legs
Dry Rub:
6 Tbsp paprika
3 Tbsp brown sugar
2 Tbsp chili powder
2 Tbsp smoked paprika
1 Tbsp ground black pepper
2 Tbsp dry mustard
2 Tbsp onion powder
1 Tbsp cayenne pepper
Sauce:
2 Tbsp mustard
1 Tbsp Dijon mustard
1/4 cup white vinegar
Instructions
In a small bowl, add all spices and brown sugar. Mix until combined and set aside.

Take your chicken and pat dry with paper towels, this will help rub stick to chicken better.

Place the chicken in a large bowl and sprinkle with 1/3 of the dry rub. Toss the chicken to evenly coat.

Transfer the chicken to a baking sheet or a casserole dish and place in refrigerator for 1-2 hours.

When you are ready to cook heat your grill to medium-low heat on propane or 350 on pellet grill.

Place the chicken on the grill, have the chicken covered.

Make sure to turn the chicken occasionally for even cooking.

Cook for 20 to 30 minutes.

While the chicken is on the grill prepare your sauce.

In a small bowl, whisk together the sauce ingredients.

Remove from the chicken from the grill.

Brush the chicken with the vinegar sauce and sprinkle some of the dry rub seasoning .

ENJOY!!
Notes
You will have leftover seasoning, you can place in a sealable bag or airtight container and use later.
Nutrition
Serving: 2drumsticksCalories: 438kcalCarbohydrates: 4gProtein: 55gFat: 21gSaturated Fat: 6gPolyunsaturated Fat: 13gCholesterol: 288mgSodium: 275mgFiber: 1gSugar: 2g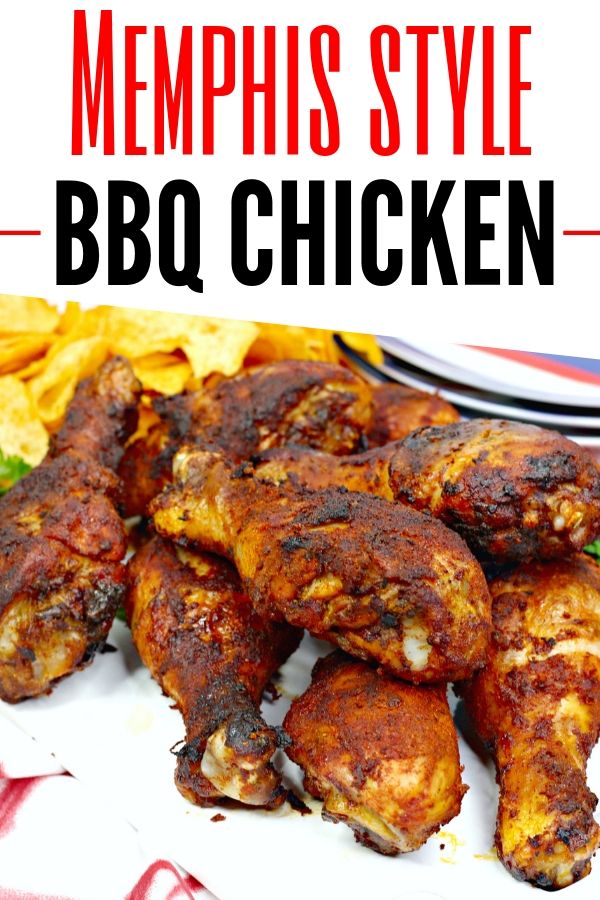 This is one of my favorite rub recipes, I hope you all enjoy it as much as we do!
Have you ever tried Memphis Dry Rub Chicken Before?
Reader Interactions