Learn how to make hot honey made with 3 ingredients. A spicy honey that is great for drizzling on biscuits, eating with pizza, a condiment for sandwiches and more.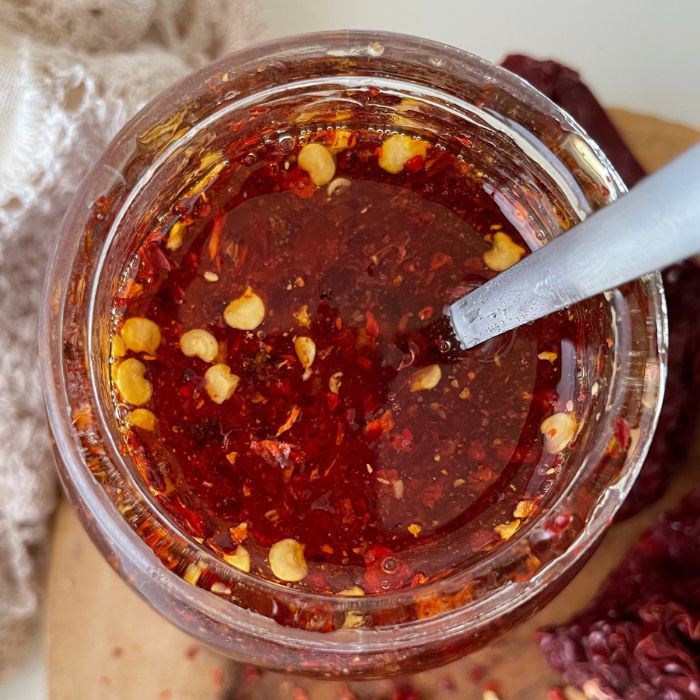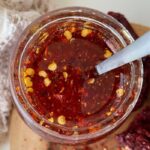 Hot honey is a type of honey that has been infused with chili peppers or other spicy ingredients to give it a sweet and spicy flavor. Learn how to make hot honey at home and use when you please. Such a quick and easy spicy honey recipe.
This hot honey condiment is often used as a topping for food such as pizza, fried chicken, and biscuits, or as a glaze for meats such as ham or pork. Some people also use hot honey as a dipping sauce for vegetables or as a condiment for sandwiches. The heat level of hot honey can vary depending on the type of chili pepper or spices used, so it can range from mild to very spicy.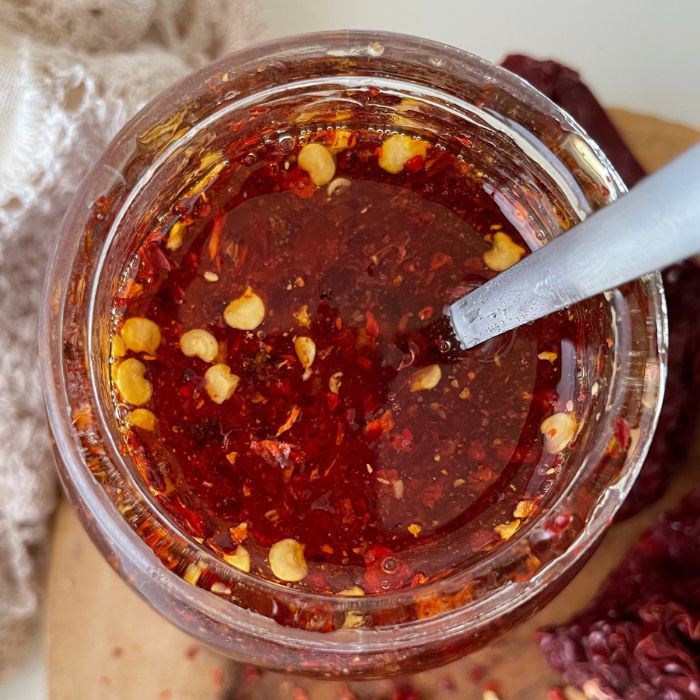 Why people love hot honey…
Overall, hot honey offers a unique blend of flavors and versatility that appeals to many people, making it a popular condiment.
Flavor: The combination of sweet and spicy flavors in hot honey appeals to many people's taste buds and adds a unique twist to traditional honey.
Versatility: Hot honey can be used in a variety of ways, as a topping, glaze, dipping sauce, or condiment, making it a versatile addition to many different dishes.
Heat level: Some people enjoy the heat from the chili peppers or spices in hot honey and find it adds an extra layer of flavor to their food.
Health benefits: Honey is known for its natural antibacterial and antioxidant properties, and adding spices to it can also provide additional health benefits, such as reducing inflammation and boosting the immune system.
🍯Ingredients You Will Need
Honey: Use a high-quality, raw honey for the best flavor.
Chili peppers: You can use any type of chili pepper to make hot honey, such as red pepper flakes, dried chili peppers, or fresh chili peppers.
Vinegar: A small amount of vinegar, such as apple cider vinegar, can help to balance out the sweetness of the honey.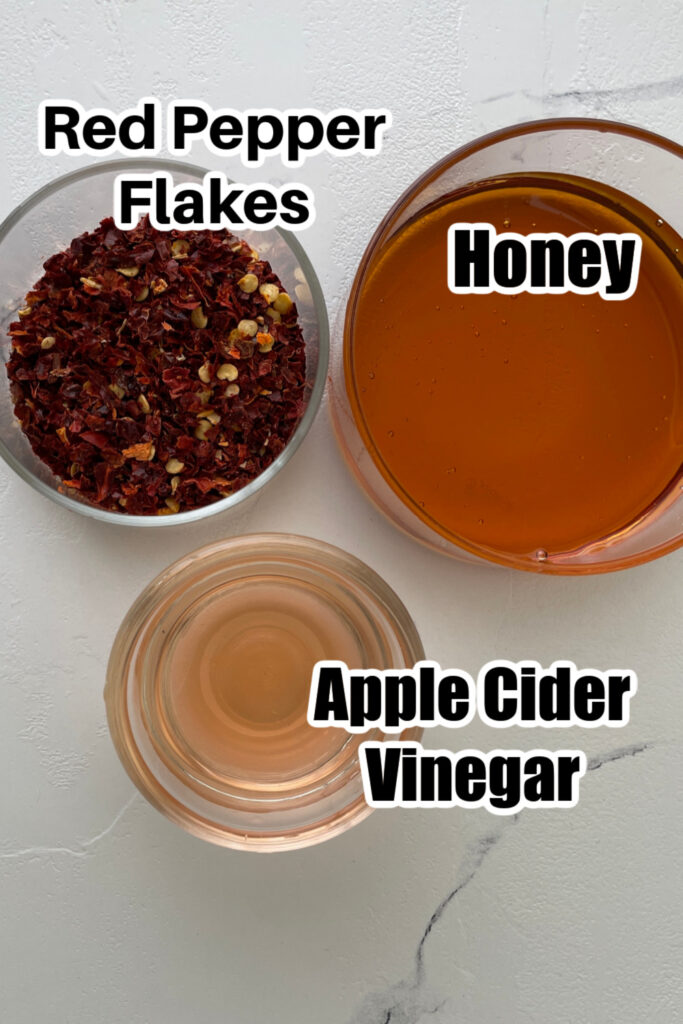 🐝 Variations To Recipe
Spices: Some recipes call for additional spices, such as garlic, ginger, or black pepper, to add extra flavor.
Salt: A pinch of salt helps to enhance the flavors of the honey and chili peppers.
🫙How to Make
Full directions on how to make this hot honey recipe is in the printable recipe card, which is at the bottom of the post.
In a small saucepan add all three ingredients.
Turn on medium-low heat and bring to a simmer. Once the sauce is simmering, remove from the heat.
Let the hot honey to sit for an hour at room temperature. Then strain out the flakes or leave them in for a spicier honey.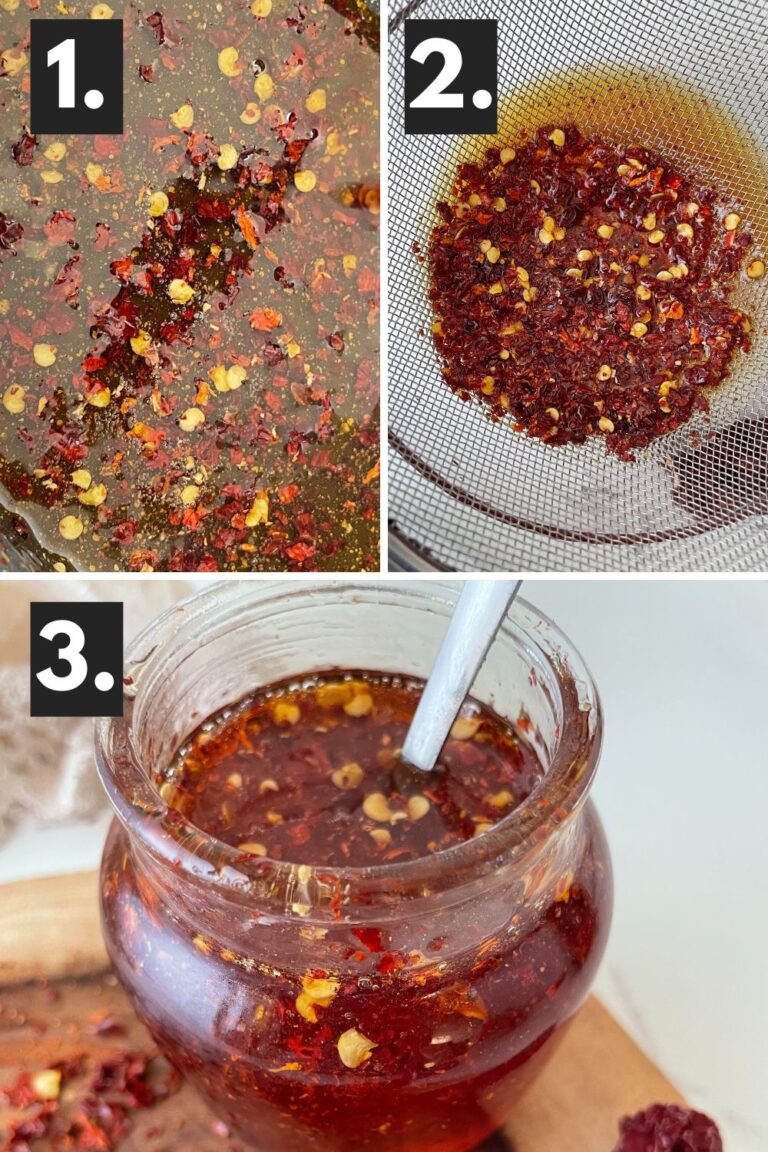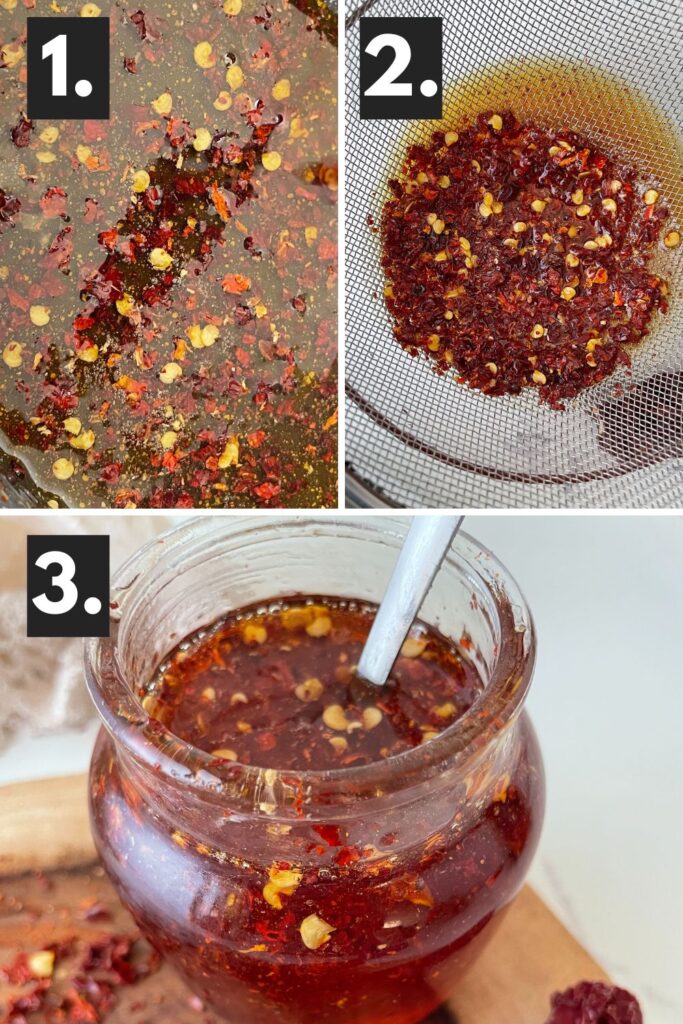 ✅ Tips for Success
Here are some tips for making delicious homemade hot honey:
Adjust the heat level: You can control the heat level of your hot honey by adjusting the amount of chili peppers you use. Start with a small amount and add more to taste.
Infuse the flavors: Simmer the honey and chili peppers over low heat for 10-15 minutes to fully infuse the flavors. This will also help to soften the chili peppers, making them easier to strain.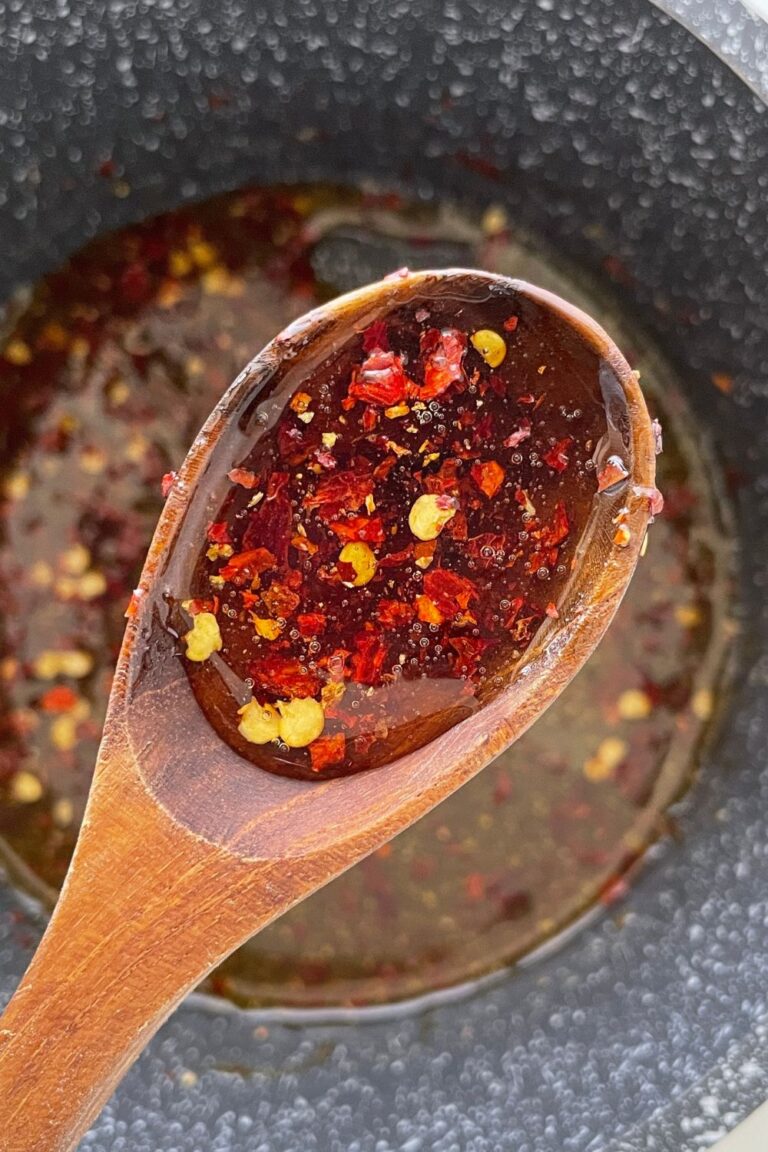 Drizzle your hot honey over this creamy skillet corn to elevate the flavor.
🥄 Storing Honey
Store in an airtight container: Once cooled, store your hot honey in an airtight container in the refrigerator. It should last for several months.
Freezing: Freezing the honey is a good way to preserve its flavor and texture, and it also makes it easier to store. To freeze hot honey, simply transfer it to an airtight container or a freezer-safe bag and place it in the freezer. When you're ready to use it, simply thaw it in the refrigerator or at room temperature.
It's important to note that freezing honey can change its texture and cause it to become thicker and more syrupy. This is normal and can be remedied by stirring the spicy honey or warming it up slightly to restore its original consistency.
Overall, freezing hot honey is a convenient and effective way to preserve it for later use. Just make sure to store it in an airtight container to prevent freezer burn.
FAQs
More Easy Recipes
📄 Printable Recipe Card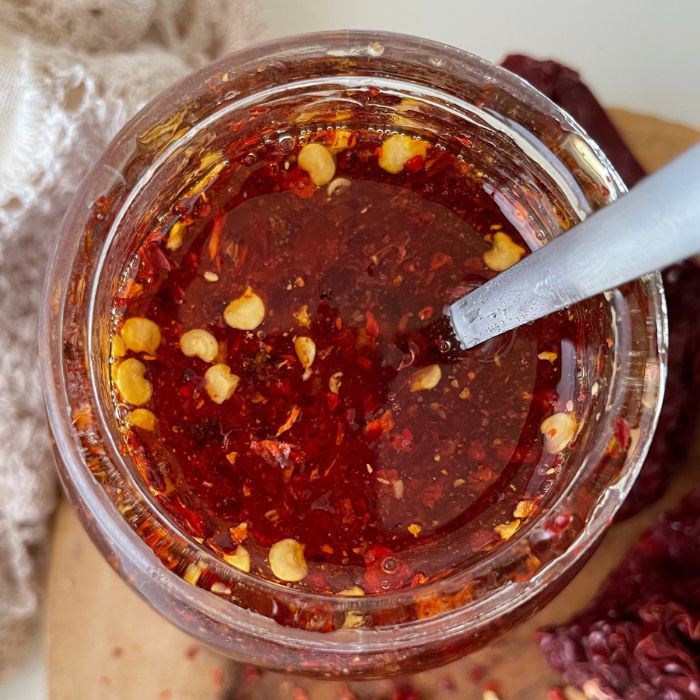 Hot Honey
Servings 1 cup
Learn how to make hot honey made with 3 ingredients. A spicy honey that is great for drizzling on biscuits, eating with pizza, a condiment for sandwiches and more.
Ingredients
1 cup honey
3 teaspoons red pepper flakes
2 1/2 teaspoons apple cider vinegar.
Instructions
In a small saucepan, you will add the honey, peppers, and vinegar in the pan. Stir well.

Turn heat to medium-low and allow the honey sauce to simmer. Once it is simmering, remove from the heat.

Allow the honey to set at room temperature for one hour.

Strain your honey if you would like to remove some spice. Or leave the red pepper flakes in the honey for a spicier sauce.
Notes
Honey – High quality honey is recommended.  Spice factor – You can use less or more on red pepper flakes. Now, you can change the type of pepper seeds you use to alter the flavor.  Vinegar – The apple cider vinegar will balance out the flavor of sweet and spicy. I find the apple cider offers the best flavor.  Straining – Feel free to strain the honey, or skip that step. 
Nutrition
Serving: 1gCalories: 1050kcalCarbohydrates: 282gProtein: 2gFat: 1gSaturated Fat: 0.1gPolyunsaturated Fat: 0.5gMonounsaturated Fat: 0.2gSodium: 113mgPotassium: 302mgFiber: 3gSugar: 279gVitamin A: 1779IUVitamin C: 2mgCalcium: 41mgIron: 2mg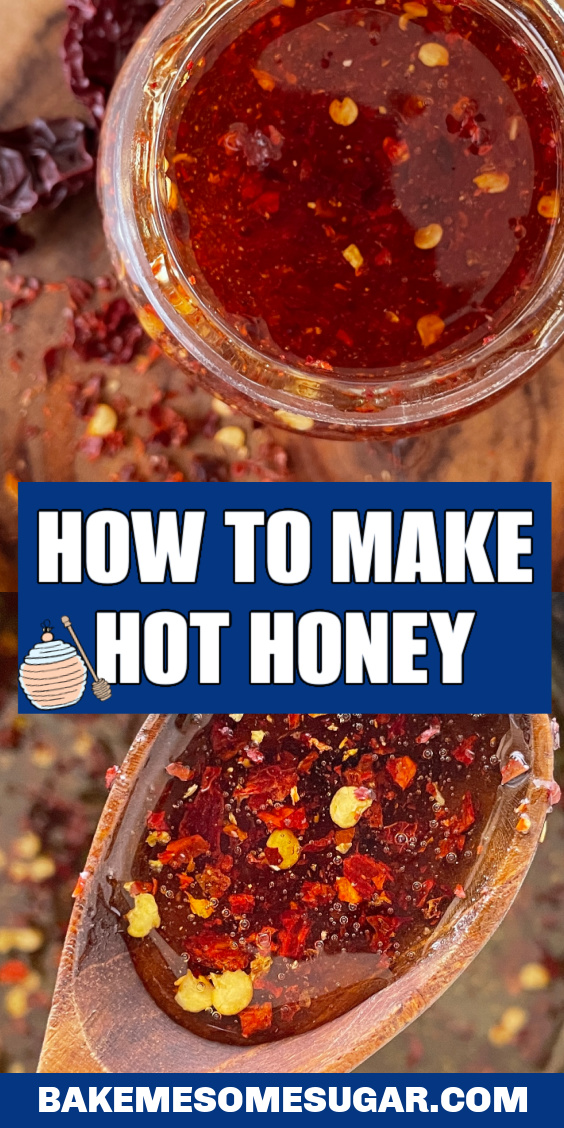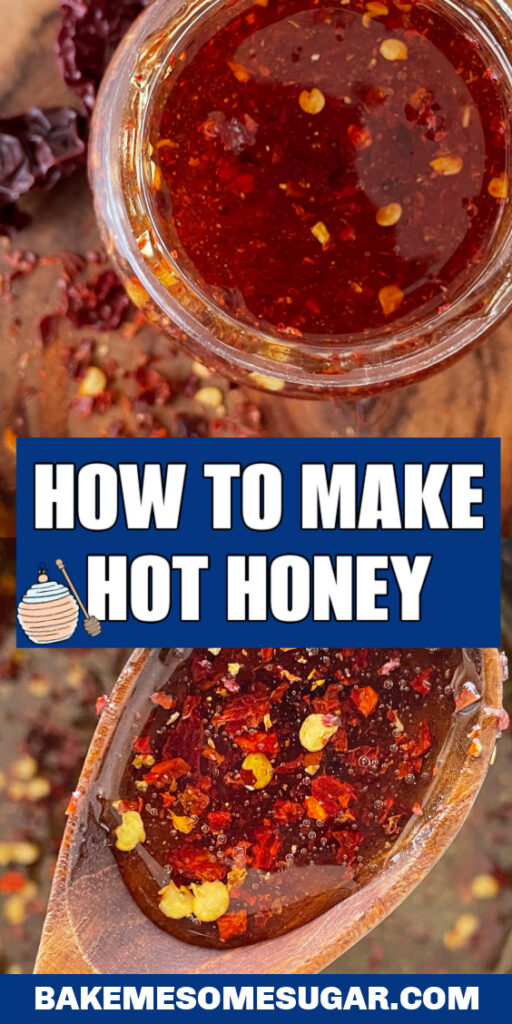 Reader Interactions