Craving a layered summer strawberry salad? I have a berry salad that is layers of lettuce, berries, red onions, cheese, and more. This is one stunning summer berry salad to serve up this summer.
Whether you are looking for a potluck side dish, summer cookout side, or a weeknight salad. This easy salad recipe is one of my make-ahead salads for dinner time.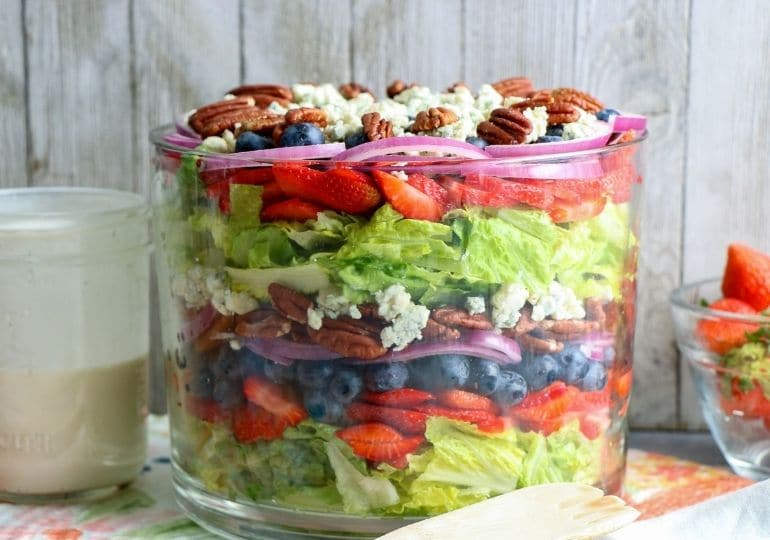 Why you will love this summer berry salad….
Easy
Simple ingredients
Fresh strawberries and blueberries
Crisp Lettuce
Colorful layered salad
Great for dinner, summer cookouts, potlucks, etc
Homemade salad dressing recipe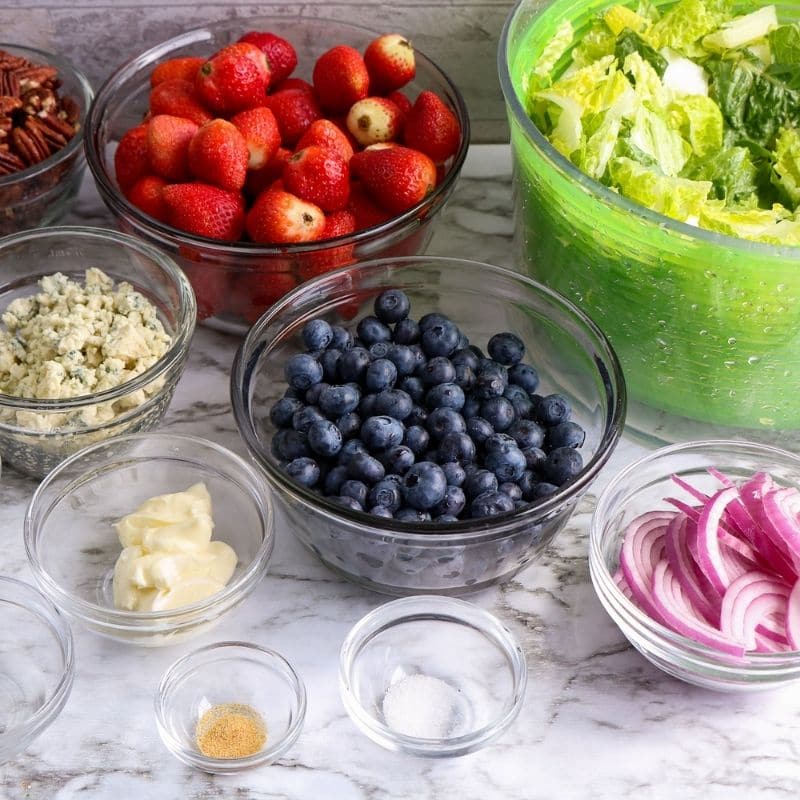 Ingredients Needed
Romaine Lettuce Or Spinach
Strawberries
Blueberries
Pecans
Red Onion
Blue Cheese or Feta Cheese
Buttermilk
Mayonnaise
Sour Cream
White vinegar
Sugar
Garlic powder
Salt and Pepper
This is the directions for the homemade creamy salad dressing and the red and blue summer salad recipe.
How to Make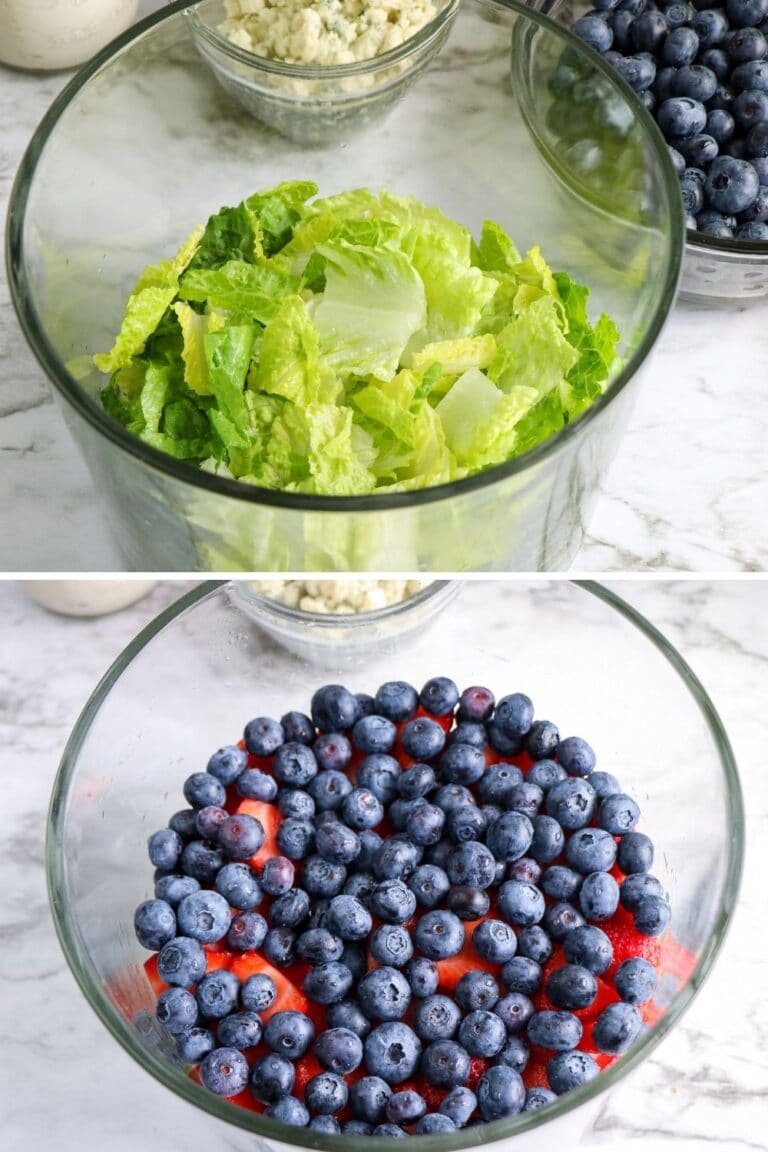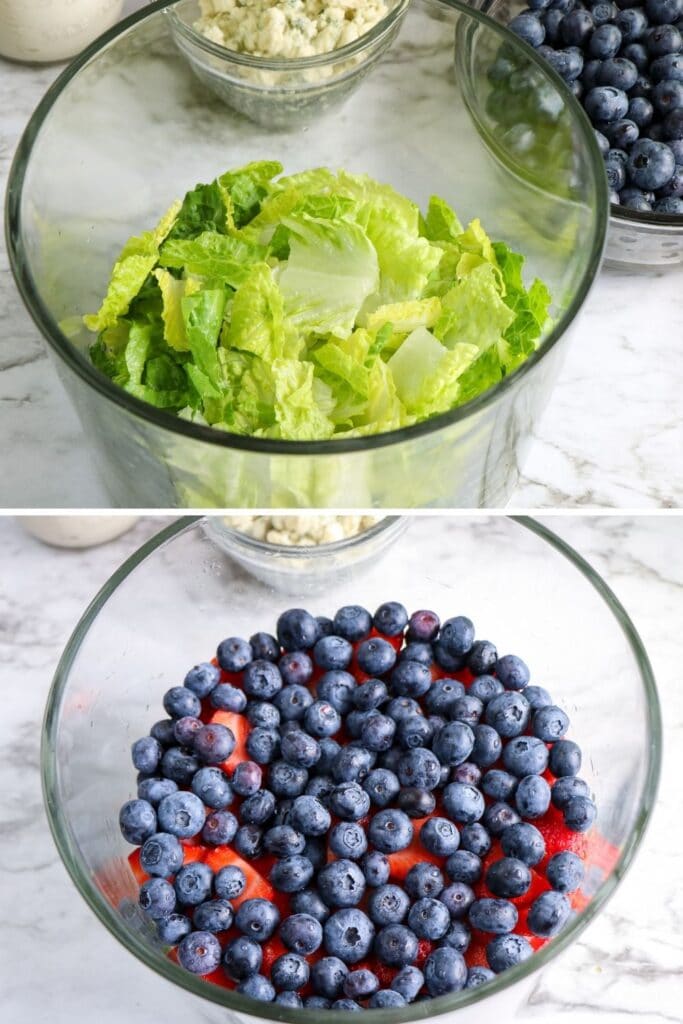 Step 1: Start by taking a trifle bowl and add a layer of lettuce, then berries, onions, nuts, cheese, and then repeat.
Step 2: Create layers of each ingredient pressing down to make it fit into the trifle bowl. Repeat the layers as you would like. You can do as many layers as you want.
Step 3: Then in a mason jar start the dressing. You will add in the mayonnaise, buttermilk, sour cream, white vinegar, sugar, garlic powder and salt and pepper. Shake till combined.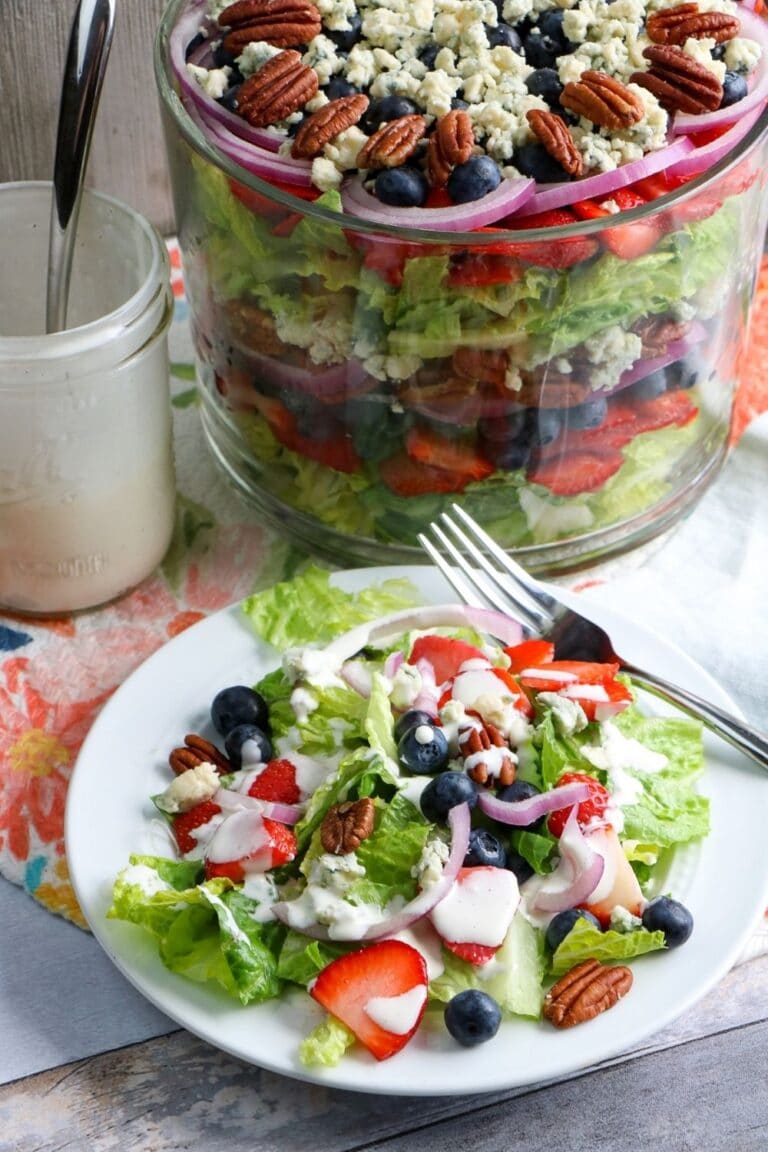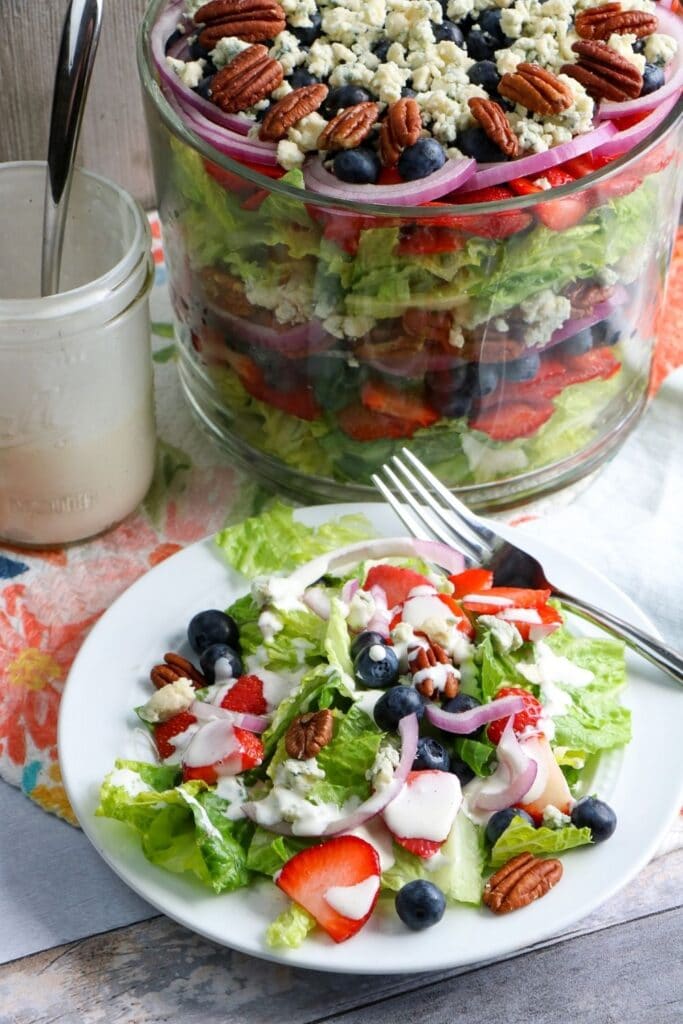 Step 4: Scoop the salad out and place on a bowl then drizzle with dressing. Or you can toss the salad in the trifle bowl with pouring the dressing in.
It is up to you on terms of who you want to serve it up.
Storing
You can make and layer your salad 24 hours in advance. Anything after that I recommend waiting to make the salad up.
Leave the salad dressing in its own container, then mix or serve separate when serving up the salad.
Your green summer salad can be stored for around 2 days. Anything after that it will begin to spoil a bit.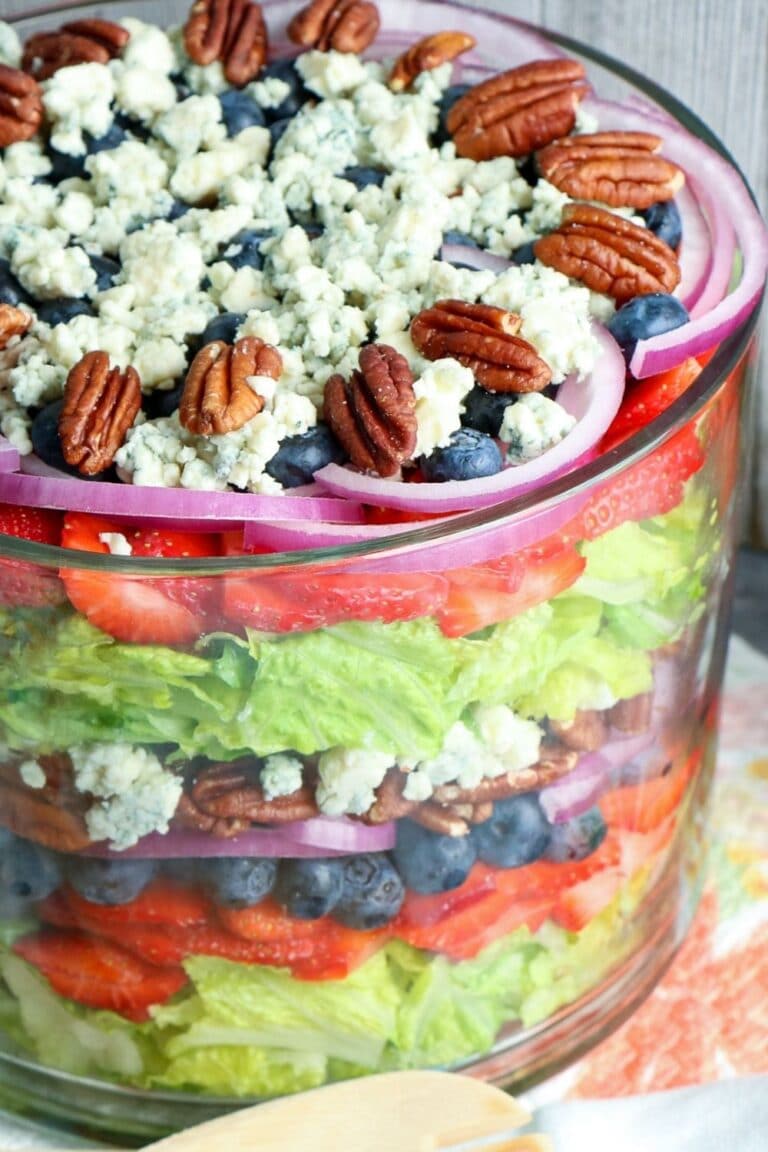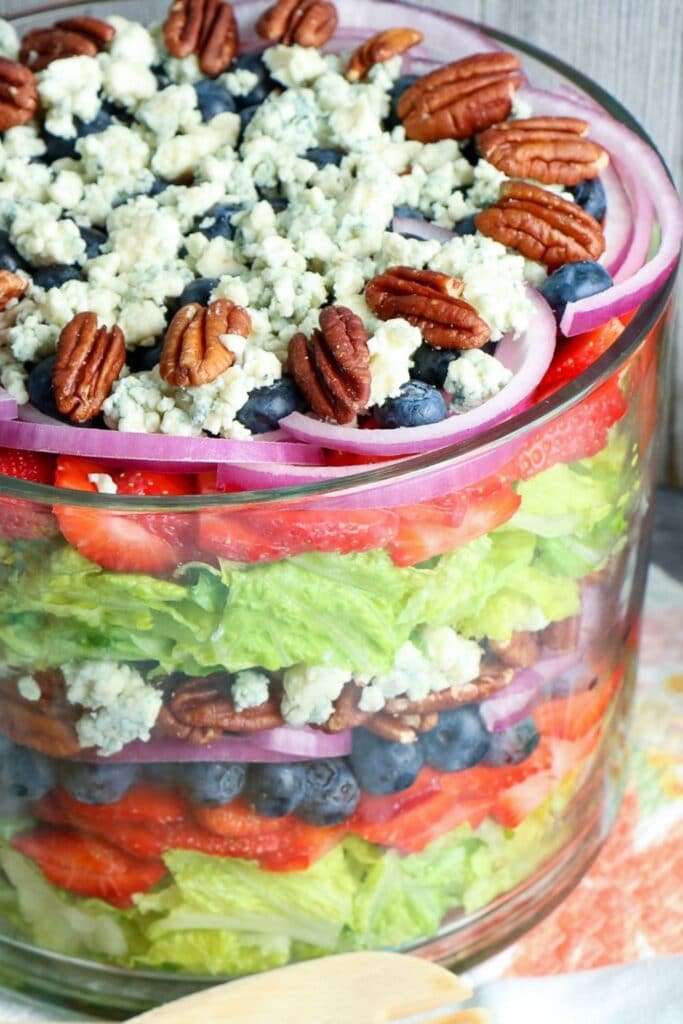 Expert Tips and Variations
You can use spinach leaves or another type of lettuce.
Feta, goat cheese, or blue cheese work great for this recipe.
Don't want to make the homemade dressing, then buy your favorite dressing. A strawberry vinaigrette would be delicious as well.
Fresh berries are best for this strawberry blueberry salad. You will find frozen release too much juice and will sog up the other ingredients.
Change up the ingredients added into the salad if you want.
You do not have to make this into a layered salad, but I just love the look of the layers.
This fresh salad is great for dinner, summer cookouts, potlucks, and more. Anytime you need a salad idea, try this!
Recipe FAQs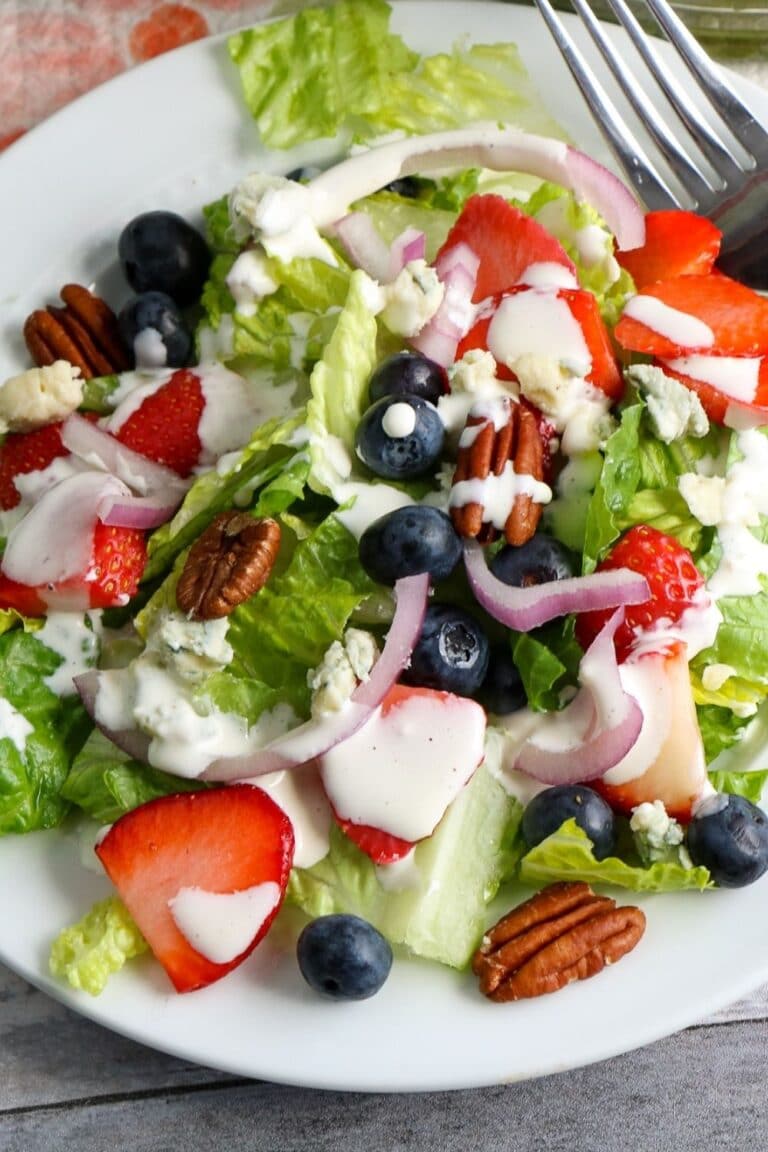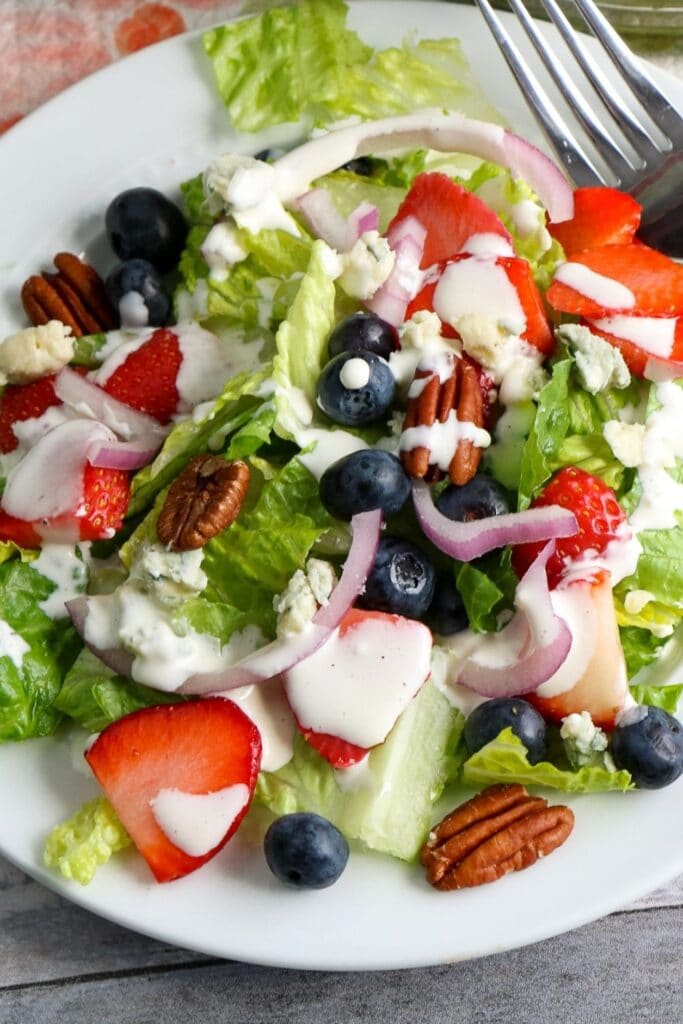 More Delicious Recipes To Try Out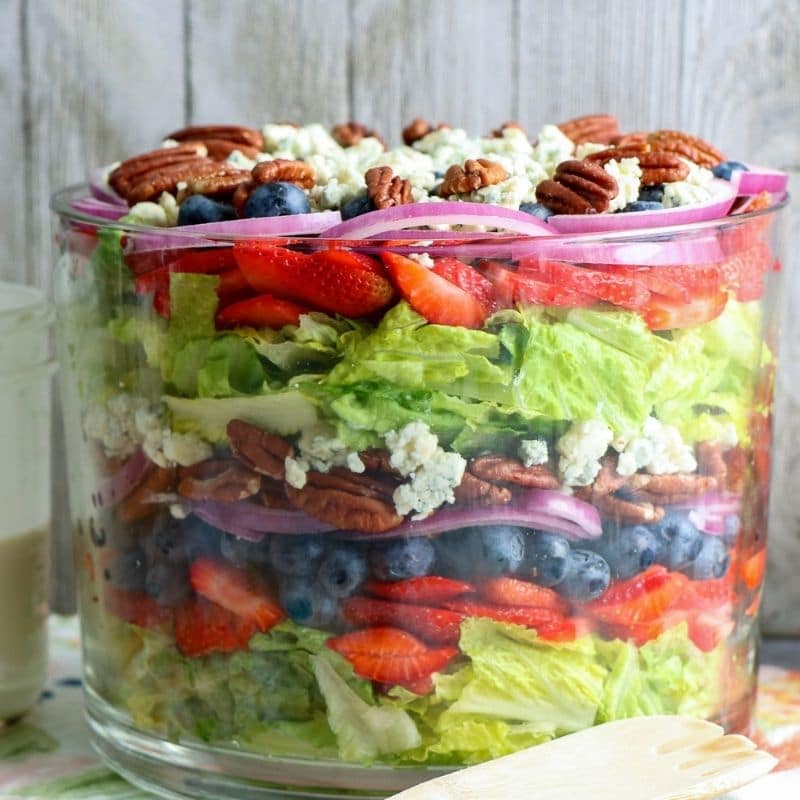 Layered Summer Strawberry Salad Recipe
Servings 1 large salad
Whip up this layered summer strawberry salad for a tasty salad idea. Fresh blueberries, strawberries, fresh green Romaine lettuce and more all layered in a trifle dish. This is the perfect summer side dish.
Ingredients
Supplies
Salad Ingredients
3 stalks romaine lettuce washed and torn into pieces
1 1/2 pounds strawberries washed and sliced
½ cup sliced red onion
5 ounces crumbled blue cheese or feta cheese
18 ounces blueberries washed and patted dry
1 to 1 ½ cups toasted pecans
For the dressing:
3 tablespoons buttermilk
¾ to 1 cup mayonnaise
3 tablespoons sour cream
2 teaspoons white vinegar
¼ teaspoon sugar
⅛ teaspoon garlic powder
Salt and black pepper to taste
Instructions
Dice up your Romaine lettuce or use spinach leaves instead if you want. Wash, chop and prep your lettuce.

Start by making a thick layer of lettuce in the bottom of the glass container. Then top with sliced strawberries, followed by a layer of blueberries. Then you can do a layer of sliced tomatoes, nuts, and cheese.

Go ahead and repeat a whole set of layers again, until you reach the top of your container.

Then decorate with the berries, nuts, and cheese.

If you want to make the homemade dressing for this strawberry salad, just add all the ingredients for the dressing into a mason jar. Add buttermilk, mayo, sour cream, vinegar, sugar, garlic powder, and salt and pepper.

Shake the mixture or whisk it well. Then you can use it to pour over your salad.

This layered salad is gorgeous but also delicious to serve up.
Notes
You can use artificial sweetener to replace the sugar.
Skip the dressing and do a vinaigrette style if you want.
You can use spinach leaves or other types of greens if you want.
Change up the ingredients you use in the salad if you want a change. Mandarin oranges, skip the red onions, add peas, etc.
Store this salad in an airtight container or covered in the fridge for 2-3 days.
If you mix in the salad dressing with salad, it will wilt and spoil within 24 hours of being mixed up.
Nutrition
Serving: 1gCalories: 324kcalCarbohydrates: 18gProtein: 6gFat: 27gSaturated Fat: 7gPolyunsaturated Fat: 19gCholesterol: 32mgSodium: 321mgFiber: 5gSugar: 11g
Let me know how you like this summer strawberry salad! It is one of my favorites.
Reader Interactions