Crock Pot Boiled Peanuts are an easy way to enjoy your favorite gas station treat. Salty boiled peanuts made from raw green peanuts. Season as you would like or do a classic salt flavor like I did here.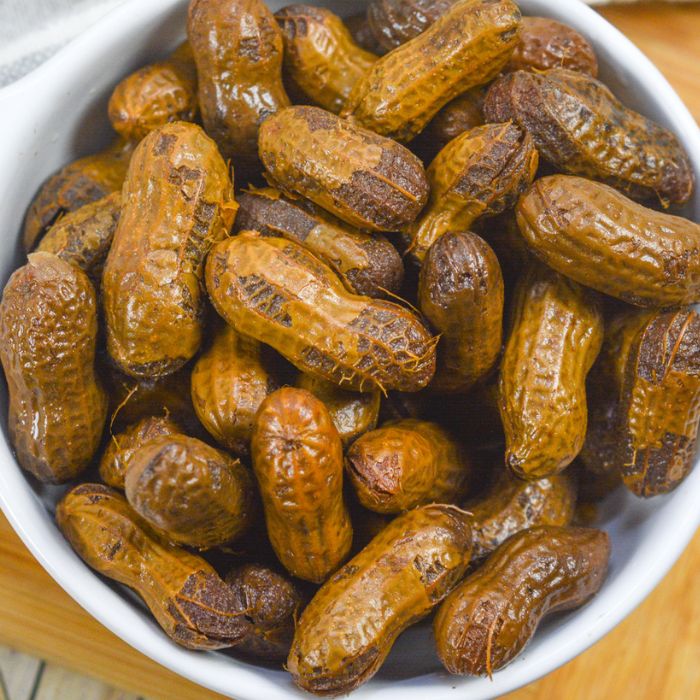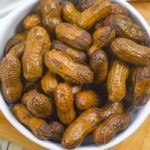 Are you a fan of boiled peanuts? Well grab that crock pot and learn how to make crock pot boiled peanuts. Green peanuts, water, and salt is all that you need for this simple yet snack-satisfying recipe.
Boiled peanuts in the crock pot are so simple to do, and you can skip needing to take road trips and stopping at all the gas stations along the way for your boiled peanut fix.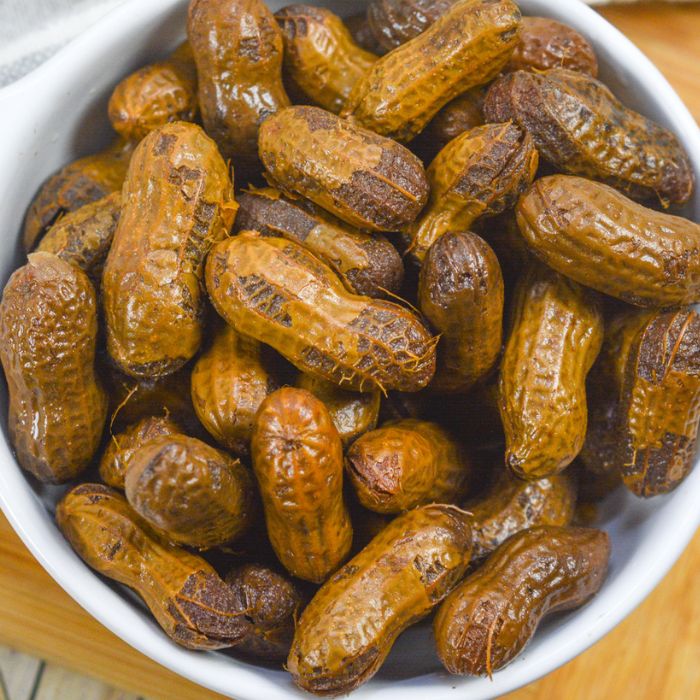 The beauty of this boiled peanuts recipe is you can add in spices like Cajun seasoning, red pepper flakes for heat, jalapenos, or keep it basic with just salt. Depending on your personal preference you can whip up your southern tradition peanuts the way you like them. This is an easy way to make a salty snack that is addictive eating.
Boiled Peanuts Are…
Made with raw green peanuts
Southern favorite recipe
Perfect snack
Found at roadside stands, gas stations and more in a paper bag
Versatile on how you season your green raw peanuts
Easiest ways to make
Salty nuts
Tender peanuts
Ingredients Needed
Green Peanuts – So you can find green peanuts at some grocery stores or you can shop online and ship to your doorstep. Green raw peanuts are meant for boiling.
Water – I prefer to use a filtered water as it will help ensure the peanuts are the main flavor. Sometimes unfiltered water can leave a metal or off taste.
Salt – Salt is needed to help season the peanuts. Now I will share ways to change up the flavors below which you can do as well for added flavor to your nuts.
How to Make
Full steps on how to make boiled peanuts in crock pot are below, this is a quick walk through with some images for help to see how made.
Step 1: Rinse Peanuts in Colander
Start by rinsing your peanuts in a colander with cold water. This is going to clean the peanuts of any debris or dirt on the nuts.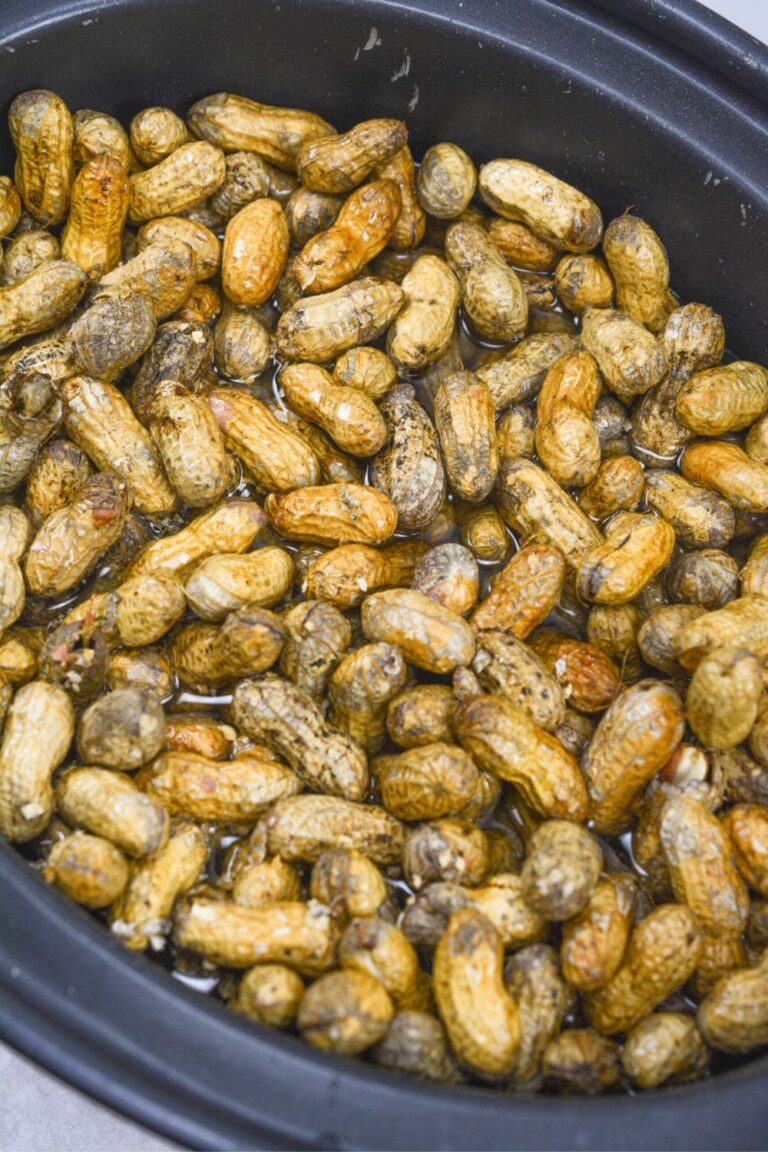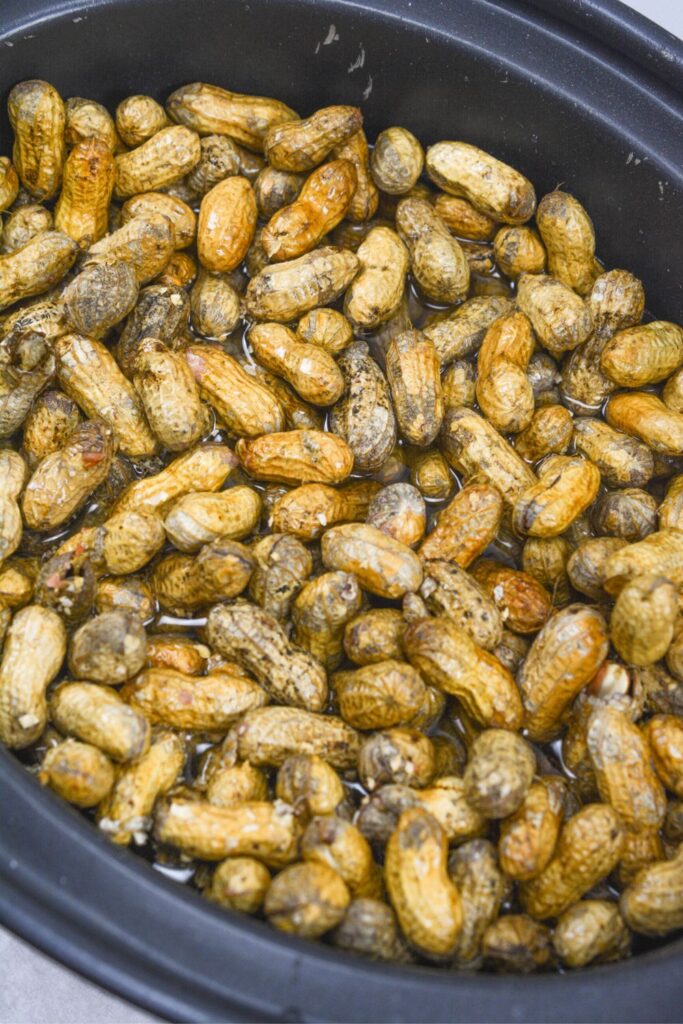 Step 2: Place Peanuts in Crock Pot
Next, place the raw green peanuts in the crock pot and then cover with water. Stir in the salt, mix to combine.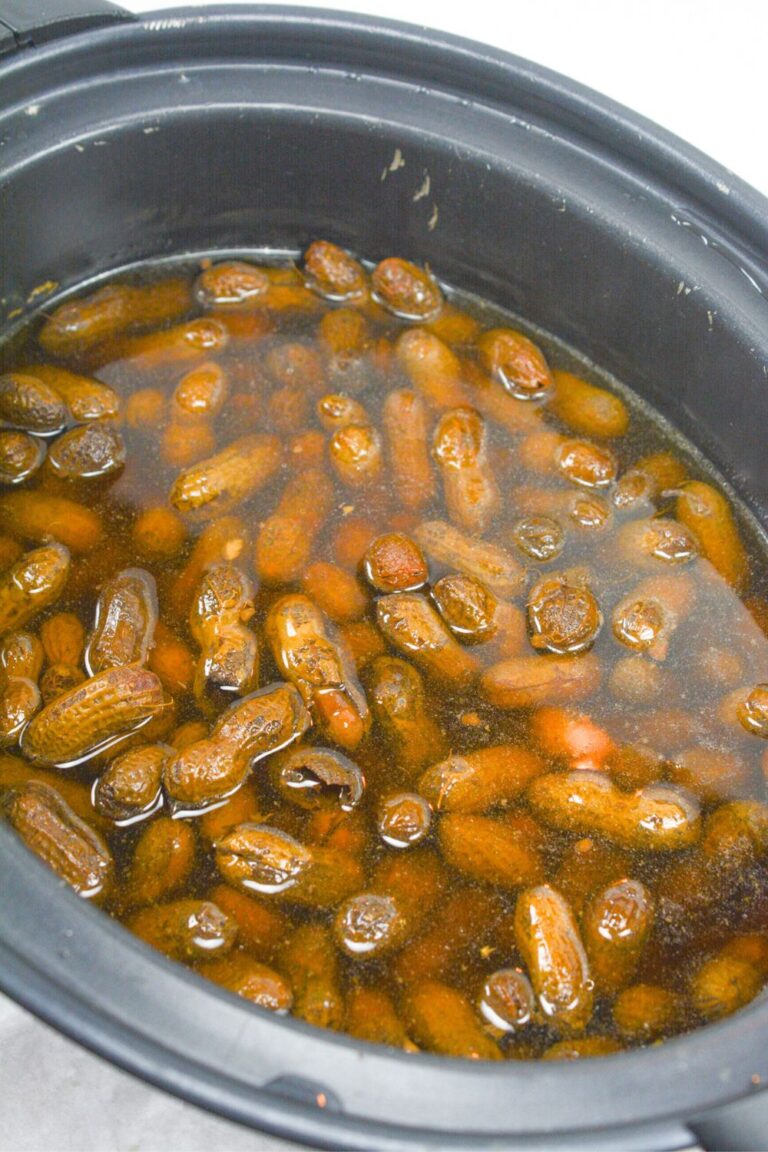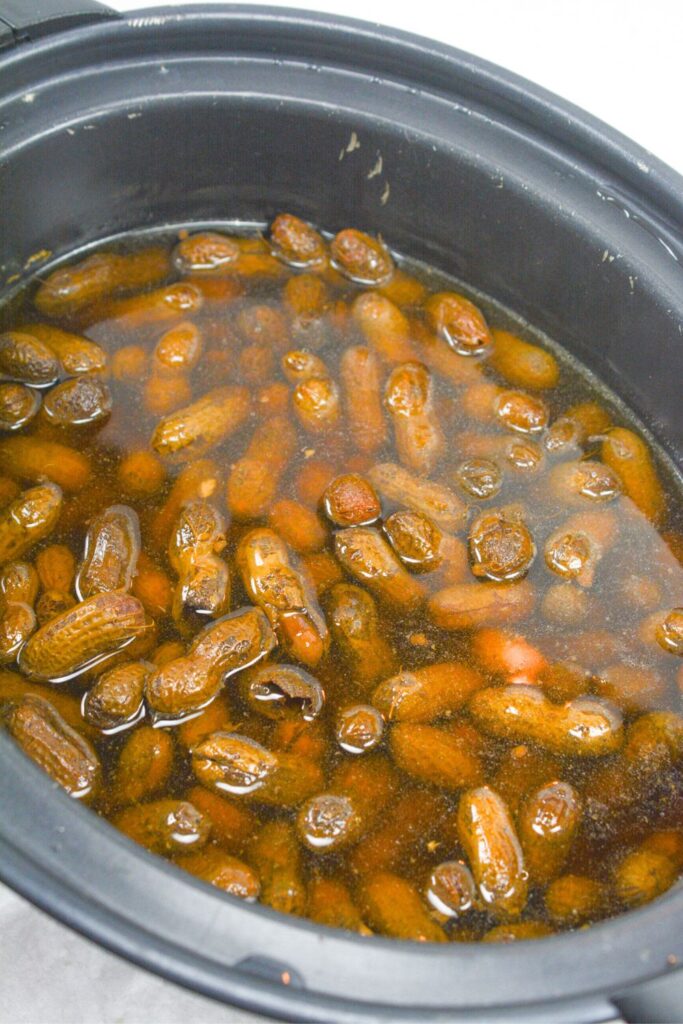 Step 3: Cook on High
Cook your peanuts on high for 5-6 hours, or until they are done to your preferred tenderness. Now you could also cook on low for 10-11 hours if you would like.
Expert Tip: Make sure if you find the nuts are losing too much water to add more. You can stir a few times during the cooking process if you would like.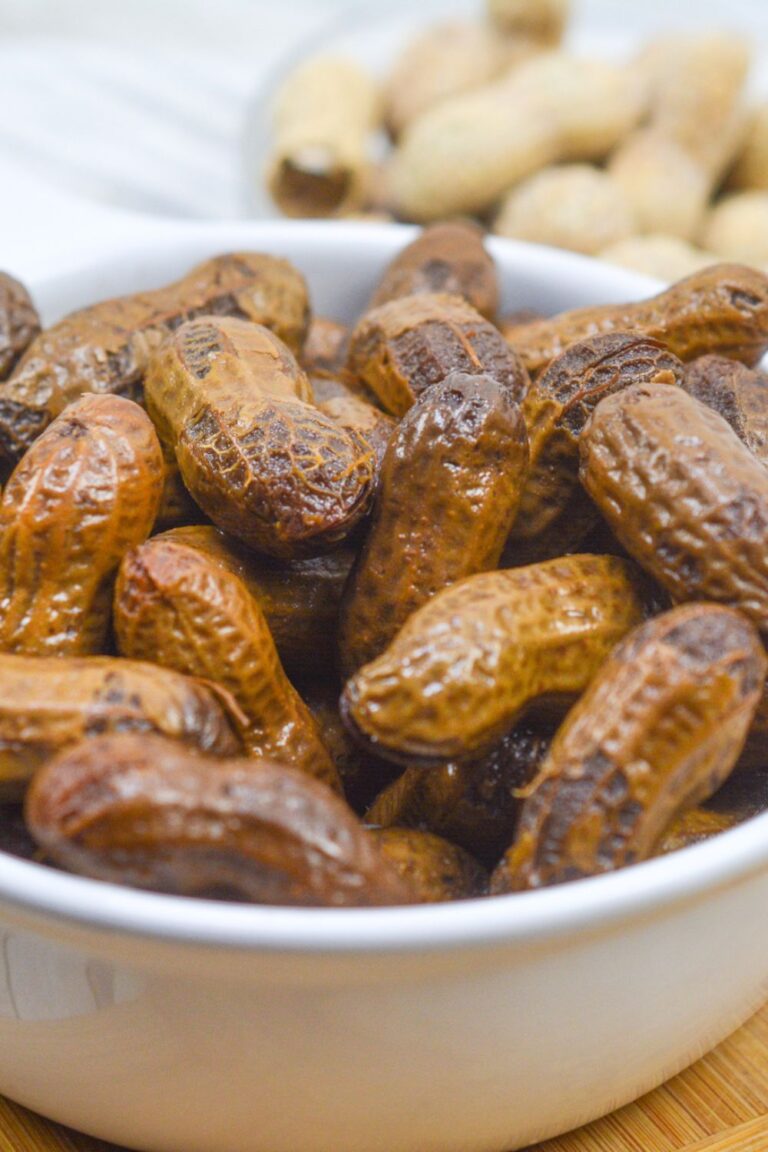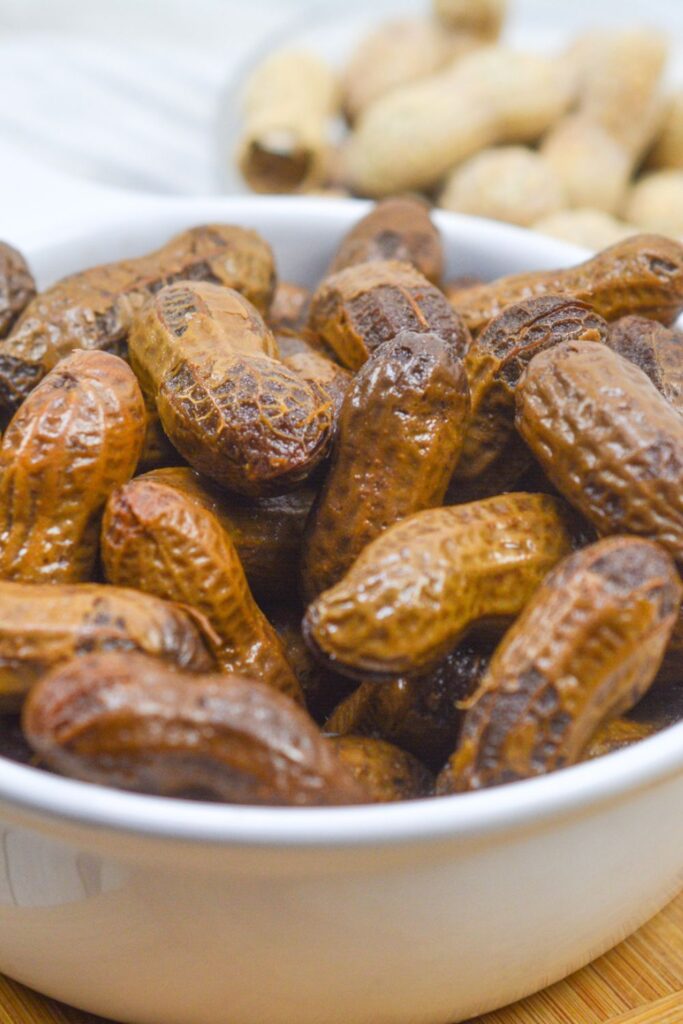 Flavor Variations for Boiled Peanuts
Here are different ways you can flavor your slow cooker boiled peanuts. This is a great recipe that you can change up. From a classic or a spicy boiled peanuts recipe, I got you covered.
Salt – Salt is the classic flavor where you just add salt in like we did with this recipe.
Cajun – 1-2 tablespoons Creole or Cajun seasoning plus 1-2 tablespoons salt. Feel free to add in garlic powder and some onion powder for added flavor to nuts.
Collard Greens – Cook collard greens like normal then add them into the crockpot and cook with the peanuts to flavor the nuts.
Lemon Pepper – 2-3 tablespoons lemon pepper seasoning plus 1-2 tablespoons salt.
You can also add in sliced jalapenos, red pepper flakes or other ways to flavor the peanuts. There are endless ways to create a boiled peanut to fit your preference.
Storing
You need to refrigerate any boiled peanuts you do not eat right away. Just place in an airtight container and store for 1-2 days in the fridge. Then you can eat them cold or warm them up. These are best eaten fresh but they still taste pretty good the next day.
If you leave the nuts at room temperature they will become slimy and need to be thrown out.
To reheat I put in a large pot on the stove and add the nuts and some liquid and start boiling peanuts for just a minute or two to heat it up. Then use a slotted spoon to remove from the cooking liquid. Then serve and enjoy.
FAQs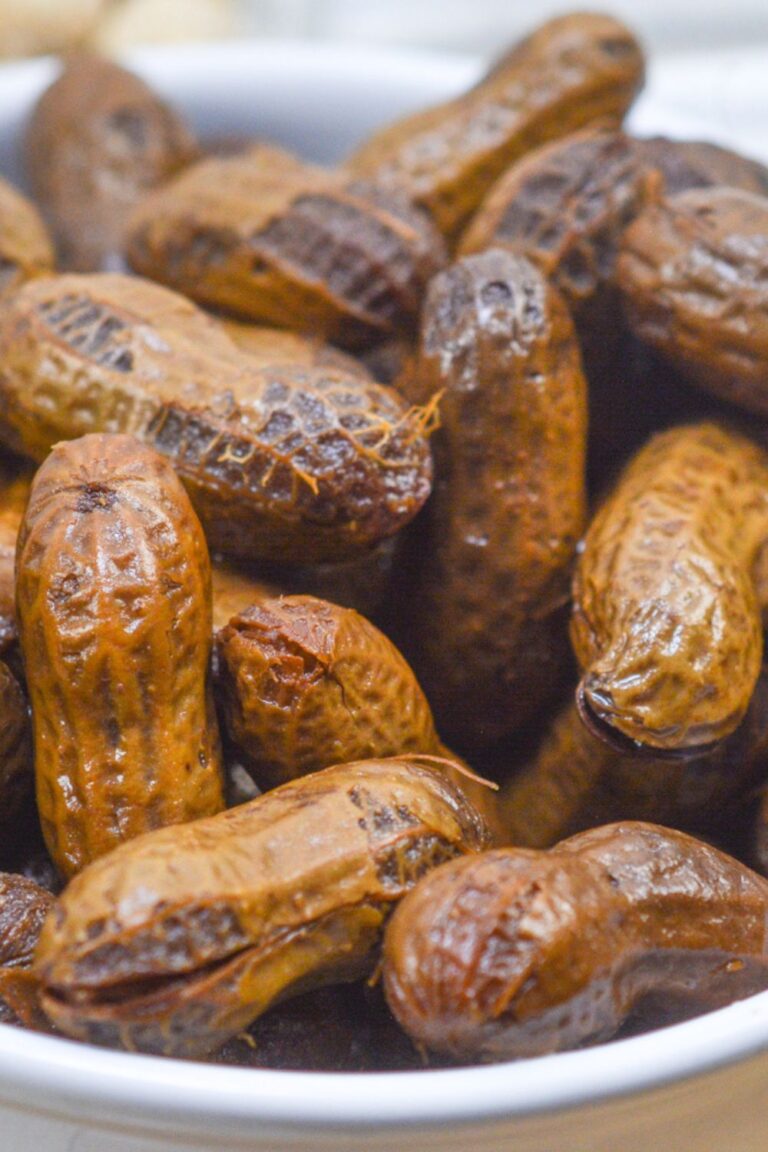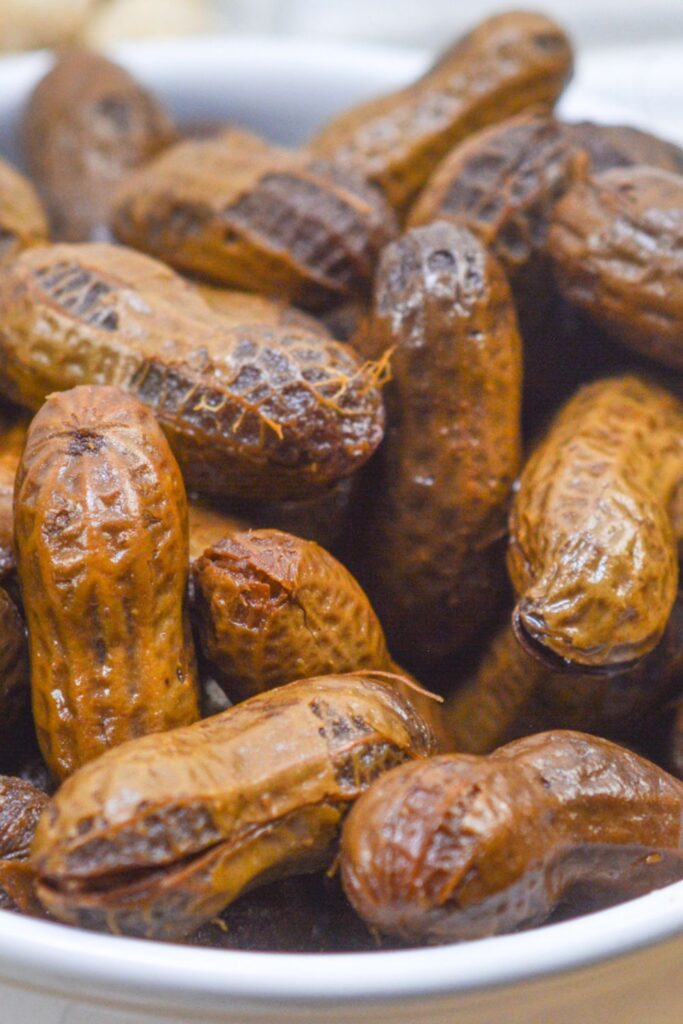 More Easy Crock Pot Recipes
Craving more easy recipes to make in your crock pot? Here are some other great recipes to try out.
Have you tried the recipe? If so, please leave a star ⭐️⭐️⭐️⭐️⭐️ rating in the recipe card below or drop a comment. Also stay in touch with me through social media by following me on Facebook, Pinterest, or My Facebook Group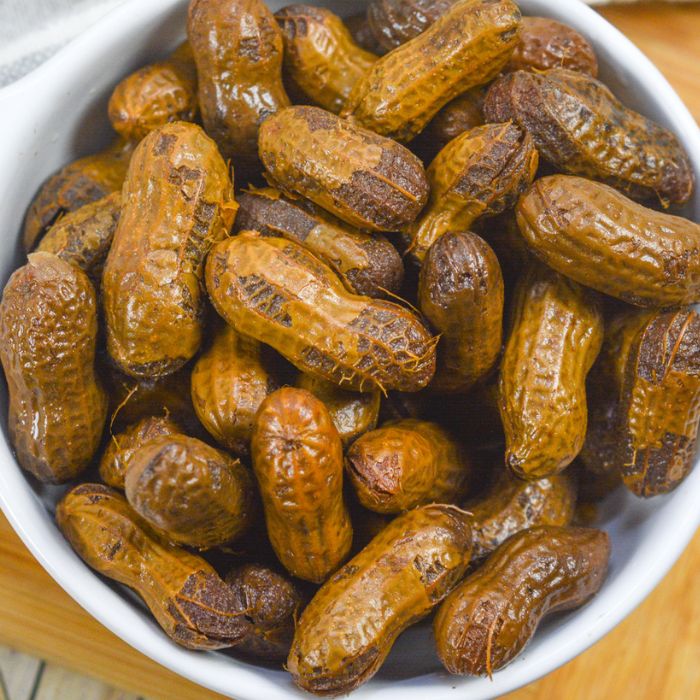 Boiled Peanuts Crockpot Recipe
Servings 12
Crock Pot Boiled Peanuts are an easy way to enjoy your favorite gas station treat. Salty boiled peanuts made from raw green peanuts. Season as you would like or do a classic salt flavor like I did here.
Ingredients
2 pounds green peanuts
1/3 cup kosher salt
2 quarts water
Instructions
Add your peanuts into a colander and wash well in cold water. You will want to remove the debris and dirt that are on the peanuts.

Then place the peanuts in the crock pot. Then cover with the water, and add in the salt. Stir well.

Place the lid on and cook on high for 5-6 hours or low 10-11 hours. Cook to your desired doneness and peanut tenderness.

You can stir a few times during the cook time, and then after the 4 hour you can check your peanuts to see how they in terms of doneness.
Notes
You can change up the flavor of the boiled peanuts. Feel free to adjust the flavoring anyway you would like. Just cook the same amount of the time. 
Nutrition
Serving: 1gSodium: 3152mgPotassium: 1mgCalcium: 7mgIron: 0.03mg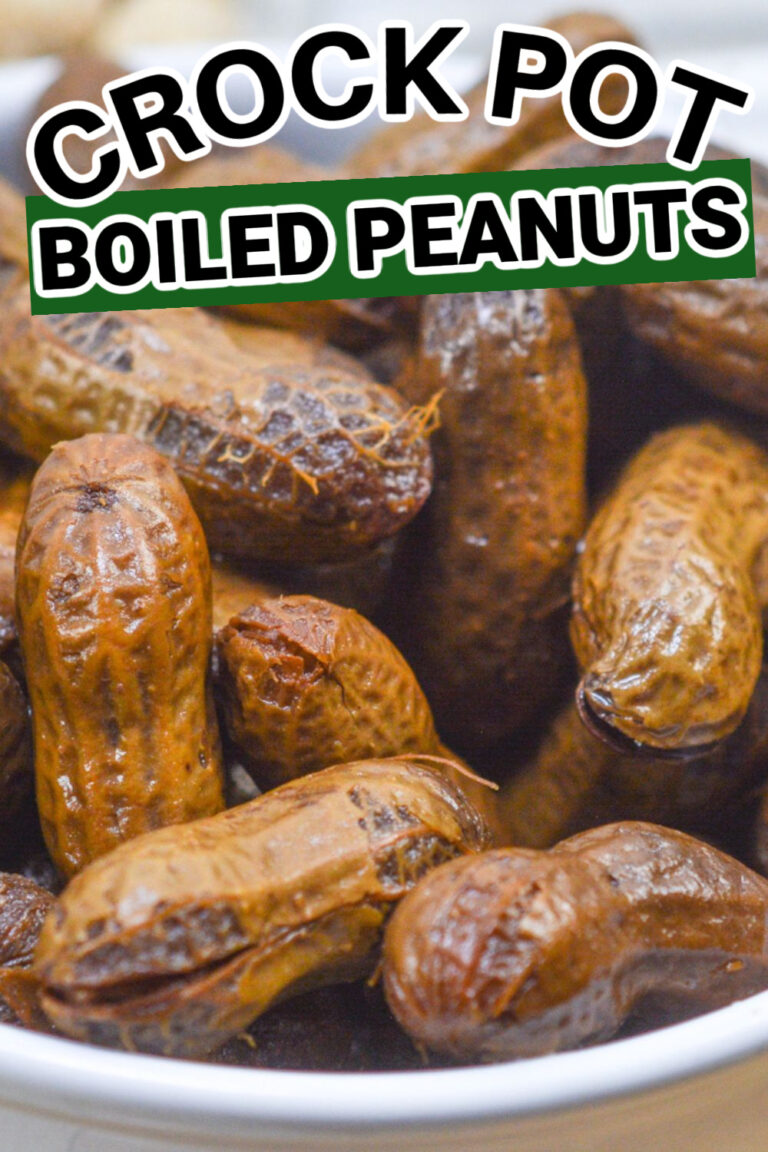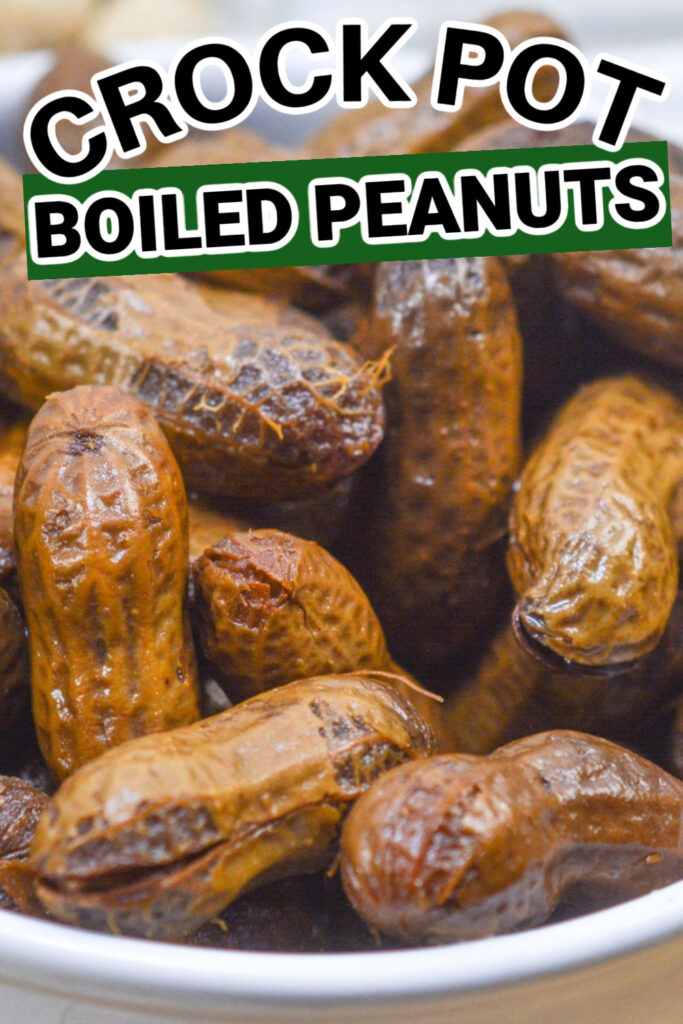 Reader Interactions