Chili dogs never tasted so good. This homemade hot dog chili is going to transform your hot dog game. This crockpot version helps to elevate all the flavors of this hot dog chili sauce.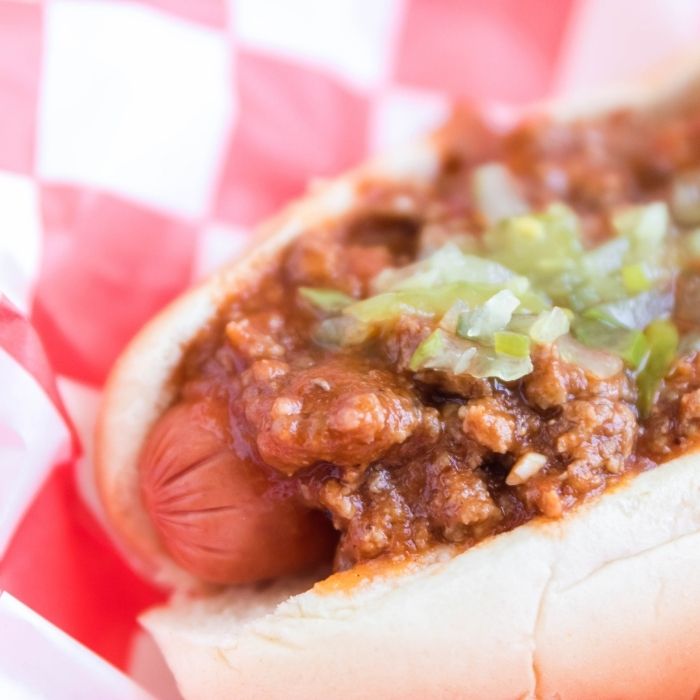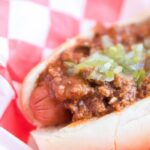 Hot dog chili is the perfect way to dress up your hot dogs! This crockpot hot dog chili recipe is loaded with ground beef, Worcestershire sauce, tomato sauce, spices, and more seasoned to perfection. This chili for hot dogs is great for topping fries and burgers as well.
If you plan to have a hot dog bar for a gathering or birthday this chili sauce for hot dogs is great to have on hand. Just plug in the crockpot and let it handle keeping it warm as you dish up your meal. Also, check out my puff pastry pigs in a blanket!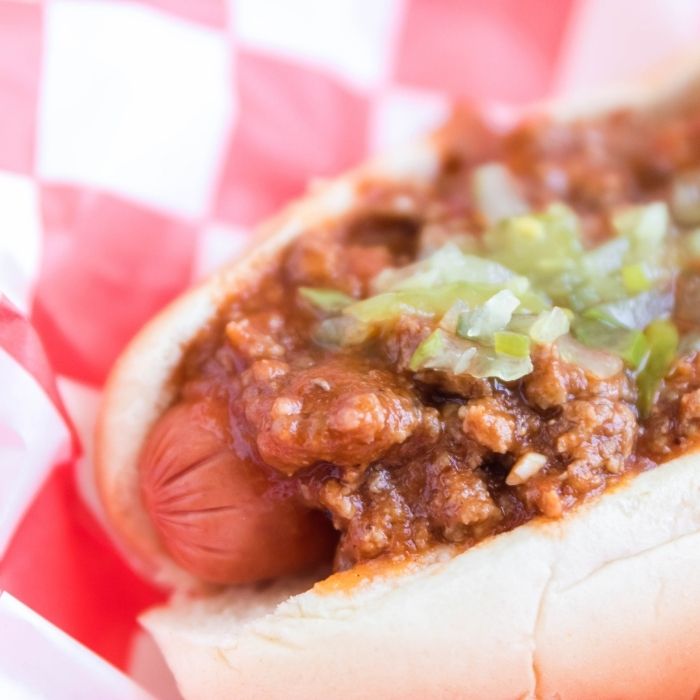 You can make this chili dog sauce on the stovetop as well. I will share directions for that in the recipe card at the bottom of this post.
This Crockpot Chili Dog Recipe Is…
Easy Everyday Ingredients
Quick Prep
Hands Off Cooking
Keep Warm In Crockpot Until Ready To Serve
Family Favorite
Kid Friendly
Ingredients Needed
Here is all you need for this coney sauce for hot dogs. A simple and easy chili with no beans recipe.
Ground Beef – Cook the beef, and then drain off grease. I used 90/10 beef, so it was leaner. You can also use ground turkey if you want.
Tomato Sauce – Grab a can of tomato sauce and then use it to help be the base to the chili sauce.
Ketchup and Mustard – This offers a tangy component to the sauce that really elevates the flavor.
Worcestershire Sauce – The Worcestershire is a deep richness that brings out so much flavor in your chili sauce.
Seasoning – Salt, Pepper, Chili Powder, and Minced Onions are what I used for this sauce.
Water – The water helps to thin out the chili sauce just a bit. I love when you pour the sauce of the hot dog in a bun, the sauce soaks into all the nooks and crannies.
How to Make
Full steps on how to make chili dog sauce is in the printable recipe card at the bottom of the page. This is a quick walk through on how to make the homemade hot dog chili.
Step One: Start by cooking your ground beef on the stovetop, over medium heat. Crumble the beef until fully cooked and no longer pink. Drain off excess grease.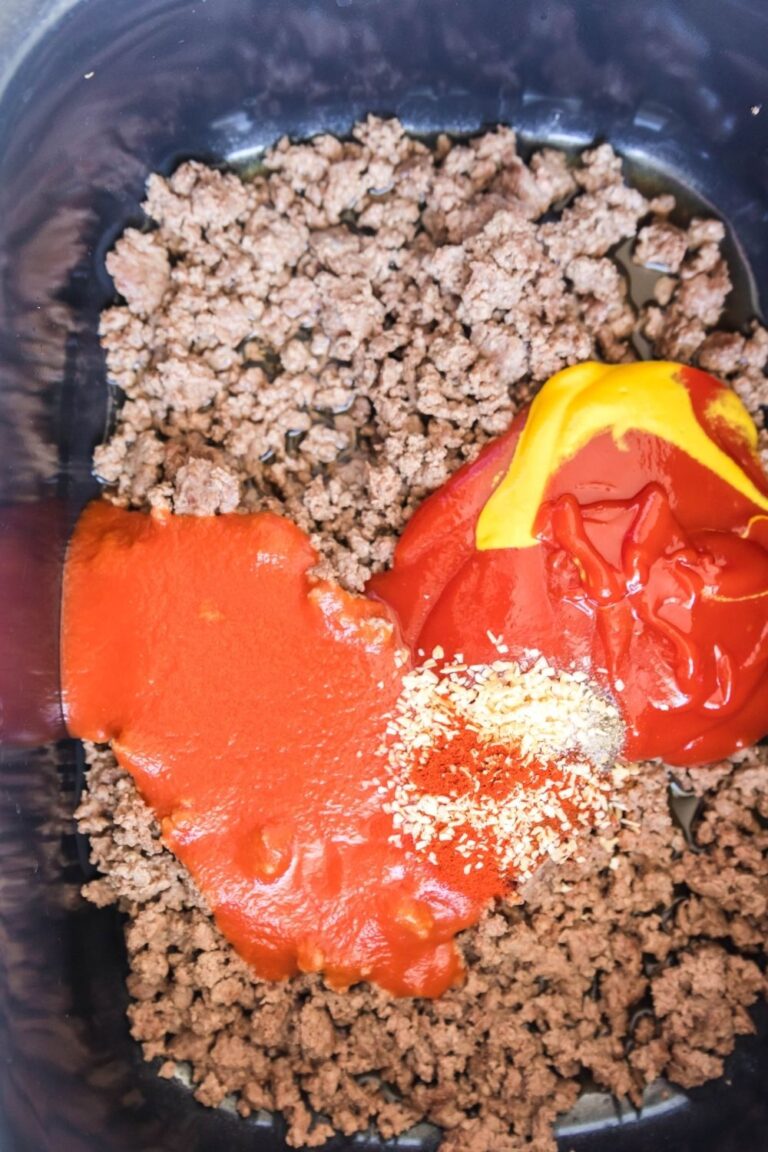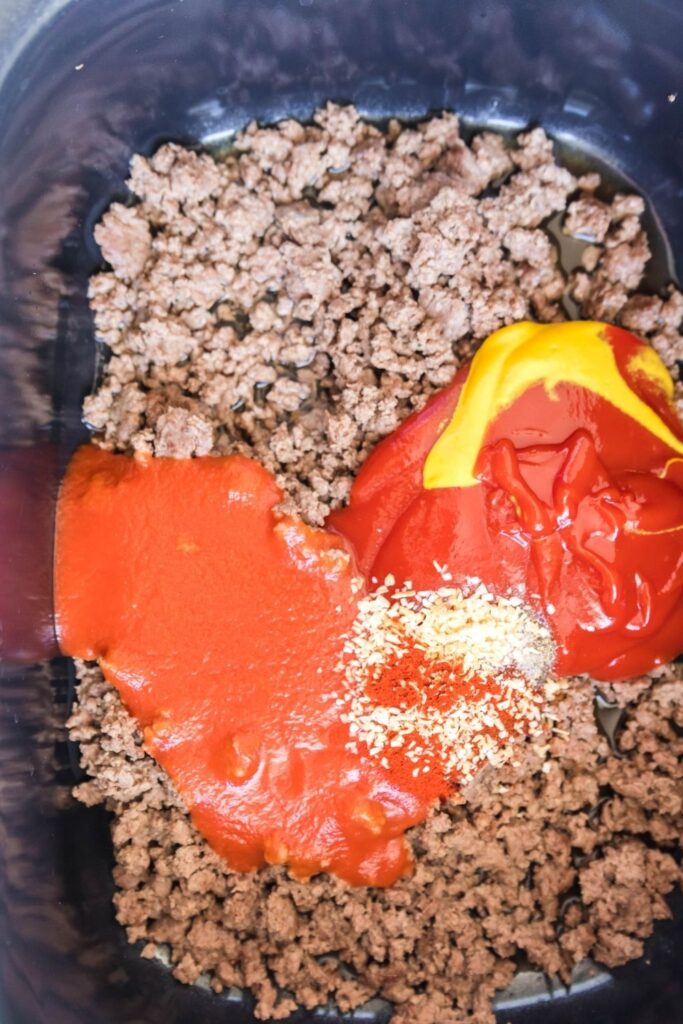 Step Two: Next add the beef into the crockpot. Pour in the ketchup, mustard, water, Worcestershire, and seasonings.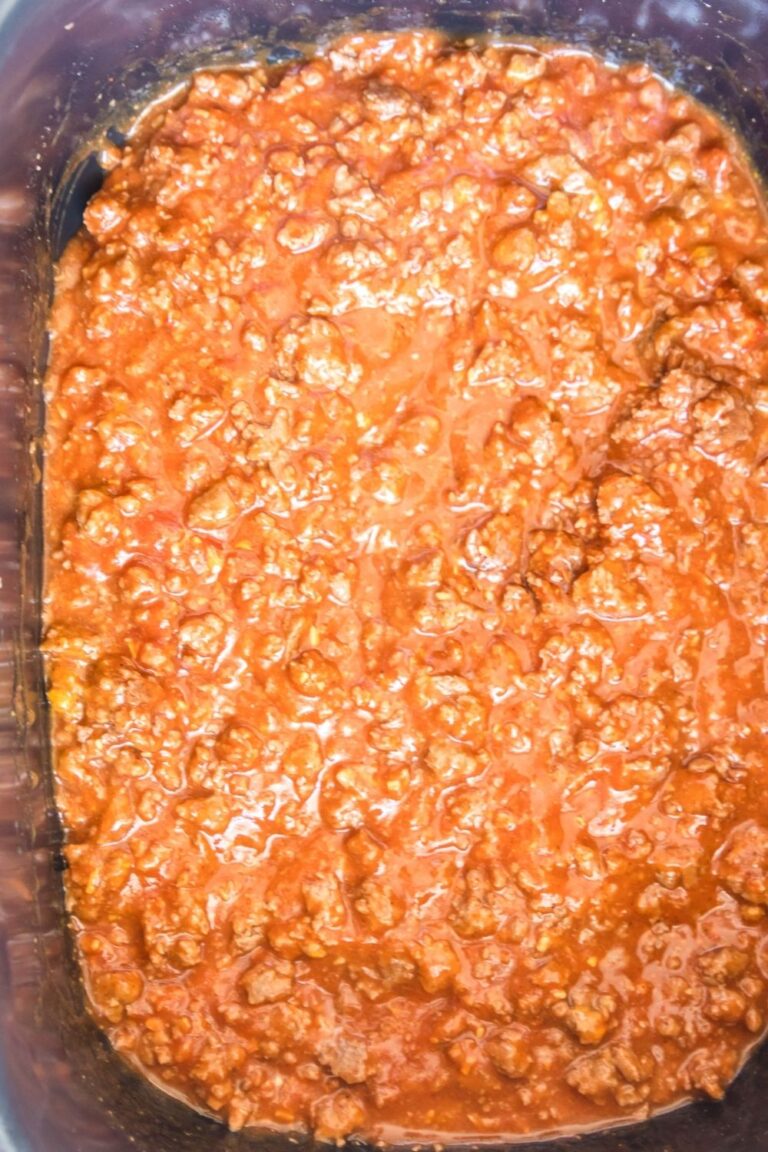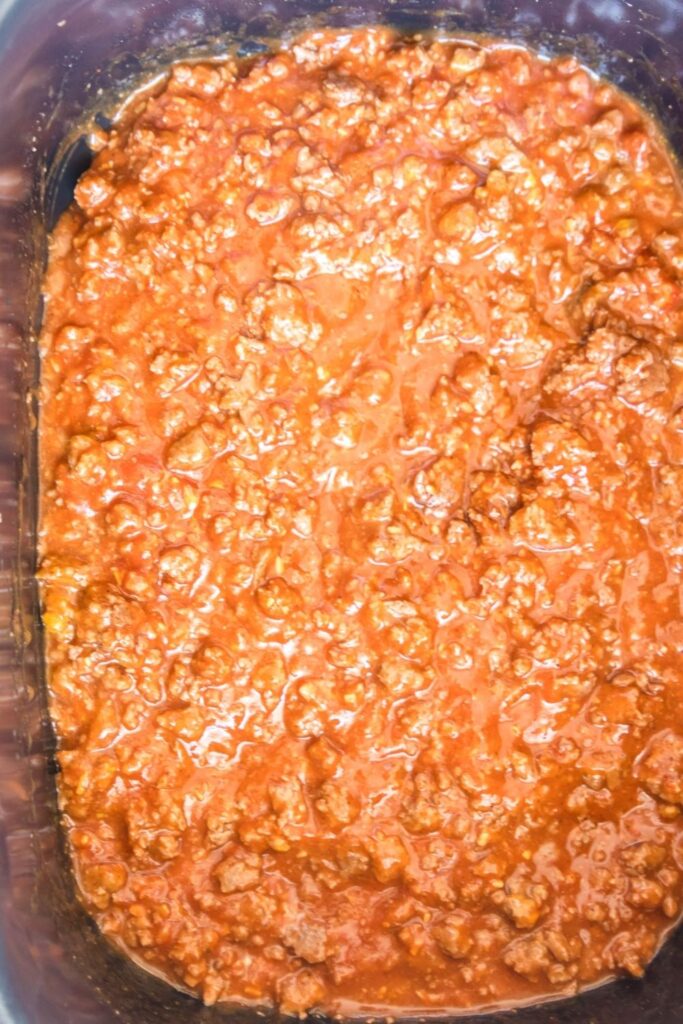 Step Three: Stir well then cover and cook for 2 hours on low heat.
Step Four: Once the time is up, grab your hot dogs and buns and serve on top with your favorite hot dog toppings.
How To Make Chili Dog Sauce on Stovetop
Start by cooking your ground beef in a skillet on the stove. Then you will add all the ingredients into the pan and bring to a full boil. Once it boils, reduce heat and simmer 15 minutes. Stir occasionally to prevent burning.
Storing Leftovers
Refrigerate – You will want to refrigerate any leftover crock pot hot dog chili. Just store in an airtight container in the fridge for 2-3 days. Then reheat as you would like. Whether it be on the stovetop or microwave.
Freezing – This recipe for hotdog chili does freeze as well. Just place in a freezer container or freezer bag. Remove as much air as possible in the bag if you go that route. Freeze for 3-4 months. Thaw in the fridge overnight, then reheat as you wish.
Recipe Notes:
You can use ground turkey, chicken, or even ground pork in replace of beef. Just ensure you fully cook until the meat is done.
This recipes does work great for making a double or even triple batch if you plan to serve a larger crowd.
To make it slightly sweet you can add a tablespoon of granulated sugar. This can help to balance out the acidic component from the tomato sauce and ketchup.
Elevate your flavor even more and use cheese dogs! Add on extra cheese on top for a chili cheese dog recipe.
What to Serve With Slow Cooker Hot Dog Chili
Not sure what to pair with this slow cooker chili dog recipe? Here are a few of our favorites.
Vegetables and Dip
French Fries
Etc.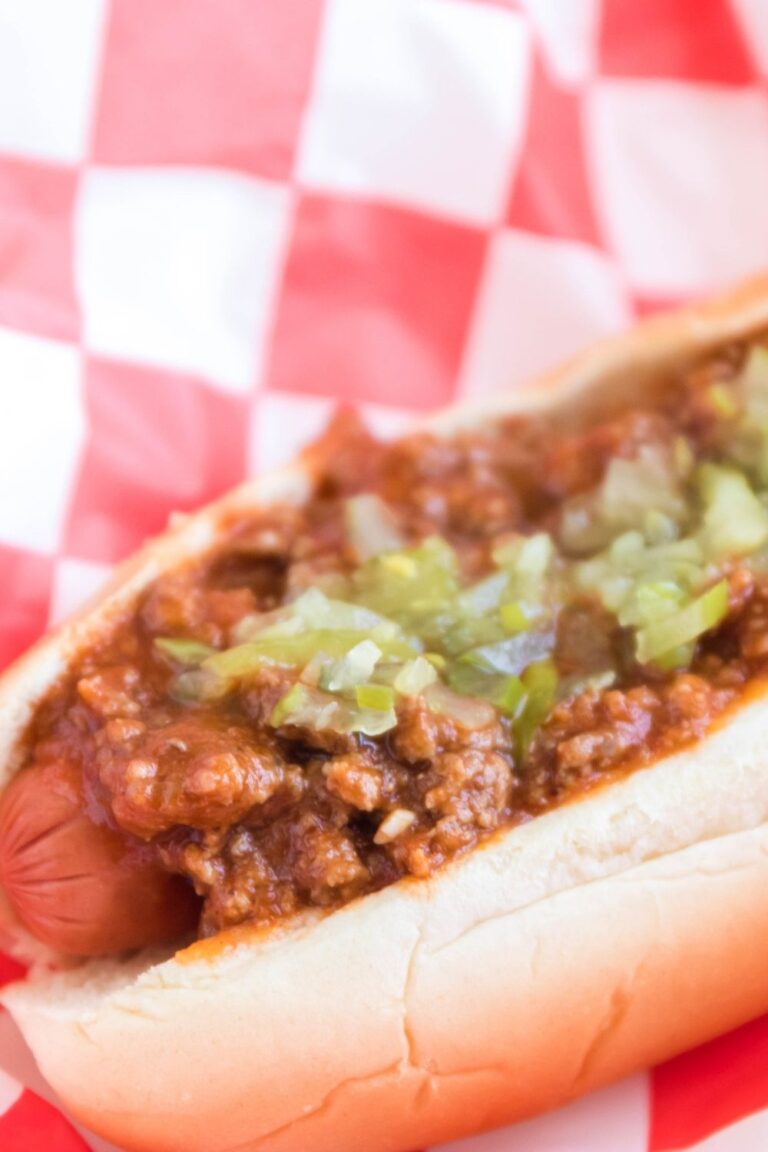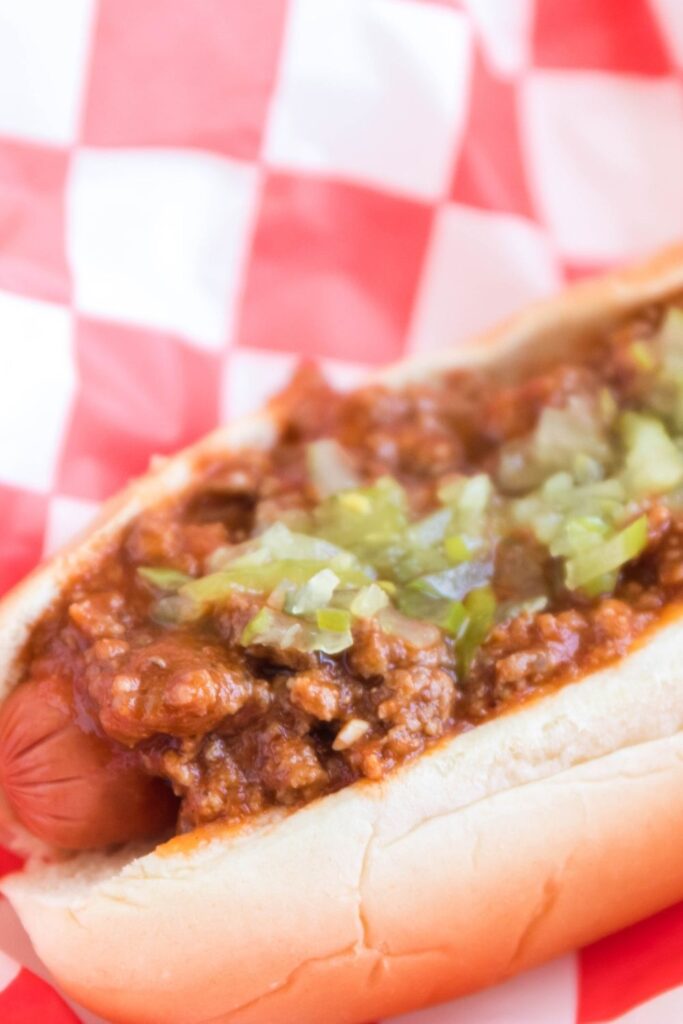 Frequently Asked Questions
How to cook hot dogs in crockpot?
To cook hot dogs in the crockpot you will place hot dogs upright. Place as many as you would like. If you don't fill the whole crockpot with hot dogs wad up aluminum foil in balls. Press into side where there is no hot dogs, to help ensure the dogs stay upright.
Cook on high for 1-2 hours or until the hot dogs are warm.
Is there a difference between hot dog sauce and chili?
Hot dog sauce is a bit sweeter in flavor compared to chili dog. Plus the chili will be a bit thicker than the sauce.
What's the difference between a Coney dog and a chili dog?
Coney dogs have a very similar flavor to a chili dog. Coney dogs have a chili dog sauce, and then get topped with mustard, onions, etc. Where a chili dog is going to be less sweet. The two are similar in flavor.
Have you tried the recipe? If so, please leave a star ⭐️⭐️⭐️⭐️⭐️ rating in the recipe card below or drop a comment. Also stay in touch with me through social media by following me on Facebook, Pinterest, or My Facebook Group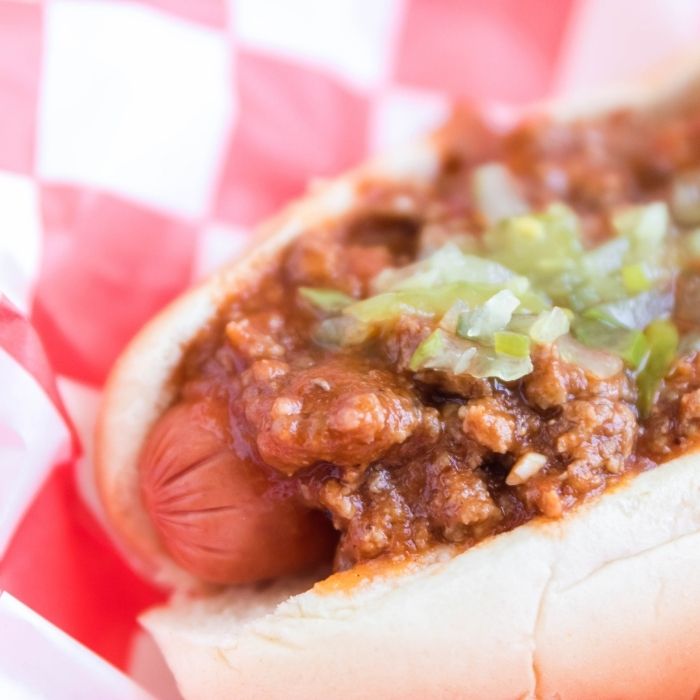 Hot Dog Chili
Servings 8
Chili dogs never tasted so good. This homemade hot dog chili is going to transform your hot dog game. This crockpot version helps to elevate all the flavors of this hot dog chili sauce.
Ingredients
1 pound ground beef Cooked and drained
1/2 cup ketchup
1 1/2 tablespoons Worcestershire sauce
1 1/2 tablespoons yellow mustard
5 ounces tomato sauce
1/3 cup water
1/2 teaspoon minced onions
1/2 teaspoon black pepper
1/2 teaspoon salt
1 1/2 teaspoons chili powder
1/2 teaspoons brown sugar optional (If you want sweet sauce)
Instructions
Start by cooking your ground beef until no longer pink. Make sure to drain off any grease. Then pour the meat into the crockpot.

Next you will add in the tomato sauce, ketchup, mustard, Worcestershire sauce, water, and all seasonings. If you want your sauce to be slightly sweet add in the brown sugar. Otherwise, leave it out.

Stir well, and then cover and cook on low for 2 hours.

Remove lid and serve with your hot dogs, chips, fries, or even top a burger with the hot dog chili!
Skillet Directions
Cook ground beef in a skillet, until no longer pink. Drain off any excess oil and grease.

Add in all the other ingredients and stir well. Then bring the mixture up to a boil.

Reduce heat and simmer for 15-20 minutes. Stir occasionally, and then serve up as you would like.
Notes
 Meat – Ground turkey, chicken or pork work in replace of the ground beef.  Sweetness – Adding the brown sugar will add a hint of sweetness and balance out the acidic components a bit. This is of course optional.  Storing – Store any leftover chili dog sauce in the fridge in an airtight container for 2-3 days. 
Nutrition
Serving: 1gCalories: 170kcalCarbohydrates: 6gProtein: 10gFat: 12gSaturated Fat: 4gPolyunsaturated Fat: 1gMonounsaturated Fat: 5gTrans Fat: 1gCholesterol: 40mgSodium: 482mgPotassium: 287mgFiber: 1gSugar: 4gVitamin A: 270IUVitamin C: 2mgCalcium: 23mgIron: 2mg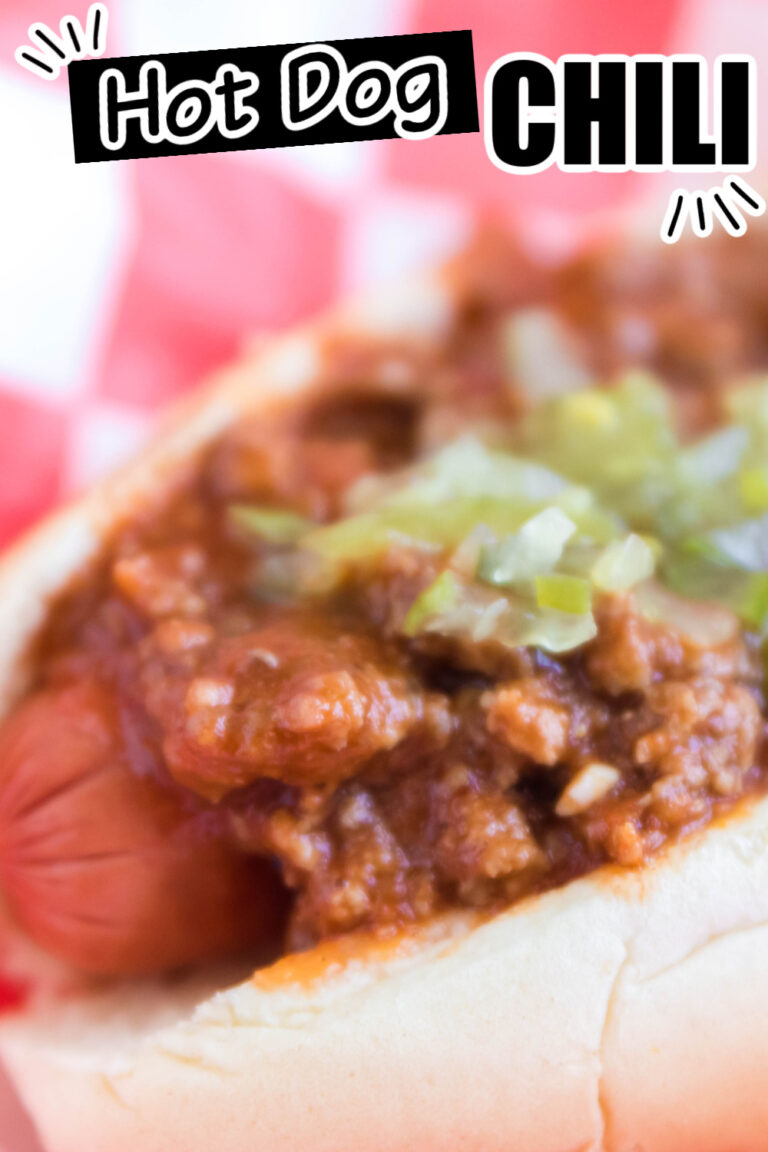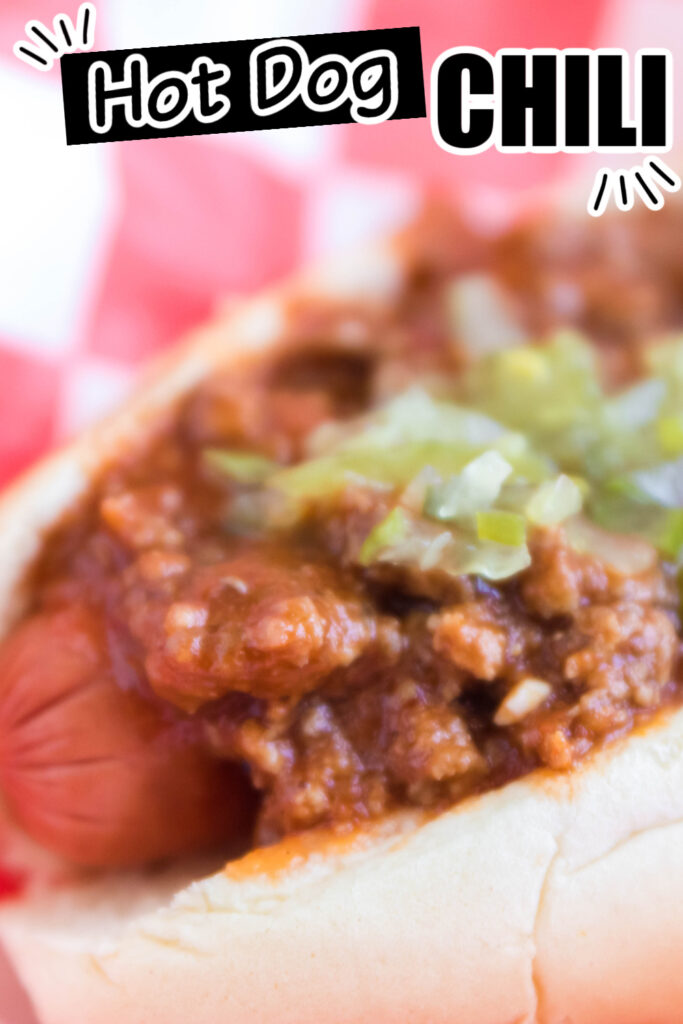 Reader Interactions