Pizza Rolls in the Air Fryer are hands down the best way to make Totinos pizza rolls! If you own an air fryer, you have to try cooking frozen pizza rolls in your air fryer. A tasty snack or even an air fryer appetizer for entertaining.
Pair your pizza bites with ranch or even a marinara sauce. This Totinos pizza rolls air fryer recipe has become the only way I make pizza rolls. Crispy pizza rolls ready in minutes. This appetizer, lunch, or snack is a homerun!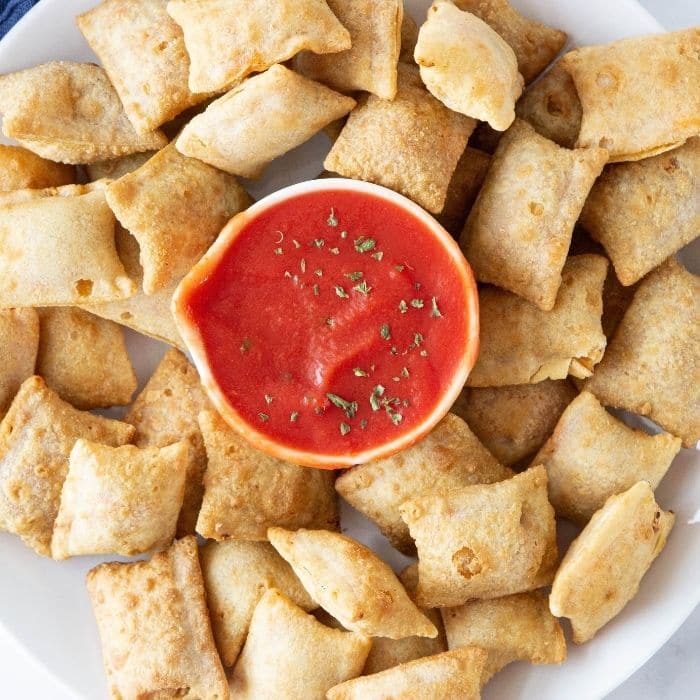 Deep fried pizza rolls are awesome, but you get some unwanted grease. Air fried pizza rolls give you the crunch coating with the cheesy pizza filling. Another tasty snack is my corn tortilla chips.
🍕 Why You Will Love This Recipe
Quick Cook Time for Easy Snack
Works in air fryer basket or air fryer oven trays
Fried food texture without the grease
No preheating of oven or heating the house
Easy Way to Cook Totino's pizza rolls
Pair with your favorite dipping sauce
Delicious lunch, snack or party food
A great way to cook frozen foods like these rolls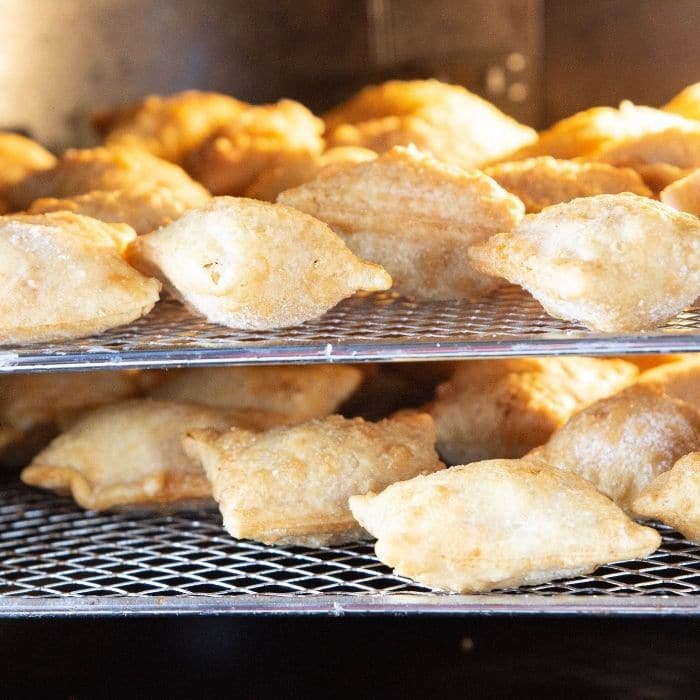 🌶️ Ingredients
Frozen Pizza Rolls – All you need are frozen pizza rolls. You can spritz the pizza rolls with an oil mister to help golden up the pizza rolls, but that is optional!
Oil – You will find spritzing with oil will help your pizza rolls crisp up to golden perfection. Make sure to use an oil mister not an aerosol can as it can erode the coating on trays.
🧀 How To Make
Full directions are in the printable recipe card at the bottom of the post on air fryer pizza rolls. This is a visual walk-through.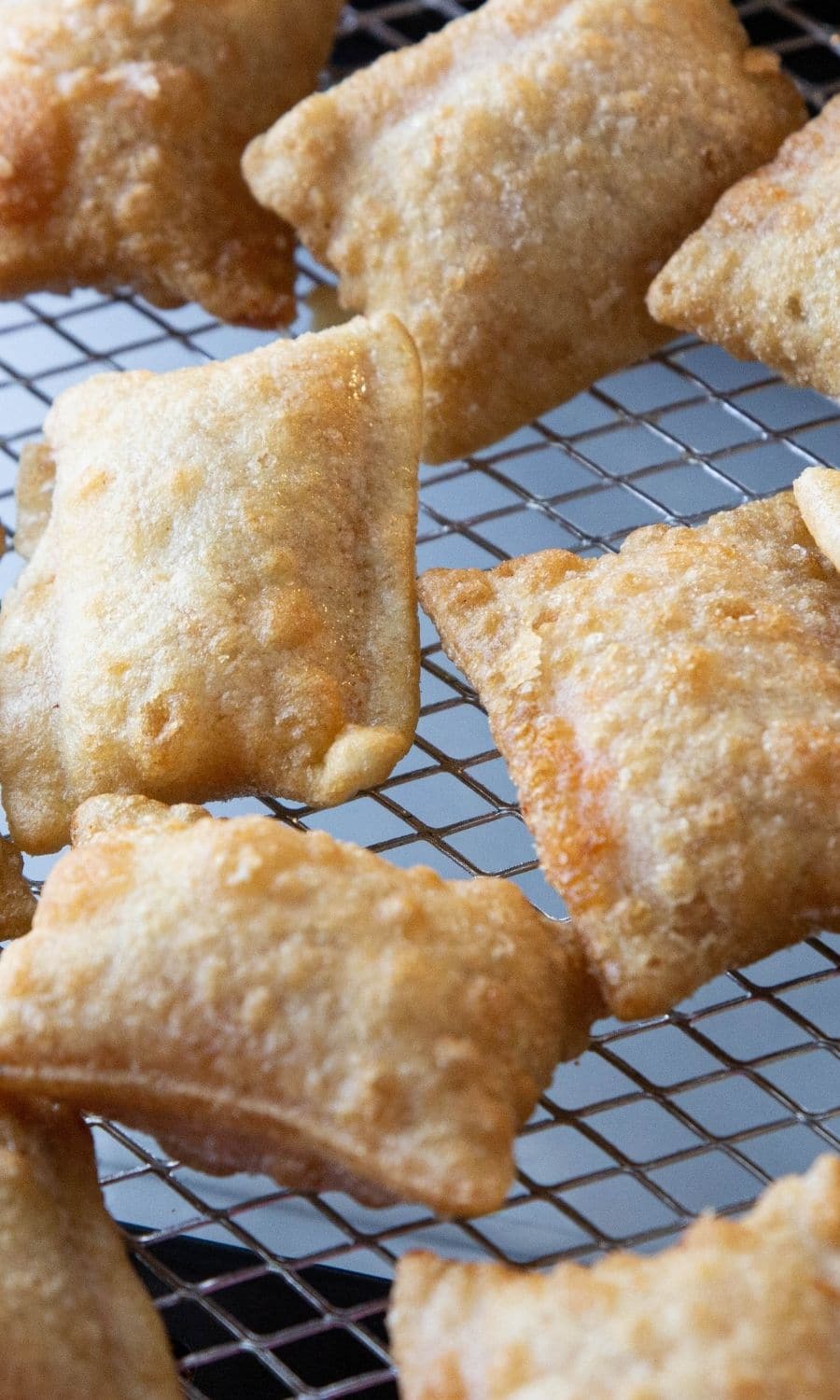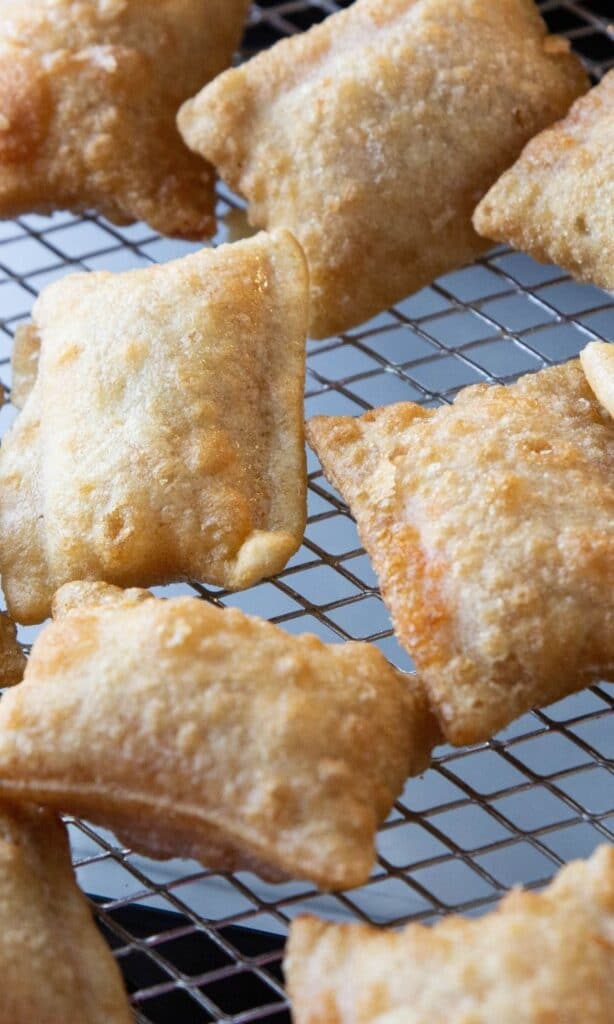 Step One: Preheat the air fryer for 3 minutes at 375 degrees Fahrenheit.
Step Two: Start by placing your pizza rolls in a single layer, in your air fryer trays ( I used my air fryer oven) or basket.
When cooking in the air fryer you have to leave space between each piece of food for an even cook.
Step Three: Cook your pizza rolls for 3 minutes, then flip. Then continue to cook for another 3 minutes or so.
Now depending on the brand and model of air fryer you own, cooking time will vary.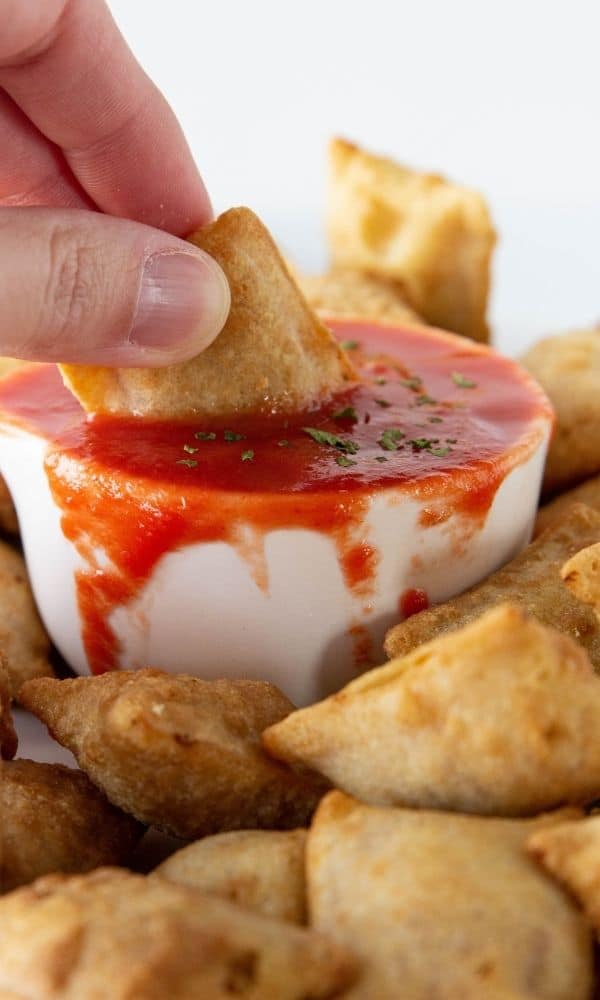 Cook your air fryer pizza rolls until they are crisp on the outside and a golden brown color.
Pair your rolls with ranch, marinara sauce, etc. The biggest thing is to make sure your rolls get fully cooked and have a nice crisp outside!
Storage
These pizza bites are best served fresh out of the air fryer. If you don't eat them all store in the fridge for 1-2 days. You can use to pack for a school lunch. But, they will lose the crispy texture.
We only make what we plan to eat at that time.
Expert Tips
Here are some tips and tricks to set you up for success with this air fryer pizza rolls recipe. I find you get best results and less time cooking in the hot air fryer vs a toaster oven or classic oven! The cooking process is a breeze.
Any brand of frozen pizza bites work. You can use fresh pizza bites as well, just adjust cook time.
Place the pizza bites in a single layer in your air fryer. Otherwise, you will find it gets an uneven cook on the bites.
I paired with a sauce, but you can eat alone, or serve however you would like.
Place a piece of parchment paper or aluminum foil in bottom of air fryer to catch any drips of the pizza roll fillings.
This will work with homemade air fryer pizza rolls as well.
This air fry pizza rolls recipe works in a basket or air fryer oven. If I do the oven half way through I swap the bottom trays to the top to help get an even cook.
Spritz with a little bit of oil to help crisp up the outside of the pizza roll.
Recipe FAQs
Common questions when making these air fryer frozen pizza rolls!
Can you use cooking spray in an air fryer?
 Aerosol cooking sprays can eat away the enamel on the air fryer trays and basket. Use an oil mister where you fill it with your own oil and spritz the food.
How long to cook pizza rolls in the air fryer?
It takes around 6 minutes at 375 degrees to cook frozen pizza bites in your air fryer. Every air fryer heats a little different so use your best judgment.
Can you put pizza rolls in an air fryer?
Absolutely! Go ahead and use frozen pizza rolls or homemade pizza rolls. Either route, you will truly enjoy the nice crisp texture.
Can pizza be cooked in an air fryer?
If you want to reheat pizza toss it in the air fryer at 320 degrees Fahrenheit and cook for 4-5 minutes or until the pizza is warmed.
If you have a larger air fryer you can even do frozen pizza in air fryers!
Why did my pizza rolls explode in air fryer?
If your pizza rolls explode in the air fryer, that means it was cooked too long. All air fryers heat slightly different, so the cook time should be used as a guide. Keep an eye on your pizza bites as they cook.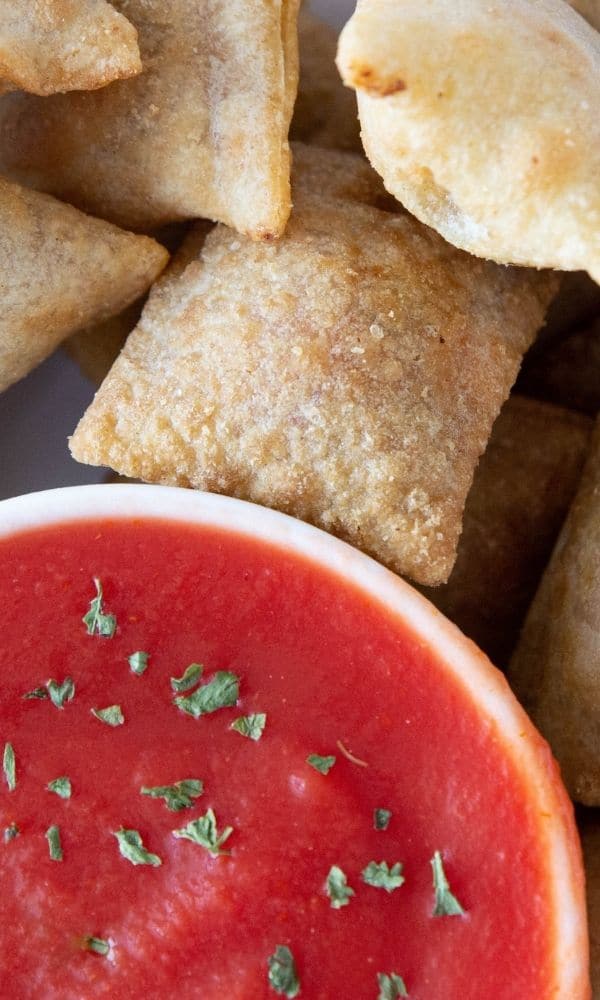 More Pizza Inspiration
Have you tried the recipe? If so, please leave a star ⭐️⭐️⭐️⭐️⭐️ rating in the recipe card below or drop a comment. Also stay in touch with me through social media by following me on Facebook, Pinterest, or My Facebook Group!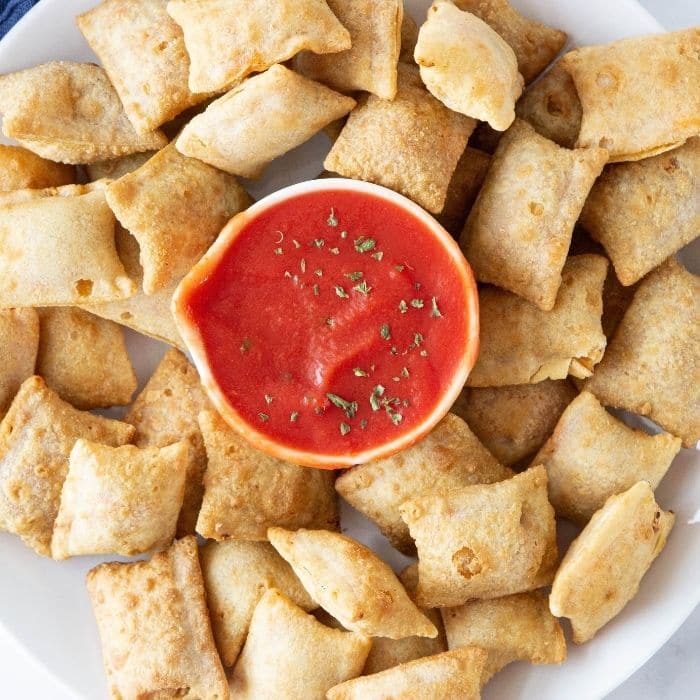 Pizza Rolls In Air Fryer
Servings 40
Pizza Rolls in the Air Fryer are hands down the best way to make Totinos pizza rolls! If you own an air fryer, you have to try cooking frozen pizza rolls in your air fryer. A tasty snack or even an air fryer appetizer for entertaining.
Ingredients
Oil Mister optional
1 Bag of Pizza Rolls I did a bag of 40
Instructions
Preheat your air fryer to 375 degrees. I preheated my air fryer for 2-3 minutes.

Place your frozen pizza rolls on the air fryer tray or basket. If you find your food sticks in your air fryer, spritz before placing rolls on the tray.

Place frozen pizza bites in a single layer, don't overlap.

Cook for 3 minutes, and then flip the pizza rolls. Cook an additional 3 minutes.

If your pizza bites are not fully done, cook another minute or two. If done, remove and allow to cool a minute or two before serving up.

Pizza rolls in air fryer are easy, quick and offer a crunchy texture.
Notes
Cooking Heat – Some air fryer brands don't have 375, if that is the case do 380 degrees. You Control Portion – Make as many or as few pizza rolls as you would like. If need be batch cook your pizza rolls. Dipping Sauce – I served ours with marinara sauce but it is great for dipping in Ranch dressing as well. Any Brand Works – I used Totino pizza rolls but any brand of pizza bites work. Crispy Texture, use oil- You can spritz your rolls with oil to help offer a more golden brown texture as well.
Nutrition
Serving: 6gCalories: 28kcalCarbohydrates: 1gFat: 3gPolyunsaturated Fat: 2gSodium: 13mg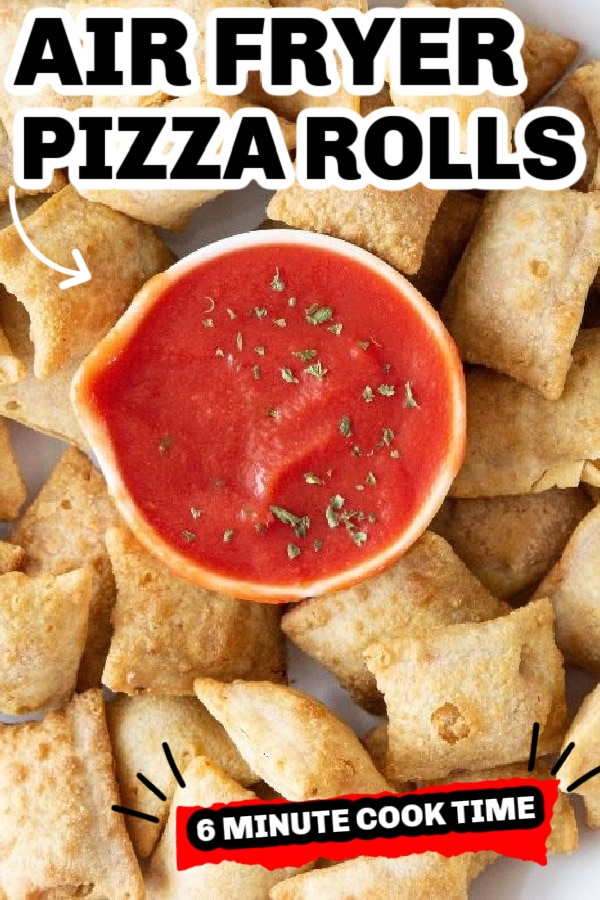 Reader Interactions