Pizza pasta is a great hearty dinner that is such a comfort food. Instant Pot pizza pasta is easy and kid-friendly.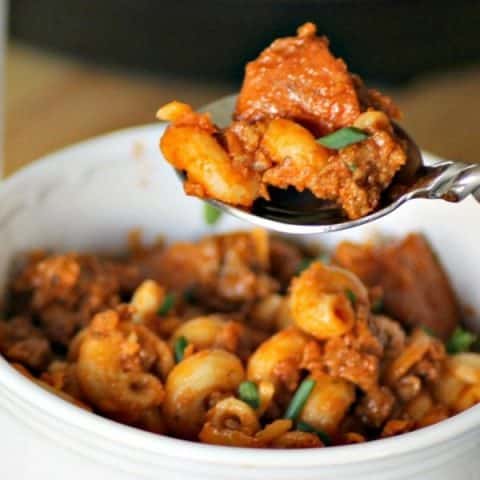 Pizza Pasta is a fun way to enjoy two of your favorite flavors in one. A meat-lovers Instant Pot pizza pasta recipe that is loaded with meat, savory sauce, and cheese!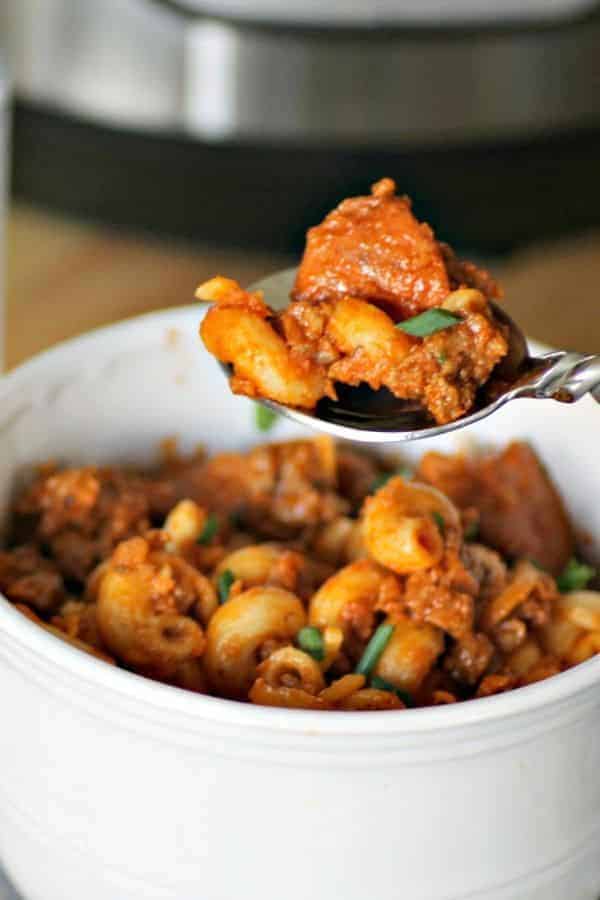 Feel free to add in your favorite pizza toppings to make a pizza pasta that fits your tastebuds. My husband is a meat lover so I am all about piling in the protein.
Pizza Pasta
Let me walk you through tips and tricks for making this pizza pasta. Whether you use spaghetti sauce or your favorite homemade pizza sauce, this dish is a kid-friendly recipe that will win over the whole family. If you are looking for another great recipe try my Italian Beef.

Variations To Pizza Pasta
Vegetables | Add in veggies like green peppers, mushrooms, onions, or any other favorite pizza topping. Just stir in and cook accordingly.
Meat | Add in ground beef, ground sausage, Canadian bacon, or any other meat topping. Mix and match or make it a meatless dish.
What Type of Cheese To Use For Pizza Pasta
You can use any cheese you want. Mozzarella, a shredded cheese blend, sharp cheddar, or any other type. I tend to reach for mozzarella as it gives it more of a classic pizza flavor.

What To Serve With Pizza Pasta
Bread | Garlic bread, dinner rolls, Instant Pot Bread, or any other type of bread is welcome. Dip it into the sauce and dive in! YUM!
Salad | Reach for a green salad to pair next to your pasta. It will lighten up the meal and give you a fantastic texture change.
Vegetable | Add in a side of veggies. Whether it be broccoli, corn, green beans and more. Any will work and add a new level of dimension to your recipe.
Can I Make This Pizza Pasta On Stovetop
Yes, you can easily skip the pressure cooker if you want. Simply saute your garlic and such as directed. Then add in and cook your ground beef until no longer pink. In a separate pan cook your pasta according to the package. Drain and set aside.
Then pour in all your other ingredients into the meat mixture, and stir, and allow it to simmer on the stove for around 30 minutes. This will help blend the flavors. Stir in the cooked pasta. Top with cheese and serve.
Looking for more Instant Pot Recipes
Italian Mushroom Stew | If you are a fan of mushrooms this recipe is going to rock your world. A great one for fall and winter months.
Swiss Steak | This recipe comes with meat and a side of potatoes so it is a complete meal all in one. A must make Instant Pot recipe.
Green Beans and Potatoes | One of my favorites. Hearty, easy, and downright comforting to the last drop.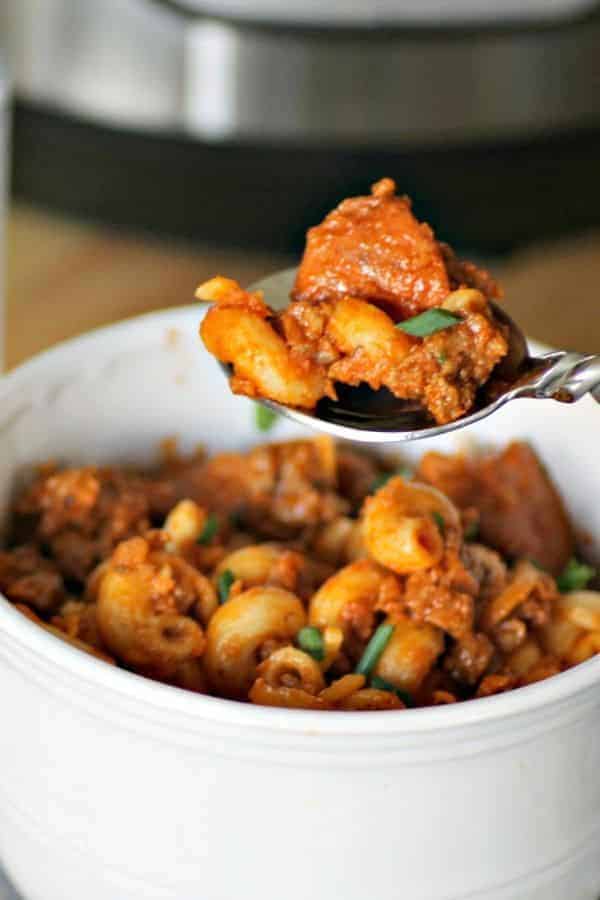 The Best Instant Pot Pizza Pasta
Servings 8 servings
Pizza pasta is a great hearty dinner that is such a comfort food. Instant Pot pizza pasta is easy and kid-friendly.
Ingredients
• 1 tablespoon olive oil
• 1 tablespoon butter
• 1 tablespoon minced garlic
• 1 pound of lean ground beef
• 1 pound rope sausage
• 1 cup tomato sauce
• 1 jar pizza sauce
• 1 tablespoon Italian seasoning
• 1 cup beef broth
• 1 cup water
• 8 oz uncooked pasta
• 25-30 slices of small pepperoni
• 2 cups shredded cheddar cheese
• Salt and pepper to taste
Instructions
Turn Instant Pot to saute and cook olive oil, garlic, onion for 2 minutes until fragrant and transcluecent.

Then add in ground beef and sausage and cook until no longer pink and cooked through.

Now add in tomatoes and the pizza sauce and Italian seasoning.

Add in beef broth, water, and pasta, stir and cover. Make sure all the pasta is covered in liquid.

Turn the Instant Pot to high pressure for 8 minutes. Release pressure and allow the steam to release completely before you open lid.

Stir in cheese, and then serve with garlic bread.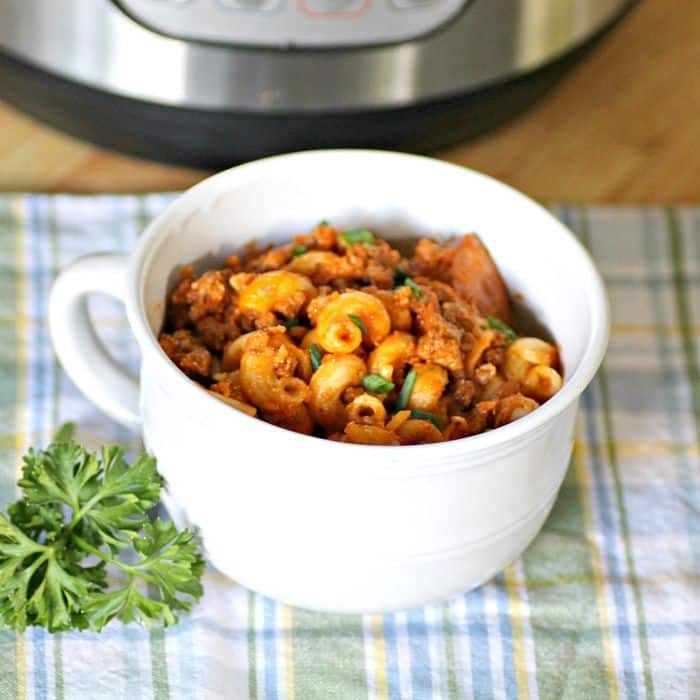 How to Store Leftover Pizza Pasta
You will want to store any leftovers you have in the refrigerator. It will store for up to three days. Anything after that use your best judgment, so you don't run the risk of getting sick from expired food.
Can I Swap Out The Style Of Pasta For Something Different
Of course, use any shape of pasta you would like. Bowtie, elbow, etc. This recipe will work with whatever you have just as long as it is dry pasta and not a super small pasta shape.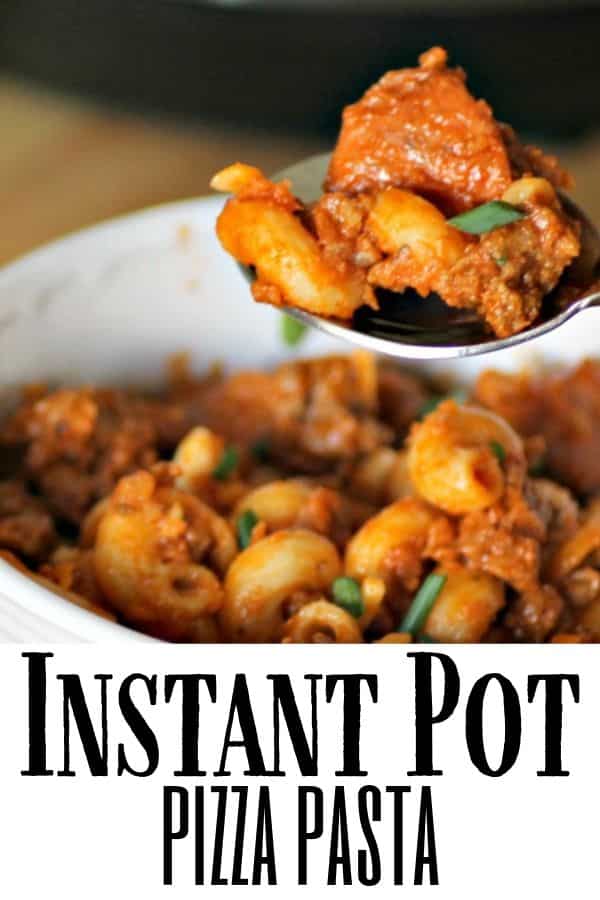 Have you made Instant Pot Pasta yet?
Reader Interactions