Roast Chicken Recipe – A simple and easy roast chicken that is seasoned with garlic butter and fresh herbs. This 6 ingredient whole roasted chicken is going to be stunning to serve up, and delicious.
Juicy, crispy skinned baked chicken recipe that the whole family can enjoy. Serve this garlic butter chicken with a side of glazed carrots, salad, or even fresh dinner rolls.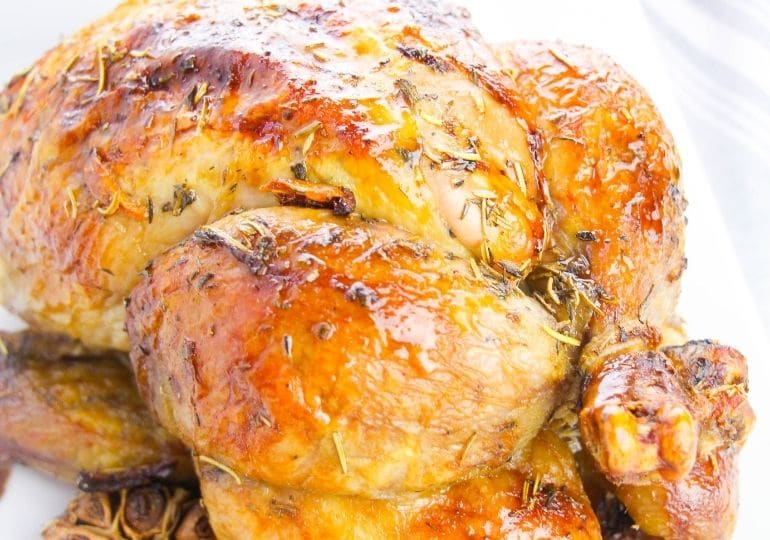 Pan roasted chicken is very affordable to make, and easy. This is the best baked chicken I have made so far. Slice and serve up this comfort food dinner.
Why You Will Love This Roast Chicken Recipe…
6 Ingredients
Budget Friendly
Whole Chicken Recipe
Family Friendly
An Easy Chicken Recipe
Delicious Flavor
Ingredients Needed
Recipe Notes: Feel free to alter the ingredients used to season your baked whole chicken to fit your preference.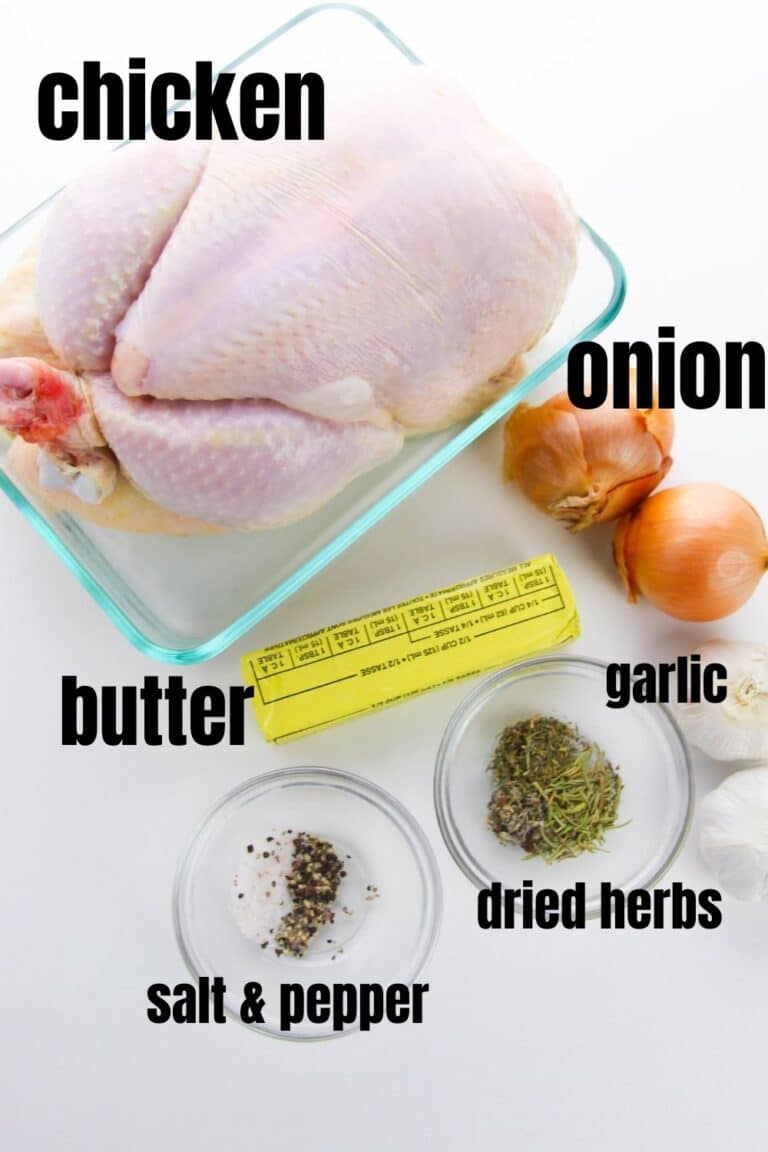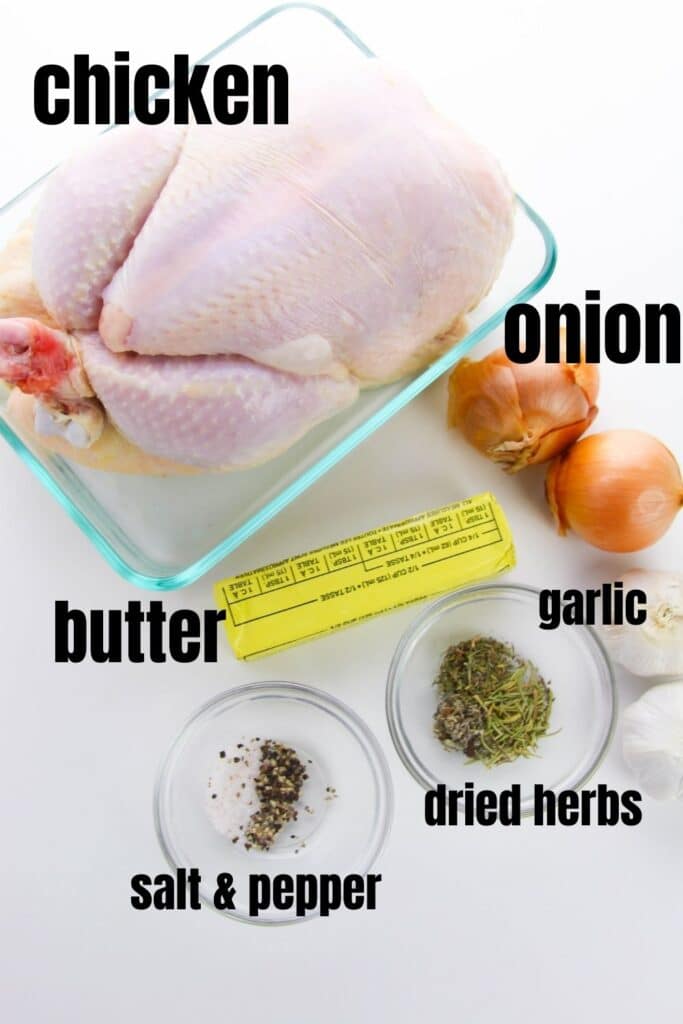 Whole Chicken
Butter – I recommend using real butter for this recipe not margarine.
Garlic – Fresh cloves will give your garlic butter sauce mixture incredible flavor with the herbs
Salt and Pepper
Onion
Dried Rosemary –You can use fresh herbs if you have them on hand. Just use less if fresh, as it is more vibrant.
Dried Sage – Same on if you want fresh instead of dried herbs.
How to Make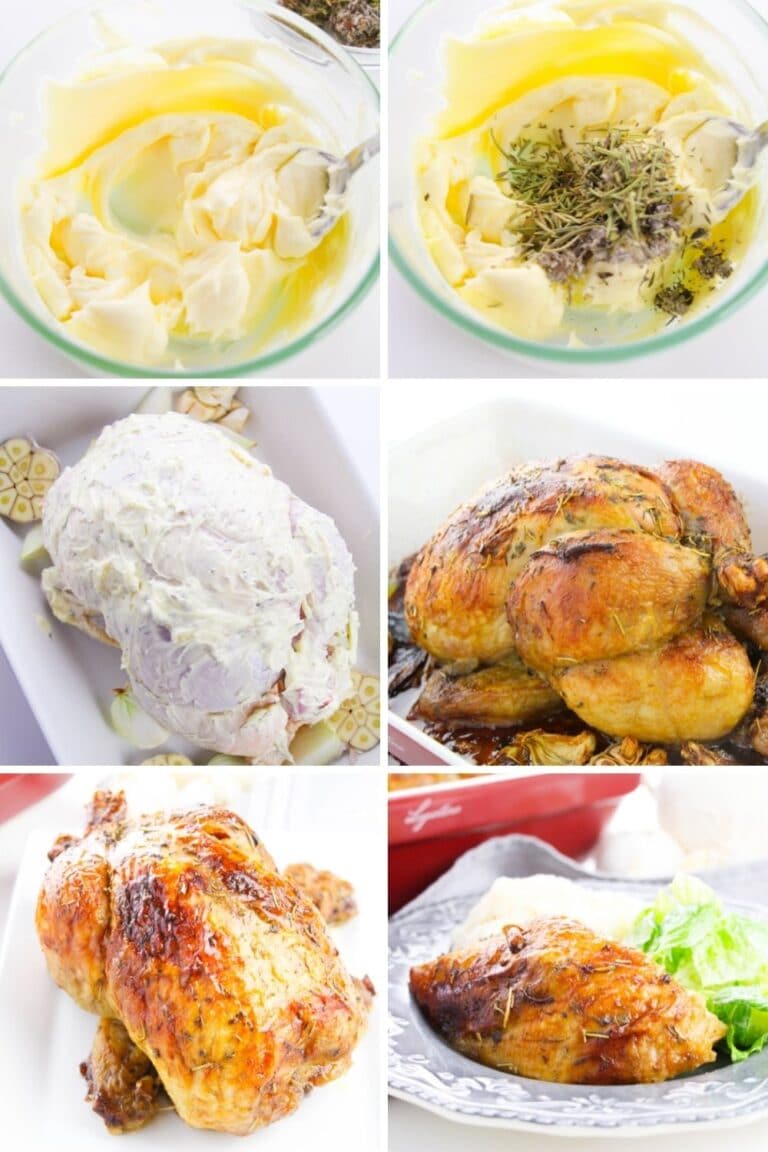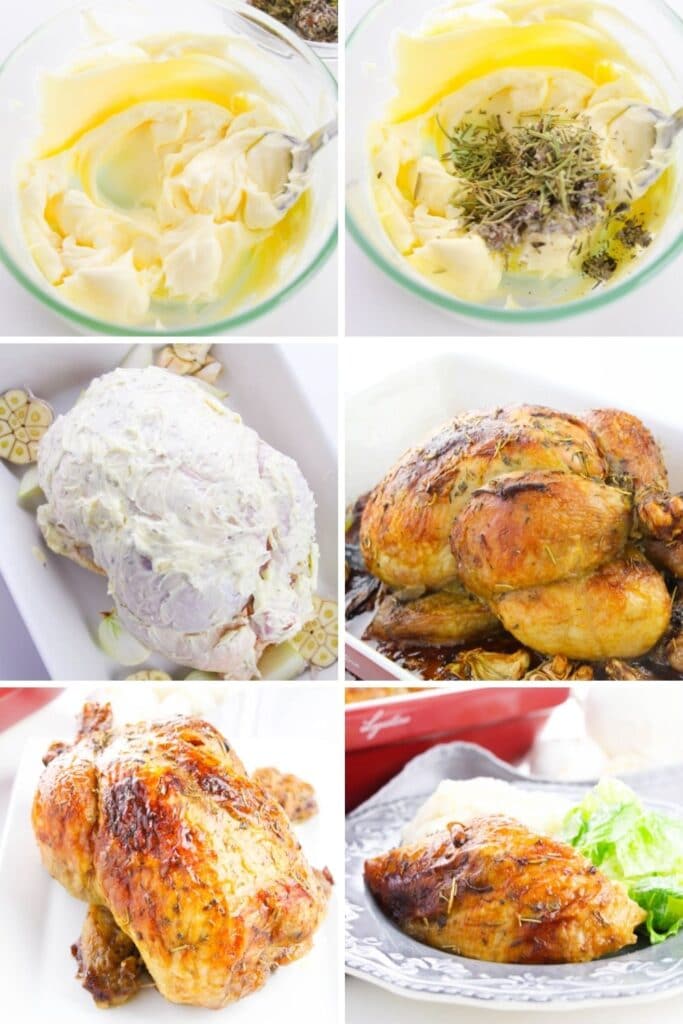 Step 1: Start by taking your soft butter and mix with the smashed garlic and herbs.
Step 2: Take an inverted spoon and separate the chicken's skin from the breast, and spread some of the garlic butter under the skin. Rubbing all over the breast of the chicken.
Step 3: Then you will take the other half of the garlic butter and spread over the top of the chicken.
Step 4: Place the sliced onions in the bottom of the casserole pan. Then add in sliced garlic if you have extras.
Step 5: Roast the whole chicken for 40-45 minutes in the oven. Check the internal temperature and see where the chicken is at. You want an internal temperature of 165 degrees.
Step 6: Allow the chicken to rest for 10 minutes once cooked. Then slice and serve up this oven roasted chicken!
Note: If the chicken is getting too brown, tent the chicken with aluminum foil. This will help slow down the skin from over browning.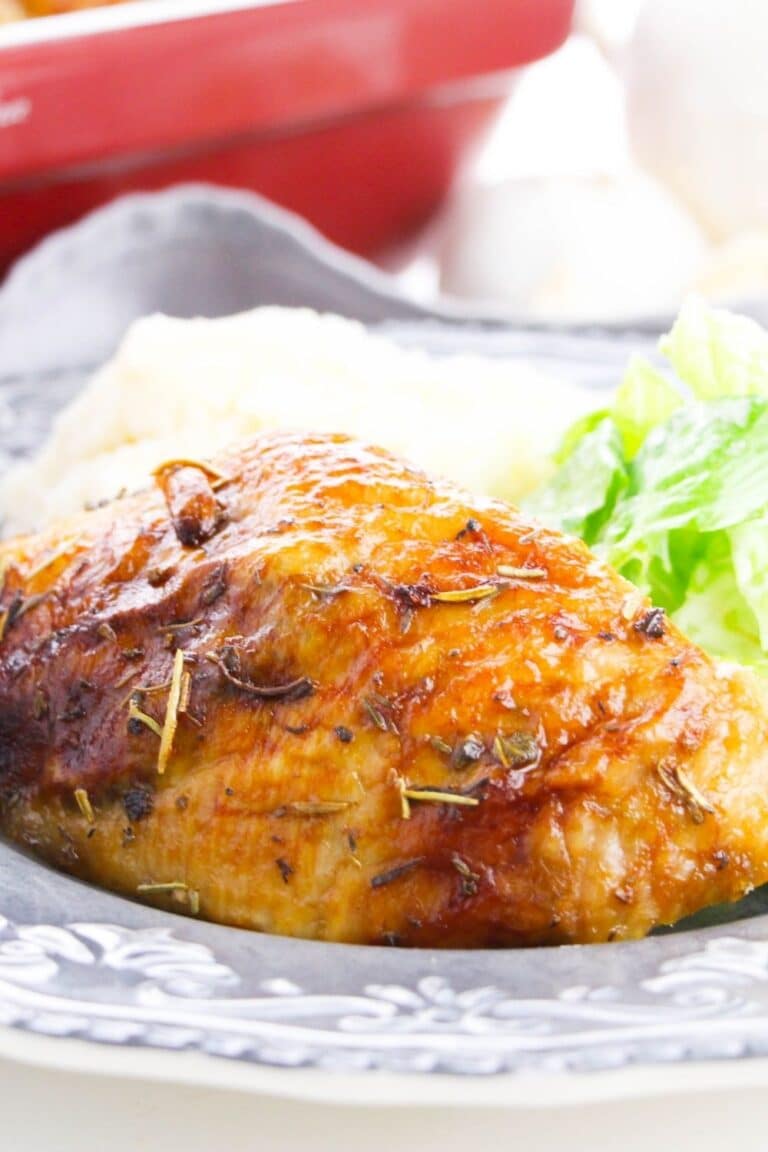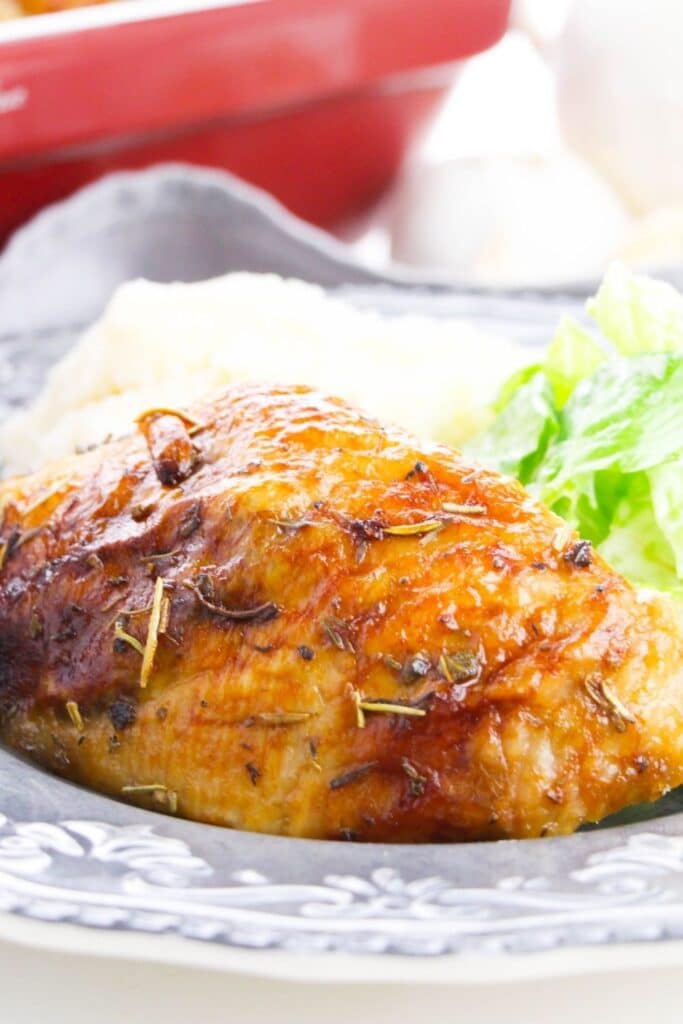 Expert Tips
I recommend using yellow onions, as they pair really well with the chicken and don't overpower the other ingredients.
Make sure to carefully lift the skin up from and smear half the garlic butter. This will lock in flavor but also keep the chicken nice and juicy.
I love using fresh garlic but you can use minced garlic from a jar as an alternative.
Salted butter or unsalted works for this recipe. Just make sure it is butter not margarine.
When probing the chicken for checking internal temperature, do not touch a bone. It will give you a higher reading, and you run the risk of serving undercooked chicken.
The chicken needs to reach 165 degrees internally to be done. You can not serve undercooked chicken, it can make you very sick.
Depending on the size of your chicken, the cook time will vary, so take note on that.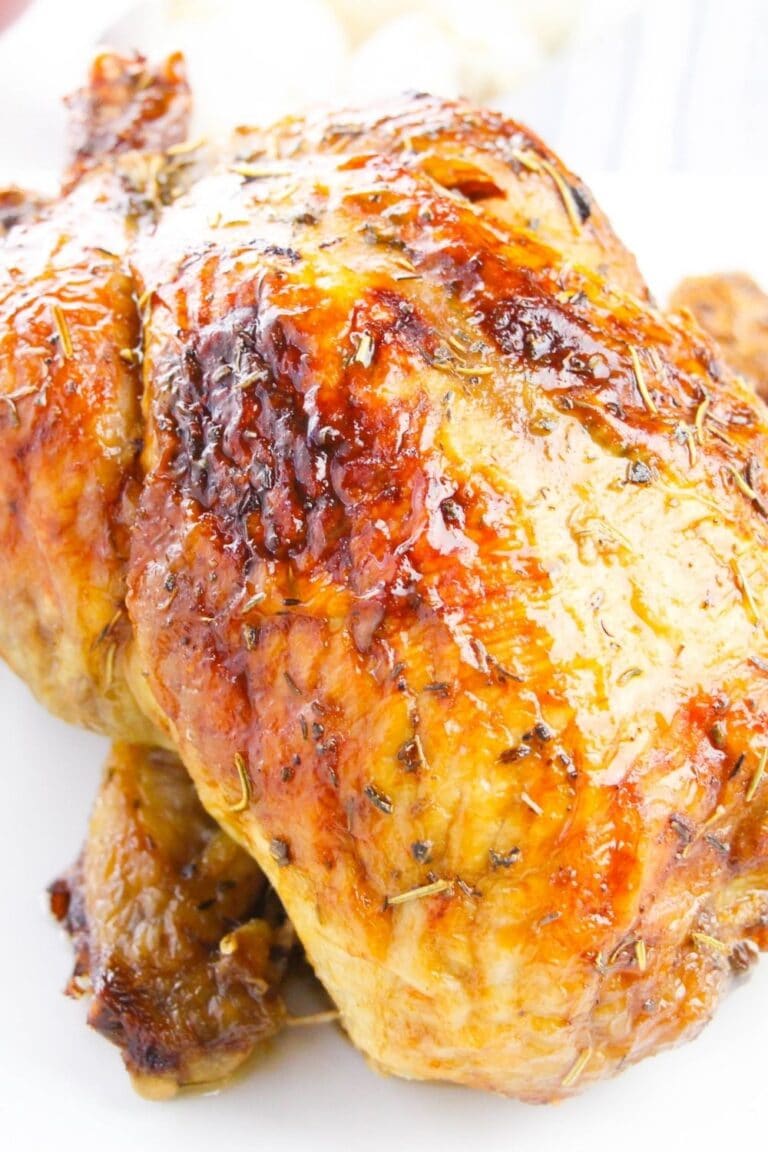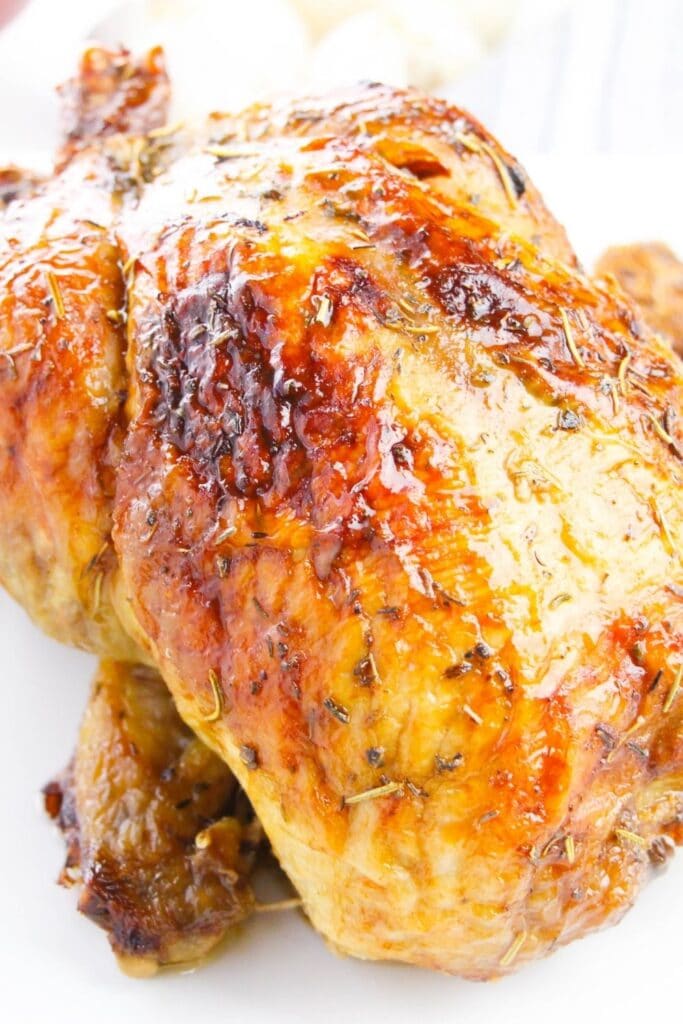 Variation To Recipe
The possibilities are endless when it comes to cooking with whole chicken. Here are a few swaps you can do to change up the flavor of this baked whole chicken recipe.
Fennel tastes delicious with chicken.
Add in some carrots, celery or other veggies to help add flavor to the chicken.
Slice up a lemon and place in the cavity of the chicken along with onions.
Change up spices or swap herbs to create a delicious chicken that fits your preference.
Storing
Slice and carve all the chicken off the bones, and then store the chicken in the refrigerator for up to 4 days.
If you do not want to eat all the chicken right away, freeze any chicken you don't plan to eat for up to 3 months.
If you like to meal prep, dice or shred the chicken then freeze in serving size bags, so you can grab and use the chicken for casseroles, chicken dip, making chicken salad, etc.
FAQs
More Delicious Chicken Dinner Ideas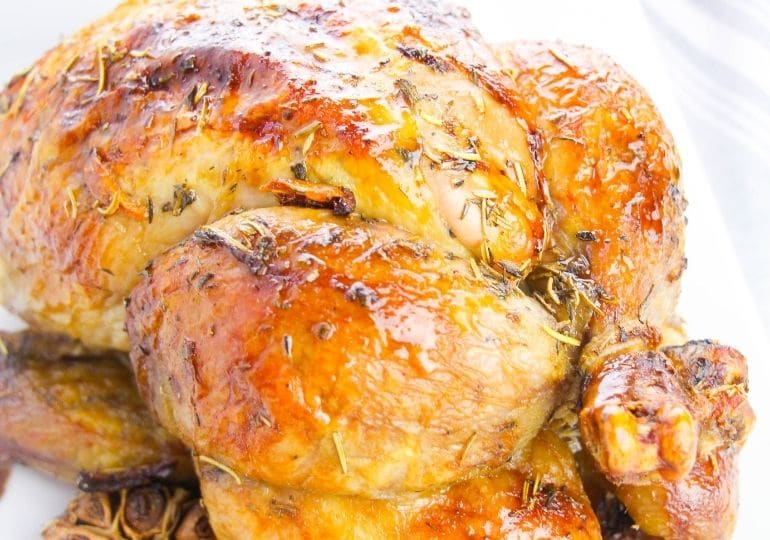 Roast Chicken
Servings 1 chicken
This roast chicken recipe is so easy to make and offers a juicy and crispy skin. This 7 ingredient whole roasted chicken bakes in the oven. A garlic butter with herb crust, that leaves this chicken tasting amazing.
Ingredients
Whole Chicken 3 pound chicken
1/4 cup butter softened
5-6 garlic cloves smashed
1-2 yellow onions
1 teaspoon dried rosemary
2 teaspoon dried sage
Salt and Pepper to taste
Instructions
Preheat the oven to 375 degrees. Start by taking your softened butter and place in a bowl. Mix it up to help make it creamy.

Crush your garlic and then add to the butter. Mix well and then stir in some salt, pepper, rosemary, and sage.

With an inverted spoon you will work at lifting the skin up off the breast of the chicken. Do this carefully.

Spread 1/2 the butter mixture under the skin on the chicken.

With the remaining butter mixture, spread all over the outside of the chicken.

Place sliced onions, and any pieces of garlic left in the baking dish (I used a 9×13). You can use a roasting pan if you own one.

Place chicken on top of onions and then place in a preheated oven.

Bake the chicken for 40-45 minutes, and then check the meat. You want an internal temperature of 165 degrees F.

If the whole roasted chicken is not done, cook until it reaches proper temperature. Then allow the chicken to rest on the counter for 10 minutes.

Slice and serve your chicken with a side of mashed potatoes, carrots, salad, or any other favorite sides.
Notes
Cooking Time for Chicken – Depending on the size of the chicken, the cooking time will vary. You want to ensure the chicken reaches 165 degrees Fahrenheit. Chicken Skin – If your skin on the chicken is looking too done, and the chicken needs to cook longer. Take aluminum foil and tent the chicken, to help protect the skin. This will help the chicken not over-brown. Let Chicken Rest – You need to allow your chicken to rest for 10 minutes, so it helps lock in the moisture of the meat. Then slice or carve the chicken as you would like.
Nutrition
Serving: 1gCalories: 412kcalCarbohydrates: 2gProtein: 41gFat: 26gSaturated Fat: 8gPolyunsaturated Fat: 14gCholesterol: 161mgSodium: 177mgSugar: 1g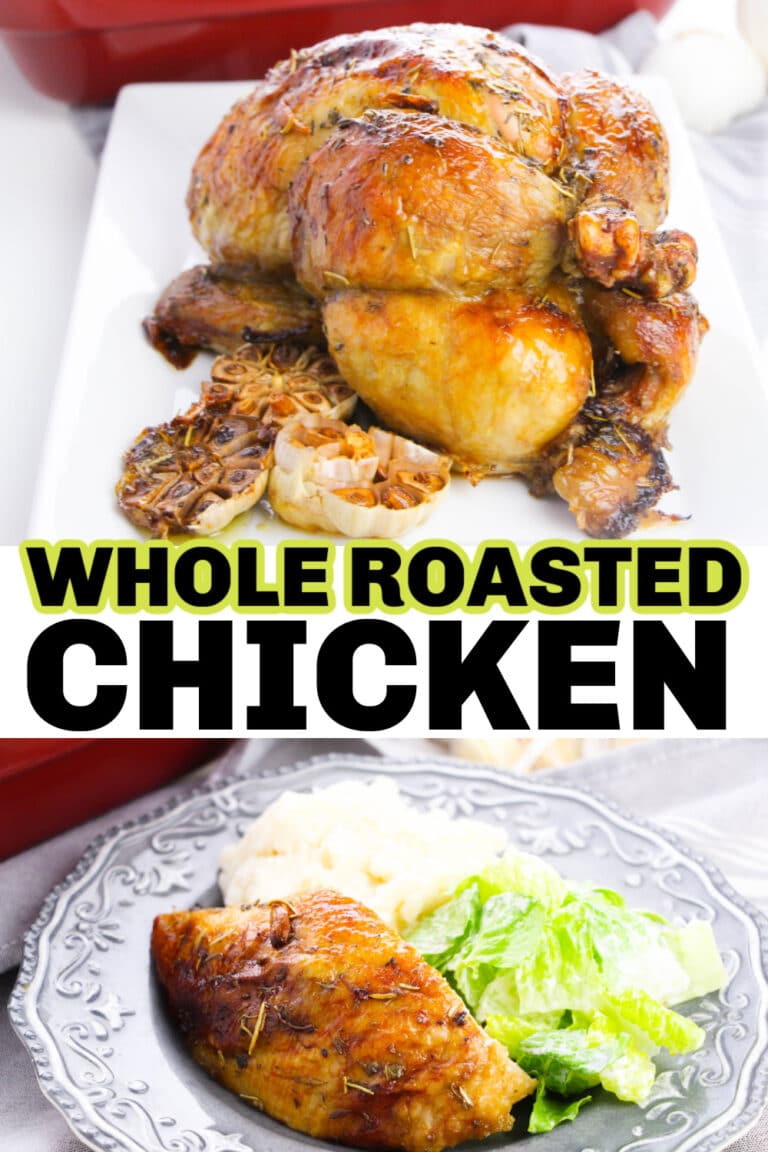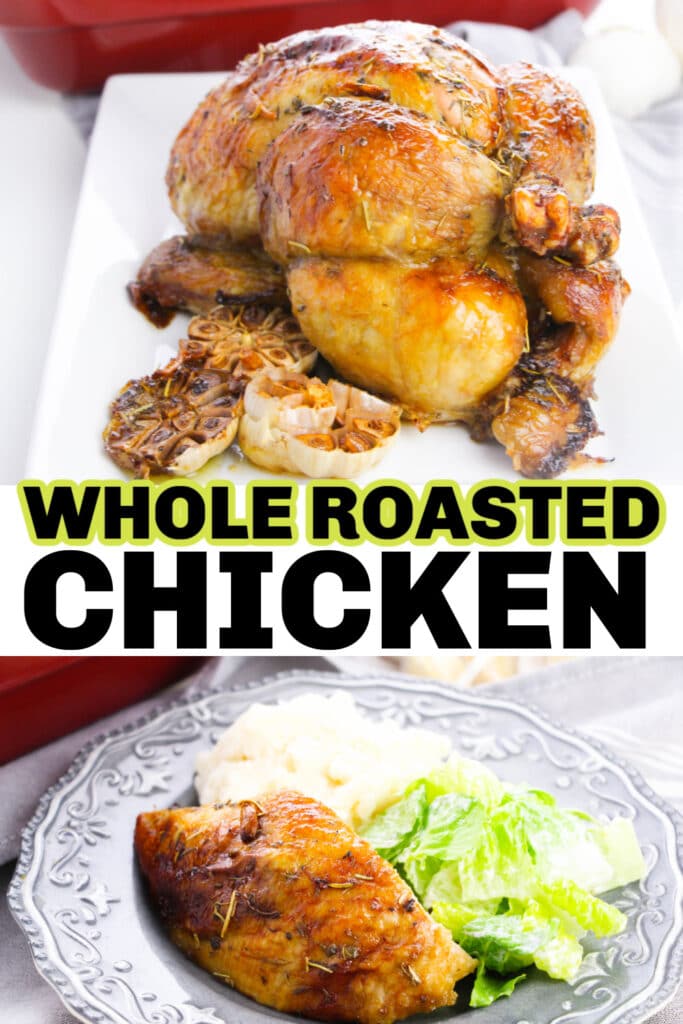 Reader Interactions