Make your favorite chicken parmesan pasta in your crockpot. Quick prep work and delicious chicken parm pasta to serve up for dinner any night of the week. This is one of our favorite crock pot pasta recipes.
If you love the classic chicken parmesan, this pasta version will be a treat. There is no breading on the chicken, but the pasta and flavorful sauce more than compensates for no breading.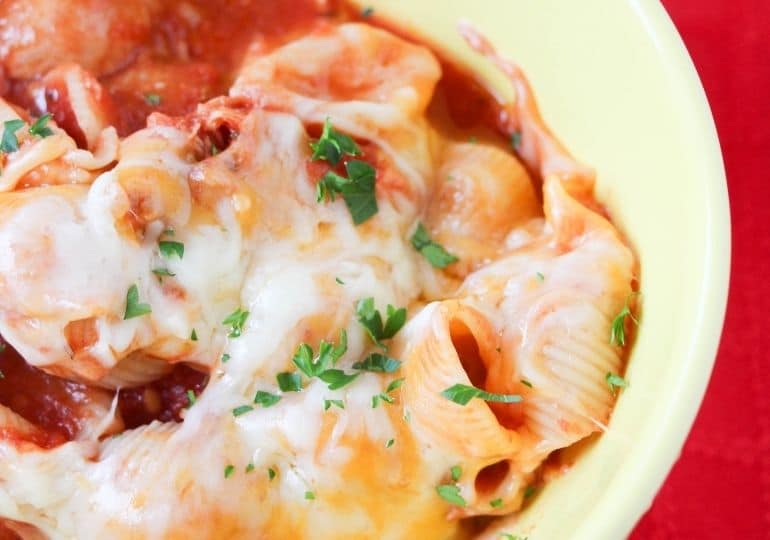 A crockpot pasta recipe that is a one pot dinner. You will have minimal dishes to cleanup, and a meal to satisfy the whole family.
Why This Crockpot Chicken Parmesan Pasta Is A Must Make…
One-pot chicken parmesan pasta dish
Slow cooker handles all the work
Pair with a salad or veggies for a complete meal
Kid-friendly
Tasty dish all year round
Crockpot won't heat up your home as the stove would
Simple ingredients
Ingredients Needed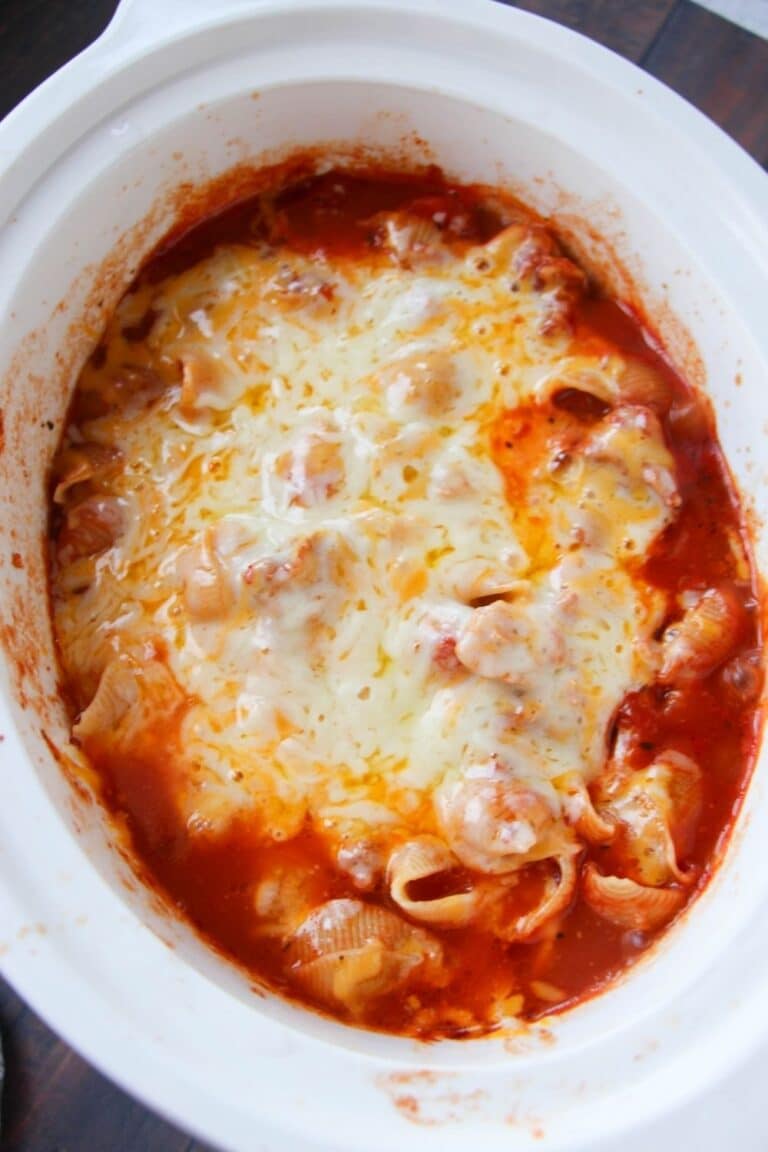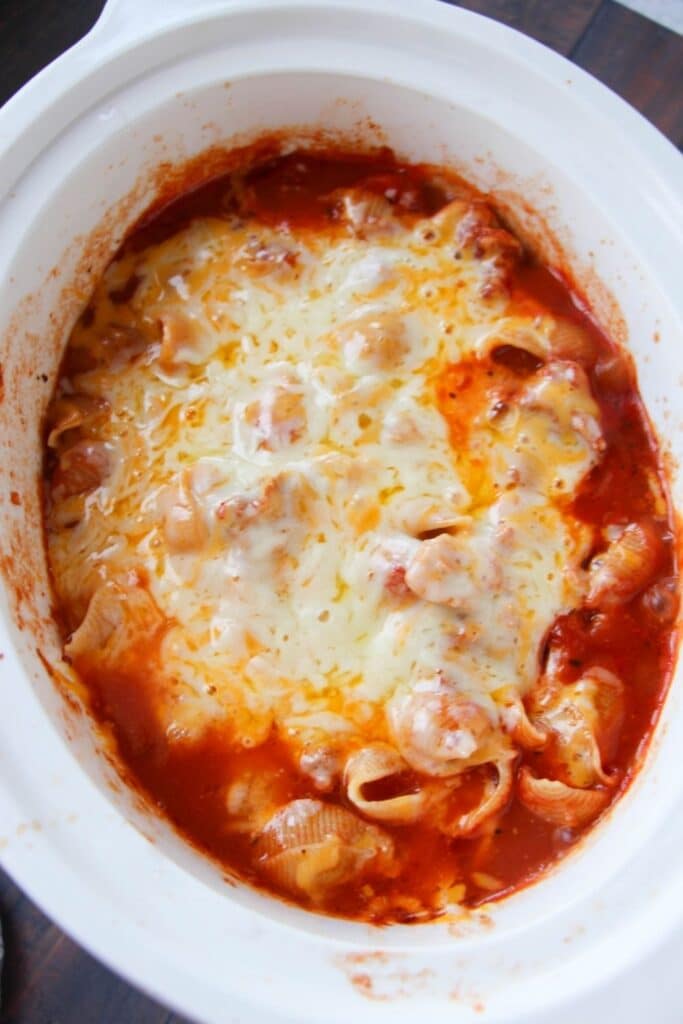 Boneless chicken thighs (or other cut)
Canned tomatoes
Tomato sauce
Salt and Pepper
Oregano
Basil
Garlic
Onion Powder
Thyme
Red Chili Flakes
Pasta
Shredded cheese
Parmesan
Parsley
Helpful Supplies
How to Make
Step 1: Season up your chicken with salt and pepper on all sides. I liberally seasoned the chicken.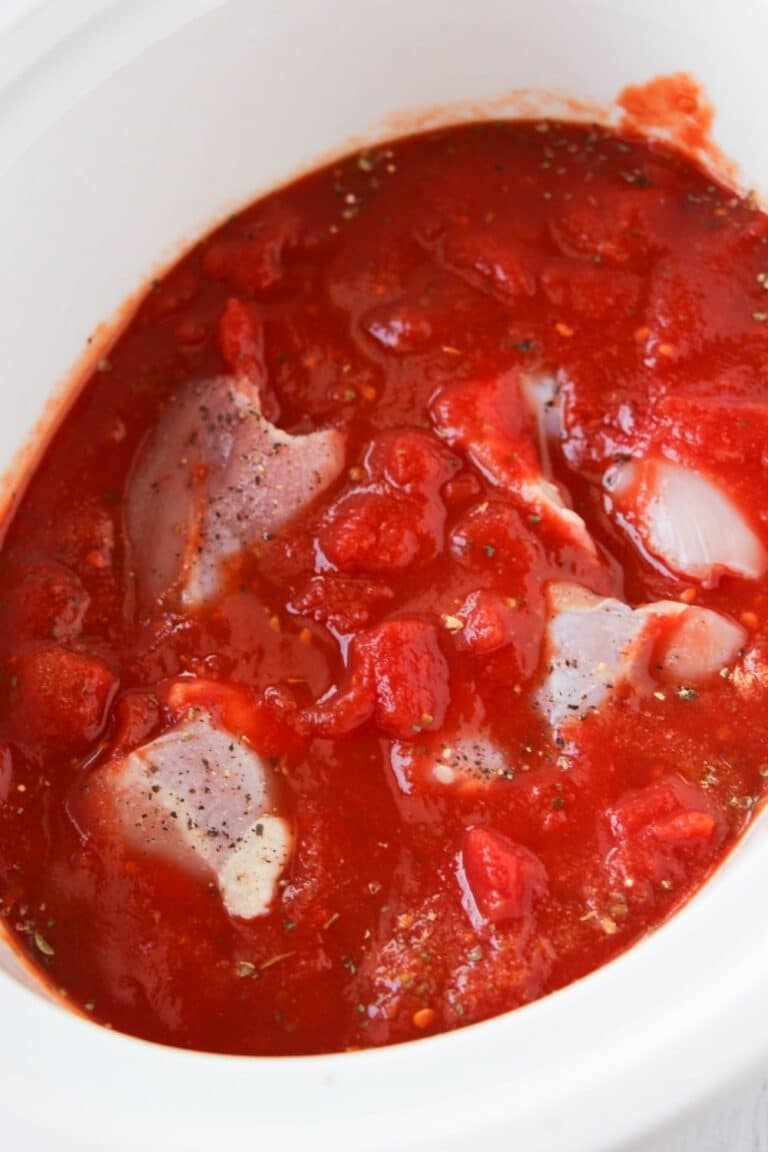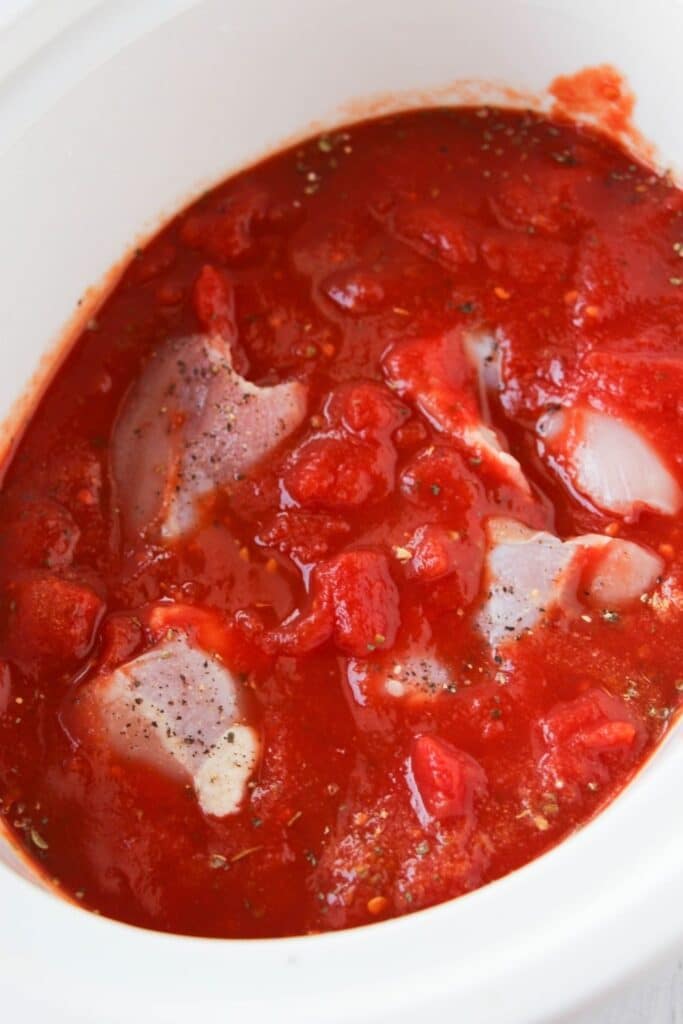 Step 2: In the crockpot you will add your chicken. Then on top add the tomatoes and tomato sauce, and all the herbs and spices.
Step 3: Turn the crockpot to low, and cook for 4 hours.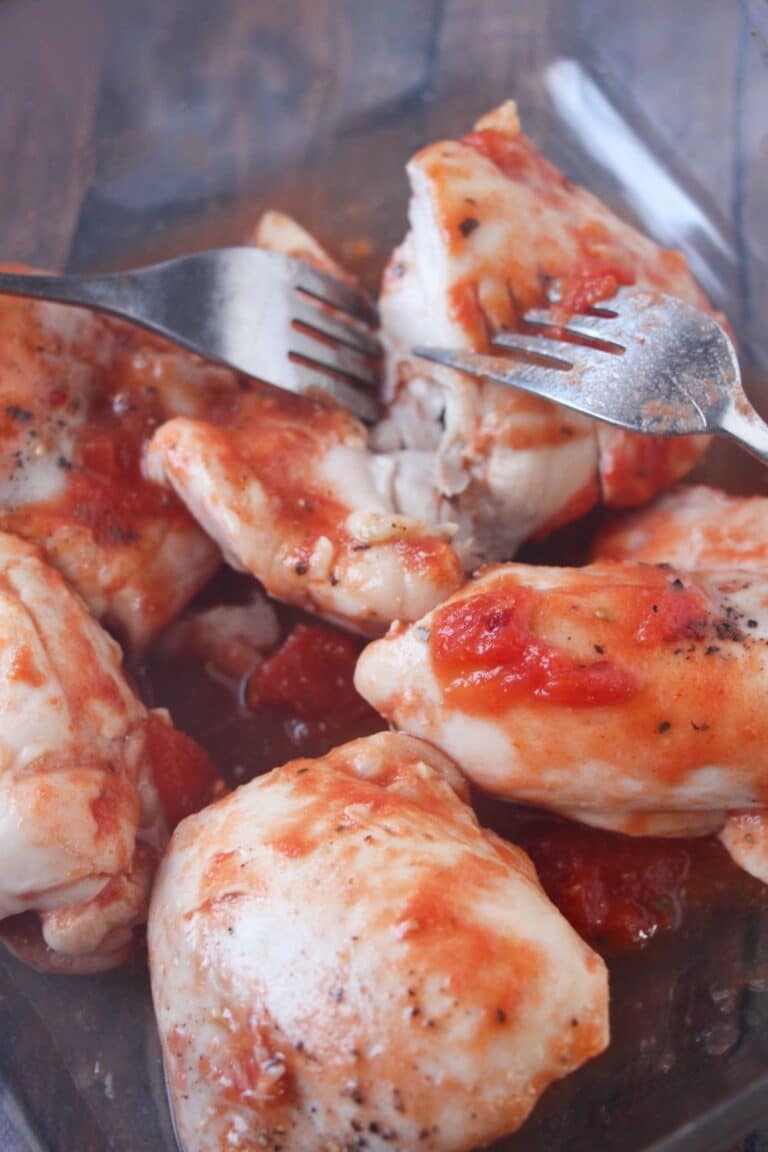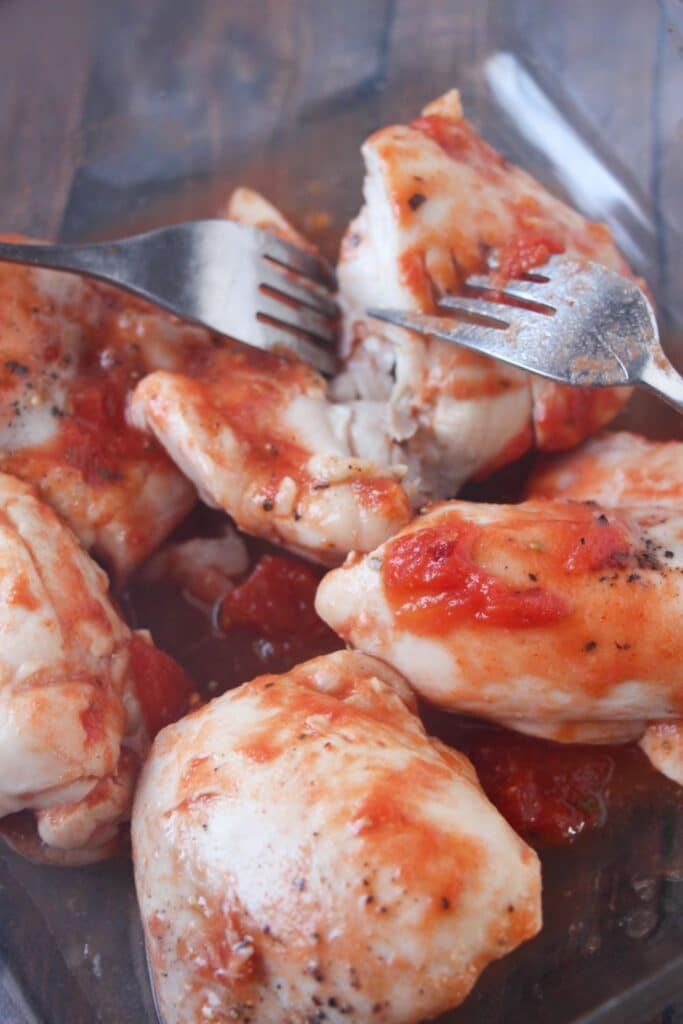 Step 4: At the 4 hour point, remove the chicken, and dice it up, or shred the chicken. Then place it back into the crockpot. It is okay if it is still needing to cook a bit longer.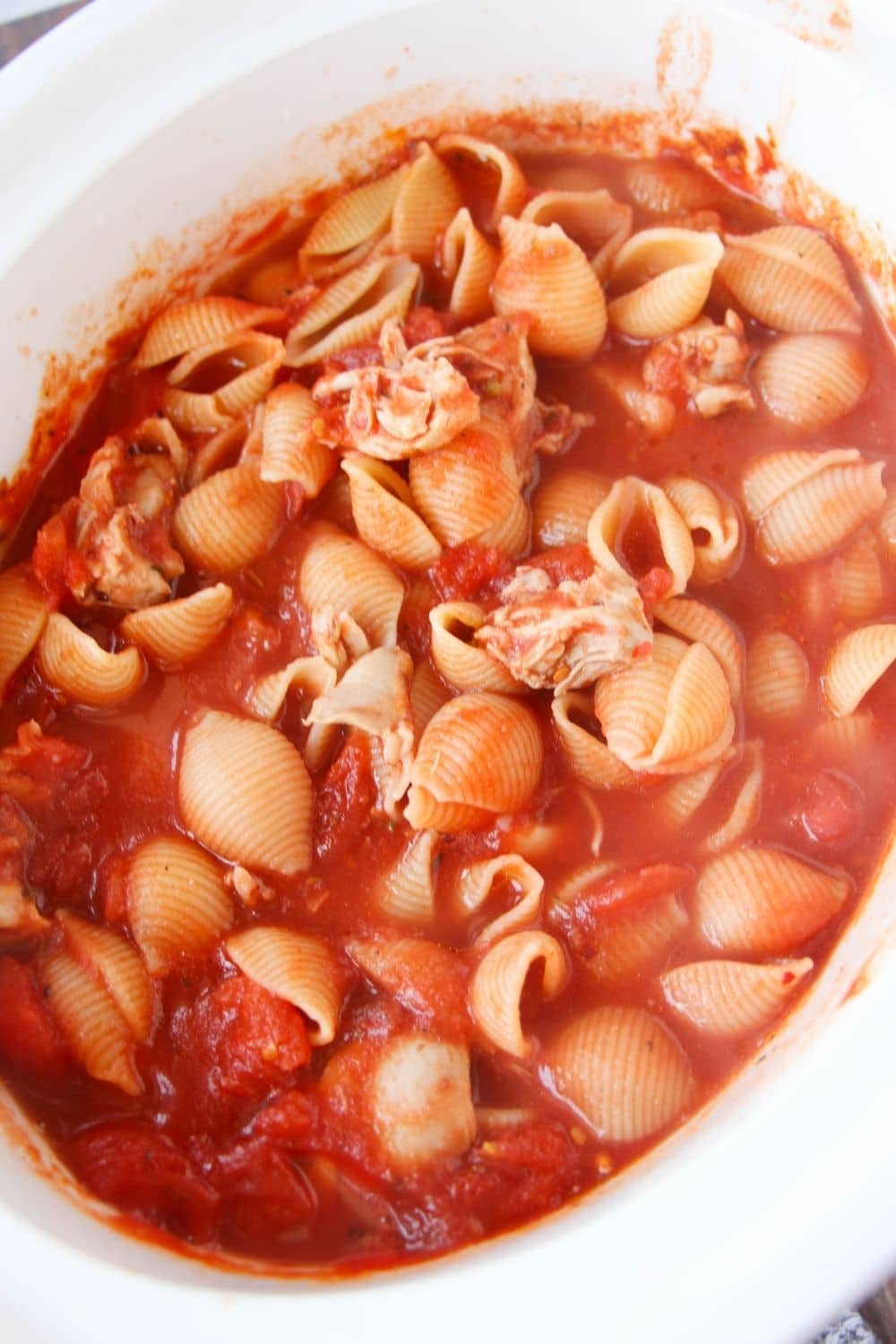 Step 5: Add in your dry pasta at this time as well, make sure that all the pasta is covered in the sauce as well as the chicken. Place the lid back on, and cook another hour.
Step 6: Sprinkle with cheese and then cover and cook another 15 minutes, then serve and enjoy.
Storage of Leftovers
Refrigerate Leftovers – Leftovers are awesome with this slow cooker chicken parmesan. Feel free to store any leftovers in a container that seals in the refrigerator for 3-4 days.
Then you can reheat in the microwave, or even cover with foil and heat in the oven.
Freezing Leftovers – This dish does freeze, but do know the pasta will be softer once it has frozen and then thaws out. But, it still tastes pretty good. Just freeze in a proper freezer container for 3-4 months.
Reheat from frozen in microwave, or oven. If you heat up in the oven, cover with foil to prevent the pasta and chicken from drying out.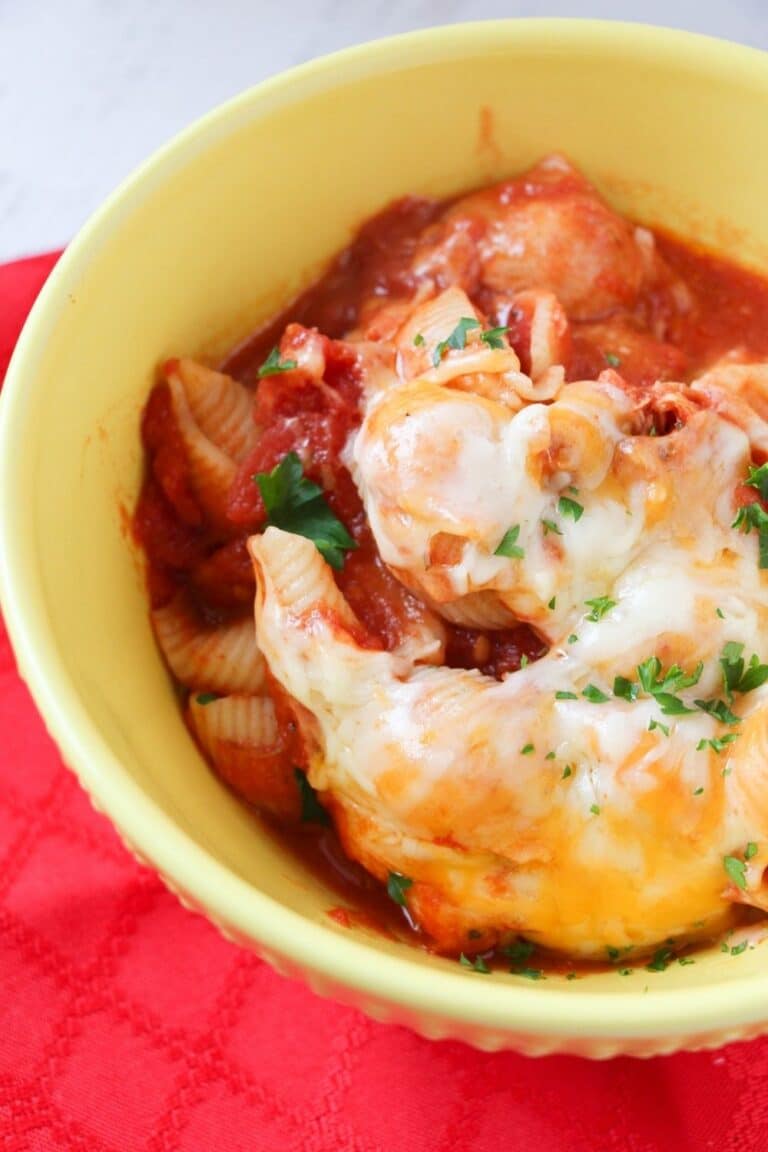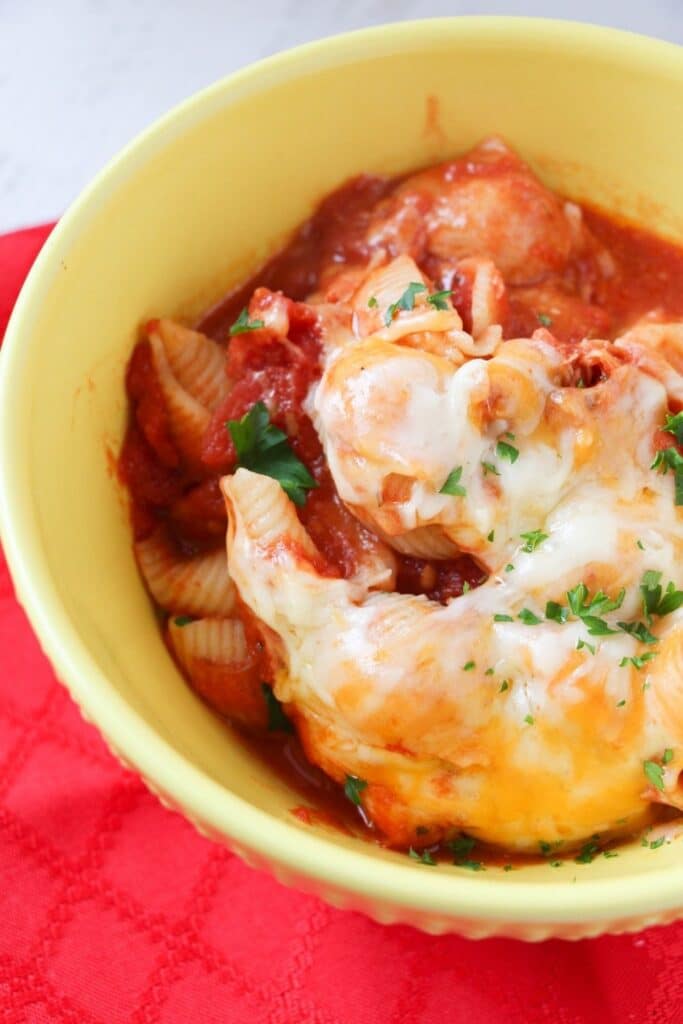 Expert Tips and Variations To Recipe
Here are a few tips and tricks for this slow cooker pasta recipe.
You can use any shape of pasta for this. Cooking pasta in crock pot is best when you use medium sizes – shells, rigatoni, bowtie, etc.
You can use any type of boneless chicken for this recipe. Feel free to pre-dice the chicken if you want.
Use a pasta sauce or marinara sauce instead of making your own. I would do 2 jars, making sure it is all fully covered.
You could always add breadcrumbs on top of the pasta mixture and broil in oven for 3-5 minutes to give it a crust.
Serve up with garlic bread, salad, steamed veggies, or any other sides.
Recipe FAQs
More Crockpot Dinner Ideas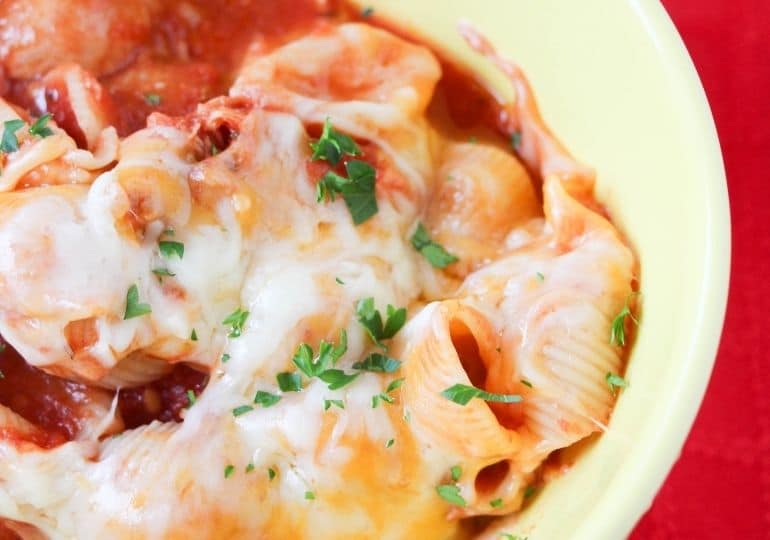 Crockpot Chicken Parmesan Pasta Recipe
Servings 6 -8 servings
Crockpot Chicken Parmesan Pasta Recipe is an easy chicken crockpot recipe loaded with a tomato sauce, pasta, and shredded chicken. Get the flavors of chicken parmesan in a slow cooker form! An easy weeknight dinner idea.
Ingredients
5 chicken thighs or boneless chicken
Salt and pepper to taste
1-16 oz can tomatoes in juice
1-14 oz can tomato sauce
1 teaspoon oregano
1 teaspoon basil
2 teaspoons granulated garlic
1 teaspoon onion powder
1 teaspoon thyme
1 teaspoon red chile flakes
1 lb pasta of choice we used shells
2 cups marble cheese grated
1 cup Parmesan cheese grated or shaved
Handful parsley chopped for garnish
Instructions
Season your chicken liberally with salt and pepper on all sides.

Add the chicken to the crockpot, and then pour in the tomatoes and juce, tomato sauce, and all the herbs and spices. Stir around to combine the mixture.

Cover with the lid and do low for 4 hours.

Remove the crockpot lid and remove the chicken. Shred it up, and place it back into the crockpot. Add in your dry pasta, stir to cover all the pasta with the sauce.

Cook another 1 hour on low heat.

At the one hour mark, check your chicken to ensure done, and test pasta. If close to done, sprinkle with cheese and cover for another 15-20 minutes. Then serve. If the chicken needs to cook longer, wait to put the cheese on.
Notes
If you prefer you can just stir in cooked pasta at the end right before you top with cheese, if you don't care for crockpot pasta. Any cut of chicken works in this recipe, as long as it is boneless. Depending on how thick your chicken is cook time can vary. If you want pre-cut or even dice chicken to help speed up the cooking time. Any shape of pasta works – elbow, shells, bowtie, rigatoni, etc. If you do not want to make your own sauce, feel free to use marina or pasta sauce .I would recommend 2 jars for this recipe. Store leftovers in the fridge for up to 3 days. Or freeze for 3-4 months.
Nutrition
Serving: 1gCalories: 512kcalCarbohydrates: 30gProtein: 40gFat: 26gSaturated Fat: 12gPolyunsaturated Fat: 13gCholesterol: 159mgSodium: 946mgFiber: 3gSugar: 8g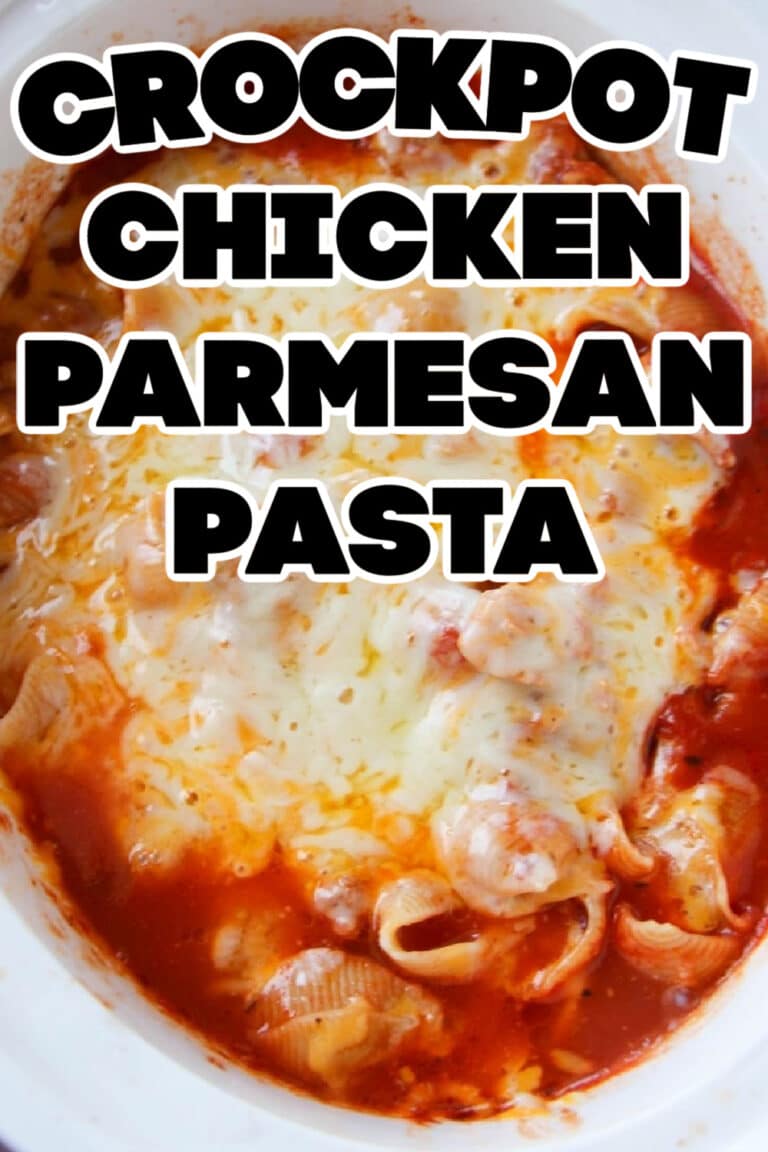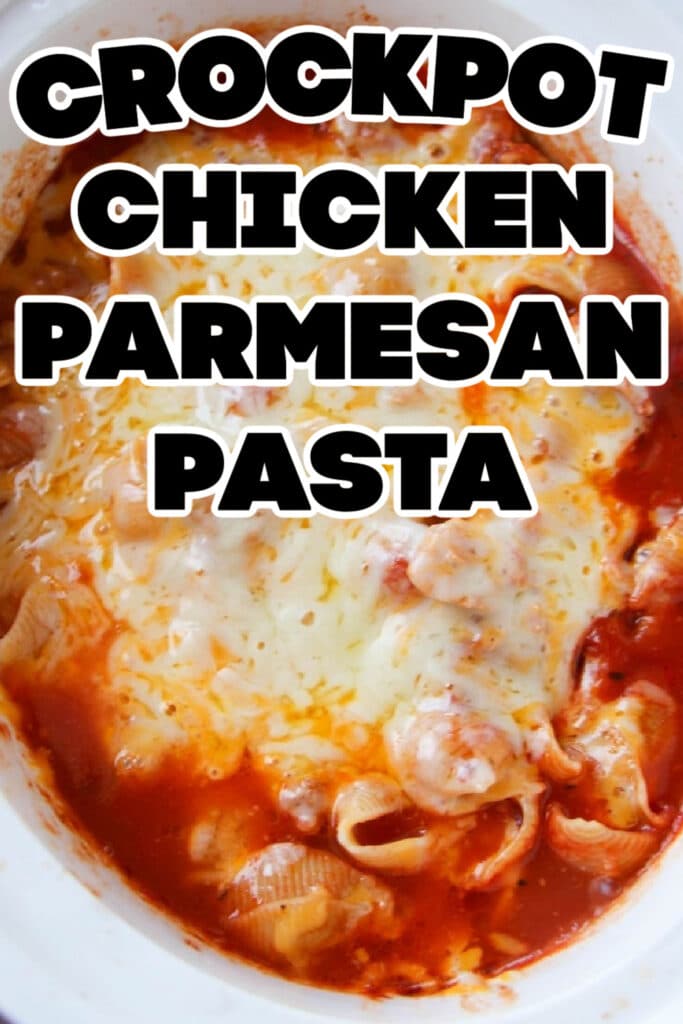 Reader Interactions