Grab a fork and dive right into these decadent Instant Pot glazed carrots. A sweet carrot recipe that only takes 6 ingredients. Pressure cooker glazed carrots are delicious any time of the year. 
This Instant Pot side dish is one of our family's favorites. Tender pieces of carrots that are perfectly cooked every single time. Glazed carrots in Instant Pot are so easy.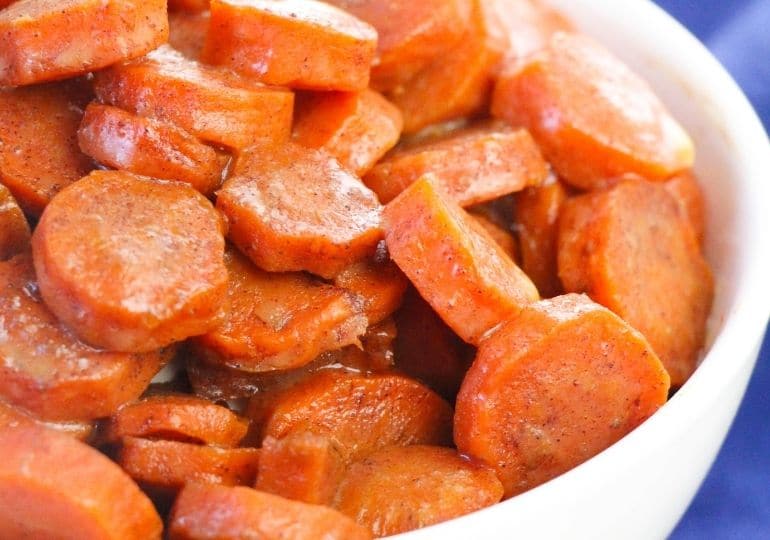 If you have carrots on hand, give this easy side dish a try tonight. This is also a super popular holiday side dish for Thanksgiving and Christmas time.
Why make Instant Pot glazed carrots…
Easy brown sugar glazed carrots
6 Simple ingredients 
Naturally gluten-free
Caramelized carrots 
Make In your Ninja Foodi as well
Side dish for dinner, potlucks, or holidays
Ingredients Needed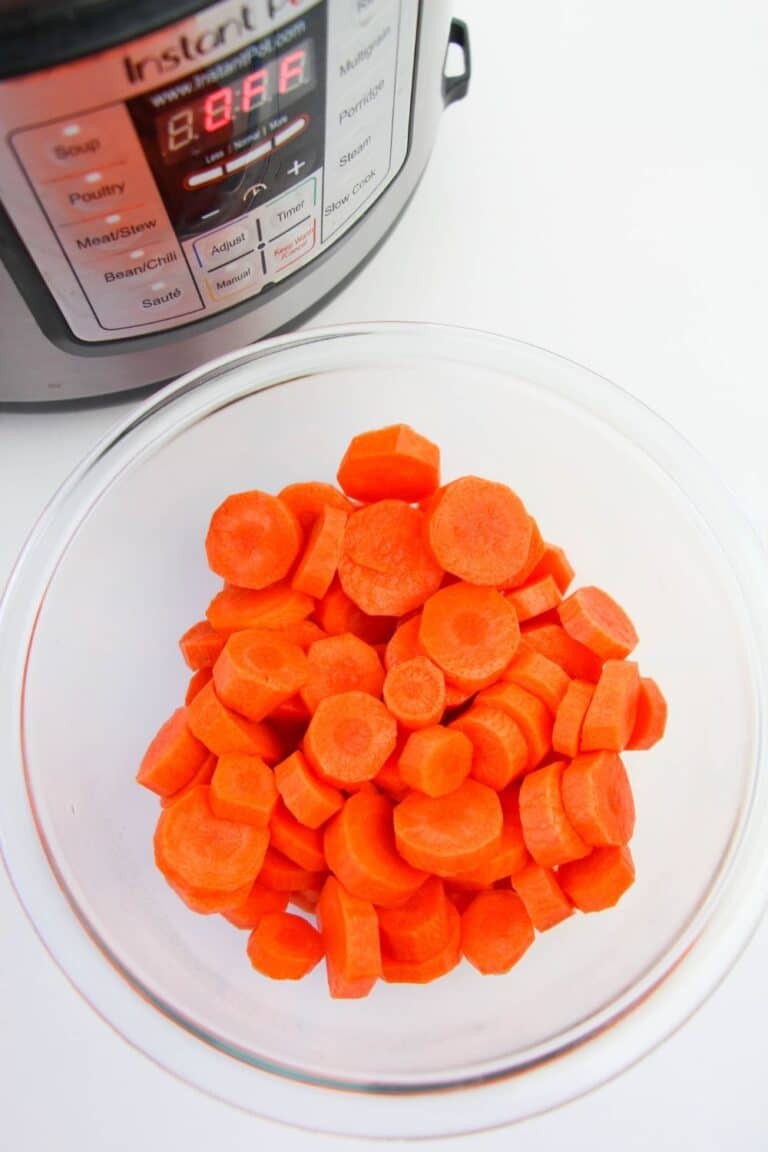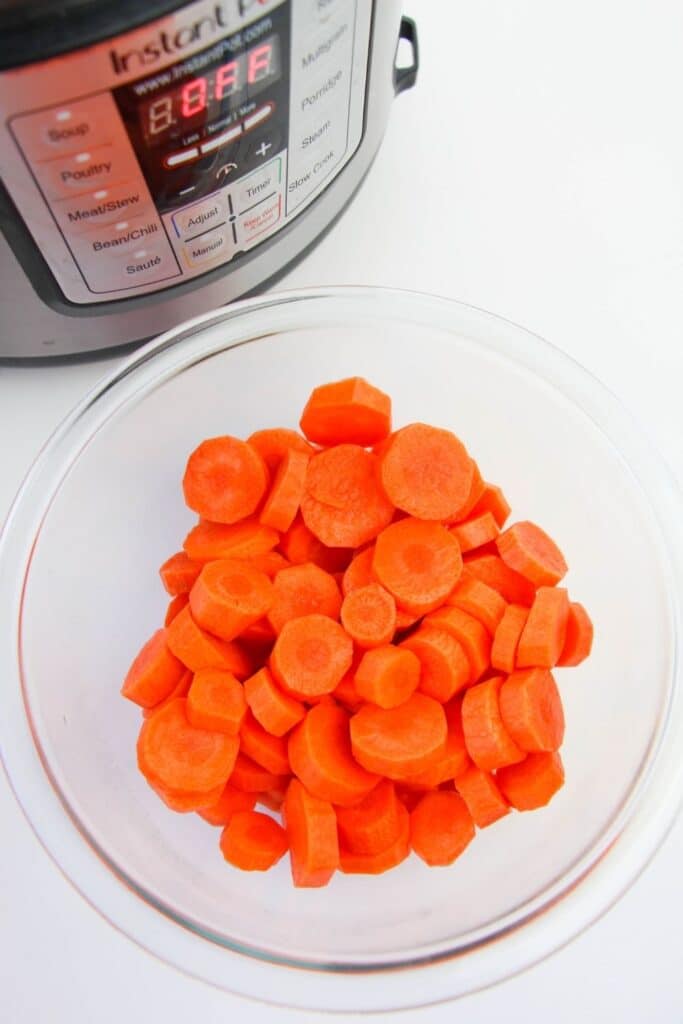 Carrots
Brown sugar or honey
Butter
Cinnamon 
Nutmeg
Salt
How to Make
Step 1: Start by pouring 1 cup of water into your electric pressure cooker. Place your trivet or silicone sling in a pressure cooker as well. 
Step 2: Next you will want to use a steamer basket. If you don't have one you can use a pan or make a basket with aluminum foil. You just don't want carrots directly in the water.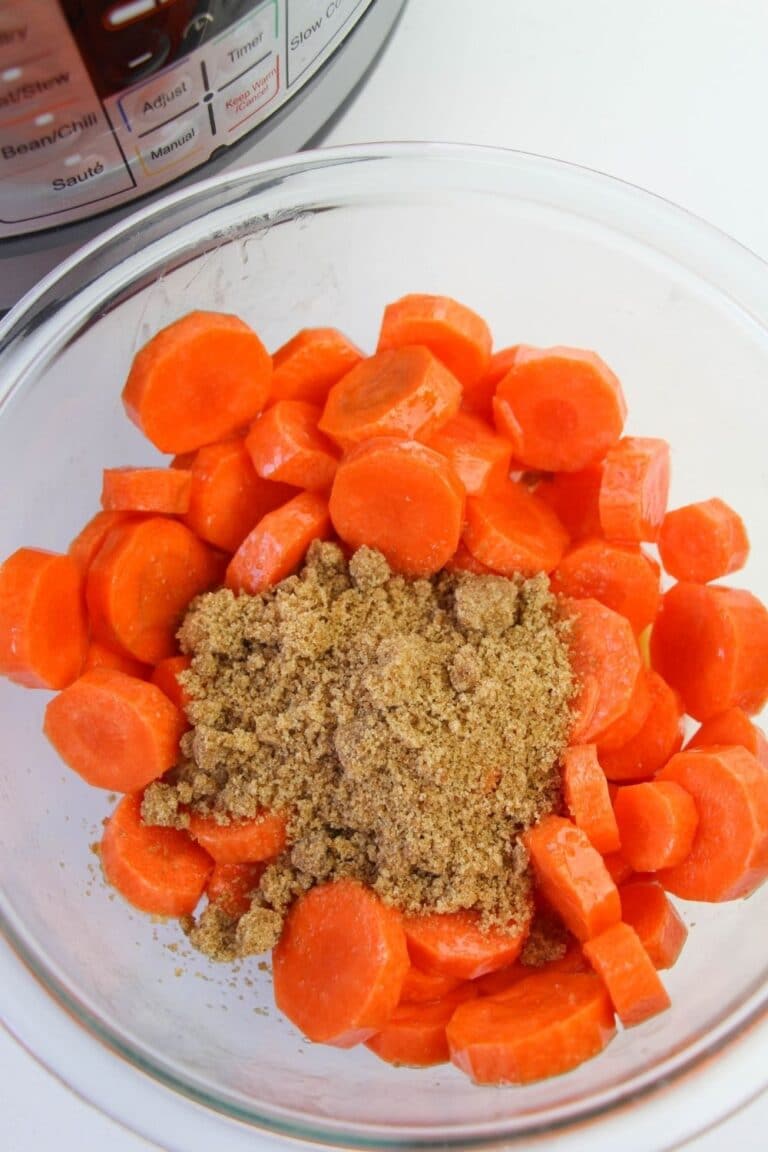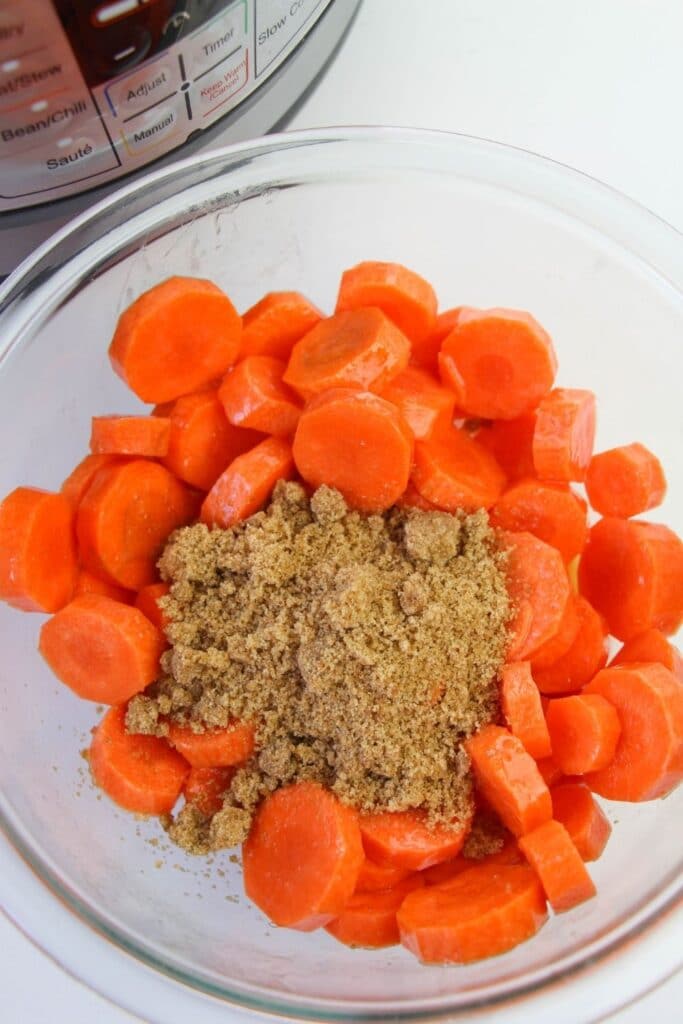 Step 3: Mix up the diced carrots with the melted butter, brown sugar, and spices. Put in a steamer and place in the Instant Pot.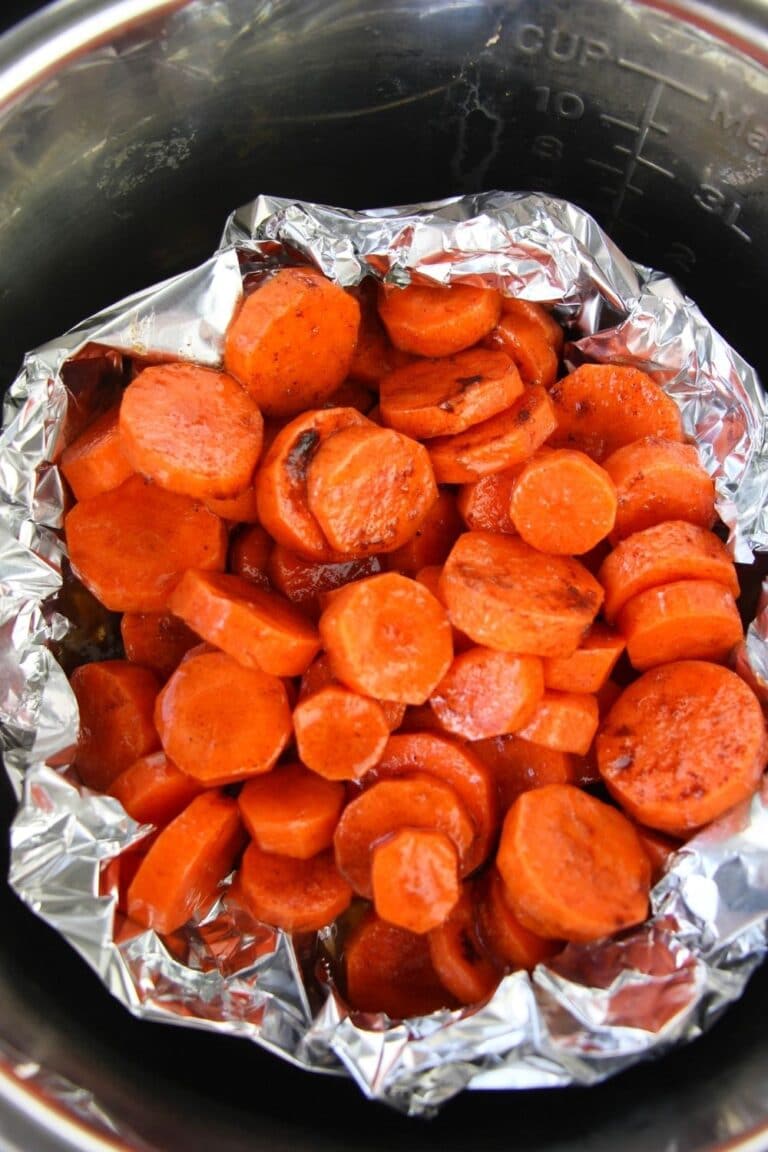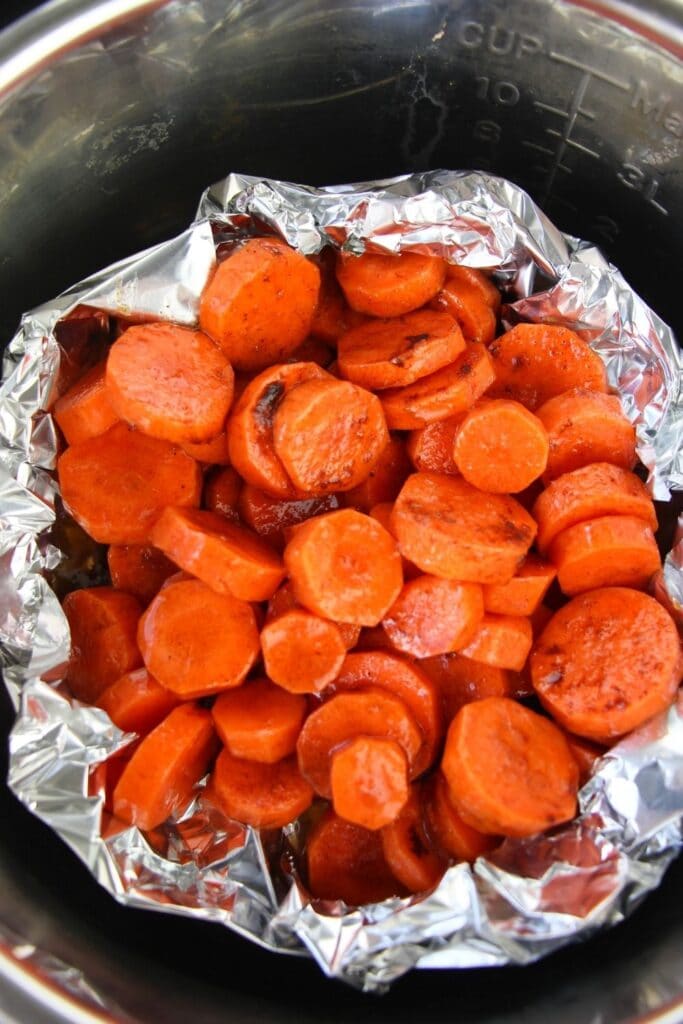 Step 4: Place lid on and make sure the valve is set to sealing. Then pressure cook on high manual pressure for 2 minutes.
Step 5: When done, do a quick release of pressure (check out this steam release accessory to save your cabinets!). Open the lid and remove the carrots, and trivet and drain water.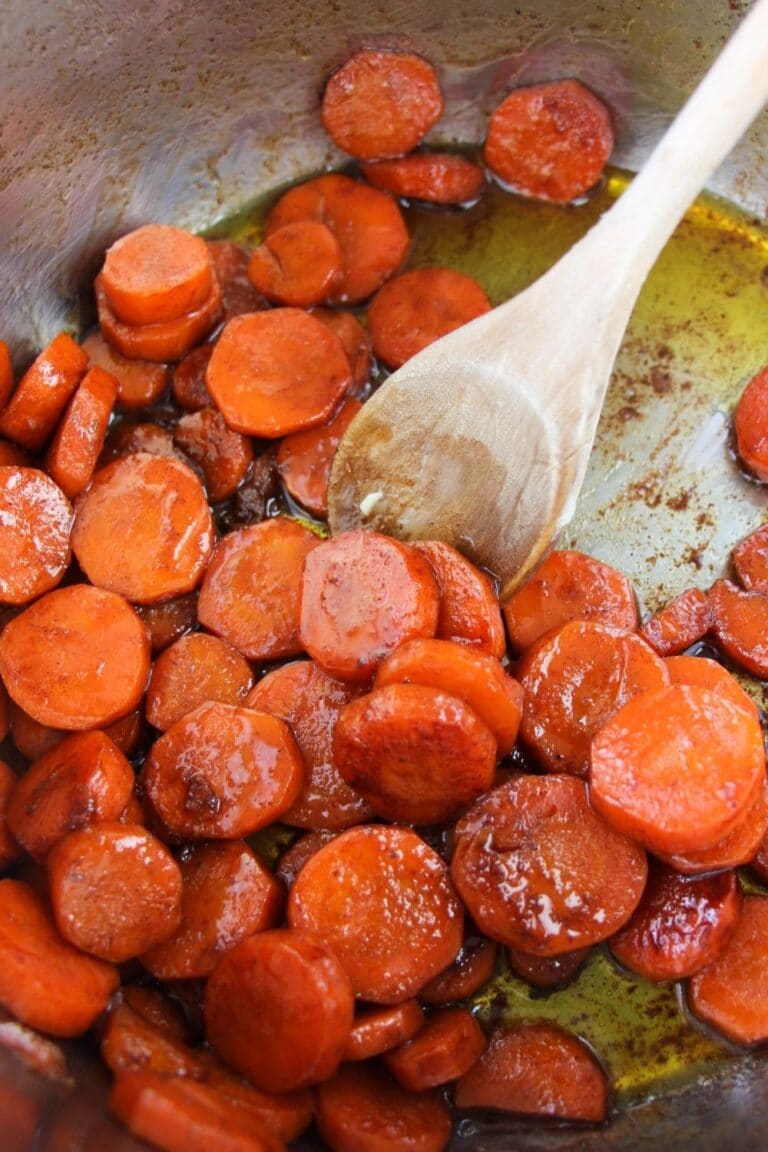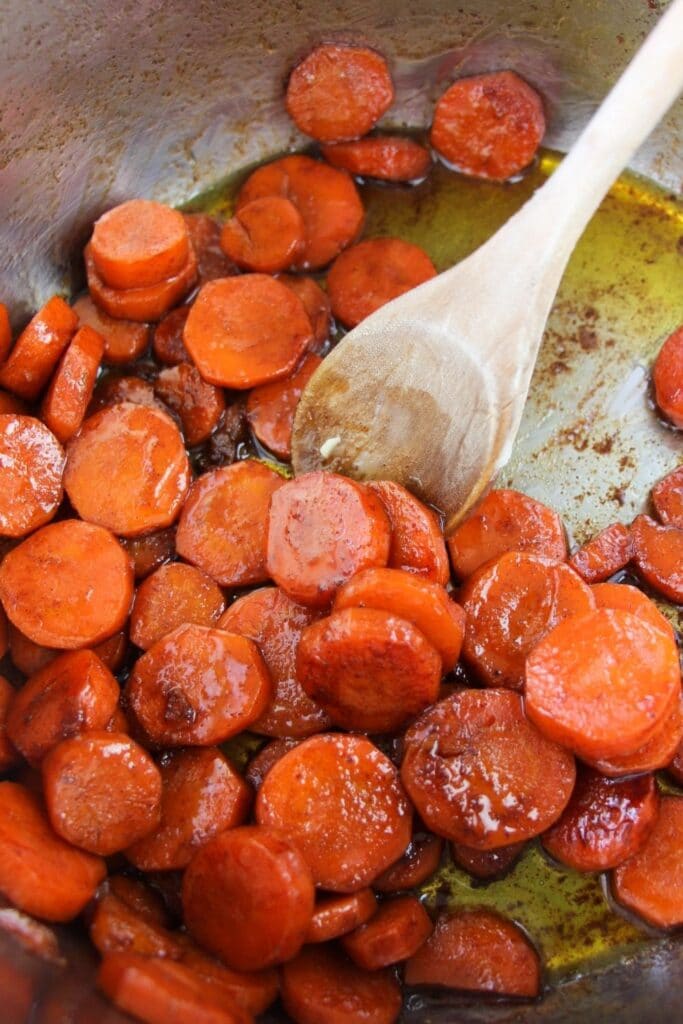 Then turn on sauté mode, toss carrots in and let them create a glaze. Stir often to prevent burning. 
Serve up your easy Instant Pot carrots for dinner.
Storage
Carrots need to be stored in a container in the fridge for up to 3-4 days. The carrots will become softer in texture once stored in the fridge.
Expert Tips and Variations to Recipe
Make sure to uniformly cut carrots. That way they all cook evenly. Otherwise, some carrots could be overcooked and others undercooked. 
Make sure to use some type of container to hold carrots. Placing them in water they will become mushy. 
Feel free to use maple syrup or honey to replace of brown sugar. 
You do not have to sauté carrots once pressure cooking is done. It just adds a lot of flavor to carrots. 
Use full-size carrots you peel and dice, or baby carrots.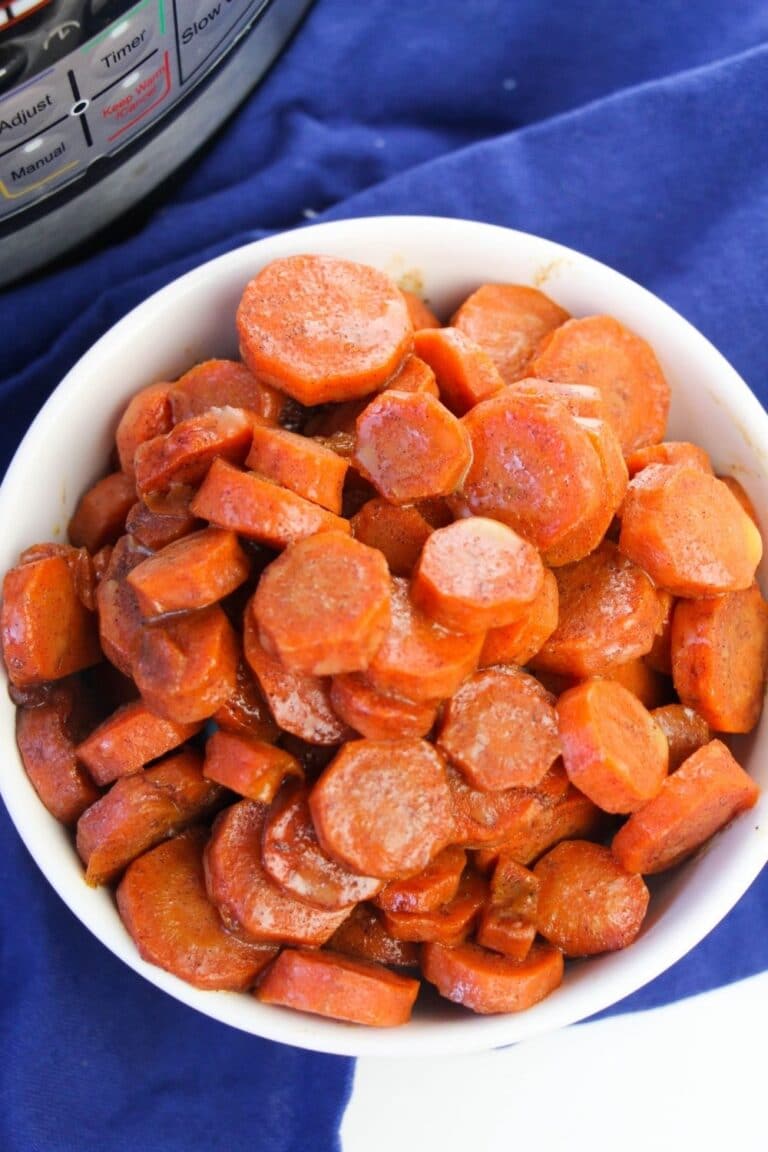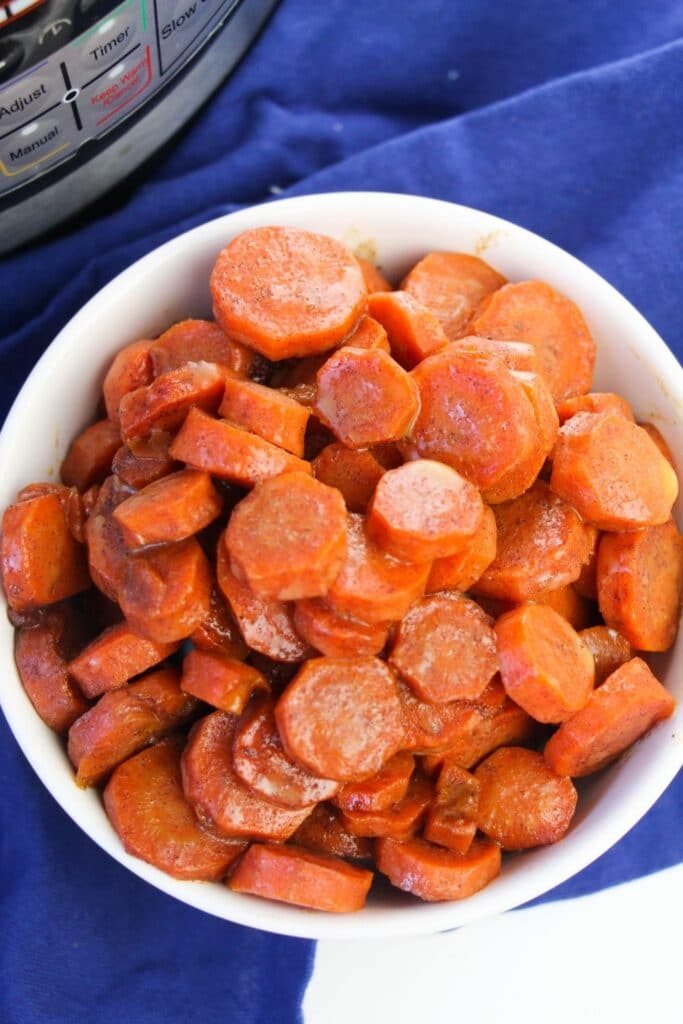 Recipe FAQs
This is such a simple steamed carrots recipe that is simple and perfect for chopped carrots.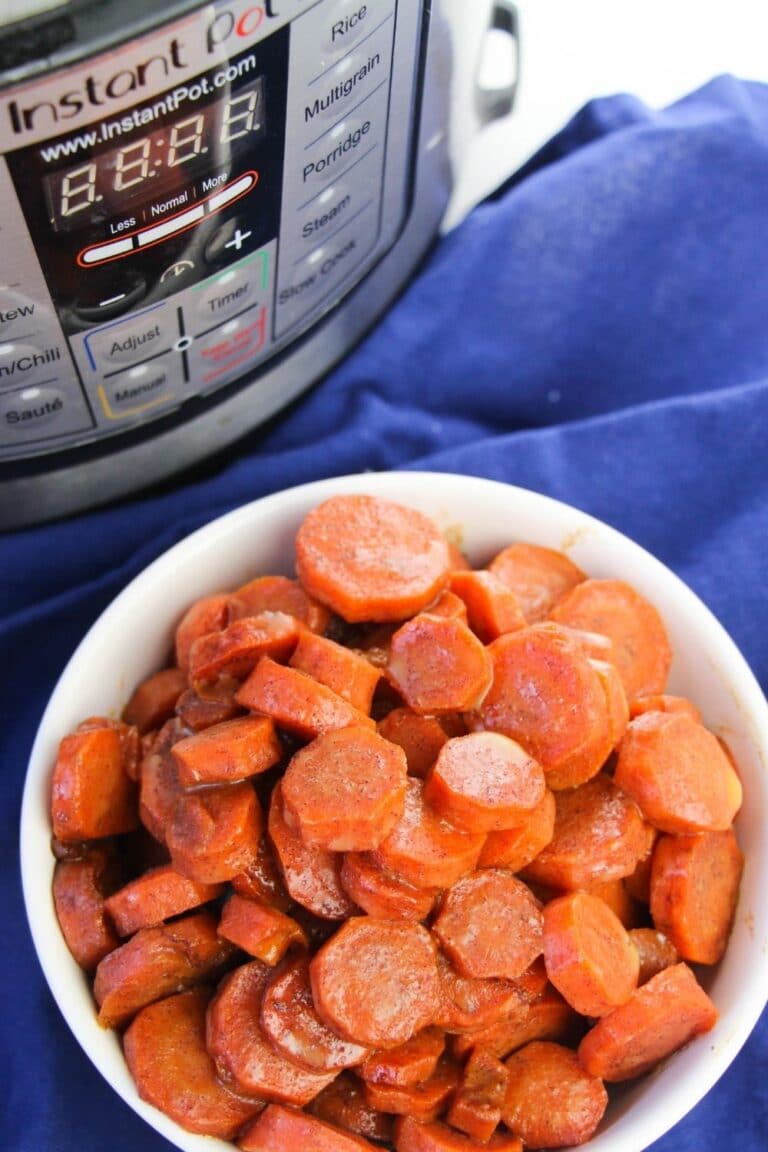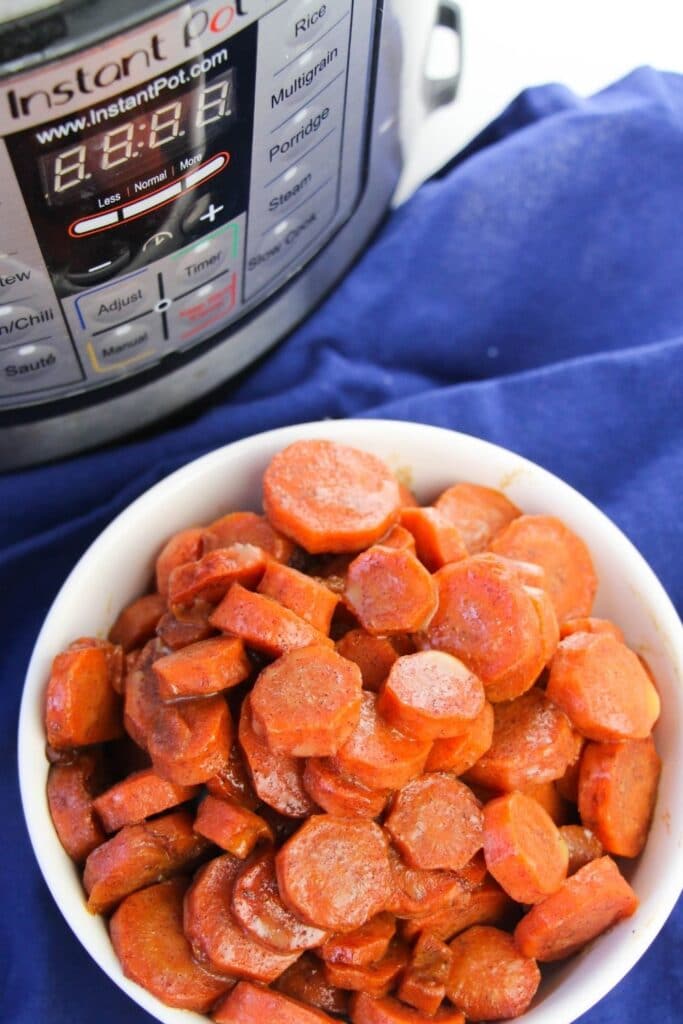 More Instant Pot Side Dishes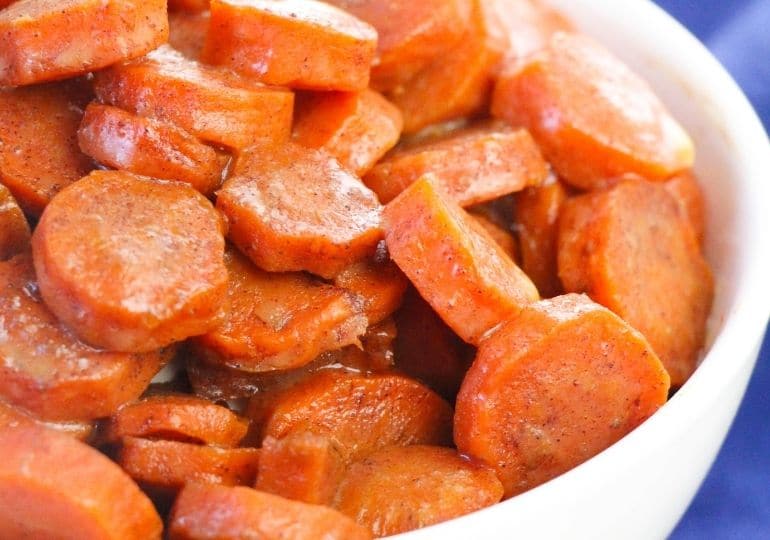 Instant Pot Glazed Carrots Recipe
Servings 3 cups
Instant Pot Glazed Carrots take just 6 ingredients to make. A sweet carrot recipe you can make in your electric pressure cooker. Give this glazed carrtos recipe a try for a delicious easy side dish.
Ingredients
Ingredients for Glazed Carrtos
3 cups carrots sliced
1/3 cup butter melted
1/3 cup brown sugar
1 teaspoon salt to taste
2 teaspoons cinnamon
1/2 teaspoon nutmeg
Instructions
Start by adding 1 cup of water into your Instant Pot. Place your trivet in, and then make a bowl with aluminum foil or use a steamer basket.

Next, peel and slice your carrots evenly, and then place in a bowl. Toss with the melted butter, brown sugar, nutmeg, cinnamon and salt.

Pour into the steamer basket or the aluminum foil basket and sit on top of the steamer.

Pressure cook high manual pressure for 2 minutes. Followed by a quick release of pressure.

Carefully remove carrots, trivet, and dump water. Turn the Instant Pot to saute, and return the carrots to cook.

Cook for 3-5 minutes to caramelize the carrots. Then serve warm.
Notes
You can use baby carrots if you would prefer. Swap the brown sugar with honey if you would like a honey glazed carrot. Add in a dash of cayenne pepper for a sweet and spicy carrt. If you use smaller slices of carrots do either 0 or 1 minute cook. Carrots won't take long at all, and if you overcook the carrots will be mushy. Store any leftover carrots in the fridge for 4-5 days. Use a silicone sling for carrots or make a bowl to place carrots in if you don't own a sling. You do not want the carrots in the water or it will make them too soft.
Nutrition
Serving: 1gCalories: 126kcalCarbohydrates: 14gProtein: 1gFat: 8gSaturated Fat: 5gPolyunsaturated Fat: 2gCholesterol: 20mgSodium: 365mgFiber: 3gSugar: 10g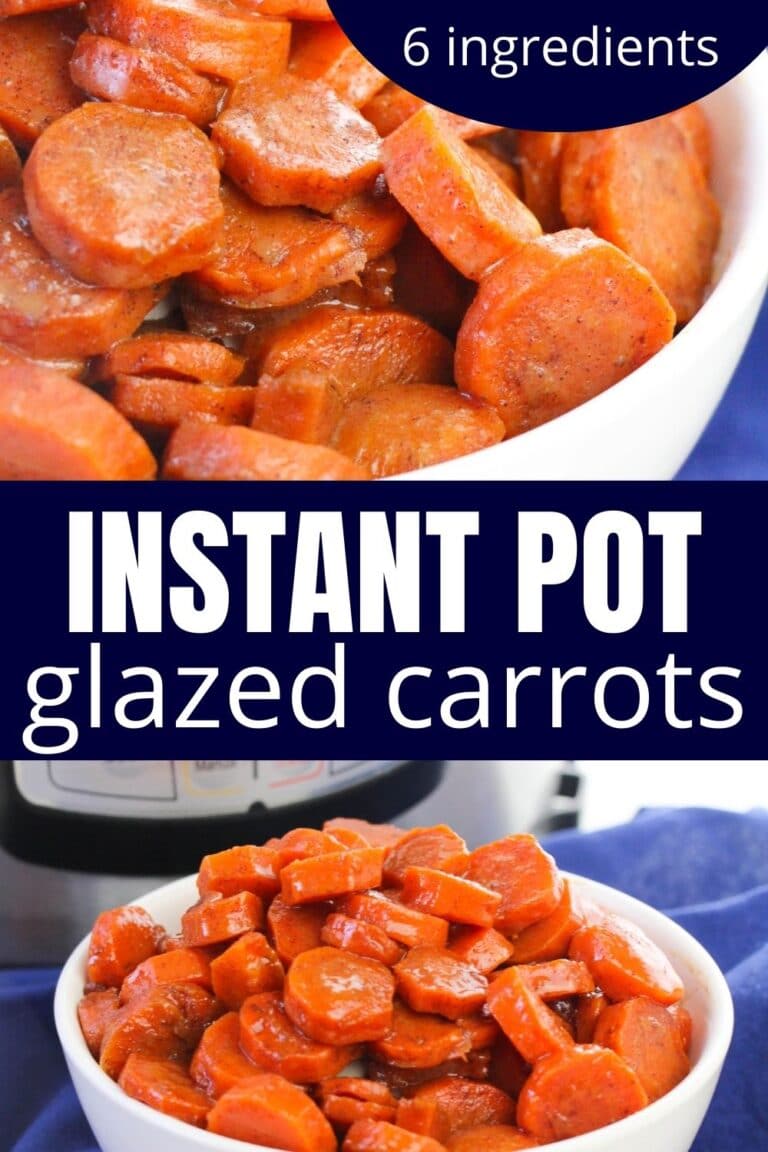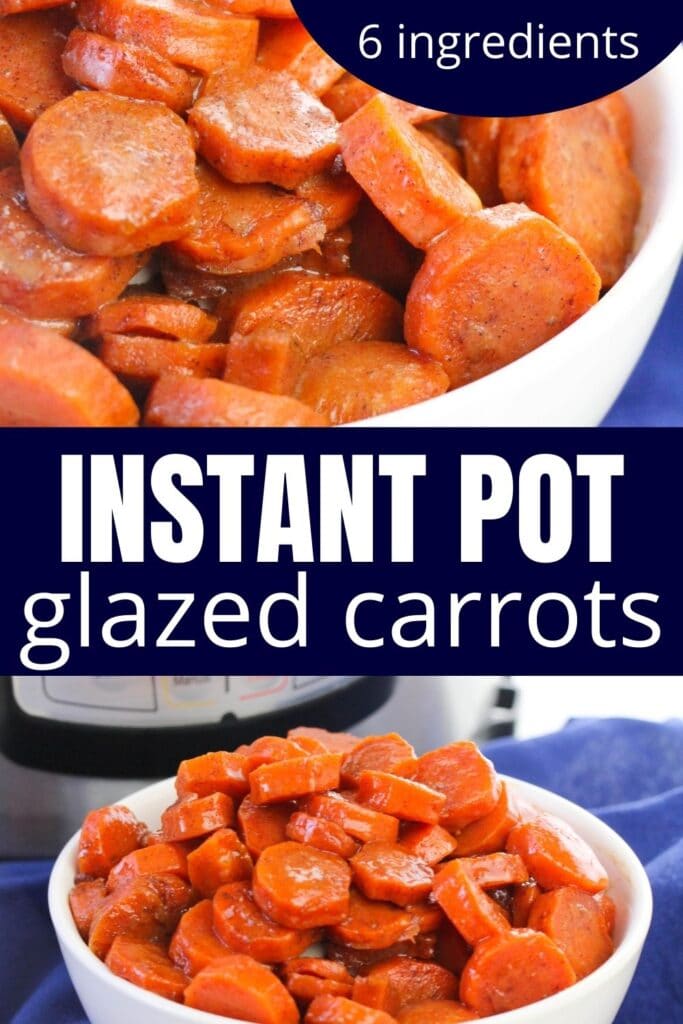 I hope you enjoy this pressure cooker carrots recipe like I have. Thanks for stopping by.
Reader Interactions