Mediterranean Quinoa Salad is the perfect side dish for any time of the year. A healthy quinoa salad with a homemade dressing, crisp veggies, and perfectly cooked quinoa.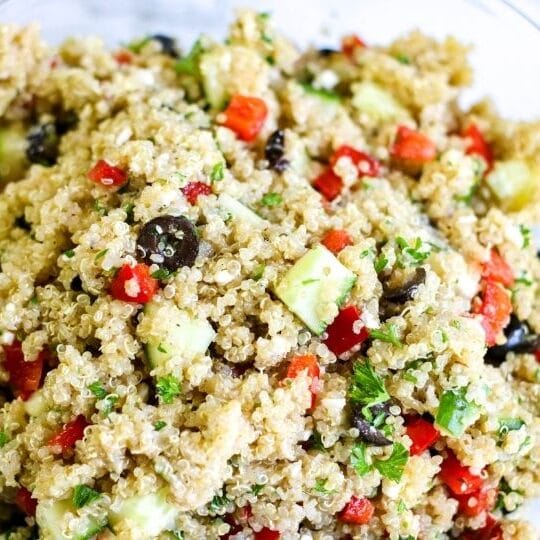 Mediterranean Quinoa Salad is the perfect side dish for any time of the year. A healthy quinoa salad with a homemade dressing, crisp veggies, and perfectly cooked quinoa.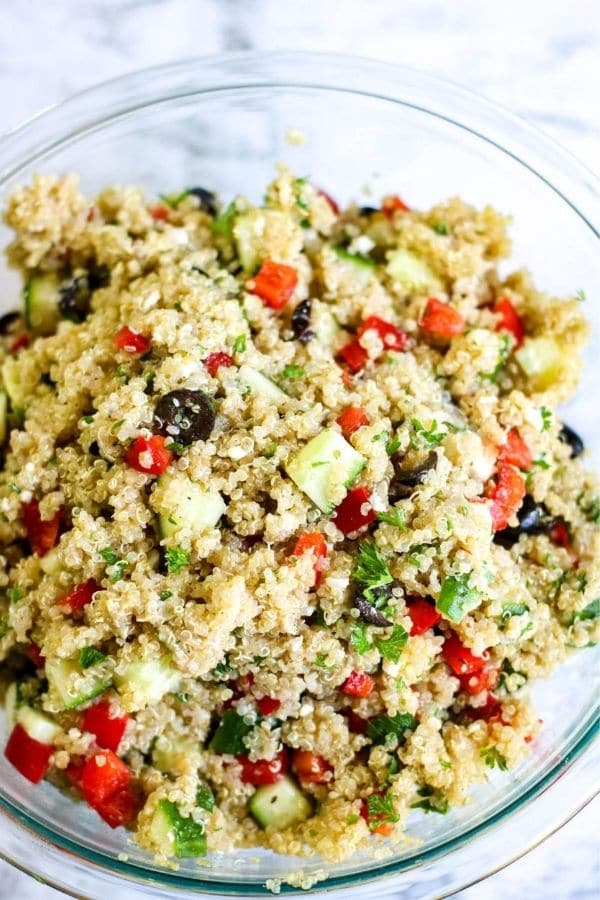 Craving more potluck salad recipes? Check out our Tortellini Pasta Salad Recipe With Homemade Sauce and our Vegan Caesar Salad Recipe with Spicy Roasted Chickpeas!
Mediterranean Quinoa Salad
You can easily add this dish to accompany any type of entree of main meal or you can choose to eat it on it's own. Since quinoa is a healthy food option, this makes for a super simple healthy snack or meal, too!
One of the biggest reasons that I love this healthy quinoa salad is because it has such a light texture to it. I can eat this dish without feeling as though I'm going to burst!
Plus, I also really like that this dish has no meat. Knowing that I have this delicious vegetarian quinoa salad to share with my family and friends for dinner and get-togethers is great!
How to Make Health Quinoa Salad
Step 1: In a medium pot, add quinoa, water, and salt. Cover and heat water to boiling. Reduce heat and simmer for 15 to 20 minutes or until water is absorbed and the quinoa grains are open.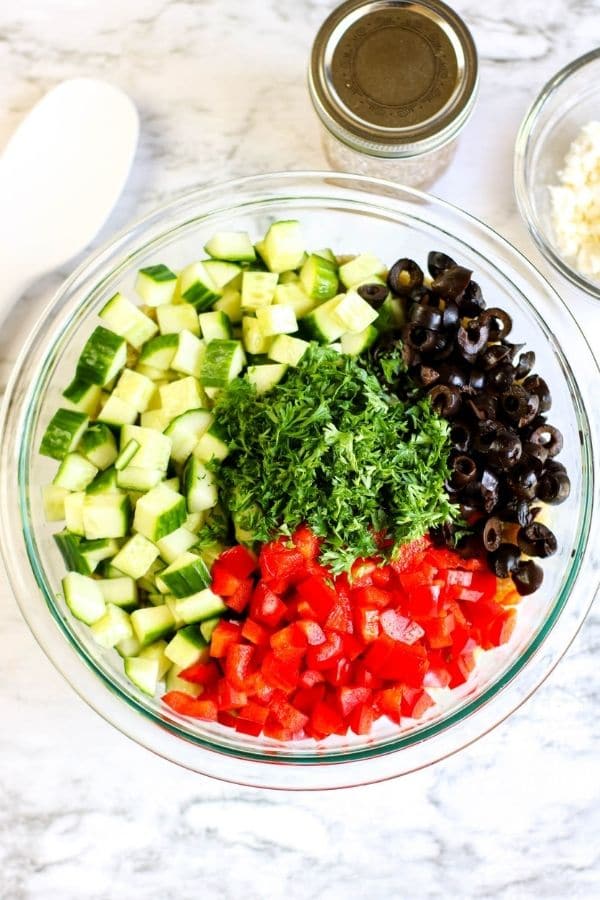 Step 2: In a large bowl, combine quinoa, cucumber, onion, red pepper, cheese, parsley, and olives.
Step 3: In a bowl or mason jar, mix together ingredients for the dressing. Whisk (or shake) until blended. Pour over salad and toss to combine.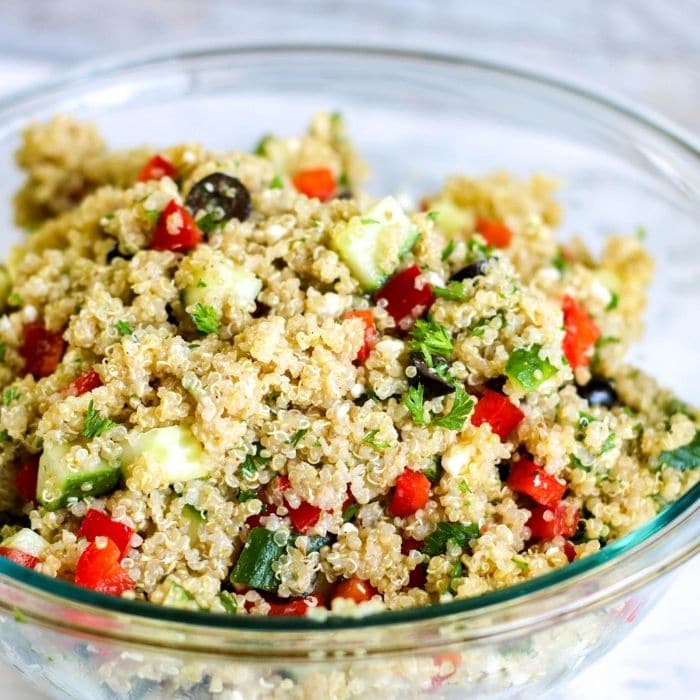 Step 4: Serve immediately or refrigerate until needed. Serve warm or cold based on your preference.
Full directions and recipe is in the printable recipe card below.
What Is Mediterranean Quinoa Salad
The simple answer is that it's a simple salad recipe that uses ingredients and spices that give it a Mediterranean taste and flavor. It's basically a salad without lettuce, that replaces the lettuce with quinoa.
Can I Use A Different Variety of Quinoa
You can. Believe it or not, there are actually 7 different types of quinoa that can be used in cooking. The important thing to remember with quinoa is that each one tastes a bit different plus has a different texture to it as well.
If you're going to branch out and use a different variety, just know that the overall outcome of the salad recipe is going to taste a tad bit different, too.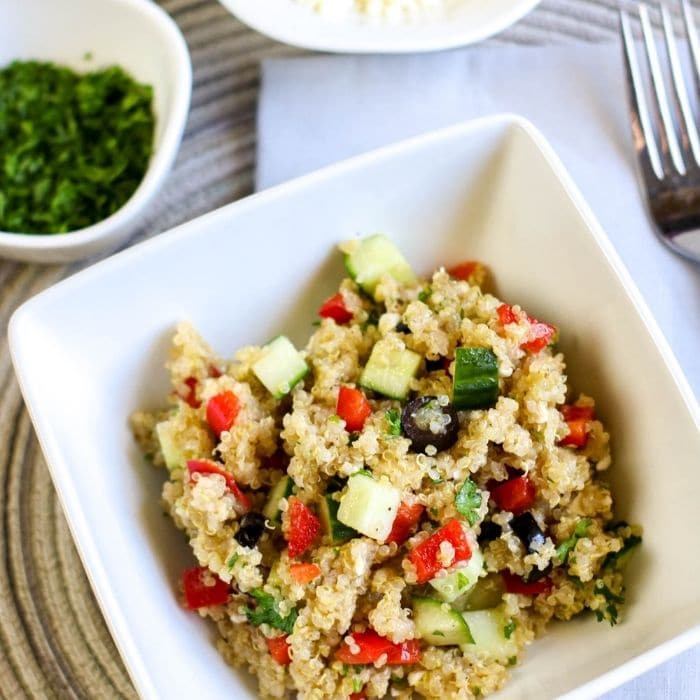 What Can I Substitute For Feta Cheese
You have options. You can choose to leave it out, or add in parmesan cheese instead. For this dish to have that amazing taste, you're going to want to make certain that you're using a cheese that is bold and has amazing flavor.
Any cheese will technically work but to stand out against the olives, it needs to have a bit of a bold flavor to it also.
How to Make Homemade Dressing For Mediterranean Salad
The easiest recipe for homemade salad dressing can be found in the printable recipe below. You'll just have to gather up the simple 6 ingredients listed and whisk them together. That's literally it.
The salad dressing is meant to be poured right over the top of the salad so be certain that you do so. If you make up extra to pour on top later, be certain to mix it up again before pouring onto the salad because it will separate.
Can I Make This Salad In Advance
You bet. Making it 24 hours in advance is a great way to let all the flavors mesh together and taste great. You can also just cook up the quinoa and have it sitting and waiting in the fridge, too.
Since this quinoa salad recipe is so simple, you can easily break it up into sections and make any or all of it in advance without issues.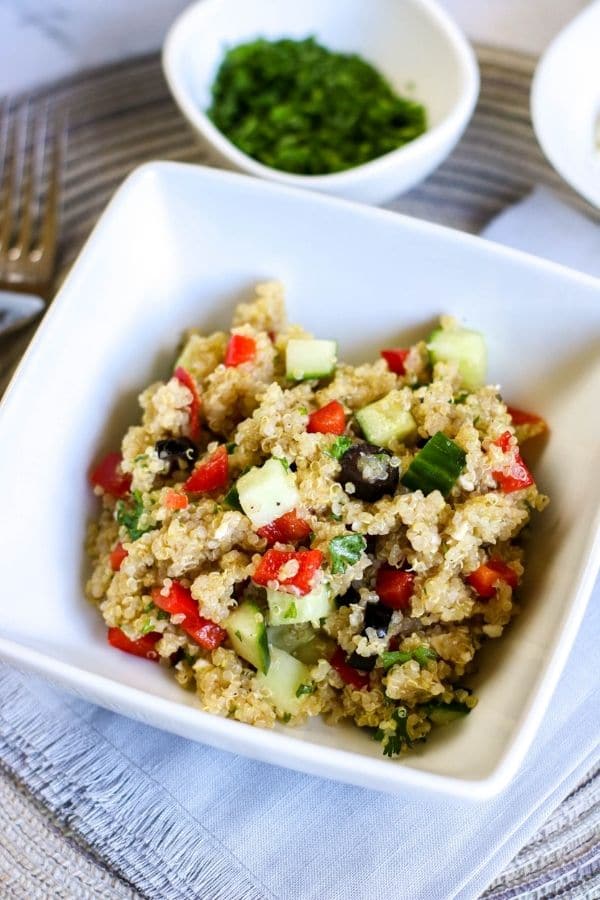 Proper Way To Store This Salad
Since this is meant to be a cold salad, you're going to want to be certain that you're storing it in the fridge. Cover it and place it in a container that is easy to grab and use.
It's important to note that you're not going to want to freeze this salad recipe because it's meant to be fresh. The texture of the quinoa and the veggies wouldn't be good if you stored this in the freezer.
This simple salad recipe is one that you're going to love to make. All you need to do is give yourself a few moments of time and you'll have a great side salad that's perfect for serving 6-8 of your closest family and friends!
Here Are A Few More Popular Side Dish Recipes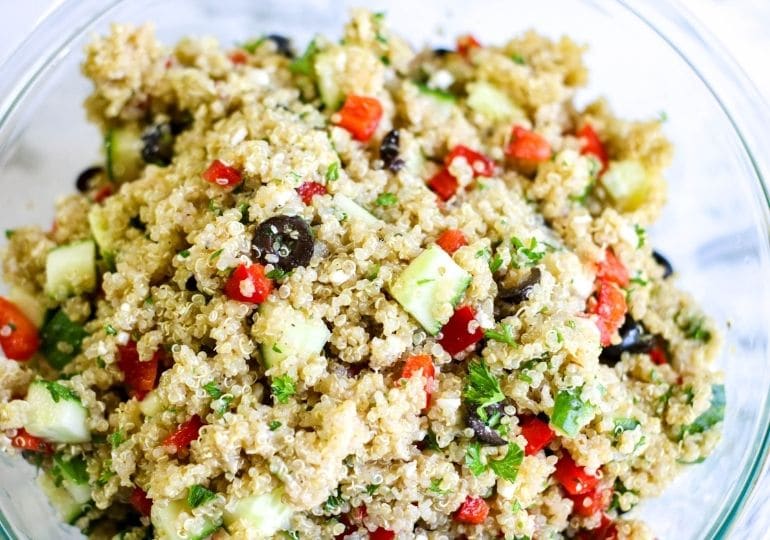 Mediterranean Quinoa Salad
Servings 8 servings
Mediterranean Quinoa Salad is the perfect side dish for any time of the year. A healthy quinoa salad with a homemade dressing, crisp veggies, and perfectly cooked quinoa.
Ingredients
Salad Ingredients
1 ½ cup white quinoa rinsed
2 ¾ cups water
½ teaspoon salt
1 large English cucumber diced
¼ cup red onion finely diced (optional)
1 red pepper seeded and diced
1 cup sliced black or kalamata olives
½ cup crumbled feta cheese
¼ cup finely chopped parsley
For the dressing:
¼ teaspoon garlic powder
2 tablespoons red wine vinegar
½ teaspoon dried oregano
½ teaspoon salt
¼ cup olive oil
Fresh black pepper optional
Instructions
In a medium pot on the stove you will add your quinoa, water and salt. Cover and heat water to a boil, then reduce heat and allow it to simmer for 15-20 minutes or until the quinoa grains open. You can also follow the directions on your quinoa depending on variety you buy.

In a bowl you can prep and slice and dice your cucumbers, onion, red pepper, feta cheese, parsley, and olives. Add your cooled quinoa.

Grab a mason jar or bowl and add your homemade dressing ingredients, and whisk or shake with lid on until it is blended.

Pour the dressing over the Mediterranean quinoa salad, toss, and then refrigerate until you are ready to serve.
Notes
You can serve this with warm quinoa if you want a warm quinoa salad.
Feel free to change up the vegetables added into the salad if you would like.
Nutrition
Serving: 1gCalories: 176kcalCarbohydrates: 12gProtein: 4gFat: 13gSaturated Fat: 3gPolyunsaturated Fat: 10gCholesterol: 8mgSodium: 463mgFiber: 2gSugar: 2g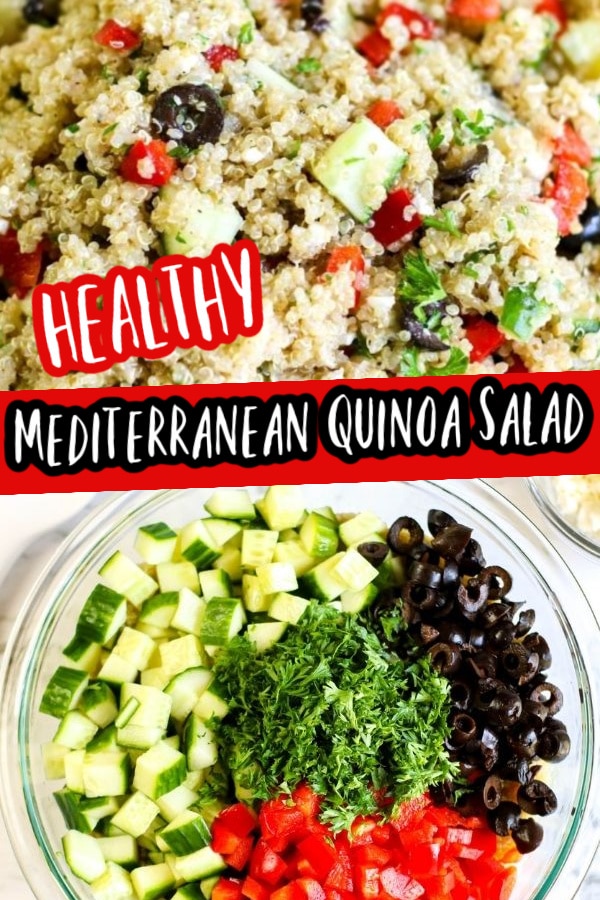 Who are you going to share this delicious Mediterranean Quinoa Salad with?
Reader Interactions