Instant Pot Pulled Pork is a tasty dinner to whip up and serve your family or a crowd. Pressure cooker pulled pork is easy, and a perfect freezer-friendly recipe.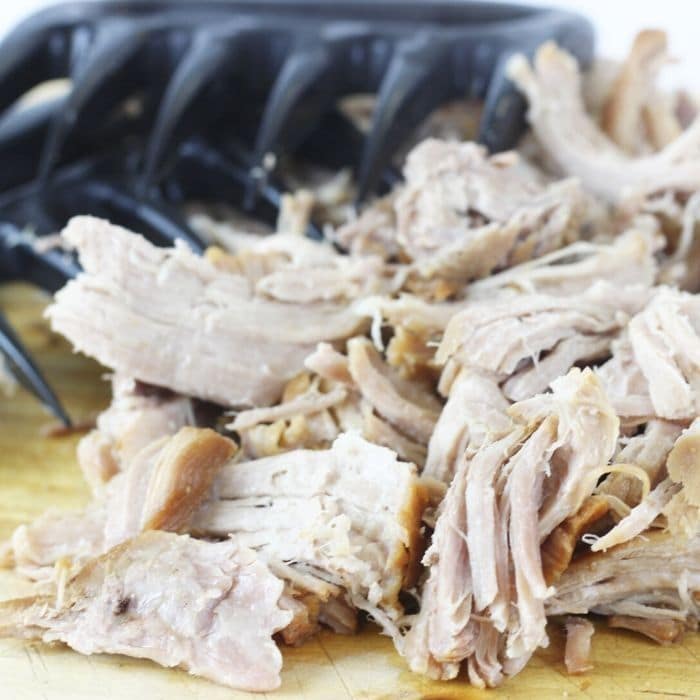 Instant Pot Pulled Pork
With this Instant Pot Pulled Pork I served it up as sandwiches. Topped with our favorite bbq sauce and KFC coleslaw (this is the best recipe).
Ways to Serve Up Pressure Cooker Pulled Pork
Serve on a bun with bbq sauce
Over a bed of rice or cauliflower rice
Top Baked Potatoes for a loaded potato
Use for stuffing for a taco (use Mexican coleslaw with it!)
Drizzle with bbq sauce then broil in oven to make it crispy
More
There are so many ways to use pulled pork. No way is wrong, so get creative and enjoy this easy pulled pork recipe.
Also, try my Dr. Pepper Pulled Pork Tacos, they are dynamite.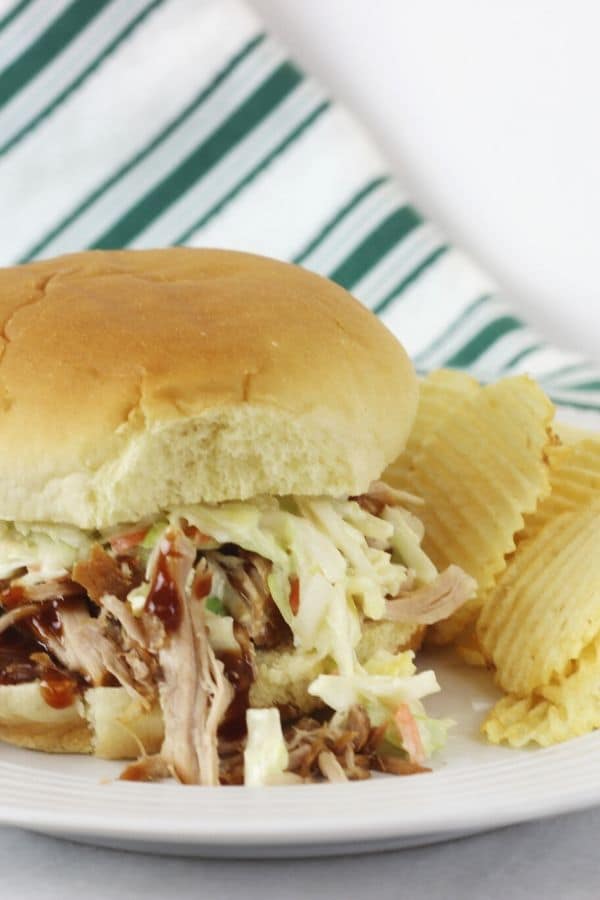 How Do You Make Pulled Pork
Making pulled pork in the Instant Pot is so simple. Start with basic seasoning, and then add in some apple juice and apple cider vinegar. This Instant Pot Pulled pork recipe is so simple!
Place it in the Instant Pot and allow it to pressure cook your pork roast. It will get it super tender and moist. I used my meat claws to shred my meat easily.
The beauty of this recipe is you can even prep and freeze the roast ahead of time, to meal prep for later on.
What Kind of Meat To Use For Pulled Pork
For me I reach for a pork shoulder or butt. I also reached for a boneless pork roast for this Instant Pot BBQ pulled pork.
Feel free to reach for another cut of pork roast if you would like. Depending on where you live you will have different options available. I love an instant pot pork roast no matter how it is cooked.
Why Do You Brown Pork Roast
Seasoning your pork roast and then searing it will help to lock flavor and texture into your Instant Pot pork roast.
Now if you are making this from frozen (full directions in recipe card) you will not sear the meat as the pork and contents will be frozen.
What Is The Best BBQ For Instant Pot BBQ Pulled Pork
Personally we love a Kansas City-style barbeque sauce. I love the flavor it gives, but you can truly use any flavor of BBQ sauce you like.
It is all about using a sauce that fits your exact taste buds, so buy a sauce you enjoy. As it will be a main flavor that stands out.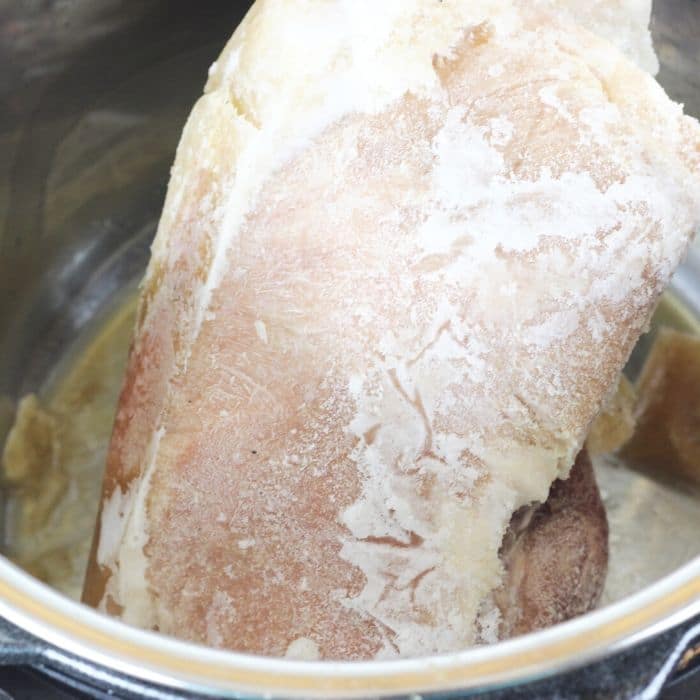 How Do You Make Instant Pot Pulled Pork A Freezer Meal
So you will take a freezer bag and place your pork roast in the bag.
Pour in the apple juice, apple cider vinegar, brown sugar, onion powder, pepper, cumin, salt, and oil. Seal bag and freeze for up to three months.
When ready to cook, take your frozen roast and put in the pressure cooker.
Add in the chicken broth and cook 1 hour and 15 minutes with a natural release.
Shred, mix in bbq sauce or serve plain. Full directions are in recipe card.
What Pressure Release Do You Use for Pulled Pork
For a tender fall-apart pork, you want to do a natural release. This will take anywhere from 20-30 minutes after you are done cooking. The natural release takes time but it is worth it.
If you quick release your pork, it will be tough and hard to pull apart.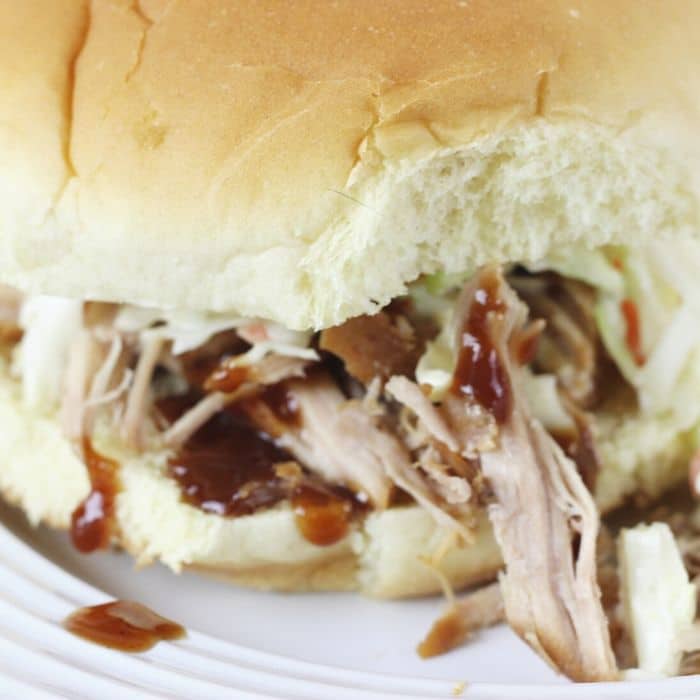 Want more Instant Pot Recipes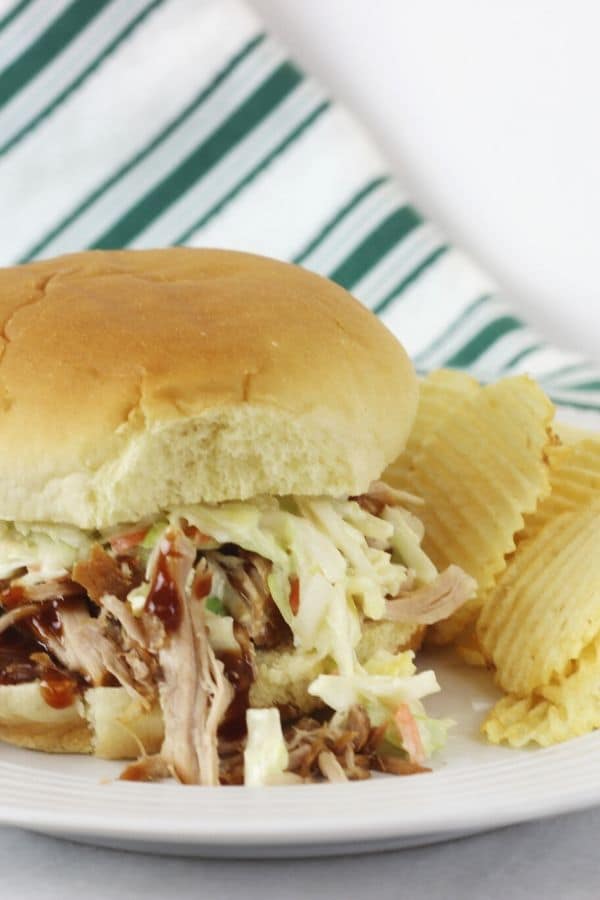 Instant Pot Pulled Pork
Servings 1 pork roast
Instant Pot pulled pork is perfectly seasoned pork roasted that can be made into sandwiches, tacos, or even top a baked potato. An easy pressure cooker pulled pork.
Ingredients
1 Pork Roast 4-5 lbs
1 cup apple juice
1/2 cup apple cider vinegar
1/4 cup brown sugar
1/2 cup chicken broth
1 teaspoon cumin
2 teaspoons onion powder
1 teaspoon salt
1/2 teaspoon pepper
2 tablespoons oil
Bbq sauce optional
Instructions
Start by taking the cumin, salt, pepper, onion powder and mixing in a bowl. Rub all over the roast.

Select saute on the pressure cooker, and let it get hot. Place roast in and sear all sides.

Remove roast and pour in chicken stock, and use it to deglaze the bottom of the pot.

Add in your roast, apple juice and apple cider vinegar. Cook for 1 hour and 15 minutes, with a natural release.

Once pressure release is done, shred, and then serve how you would like. I drizzled bbq sauce on top.
Notes
FREEZER MEAL DIRECTIONS
Put your roast in a freezer bag. Add in your apple cider vinegar, apple juice, and all the spices and oil.
Freeze for up to three months.
When ready to cook remove from bag, place all contents in the Instant Pot.
Add 2 1/2 cups broth or water in, and cook on high pressure for 1 hour and 15 minutes with a natural release.
Shred meat and serve how you would like.
Nutrition
Serving: 1/2 cupCalories: 113kcalCarbohydrates: 12gProtein: 3gFat: 6gSaturated Fat: 1gPolyunsaturated Fat: 4gCholesterol: 10mgSodium: 377mgSugar: 10g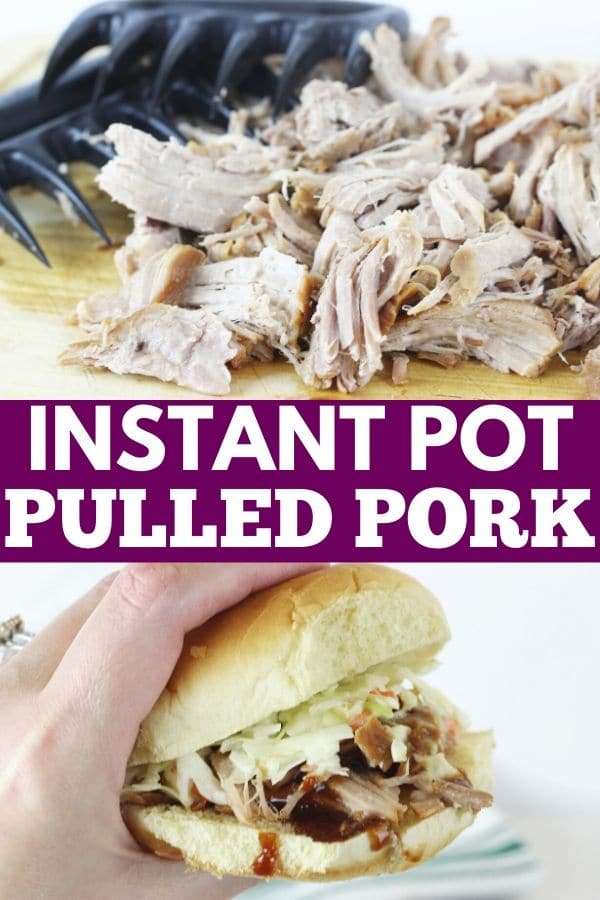 Have you tried making Instant Pot Pulled Pork?
Reader Interactions