Air Fryer Garlic Parmesan Chicken Nuggets are a savory and juicy homemade chicken nugget. Chicken nuggets in air fryer offer a crispy texture like they were fried in oil.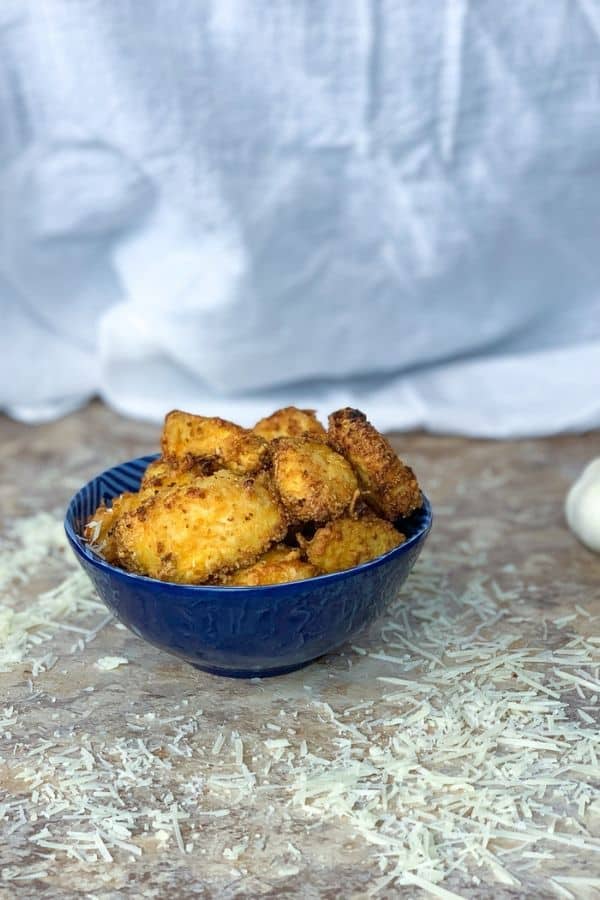 If you are a fan of air fryer nuggets, you have to try this version. Kids and adults both will enjoy this recipe. Grab your chicken breasts or chicken tenders and let's get to cooking.
Air Fryer Garlic Parmesan Chicken Nuggets
I could live off chicken, seriously! My husband, on the other hand, could care less. This recipe right here is one I made for him, and he said was a winner. Which if you know him is saying a lot. A crispy coating that beholds juicy and tender chicken. Pair with your favorite dipping sauce and dive in.
I also have to rave on the Air Fryer
! It is one handy kitchen accessory, that you might want to invest in. They make great gifts for birthdays and holidays.
Are These Air Fryer Chicken Nuggets Gluten Free
Yes. I wanted to create a lower carb and gluten free chicken nugget recipe that you could enjoy, and not feel guilty over. I opted for parmesan cheese for the breading and skipped the traditional flour or panko breadcrumb you see a lot in homemade recipes.

What Type Of Chicken Do You Use for Nuggets
I bought boneless skinless chicken breast. If you want you can use a chicken tenderloin as well and cut chicken pieces so they are bite size. For this recipe, you need to use raw chicken.
What Do You Use to Bread The Chicken Nuggets
I breaded the chicken with garlic powder, grated parmesan, and salt. You start by dipping chicken in egg wash, then roll in the breading. Next toss in the air fryer basket and cook.
Pro Tip For Air Fryer Nuggets
One of the biggest tips I will share is to make sure that when you lay your nuggets in the air fryer, they have room. You do not want the chicken to touch if you do those areas will not fully cook. You will get an uneven cook which is less than pleasant. So make sure to batch cook and don't over-stuff the nuggets in your basket or wire rack (depending on the model of air fryer).
Power AirFryer XL 6 QT Power Air Fryer Oven
Ninja Air Fryer
Craving More Chicken Recipes
Memphis Dry Rub Chicken | This recipe is incredible. A dry rub chicken that is cooked on the grill. Tender, flavorful, and highly addictive.
Buffalo Chicken Dip | If you love spice, you will love this creamy and tasty chicken dip. Give this recipe a try for your next entertaining needs.
Coconut Curry Chicken | Creamy coconut curry chicken that is really easy to make. Restaurant quality but at home.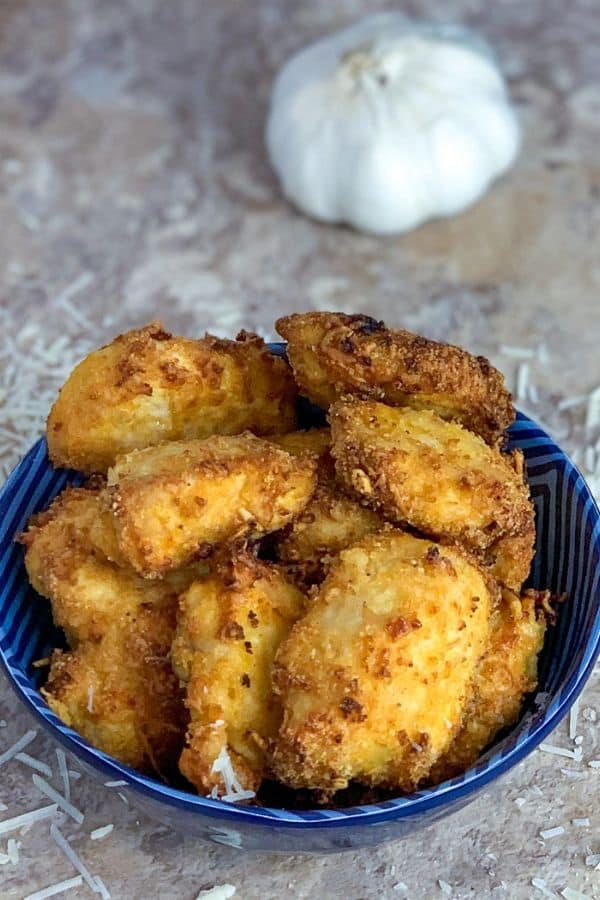 Air Fryer Garlic Parmesan Chicken Nuggets Recipe
Ingredients
3 pounds chicken breast cut into chunks
1/2 cup mayo
3/4 cup shredded parmesan cheese
1 tsp garlic powder
1/2 tsp salt
Instructions
Preheat Air Fryer to 400 degrees.

Combine the mayo, 1/4 cup of the cheese, garlic, and salt in a medium bowl. Add the chicken and stir to coat. Put the chicken on a large baking sheet. I put parchment on mine to save on the cleanup.

Sprinkle on the rest of the cheese.

Bake for 25-30 minutes until the chicken is cooked through.

Optional: Broil for 2-3 minutes to brown the cheese. Watch the chicken closely if you are broiling so it doesn't burn.



Nutrition
Serving: 6nuggetsCalories: 330kcalCarbohydrates: 1gProtein: 57gFat: 9gSaturated Fat: 3gPolyunsaturated Fat: 5gCholesterol: 174mgSodium: 415mg
Could I Make This With Chicken Wings
You could, but you would need to adjust the cooking time to ensure it cooks the chicken all the way through. Depending on the size of your chicken wings would depend on cook time, so without knowing I can't gauge a good timeline for you.
Best Way To Store Leftover Air Fryer Nuggets
You will want to let your nuggets cool and then place them in an airtight container and toss in the fridge. Store up to three days. After that you will want to get rid of any leftovers you might have.
What Are Some Good Sides That Go With Chicken Parmesan Nuggets
French Fries
Side Salad
Chips
Crisp Veggies with A Dip or Hummus
Can You Freeze Parmesan Chicken Nuggets
Yes! You can freeze these parmesan chicken nuggets. Allow nuggets to cool and then place them in a single layer on a baking sheet that is lined with parchment paper. Then flash freeze in the freezer until hardened up a bit. Then transfer to an airtight container or freezer bag. Store up to three months.
To reheat frozen nuggets, you can place in the oven frozen, and just warm them up until cooked through. I generally just cover with aluminum foil so it doesn't over-brown the top of nuggets.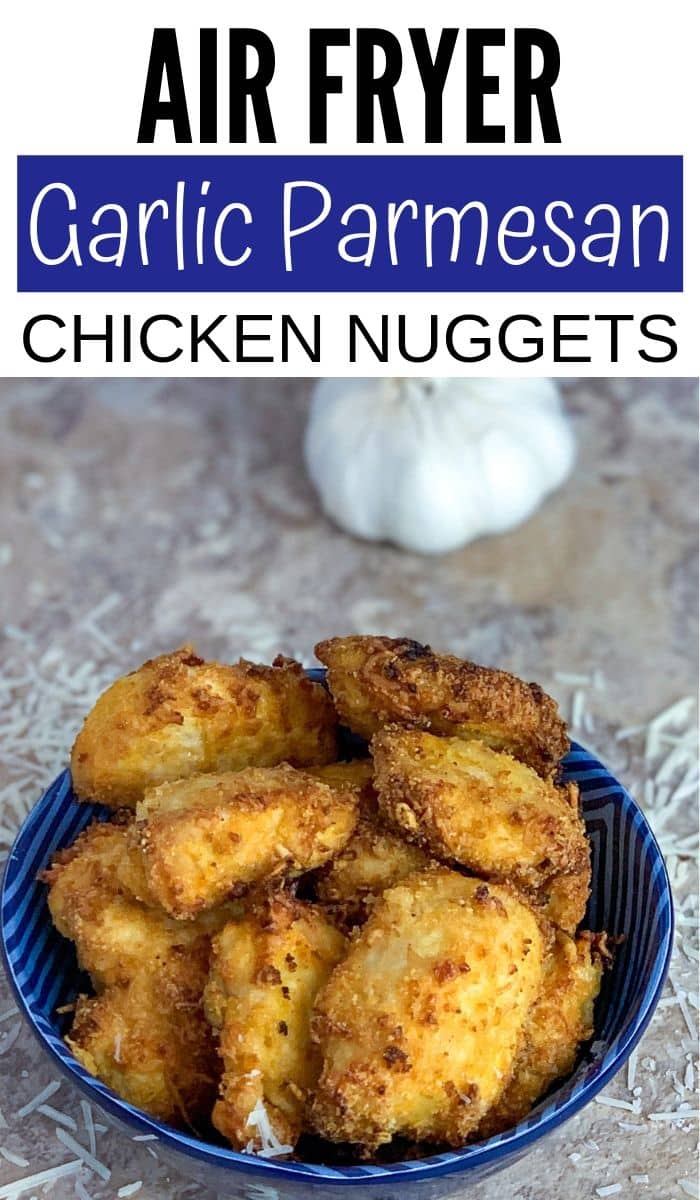 Reader Interactions