Check out these gorgeous farmhouse kitchen decor items below, and transform your kitchen space today. Whether you have a small or large kitchen, you might find some of these farmhouse kitchen decor ideas below might be a perfect fit for your home.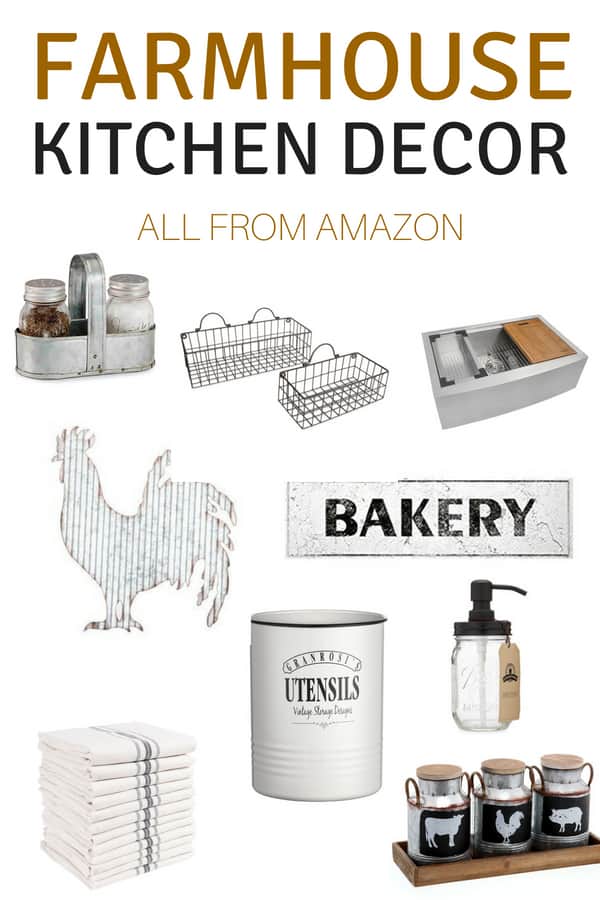 Since Fixer Upper took the world by storm, you may have that urge to transform and change up your entire home. For me, the kitchen is the heart of the home, and I love adding fun pops of color but still leaving that farmhouse feel. I am working on transitioning our entire country home into a farmhouse feel!
I buy a ton of our items online through Amazon as well as at Hobby Lobby! Since we live in a rural area, shopping online is a must for me. If I want great deals and fun and unique pieces I have to shop online. I think the UPS and FedEx drivers love stopping by! At least my boxes are usually on the lighter side!
So let's dive in with great farmhouse kitchen decor ideas that are great for yourself or holiday gifts. Christmas is around the corner so think about loved ones who have the same vibe as you! Grab a drink and a tasty dessert to snack on, and start scrolling for inspiration!
Stunning Farmhouse Kitchen Decor
Premium Kitchen Utensil Holder – Stylish Vintage Utensil Crock
Creative Co-op Coffee Tea Sugar Enamel Metal Containers
Mud Pie Fresh Jar Salt and Pepper Caddy Set
Barnyard Designs Decorative Galvanized Metal Jars with Rustic Handles and Wood Lid
Distressed White Bread Container
Shabby Chic Large Metal Jug Flower Pitcher Vase
Let's start off with pieces that can be sat out on the counter to offer an element of farmhouse design. These pieces are stunning, and really are unique and give you that farmhouse feel.
Utensils Holder | Here is a really nice piece that you can use to display some of your utensils that are nice, or even vintage ones that you want to have out just for looks.
Metal Containers | These are great for display as well and you can use them to store foods if you want like sugar, tea, etc. Or keep items in their packages and just hide it in the containers. I have done that before and it works great.
Salt and Pepper Caddy | You can move this from the kitchen to table in a hurry to give that farmhouse feel!
Rustic Barnyard Decor | These galvanized jars were so unique, I couldn't pass them up. It is a small piece to store on a shelf or sit on your counter.
Bread Container | A metal bread container is such a staple piece in a country home. They used it to keep mice and such out as well as keep the bread nice and fresh.
 Metal Flower Pitcher | What I liked about this is you could add in some flowers and change them out to go with each season. A really great piece that you could use to add a pop of color from flowers or greenery.
Farmhouse Kitchen Decor For The Walls
Corrugated Metal Rooster Wall Farmhouse or Farm Decor
Pantry Sign
Corrugated Metal- Half-Round Decorative Wall Bin
Bakery Sticker Sign
Entryway All-in-One Organizer
DII Farmhouse Vintage Hanging Baskets
Corrugated Metal Rooster |This rooster is really neat because the corrugated metal is so popular right now. To have animal silhouettes on your walls in the kitchen are a must nowadays.
Pantry Sign | Hang this as you enter your pantry on the door or above on the wall. It is a really simple piece that will add a splash of style to the room.
Half Basket | This basket is so versatile. Add in some greenery like they did, or put stuff in some kitchen items or even flowers. A really simple but elegant modern farmhouse decor piece.
Bakery Sign | You know I love my baking so this bakery sign was a really fun one to come across. It looks like a sign that would fit in an old bakery shop.
Command Center | This wood command center could be a fun piece to help keep you organized from storing your keys to leaving notes for your to-do list and more.
Wire Baskets | Hang these wire baskets to get a nice vintage feel. Add in some mason jars with fresh herbs, flowers, or even use to store mail or other items in your kitchen.
Creative Farmhouse Kitchen Ideas
Safavieh Natural Fiber Collection NF447A Hand Woven Natural Jute Runner
Classic Farmhouse Stripe Kitchen Towels
Industrial Mini Pendant Lighting
Mason Jar Soap Dispenser
Apron-front Workstation Farmhouse Kitchen Sink
Woven Rug | Place this rug in front of your kitchen sink, stove, and watch it breathe fresh life into your kitchen. Rugs are such a great item to add, that will really give a new look and feel to a room.
Kitchen Towels | Small details like a farmhouse style towel hanging from the stove or on a hook adds a fun element. I love these classic style towels.
Lighting | If you have a budget for lighting this is a great option. It can really add in a design element from the ceiling down to transform your kitchen.
Mason Jar Soap | A simple piece but adds a pop of farmhouse at an affordable price. I have used these in all the rooms of our home.
Farmhouse Kitchen Sink | A splurge item for sure, but it is useful, versatile, and a great statement piece for a kitchen!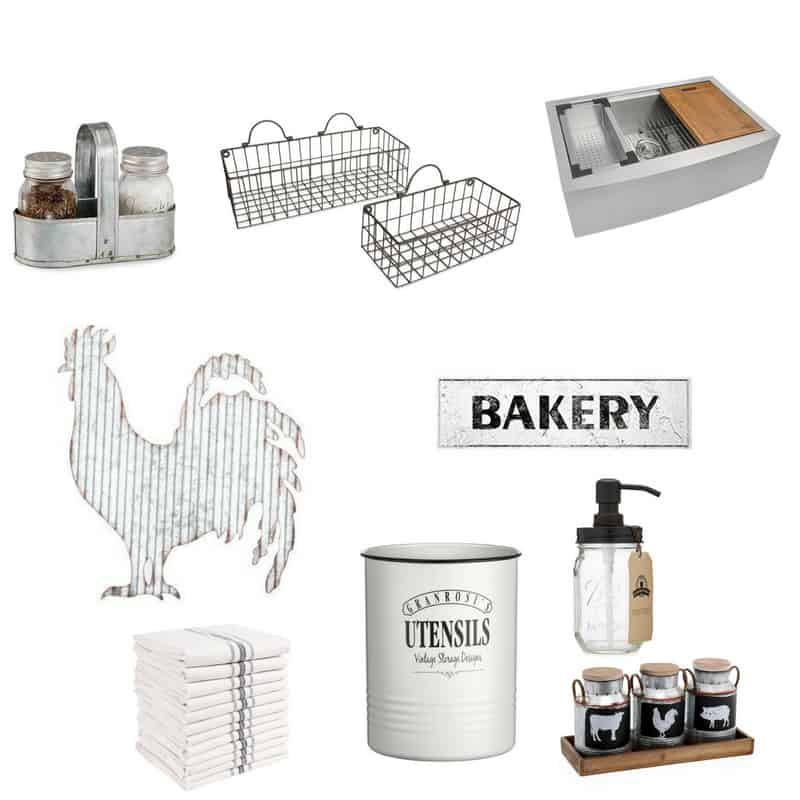 What ways have you decorated your home for the farmhouse feel?