Oatmeal pie is one incredible holiday pie that you will want to serve up this year. This oatmeal pie recipe is so easy to make, a 6 ingredient pie filling, and bursting with fresh flavor.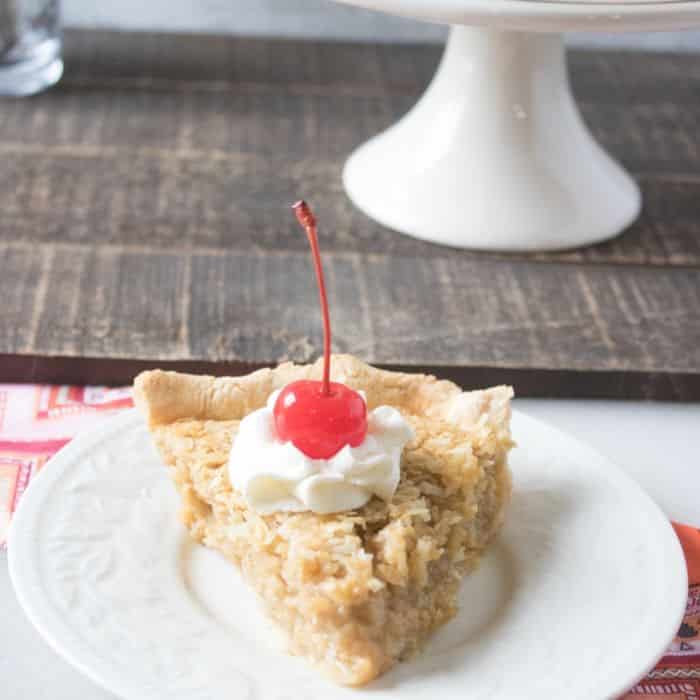 I find this pie recipe is very similar to an Amish oatmeal pie I have had in the past. You have the chewy oats in every single bite, tender, and flaky crust. Top with a dollop of whipped cream or a scoop of vanilla bean ice cream, and dive in!
Oatmeal Pie
Peach pie, sugar pie, apple pies, and of course this oat pie are some of my top contenders I have been asked to make time and time again. We love pie, and the holidays are approaching fast and I wanted to give you options to make this holiday season.

Homemade Pie Crust VS Store Bought
You can make your own homemade pie crust or opt to buy a pie crust in the store. Either way, you are more than welcome to do. Depending on time I have and who I am serving it to, I will whip up a homemade crust from time to time. I find the Pillsbury pie crust you roll out and shape yourself is very similar to homemade.
How To Make Oatmeal Pie
You start by shaping the dough and preheating the oven. Then mix up your pie filling in a bowl, and pour it into the pie crust. Bake until the oatmeal pie is done, and then allow it to cool. This is one of the easiest pie recipes, you will want to make over and over again!


Oatmeal Pie with Quick Oats
I used quick oats for this oatmeal pie recipe. Now, if you want a chewier pie you are welcome to use old-fashioned oatmeal in replace of quick oats. This is up to you. Either will work, it will just affect the texture of your pie.

How Long Do You Cook Oatmeal Pie
You will cook your pie for around 40 minutes. You start at a higher temperature then after 10 minutes drop the heat. Now, you will want to ensure your pie is done before you pull. The cook time is a gauge so make sure to watch and ensure your pie is cooked through.

Perfect Holiday Pie
This is a perfect holiday pie. If you are looking for more recipes to make for the holiday, check out my list below.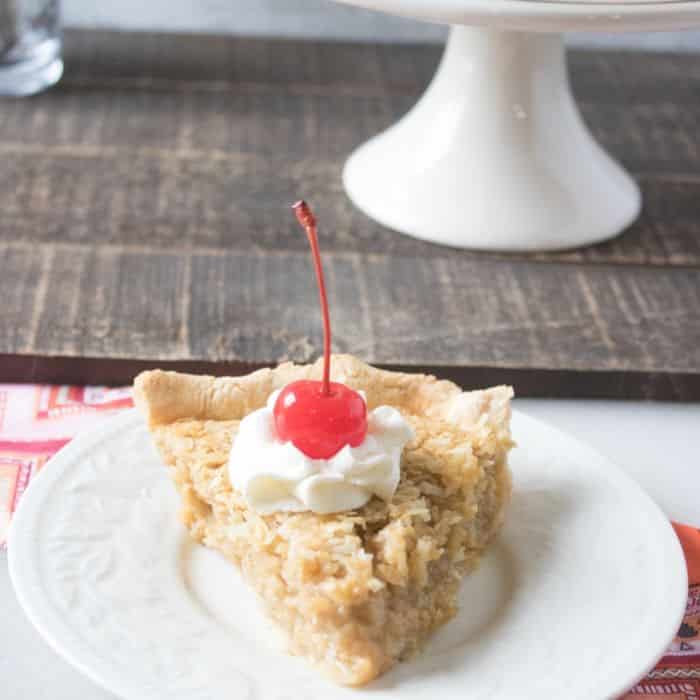 Oatmeal Pie Recipe
Oatmeal pie is an incredibly easy dessert. This oatmeal pie recipe is so easy to make, chewy, and a delight.
Ingredients
Crust
• 1 9-inch unbaked pie crust
Filling
• 1 ½ cups milk
• 3 large eggs
• 3 tablespoons unsalted butter, melted
• 2/3 cup quick oats
• 1 1/3 cups brown sugar
• 2/3 cup coconut flakes
Instructions
Preheat your oven to 425 degrees. Prep your dough and place in a pie pan.
In a bowl mix your milk, eggs, butter, oats, sugar, and coconut in a pan. Pour into pie crust.
Sprinkle more coconut if you prefer. Bake at 425 degrees for 10 minutes.
Then after that time, you will drop to 350 degrees and bake for an additional 30 minutes or until the center is set.
Recommended Products
As an Amazon Associate and member of other affiliate programs, I earn from qualifying purchases.

How To Store Oatmeal Pie
you will want to store your pie in the refrigerator. It will store 3-5 days in the fridge. Just slice and enjoy by the slice, when you are ready. If you prefer you can allow the pie to warm up to room temperature if you prefer it warm.
Can You Freeze Oatmeal Pie
Sure, you can. Just allow the pie to fully cool and then place in a freezer bag or wrap in plastic wrap a few times, and then aluminum foil. Then store in the freezer for up to three months. Thaw in the fridge the night before you plan to slice and serve up your pie.
How To Prevent Pie Crust From Browning Too Much
To prevent your pie crust from over-cooking consider buying a pie shell shield
. This will help protect the crust. I simply place on the pie as it goes in the oven. Then once it is around 15 minutes left of cook time, take off the shield and then allow the crust to fully brown up.