Monster Munch is a fun and easy fall dessert. Whip up this Instant Pot popcorn that you dress in colored candy melts, sprinkles, and more. This is an easy no-bake Halloween dessert.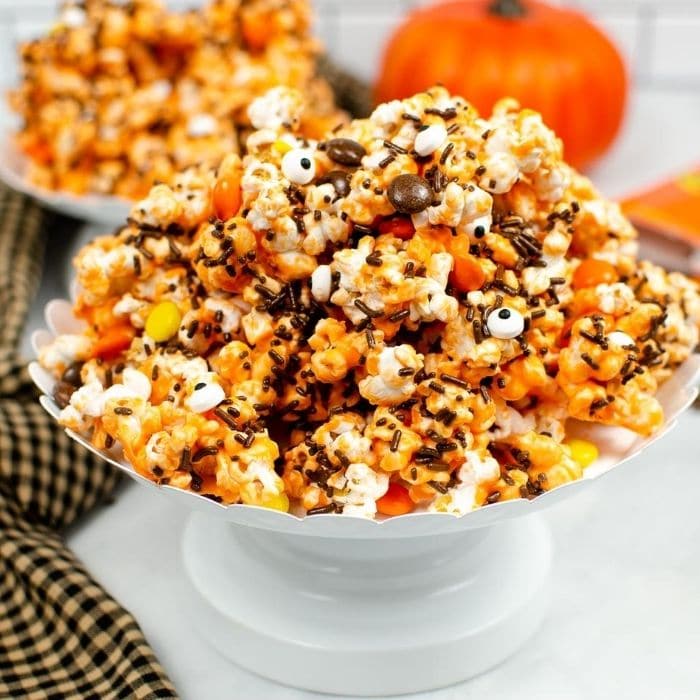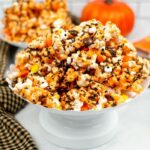 Instant Pot Popcorn Monster Munch is a quick and easy sweet and salty Halloween Instant Pot popcorn recipe! Monster munch popcorn is colorful, fun, and a fun no-bake Halloween dessert kids will love to nibble on.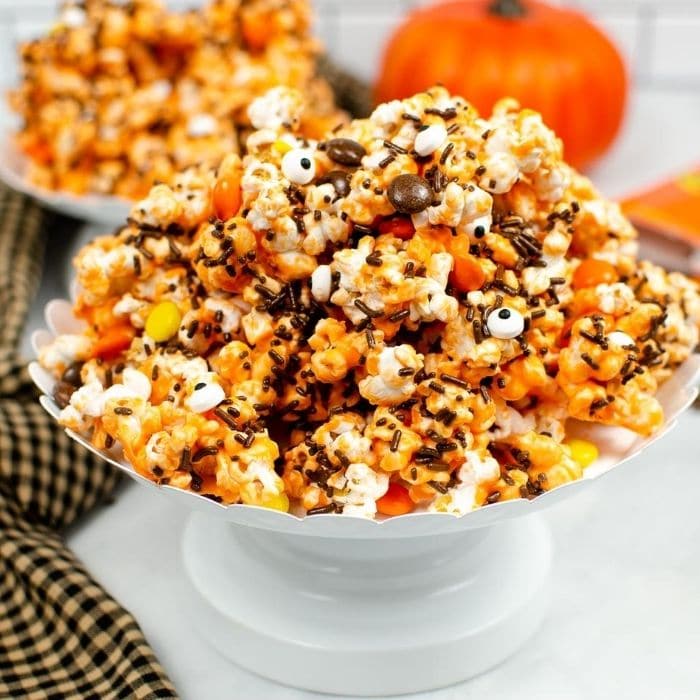 Want more fun Halloween dessert recipes? Try out my cherry mummy hand pies, Halloween puppy chow, Halloween Oreos, or even this mummy Halloween rice Krispies treats.
Instant Pot Popcorn Monster Munch
So if you are looking for a quick and easy fall dessert give this a whirl. If it isn't Halloween, use other colors to make it a snack mix you can serve up all year round!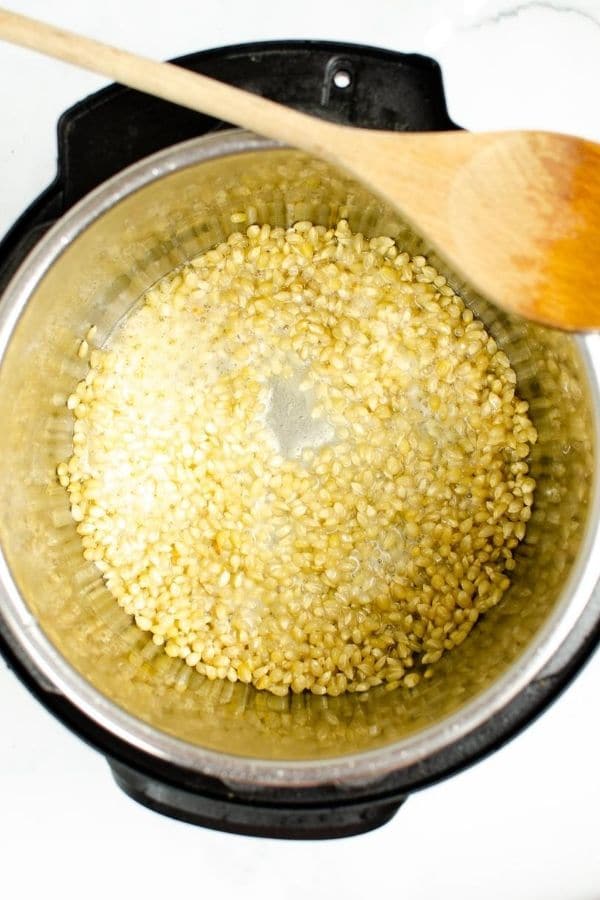 How to make popcorn in the Instant Pot
Making popcorn in your Instant Pot isn't hard at all. In fact, it's actually easier! (in my opinion!)
You have to turn your Instant Pot to the saute function and let the oil and butter get hot.
Once it does, it's time to pour in the kernels, put on the lid, and wait just 5 minutes for perfectly popped popcorn! It literally couldn't be more simple.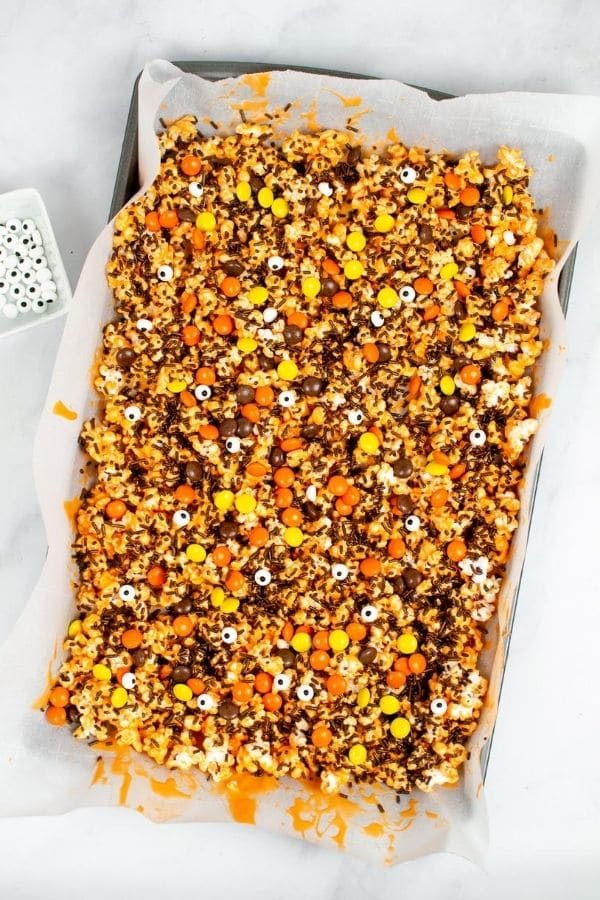 Variations to this Halloween Popcorn Mix
You can really add or take out anything that you want. Adding in some fun Halloween sprinkles or some other fun and goofy edible eyes or smiles can really take this monster munch treat over the top.
Even changing up the colors of the candy melts can make this simple popcorn recipe look totally different.
The great part about this popcorn recipe is that you can alter and change it up easily.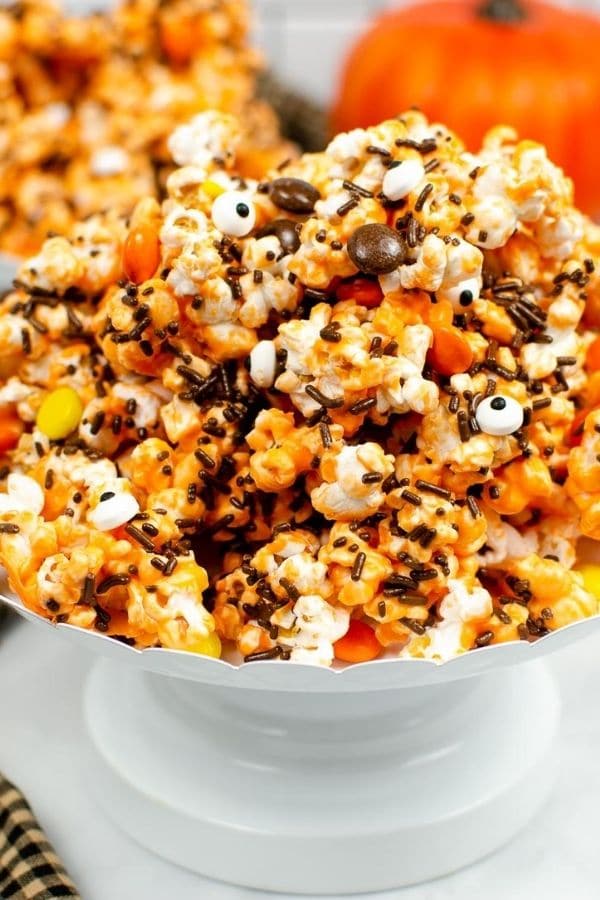 Can I Double This Popcorn Mix Recipe
You can but you'll have to batch cook it in the Instant Pot or it's not going to cook well.
If you try to add in too many kernels, it's going to cook unevenly and there will be a lot of wasted kernels. (and nobody wants that!)
Just cook it in batches and combine it at the end to double this delicious Instant Pot Popcorn Monster Munch recipe.
How to store leftover Halloween popcorn mix
You'll want to store this popcorn recipe like you would any popcorn recipe.
Place the popcorn chocolate mix leftovers in an airtight container or sealable bag and keep out the air. If the air gets to it, it's going to become stale, fast.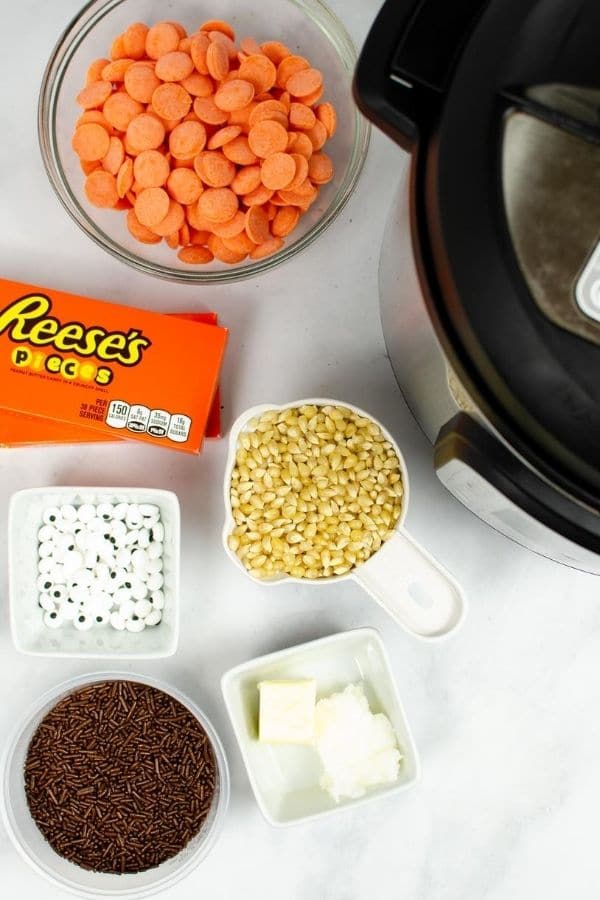 Can You Add Food Coloring To White Chocolate
It's possible to do but it just doesn't turn out very well. The adding coloring actually seperates from the white chocolate and just creates a funky look.
This is why I recommend using the candy melts so it will coat evenly and have a good consistency of the coloring, too.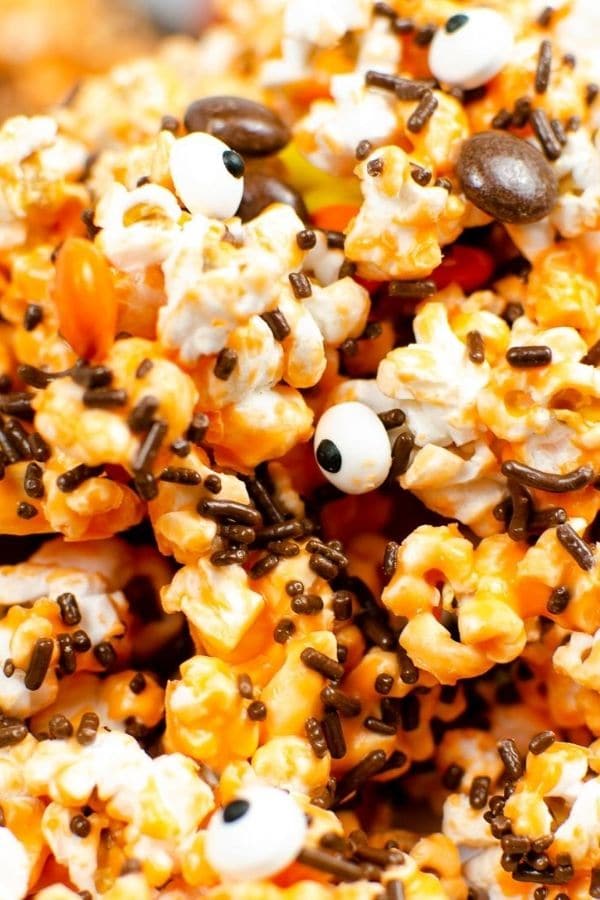 Can I use a different color of candy melts?
You bet! I used orange in ours because of Halloween colors but have fun and mix it up.
Buy and use red, purple, green…really any color of candy melts that you want. You can even experiment and try a couple of different colors and see what happens.
And no matter what, it's still going to taste great! The kids will actually enjoy hopping in and helping with this recipe, too. And if you like to give homemade Halloween treats out to your close family and friends, this recipe is a fun one to do it with.
Just head to the dollar store and buy some Halloween treat bags and fill them full of this Monster Munch recipe.
They'll love getting a thoughtful and homemade treat from you that's spooky, cute, and tasty! Ready to learn how to make this simple Instant Pot Popcorn Monster Munch? It's going to be the hit of Halloween!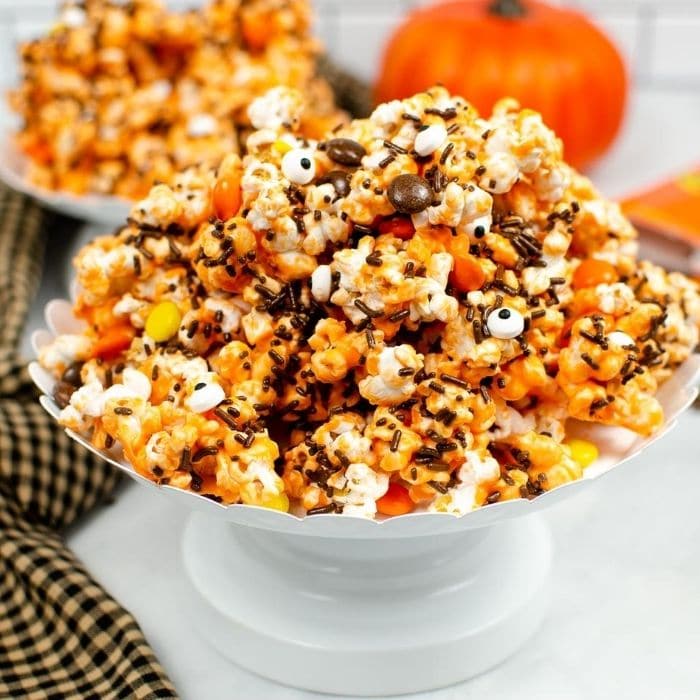 Instant Pot Popcorn Monster Munch
Servings 20 cups
Monster Munch is a fun and easy fall dessert. Whip up this Instant Pot popcorn that you dress in colored candy melts, sprinkles, and more. This is an easy no-bake Halloween dessert.
Ingredients
2 tbsp coconut oil
1 tbsp butter
1/2 cup popcorn kernels
8 oz bag orange colored chocolate melts
To avoid artificial coloring mix white chocolate with natural orange food coloring. To save time, use Wilton's orange candy melts
10 tsp Wilton's candy eyeballs
3 oz peanut butter candy
Like Reese's Pieces or to avoid artificial coloring – Unreal Natural Peanut Gems
1/4 cup chocolate sprinkles
Instructions
Turn your Instant Pot to the saute mode, and wait for it to get hot.

Now you will add in your coconut oil and butter, and stir it around to allow it to melt.

Now you will add in your popcorn kernels and stir to make sure all the kernels get coated in the oil mixture.

Place the lid on the IP and make sure the valve is open. Or you can use a glass Instant Pot lid. Set your timer for 5 minutes on saute and wait for the kernels to begin to pop.

When the timer is up turn the saute feature off, and allow the popcorn to finish popping.

While the popcorn is popping I take my candy melts and melt them in the microwave. I do 30-second heat cycles, stirring between each heat cycle. Mix until the chocolate is fully melted.

Place your popcorn on a cookie sheet that is lined with parchment paper, pour over the orange candy melts. Mix it well to cover all the popcorn in melted chocolate.

Now add in your Reese's Pieces, chocolate sprinkles, and candy eyes. Add in other candies if you want.

Once cooled serve up your Instant Pot popcorn monster munch!
Notes
Change up the add-ins if you want. Do different colored candy melts, to work for any season or occasion.
Nutrition
Serving: 1gCalories: 114kcalCarbohydrates: 13gProtein: 2gFat: 7gSaturated Fat: 3gPolyunsaturated Fat: 3gCholesterol: 3mgSodium: 34mgFiber: 1gSugar: 9g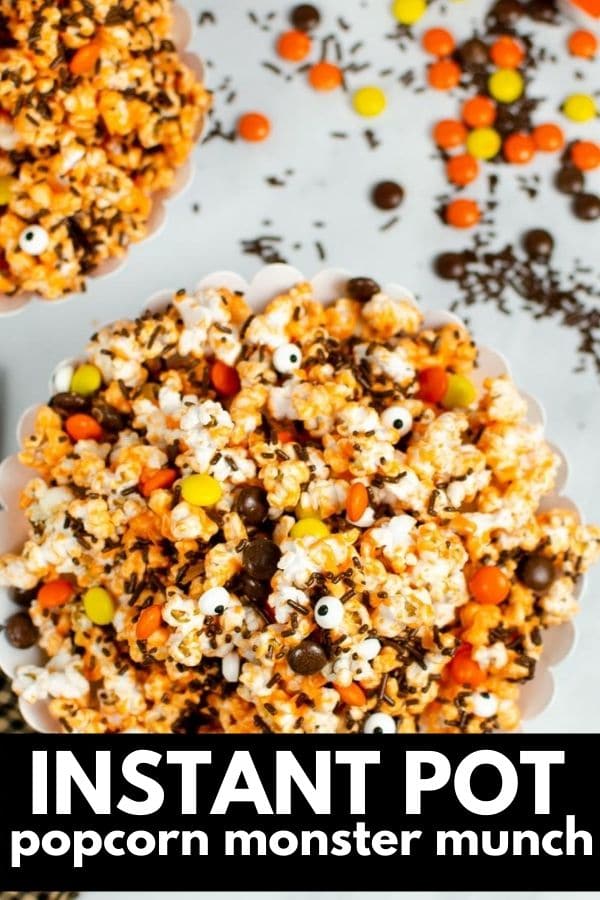 Reader Interactions