Keto cheesecake that is low carb, creamy, and delicious. This Instant Pot Cheesecake recipe is a must-make!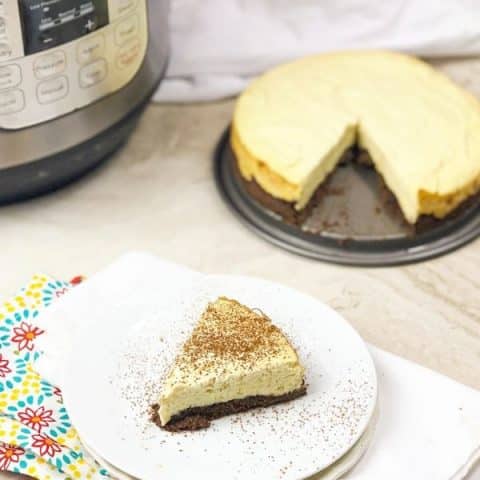 Keto cheesecake is one of my go-to desserts when I get a sweet craving. My Instant Pot Keto Cheesecake recipe is easy, tasty, and satisfying to your sweet tooth. A gluten-free and sugar-free cheesecake that tastes like the real deal!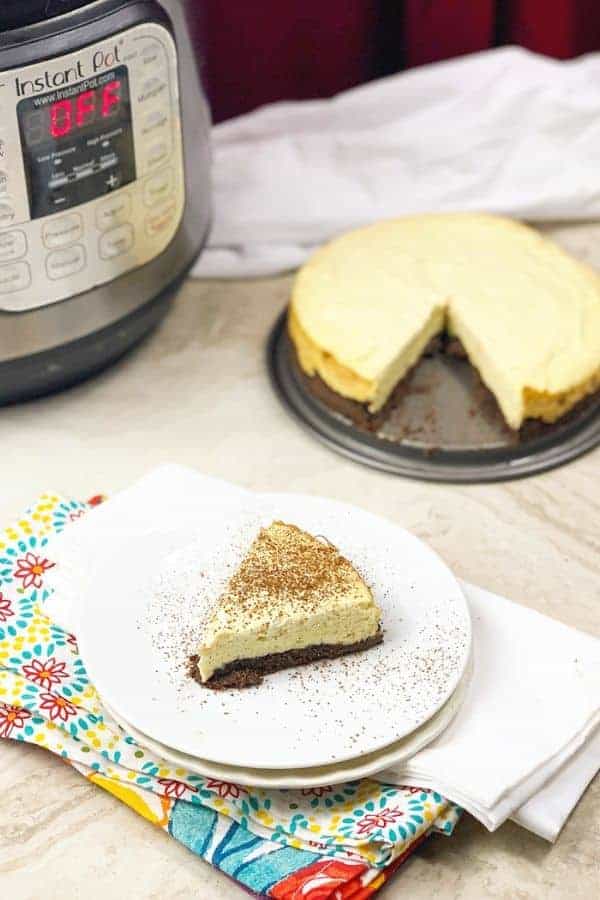 This low carb cheesecake is great for birthday parties, family gatherings, weeknight dessert, and a treat for a special occasion. While you have to allow the cheesecake to set up overnight, it is worth the wait. I have a sweet potato Instant Pot cheesecake recipe to try if you want as well.
Searching for More Instant Pot Finds
Keto Cheesecake
This low carb cheesecake recipe is incredible. If you are on a low carb or on the ketogenic diet, you will really enjoy this incredible Instant pot dessert.
How To Make Sugar Free Cheesecake Taste Like The Real Thing
When making a sugar free cheesecake, you might find it taste different than a classic cheesecake. The two key components are a buttery and light crust, and of course the cheesecake filling.
For the crust, I used blanched almond flour. I find this resembles a graham cracker crust texture, without all the extra carbs that we don't want.
Then for the cream cheese filling, you use cream cheese of course, and I opted for the powdered erythritol sweetener. It really helps to sweeten up the cheesecake while giving it that real taste, if you know what I mean.

What Type Of Pan Do You Use For Instant Pot Cheesecake
Reach for a springform pan. I used this Springform Pan that fits a 6 quart or 8 quart instant pot! Then I used a Grip Holder to ensure I wouldn't drop my cheesecake. If you have followed the Instant Pot group you can see TONS of pictures of people dropping their cheesecake, and it gets ruined on the floor.
Instant Pot
Springform Pan
OXO Good Grips Pressure Cooker Bakeware Sling, Red
Silicone Sealing Rings (Savory and Sweet)
Tools Needed For Instant Pot Low Carb Cheesecake
Why Is My Cheesecake Lumpy
You need to start with softened cream cheese. If you do not allow the cream cheese to be softened, it will offer a cottage cheese texture, and be lumpy. When your cream cheese is softened, it will whip up really nice and offer that velvety smooth texture you want.
Trust me I have had a lumpy cheesecake before, I learned my lesson so now I know! Always, always, always use softened cream cheese.

Ways To Serve Up This Sugar-Free Cheesecake
Dress up your cheesecake how you will, or eat it plain! I love it all ways, and the cocoa to me adds nice character to the cheesecake.
How To Store Keto Cheesecake
You will need to store any leftover cheesecake in the fridge. Cheesecake will go bad if left out on the counter at room temperature. This cheesecake will store in the fridge sealed up for 4-5 days. Use your best judgment in terms of if the cheesecake has gone bad.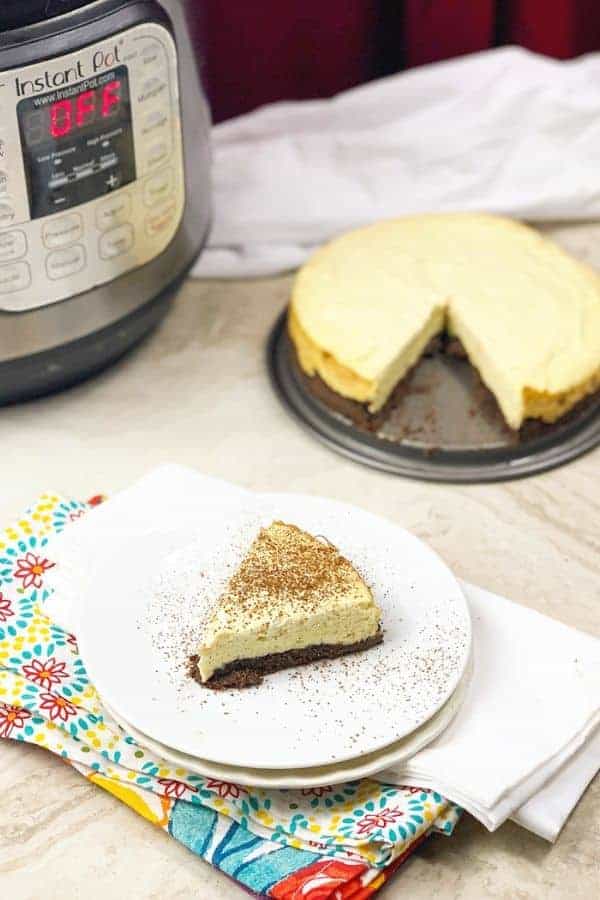 Instant Pot Keto Cheesecake Recipe
Servings 1 Cheesecake
Keto cheesecake that is low carb, creamy, and delicious. This Instant Pot Cheesecake recipe is a must-make!
Ingredients
For the crust:
3/4 cup blanched almond flour
3 tbsp salted butter melted
1 heaping tbsp powdered erythritol sweetener
2 tbsp unsweetened cocoa powder
For the filling:
16 oz cream cheese softened
2/3 cup powdered erythritol sweetener
2 large eggs room temperature
1/4 cup heavy whipping cream room temperature
1 tbsp fresh lemon juice
1 tsp vanilla extract
Instructions
For the crust:
Combine melted butter and erythritol in a mixing bowl, and stir together. Add almond flour and cocoa, stirring until the butter is absorbed and forms a dough.

Transfer the dough to the cheesecake pan. 

Firmly press down to form a flat and smooth crust covering the entire bottom of the pan.

Put the pan to the freezer to chill the crust for 15 to 20 minutes 
Make the filling:
Add cream cheese and erythritol to a large bowl. 

Use a hand mixer to beat on low speed until well-mixed, about 1 minute.

Add heavy cream, lemon juice, and vanilla extract. 

Beat on low speed until smooth, about 30 seconds.

Add eggs one at a time, beating on low speed until just combined, about 30 seconds each. Don't overmix the eggs.

Remove the pan with chilled crust from the freezer. 

Pour the batter over the crust. 

Level the surface by shaking and tapping the pan a bit on the counter.

Cover with foil
Cook and cool:
Add 1 cup of water to the bottom of the pot. 

Place the trivet over the water, with its handles resting on the sides of the pot. 

Place the cheesecake pan into the sling and then on top of the trivet.

Secure and seal the lid. 

Cook for 30 minutes at high pressure, and then 15-minute natural release.

Manual release any remaining pressure.

Carefully lift the lid. 

Remove the pan using the sling handles

The top of the cheesecake should jiggle a little but not be liquidy. 

Allow the cheesecake to cool uncovered. 

After about an hour, lift it from the pot using the trivet's handles to continue to cool on the countertop.

Refrigerate for at least 24 hours covered. 

Slice and serve.
Nutrition
Serving: 1sliceCalories: 237kcalCarbohydrates: 6gProtein: 5gFat: 22gSaturated Fat: 11gPolyunsaturated Fat: 9gCholesterol: 82mgSodium: 163mgFiber: 1gSugar: 2g
Can I Substitute The Erythritol Sweetener
You can try swapping it with the powdered monk fruit sweetener
, I have heard this is a great alternative. I personally have not used other sweeteners. Just make sure if you do a swap, you convert the measurements correctly.
Can You Freeze Keto Cheesecake
Yes, simply wrap up in aluminum foil and then place in the freezer. I tend to do individual slices so I can then place in a freezer bag as well, to add an extra layer of protection from the freezer. Then pull out and thaw on the counter or in the fridge for when you are ready to serve.
Don't dust with cocoa if you plan to freeze, save that back and top with cocoa or however you choose after the cheesecake has thawed.
Have you ever tried making a keto cheesecake in the Instant Pot before?
Reader Interactions