This cookie monster cake is one delicious layered cake recipe. Chocolate cake, chocolate chip cookie dough layer, then topped with blue Oreo cookie frosting. A Sesame Street birthday cake idea.
If you are looking for a cookie monster dessert, this layered cake is a hit. A Sesame Street theme that has the bright blue food coloring to give that cookie monster feel. Try my cannoli cake as well for another delicious layered cake.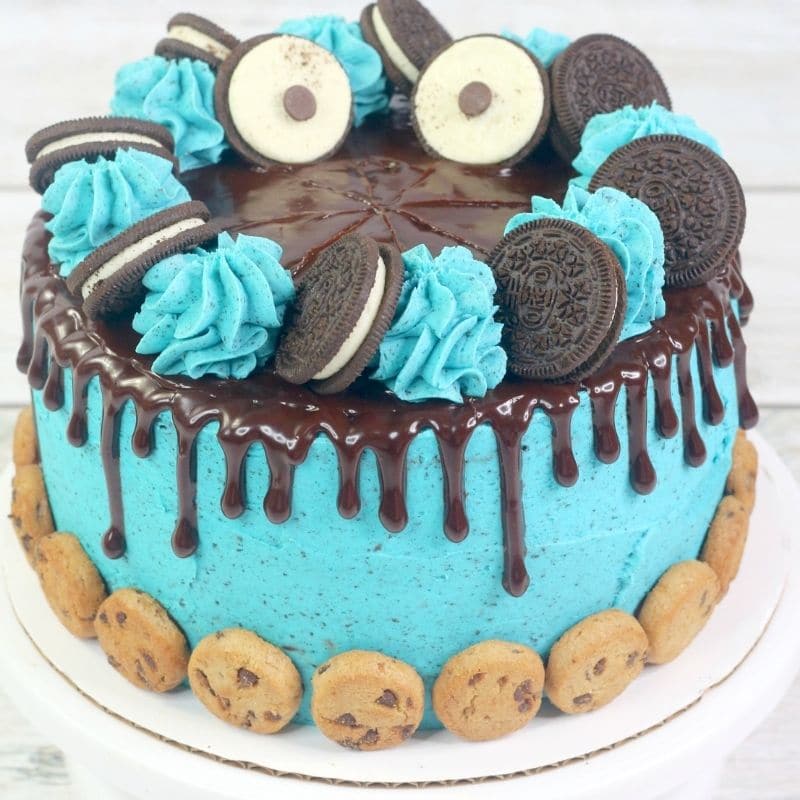 This cookie monster recipe is one of my favorites. You could even make this a cookie monster smash cake if you are looking to celebrate a first birthday.
Homemade chocolate ganache, tasty chocolate chip cookies, Oreos, and more all in one layered cake recipe.
Why You Will Enjoy This Cookie Monster Cake…
Layered Cake
Make boxed cake mix taste like a bakery
Chocolate ganache topping
Fun birthday themed cake
Great for cookie monster lovers
Freezer Friendly
Ingredients Needed
Chocolate Cake Mix
Milk
Butter
Eggs
Powdered Sugar
Oreo Cookies
Chocolate Chip Cookies
Vanilla
Whipping Cream
Sky Blue Food Coloring
Brown Sugar
Powdered Sugar
Flour
Salt
Mini Chocolate Chips
Tools For Making Cakes
Here are a few of my favorite cake tools! It made making this cookie monster birthday cake a breeze! The right tools helps to make this an easy cake monster cake.
This isn't a tool for making a layered cake, but a wonderful container to store your cake without messing up the beautiful decorating you did. This airtight container for layered cakes is a must.
Check out this rotating cake stand with some accessories! This is a great beginner's set to buy and use.
Here is a cake leveler that you can use to cut off the uneven top of the cake layers.
I really like the Wilton cake pans, but you can use any pan you have just as long as they are the same size pans.
How to Make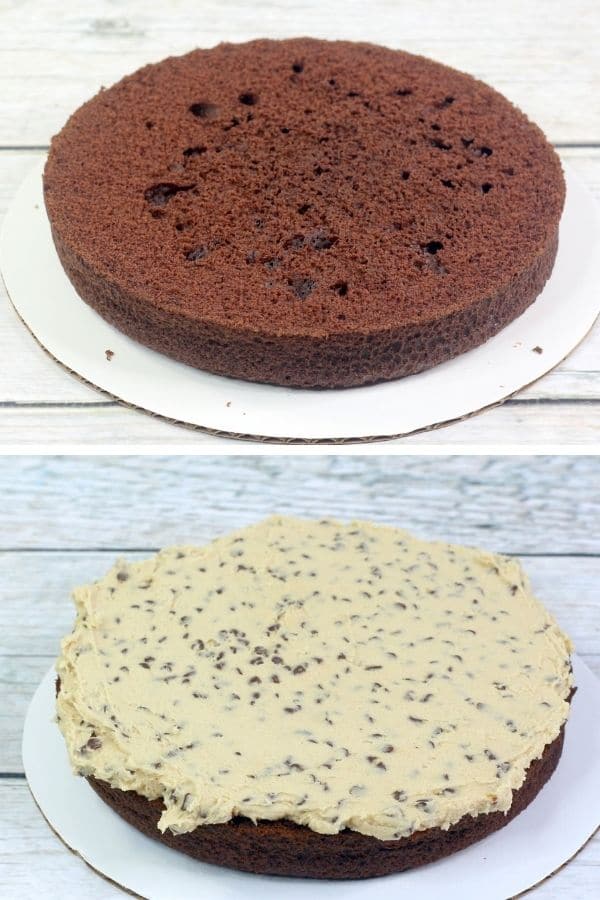 Step 1: Start by mixing up your cake mix, I did a boxed cake mix that I dressed up to taste more like a bakery cake. Then poured into 3 greased round pans and baked until the cake is done.
Step 2: Allow the cakes to fully cool. Then shape the cake to make the layers of cake evenly.
Step 3: Now you will whip up your chocolate chip cookie dough frosting. Then spread part of it on the bottom layer. Top with another layer of cake.
Repeat with each layer.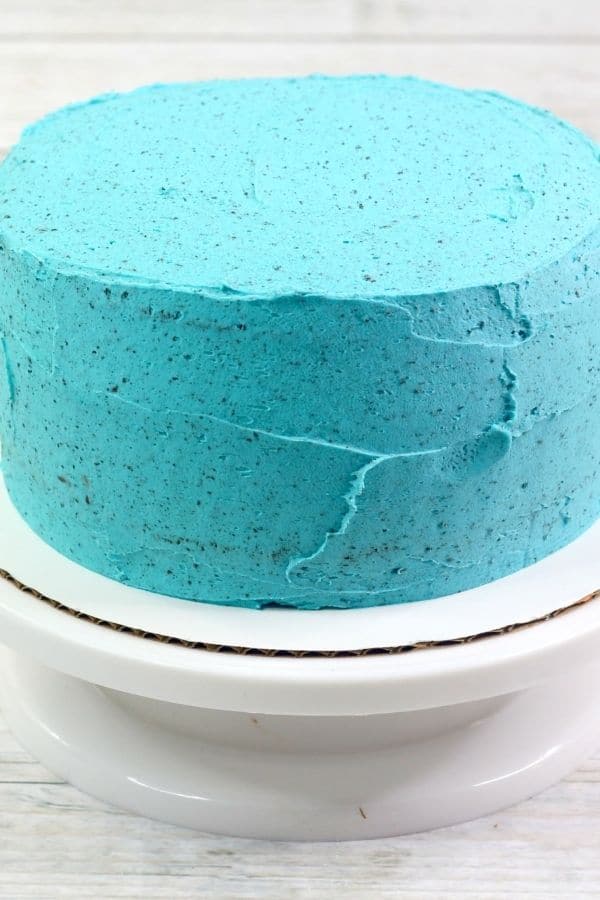 Step 4: Whip up the blue Oreo frosting and then spread it onto the cake. Once your cake is frosting you can decorate your cake.
Place cookies around the edge of the cake, top with cookies, ganache, etc. The full directions are in the printable recipe card below.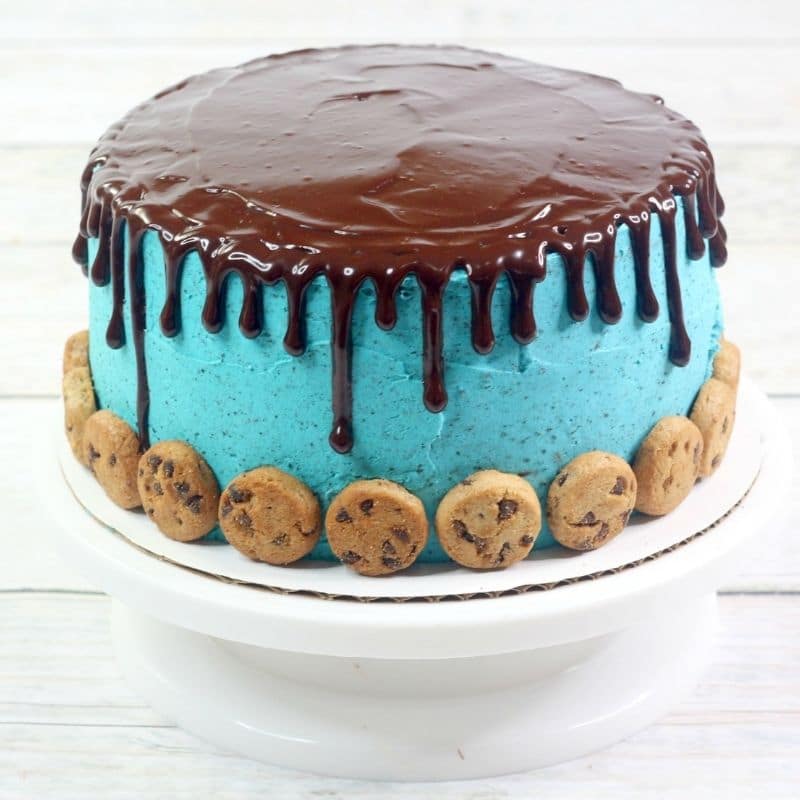 Tips for Decorating
Here are some helpful tips for making this easy monster cake. While this Sesame Street Cake is stunning, just know it is easy. Don't make it harder than it has to be.
Gently push the mini chocolate chip cookies into the frosting around the edge of the cake.
You can pipe the chocolate ganache at the edge to create that stunning drip look.
Choose any piping tip you like for the top, and place an Oreo cookie then a dollop of frosting. Start with frosting so your cookie has somewhere to lean.
The cookies will become soft after stored in the refrigerator for awhile, so I recommend to hold off decorating until you are ready to serve it.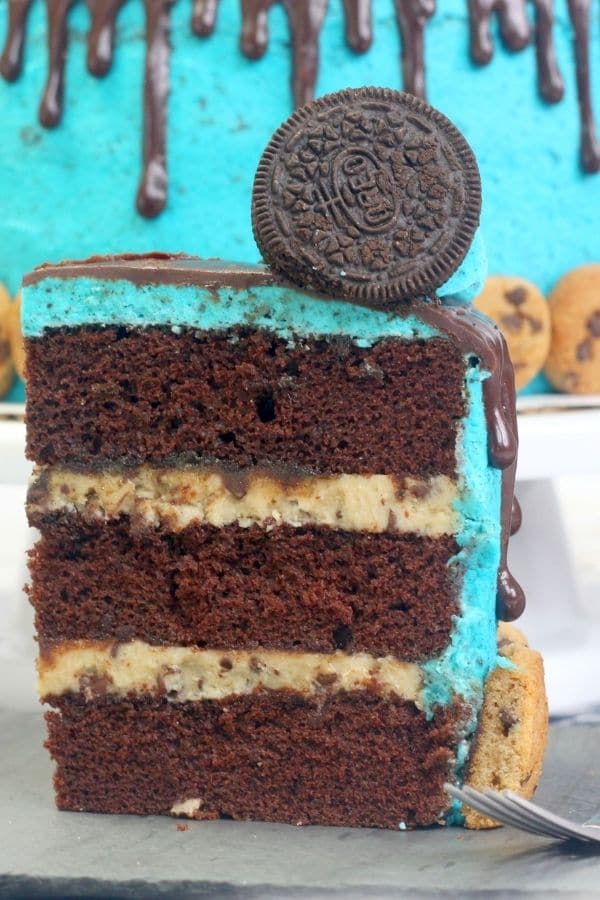 Storage
Your cute cookie monster cake will need to be stored in the refrigerator. Make sure to place in an airtight cake container.
The cake will store for 4-5 days in the refrigerator. You will find it is best in the first few days, as it can dry out a bit.
Now, in terms of freezing this cake can be frozen. Place the cake in the proper container and then freeze 2-3 months.
Recipe FAQs
More Delicious Desserts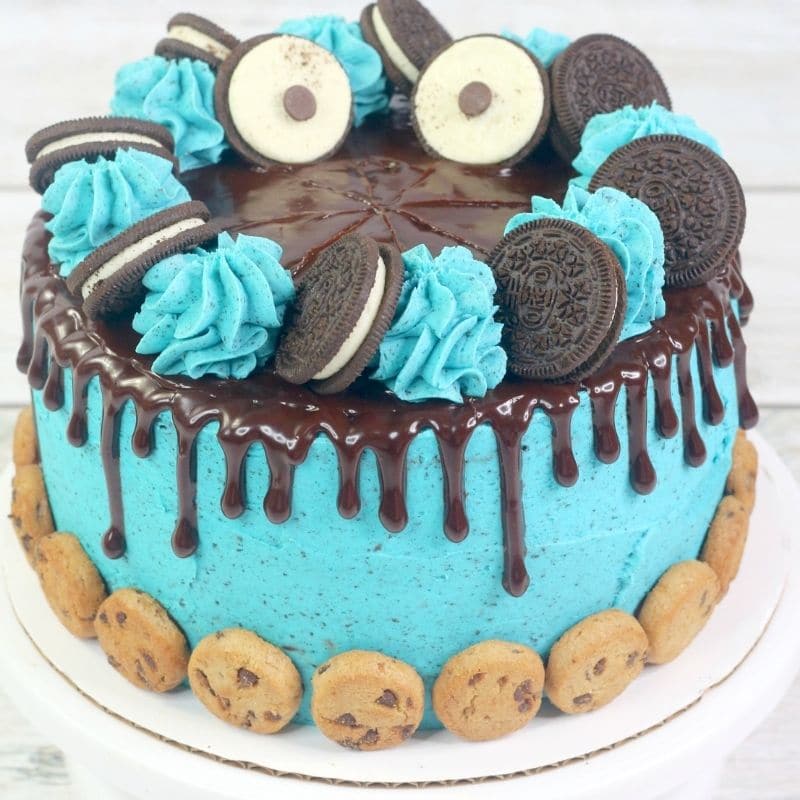 Cookie Monster Cake Recipe
Servings 1 layered cake
Cookie Monster Cake is a layered Sesame Street cake recipe. This is a cookie monster dessert that is delicious. A chocolate cake, with cookie dough frosting, and topped with blue Oreo frosting and decorated to look like a cookie monster.
Ingredients
Cake Ingredients
2 boxes of triple chocolate cake mix
2 1/2 cups whole milk
2 cups unsalted butter softened
6 large eggs
Blue Frosting Ingredients
2 Cups unsalted sweet cream butter softened
4 cups powdered sugar
1 cup crushed oreo cookies
3 teaspoon pure vanilla extract
5-7 tablespoons heavy whipping cream
Cookie Dough Frosting Ingredients
1 package of mini chocolate chip cookies
1 package of mini oreo cookies
1 package of regular size oreos
1 cup unsalted sweet cream butter softened
3/4 cup light brown sugar
1 cup powdered sugar
1 cup flour
1/4 cup Milk
Chocolate Ganache Ingredients
1/2 teaspoon kosher salt
1/4 cup whole milk
1 cup mini chocolate chips
1 cup semi sweet chocolate chips
1/3 cup Heavy Whipping cream
Instructions
Start by preheating the oven for 350 degrees. Then spray each cake pan with cooking spray. I used 9 inch pans, then place parchment paper inside the pans as well.

In a stand mixer take your cake mix, eggs, butter, milk, and mix well. Divide the batter into the 3 round cake pans. Bake for 20-30 minutes or until the cakes are fully cooked.

Place on a cooling rack and allow to cool completely.

With a cake leveler you will slice off the tops to remove the dome top on the cakes to make it evne.


!Cookie Dough Frosting

Place raw flour in a container and microwave for 1 minute. This will kill the bacteria in the flour. It needs to reach 160 degrees.

Next you will take your stand mixer and add your butter, powdered sugar, brown sugar, and mix until creamy. Add in the vanilla.

Add in your flour and add the milk slowly. You will want to mix until it reaches your desired thickness.


!Blue Oreo Frosting

In a clean mixer you will cream your butter, powdered sugar, vanilla, heavy whipping cream, and mix until smooth.

Add in some crushed Oreos, and blue food coloring.

!Chocolate Ganache Directions

Using a small pot, pour the heavy whipping cream into it and place on
medium heat.

Pour the chocolate chips into a medium heat safe bowl

Once the heavy whipping cream starts to simmer, remove from heat and pour onto the chocolate chips.

Allow to sit for 1 minute before whisking until smooth

Pour the chocolate ganache into the squeeze bottle


!How to Assemble Cookie Monster Cake

Using the squeeze bottle and add chocolate ganache drips around the
edge of the cake.

Using the mini chocolate chip cookies, place them around the bottom of the cake.

Next use the blue oreo frosting in the piping bag, pipe dollops along the top of the cake, make sure to leave a space between the dollops.

Place a regular size oreo in between each frosting dollop

Place into the fridge for 1 hour to allow the frosting to harden slightly for easier cutting!





Notes
This cake needs to be stored in the refrigerator. You can freeze your cake for up to 3 months. You can make this layered Sesame street cake 24 hours in advance.
Nutrition
Serving: 1gCalories: 1225kcalCarbohydrates: 104gProtein: 9gFat: 90gSaturated Fat: 52gPolyunsaturated Fat: 32gTrans Fat: 2gCholesterol: 292mgSodium: 609mgFiber: 2gSugar: 83g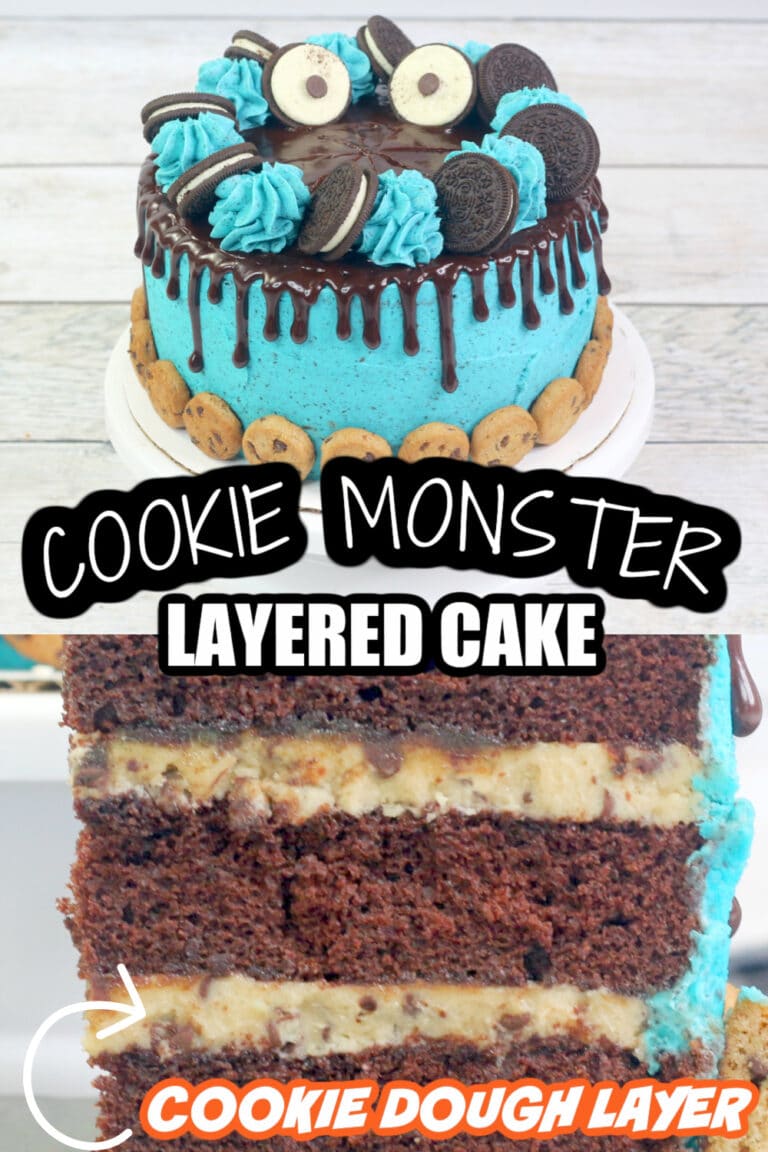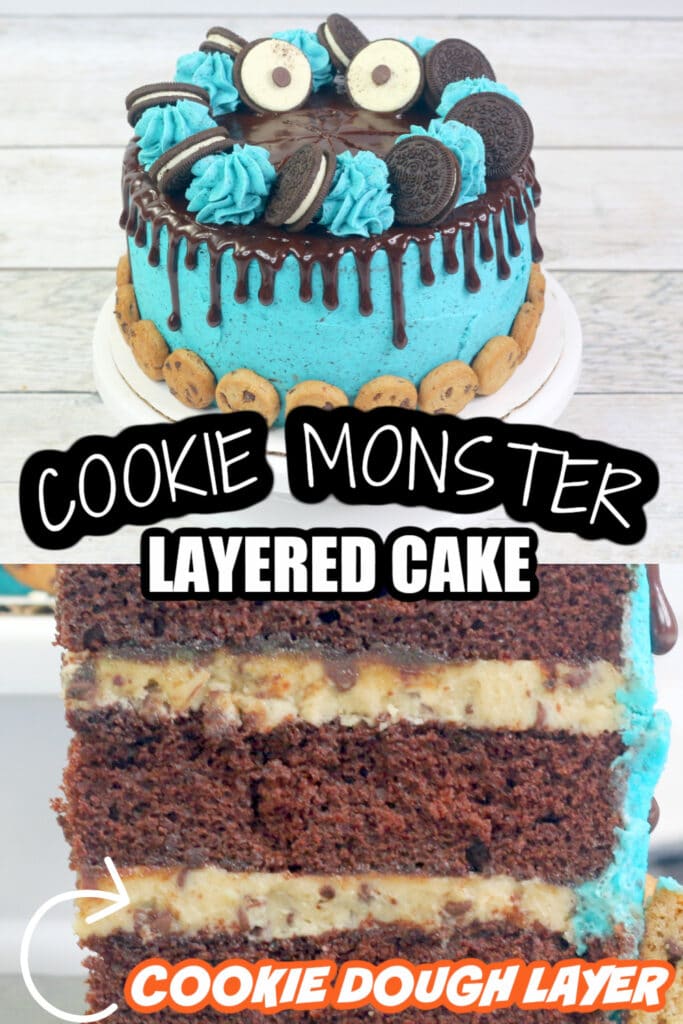 Reader Interactions