Grab my Free Instant Pot Cooking Times printable to keep on hand for when you are in the kitchen. This free Instant Pot cheat sheet pdf is great to print and keep in your kitchen. Refer to it when you are pressure cooking your favorite meals.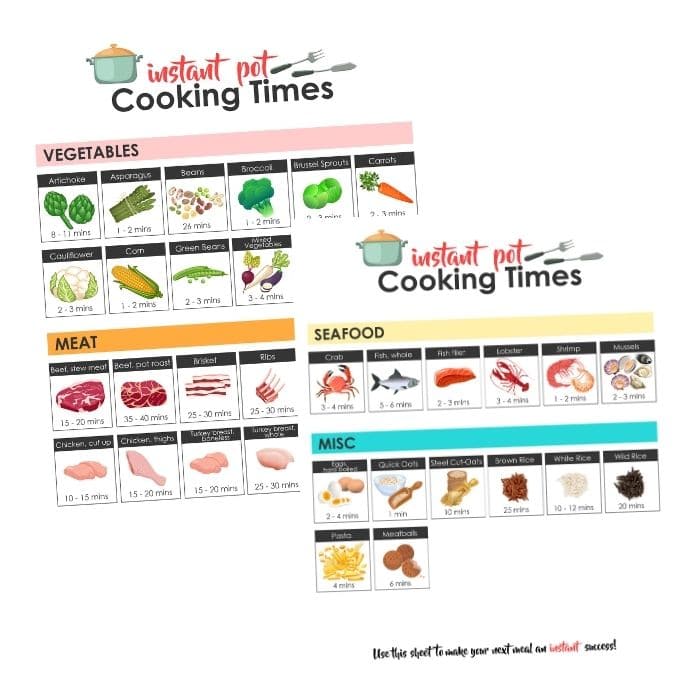 I love my Instant Pot! When I first got it, I was afraid to use it. But I ventured out and now I use it for so many delicious recipes. This Instant pot time chart can help you feel more confident in the kitchen.
It is a free printable for the Instant Pot to help you know how long to cook vegetables, meats, seafood, etc. Let me help relieve some of the stress of pressure cooking times!
Why Use This Printable
Troubleshoots the confusion of cooking times for Instant Pot recipes
Free to print
As a result, this printable can be great for beginners who are starting out using the Instant Pot.
Clean and organized for easy find items
A great printable to have on hand when your unsure how long to cook dried beans, rice, beef, chicken breasts, etc.
How To Use Instant Pot Cooking Times Charts
Tape it on the backside of a cupboard or even in a 3 ring binder.
Use it to reference when you want to cook something new in your Instant Pot.
New To The Instant Pot? Start Here
Instant Pot Safety Tips
Read the manual fully before using. As a result, you will instantly feel more comfortable with how to use the pressure cooker.
Secondly, don't skip the water test.
Never put your face directly over the pressure valve spout. When you release pressure hot steam sprays out.
Make sure the pin has dropped on the lid before you attempt to open up the Instant Pot lid.
Enjoy this printable Instant Pot cheat sheet, and let me know how the times work for you!
Frequently Asked Questions
Print my Free Pressure Cooking Time Cheat Sheet now!
Great Instant Pot Recipes To Try Out
Instant Pot Recipes
Here are some great Instant Pot recipes to try out for dinner, side dishes, or even a dessert and drink! The pressure cooker is my go-to way of serving up dinner in our home.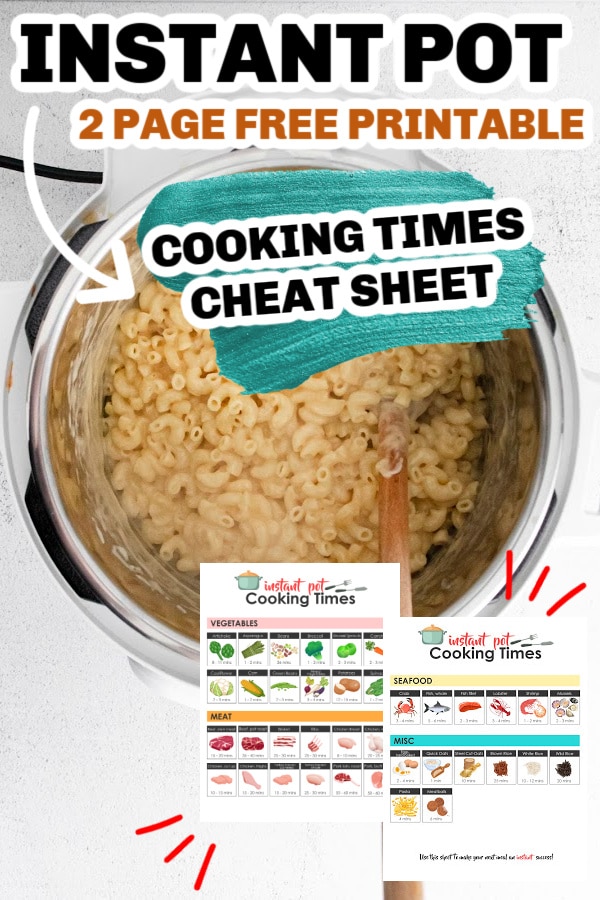 In conclusion – Print this free printable, and as a result, I hope you find more confidence and success when using your pressure cooker!