Boozy Hot Chocolate Balls are a spiced rum-filled hot cocoa bomb. These are easy chocolate-filled rum and hot chocolate powder mixture. Drop-in milk and create a refreshing and adult alcoholic hot chocolate.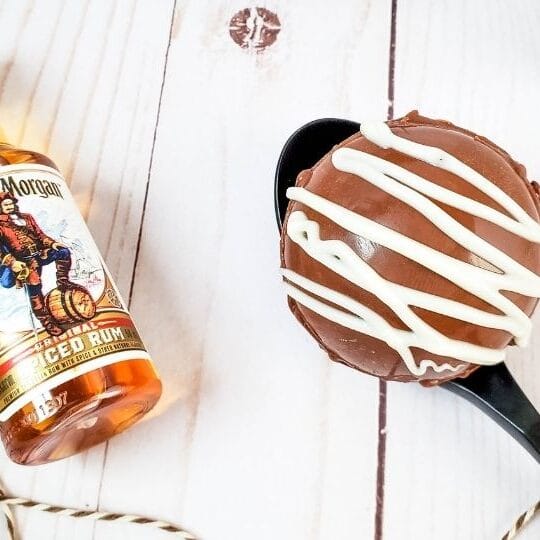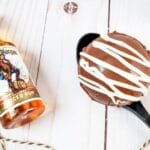 Just when you thought kids were having all the fun with the latest hot cocoa bomb trend, along comes this recipe for Boozy Hot Chocolate Balls! A spiced rum hot chocolate recipe.
This fun food is ages 21+ to sit back and have a boozy hot chocolate anytime they want! An adult hot chocolate you will want to sip on. Try my Pumpkin Spice Hot Chocolate Bomb if you love pumpkin!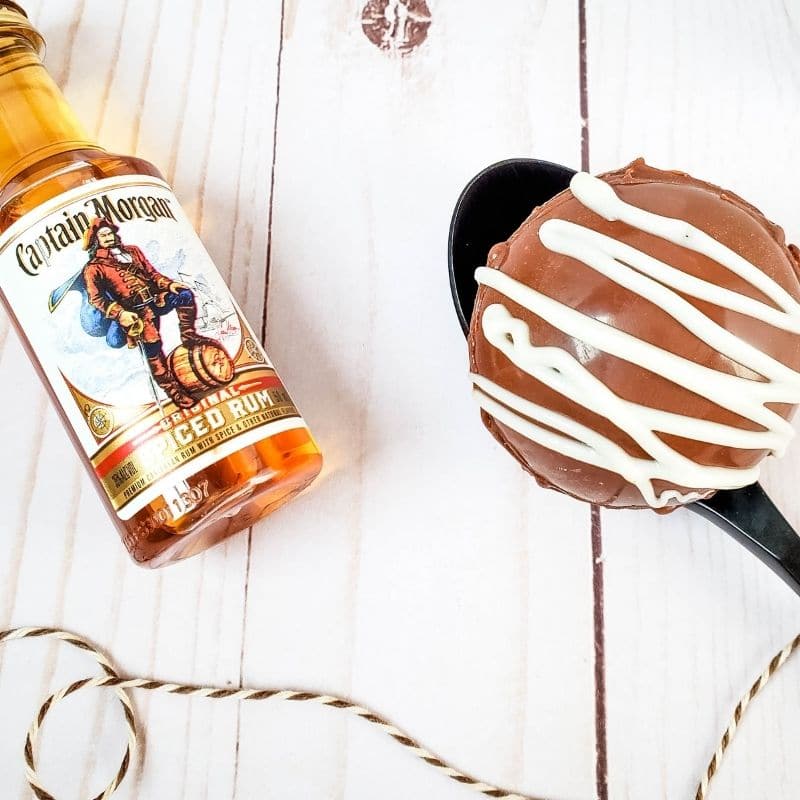 I have to admit that none of us are ever too old to enjoy a piping hot cup of hot chocolate. But the truth is that sometimes, it's just fun to have something a little "boozy" in our cups as well.
These would make an awesome gift idea for any time of the year or even a fun addition to an adult Easter basket, birthday bag, or fun Valentine's Day gift, too!
These alcohol hot chocolate bombs are…
A simple sweet treat with a bonus surprise
Fast and simple to make
A spiked hot chocolate
Made using just 4 simple ingredients
Something that you can't share with the kids! (meaning you get to enjoy it all on your own!)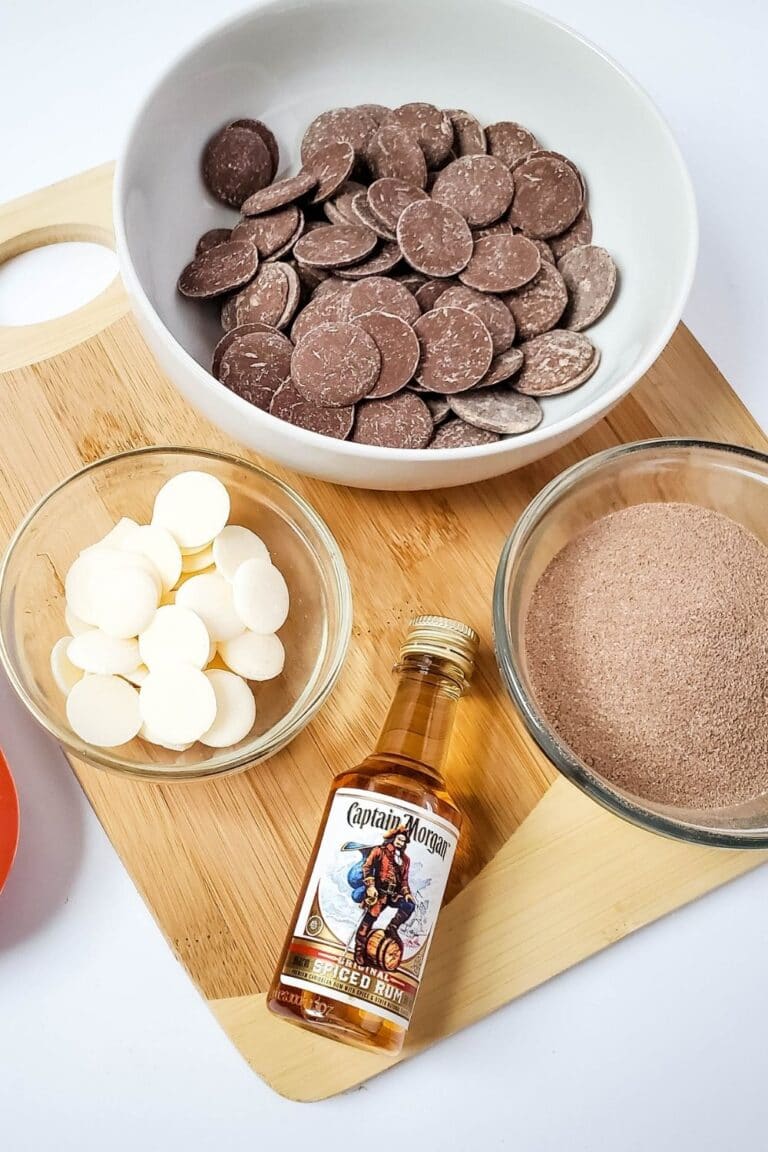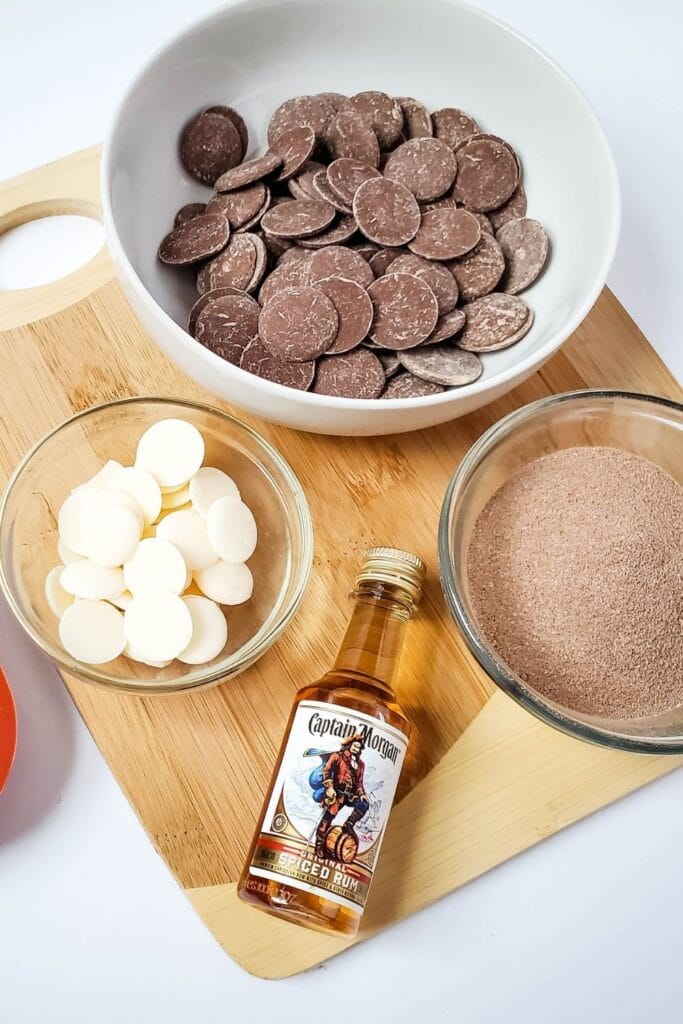 Ingredients for Spiked Hot Cocoa
Hot cocoa
Spiced Rum
White vanilla flavored candy melts
Supplies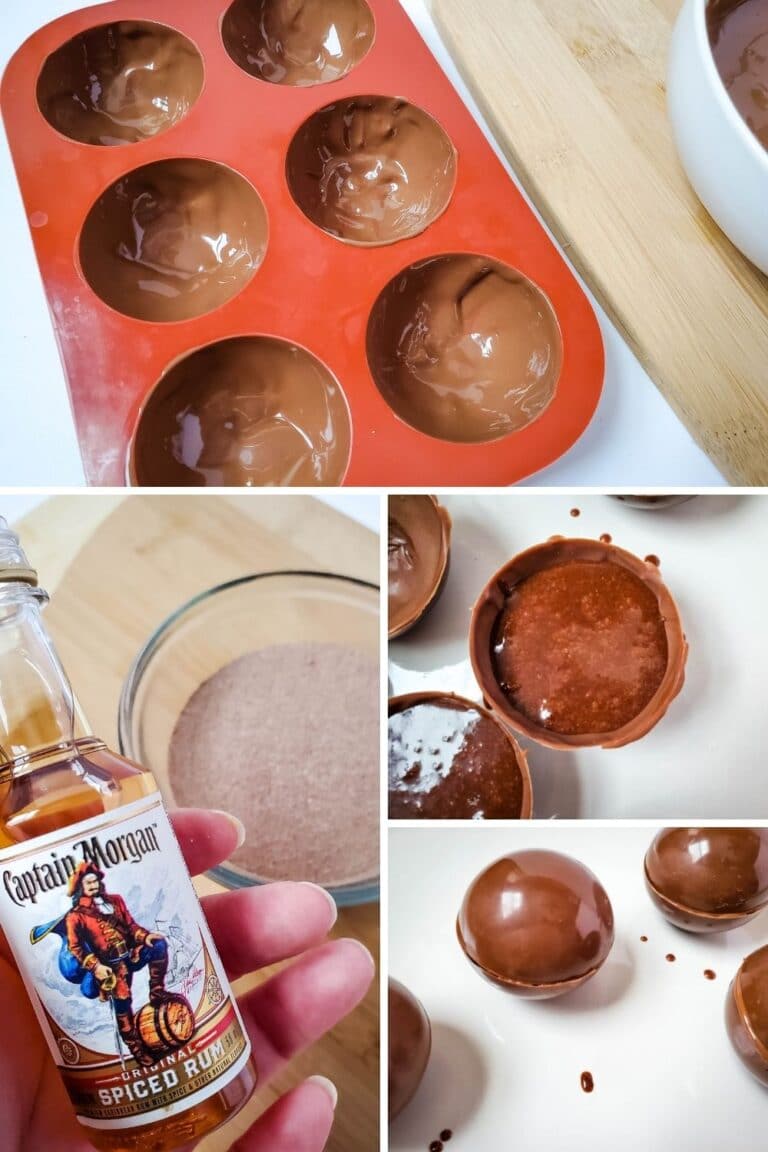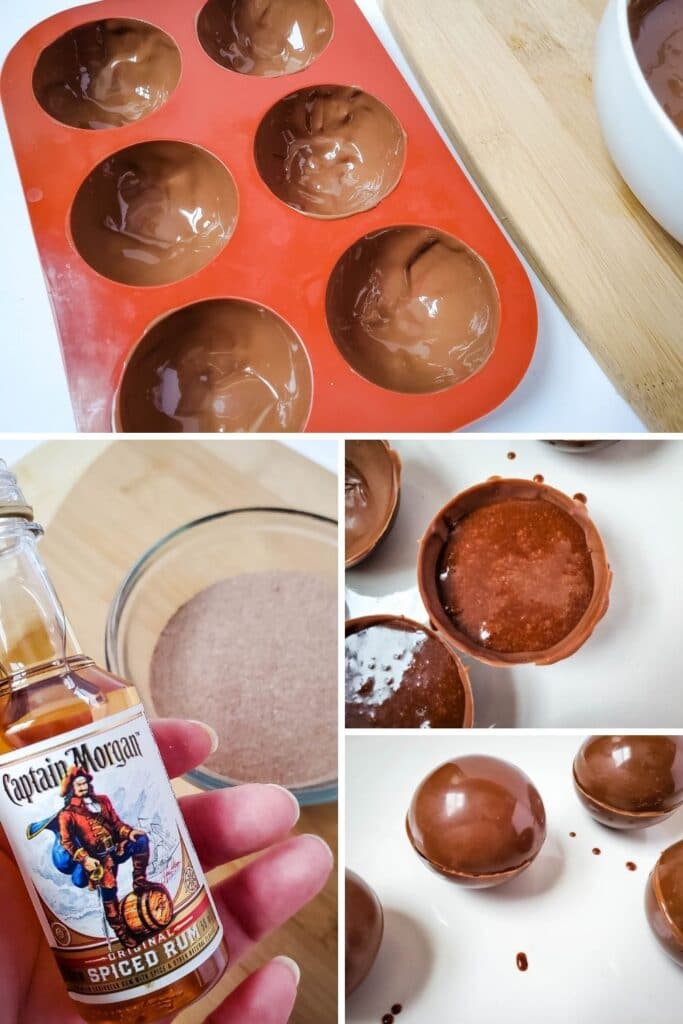 Grab my Free Kitchen Conversions Printable! This shows you how many cups are in a quart, pint, etc. A great printable to keep handy for when you need to convert a recipe.
How to Make Spiced Rum Cocoa Bombs
Step 1: Melt the chocolate wafers in the microwave until fully melted with no lumps.
Step 2: Add the melted chocolate to the silicone mold. Pop in the freezer.
Step 3: Take out of the freezer and start adding in the ingredients. Seal the boozy hot chocolate bombs on top of one another.
Step 4: Drizzle extra melted chocolate on top.
Step 5: Enjoy!
Expert Tips
Be certain to have the hot chocolate with alcohol bombs sealed well before adding it to your cup. It's all going to end up leaking out anyway but that just takes away from some of the fun!
Pay close attention to the time that you need to keep them in the freezer. It does matter and you don't want to rush that process.
Once done, store it in an airtight container and keep it out of the reach of the kids. You don't want them grabbing these by mistake!
These simple tips will help you make this recipe perfectly the first time without any mistakes or issues.
And once you have success with it, you'll be able to make them over and over again!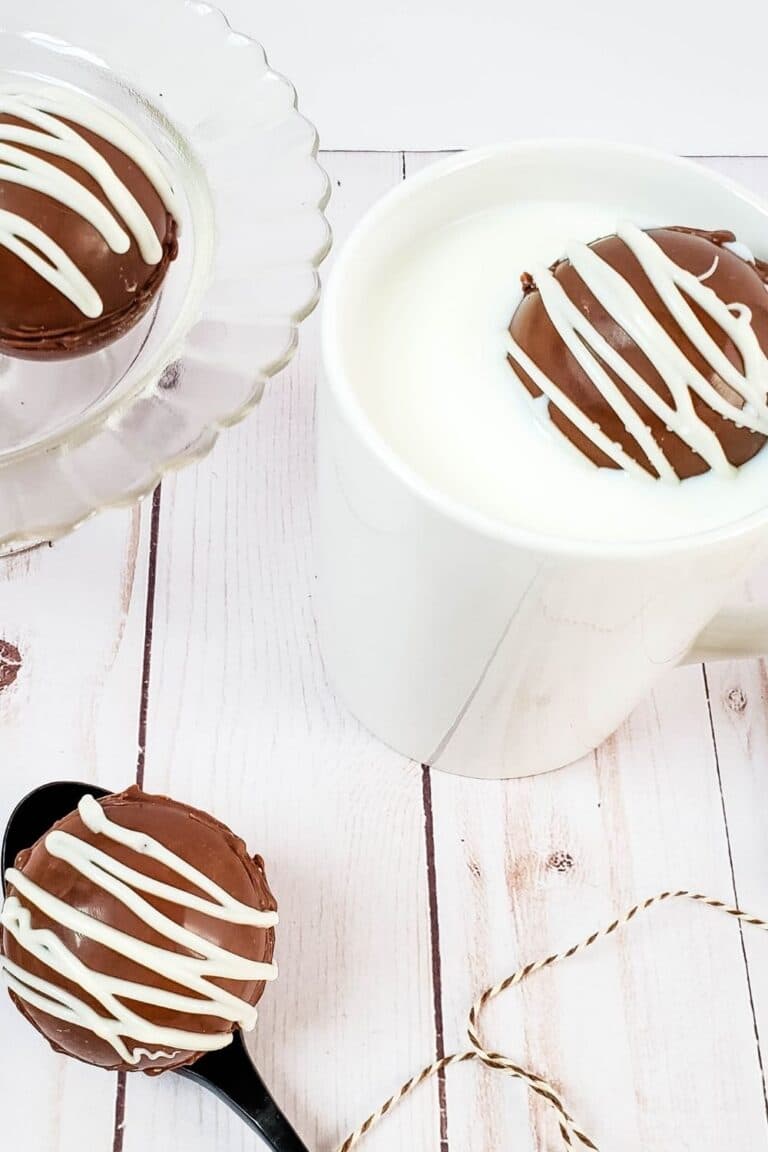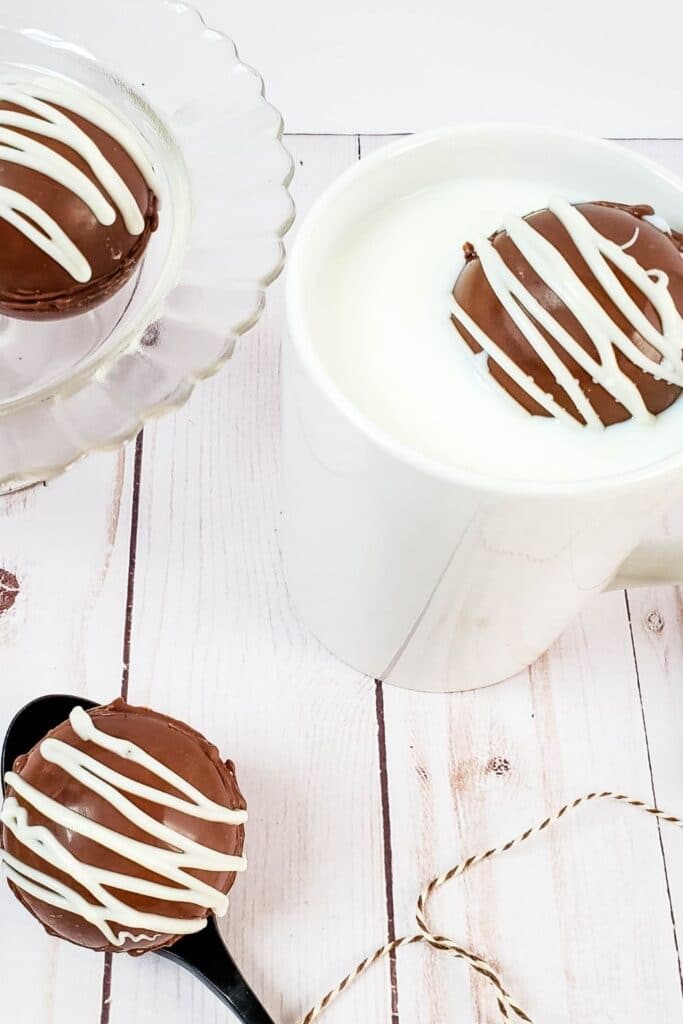 Variations to Recipe
This boozy hot chocolate recipe is already pretty perfect in my opinion but there are always ways that you can easily change it up.
See what it tastes like with a different type of alcohol. This one calls for Spiced Rum but there might be another alcohol flavor out there that you'd prefer and like better.
Change up the chocolate. Make some that are milk chocolate and some that are white chocolate and then see which ones you like best! You can even try a mixture and see how that works out.
Don't forget about adding on some fun toppings. Everything that you add to your alcohol bomb is going to go into your drink so keep that in mind as you're making this!
FAQs About Boozy Hot Chocolate Balls
How do you use these boozy chocolate balls? 
The easiest way to use them is to have a mug and put the alcohol bomb inside. Then warm up about 6 ounces of hot milk and pour it over the top.

It will melt away the chocolate and all the ingredients will come pouring out. Just stir, and enjoy! 
What else can go inside hot cocoa bombs? 
So many things! You can easily add in chocolate chips, mini marshmallows, shredded coconut, a little bit of extra rum…anything that you want to try and that you can get to fit! 
Do you need to store these chocolate bombs in the fridge?
You don't have to. As long as you can keep them at room temperature, they should be fine and you won't have any issues.

If you're worried that your house is getting too hot, you can then pop them in the fridge at that point in time. 
When should you drink boozy hot cocoa bombs? 
Anytime you want! These are your hot cocoa bombs to enjoy so enjoy them when the time strikes you.

I really like to have them in the evening after dinner as it warms my tummy and gets me ready to snuggle down for bed. 
Can I use water instead of milk for the alcohol bombs? 
You can but it is going to change up the flavor and taste. Milk just adds a little bit more of that rich flavor that tends to go really well with the rest of the ingredients in the recipe.

If you want to use water, however, just make certain that you heat it up well. You also need to consider how it's going to taste mixed with the rum as well.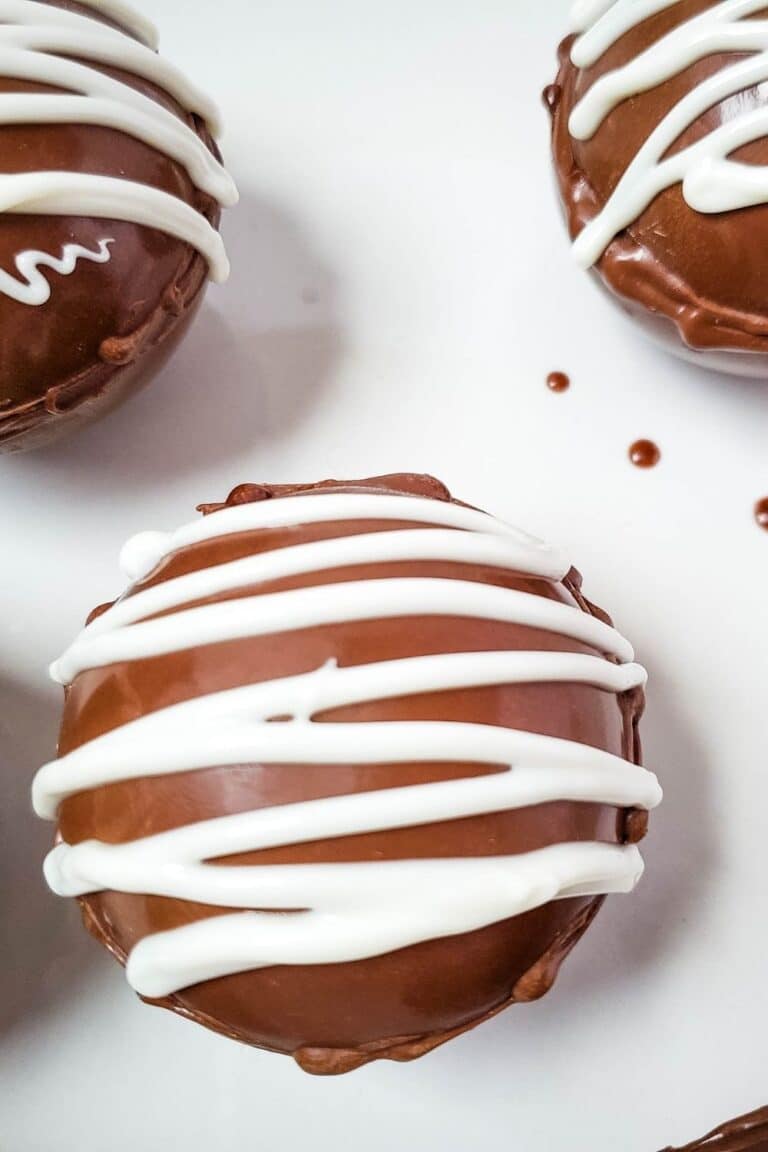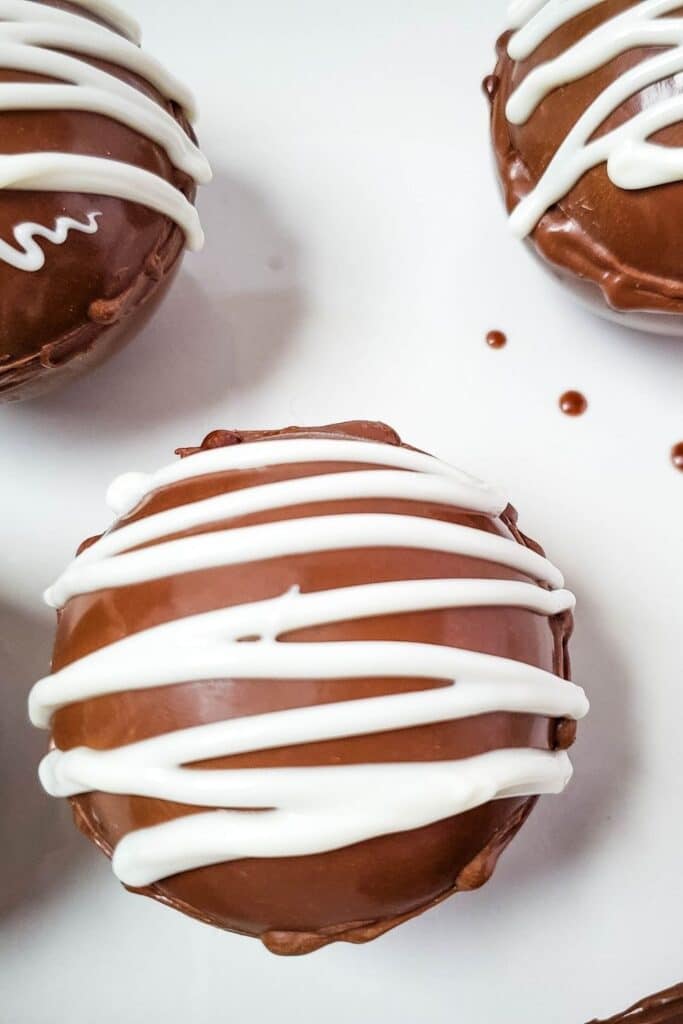 Tasty Drink Recipes
Here are a few of the best hot chocolate bomb recipes I have along with some other fun drink recipes.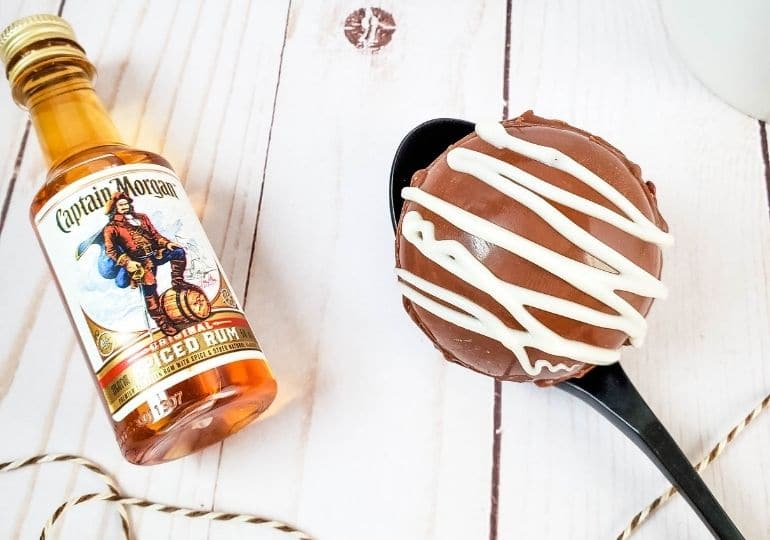 Boozy Hot Chocolate Balls Recipe
Servings 6 cocoa bombs
Boozy Hot Chocolate Balls are a spiced rum-filled hot cocoa bomb. These are easy chocolate-filled rum and hot chocolate powder mixture. Drop-in milk and create a refreshing and adult alcoholic hot chocolate.
Ingredients
Rum Hot Chocolate Bombs
7 ounces milk chocolate melting wafers
6 tablespoons hot cocoa
2 shots or 2 mini 50ml bottles of Spiced Rum
2 ounces white vanilla flavored candy melts
Instructions
Start by placing a large plate in the freezer.

In a microwave safe bowl, pour the milk chocolate melting wafers in a bowl, and heat in 20-30 seconds incriments. Stir between each heat cycle.

With a large pastry brush coat each side of the sphere mold cavities, with the melted chocolate.

Place in the freezer for 5 minutes, and then repeat another layer of chocolate. Then freezer another 5 minutes.

Remove the chocolate spheres from the mold and place on the chilled plate.

Pour in the spiced rum and hot chocolate mix in a bowl and mix well.

Pour the mxiture into each half of the cocoa bomb leaving one of the halves empty. I poured 1 1/2 tablespoons of the spiced rum and cocoa mix in the spheres.

Now with a plate you heat in the microwave, place your empty half of the chocolate on it, and it will melt the sphere a little.

Place the sphere on the other half of the cocoa bomb that has the filling. Let the chocolate act as the glue to stick the two together. Make sure it is fully secured, so it doesn't leak out the mixture.

Now drizle the white chocolate melted chocolate on top, to decorate the rum hot chocolate balls.

Then to serve warm up 1 cup of milk, place a cocoa bomb in a coffee cup. Pour the warm milk over the cocoa bomb and let it melt and release the rum cocoa. Stir and enjoy.
Notes
Store these rum-filled cocoa balls in the refrigerator until you are ready to use them. You can use other flavors of alcohol, just use the same amount. It is important to make sure the chocolate freezes well or it will melt when you pour the rum into softened chocolate.
Nutrition
Serving: 1gCalories: 323kcalCarbohydrates: 33gProtein: 4gFat: 13gSaturated Fat: 8gPolyunsaturated Fat: 4gCholesterol: 15mgSodium: 108mgFiber: 2gSugar: 24g
Reader Interactions