Check out my pumpkin spice hot chocolate bombs! These are a white chocolate that is filled with pumpkin spice hot chocolate, miniature marshmallows and decorated adorably!
This is a fun fall drink idea for kids and adults. Or make as an edible fall gift idea for a school party, gift to neighbors, friends, etc. 
Pumpkin spice hot cocoa bombs are delicious treats that are a chocolate shell filled with pumpkin spice hot chocolate. As it melts in hot milk it releases all the powder and the melted chocolate flavors the milk even more. These pumpkin spice bombs are so delicious. If you are a fan of pumpkin spice-flavored drinks try this pumpkin chocolate bombs recipe.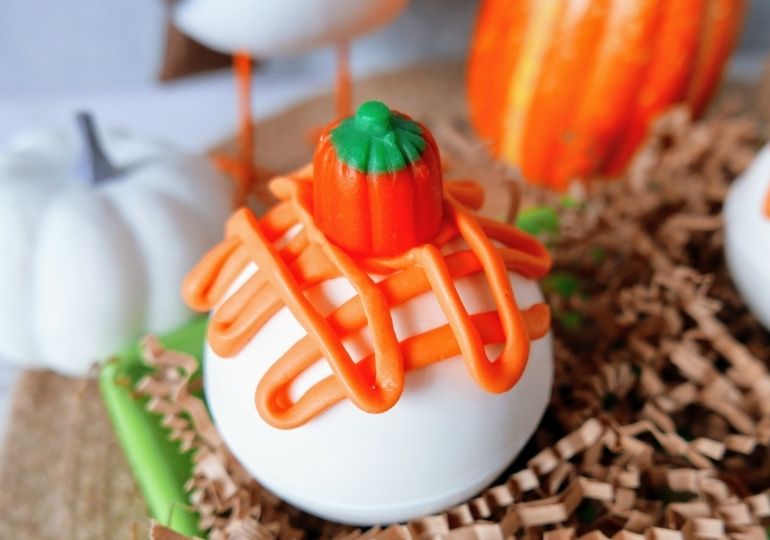 A festive and fun white chocolate hot chocolate bomb that is the perfect cup of hot chocolate.
Why Is Everyone Obsessed With Hot Chocolate Bombs
Meltable Chocolate – The biggest wow factor is you pour warm milk over the chocolate ball in a glass and it melts. Once it melts cocoa powder and marshmallows release for a stir-able drink!
Makes A Great Gift – Hot chocolate bombs are so fun, and they make fun gifts. Pair with a cute mug or even tumbler for a gift anyone would enjoy.
Fun to make – Hot chocolate bombs are so fun to make. Check out my unicorn hot chocolate bombs, classic hot chocolate bombs, or even my alcohol hot chocolate bombs.
Possibilities are Endless – Colors of chocolate, ways to decorate, what to fill the with. The possibilities are truly endless. Customize to fit your desires.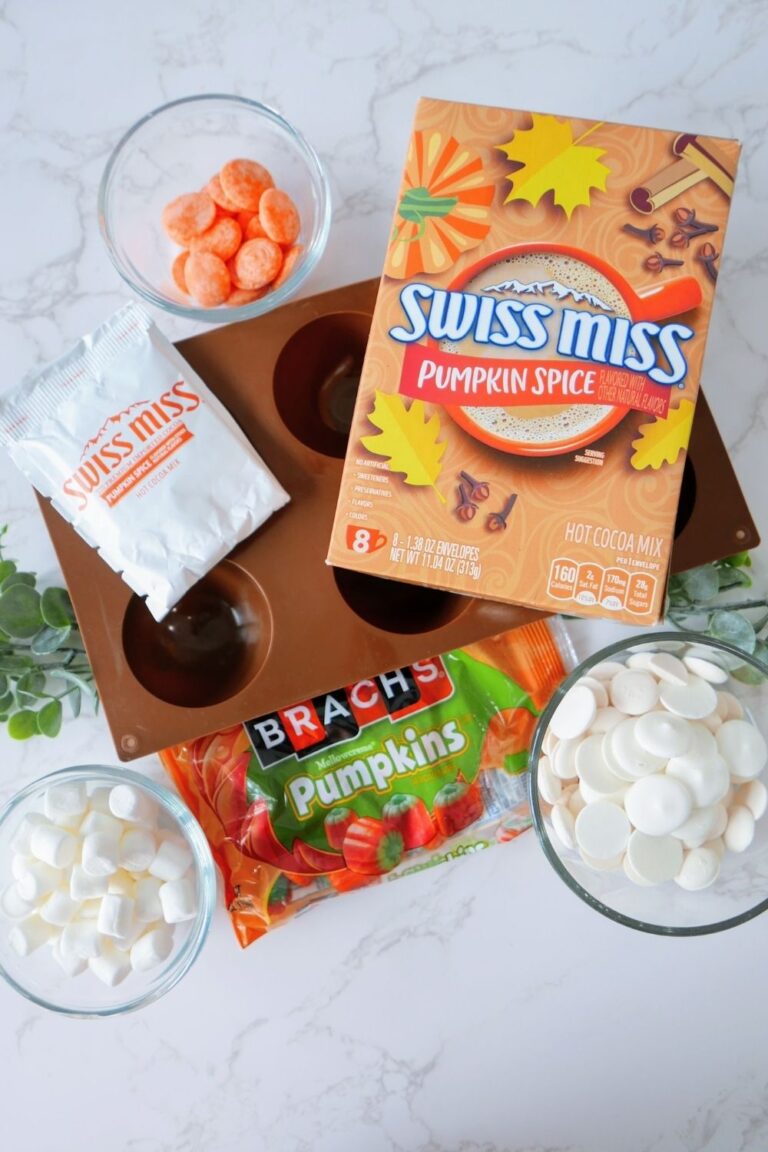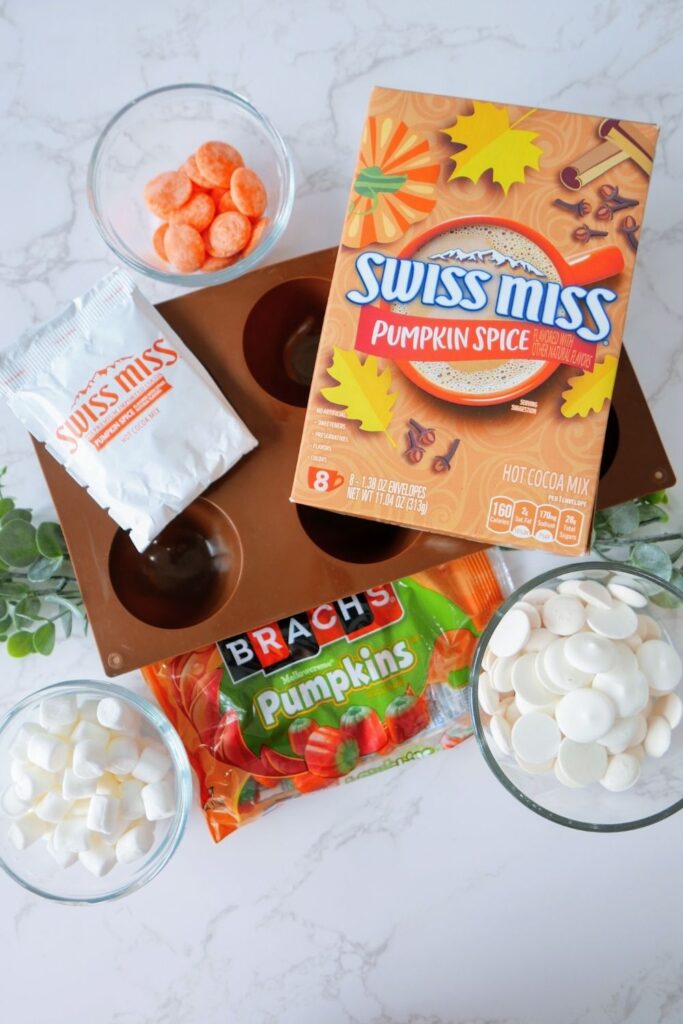 Ingredients
White candy melts or wafers
Orange candy melts
Miniature marshmallows
Tools Needed
Kitchen shears
Piping bag or sandwich bag you cut off a tip
Spoon or brush
Microwave plate or small pan
How to make
Full directions on how to make pumpkin hot chocolate bombs are in the printable recipe card. This is a visual walk through on how it is made.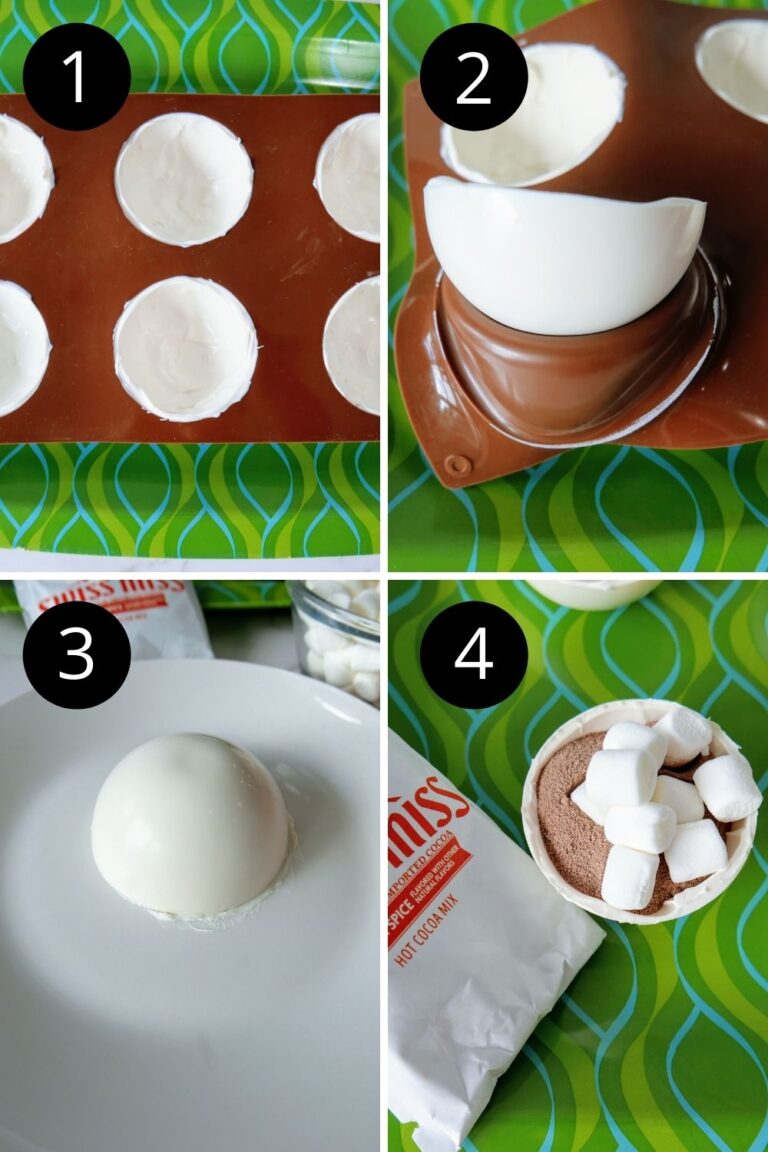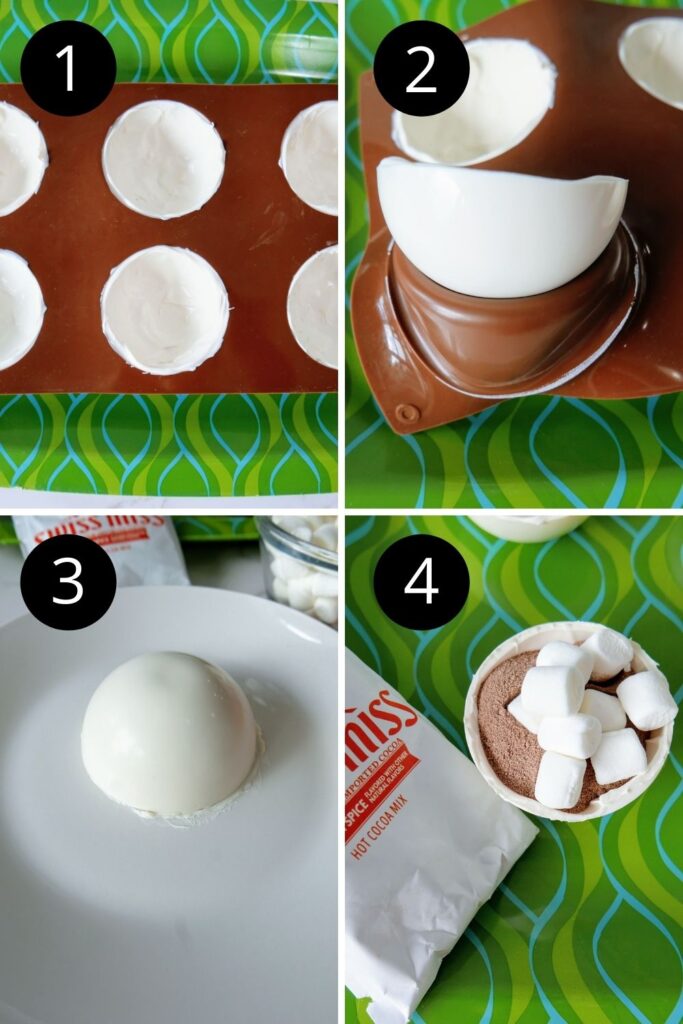 Step 1: Start by heating white chocolate in a bowl in the microwave. Between each heat cycle stir well. You want all the candy melts to completely melt.
Step 2: Now you will add around 1 and 1/2 tablespoons of chocolate to each silicone sphere mold. Use a spoon or brush to create an even layer all over the sphere and the sides of the mold. The chocolate will pool at the bottom inside of the mold. So make sure to spread it out pushing the chocolate to the open side of the spheres.
Step 3: Allow the chocolate to set up. You can carefully begin removing from the molds. Be careful as the chocolate can break. If you wear gloves it will protect against getting fingerprint smudges on the chocolate. You will find your finger tips will melt the chocolate quickly.
Step 4: In half of each sphere you will add in your pumpkin spice hot chocolate mix, and some mini marshmallows. Feel free to add in some pumpkin spice sprinkles to add a festive look. Or even candy corn for a great addition.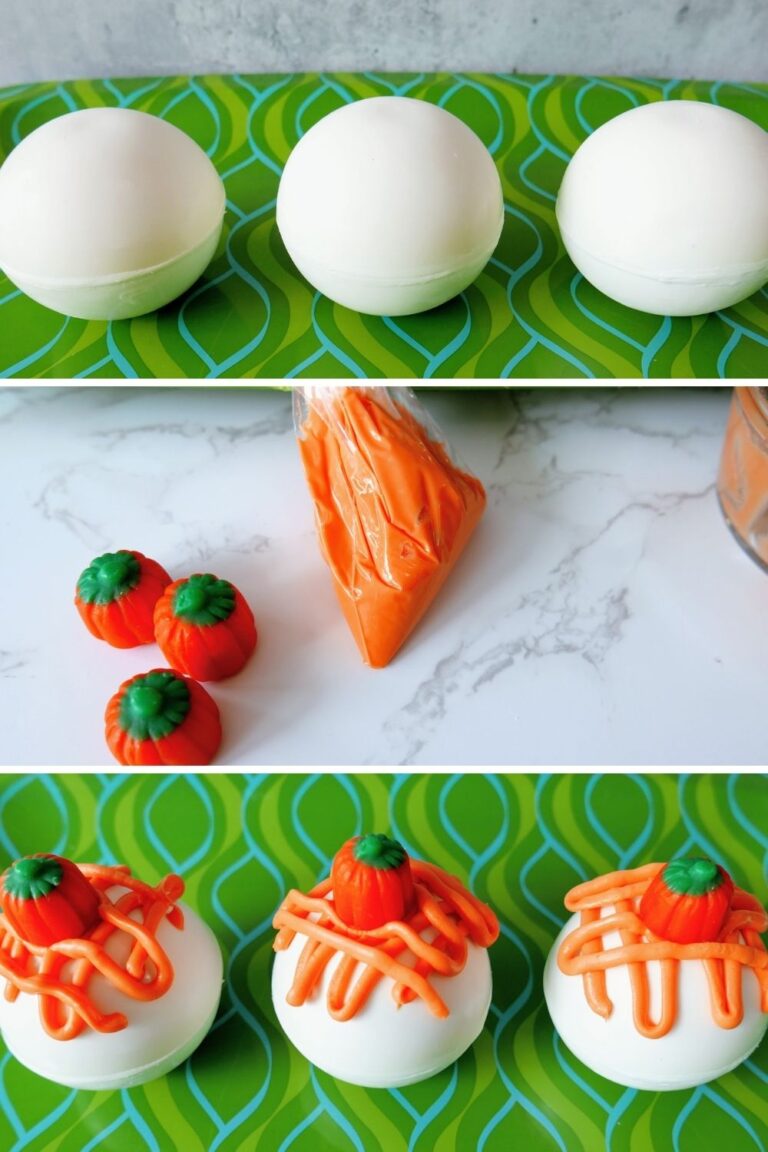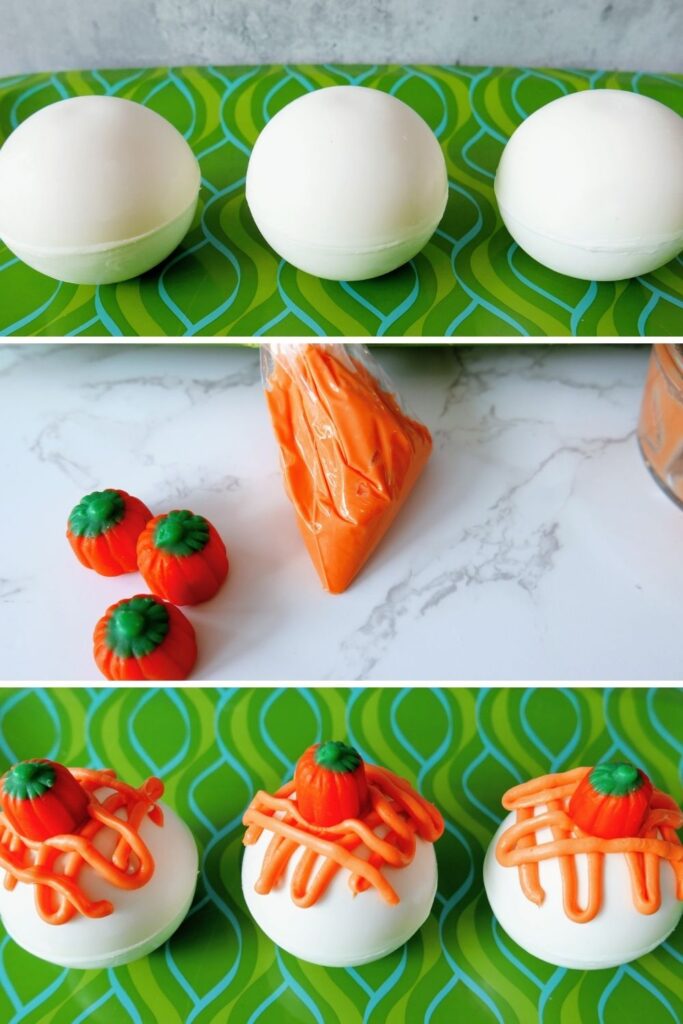 Step 5: Heat up a plate in microwave as directed. Then place the empty sphere on the plate to warm it up and gently melt the chocolate.
Step 6: Place the ball on top of filled ball and press lightly together. The wet chocolate will act as glue. If there is excess chocolate around the ball, just wipe it away. Use a toothpick to remove the small amount of chocolate around the edges.
Step 7: Heat up candy melts and then drizzle on top of each completed ball. Place the pumpkin on top before chocolate hardens. This is the perfect way to decorate your candy pumpkin hot chocolate bombs.
Expert Tip
This is an easy recipe with tons of ways to change it up. This is a twist to a classic hot cocoa bomb. The perfect fall treat to sip on.
To reduce fingerprint smudged wear food safe gloves.
Stir chocolate every 20-30 seconds or you will run the risk of it burning when you are melting the chocolate melts.
Feel free to change up how you decorate your hot chocolate bombs. You could use dark chocolate instead of white chocolate and a drizzle of vanilla candy melts, and sprinkles.
If you have excess chocolate around the edges you can wipe it off with a lint-less towel.
Instead of hot chocolate do a pumpkin spice latte flavor.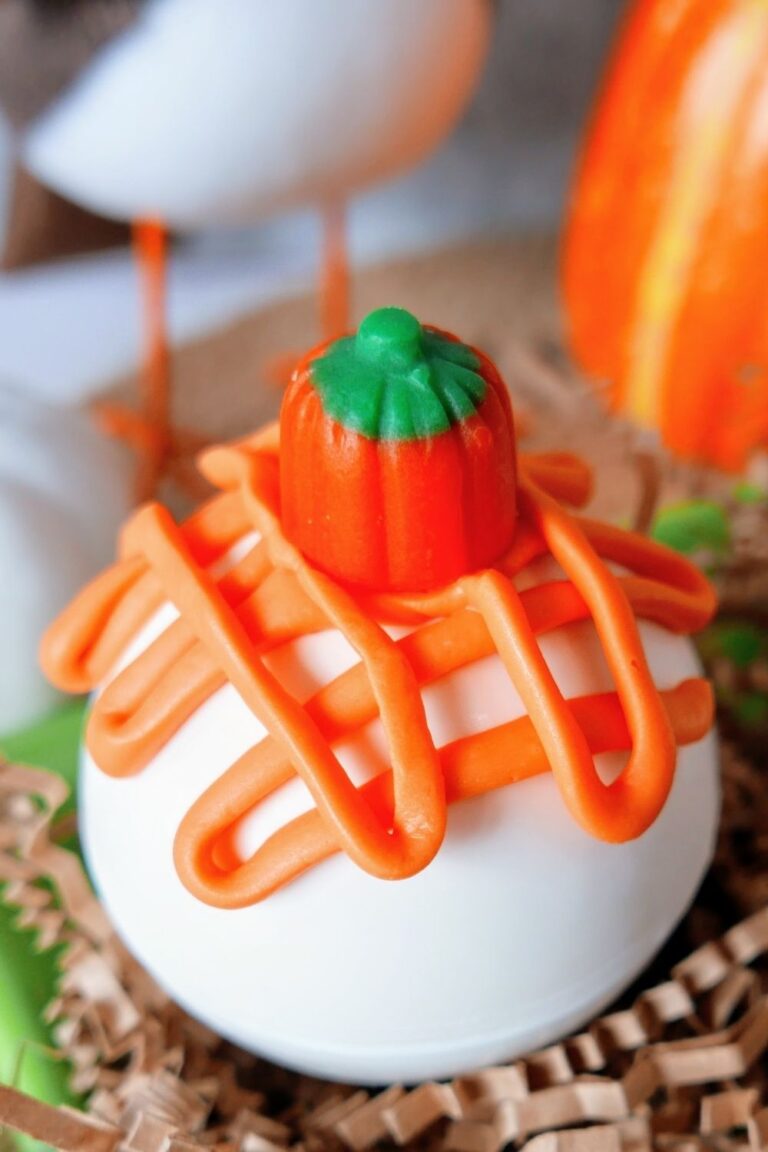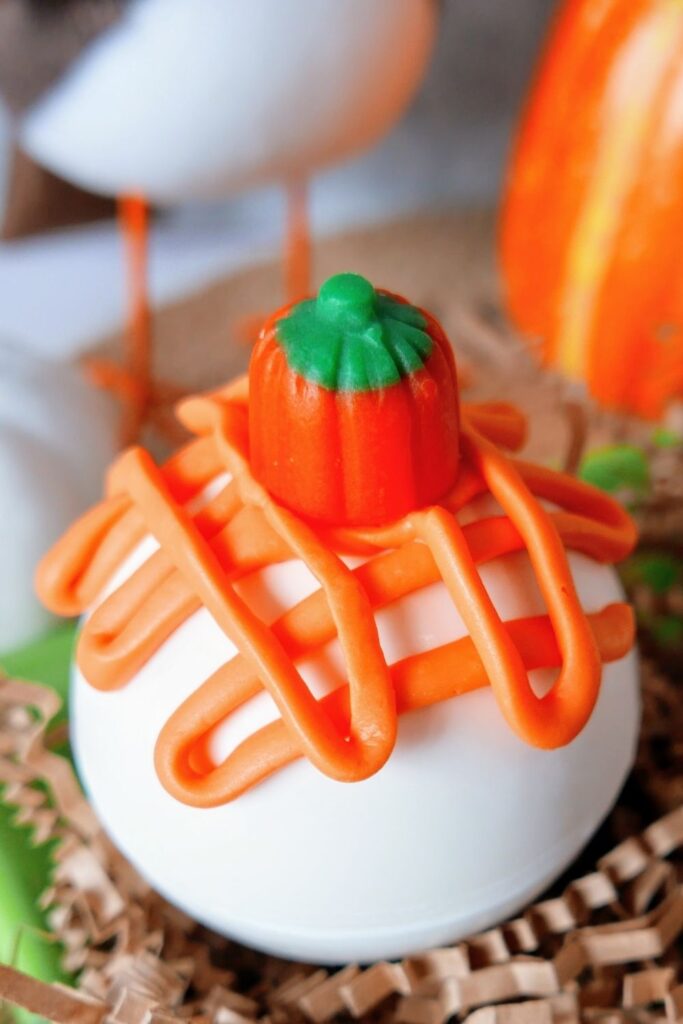 How to Store
Room Temperature: Your hot chocolate pumpkin spice chocolate bombs can store at room temperature in an airtight container. They will last for 3-4 weeks. Store in a container or sealed bag. 
Freezer: Or you can freeze for 3-4 months. Just store in a proper freezer container. Then thaw completely at room temperature before making a drink. 
Swaps and Variations To Recipe
Here are a few fall hot chocolate bomb swaps you can make to this pumpkin spice drink. Feel free to do the same as me or swap things around.
Swap white chocolate with milk chocolate or semi-sweet chocolate.
Decorate with Thanksgiving sprinkles for a Thanksgiving hot chocolate bomb.
Add in sprinkles to the filling.
Use any flavor of hot chocolate you want, you don't have to use pumpkin spice flavor.
Frequently Asked Questions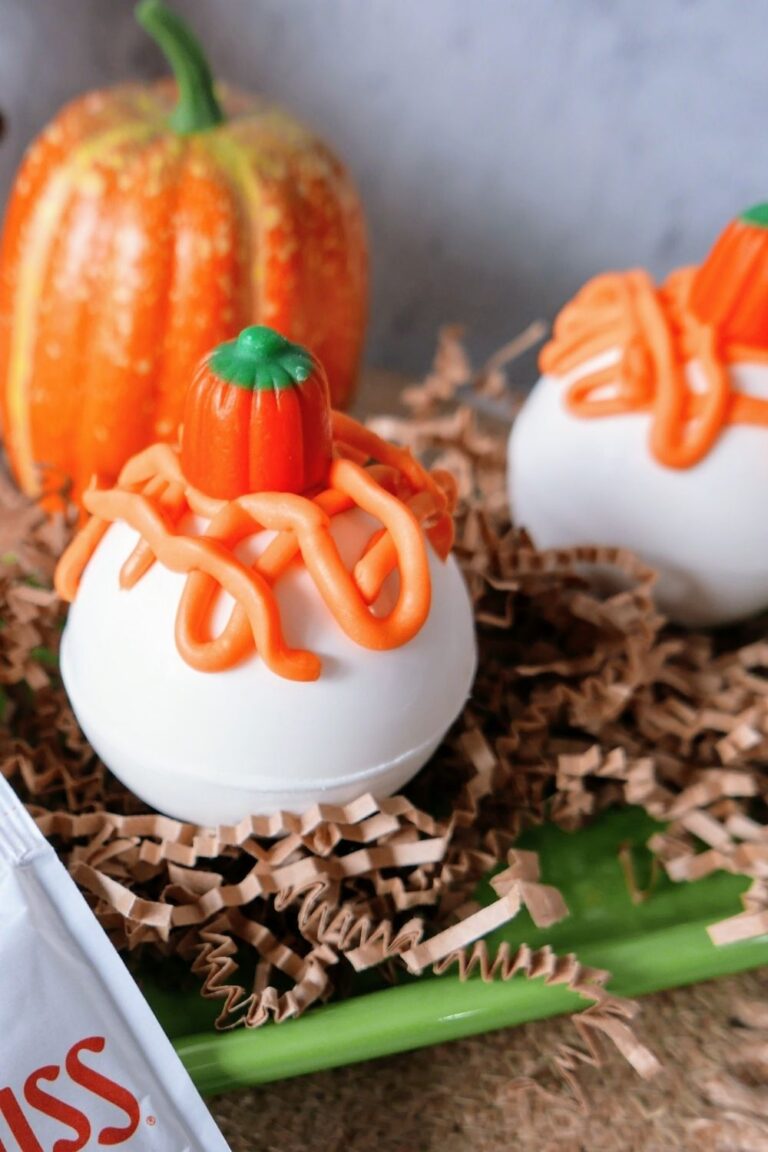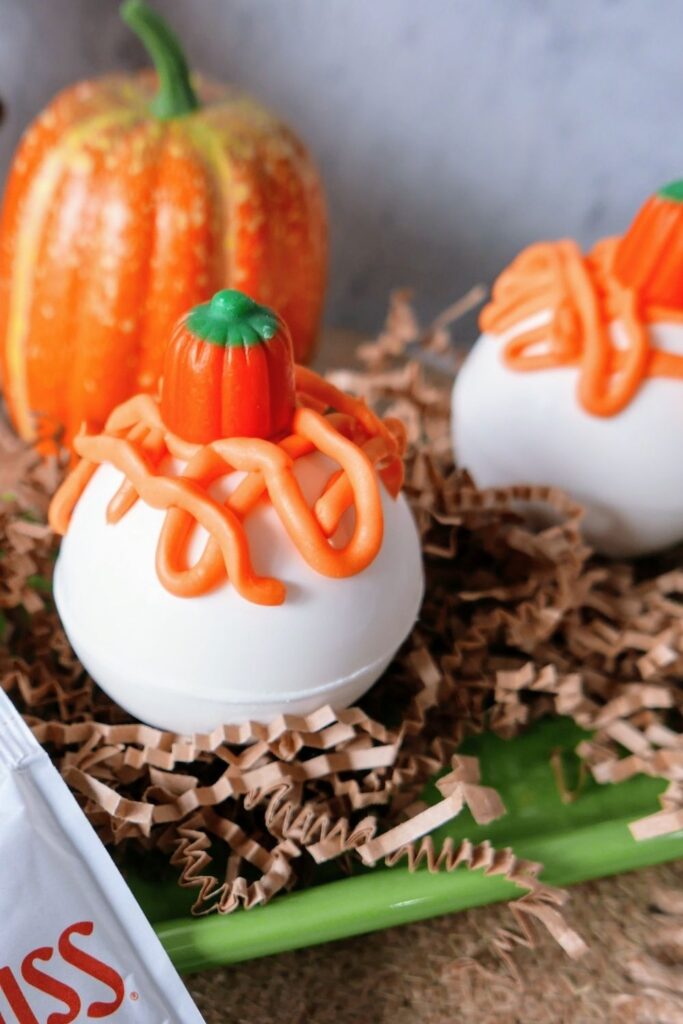 Related Recipes
Have you tried the recipe? If so, please leave a star ⭐️⭐️⭐️⭐️⭐️ rating in the recipe card below or drop a comment. Also stay in touch with me through social media by following me on Facebook, Pinterest, or My Facebook Group!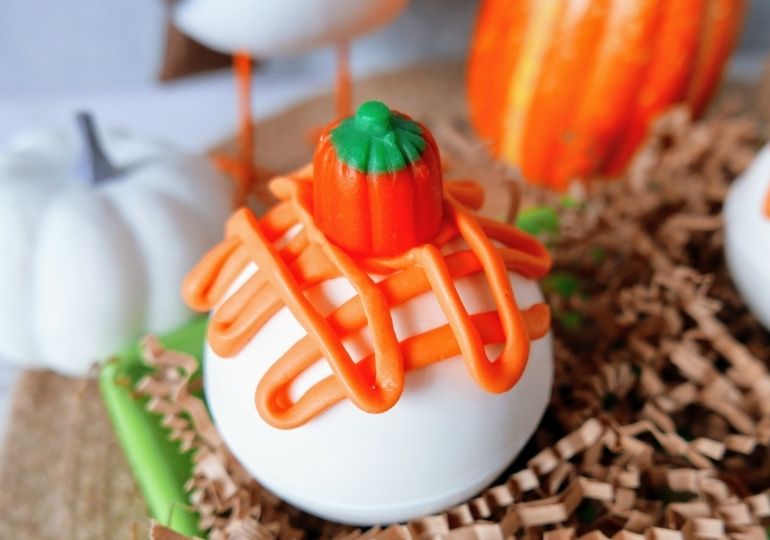 Pumpkin Spice Hot Chocolate Bombs
Servings 3 balls
Pumpkin Spice Hot Chocolate Bombs is a delicious white chocolate hot chocolate bomb filled with a pumpkin spice hot chocolate. A great fall or Thanksgiving hot chocolate bomb to serve up family, gift to loved ones, or sip and enjoy for yourself.
Ingredients
1 1/2 cup white candy melts
1/4 cup orange candy melts
Silicone Sphere Mold
3 packets Pumpkin Spice Hot Chocolate Mix
1/4 cup Mini Marshmallows
3 Mellowcreme Pumpkins
Piping bag or sandwich size bag and cut tip off
Spoon or brush
Instructions
Start by melting your white chocolate in the microwave. Heat for 20-30 second heat cycles, stirring between each. You want all the candy melts to fully melt.

Then spoon around 1 1/2 tablespoons of chocolate into all 6 of the spheres. Use a spoon or brush to wipe and move the chocolate around creating an even coating all over the mold.

Place the chocolate in the fridge for around 5 minutes to set up.

Once the chocolate is hardened you will gently lift the chocolate out of the molds. Place on a wax paper lined counter.

Then in 3 of the chocolates, you will pour in the hot chocolate mix, and then top with some marshmallows.

In a microwave safe plate heat to warm up the plate. Sit the empty chocolate on the plate and let it melt around the edges slightly.

Place it on the filled hot chocolate sphere. Then press lightly together having the chocolate act as the glue.

Now heat up the orange chocolate and then pour in a piping bag or sandwich bag. Cut a small tip off, and then pipe strings around the top of the hot chocolate bomb. Top with a Mellowcreme Pumpkin, and then let the hot chocolate bomb sit for 5 minutes to harden.

Then store in an airtight container or use your pumpkin spice hot chocolate bombs to make a drink.
Notes
How to use a hot chocolate bomb
Heat up 1 cup of milk in the microwave.
Place 1 hot chocolate bomb in a large coffee cup.
Slowly pour the milk over the hot chocolate bomb. It will begin to melt the white chocolate.
Stir and then mix until the whole drink is hot chocolate.
You can use any flavor of hot chocolate you would like if you don't want pumpkin spice.
Don't make your white chocolate too thick or it will not melt down when milk is poured over it.
Nutrition
Serving: 1gCalories: 599kcalCarbohydrates: 144gProtein: 3gFat: 1gPolyunsaturated Fat: 1gSodium: 195mgFiber: 2gSugar: 91g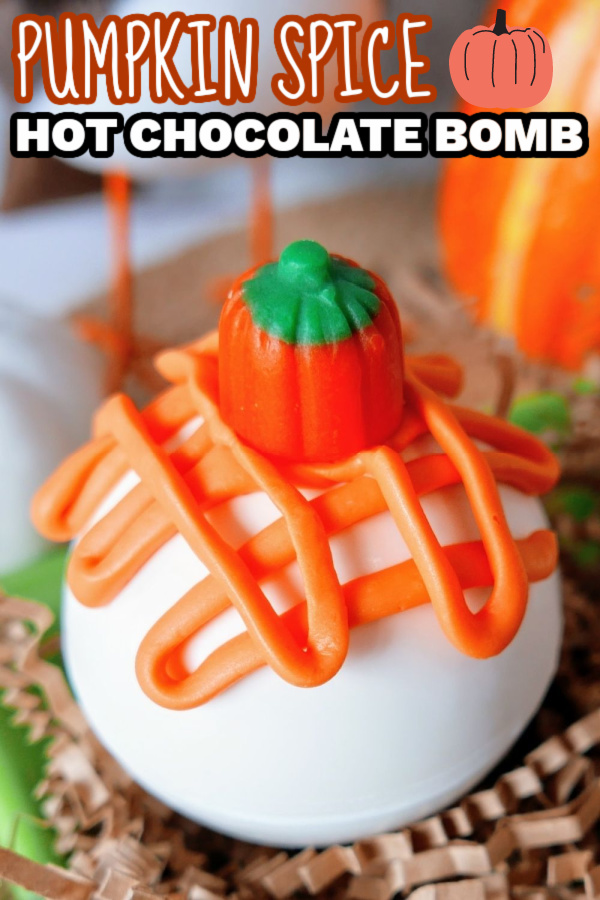 Reader Interactions