Hot Chocolate Bombs are a TikTok sensation. A hollow chocolate ball filled with hot chocolate, marshmallows, that melts away in steamed milk. The ultimate DIY Christmas treat.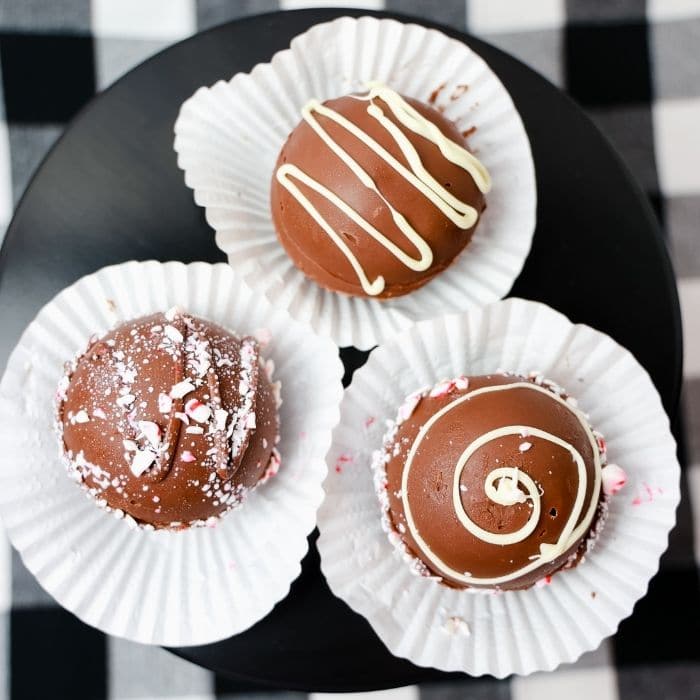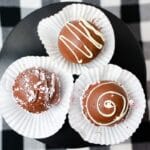 Hot Chocolate Bombs are taking the world by storm and I wanted to join in! You have a hollow chocolate sphere that is filled with joy chocolate mix and marshmallows. These chocolate bombs are melting their way into hearts!
Pour steaming hot milk over the chocolate ball and watch it disappear and release the hot chocolate mix and marshmallows into your mug. Magic in a cup. Hot chocolate bombs with marshmallows and crushed candy canes on top.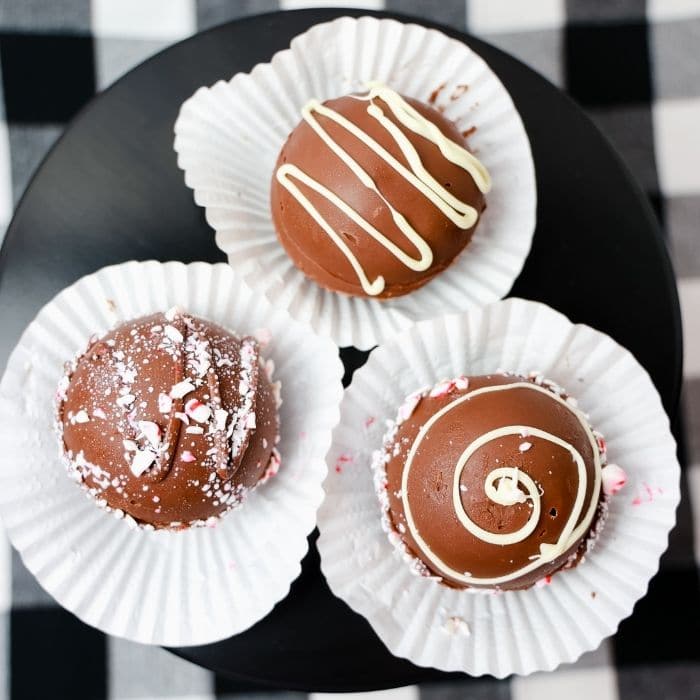 A simple and easy holiday hot chocolate drink, or gift you can make and give to loved ones. Place in gift bags with ribbon and a mug and you have an easy holiday gift.
These hot chocolate bombs to drink are so delicious, and the chocolate shell melts perfectly. Give this hot cocoa bombs recipe a try. Or try my Pumpkin Spice Hot Chocolate Bomb for a fun twist of flavors.
What is a hot chocolate bomb
Chocolate bombs are a new sensation. It is hollow chocolate that is filled with hot chocolate filling, marshmallows, sprinkles, etc.
You pour warm milk over the top of the hot chocolate ball in a mug and it melts to make a delicious cup of hot chocolate! So simple and easy to make.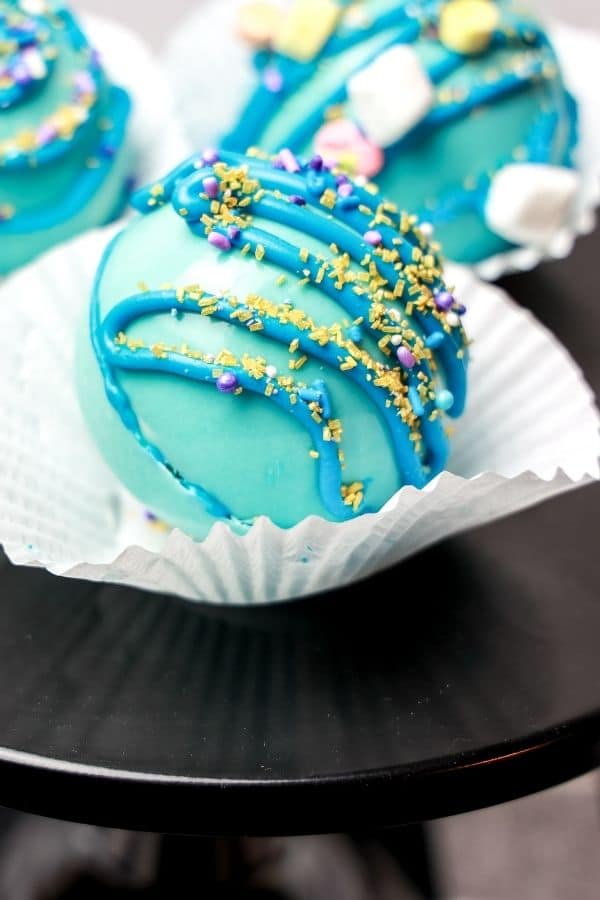 Why You Want To Make This
So easy to make
Fun for kids
Makes a great homemade Christmas gift
Affordable
Creative
Simple use store-bought hot cocoa mix
Pour hot milk over the balls and it melts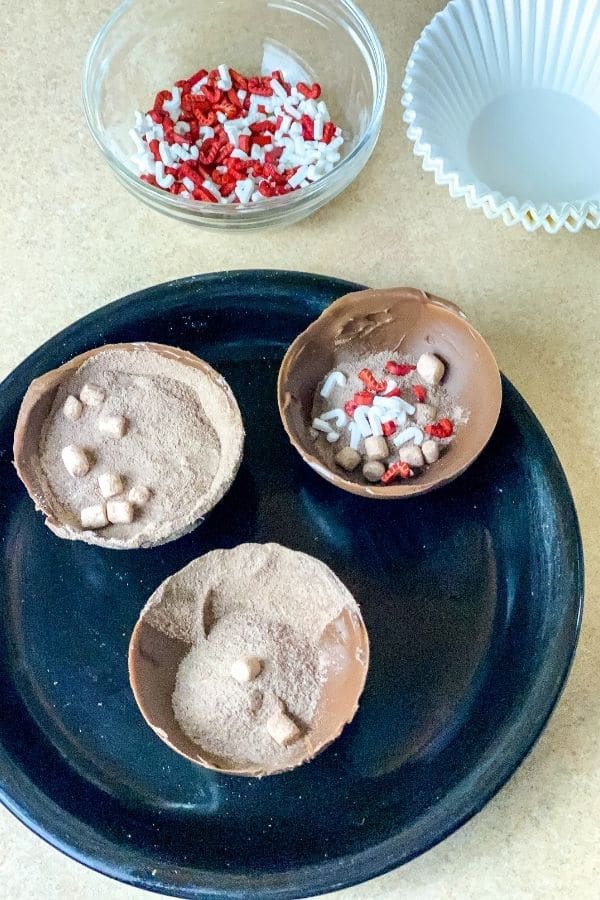 Main Ingredients
Chocolate | You will use chocolate to fill your circle silicone molds. You can use any flavor of chocolate. Milk, semi-sweet, white chocolate, etc.
Hot Chocolate Mix | Feel free to use a homemade hot chocolate mix or buy a store-bought mix. Either will work great.
Marshmallows | Mini marshmallows, dehydrated marshmallows are both great options.
How To Make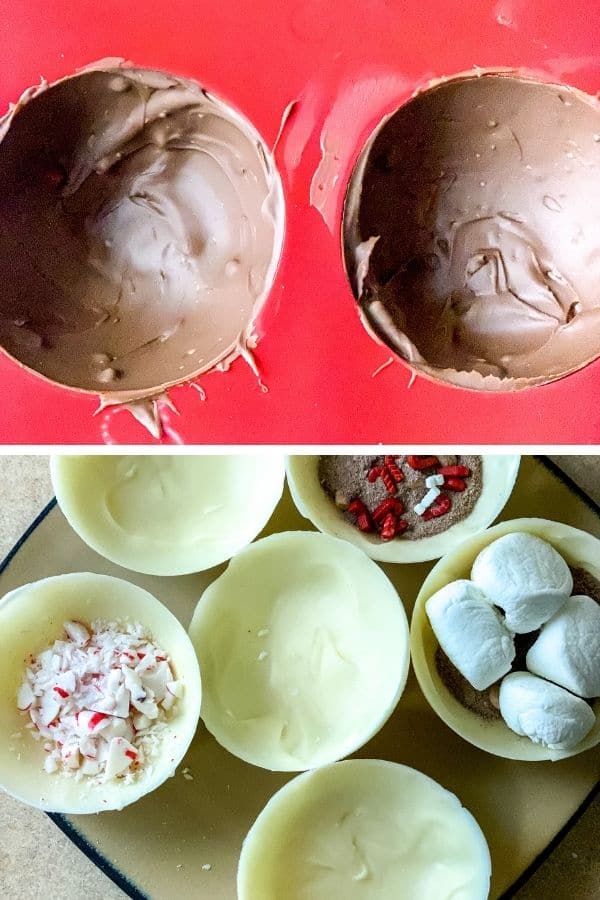 Start by melting your chocolate in the microwave. I used a candy melt if you use chocolate chips you will need to add some shortening in, I will leave all instructions in the recipe card.
Allow the chocolate to harden and then carefully push out the chocolate in the mold.
Then you will add your hot chocolate mix in one side of the circular chocolate mold, and add in marshmallows.
Warm a plate in the microwave and sit the empty side of the sphere on the plate to warm it up just a bit. Place it on top of the filled hot chocolate ball, to get it to stick.
You can also pipe a little chocolate to press it together if you want as well. Then let chocolate set up.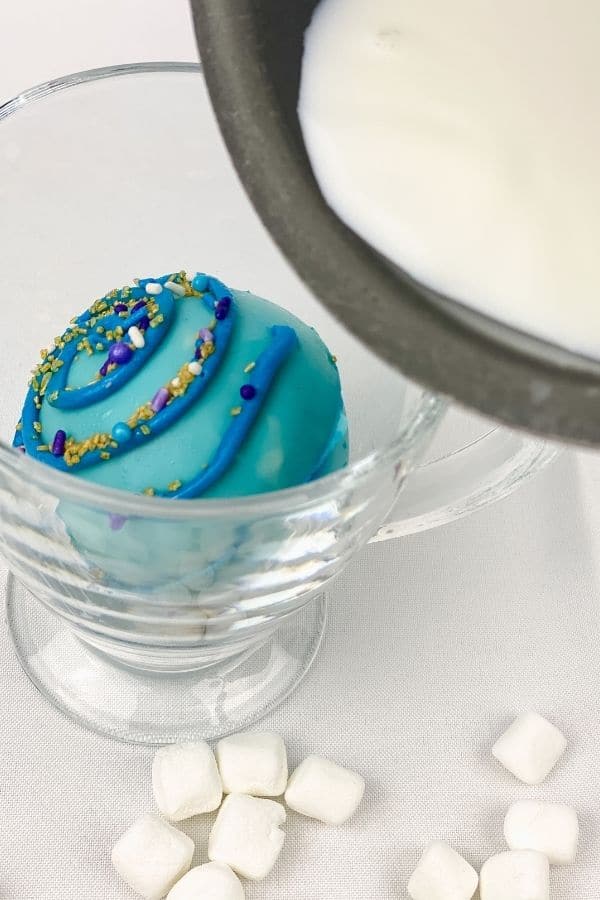 Steam some milk, and place your hot chocolate bomb in a mug, and pour the warm milk over the ball.
The chocolate ball will begin to melt, you stir and then enjoy!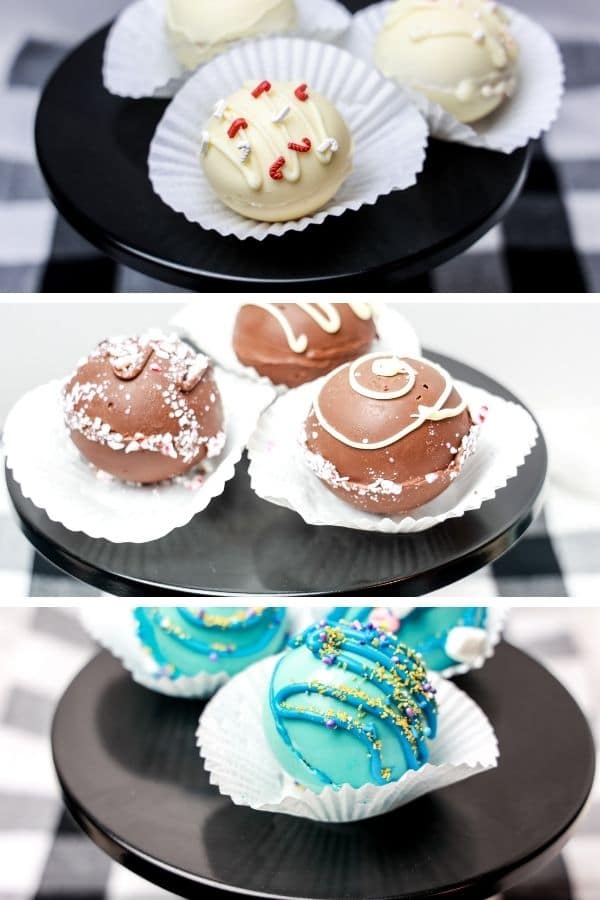 Variations to Hot Chocolate Bombs
Swap out the chocolate. I did a mix, colored candy melts, white chocolate, milk chocolate, etc.
Add on sprinkles or drizzle on chocolate to add a design to the top of your cocoa chocolate bombs.
Get creative with the filling.
You can use a milk alternative if you need to. Just make sure the milk is warmed so it can melt the chocolate.
Store at room temperature for up to two weeks.
Recipe FAQs
Where to buy hot chocolate bombs?
You can make homemade hot chocolate bombs or buy them at a local grocery store or even Amazon.
Are hot chocolate bombs a viral sensation?
TikTok really made these hot cocoa bombs become a sensation. It was such a creative idea. I have not seen it on TikTok but I know so many love TikTok.
Best way to store hot chocolate bombs?
You can store your homemade hot chocolate bombs at room temperature. Just keep in an airtight container for up to two weeks.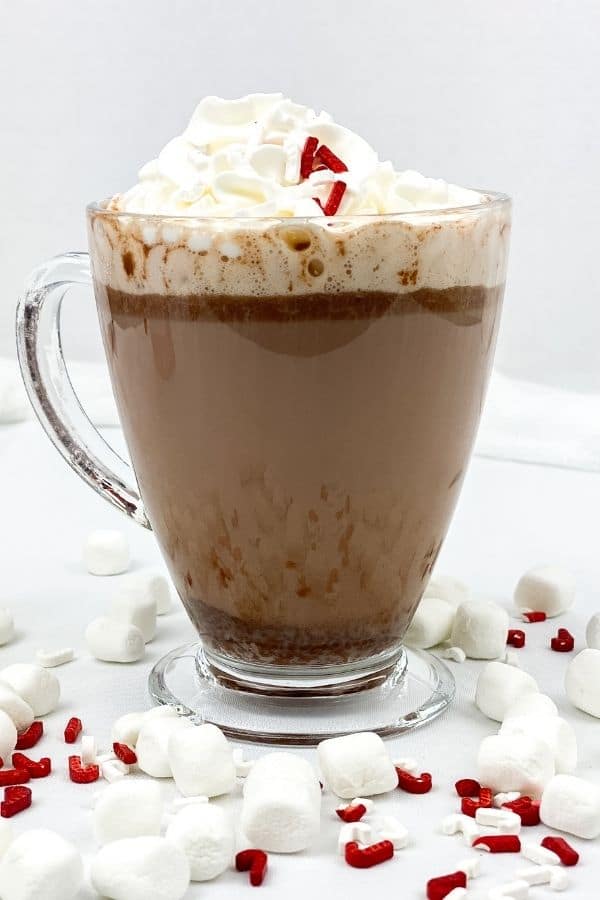 More Drinks to Try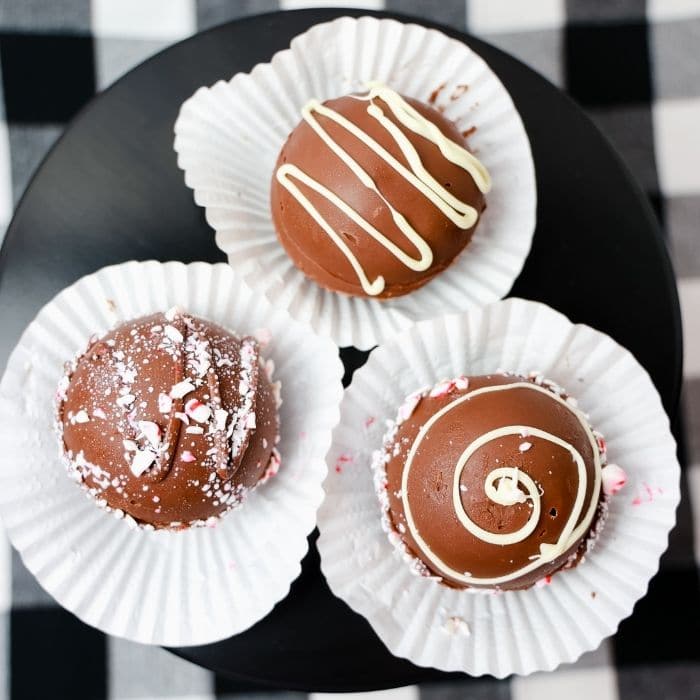 Hot Chocolate Bombs
Servings 3
Hot Chocolate Bombs are a TikTok sensation. A hollow chocolate ball filled with hot chocolate, marshmallows, that melts away in steamed milk. The ultimate DIY Christmas treat.
Ingredients
8 ounces chocolate wafers
3 tablespoons hot chocolate mix
6 tablespoons marshmallow bits or mini marshmallows
Instructions
In a bowl you will melt your chocolate in a microwave safe bowl. Do 15-30 second intervals, stirring between each heat cycle. Melt the chocolate until it is fully melted.

Add 1 heaping teaspoon to your silicone mold and use the back of the spoon to spread it all over the edges of the silicone sphere.

Invert the mold onto a parchment lined baking sheet and slightly shake. This will shake off the excess chocolate.

Place the molds in the freezer for around 5-10 minutes.

Remove the sphere mold from the freezer and gently push out the hardened chocolate.

Place the sphere halves on parchment. Fill one side of the circle with 1 tablespoon of hot chocolate mix, and about 2 tablespoons of mini marshmallows or marshmallow bits.

Then warm a plate in the microwave, and then sit one side of the empty chocolate on the plate to let it heat up. Then place it on the other side of circle, to stick the two together. The hot plate will melt the edges of the chocolate.

Then the hot chocolate bomb will stick together. You can also use chocolate as glue to stick the two circles together.

Then drizzle on chocolate, crushed pepperment, sprinkles, etc. Just add chocolate that is melted and then sprinkle with whatever you want to stick.

Then steam 1 cup of milk and put the hot chocolate bomb in a cup and pour warm milk over, and it will melt the chocolate. Stir and enjoy.
Notes
You can use any type of candy melts or almond bark.
If you use regular chocolate chips add 1 teaspoon of shortening in, to help the chocolate harden up.
These will store for up to 2 weeks at room temperature.
Decorate with chocolate, sprinkles, etc.
Use one cup of steamed milk or milk replacement to pour over the chocolate bombs in a mug.
Different Fillings
I used turquoise melting chocolate for the Unicorn hot chocolate bombs. I then drizzled with darker blue melting chocolate and then gold sprinkles.
For the others I did milk chocolate with white chocolate drizzle and crushed candy canes.
For the white chocolate bombs, I did simple sprinkles and a drizzle of white chocolate on each.
Nutrition
Serving: 1gCalories: 466kcalCarbohydrates: 85gProtein: 7gFat: 12gSaturated Fat: 4gPolyunsaturated Fat: 7gCholesterol: 2mgSodium: 587mgFiber: 4gSugar: 52g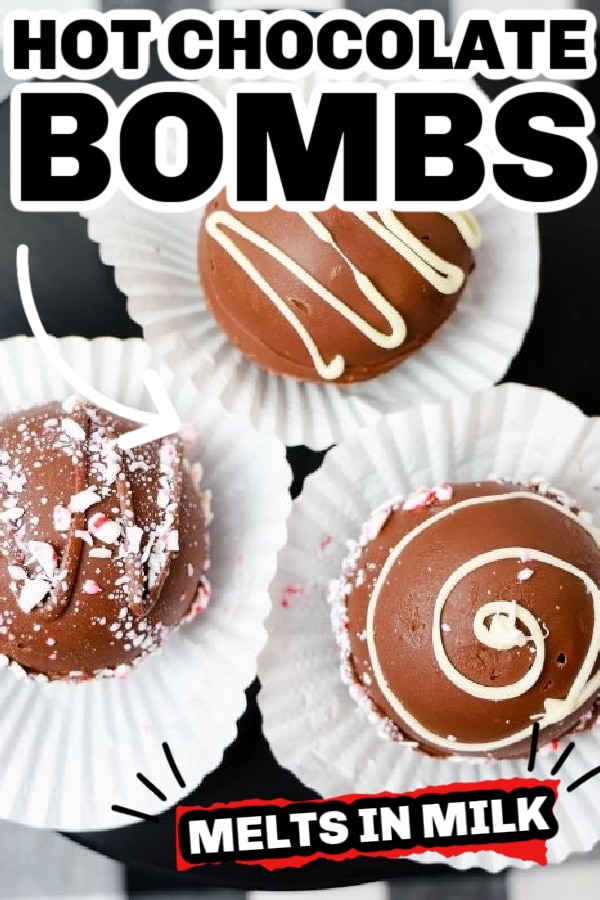 Reader Interactions