Dress up your chicken drumsticks for dinner tonight with this 5 ingredient everything bagel chicken! Buttermilk soaked chicken that is coated in everything but the bagel seasoning. Baked to perfection!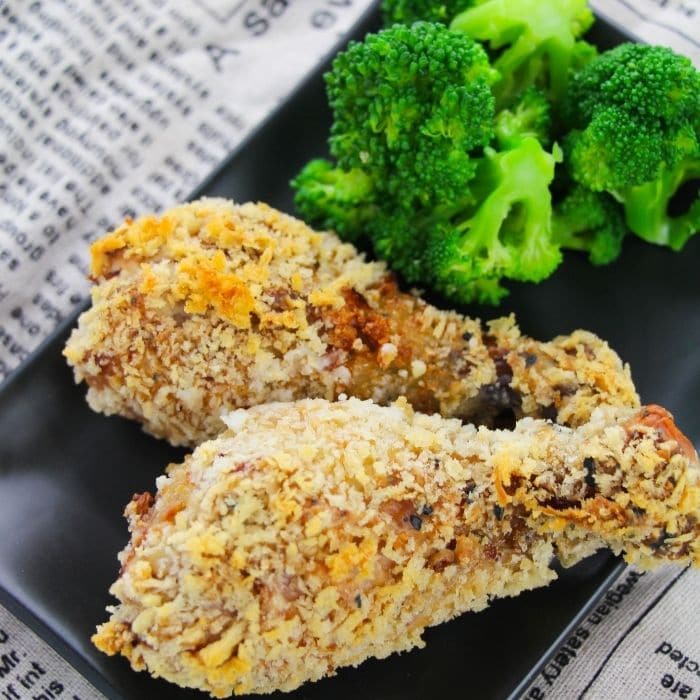 Ebtb seasoning is so versatile. I wanted a baked drumstick that would be easy to make. My family fell in love with this chicken recipe.
Plus you can use this everything but the bagel everything chicken on any cut of chicken. Bone-in thought, boneless chicken breasts, etc.
🧂Why You Will Enjoy This Recipe
Affordable to make
Any cut of chicken will work
Flavorful
Simple prep
Baked chicken, not fried chicken
Pairs well with all kinds of side dishes
Great leftover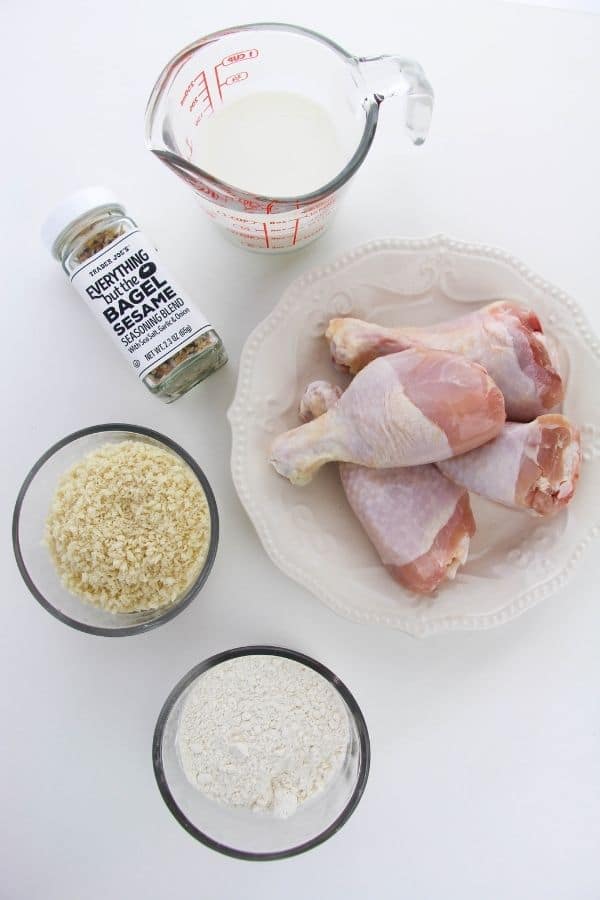 🍗Main Ingredients
Chicken | I used drumsticks but you can reach for any cut of chicken. The biggest thing is adjusting the cook time to how large or small your chicken is.
Everything But The Bagel Seasoning | This is such a delicious blend of spices. Your chicken gets coated in this seasoning so every bite is loaded with flavor.
Buttermilk | Buttermilk will help to tenderize and keep your chicken moist. This is a great way to soak chicken for any type of baked recipe you do.
Flour & Panko | Here you have the other part of the breading. Flour and Panko pair nicely and help add even more breaded texture to your chicken legs.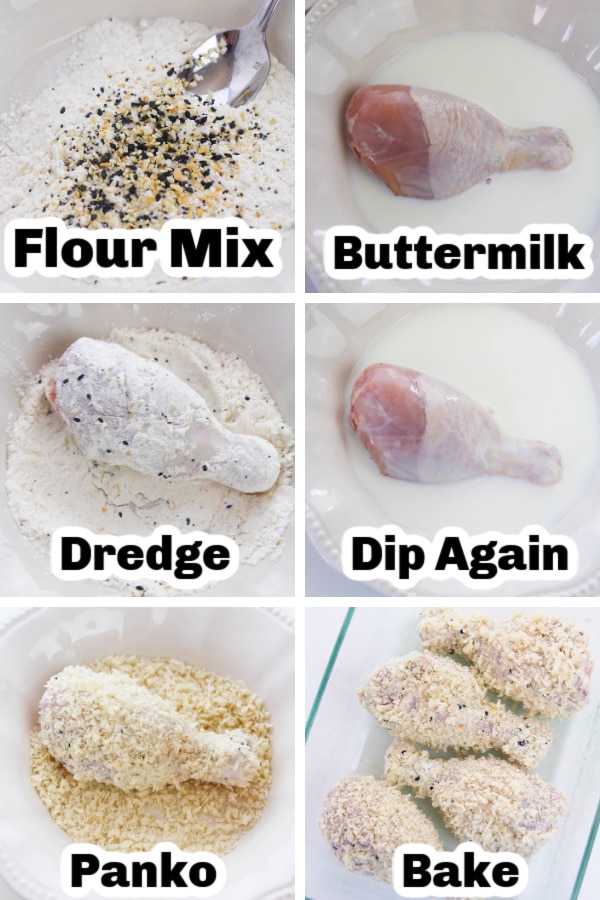 🍳 How To Make
Preheat oven to 350F and then grease your casserole dish and set aside. I soaked my chicken in buttermilk for 10-15 minutes while the oven is preheating.
Now, in a bowl add your all-purpose flour and EBTB seasoning. And then in another bowl add in your buttermilk and then another bowl of breadcrumbs.
You will then take your chicken legs, and shake off excess and dredge in the seasoned flour. Next you will go back to buttermilk, and then dredge in breadcrumbs.
After your breaded chicken drumsticks are done, place in the greased casserole pan.
Bake for 35-40 minutes uncovered and cook until you chicken is fully cooked.
Full directions and measurements for Everything Bagel Chicken are in the printable recipe card below.
🥦 Expert Tips
Feel free to pair this chicken with broccoli, salad, potatoes, roasted veggies or any of your favorite sides.
You can use any cut of chicken! Just cook the meat until it is fully cooked.
Chicken is fully cooked when it reaches 165 degrees F. You will also find the juice runs clear.
If you are gluten free go ahead and great for a gluten free flour blend and swap out the Panko bread crumbs.
If you don't have Panko you can use a classic original bread crumb in replace. Or even crushed up Ritz or Saltine Crackers
Interested In More Chicken Recipes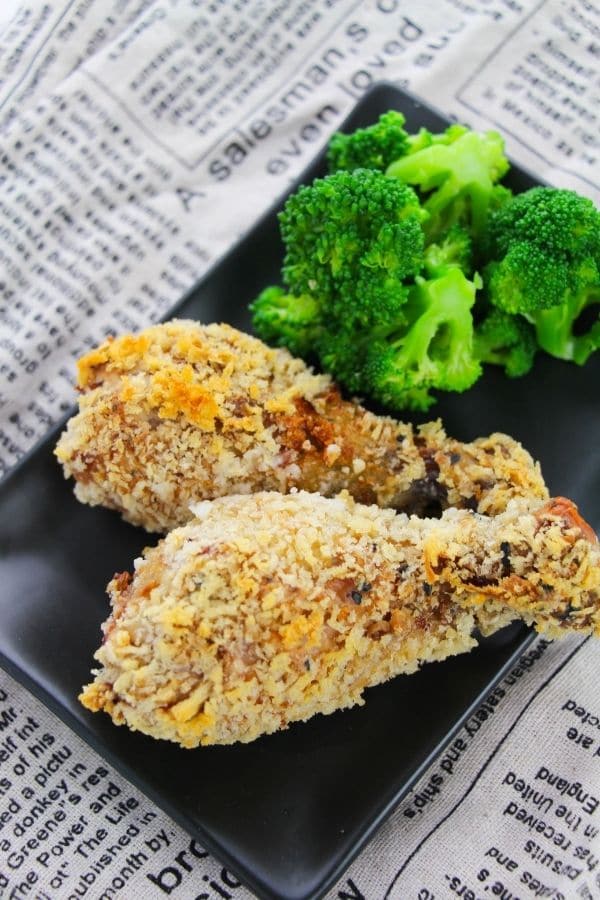 🧊 Meal Prep And Storage
If you have leftover chicken you are more than welcome to save it back and use for meals later on. Place in proper containers and store for a few days in the fridge.
Then when you are ready to eat, just reheat in the microwave or even warm in the oven. I love using single-serve containers for meal prepping for my husband to take to work.
Recipe FAQs
How long does it take to bake chicken at 350?
Baking chicken at 350 degrees you will find it takes 35-40 minutes to cook this chicken leg recipe. Now, depending on the thickness of your chicken and if it has no bones, you will find cook time varies.
How do you bake chicken without drying it out?
Allowing your chicken to soak in the buttermilk it will help to lock in moisture. You can soak your chicken for 15 minutes up to hours.
What is everything bagel seasoning made of?
Everything bagel seasoning is made from sesame seeds, dehydrated onions, poppy seeds, dried garlic and more. It is a very savory blend of seasonings and spices.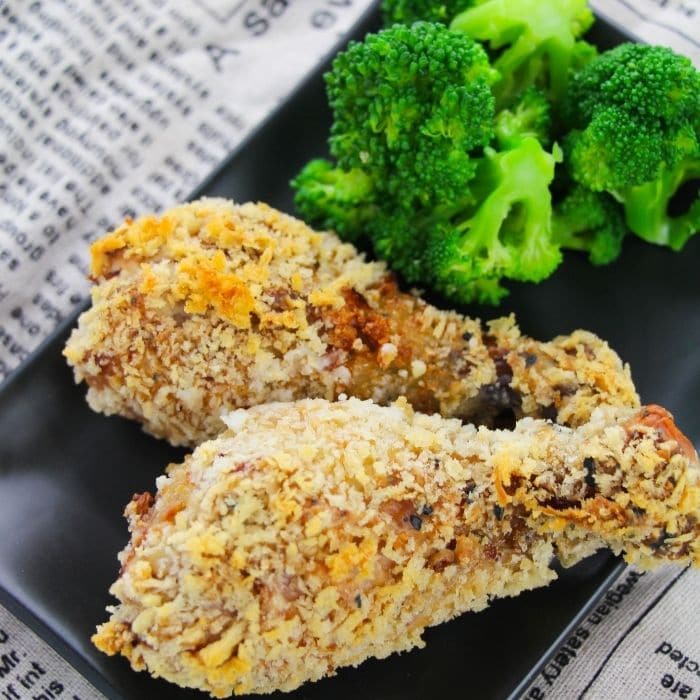 Everything Bagel Chicken
Servings 6
Dress up your chicken drumsticks for dinner tonight with this 7 ingredient everything bagel chicken! Buttermilk soaked chicken that is coated in everything but the bagel seasoning. Baked to perfection! 
Ingredients
4-6 Chicken drumsticks
1/2 cup buttermilk
1/2 cup all purpose flour
3/4 cups Panko-style bread crumbs can use classic breadcrumbs
1 Tablespoon Everything But the Bagel seasoning or more to taste
Instructions
In a bowl, you will place your chicken legs in with the buttermilk and let it soak for 10-15 minutes. Or if you want it can soak overnight. This is going to help keep chicken moist.

When ready preheat the oven to 350 degrees. Spray your 8×8 pan with cooking spray and set aside.

In a bowl, you will add your all-purpose flour and Everything Bagel seasoning. Mix and set aside.

Drain the buttermilk off chicken and put in a bowl. Set chicken on a plate.

Last put panko bread crumbs on a plate as well.

Then roll chicken in buttermilk, dip in flour, dip back in buttermilk, and lastly dredge in breadcrumbs and place on the baking dish.

Repeat till all the chicken is dredge.

Bake for 35-40 minutes or until the juices run clear and you reach 165 degrees F internal temperature.

When done remove your Everything Bagel Chicken and serve with your favorite sides.
Notes
You can soak the chicken for a short time of 10 minutes or up to overnight. The longer it soaks the more moist the chicken will be. You can use any cut of chicken, just adjust the cook time to fit how long it takes for your chicken to fully cook. If you are gluten free you can use a gluten free flour blend and a GF breadcrumb or cracker to roll in. Use as much or as little of the EBTB seasoning to flavor your chicken. Less is lighter, and of course more will bring a richer flavor. This chicken stores well. Just place in an airtight container and store in the fridge for a few days. Use your judgment in terms of when you need to throw away. You can double, triple, etc of this recipe. Just use a large enough pan, and do not overlap chicken.
Nutrition
Serving: 1gCalories: 292kcalCarbohydrates: 23gProtein: 26gFat: 9gSaturated Fat: 3gPolyunsaturated Fat: 6gCholesterol: 116mgSodium: 335mgFiber: 1gSugar: 2g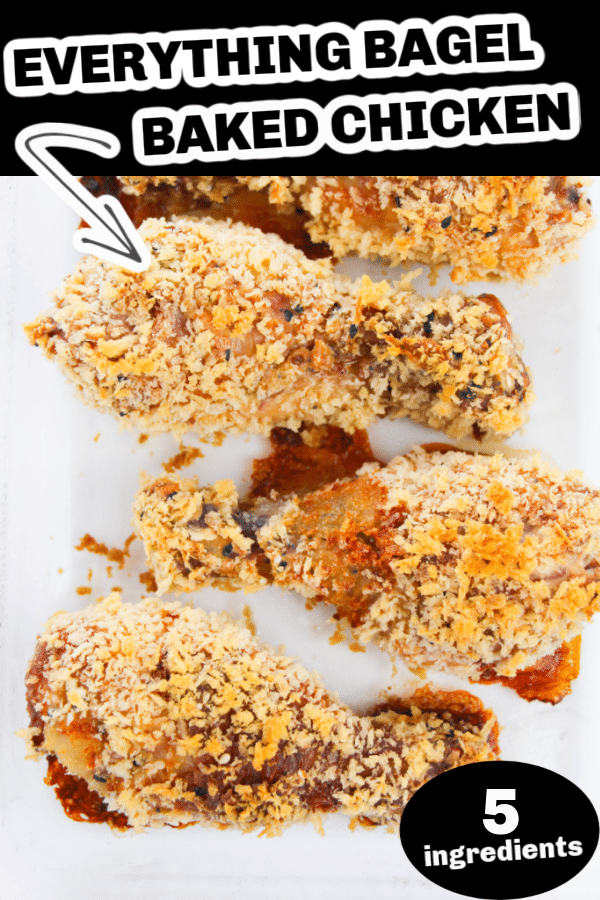 What do you think of this Everything Bagel Chicken? Let me know in the comments.
Reader Interactions