Pumpkin Spice Sugar Cookies are a fantastic homemade sugar cookie that is filled with pumpkin spice seasoning. Then you will top the sugar cookies with a vanilla buttercream frosting.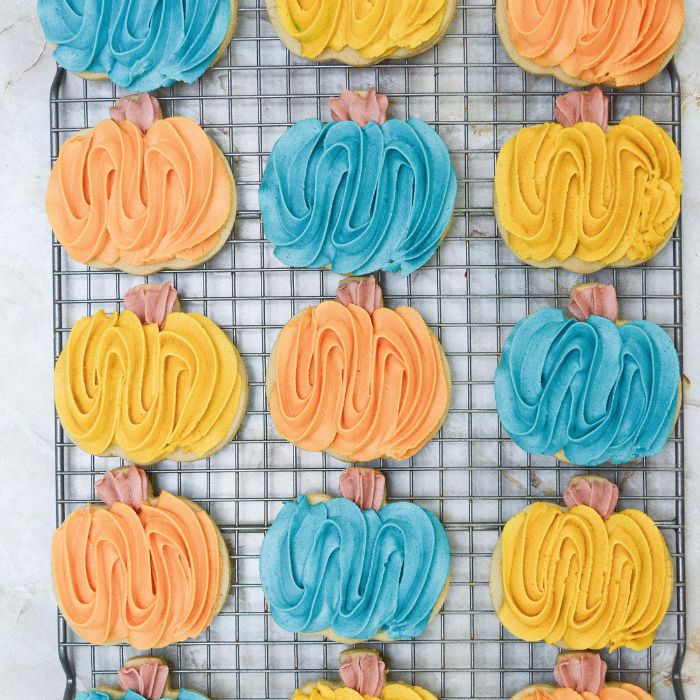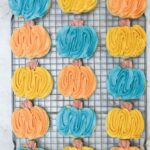 Whip up a batch of these frosted pumpkin spice sugar cookies for this fall season. A delicious cookie-cut sugar cookie that is flavored with pumpkin spice seasoning. Then you will pipe on some buttercream frosting for the perfect pumpkin flavor. Pumpkin spice cookies are great to serve up for family gatherings, take to a school party, or gift to friends and neighbors.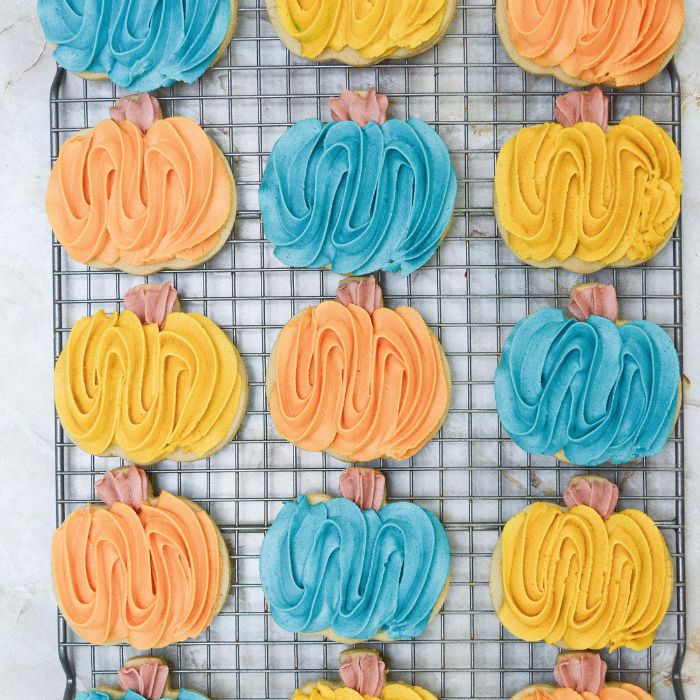 Sugar cookies are my weakness. It is something I can't ever get enough of. These soft sugar cookies are perfect to nibble on, and the buttercream frosting on top really throws these soft pumpkin sugar cookie to a whole new level. 
Be sure to try out my sugar cookie truffles, edible sugar cookie dough, or even sugar cookie peach tart. All of these are sugar cookie inspired recipes.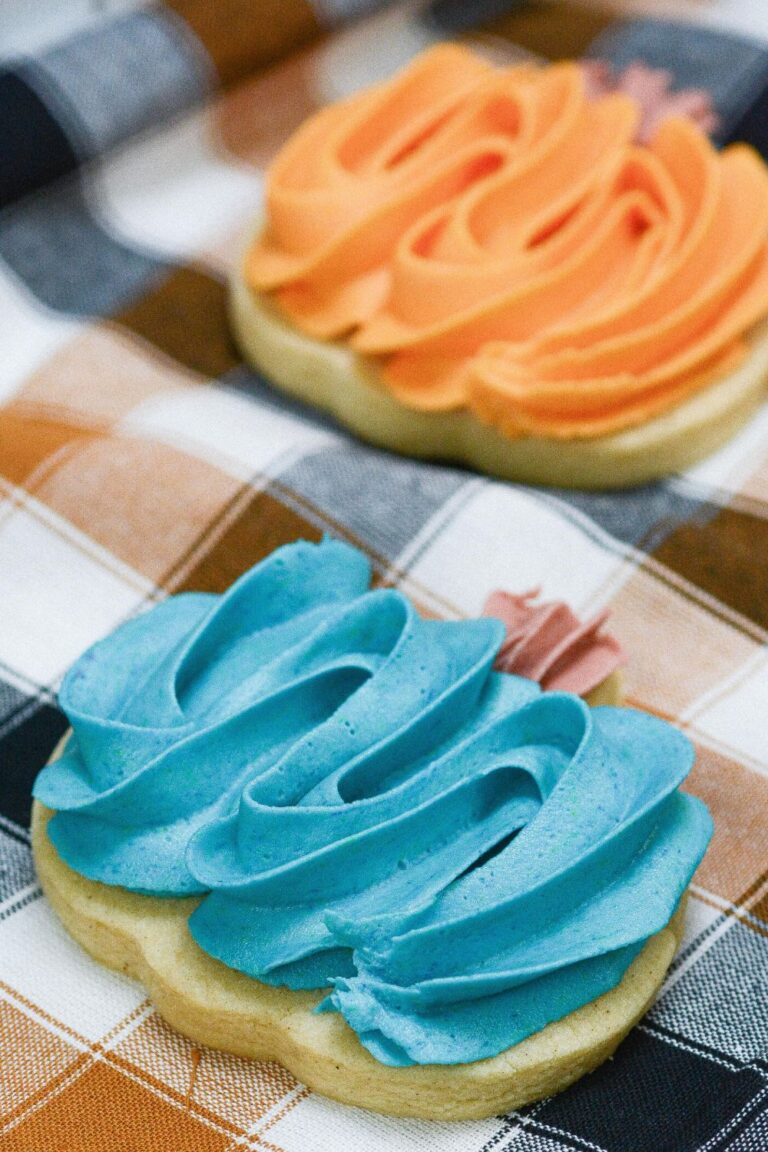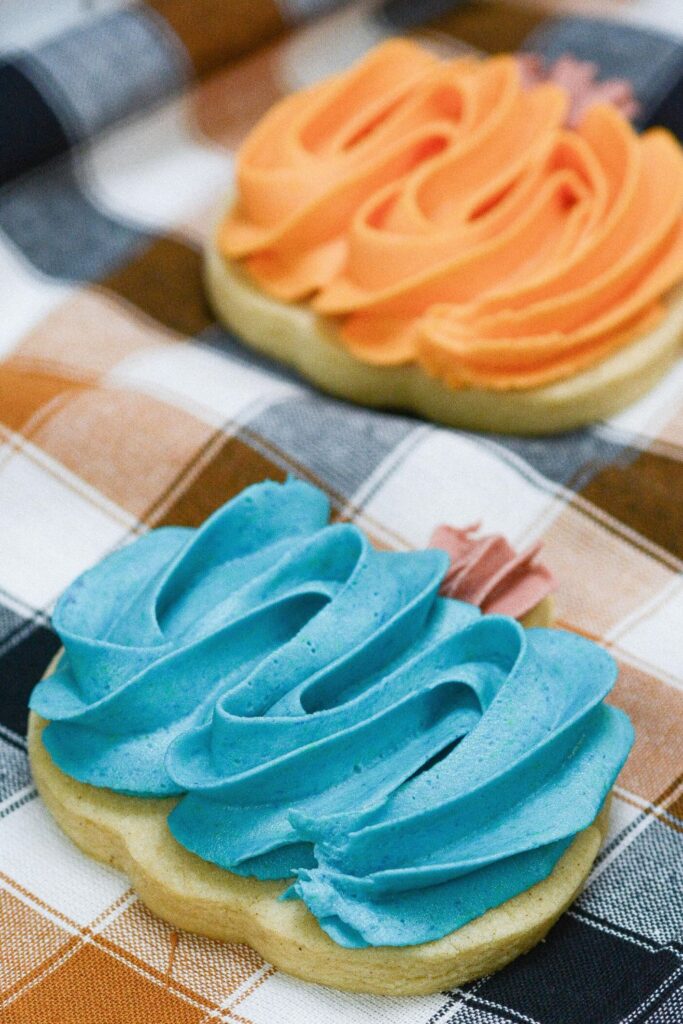 What Are Pumpkin Spice Sugar Cookies
These sugar cookies offer that pumpkin spice flavor that will melt in your mouth. Tender cookies that are made from scratch and have some pumpkin pie seasoning in the cookie dough. Then you will whip up a homemade buttercream frosting that you will color and frost. Homemade sugar cookies with a fall twist.
These are a no-chill sugar cookies that offer a soft and chewy texture. An easy cookie you can make in no time. This is a twist to a classic sugar cookie recipe.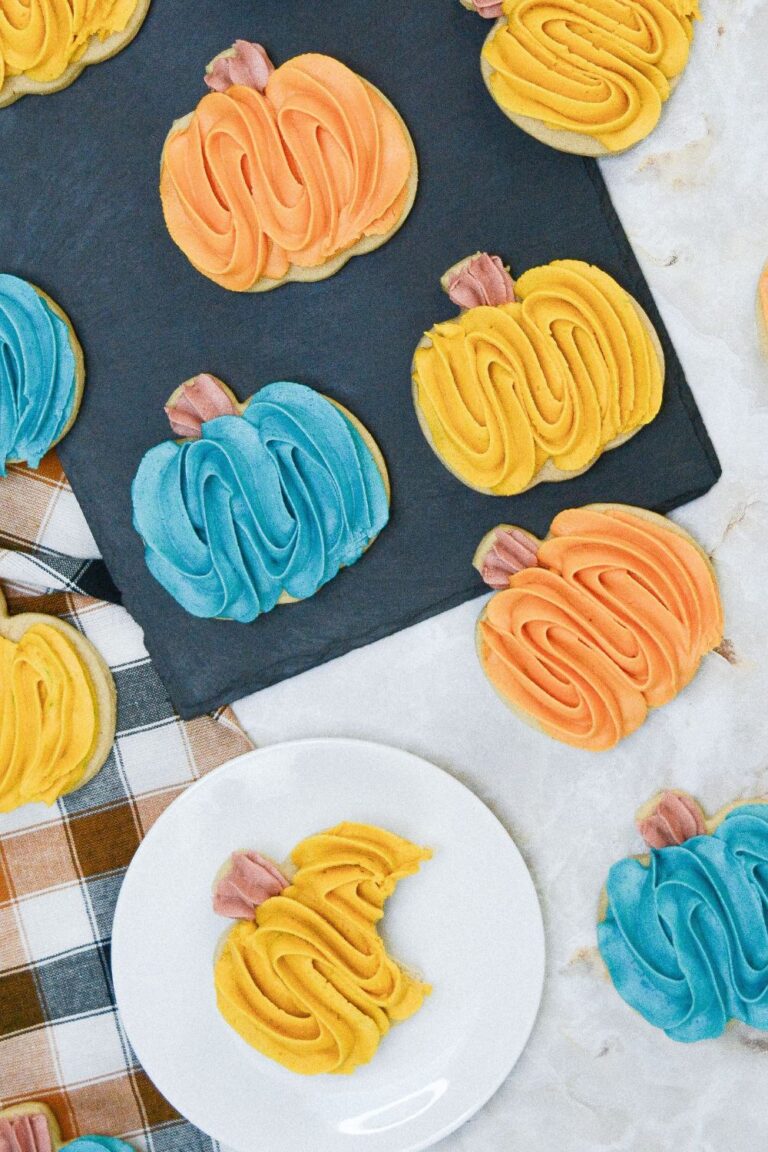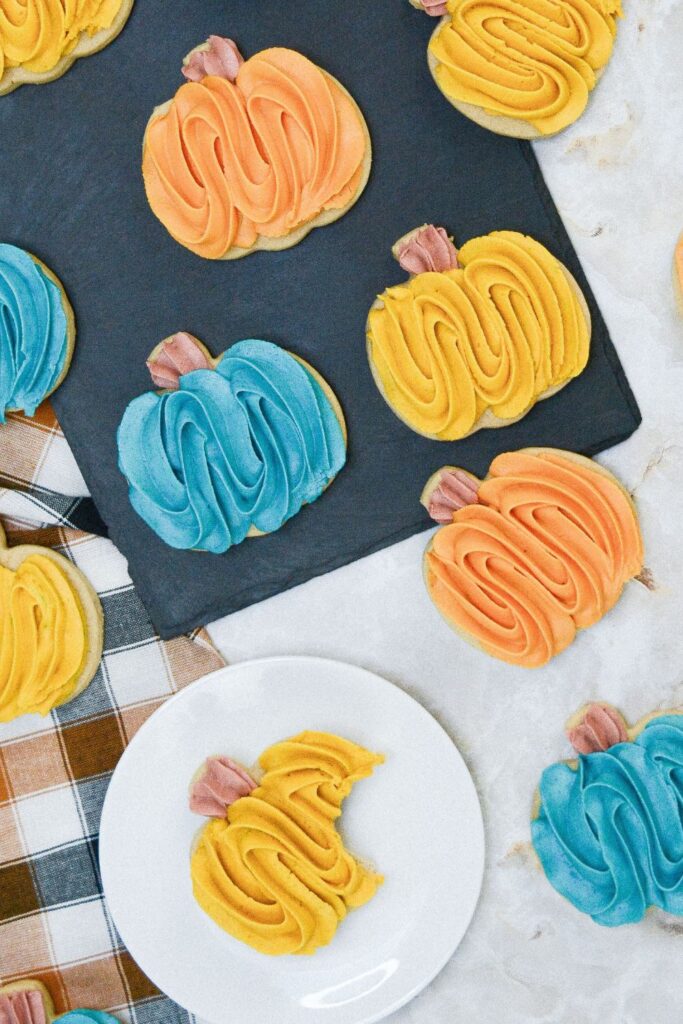 Reasons I Love These Pumpkin Sugar Cookies
Cut-out cookies recipe. Grab any shape of cookie cutters for this fun little pumpkin cookie treat.
This is a very easy pumpkin spice cookie recipe that is full of warm spices.
Pumpkin-y flavor to the cookies, which I love for the fall season.
I made a homemade buttercream frosting that is perfectly spreadable on top of the pumpkin shaped cookies.
The perfect fall cookie recipe for any and every occasion.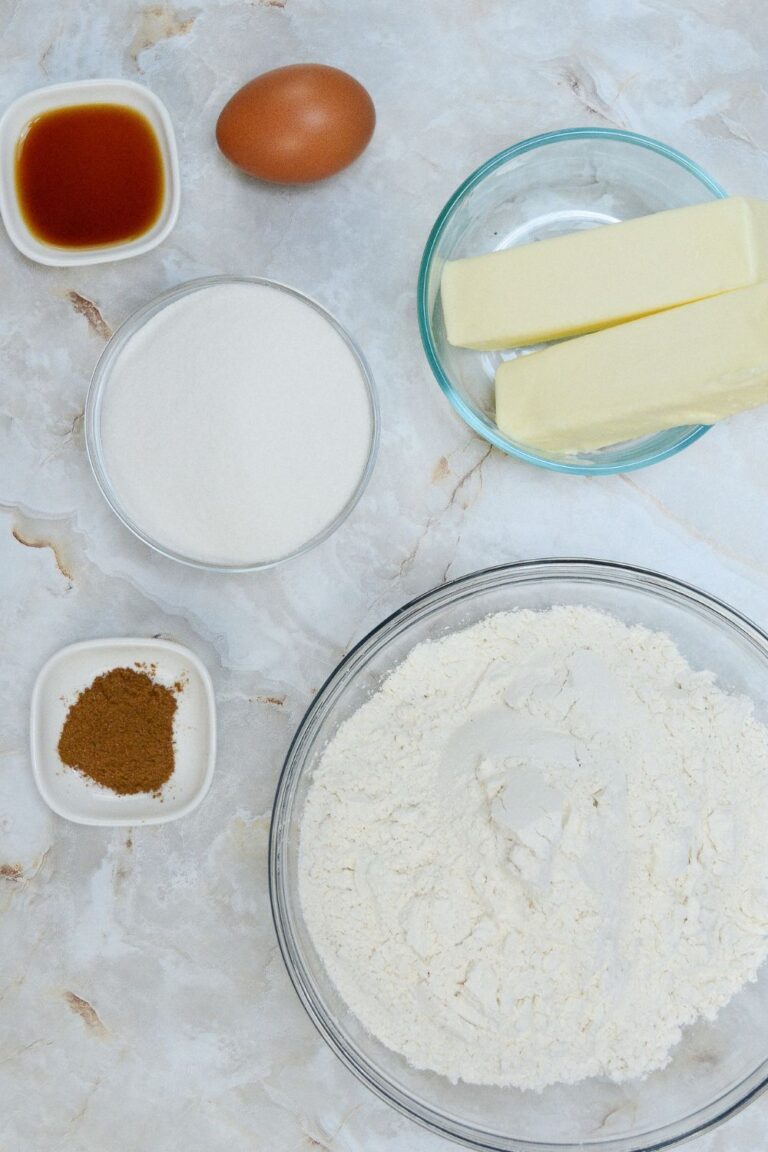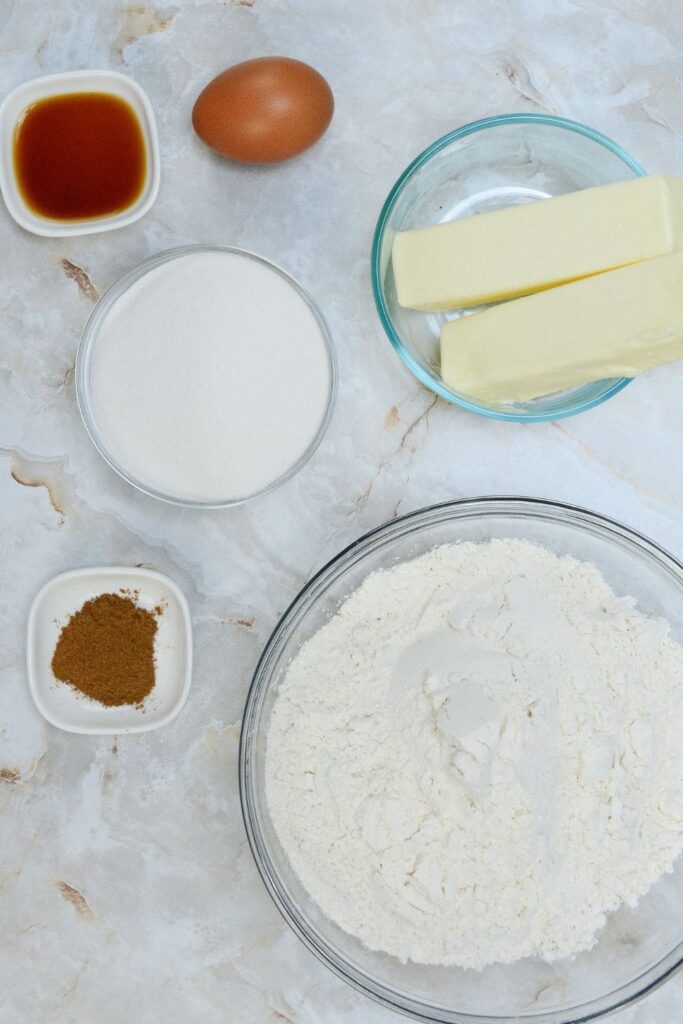 Ingredients Needed
Flour – I used all-purpose flour for the base of the cookies. Make sure to scoop the flour into the measuring cup and level it off.
Sugar – White sugar also known as granulated sugar is the base of the sweetness of the sugar cookie dough.
Butter – I recommend using unsalted butter that is softened, not melted.
Vanilla – A splash of vanilla really enhances the flavor of these decadent sugar cookies.
Egg – The binder for the cookie dough. I recommend using a room-temperature egg.
Milk – You will use milk for thinning up the frosting just a bit.
Powdered Sugar – Powdered sugar is the base of the pipeable frosting for these cookies.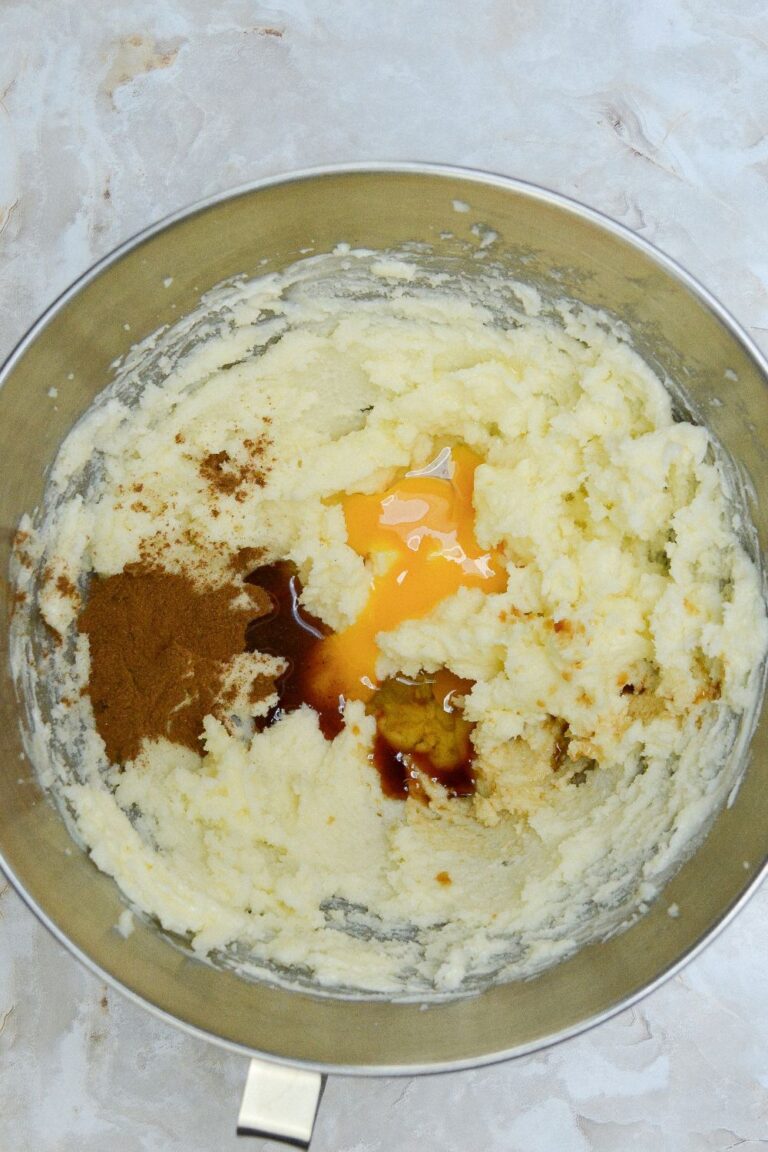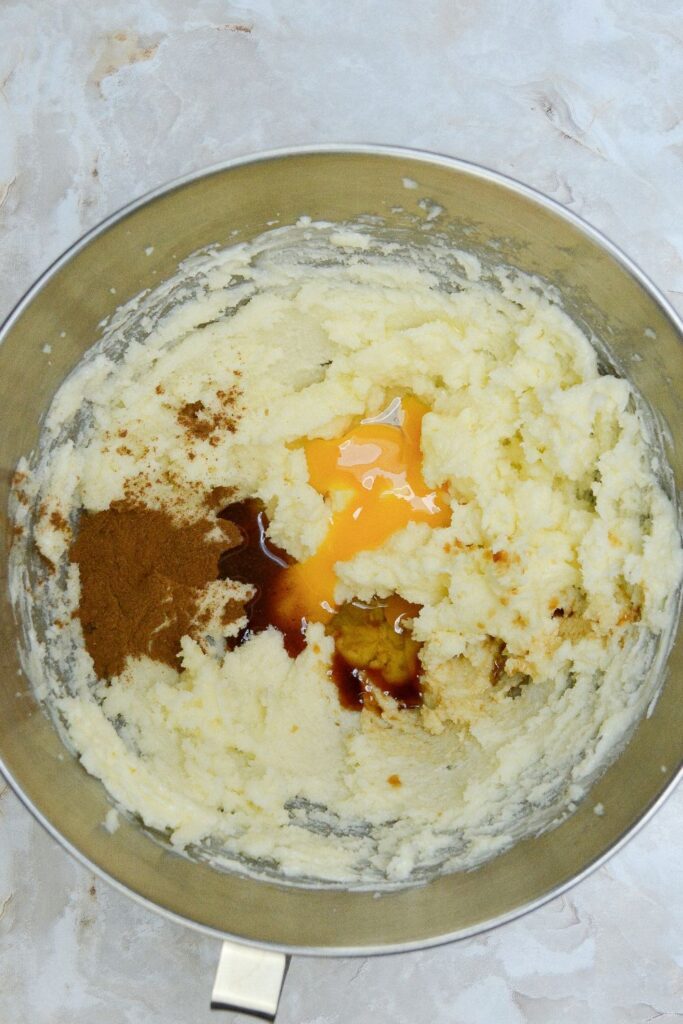 How to Make
​Step by step directions are in the printable recipe card at the bottom of the post. This is a visual walk-through for readers.
 Preheat the oven as directed take your prepared baking sheet and set it to the side. 
Next in a stand mixer with a paddle attachment or electric mixer on medium speed cream the butter and sugar.
Then you will add in the pumpkin spice, egg, and vanilla.
Slowly work in the flour mixing to combine at low speed. 
Sprinkle a little flour on a prepared work surface. Roll out the cookie dough to 3/8 inch thick.
Cut your desired shapes and place them on the baking sheet.
Bake for 10-12 minutes or until the cookies are slightly browned and baked fully. Let cool for a few minutes on pan then transfer to a cooling rack.
Once the cookies are fully cooled mix up your frosting. Then separate into 4 bowls and add food coloring to each container to create different colors of frosting.
Pipe your cookies with the frosting, and then serve!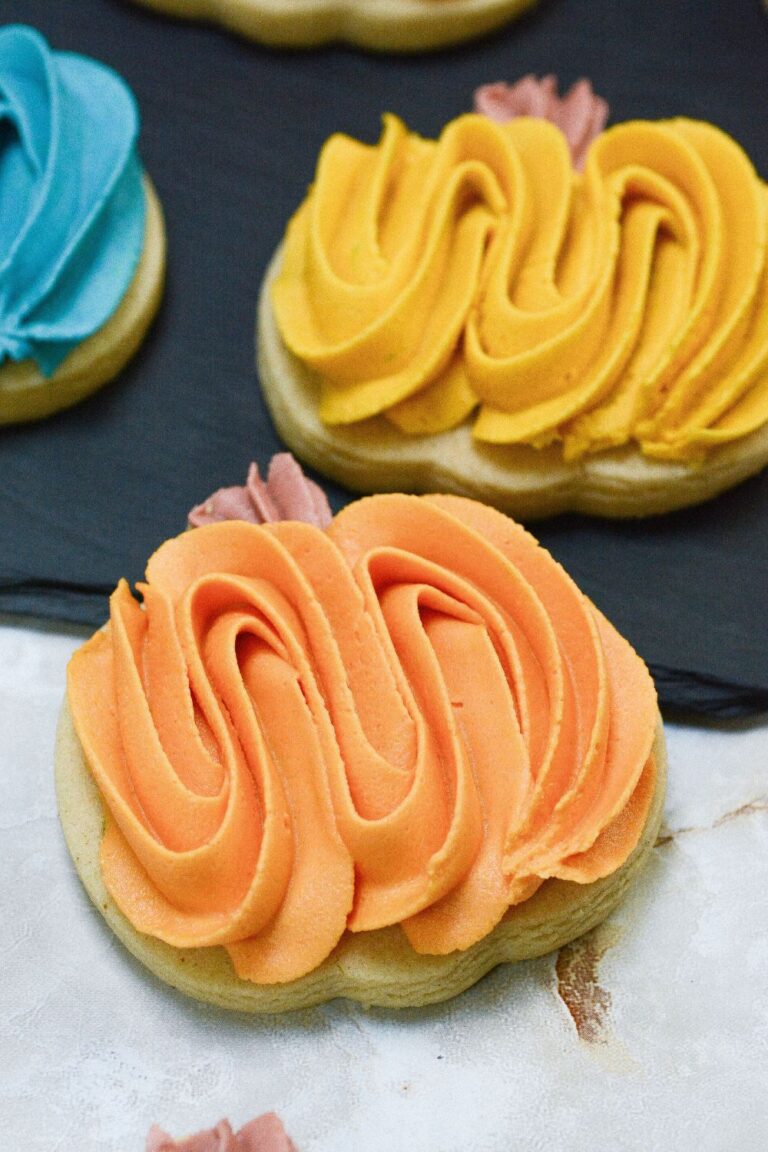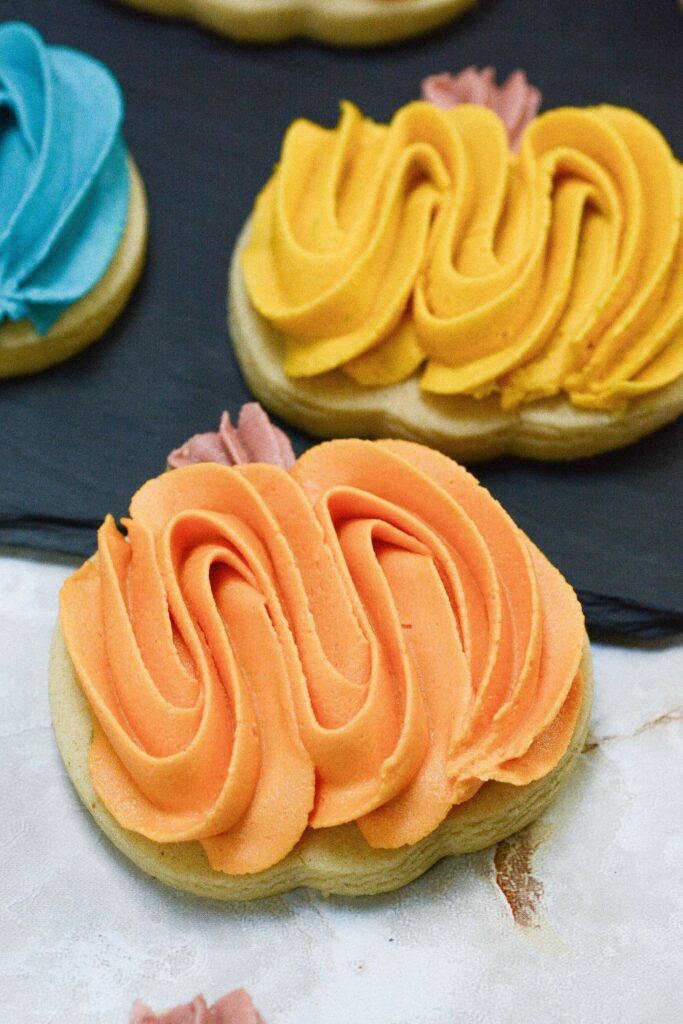 Variations to Recipe
Feel free to leave out the pumpkin spice seasoning in the cookie dough for a classic cookie.
Instead of vanilla extract use a splash of almond extract for a twist in flavor.
You can add pumpkin pie spice to the frosting to make the frosting taste like a pumpkin.
Use royal icing instead of buttercream frosting. 
Swap frosting with cream cheese frosting for a tangy zing of flavor. 
Try a brown butter frosting instead of a classic vanilla frosting.
Use any shape of the cookie cutter you want for the fall season.
Mix in some chopped nuts to the sugar cookie dough for a nice crunch.
Leave off the frosting if you would like.
Etc.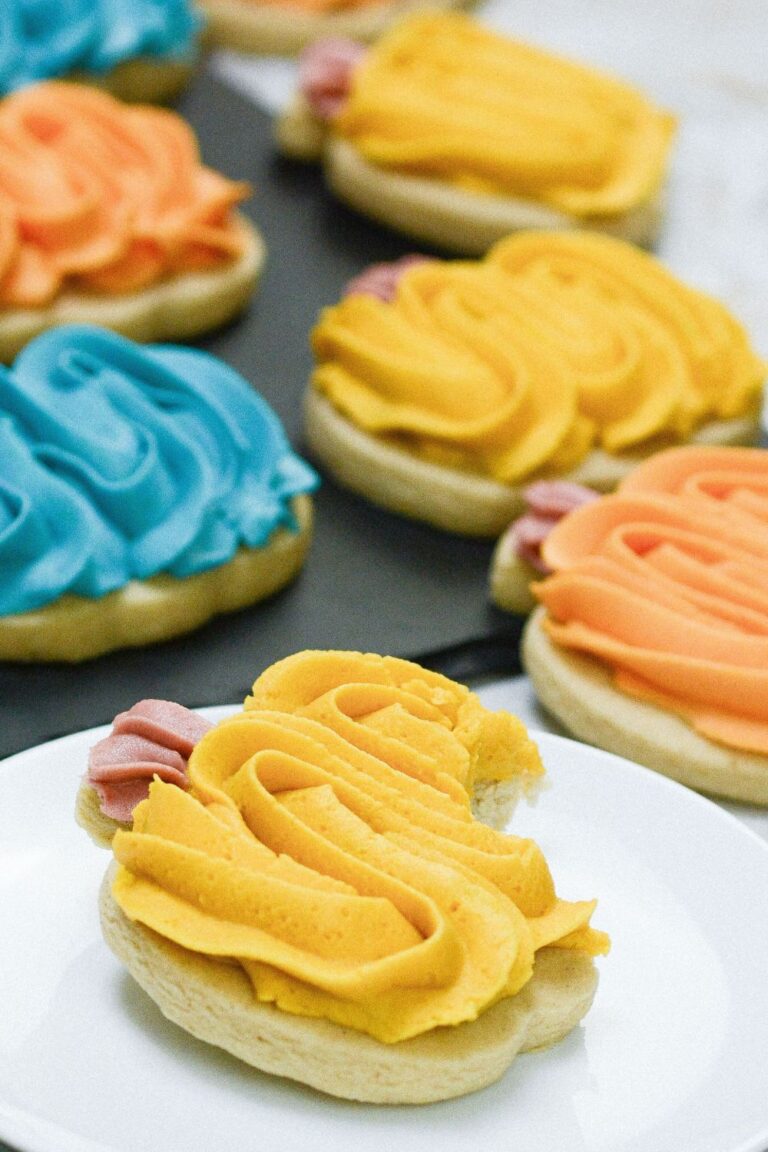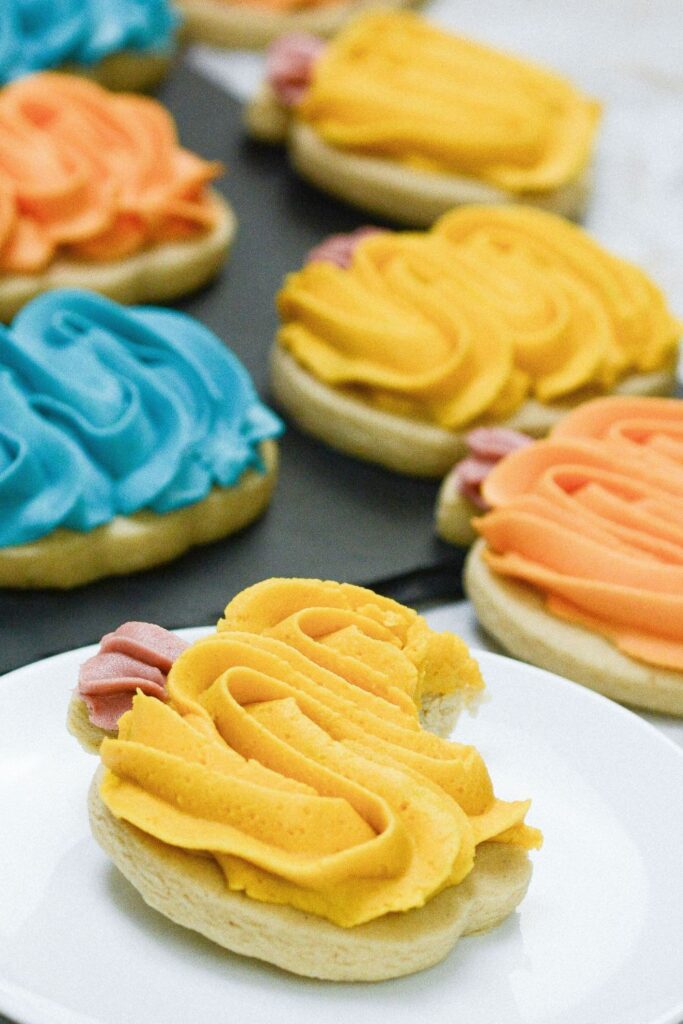 ​Pro Tips
​Cream Butter and Sugar
Make sure that when you are working with the butter and sugar, you will want to cream it together for 2-3 minutes. It will become lighter in color and fluffy. This is going to transform the texture of the cookies.
Rolling Pin
Make sure to use a rolling pin to get that evenly thin cookie dough. You want to have even thickness when you bake your cookies. Once you cut cookies place them on large baking sheets with some space between each cookie. 
Prep Cookie Sheets
You can use a silicone mat or parchment paper to ensure you have a nonstick surface. This will ensure that your cookies do not stick to the pan.
Sift Powdered Sugar 
​If you find that your powdered sugar is full of clumps you can sift beforehand. This is going to help ensure you get a nice smooth texture to the frosting. This will help to ensure you get that silky smooth frosting to pipe on the cookies. 
Storing Cookies
These cookies can be stored at room temperature in an airtight container. If you go to stack the cookies you can place sheets of wax paper between stacking. The cookies will last up to 5 days.
Now you can also freeze the pumpkin cookies if you want. Place in a freezer container with wax paper between stacking. Freeze for 3-4 months. Then eat straight from frozen or thaw on the counter for a bit.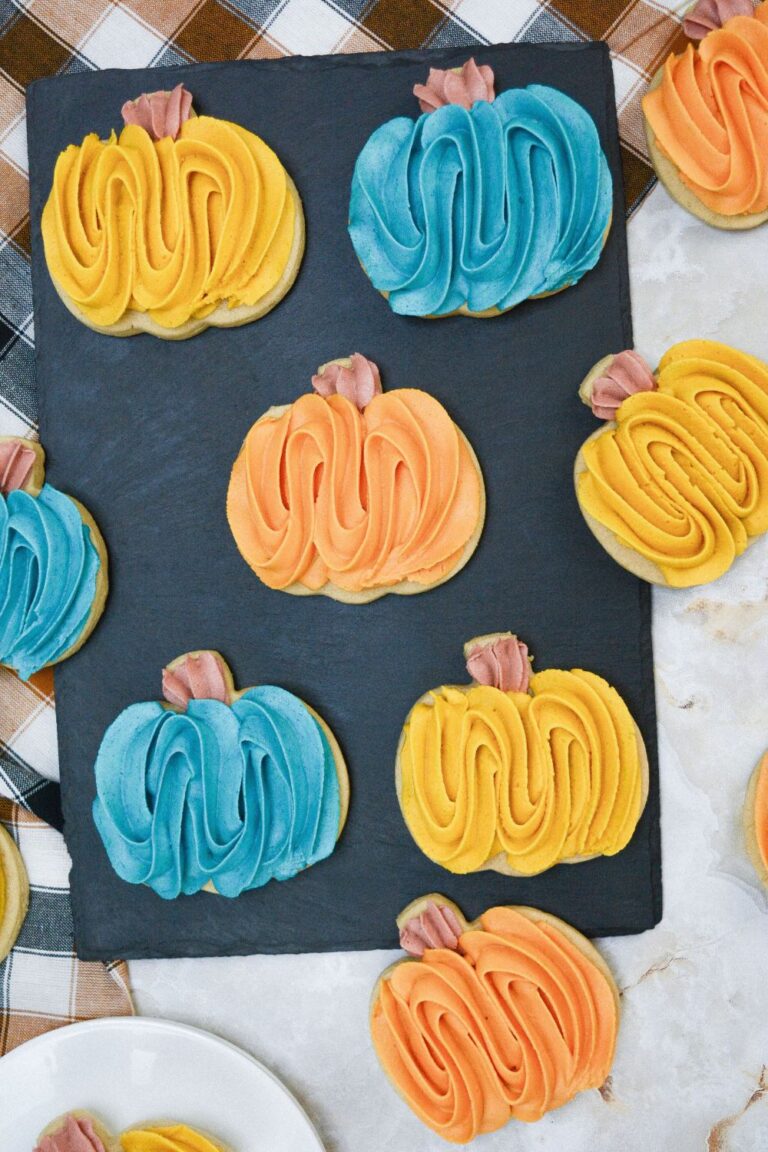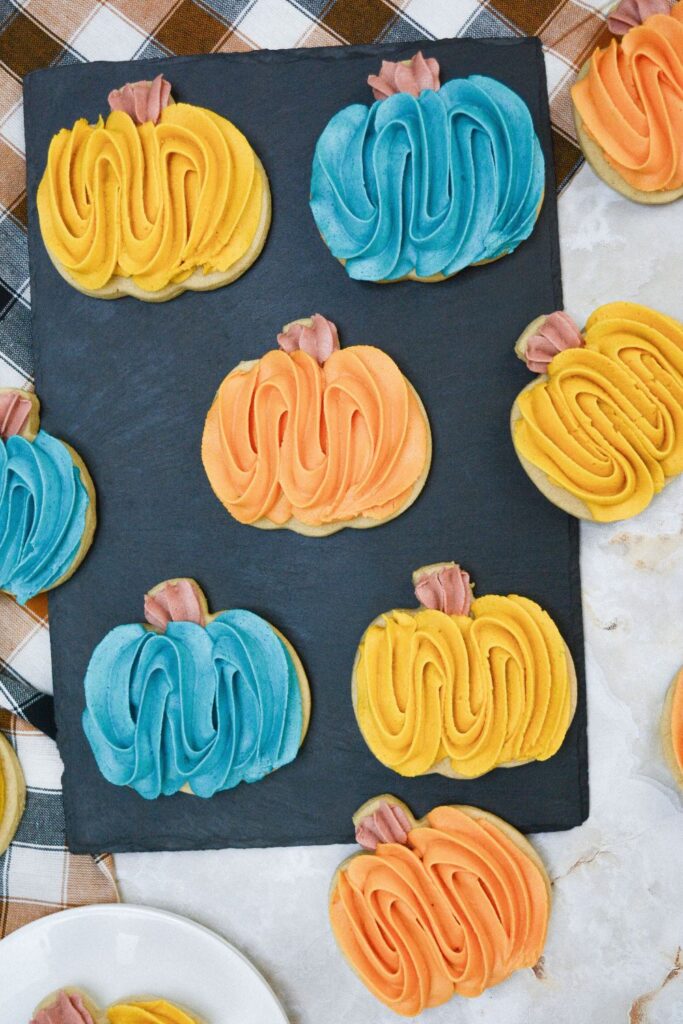 FAQs
Can I make the cookie dough in advance and refrigerate it?
Yes, you can make up the pumpkin cookie dough and place it in the fridge for 2-3 days. I recommend wrapping the dough in plastic wrap. Then roll and shape when you are ready to bake. 
​How do I prevent my cookies from spreading too much?
If your cookies are spreading too much you will find that you need a tad bit more flour or you can refrigerate the cookie dough. 
​Can I use a cookie press to make pumpkin spice sugar cookies?
Yes, you can use a cookie press if you want to make the cookies. Just adjust the cookie dough so it fits in the cookie press. 
More Fall Flavored Recipes
Have you tried the recipe? If so, please leave a star ⭐️⭐️⭐️⭐️⭐️ rating in the recipe card below or drop a comment. Also stay in touch with me through social media by following me on Facebook, Pinterest, or My Facebook Group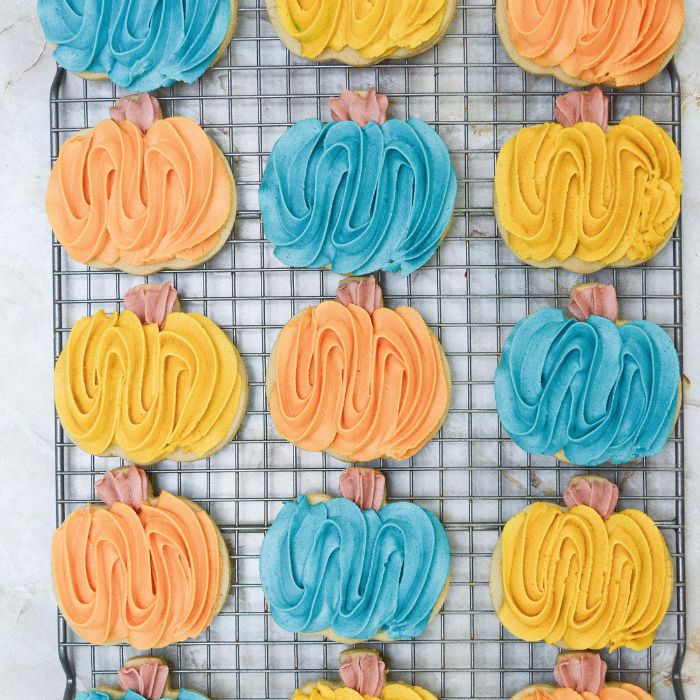 Pumpkin Spice Sugar Cookies
Servings 18 servings
Pumpkin Spice Sugar Cookies are a fantastic homemade sugar cookie that is filled with pumpkin spice seasoning. Then you will top the sugar cookies with a vanilla buttercream frosting.
Ingredients
For the cookies –
1 c sugar
1 c unsalted butter softened
1 t vanilla
2 t pumpkin pie spice
1 egg
3 c flour
For the frosting
1 c unsalted butter softened
1 t salt
1 t vanilla
2-3 T milk
3 c powdered sugar
Instructions
Preheat the oven to 350 degrees and prep your cookie sheets with parchment or spray with non-stick spray. Set aside.

In the bowl of a stand mixer, combine the butter and sugar and cream until smooth.

Add in the pumpkin pie spice, vanilla and egg – mix well.

Pour in all of the flour and switch the whisk attachment to the paddle attachment. Mix on low speed until the cookie dough combines and pulls away from the sides of the bowl.

Sprinkle a little bit of flour on a clean work surface and roll out until approximately ⅜ of an inch thick. Use more flour on your rolling pin and work surface when needed to prevent sticking.

Cut out your desired shapes and transfer to the prepared baking sheet.

Bake in the oven for 12 minutes. The edges should be set and very slightly starting to brown. It does not take much to overbake these at which point, they will be hard and dry. We want them just right with a soft bite! Allow to cool completely before decorating.

To make the buttercream: In the bowl of a stand mixer, combine the softened butter, vanilla and salt.

Add in the powdered sugar and mix on low speed for one minute. Add in a tablespoon of milk at a time just until the frosting no longer looks dry. Whip on high speed for one minute.

Transfer the frosting to four small bowls. One bowl needs only about ¼ or less for the brown stems. The rest can be divided equally – yellow, orange and blue. Once you've tinted the color tones however you'd like, transfer each of the frostings to a piping bag fitted with a star tip.

To decorate: Begin with the stem. Pipe two small lines just down the stem of the cookie.

For the main body of the pumpkin, choose one color. We began at the upper left corner of the pumpkin – slowly and steadily pipe a continuous line from the upper left corner and zigzag back and forth across the cookie a few times until it is evenly covered in buttercream. Continue until all the cookies are decorated.

This is a crusting buttercream – if allowed to set out, it will dry out and harden. We recommend storing them flat in an airtight container and not stacked until ready to serve if you want them super soft.
Nutrition
Serving: 1gCalories: 384kcalCarbohydrates: 47gProtein: 3gFat: 21gSaturated Fat: 13gPolyunsaturated Fat: 1gMonounsaturated Fat: 5gTrans Fat: 1gCholesterol: 64mgSodium: 137mgPotassium: 37mgFiber: 1gSugar: 31gVitamin A: 647IUVitamin C: 0.1mgCalcium: 15mgIron: 1mg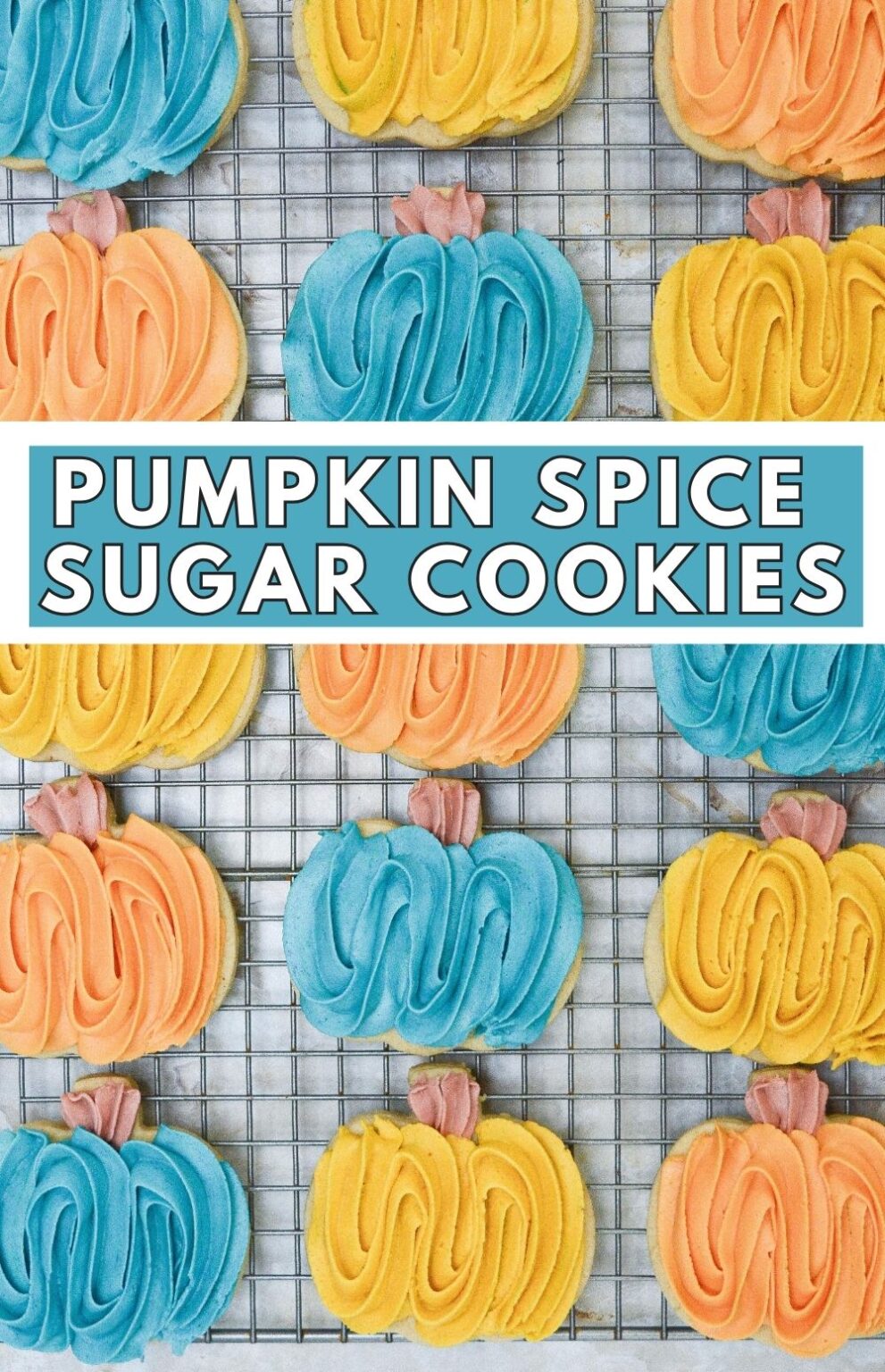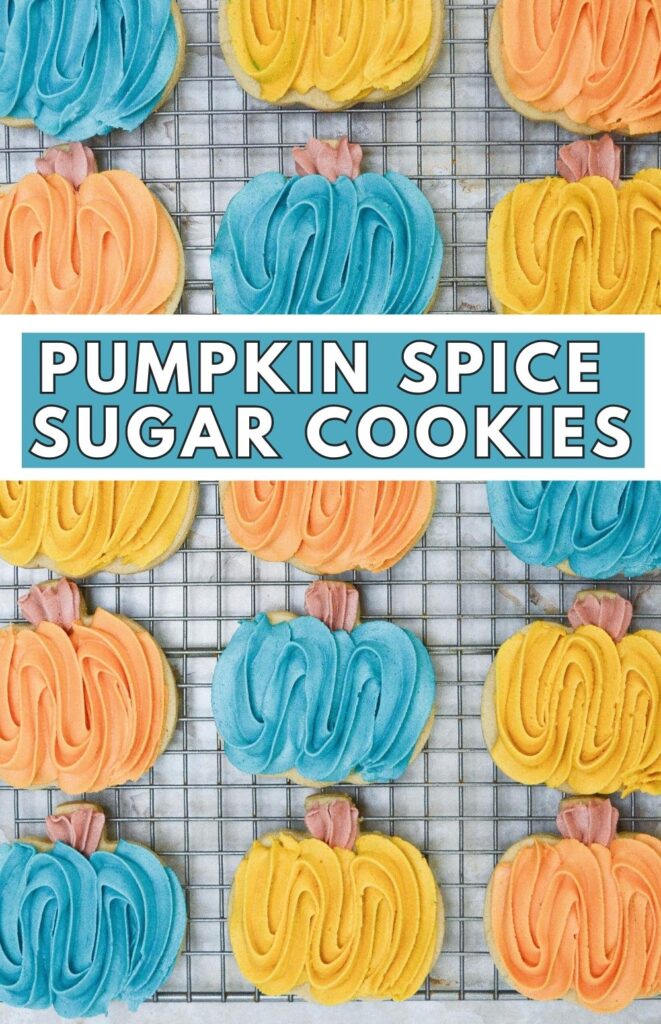 Reader Interactions