Taco Spaghetti is a one pot dinner that is loaded with seasoned ground beef, Rotel, tender pasta, and topped with cheese and sour cream. An easy one pot Mexican spaghetti recipe.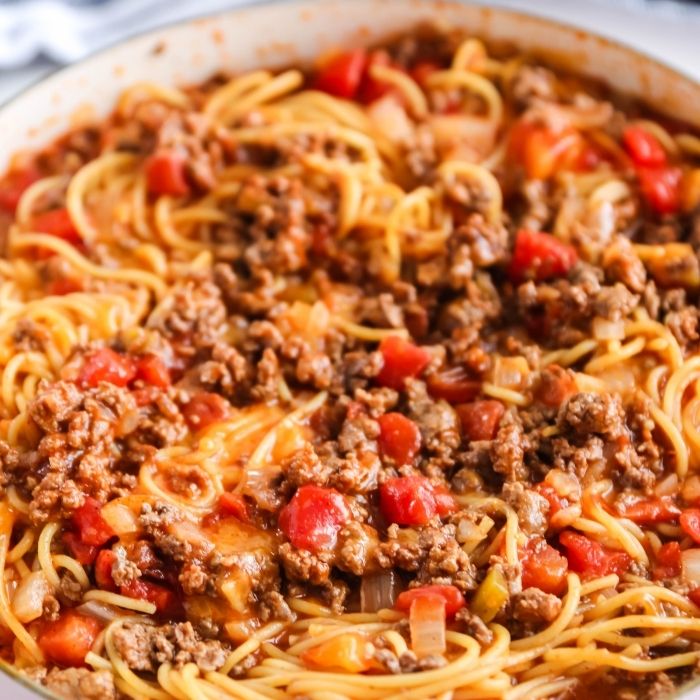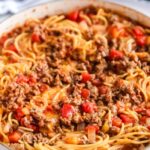 Whip up this easy taco spaghetti. A Tex-Mex seasoned ground beef, Rotel, and tender pasta all cooked in one pan! This creamy taco spaghetti recipe is such a simple one dish dinner. Minimal ingredients, quick prep, and one dish needs cleaned!
Not to mention this Mexican spaghetti casserole is a kid friendly dinner. Give it try for when you want something a little different to serve up your crew.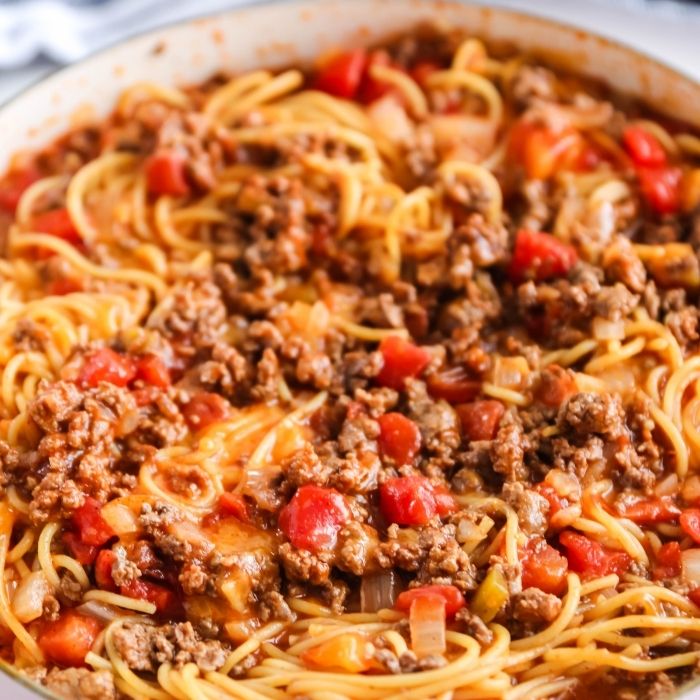 This Taco Spaghetti Is…
Easy 30 minute dinner
One dish dinner
Ground Beef Recipe
Mexican Dinner Idea
Mexican spaghetti recipe
Easy pasta recipe
Kid friendly dinner
Budget friendly meal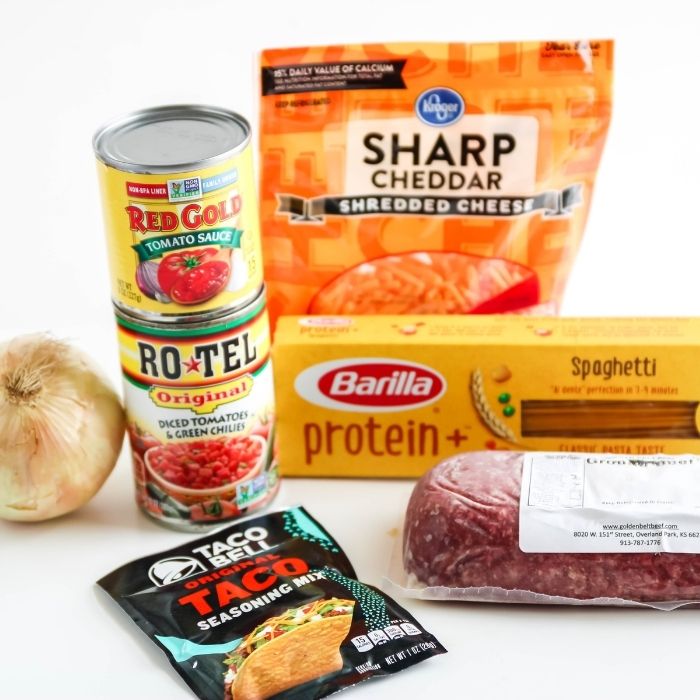 Ingredients You Need
Ground beef – Make sure to drain off fat once cooked.
Diced onion – Yellow or white onions offer the best flavor.
Rotel – Diced tomatoes with green chiles.
Water
Spaghetti Noodles – I used spaghetti noodles but you can change it out for a different shape of pasta.
Tomato sauce – This helps enhance the flavor of the pasta dish.
Taco seasoning – Use any taco seasoning or make homemade.
Shredded cheese – I used sharp cheddar but feel free to swap with Mexican cheese blend or another variety.
Modification And Swaps
There are so many ways you can change up this pasta recipe. Here are a few quick changes you could make.
Use ground Turkey or chicken in replace of beef.
Add in a can of beans. Black beans, pinto, etc.
Use a Mexican cheese blend of other flavors of cheese.
Mix in a can of drained corn.
Instead of spaghetti noodles swap out with angel hair, elbow, shells, rigatoni, etc.
Add in ⅓ cup heavy cream right before serving to give a creamier texture.
Etc.
Pour into a casserole dish, top with cheese and make a taco spaghetti casserole, to melt cheese in oven.
How to Make
Full directions and measurements for this taco spaghetti recipe are in the printable recipe card at the bottom of the post.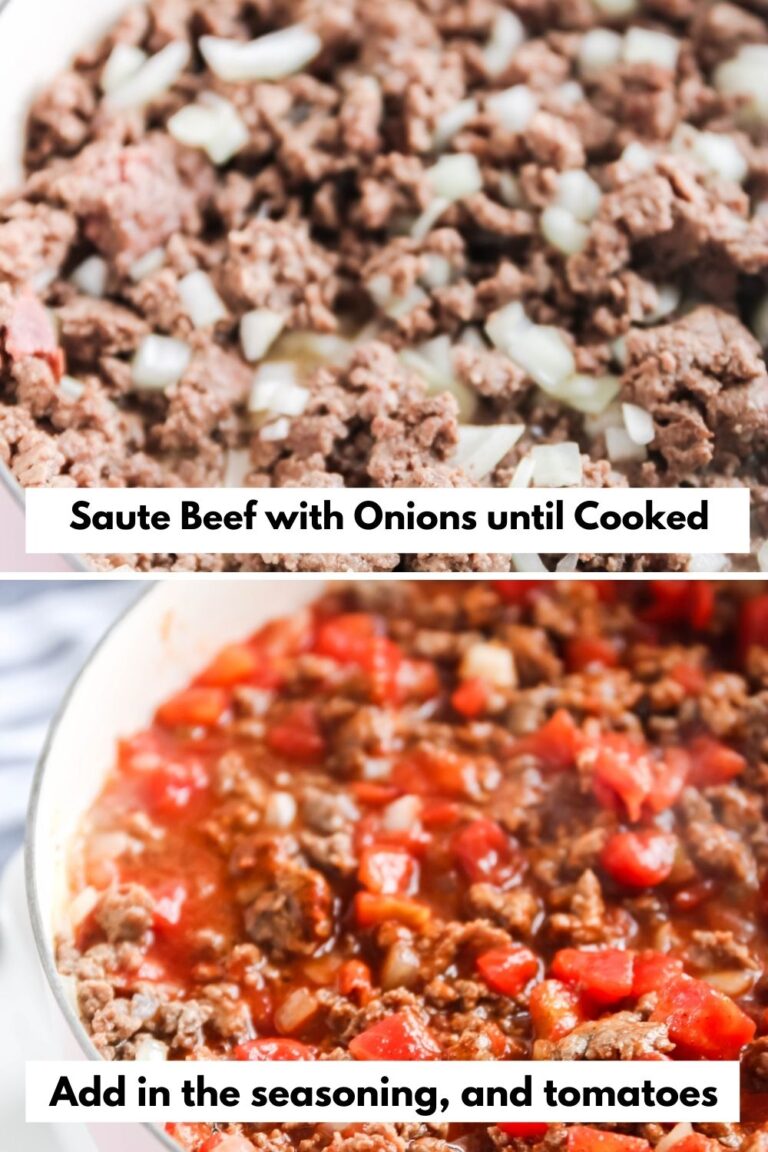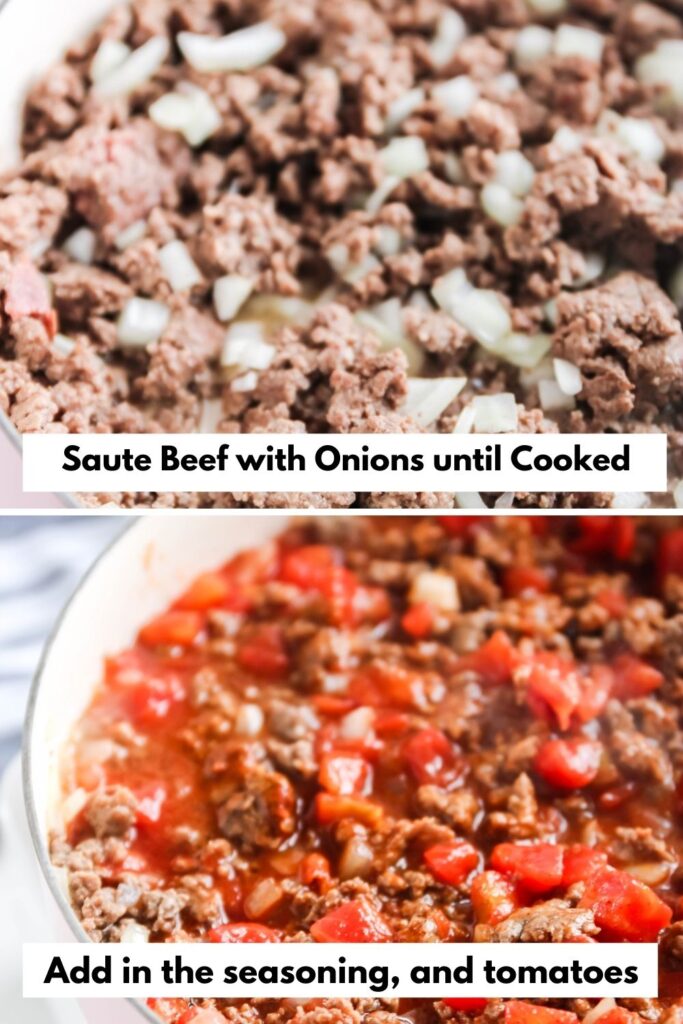 Step One: Start by adding ground beef to a large skillet on medium heat. Crumble the meat up, and then add in the onion to cook with beef.
Step Two: Once the meat is fully cooked. Then drain off any grease from crumbled hamburger meat.
Step Three: Add in the taco seasoning, tomato sauce, and Rotel with juice in the can. Stir for a second to incorporate.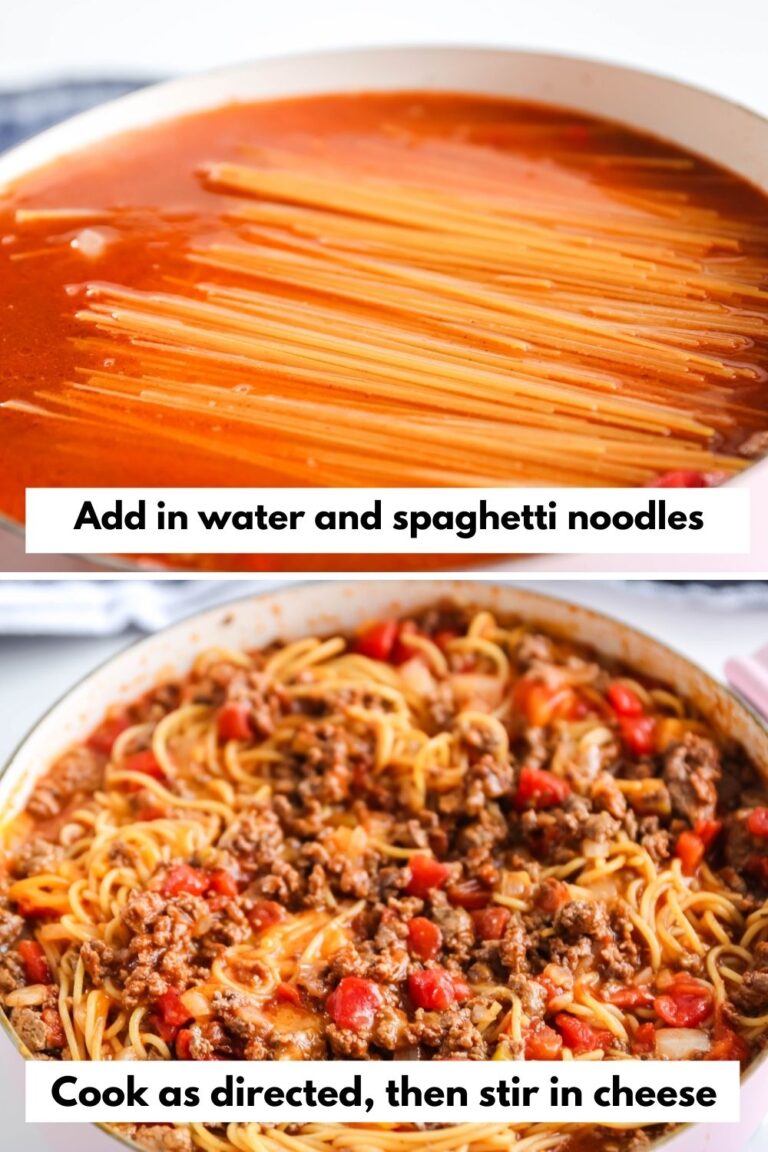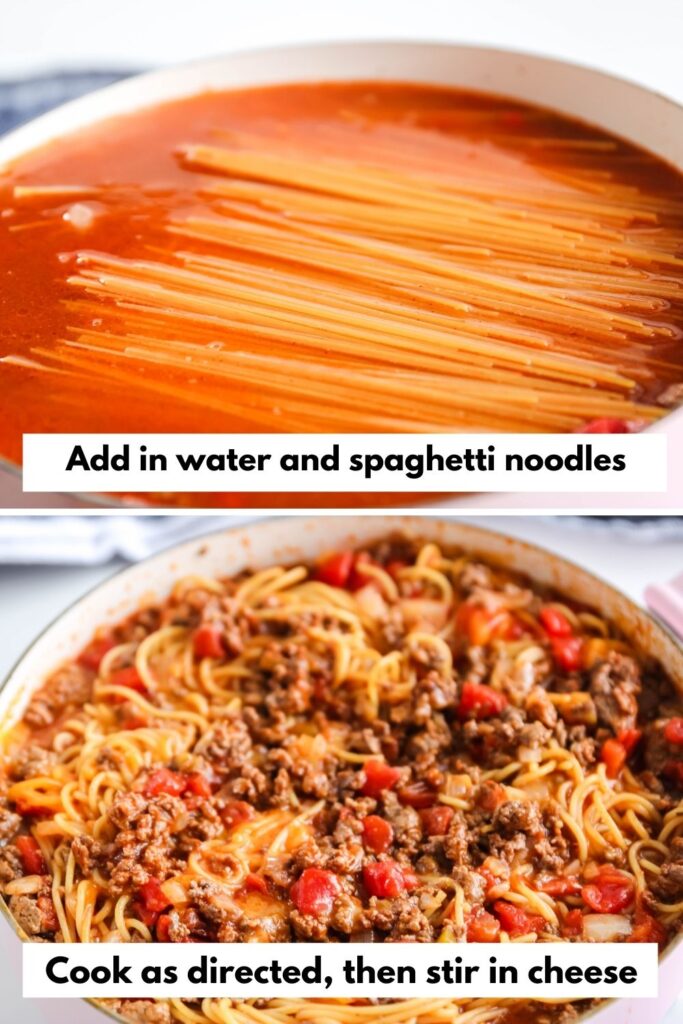 Step Four: Add in the water and stir to combine. Bring to a boil. Break spaghetti noodles in half and place in the skillet. Push down gently to submerge pasta.
Step Five: Reduce the heat to low and place lid on the skillet. Let the spaghetti mixture simmer for around 15 minutes or until pasta is cooked.
Step Six: Once pasta is done, stir in ½ the cheese. Then mix anc serve with extra cheese, dollop of sour cream, cilantro, or other toppings of choice.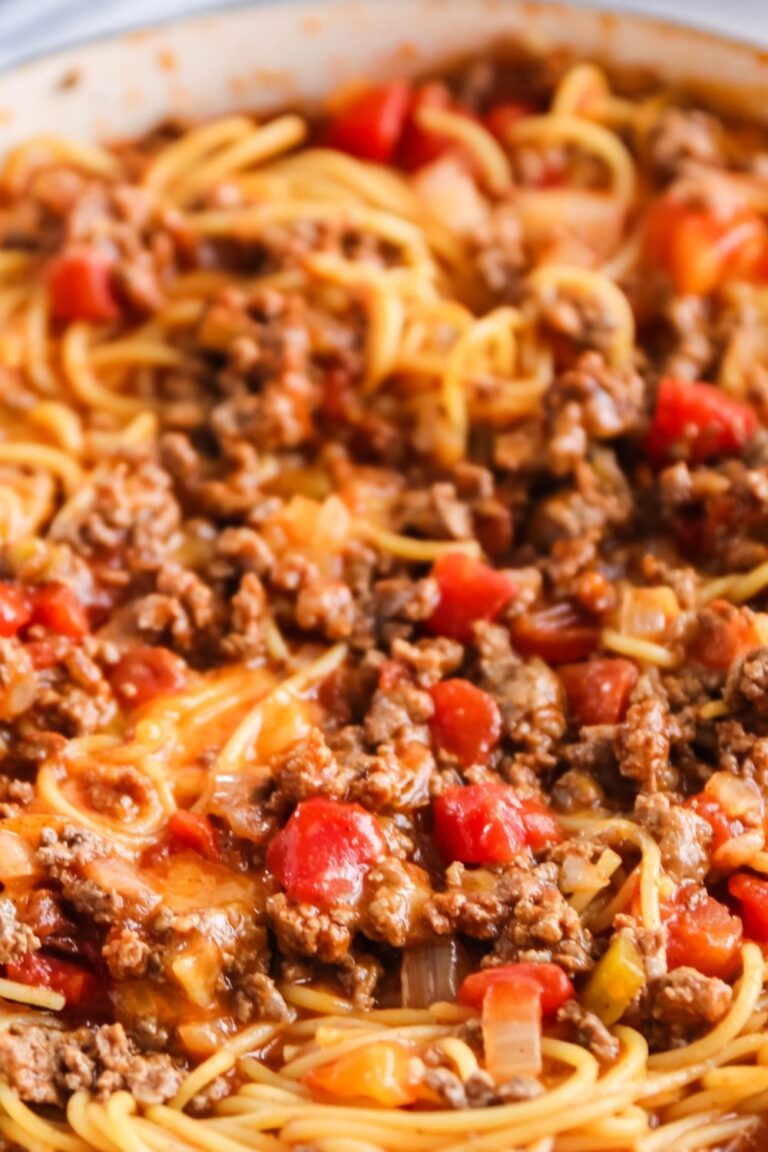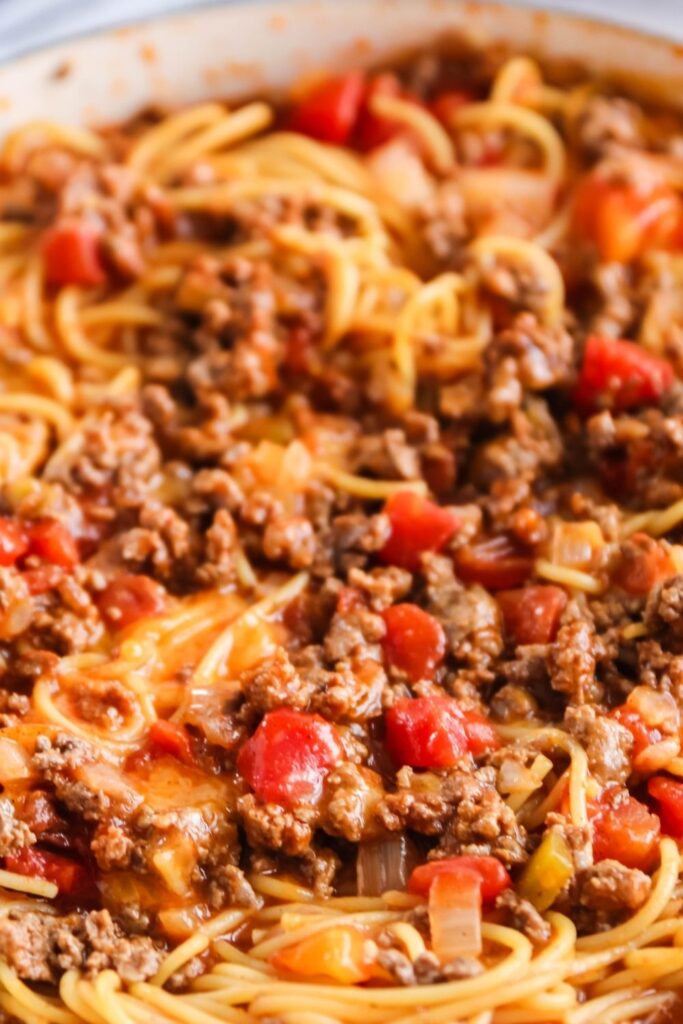 Craving More Taco Recipes
Taco cornbread casserole. | Chicken Walking Tacos. | Pulled Pork Tacos | Shrimp Tacos. | Lobster Tacos
How to Store Leftovers
This makes quite a lot of Rotel spaghetti with ground beef. So for us we did have extra leftover. Simply store in a coveted container in the refrigerator for 2-3 days.
How to Reheat:: To reheat you can warm up in the microwave for a quick reheat. If you make a donut shape with pasta, leaving an empty space in center of plate, it reheats more evenly.
Helpful Tips
Drain off the grease by using tongs and a paper towel. Gently push meat to one side of the pan. Then with tongs wad up some paper towels. Use the paper towel to soak up excess grease in pan.
It is important to let the dish simmer to cook the pasta. I used my tongs to gently move pasta around a couple of times to prevent pasta from clumping together.
Once the pasta is fully cooked stir in some of the cheese. This will help thicken up the dish just a bit. Then use remaining cheese for topping each individual plate.
FAQs
Here are some helpful questions and answers for this one pot ground beef recipe. This taco pasta recipe is one that is easy, but these questions can help you cook with success.
What is taco spaghetti?
Taco spaghetti is a pasta dish that is flavored with taco seasoning, diced tomatoes, green chiles and more. Think pasta and Mexican collide into one. 
Does this spaghetti taco recipe double? 
Want to make a larger batch? If so, simply use a larger pot or skillet that will hold all the pasta and meat. 

How to know when pasta is done cooking? 
The best way to know when pasta is done is to remove a piece and allow it to cook a bit then try it. Pasta is done when it is soft with a slight bit of firmness (al dente). 

The longer pasta cooks it will become gummy and break down.
Why does some pasta take longer to cook?
Depending on the shape and size of the pasta is the reason for different cook times. Larger pasta will take longer than a smaller shaped piece. You will also find dry pasta needs to absorb liquid before it can even begin cooking, whereas fresh pasta cooks faster. 
What if my pasta soaked up water and still not fully cooked? 
If you find your pasta soaks up all the water but still seems a tad bit hard, simply add in around ⅓-½ cup more depending on texture of doneness. Then place the lid back on pan to simmer longer.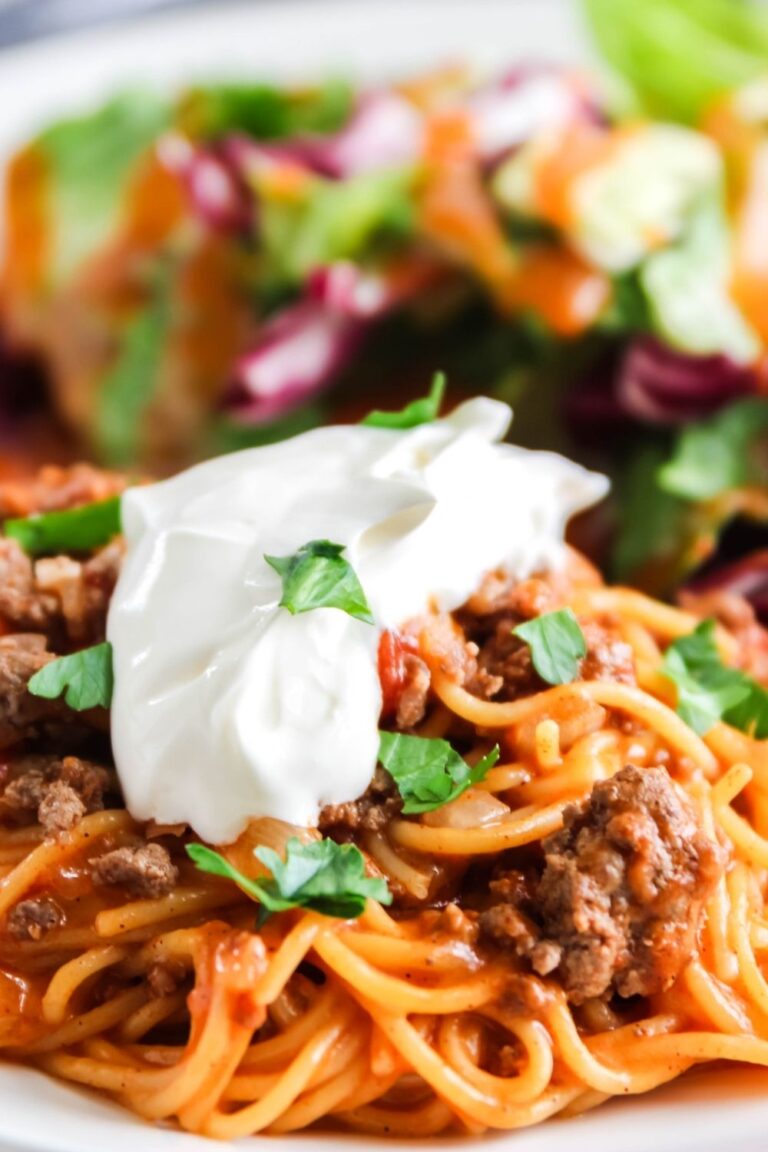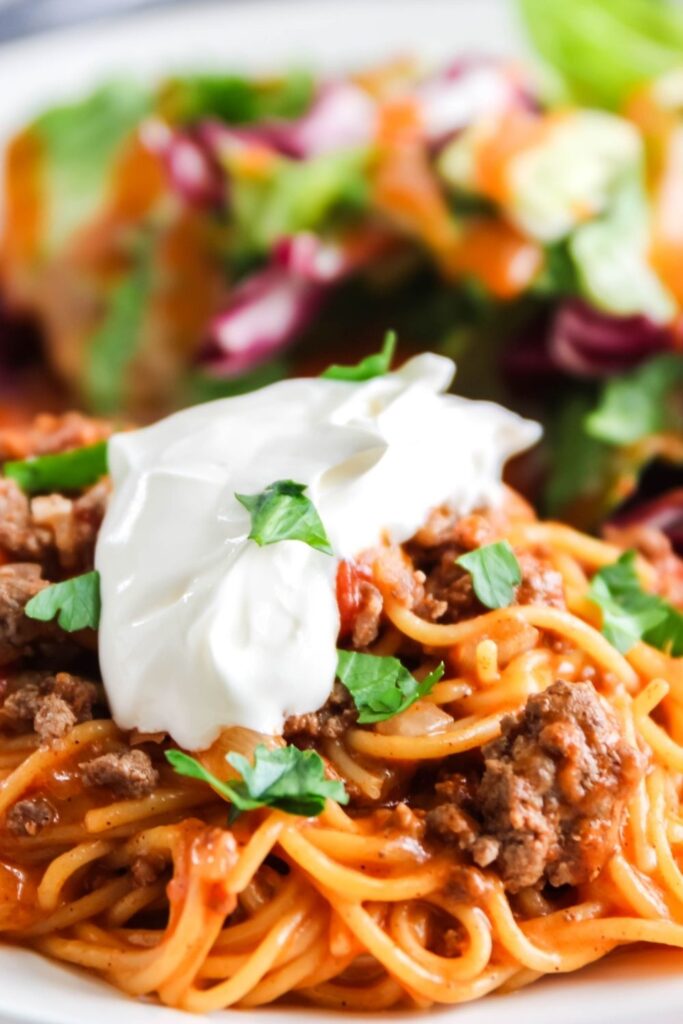 More Dinner Recipes
Here are more easy dinner ideas like this one pot taco pasta! Try out these other dinner recipes.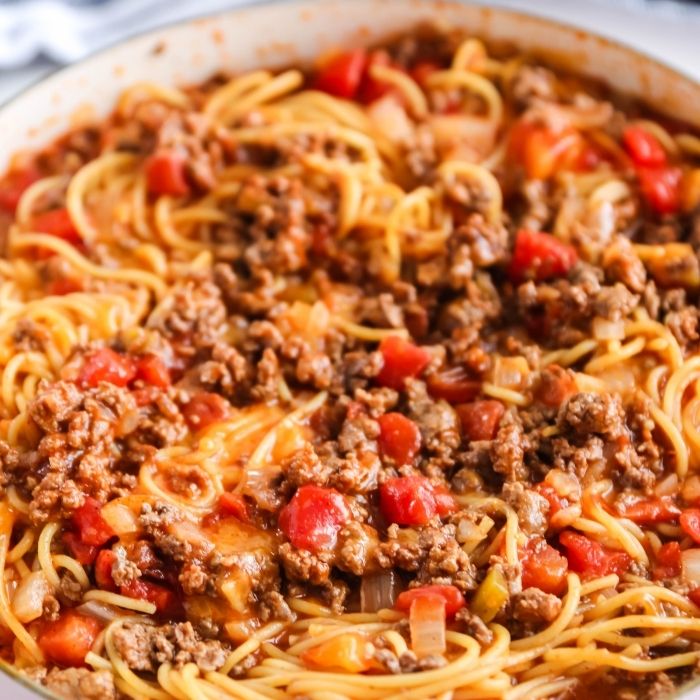 Taco Spaghetti Recipe
Servings 8 -10 servings
Taco Spaghetti is a one pot dinner that is loaded with seasoned ground beef, Rotel, tender pasta, and topped with cheese and sour cream. An easy one pot Mexican spaghetti recipe.
Ingredients
1 pound ground beef
1 packet taco seasoning or 1/4 cup homemade taco seasoning
8 ounces tomato sauce
1 can Rotel 10 ounces
1/4 cup onion diced
3 cups water
8-9 ounces spaghetti noodles
2 cups shredded cheese sharp
Topping: Sour cream cilantro, etc. (optional)
Instructions
In a large skillet on the stove, heat on medium-high and cook your ground beef. I did season with salt and pepper, but this is optional.

Add in the diced onion when the ground beef is mostly cooked. Finish cooking until the meat is fully cooked then drain off grease.

Pour in the taco seasoning, tomato sauce, and Rotel with the juice. Mix well.

Pour in the water, and then break spaghetti noodles in half and place in skillet.

Cover the pasta with water, by pushing it down gently into the water. Bring the mixture to a boil.

Once the taco spaghetti mixture is boiling reduce heat to low and simmer for 15 minutes or until the pasta is done.

When the spaghetti is done I stir in 1 cup of cheese to give it a creamy texture.

Then serve with cilantro, more cheese, and sour cream, or serve the taco spaghetti plain.
Notes
Pasta – I used a protein pasta but any spaghetti noodles works for this. Make sure that you press into water or the pasta will not soften. Fan Pasta – When I put pasta in the pot I kind of fanned it out spreading it over the pan. This helps prevent sticking. You can open and lightly stir with tongs while cooking to ensure the pasta won't stick. Rotel – If you can't find rotel do a can of diced tomatoes and a small 4 ounce can of green chiles in replace. Leave the juice in the cans.
Nutrition
Serving: 1gCalories: 556kcalCarbohydrates: 69gProtein: 29gFat: 17gSaturated Fat: 8gPolyunsaturated Fat: 7gTrans Fat: 1gCholesterol: 63mgSodium: 880mgFiber: 4gSugar: 4g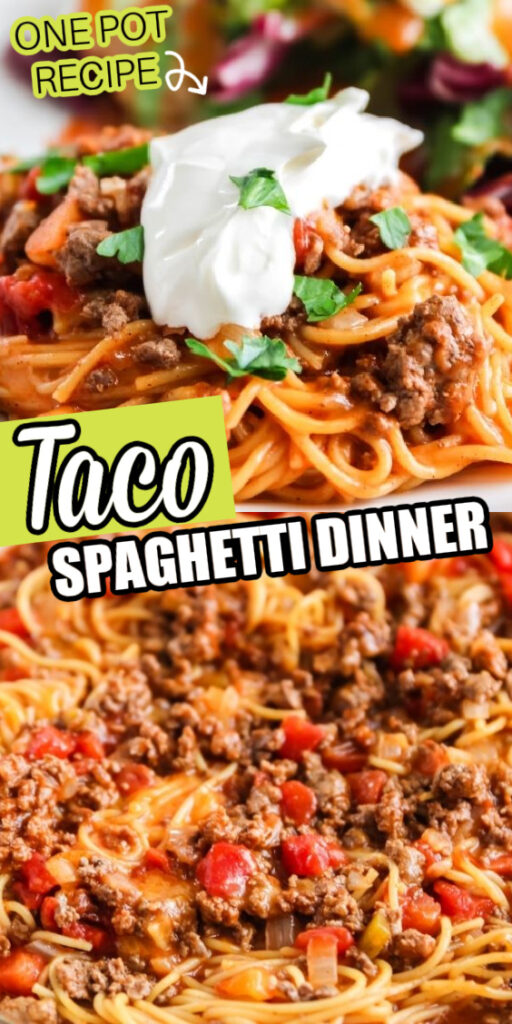 Reader Interactions