Learn How to Air Fry Frozen Chicken Nuggets is something all busy moms need to know! Get that air fried crunchy texture with a tender chicken center. Nobody likes a soggy chicken nugget. Frozen chicken nuggets in air fryer are awesome.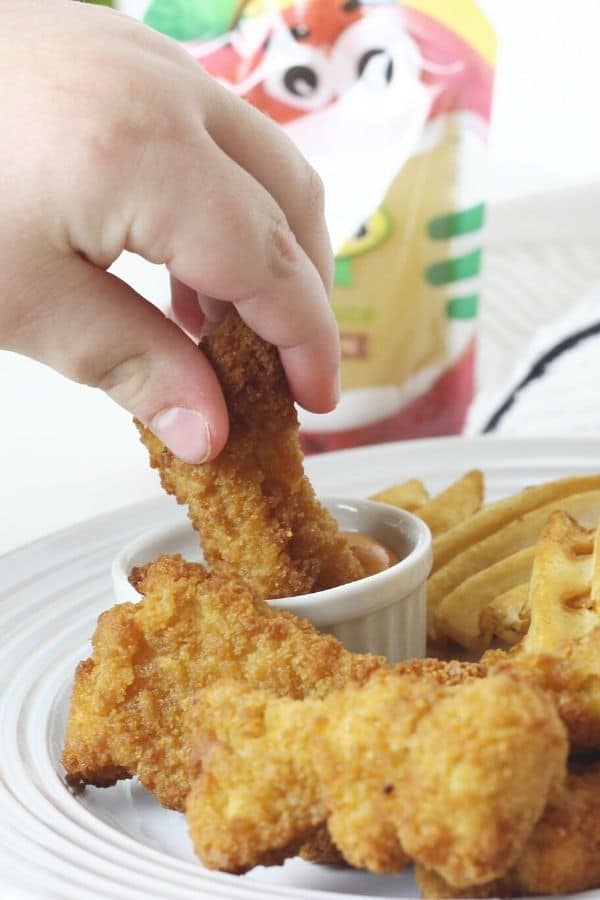 I had some dinosaur-shaped chicken nuggets in my freezer my son was begging for. I thought why not cook up some air fryer chicken nuggets from frozen. Quick, easy, and crispy just like he likes them.
Crispy nuggets with flavorful moist center. Learn how to make the perfect air fryer frozen chicken nuggets for your kids to enjoy.
Why You will Love this Air Fryer Chicken Nuggets Recipe …
Uses frozen chicken nuggets – or even chicken strips
Simple to make
Crispy outside
Dippable chicken nuggets
Easy
Tastes just as good as fried without the grease
Easy way to cook bag of frozen foods
Serve with your favorite dipping sauce
Best air fryer chicken nuggets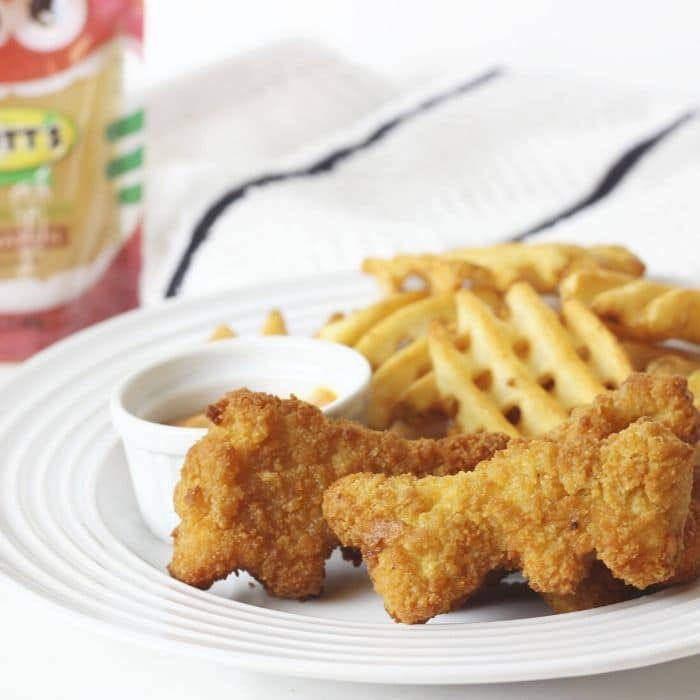 What Is The Best Brand of Chicken Nuggets
This all depends on the person. You will find that some swear by one brand and another despises it. Whether you buy gluten-free, no antibiotic, white meat chicken or something else, they all work!
This guide is meant for all nuggets. NOW depending on brand and size, you might find you need to alter the cook time slightly. Just make sure you check on your nuggets to ensure they are not over-cooking.
Want more air fryer recipes
What Devices Can I Use For Air Fryer Frozen Nuggets
Any air fryer device works if you can adjust the temperature and cook time!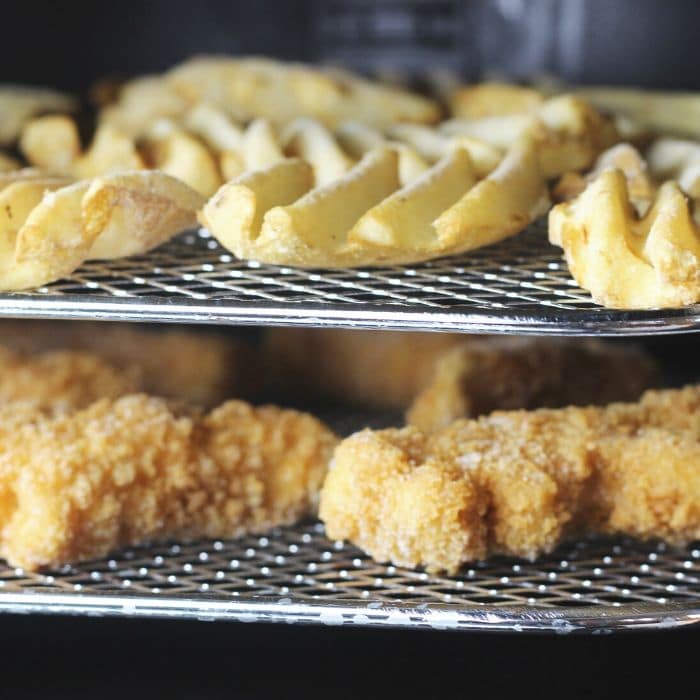 How To Air Fry Frozen Chicken Nuggets
Step 1: Place frozen nuggets on the rack of the air fryer. Make sure to leave space between each nugget.
Step 2: Turn air fryer to 400 degrees and cook for 6 minutes. You can spritz your nuggets lightly with cooking oil to help crisp up the nuggets.
Step 3: At the 6 minute mark flip your nuggets over and cook another 6 minutes.
Step 4: If you want your nuggets extra crispy spritz with oil two minutes before you pull them out. Or you can cook your nuggets 2-3 minutes longer.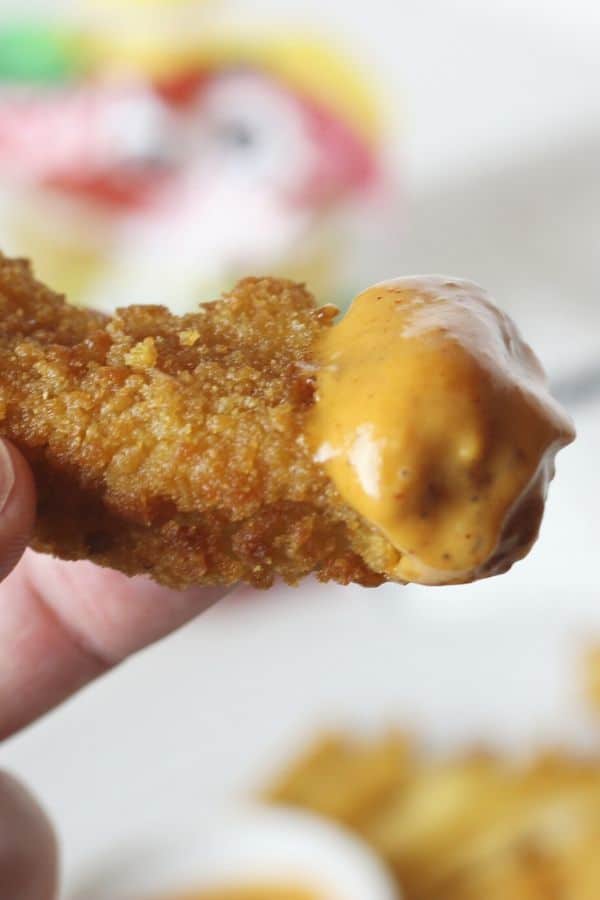 Best Dippers For Chicken Nuggets
Ketchup
Mayo-BBQ Sauce Mixed
Aoili sauce
Recipe FAQs
How long do you cook frozen chicken nuggets in an Air Fryer?
Cooking frozen nuggets in the air fryer varies depending on size and thickness of your nuggets. You can expect 10-12 minutes for frozen nuggets.
How many chicken nuggets can you put in an air fryer?
Put your chicken nuggets in a single layer. Depending if you have an air fryer oven or basket style your nuggets will vary. Anywhere from 10 in a smaller air fryer to like 40 in a larger air fryer oven.
Can you put foil in an air fryer?
You can put foil in the air fryer, just you don't want to put it on the rack. If you do put on the rack poke holes so air flows through.

I put foil on the very bottom of my air fryer under the trays to collect crumbs or drips.
More Air Fryer Recipes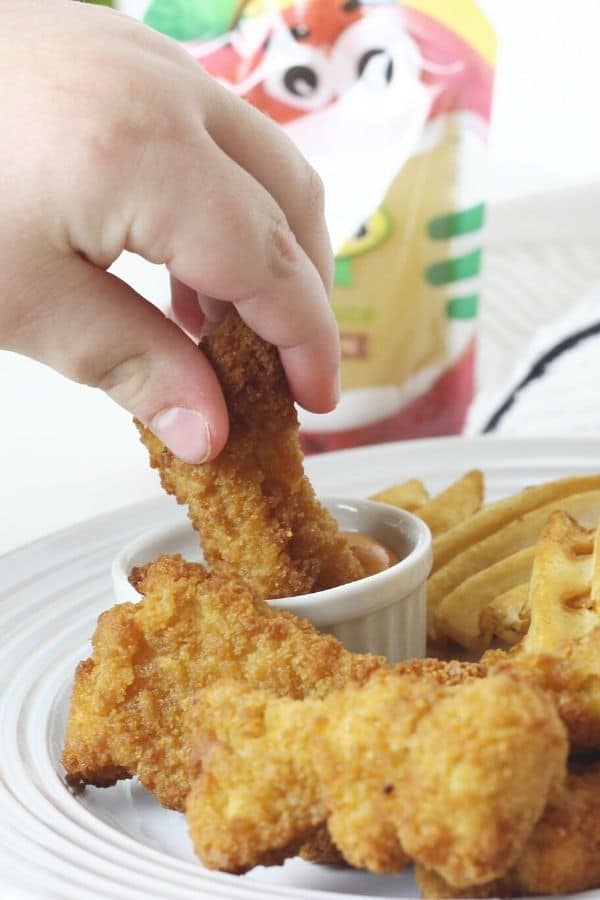 How To Air Fry Frozen Chicken Nuggets
Servings 4 servings
Learn how to air fry frozen chicken nuggets! This is a great and simple way to get crispy frozen nuggets every single time. Air fryer chicken nuggets are so easy to make.
Instructions
Layout your chicken nuggets on the air fryer rack. Make sure the nuggets don't touch. Cook as many as you want.

Turn Air Fryer to 400 degrees, and cook for 6 minutes.

At 6 minute mark flip the nuggets over. Cook an additional 6 minutes.

If you want extra crispy spritz with oil at 2-minute mark or cook an additional 2-3 minutes.
Notes
Any chicken nuggets brand will work on this recipe. You can cook these in your Instant Pot Duo Crisp or Ninja Foodi, just use the crisping lid. Depending on size and thickness the cooking time can vary. For a bit crispier texture spritz nuggets with extra oil as it cooks for a more deep-fried texture.
Nutrition
Serving: 1gSodium: 24mgCholesterol: 2mgCalories: 12kcalPolyunsaturated Fat: 1gFat: 1gProtein: 1gCarbohydrates: 1g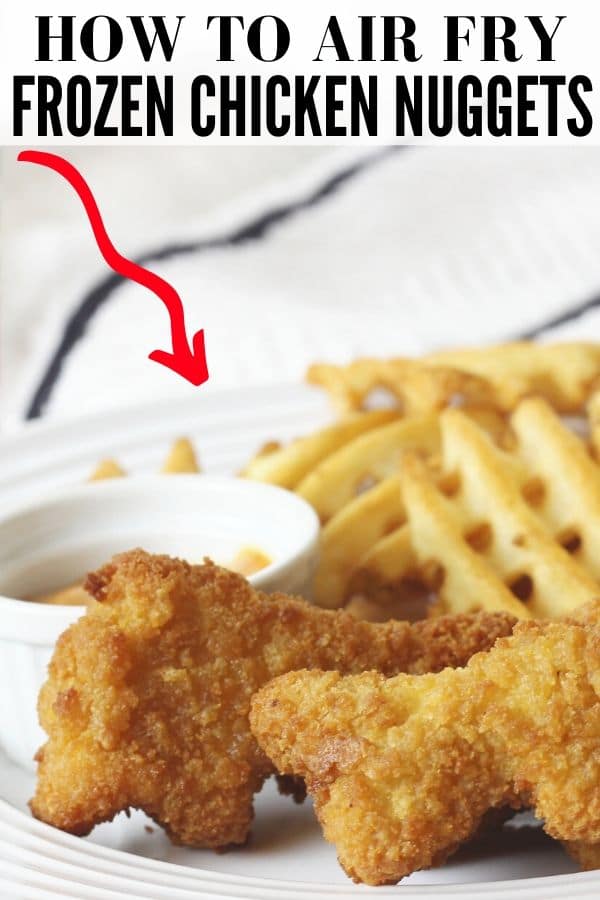 Reader Interactions