How to Air Fry Frozen Chicken Nuggets is something all busy moms need to know! Get that air fried crunchy texture with a tender chicken center. Nobody likes a soggy chicken nugget. Use your air fryer to cook perfect crispy nuggets.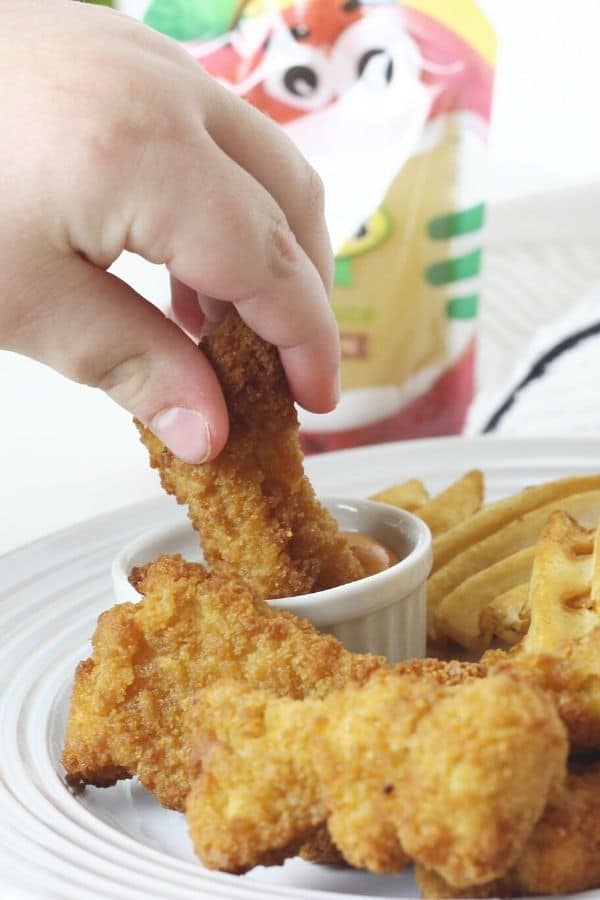 I had some dinosaur-shaped chicken nuggets in my freezer my son was begging for. I thought why not cook up some air fryer chicken nuggets from frozen. Quick, easy, and crispy just like he likes them.
How To Air Fry Frozen Chicken Nuggets
My son's favorite nuggets are of course the dinosaur nuggets. He is 4 and if it has anything to do with a T-Rex you can count him in. I also air fried waffle fries at the same time!
While this isn't a true recipe I think it is something any parent with an air fryer can find useful!
Why Air Fry Frozen Chicken Nuggets
Fast cook time
Crispy texture like fried nuggets
More appealing than a soggy microwaved nugget
No oil needed
I love my air fryer, so why not!
I am an Amazon Affiliate, so if you purchase through my link I can earn a commission on sales.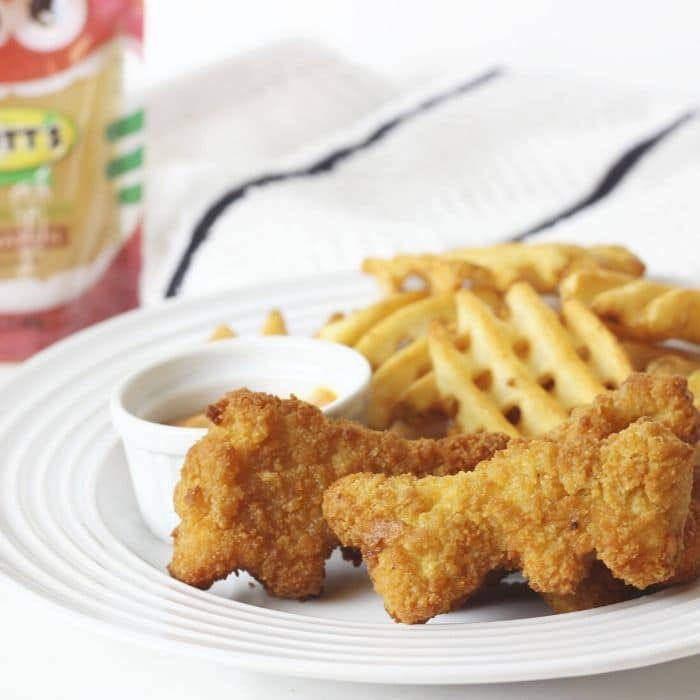 What Is The Best Brand of Chicken Nuggets
This all depends on the person. You will find that some swear by one brand and another despises it. Whether you buy gluten-free, no antibiotic, white meat chicken or something else, they all work!
This guide is meant for all nuggets. NOW depending on brand and size, you might find you need to alter the cook time slightly. Just make sure you check on your nuggets to ensure they are not over-cooking.
Want more air fryer recipes
What Devices Can I Use For Air Fryer Frozen Nuggets
Any air fryer device works if you can adjust the temperature and cook time!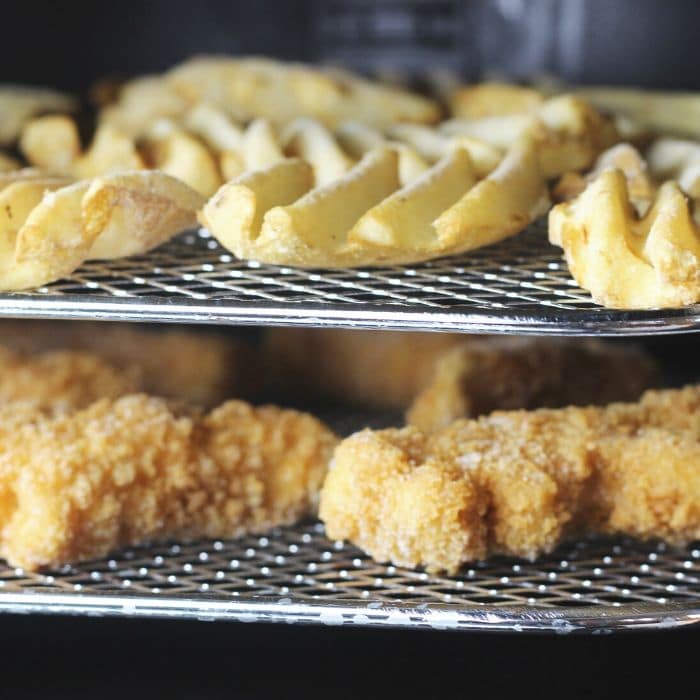 How To Air Fry Frozen Chicken Nuggets
Place frozen nuggets on the rack of the air fryer. Make sure to leave space between each nugget.
Turn air fryer to 400 degrees and cook for 6 minutes.
At the 6 minute mark flip your nuggets over and cook another 6 minutes.
If you want your nuggets extra crispy spritz with oil two minutes before you pull them out. Or you can cook your nuggets 2-3 minutes longer.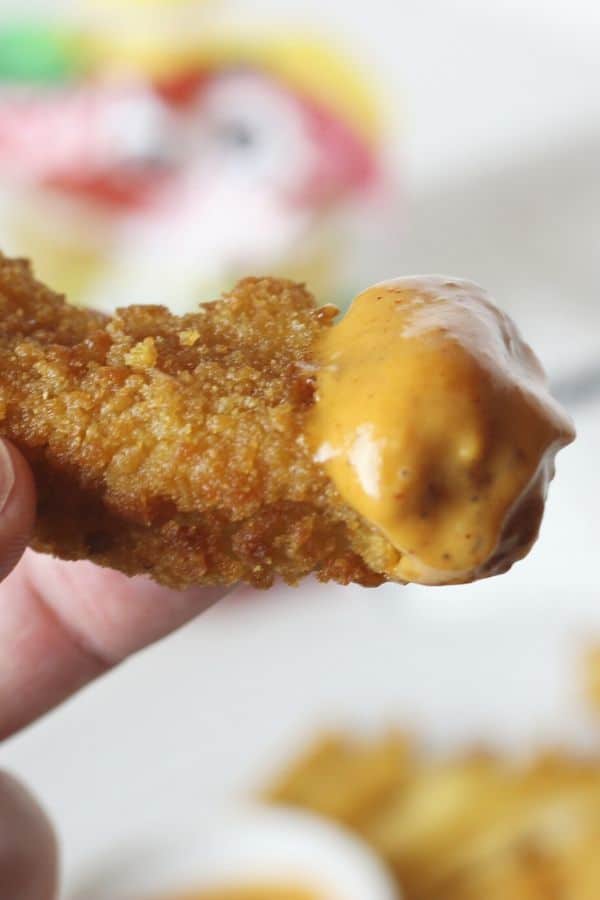 Best Dippers For Chicken Nuggets
Ketchup
Mayo-BBQ Sauce Mixed
Aoili sauce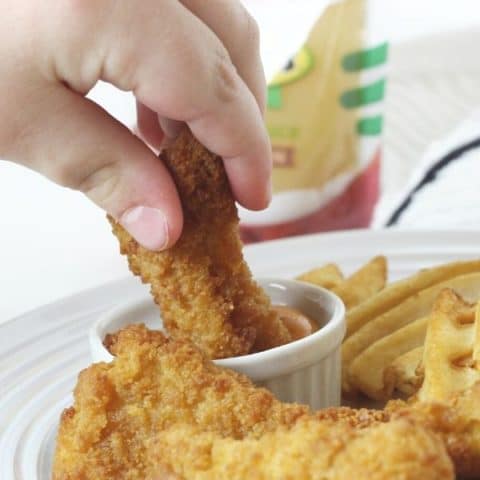 How To Air Fry Frozen Chicken Nuggets
Learn how to air fry frozen chicken nuggets! This is a great and simple way to get crispy frozen nuggets every single time.
Instructions
Layout your chicken nuggets on the air fryer rack. Make sure the nuggets don't touch. Cook as many as you want.
Turn Air Fryer to 400 degrees, and cook for 6 minutes.
At 6 minute mark flip the nuggets over. Cook an additional 6 minutes.
If you want extra crispy spritz with oil at 2-minute mark or cook an additional 2-3 minutes.
Nutrition Information:
Yield:

4 servings
Serving Size:

1
Amount Per Serving:
Calories:

12
Total Fat:

1g
Saturated Fat:

0g
Trans Fat:

0g
Unsaturated Fat:

1g
Cholesterol:

2mg
Sodium:

24mg
Carbohydrates:

1g
Fiber:

0g
Sugar:

0g
Protein:

1g