A Venison Jerky Recipe that can be made in a Ninja Foodi, Air Fryer or even a classic dehydrator. Tender and flavorful deer meat transformed into homemade venison jerky.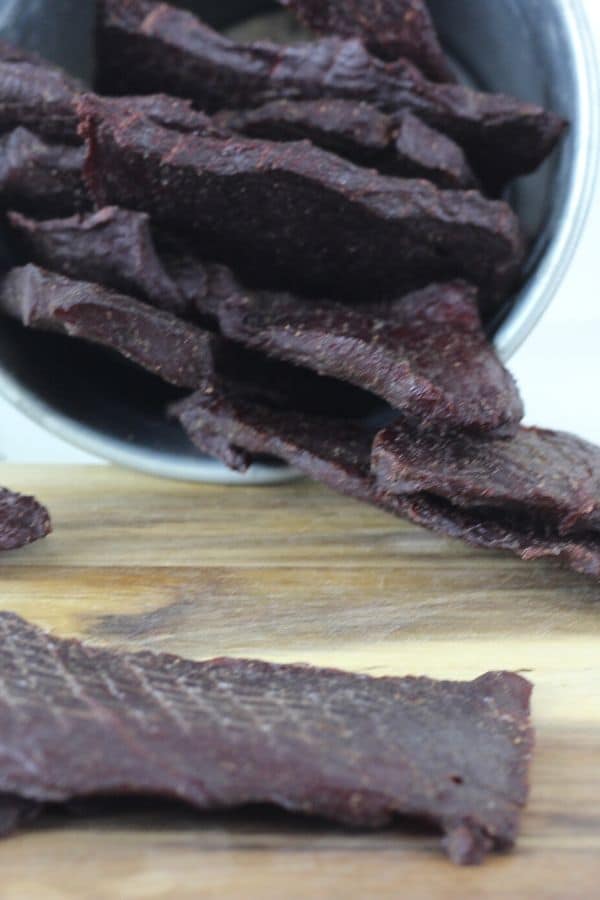 Venison Jerky Recipe
My husband makes this venison jerky recipe each and every year. It is an easy venison recipe that you and your family will love.
If you enjoy wild game and homemade jerky, this recipe for air fryer jerky is a no-brainer.
Can You Make Deer Jerky In The Air Fryer
Yes, this is one of the biggest questions I see. You can make jerky in your air fryer or Ninja Foodi! You just lower the setting to 160-180 degrees and it will dehydrate the meat. I also made Deer Jerky in my Instant Pot Duo Crisp.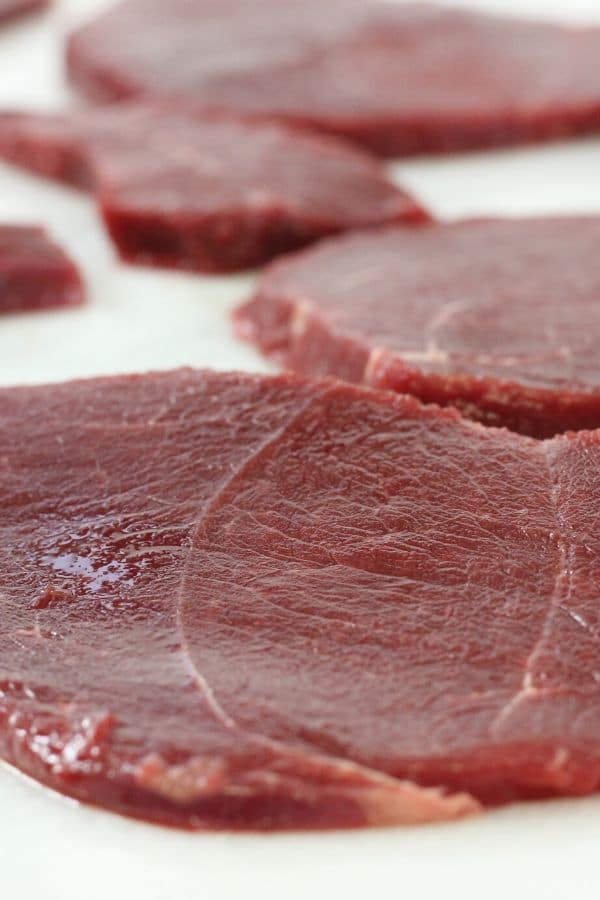 What Deer Meat Is Best For Jerky
Venison is great because almost any cut of the deer meat can be used for making jerky. We prefer to use a roast or meat from the hind legs.
I am an Amazon Affiliate, so if you purchase through my link I can earn a commission on sales.
How Long Do You Cook Venison In An Air Fryer
For our meat that we sliced up, it took 3-4 hours total. Now, depending on the thickness of your meat will greatly affect the time it takes to cook your jerky. Air Fryer venison jerky is so easy to do!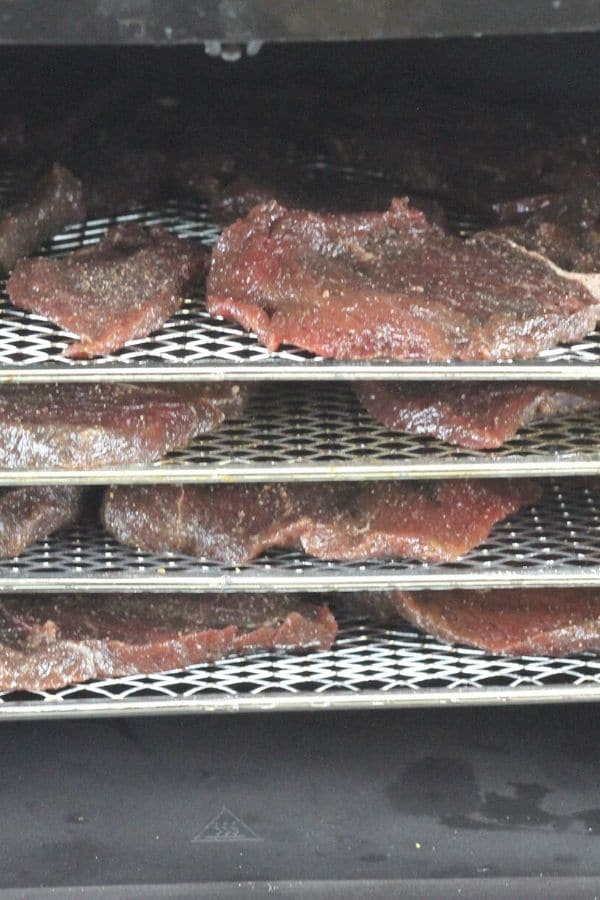 Can You Dehydrate Jerky Too Long
Yes, this is something you want to be aware of. We cook our jerky until it is becoming a bit stiffer in texture and you can tear it easily.
You will find the edges of the jerky will be slightly crispier, but the inside will be tender. You are welcome to cook your jerky to any type of texture you prefer.
Why Marinade Venison Jerky for 24 Hours
We use Hi-Mountain seasoning, this has preservatives in it to help preserve the jerky. So for it to reach the max potential it has to be marinaded for 24 hours. This is a super easy venison jerky marinade that we use.
Then we use 1 teaspoon of liquid smoke per pound of deer meat we do. You can do a rough estimate on how much meat you have at the end.
How to Easily Remove Silver Skin From Deer Meat
The key to a tender and less chewy jerky is taking the time to remove the silver skin. Work with partially frozen deer meat, it is so much easier to hold and slice.
Then use a sharp knife to cut off any silver skin you see on your cut of meat. The silver skin is the silver-white parts of the meat.
Silverskin is very tough and will make your jerky chewy. It adds prep time but it is highly worth it in the end result.
Tips For Cutting Up Venison Jerky Easily
Work with partially frozen meat. It will slice easier.
Remove all silver skin from meat for a less chewy jerky.
Marinade for 24 hours to ensure meat cures. Make sure to massage the bag a few times to help incorporate it.
Don't let pieces of jerky touch when you lay it out in Air Fryer Or Foodi.
Flip the venison jerky halfway through the dehydrating to check it.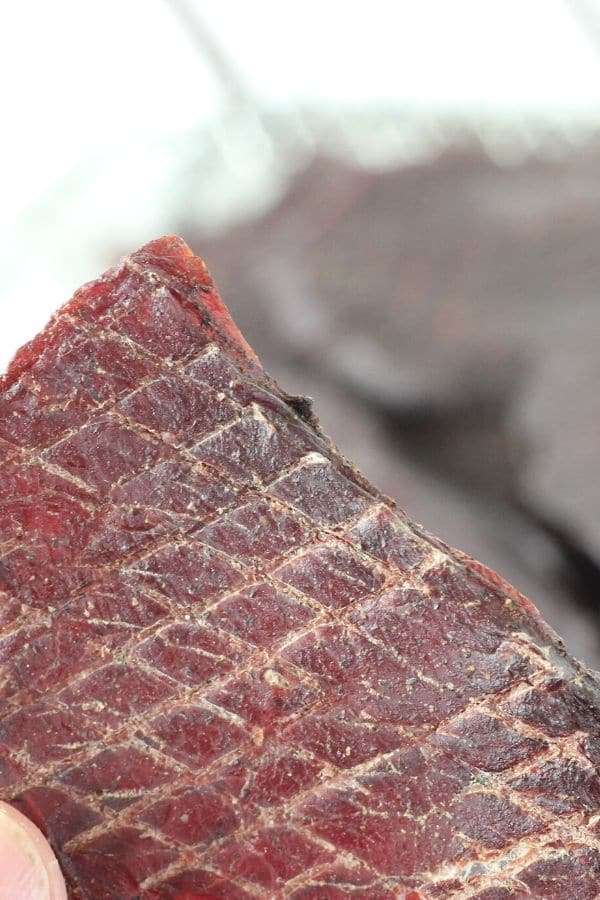 Ingredients for Venison Jerky Recipe
Can I Use Beef In Replace Of Deer Meat
You sure can use a beef roast in replace of deer meat if you would like. Prep the meat the same and season and marinade as well. Then cook until the jerky reaches the texture you would like.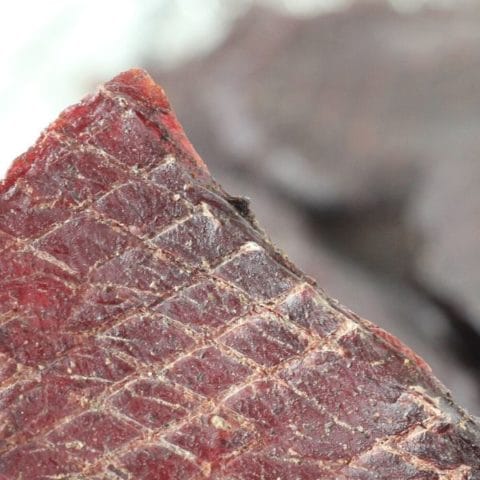 Air Fryer Venison Jerky Recipe
Total Time:
1 day
4 hours
30 minutes
Air Fryer Venison Jerky is so easy to make. You can make this recipe in your dehydrator or Ninja Foodi.
Ingredients
3-5 pounds deer roast (or do more if you would like)
Hi-Mountain cure and jerky mix or another brand
1 teaspoon liquid smoke PER pound of meat
Instructions
First you want to start by slicing your roast into thin strips, and removing any silver skin on each piece of the meat.
Lay it all out flat, and then mix up your seasoning per the box. Sprinkle on both sides of the meat, massaging it in.
Then transfer the meat into a bag and add in the liquid smoke. 1 teaspoon per pound of meat you have. Massage bag.
Store in the fridge for 24 hours to let it marinade and cure.
Lay the jerky out on your air fryer trays, don't let the pieces touch. Then cook at 160 degrees for 3-4 hours. Make sure to flip and randomly check, and remove the meat when it is cooked to your texture liking.
Notes
Store your deer jerky in a bag in the fridge. Or opt to freeze it for up to three months.
Nutrition Information:
Yield:

16
Serving Size:

1
Amount Per Serving:
Calories:

340
Total Fat:

9g
Saturated Fat:

5g
Trans Fat:

0g
Unsaturated Fat:

4g
Cholesterol:

187mg
Sodium:

120mg
Carbohydrates:

0g
Fiber:

0g
Sugar:

0g
Protein:

60g