Learn how to make these air fryer meatballs with simple ingredients. Homemade meatballs that are juicy and crispy on the outside. A must try! Grab your air fryer and make these into an appetizer, pair with pasta sauce for dinner, and so many other options. These air fried meatballs are a hit.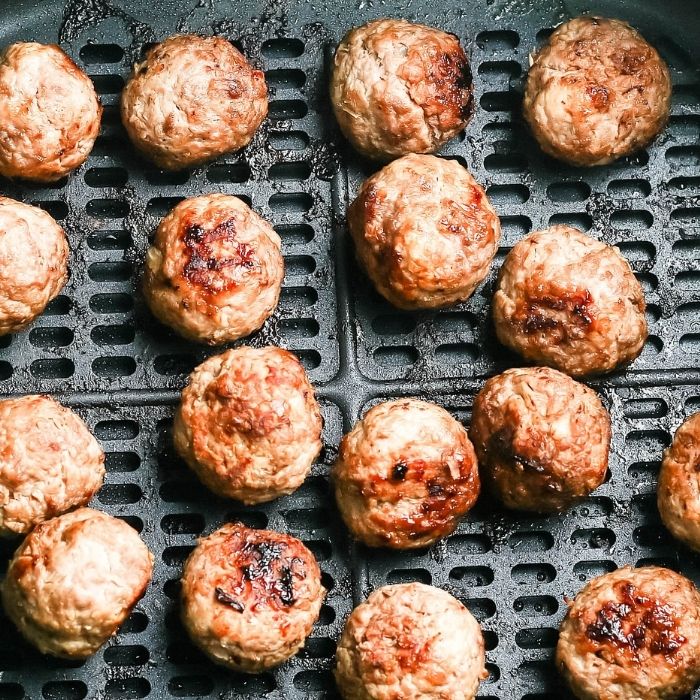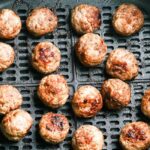 Craving homemade meatballs? If so, here is my go-to air fryer meatballs recipe. This is a delicious ground beef and sausage meatball that offers tons of flavor and a juicy finished product. Whip these air fried meatballs up for dinner or grab some toothpicks and serve up as an appetizer.
No matter how you choose to serve the meatballs they will be a treat. You can pair with your favorite dipping sauce, or smother in pasta sauce for a satisfying meal.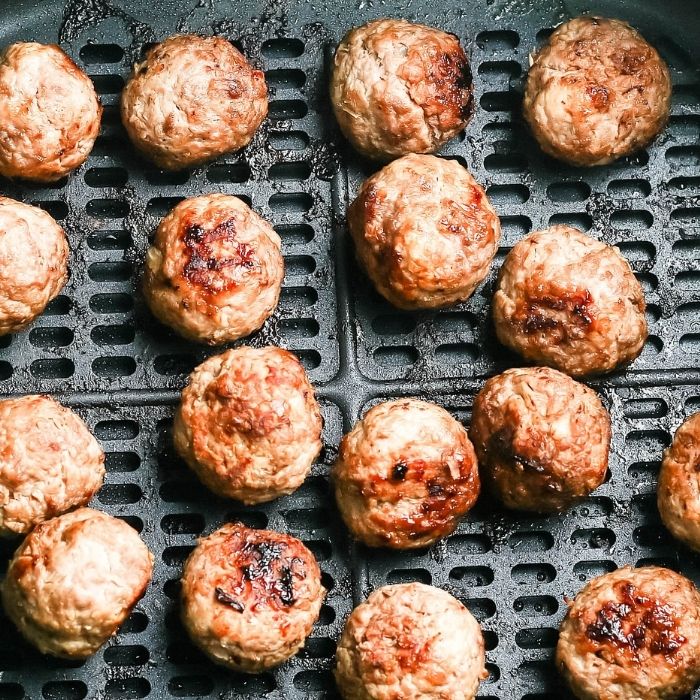 You can make these meatballs in a classic air fryer, Ninja Foodi, Ninja Foodi Grill, or even the Instant Pot Duo Crisp. All devices will have the same cooking process just alter steps if need be depending on the air fryer you are using.
These Air Fryer Meatballs Are
Made with ground beef and sausage
Homemade meatball recipe
Air fried to a crispy outside and juicy center
7 ingredients needed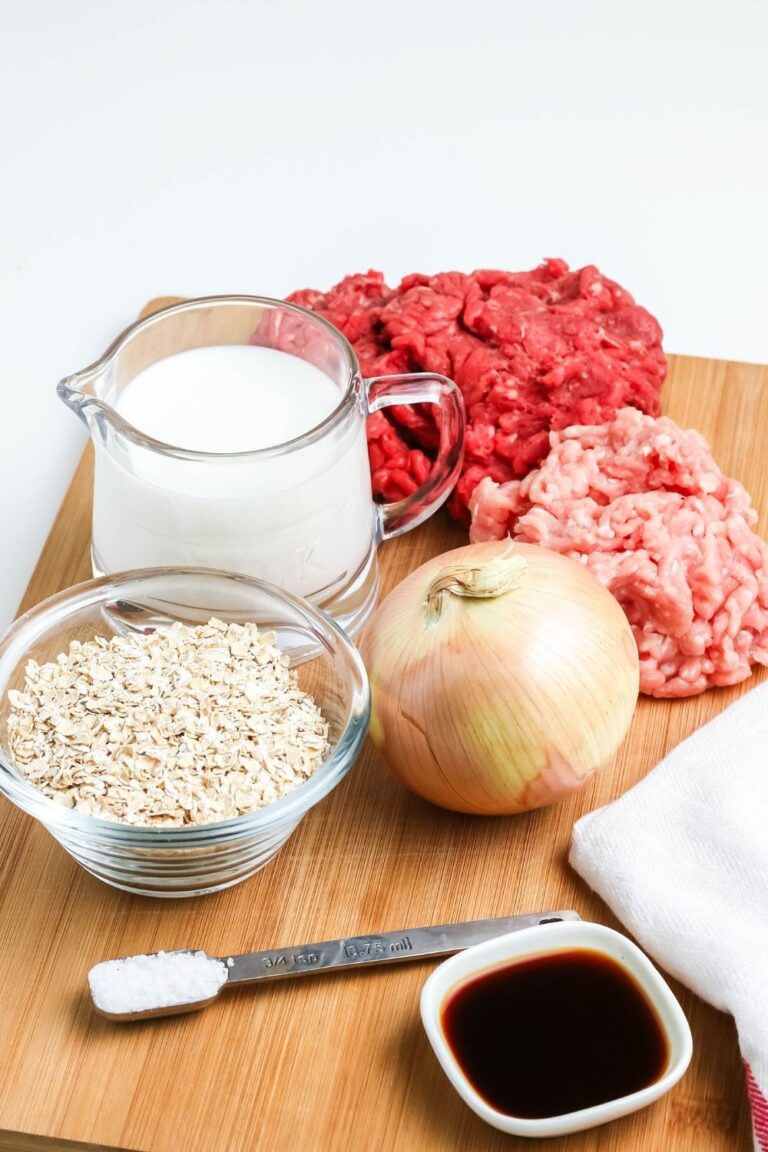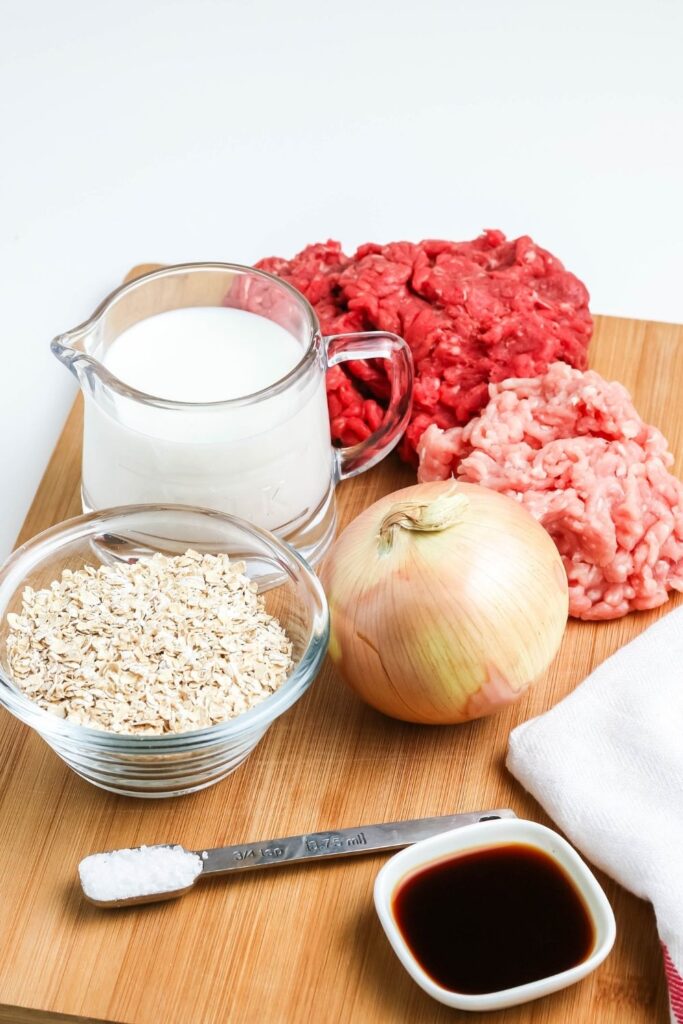 Ingredients You Need
Ground Beef and Sausage – I used a mix of meat as the pork helps to add flavor but also ensures your meatballs are juicy. You can of course do turkey in replace of beef.
Oats – Now some love breadcrumbs for meatballs, but I made these with some quick oats.
Milk – You can use regular milk or a milk replacement for this recipe.
Onion – Yellow or a white onion are best for this recipe. Red onions are too strong in terms of flavor, is what I have found.
Salt – Season to taste.
Worcestershire Sauce – This helps to add a kick of flavor to the meatballs. It is a great addition to the recipe for sure.
How to Make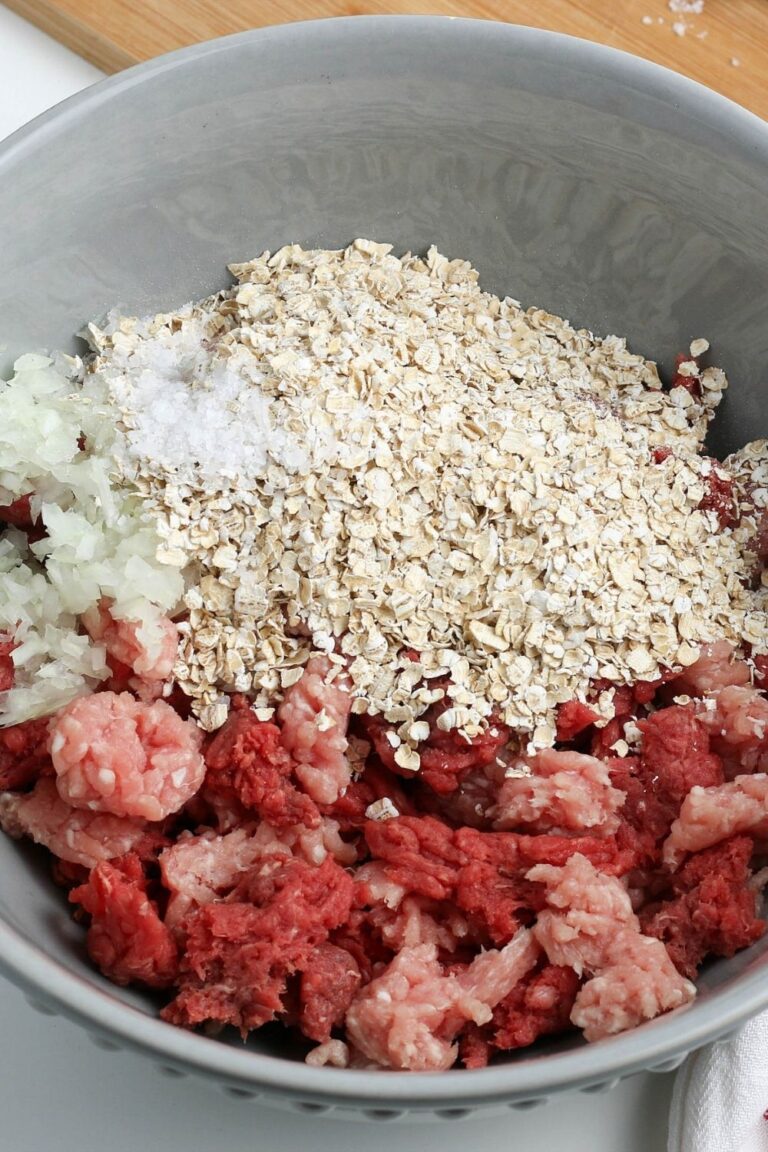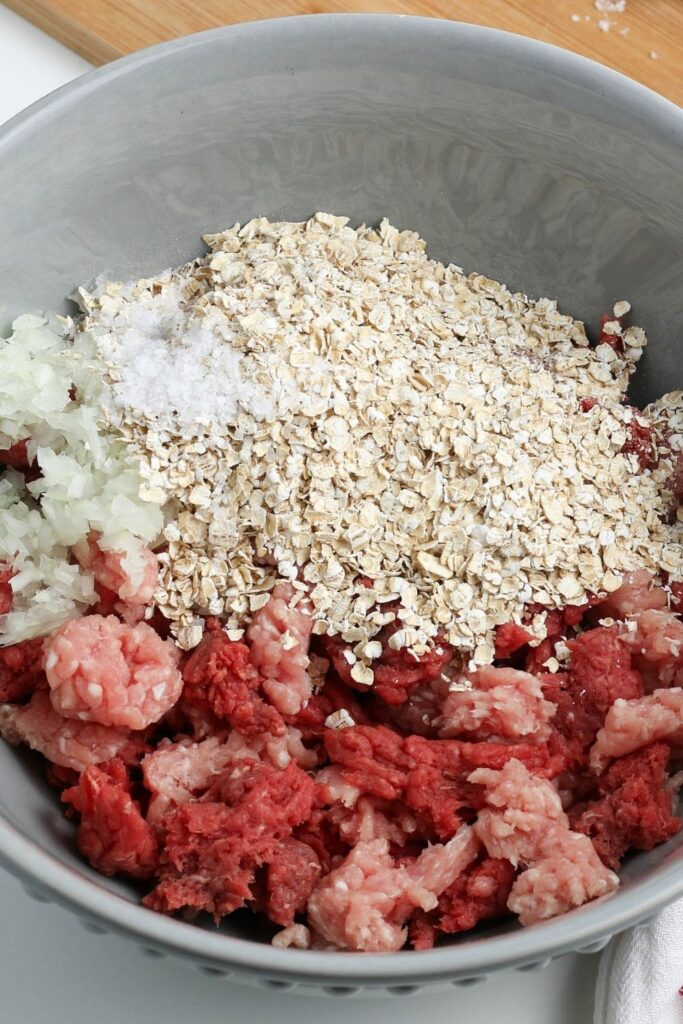 Step One: In a bowl add your ground beef, sausage, oats, milk, onions, salt, and Worcestershire. Mix well making sure it is fully combined.
Step Two: Let the meat mixture sit for 10 minutes. This is a step you don't want to miss. The milk and oats will all soak up.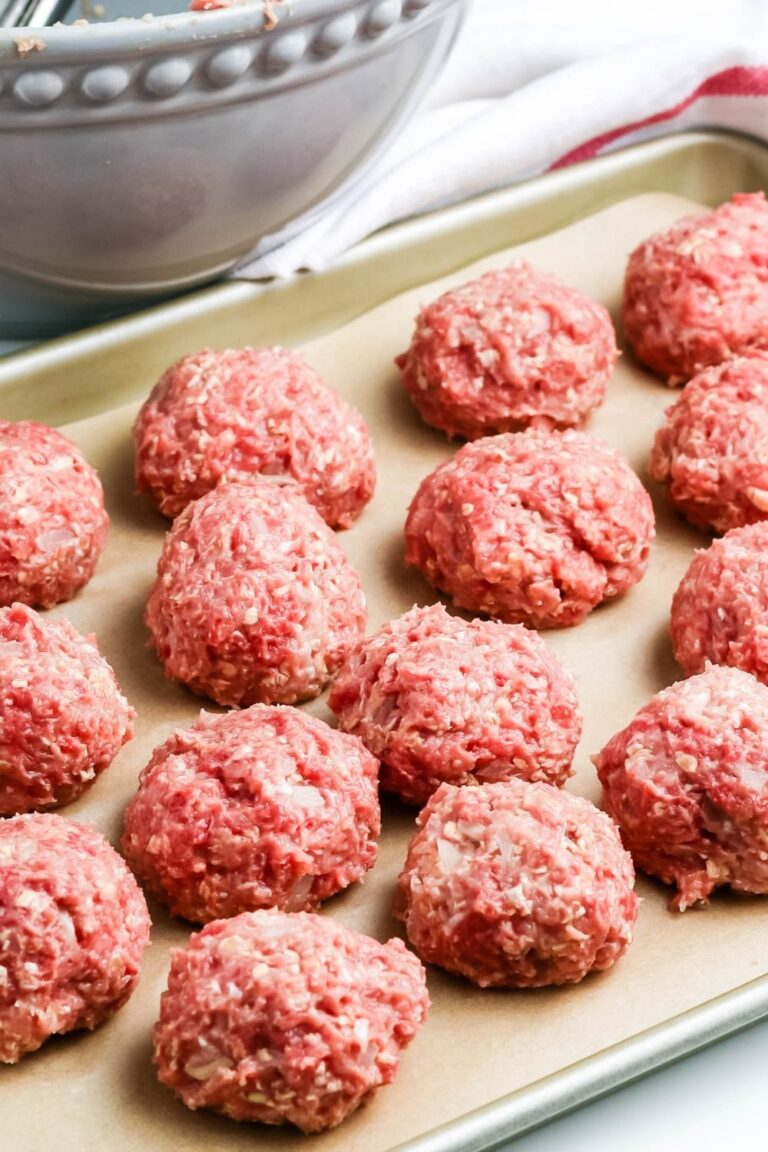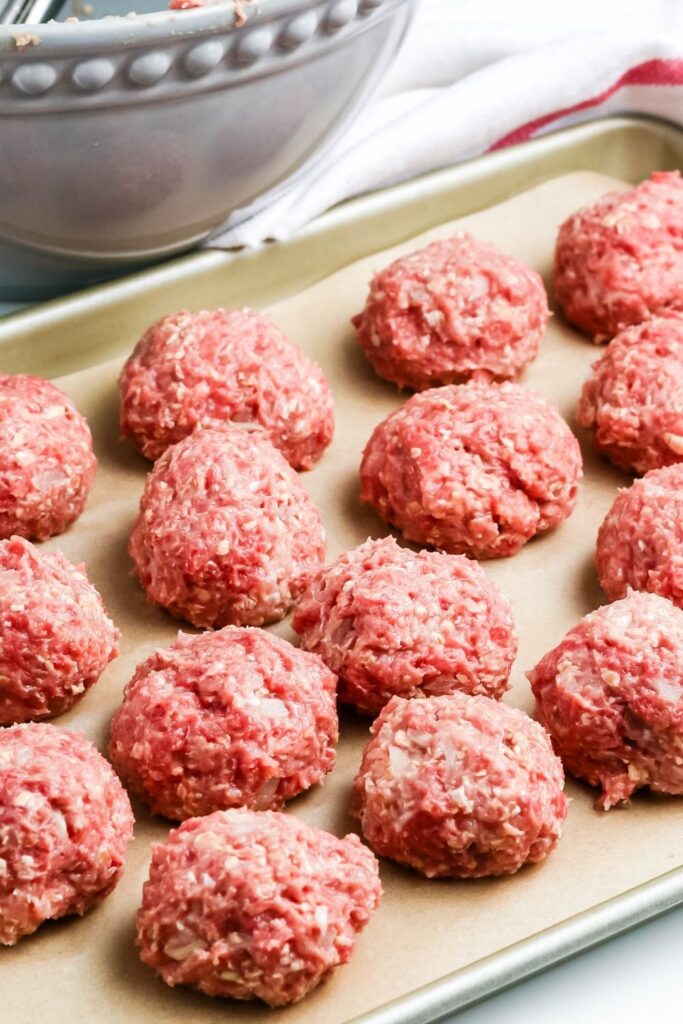 Step Three: Next, you will roll your meatballs into either 1 inch or 2 inch sized balls.
Step Four: Preheat the air fryer to 350 degrees for 5 minutes. Then after the 5 minutes place your meatballs in the air fryer for 10 minutes or 20 minutes if you do 2-inch meatballs.
Step Five: For every 5 minutes, shake the basket, or rotate the meatballs to ensure they are cooking evenly and they don't overcook.
Once the meat is fully cooked.
Variations to Recipe
Seasonings – Feel free to add any seasonings you want to your meatballs. If you like Italian style go for it. Or want more of a BBQ meatball add in some steak seasoning or a BBQ blend of spices. Get creative with your spices.
Breadcrumbs – You are more than welcome to swap oats for breadcrumbs. Just use the same amount as the oats. Then if you find the mixture is too wet add more crumbs, or to dry add a splash of milk.
Cheese – Add in a cube of cheese in the center, then wrap the meat all the way around the cheese making sure it won't ooze out as it cooks. Then you will have a stuffed meatball.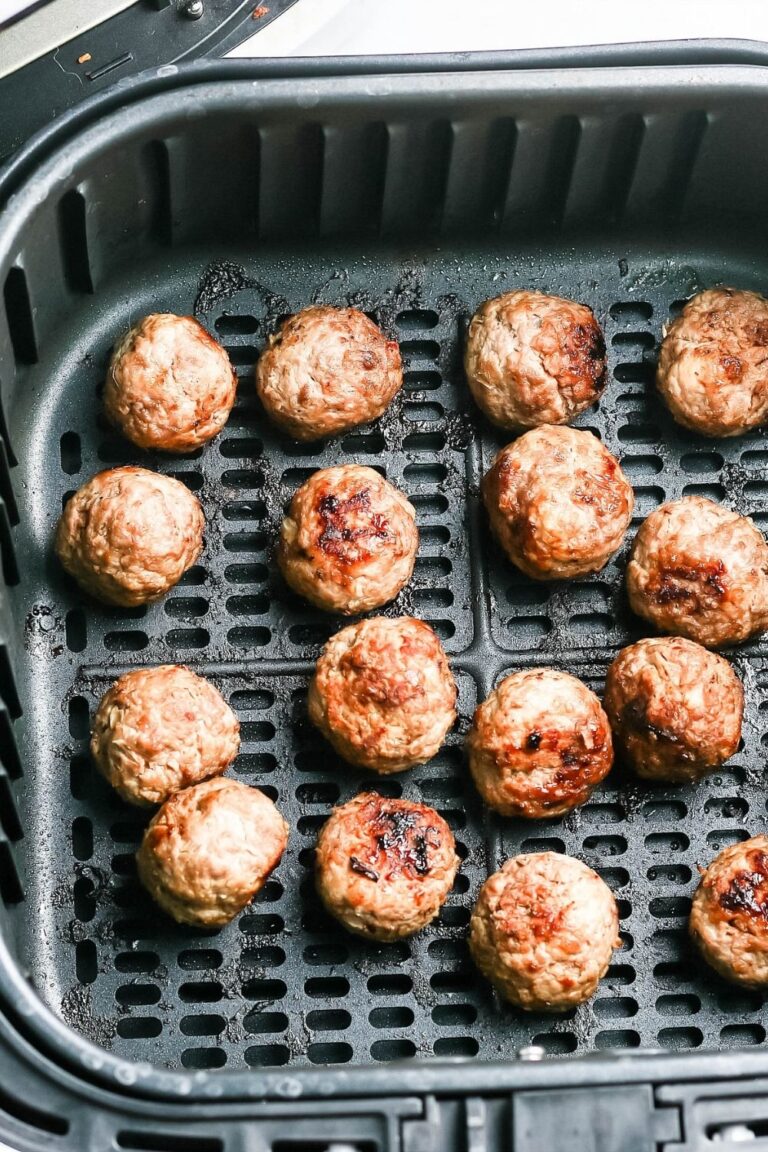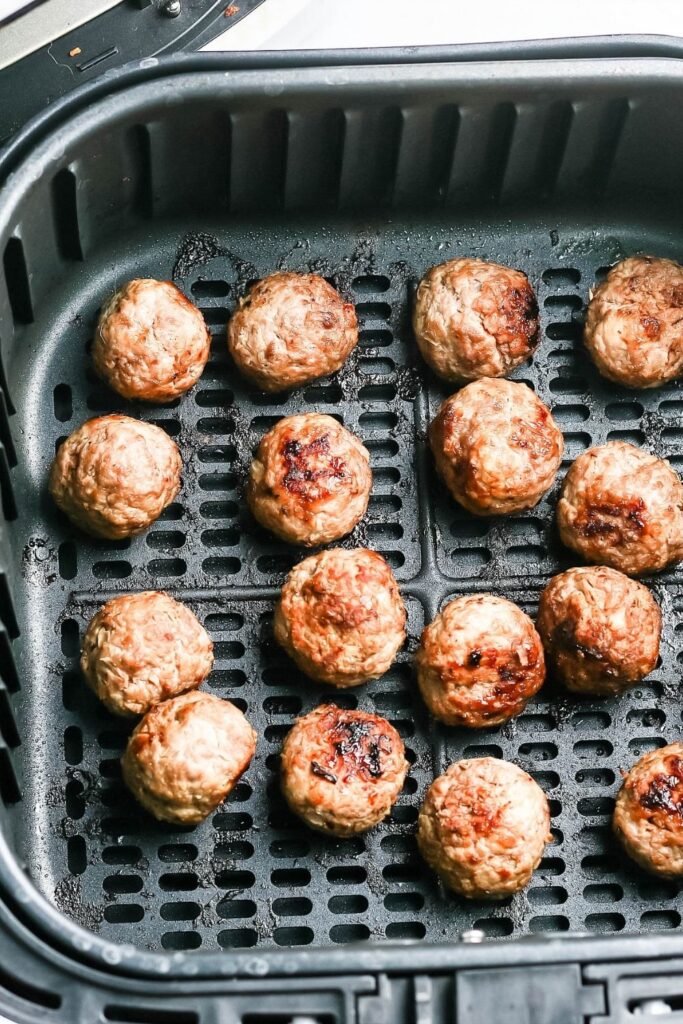 How to Serve Up These Juicy Meatballs
A great air fryer appetizer if you are hosting a party or event. Set out dipping sauces for guests to pick from.
Pair with a tomato or pasta sauce and make spaghetti and meatballs.
Open a hoagie and pile on a few meatballs, pasta sauce, cheese and broil in oven for a meatball sub sandwich.
Use slider buns to make mini meatball sandwiches.
And More.
Storing Leftovers
If you happen to not eat all the meatballs right away, just store them in the fridge for around 3-4 days. Then you can warm them in the microwave, air fryer, or even a classic oven. Just heat until the meatballs are warmed through.
Freezing Meatballs
I will share both ways on how you can freeze cooked or raw meatballs for meal prepping later. Whether you do them as Ninja Foodi meatballs, air fryer oven, or Duo crisp, cook the same.
Freezing Raw
Place your meatballs on a cooking tray that is lined with parchment paper or wax paper. Place in the freezer and freeze till hardened. Do a single layer to prevent sticking.
Then place meatballs in a freezer container.
Freeze for 2-3 months.
To reheat, you will place frozen meatballs in air fryer frozen or let them thaw in the fridge overnight. If frozen you will add time to your cook time, and cook until the meatballs are fully cooked.
Freezing Pre-Cooked
Place meatballs on a baking sheet just as the raw, and flash freeze for an hour in a single layer.
Place in the proper container and freeze for 2-3 months.
To eat you can warm up from frozen, or thaw in the fridge overnight.
Warm in the microwave, air fryer, or even oven.
FAQs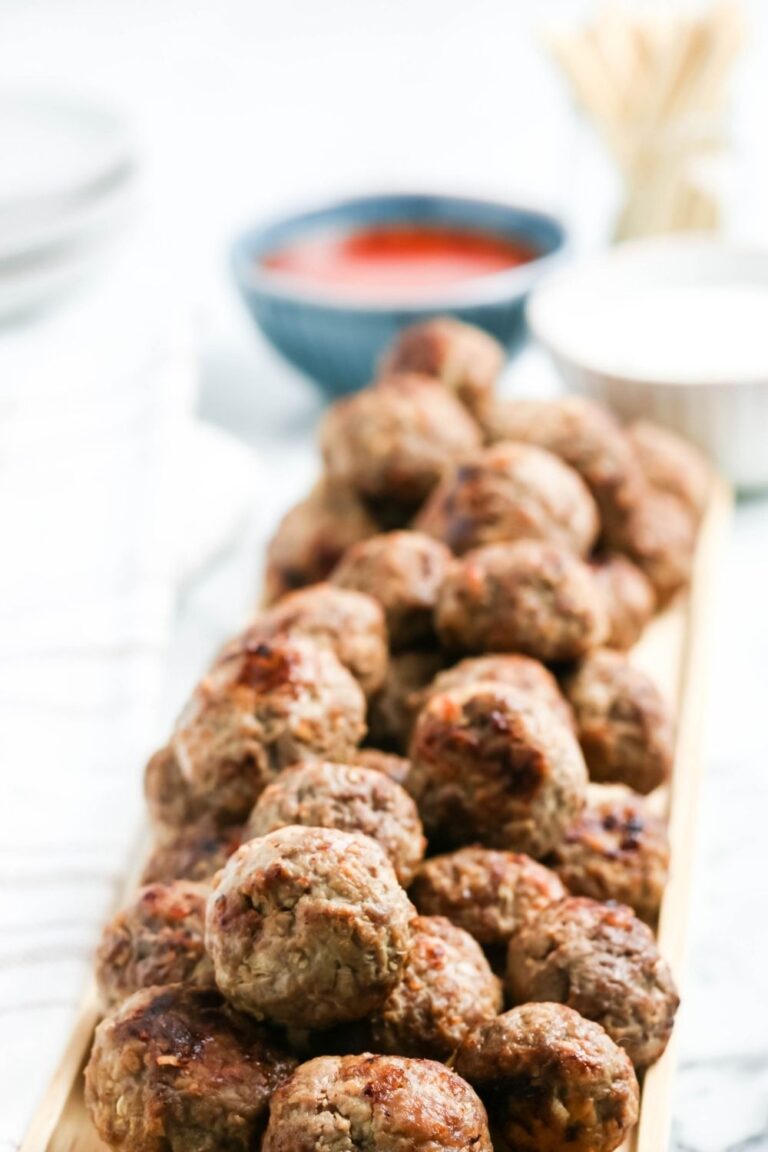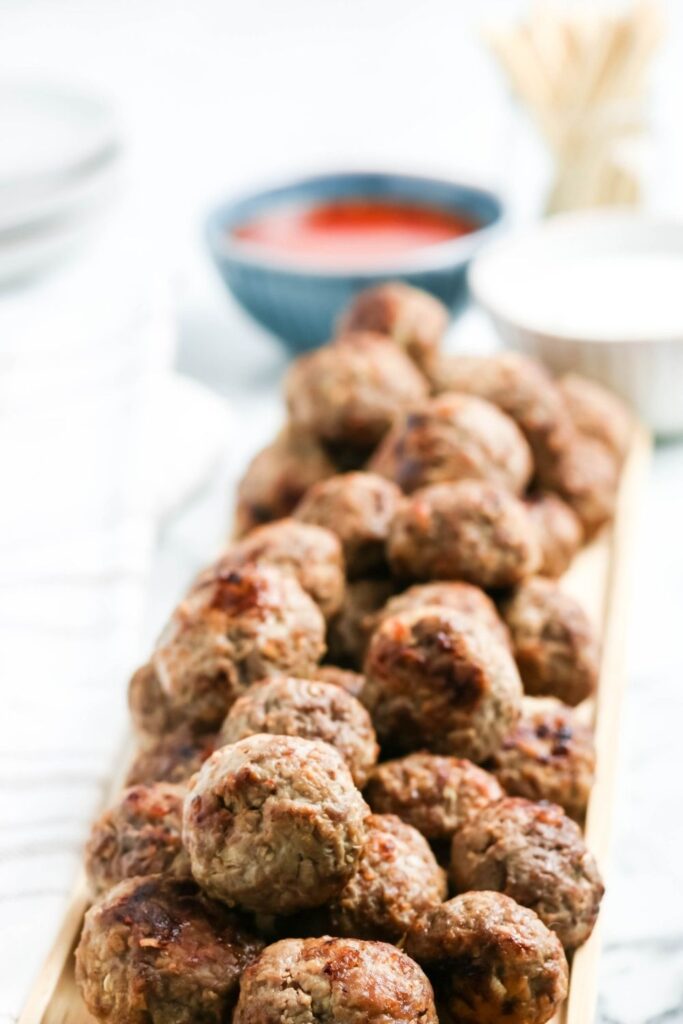 Related Recipes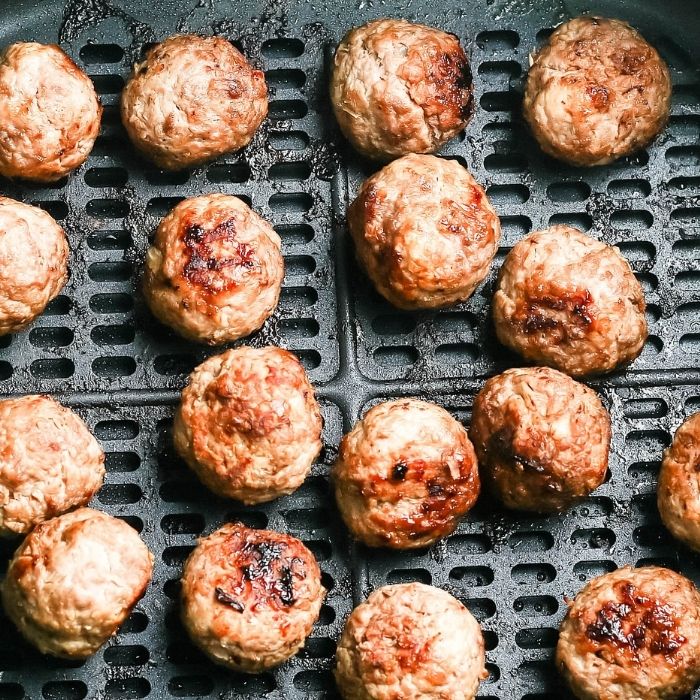 Air Fryer Meatballs Recipe
Servings 20 -24
Learn how to make these air fryer meatballs with simple ingredients. Homemade meatballs that are juicy and crispy on the outside. A must try! Grab your air fryer and make these into an appetizer, pair with pasta sauce for dinner, and so many other options. These air fried meatballs are a hit.
Ingredients
1 pound ground beef
1/2 pound sausage
1 cup milk
3/4 cup quick oatmeal
3 tablespoons onions diced finely
1 tablespoon Worcestershire Sauce
1/2 teaspoon salt
1/4 teaspoon pepper
Instructions
Start by adding your ground beef, sausage, oats, milk, onion, salt and pepper, and Worcestershire sauce.

Mix well and then let the mixture rest for 10 minutes.

With a cookie scoop 1 inch or 2 inch size, begin rolling meatballs into balls and place on a baking sheet or tray.

Preheat your oven to 350 for 5 minutes.

Carefully place the meatballs in a single layer and cook for 10-12 minutes for 1 inch size meatballs. Or 15-17 minutes for 2 inch size meatballs.

You need to shake or rotate the meatballs every 5 minutes. Cook until internal temperature reads 165 degrees.

Once the air fryer meatballs are done, remove and serve with a dipping sauce, pasta sauce, etc.
Notes
Meat – You can swap the pork with turkey if you want. I find the sausage adds a lot of flavor and juicy texture to the meatballs. Seasonings – Change up how you season the meatballs if you would like. Storing – You can store meatballs for 3-4 days in the fridge. Or you can freeze for 2-3 months. Cooking Time – All air fryers heat slightly different, and depending on the size of your balls the cook time will vary. So make sure to go with the internal temperature.
Nutrition
Serving: 4gCalories: 369kcalCarbohydrates: 7gProtein: 27gFat: 25gSaturated Fat: 9gPolyunsaturated Fat: 12gTrans Fat: 1gCholesterol: 94mgSodium: 606mgFiber: 1gSugar: 3g
Let me know how you like this air fryer dinner idea or appetizer. These are a favorite as it is always a success. This juicy meatball recipe is a hit all year round.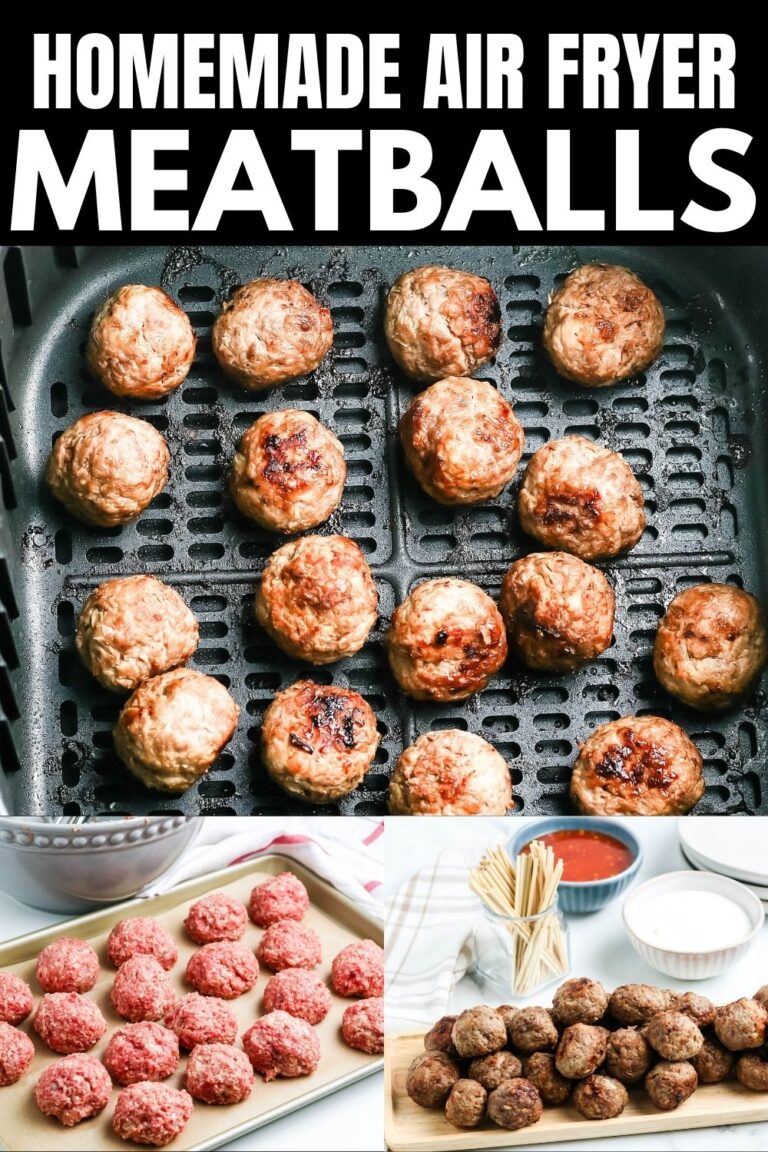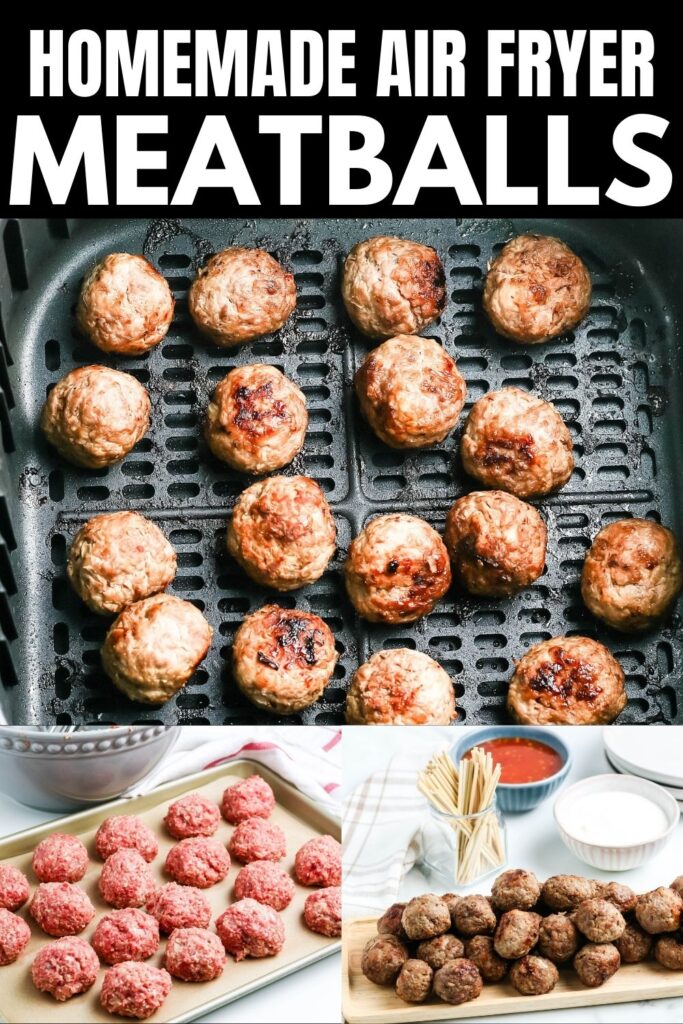 Reader Interactions