Blackstone Steak Bites and Potatoes are juicy garlic butter steak bites and diced crispy potatoes. A simple and easy Blackstone steak recipe that makes for a simple dinner idea. 20 minutes is all you need to whip up this dinner. You can also make it in a cast iron skillet on the stovetop.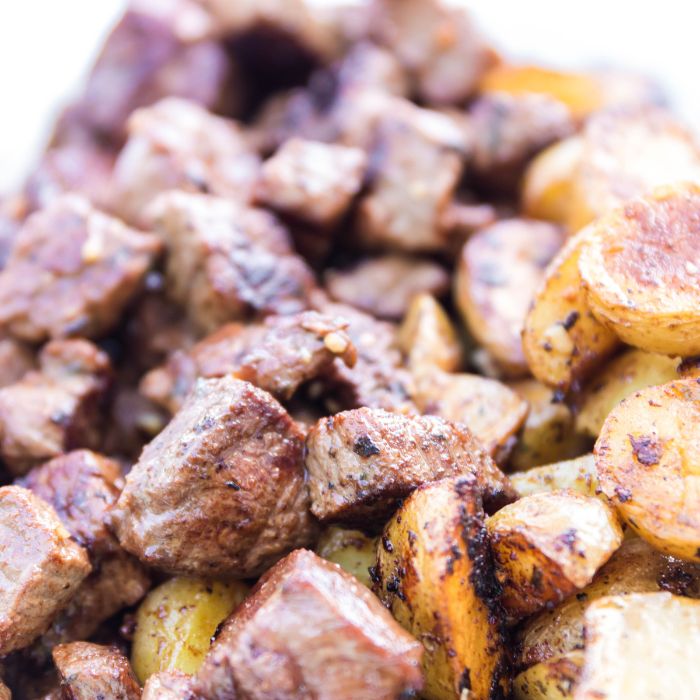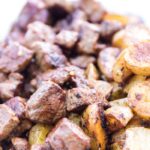 Serve up this Blackstone steak bites and potatoes recipe with garlic butter. A simple tender steak bite recipe paired with diced crispy potatoes. A must make easy Blackstone recipe. A Blackstone steak bites recipe that is phenomenal. A simple and quick dinner you make all on your Blackstone griddle. 
The garlic butter sauce really flavors the steak pieces and potatoes.
Now if you don't have a Blackstone or another type of flat top grill, you can make it on the stovetop. I share the directions for both cooking methods in the printable recipe card.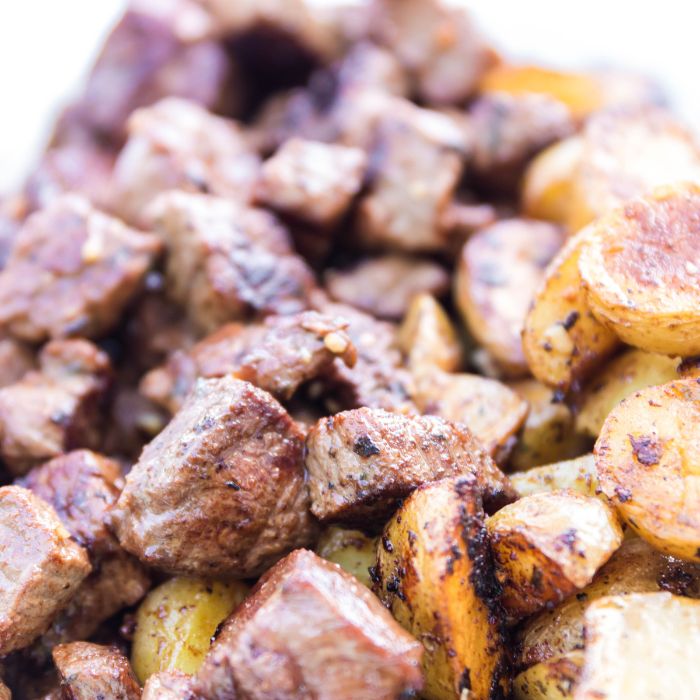 I love Blackstone potatoes, they add such a crispy texture to the potatoes. Try my smash potatoes! They are so tasty, and I love how crispy they get. Also check out my Blackstone brats with peppers and onions.
This Blackstone Steak and Potatoes Recipe Is..
20 minute dinner 
Juicy garlic butter steak bites
Crispy potatoes 
Beef Hibachi Steak Recipe
Easy prep 
Quick clean up 
Ingredients
Steak – You can use any cut of steak you want. You will cube it up into 1-inch cubes.
Potatoes – I diced up small potatoes. These work great as you don't need to peel the potatoes as the skin is very thin.
Butter – Use real butter that is unsalted. This is going to be drizzled on the cooked steak and potatoes.
Garlic – Minced garlic is what you will want. You can use jarred garlic or mince it yourself.
Seasonings – Kosher salt, pepper, and. Garlic powder is all I used to season the steak and potatoes. Kosher salt helps to really enhance the flavor of the potatoes and steak.
Oil – You will need oil to put down on the Blackstone. We tend to use Smart Balance oil, but any works just as long as it isn't olive oil as that oil can not handle high heat. 
Cuts of Steak To Use
Steak lovers will love all these cuts of beef. They offer the perfect marbling of meat and fat for a juicy steak bites end result. Here are some cuts of beef for this garlic butter steak bites recipe that could work nicely. The key is good steak, so your meat isn't tough.
New York Strip Steak
Rib eye
Top Sirloin
Flat Iron Steak
Etc.
How To Make
Full steps and measurements are in the printable recipe card below. This is a visual walk through on how to make this Blackstone steak bites and crispy potatoes.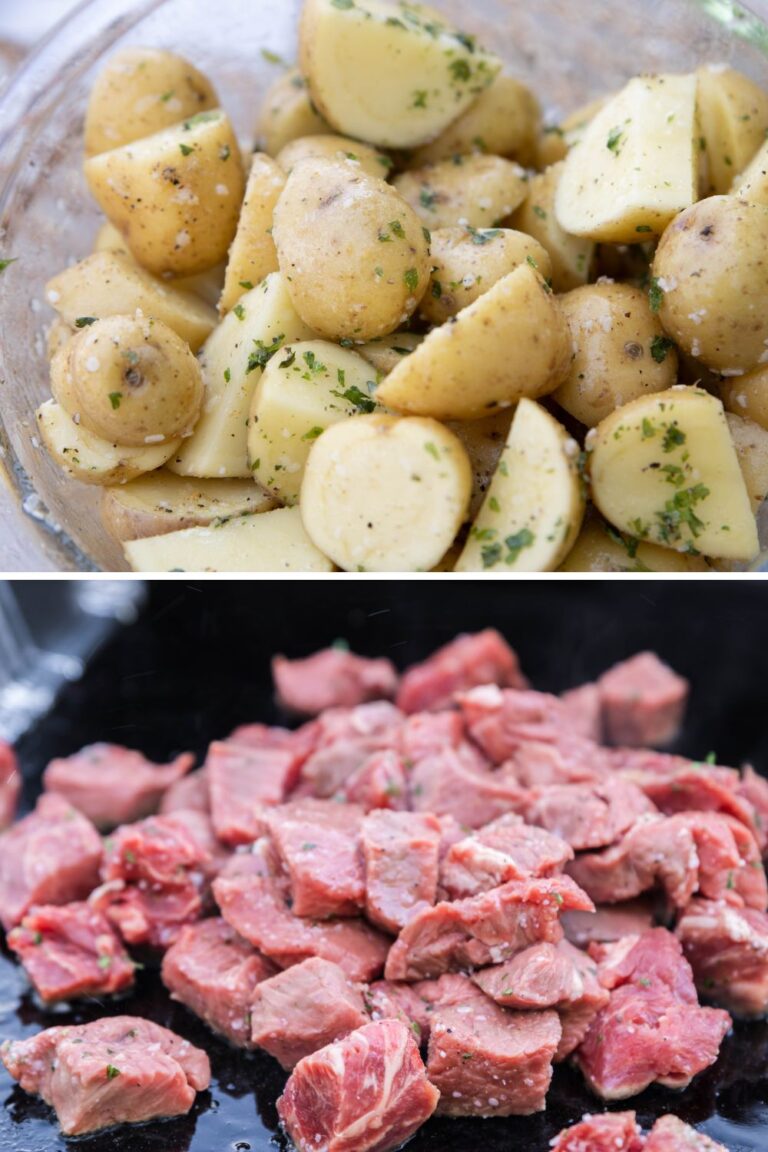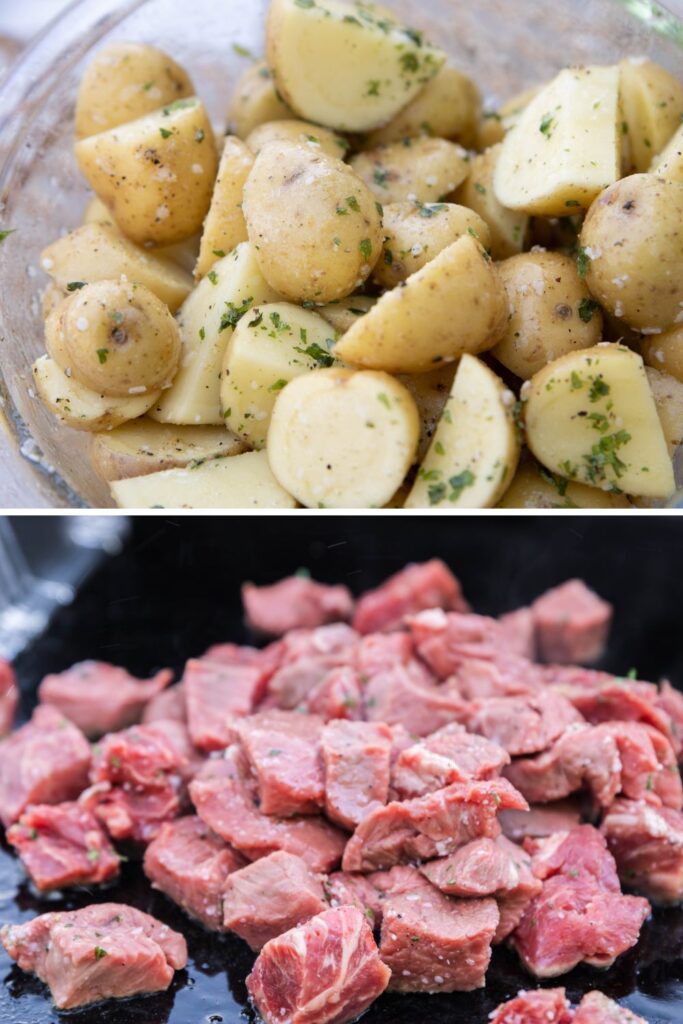 Step One: First step is to dice up your steak into bite size pieces. I did around 1-inch cubes. Head outside and turn on your Blackstone to high heat.
Step Two: Season steak cubes with a little oil, kosher salt, pepper, and garlic powder. Toss to coat and set aside.
Step Three: Prep potatoes by rinsing and then dicing up into bite size pieces. Season with oil, salt, pepper and garlic powder. Toss to coat and set aside.
Step Four: Head out to grill and add oil on one side of the grill for potatoes. If you have a smaller grill just cook potatoes first.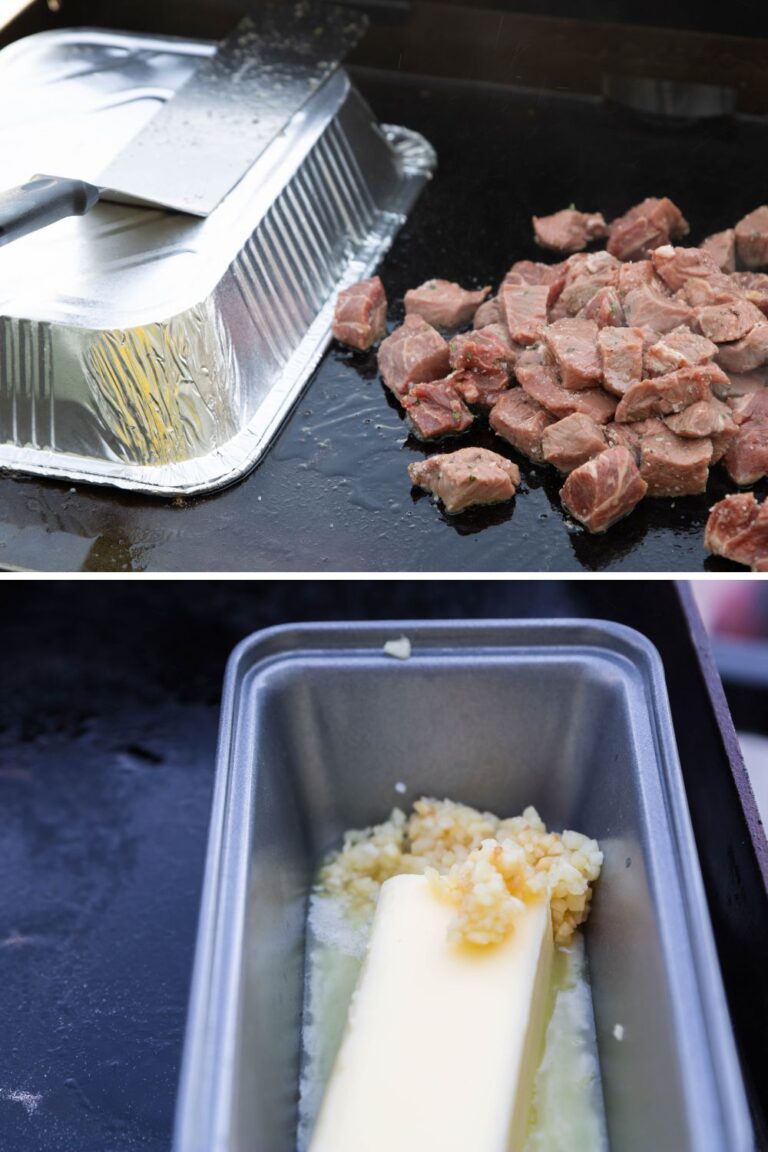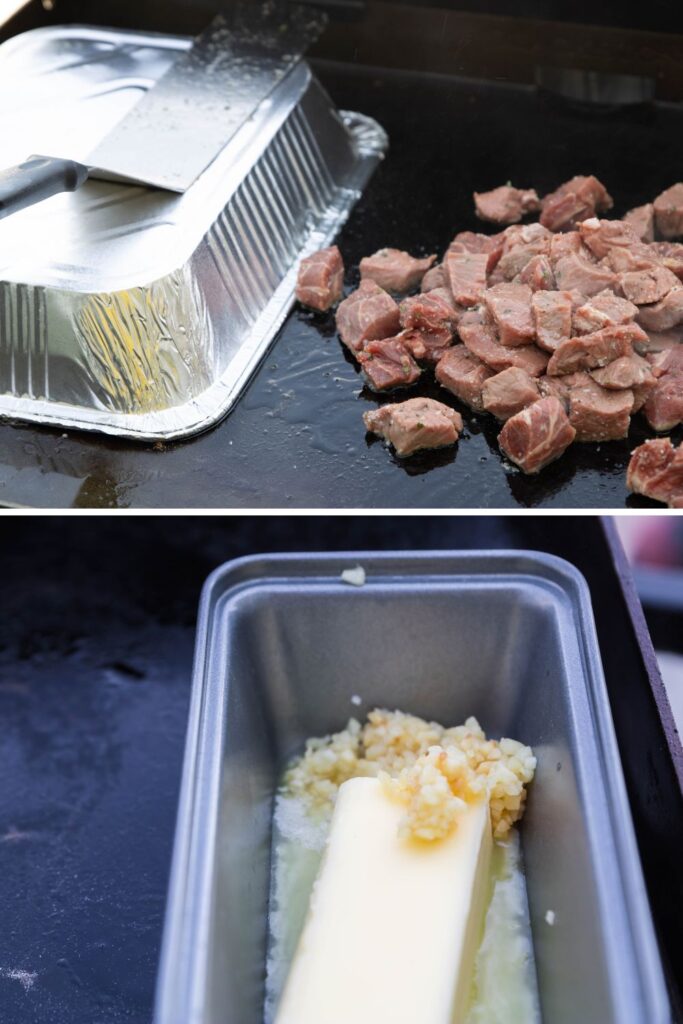 Step Five: Toss potatoes on oiled grill and place in a single layer. Add a little water and quickly cover potatoes. Steak potatoes for about 4-5 minutes. 
Expert Tip: Don't have a Blackstone dome? Use an aluminum foil 9×13 baking pan. It's affordable and works great as a dome. 
Step Six: Next remove the dome and stir potatoes a bit making sure they flip over so they don't become too brown on one side. Add a squirt more of water and place the dome on again to steam. Cook for another 5 minutes.
Step Seven: Add oil to the other side of the grill and toss on the seasoned steak. Cook for a couple of minutes and then move steak around to sear al sides.
Step Eight: Remove cover over potatoes and cook a bit longer without the lid. This will finish cooking the potatoes and creating a nice golden outside. If you need add a bit of oil.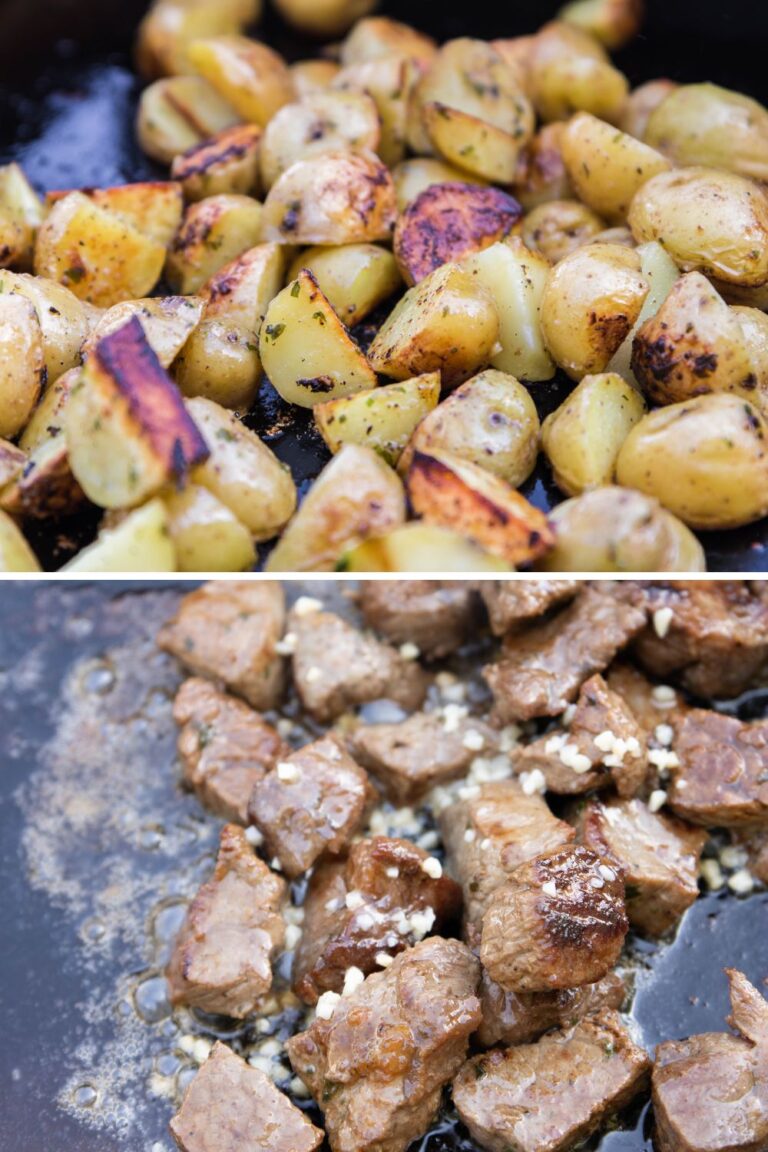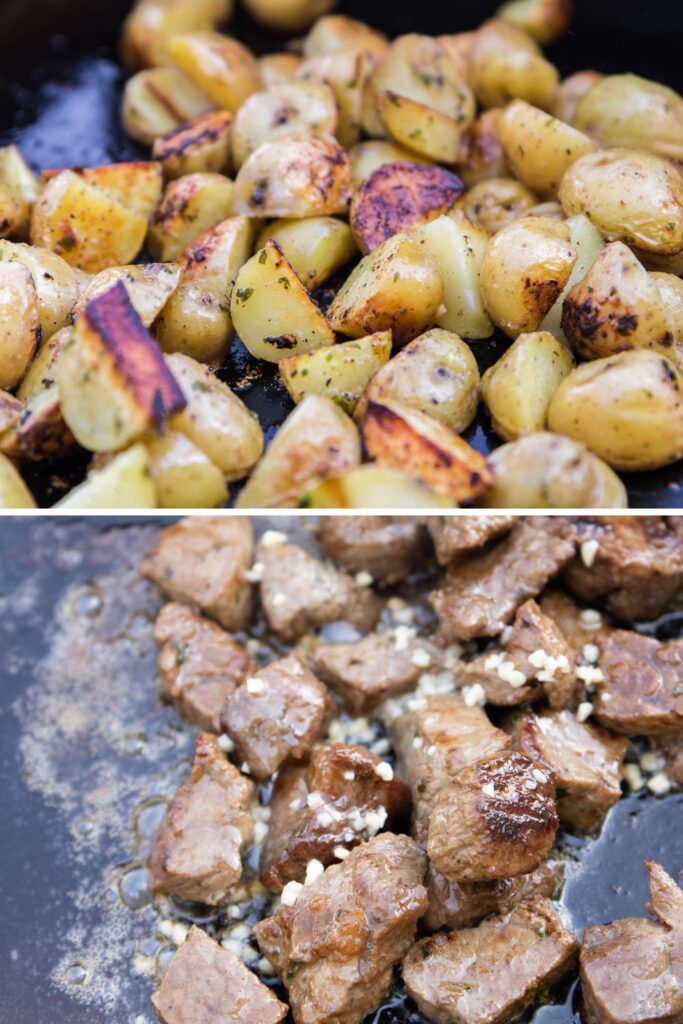 Step Nine: Place a small dish on Blackstone with butter and garlic and let melt. Then drizzle over steak and potatoes.
Once both are fully cooked, remove and serve up. Use any leftover garlic butter to drizzle on steak bites and potatoes as you serve it for additional flavor.
Helpful Tips for Success
Cut potatoes and steak into similar sizes. That way as it cooks you get an even cook on all the pieces.
Steaming the potatoes will help cook then through and prevent the potatoes from drying out on the flat top grill.
I serve the extra garlic butter on the side if anyone wants to drizzle their meat or potatoes with more of the butter mixture.
The better quality steak you have the more tender the end result will be.
Aim for a single layer of potatoes and steak. Don't pile it on top of each other or you will get an uneven cook.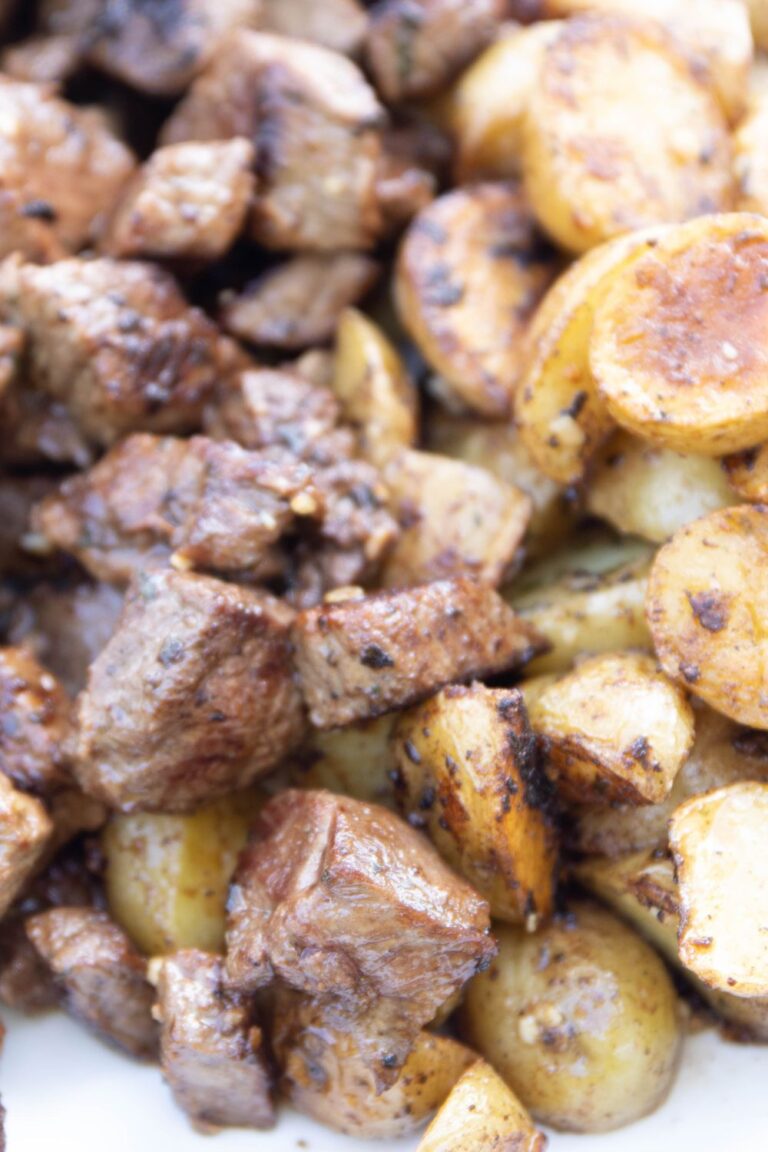 What to Serve With Steak Bites
While the potatoes make the perfect side, I will share more easy side dishes to pair with steak! These are easy and quick recipes that will compliment the dish.
FAQS
Here are some common questions when making this garlic butter steak and potatoes dinner.
More Blackstone Recipes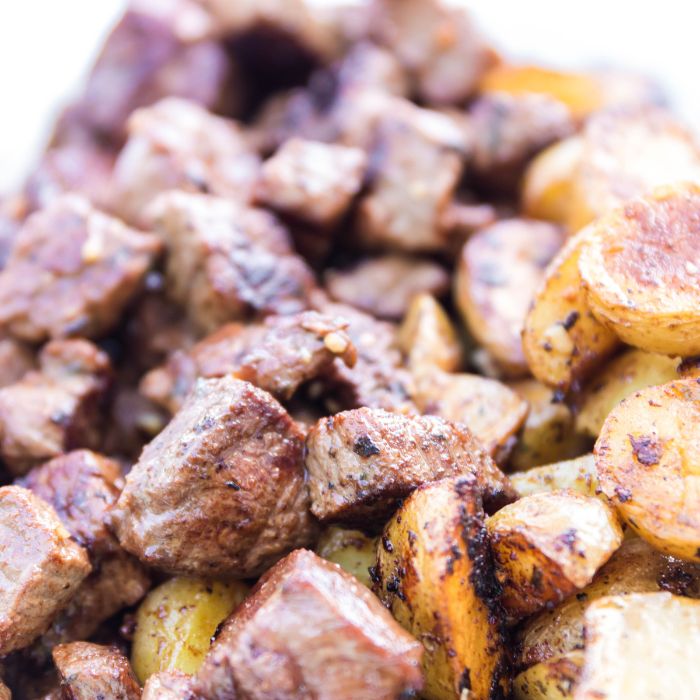 Blackstone Steak Bites and Potatoes
Servings 6
Blackstone Steak Bites and Potatoes are juicy garlic butter steak bites and diced crispy potatoes. A simple and easy Blackstone steak recipe that makes for a simple dinner idea. 20 minutes is all you need to whip up this dinner. You can also make it in a cast iron skillet on the stovetop.
Ingredients
2 pounds steak diced in 1 inch cubes
6 tablespoons unsalted butter
1 1/2 tablespoons minced garlic
1 pound new potatoes diced into bite size pieces
3 tablespoons oil
1/2 teaspoon garlic powder
1 teaspoon Kosher salt
1 teaspoon black pepper
1/2 cup water
Instructions
The first step is to preheat your flat top grill to high temperature.

Grab two bowls, one for steak and one for potatoes. Then cube up your steak, and potatoes. I did 1 inch cubes for steak pieces and then for potatoes I cubed in half to quarters depending on the size.

Then pour 1/2 teaspoon of oil in each of the boils. Along with 1/2 teaspoon salt in each, 1/2 teaspoon pepper, and split the 1/2 teaspoon of garlic powder between the two.

Toss with a spoon to coat all the potatoes in the steak and potatoes. Then head outside.

Add a little oil to one side of your Blackstone, and toss down the potatoes. Spread into a single layer. Squirt on some water, and cover with a dome, or 9×13 aluminum foil pan.

Let the potatoes cook for 4-5 minutes. Then remove the dome, stir well, squirt more water, and then cover again for another 4-5 minutes.

Add your butter and garlic into a small pan and place on the side of the grill to let it melt.

Toss down your steak, and sear on each side. You will cook the steak till your desired doneness. I made ours well done.

Remove the dome from the potatoes and stick a fork in to check the doneness of the potatoes. If the potatoes are done they will be fork tender. If you need repeat water and dome one more time. Or let them finish cooking witout the lid.

Once the steak and potatoes are cooked spoon some of the garlic butter mixture over the steak and potatoes. Stir to mix and then plate up the garlic butter steak, potatoes, and serve the rest of the garlic butter on the side.
Cast Iron Skillet Directions
Prep the potatoes and steak the same way. Get the pan hot with some oil in the pan. Heat on medium-high. Then cook the potatoes until they are fully cooked and nice and golden. This took around 6-7 minutes per side.

Remove the potatoes and then toss in the seasoned steak bites. Cook until it is done to your desired doneness.

Add the potatoes back into the skillet and spoon over some melted butter with garlic.

You can heat the butter up in the microwave or on the stovetop in a small pan. Use extra for added drizzle if people want.
Notes
Steak – There are so many varieties of steak to use for this recipe. The biggest thing is to evenly cube and the better quality steak the more tender the beef will be.  Potatoes – The potatoes are optional, but they pair really well with the steak.  Flat Top Grill – Any brand of flat top grills will work for this recipe, or reach for a skillet and cook on the stove. 
Nutrition
Serving: 6gCalories: 539kcalCarbohydrates: 14gProtein: 32gFat: 40gSaturated Fat: 17gPolyunsaturated Fat: 3gMonounsaturated Fat: 18gTrans Fat: 1gCholesterol: 122mgSodium: 475mgPotassium: 734mgFiber: 2gSugar: 1gVitamin A: 376IUVitamin C: 15mgCalcium: 26mgIron: 3mg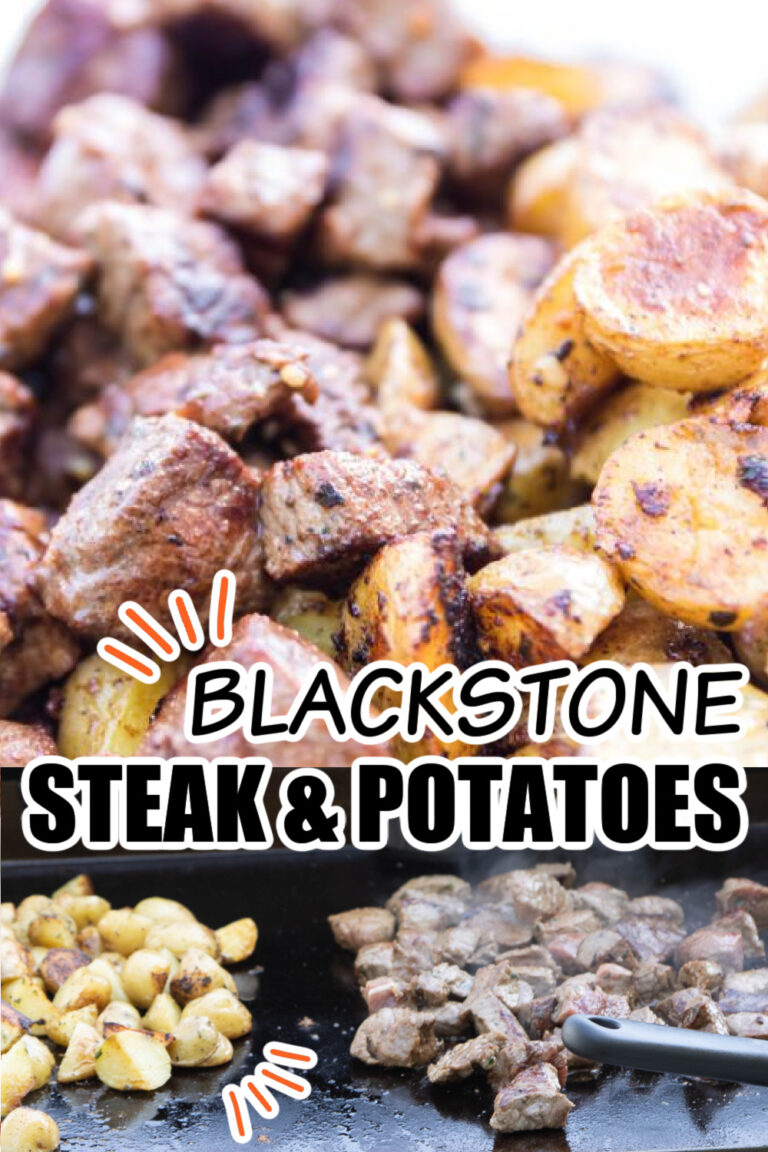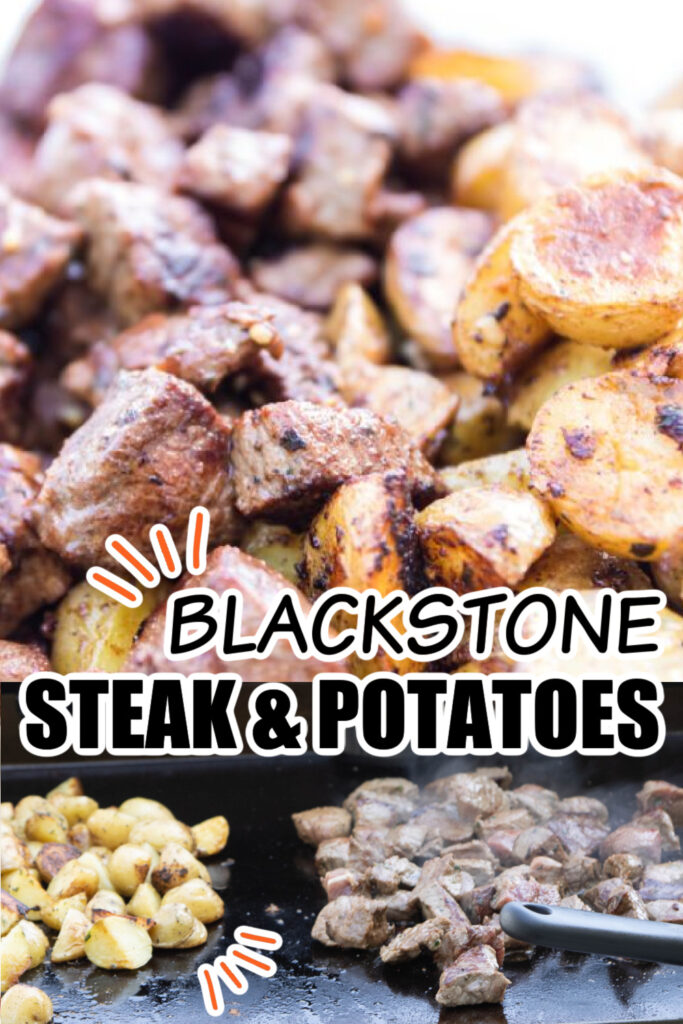 Reader Interactions