Instant Pot Beef Pot Pie that is cooked to perfection. This beef pot pie has a puff pastry crust that is baked in the oven to golden perfection.

Instant Pot Beef Pot Pie is one incredible dinner recipe. You have a beefy pot pie that is topped with a light and flaky puff pastry and baked in the oven till golden brown.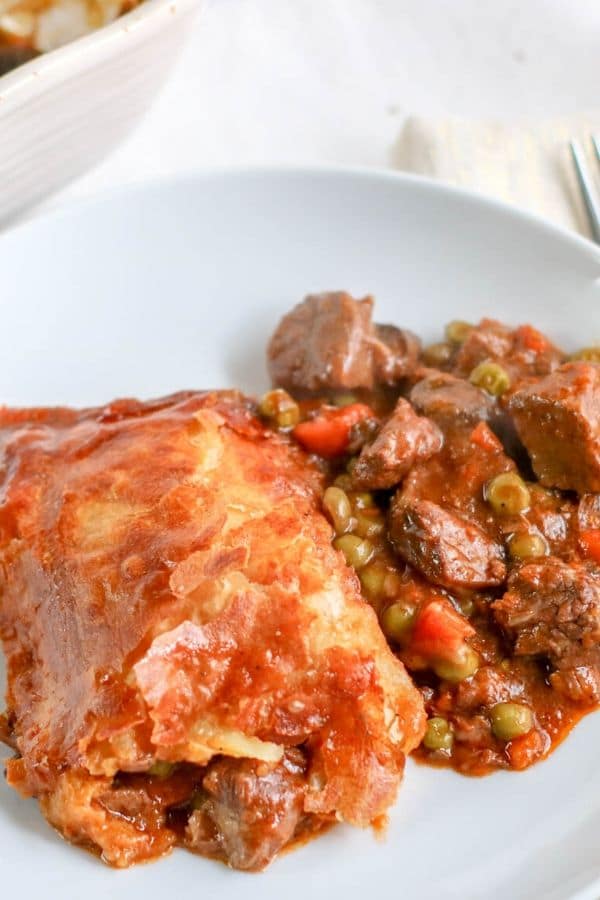 Beef pot pie is something I grew up eating. But, it was always the frozen ones you could buy.
Now that I am grown, I make a homemade beef pot pie for my family. This even makes a gorgeous date night dinner!
Instant Pot Beef Pot Pie
A great Instant Pot beef recipe that the whole family can enjoy. Plus you can sneak in veggies for your little ones to gobble up. This is also a great beginners Instant Pot recipe since it is so easy!
New To The Instant Pot
Check out my favorite Instant Pot Accessories to have! As well as common Instant Pot Mistakes you don't want to make.
What Is The Topping On Instant Pot Pot Pie
I used a puff pastry that I rolled out and then brushed with an egg wash to help give it that stunning golden crust.
If you don't want puff pastry you could also use pie crust and just cut a few holes in it to ensure it doesn't bubble up in the oven.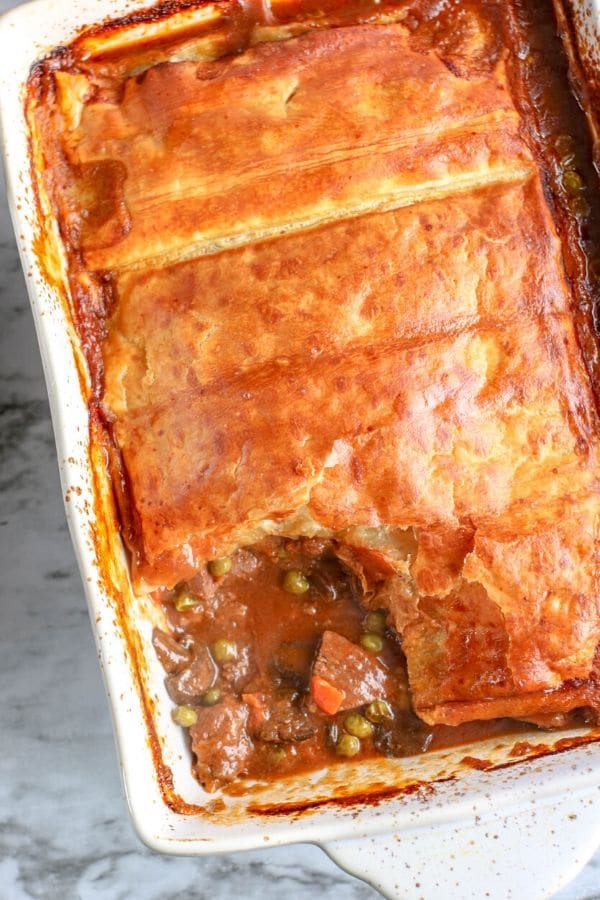 What To Serve With Beef Pot Pie
Salad
Dinner Rolls to soak up juice
Steamed or Roasted Veggies
For us, this is generally a meal in one. But, on occasion to lighten it up, I add in a side salad or tossed salad to the side. I love it with an Asian salad.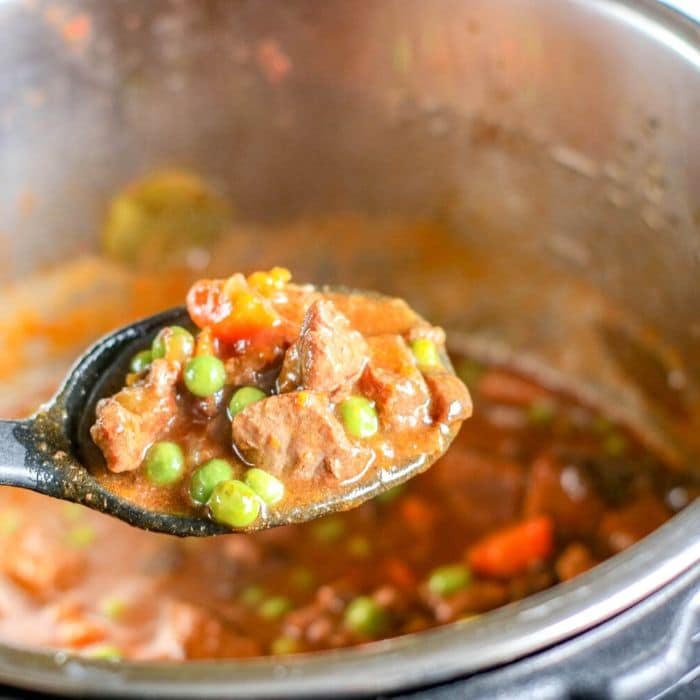 What Vegetables Are In Pot Pie
I used mushrooms, carrots, onions, and peas. Now, the beauty of a pot pie recipe is that you can adapt the veggies to fit what you like or what you have on hand.
I also find that fresh or frozen vegetables work best in the Instant Pot. The reason being is canned veggies become too soggy as they are under so much pressure.
Why Do You Saute Beef Tips Before Cooking
You want to saute your beef tips or stew meat to help create a crust on the meat. By doing this you create an element of texture but also the flavor.
Sauteeing meat will help create a much richer flavor to your beef pot pie recipe. If you are in a hurry you can skip the step but it will lack a bit in flavor.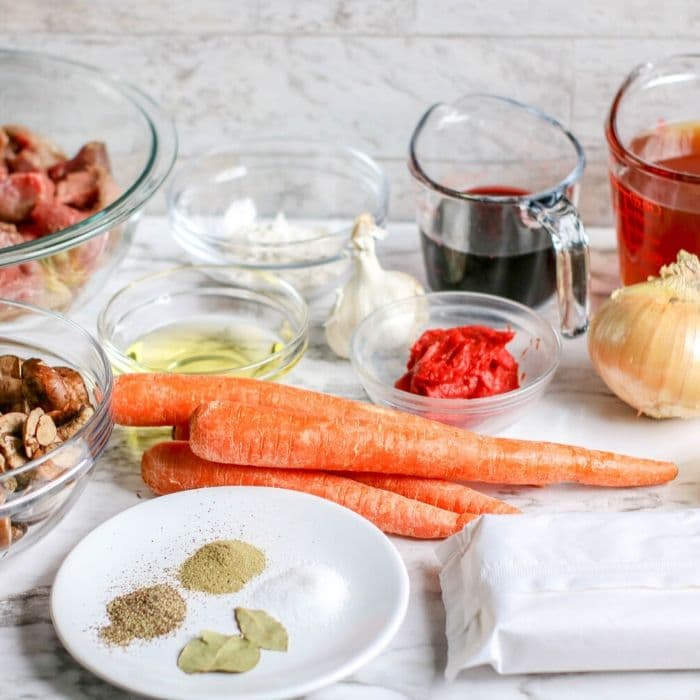 Ingredients For Instant Pot Beef Pot Pie
Beef Tips or Stew Meat
Olive Oil or Canola Oil
Baby Bella Mushrooms
Carrots
Onions
Tomato Paste
Garlic
Bay Leaf
Red Wine
Beef Broth
Worcestershire
Ground Thyme
Peas
Cornstarch
Puff Pastry
Egg and Water (egg wash)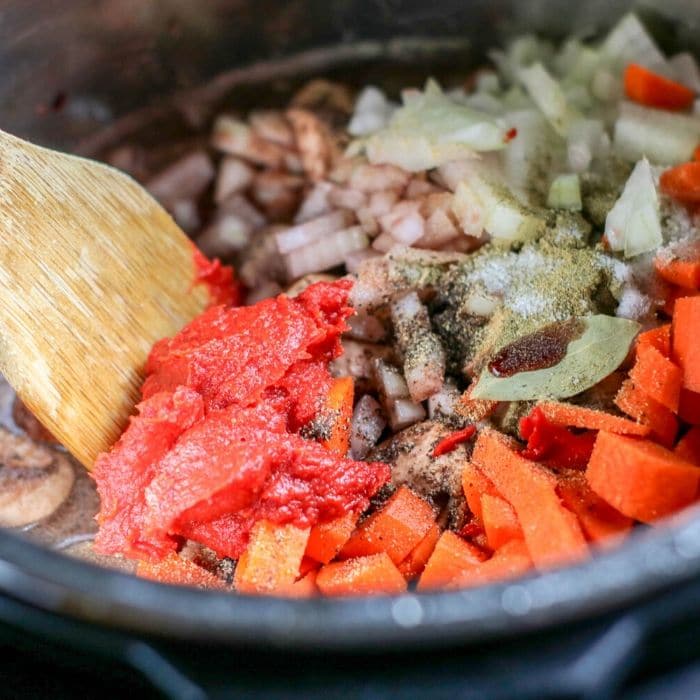 How To Make Instant Pot Beef Pot Pie
Start by sauteing your beef in the oil in the Instant Pot.
Add in broth and use a wooden spoon to scrape away any stuck-on parts on the bottom of your pressure cooker pot. This will help prevent the burn notice.
Add in your ingredients as directed below in the recipe card, and cook accordingly.
Thicken your mixture and then pour it into a 9×13 baking dish. Top with your puff pastry and egg wash the top.
Bake as directed and then serve up a wholesome dinner!
Can I Substitute Red Wine in Beef Pot Pie
If you do not want to use red wine in this beef pot pie recipe you can easily swap it for more beef broth.
It will work the same and just alter the flavor slightly.
Can You Freeze Leftover Pot Pie
If you don't plan to eat all of your pot pie, you are welcome to freeze it. You can place in single-serve containers or a larger one. The only thing is once it thaws and you reheat the puff pastry will be a little softer in texture.
It will store for 2-3 months in the freezer. You can then reheat in the oven or microwave for a reheat.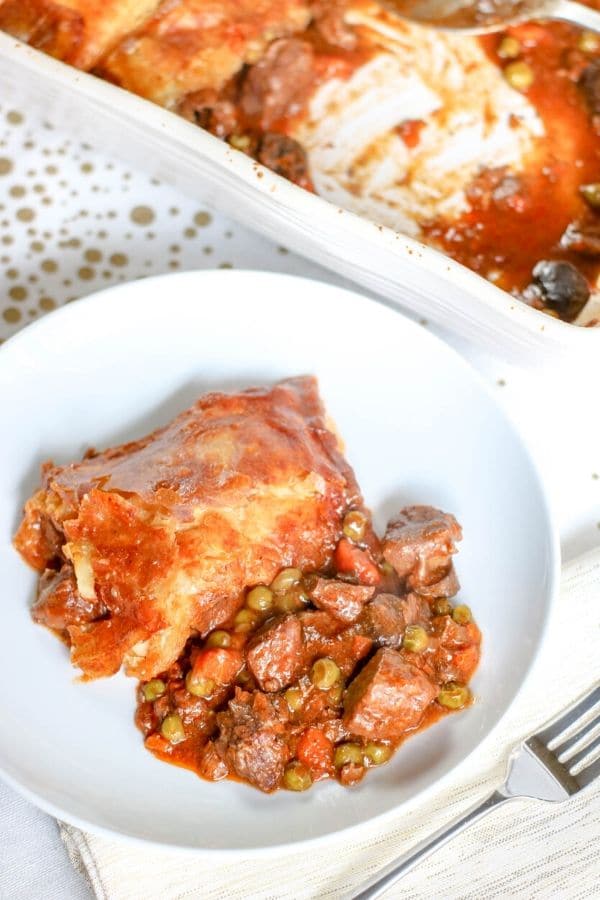 Looking for more Pressure Cooker Recipes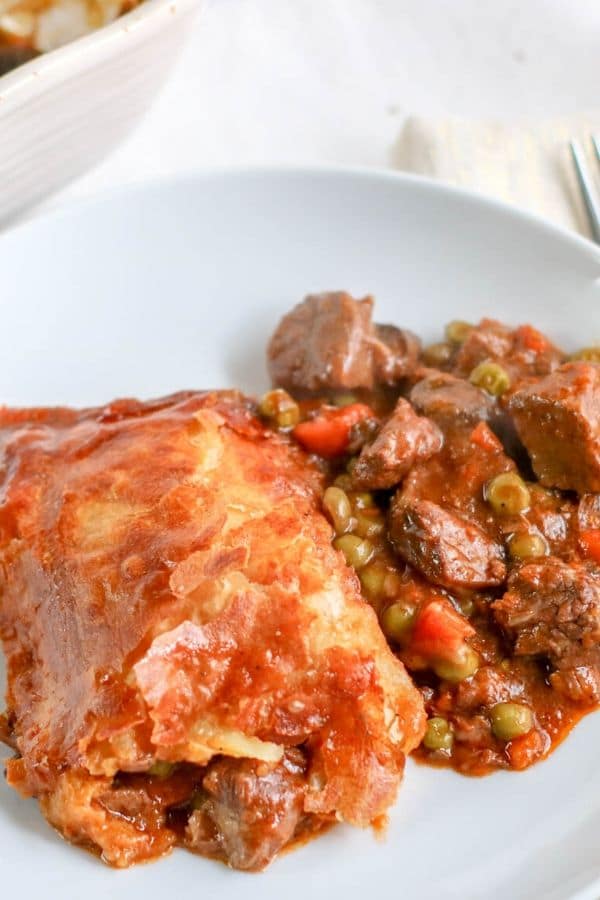 Instant Pot Beef Pot Pie
Servings 12 servings
Instant Pot Beef Pot Pie that is cooked to perfection. This beef pot pie has a puff pastry crust that is baked in the oven to golden perfection.
Ingredients
2 to 3 pounds beef tips or stew meat
3 tablespoons olive oil
1 onion chopped
3 to 4 carrots peeled, halved lengthwise and sliced
3 tablespoons tomato paste
1 large bay leaf or 2 small leaves
4 cloves garlic minced
1 8 ounces package sliced baby Bella mushrooms
½ cup dry red wine or additional beef broth
2 cups beef broth
1 tablespoon Worcestershire sauce
½ teaspoon ground thyme
1 cup of frozen green peas
1 heaping tablespoon cornstarch
1 ½ sheet puff pastry
1 large egg whisked together with 1 tablespoon water
Instructions
Turn your pressure cooker to saute and add in your beef tips and stir them around get them a nice crust. When the meat is all seared remove from the pressure cooker.

Now add in your beef broth and use a wooden spoon to stir it around to remove any stuck on food on the bottom of your pot. This is a must to help prevent the burn notice.

To the Instant Pot pot, add the seared meat, vegetables (all but peas), wine (if using), Worcestershire sauce, thyme, and bay leaf.

Stir to combine. Place lid on that is sealed. Cook on manual or "pressure cook" for 15 minutes. Allow pressure to release naturally for 5 minutes before quick release

Return the electric pressure cooker to the saute function. Add the peas.

Carefully remove about 1 cup of the liquid from the pot and mix it with the cornstarch. Pour the slurry back into the pot.

Cook for about 5 minutes, stirring occasionally, or until the sauce begins to thicken.

Preheat the oven to 400 degrees. Prepare a 9 x 13 baking dish with nonstick cooking spray. Carefully transfer the beef stew to the baking dish.

Now you want to cover the beef stew with puff pastry, cutting the pastry if needed to fit. The puff pastry will shrink slightly as it cooks so do not fret if the pastry does not fit perfectly.

With your egg wash, brush the puff pastry with a pastry brush.

Bake the pot pie for 30 to 35 minutes or until golden brown.

Let the pot pie to rest for 5 to 10 minutes before serving for the sauce to thicken.
Nutrition
Serving: 1cupCalories: 245kcalCarbohydrates: 11gProtein: 23gFat: 12gSaturated Fat: 3gPolyunsaturated Fat: 9gCholesterol: 75mgSodium: 705mgFiber: 2gSugar: 3g
Are you a fan of a beef pot pie?
Reader Interactions