Instant Pot Stuffed Peppers with Parmesan Risotto is such a fantastic side dish or main dish recipe. Easy to make, flavorful, and the perfect Instant Pot recipe.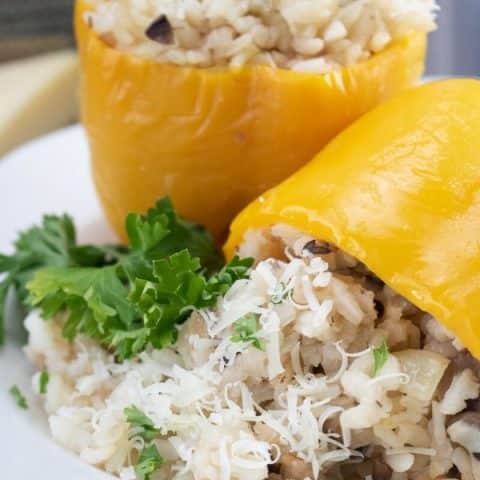 Instant Pot Stuffed Peppers is one of my favorites. I wanted to take a twist to the classic stuffed peppers and whip up these risotto stuffed peppers. A hearty and elegant dinner or side dish to serve up this week. It is a meatless stuffed peppers recipe that is bursting with flavor.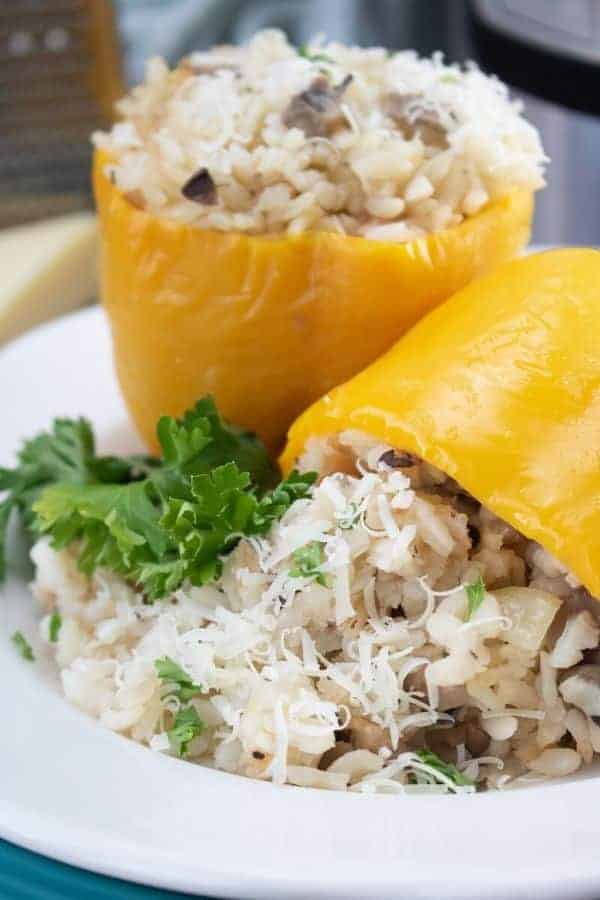 Risotto stuffed peppers in Instant Pot
are a hands-off approach to stuffed peppers if there ever was one. Prep the filling, stuff peppers and set and walk away! Try my Pierogi Soup Instant Pot recipe!
Instant Pot Stuffed Peppers
You could very easily make this a vegetarian dinner recipe by using vegetable broth instead of chicken broth! Whip up these for dinner or your side dish and let me know what you think!

Can I Add Meat To My Risotto Stuffed Peppers
Yes, toss in some ground beef, or even shredded or diced cooked chicken. You could even do sausage or ground turkey. Just make sure the meat is cooked before you stuff your peppers!
What Are The Best Peppers For Stuffed Peppers
I personally enjoy using all different colors of peppers. You will find green peppers offer a more savory take, while red, orange and yellow give that hint of sweetness. So it is truly all about what preference you have on the taste you are going for. Do a mix of colors or do them all the same.

How Many Stuffed Peppers Can You Make In Instant Pot
I was able to make 4 stuffed peppers in my 6 quart Instant Pot. Depending on the size of your peppers and the size of your pot will depend on how many you can fit in there.
Check out these other Instant Pot Stuffed Peppers Recipes

How To Make Instant Pot Stuffed Peppers With Risotto
Start by prepping your veggies then saute in the Instant Pot with butter.
Work on your filling, and prep your peppers.
Stuff Peppers and cook in the Instant Pot as directed below.
Serve fresh and hot!
You will find all the directions below in the recipe card that you can easily print out.
What To Serve With Instant Pot Risotto Stuffed Peppers
Salad | Consider whipping up a green salad or even chopped salad to pair with your peppers.
Fresh Veggie Salad | Want a crisp take to it, add a fresh veggie chopped salad next to it. This has a celery seed dressing that is so delicious.
Bread | I share an Instant Pot Bread recipe or even Cloverleaf Rolls to serve for a hearty side dish.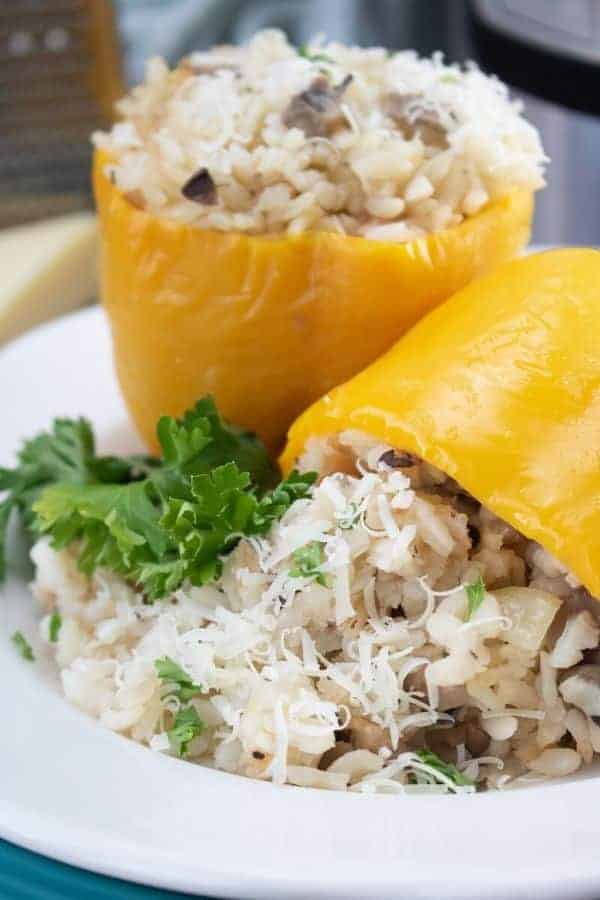 Instant Pot Stuffed Peppers Parmesan Rissotto
Servings 4 Stuffed Peppers
Instant Pot Stuffed Peppers with Parmesan Risotto is such a fantastic side dish or main dish recipe. Easy to make, flavorful, and the perfect Instant Pot recipe.
Ingredients
• 2 tablespoons butter
• 1 tablespoon olive oil
• 1 small yellow onion chopped
• 1 cup chopped mushrooms
• 2 cups Arborio rice risotto
• 4 cups chicken stock or vegetable stock
• 4 bell peppers any color
• ½ cup freshly grated Parmesan cheese plus additional to garnish
• 1 ½ cups water
Instructions
Add your butter into the Instant Pot and turn it on to saute.

Now add in your diced onions, and saute for around 1-2 minutes, then toss in your mushrooms. Stir and cook for another minute.

Pour the rice into the pot, and stir on saute mode for 2-3 minutes.

Now add in your stock a little at a time scraping the bottom fo the pot to remove any stuck on residue. This will help to prevent burn notice.

Cut the tops off your peppers and scrape out the seeds. Place in a pan that fits in your inner pot.

Remove the filling and then pour water in the inner pot, and set down the trivet.

Now stuff your peppers with the risotto mix, it will be very liquidy. Add any of the additional around the peppers in the container you have them in.

Lower the pan into the Instant Pot and set it on the Trivet.

Set pressure valve to sealing, and then do a manual high pressure for 5 minutes cook time.

Once it is done cooking do a quick release.
Nutrition
Serving: 1gCalories: 393kcalCarbohydrates: 49gProtein: 14gFat: 16gSaturated Fat: 7gPolyunsaturated Fat: 8gCholesterol: 33mgSodium: 788mgFiber: 2gSugar: 9g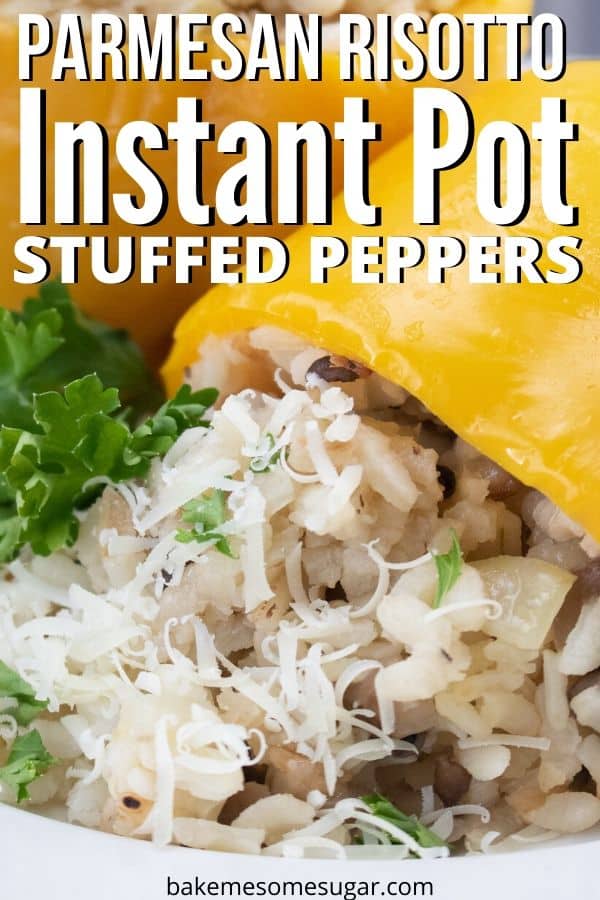 What is your favorite way to eat stuffed peppers?
Reader Interactions