Instant Pot Italian Easter Bread is a sweet Italian Easter bread that offers a stunning presentation. A tender sweet bread with a colorful Easter egg center.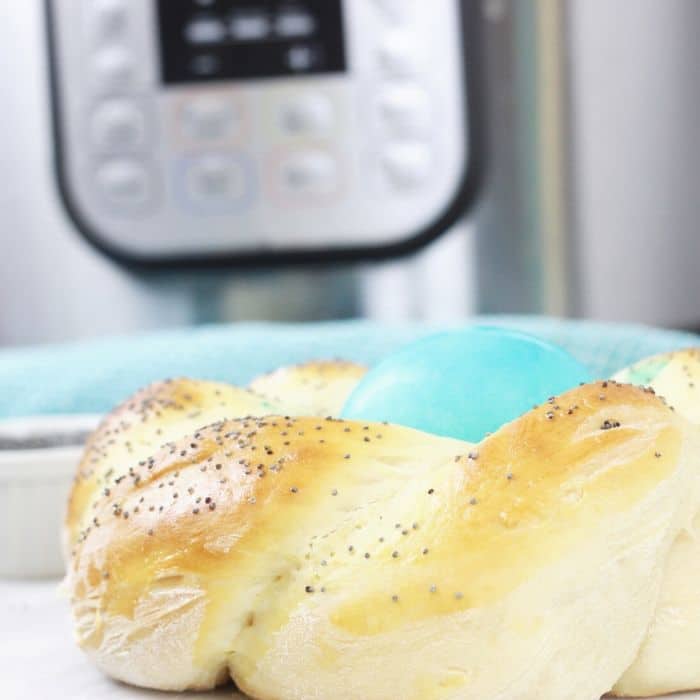 Italian Easter Bread is a sweet Italian Easter bread that offers a stunning presentation. A tender sweet bread with a colorful Easter egg center. I used my Instant Pot for proofing the bread dough, but this is optional.
This is also known as Easter egg bread! Whatever you call this sweet bread recipe, you will devour it. You can proof the dough on the counter and skip the Instant Pot if you prefer for proofing. I just find the IP speeds up the rising of the bread.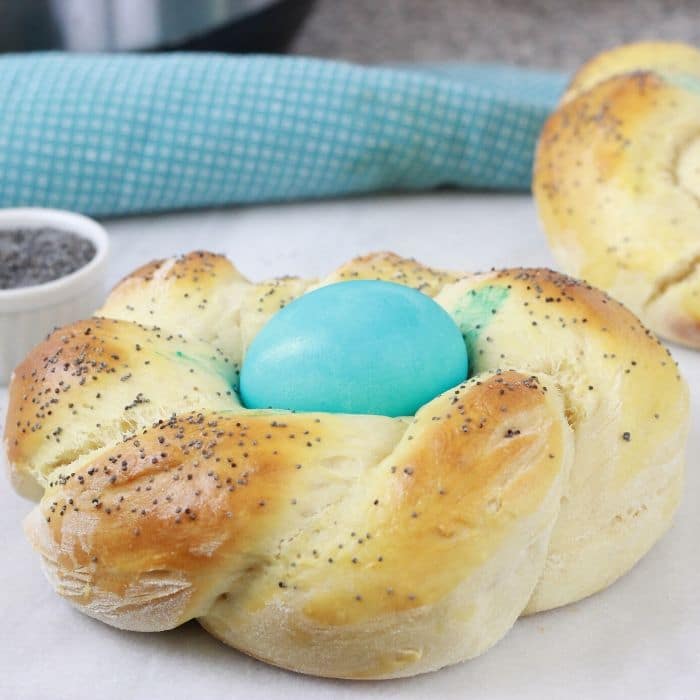 I used my Instant Pot to speed up the process of proofing my Italian Easter bread!
It worked amazing, but if you don't own a pressure cooker proof your bread the old fashioned way!
This bread is similar to challah egg bread.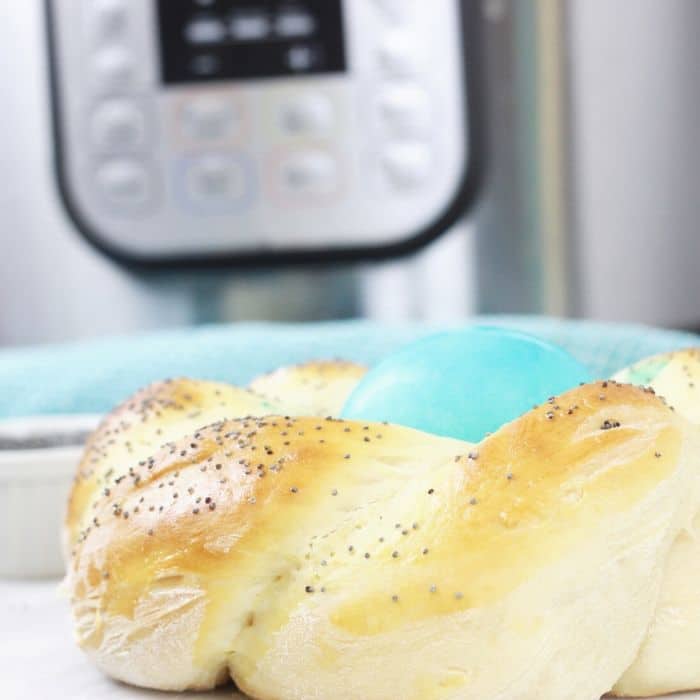 What Is Easter Bread?
Easter bread with the colorful and bright egg center uses yeast to allow for the raised dough. I used an active dry yeast for this recipe.
This bread is a very easy Easter bread recipe, that you can make. It is a very traditional bread. I have more Easter recipes if you are interested.
Ingredients Needed
Unsalted Butter
Milk
All Purpose Flour
Active Dry Yeast
Salt
Granulated Sugar
Eggs
Dyed Easter Eggs
Poppyseeds (optional)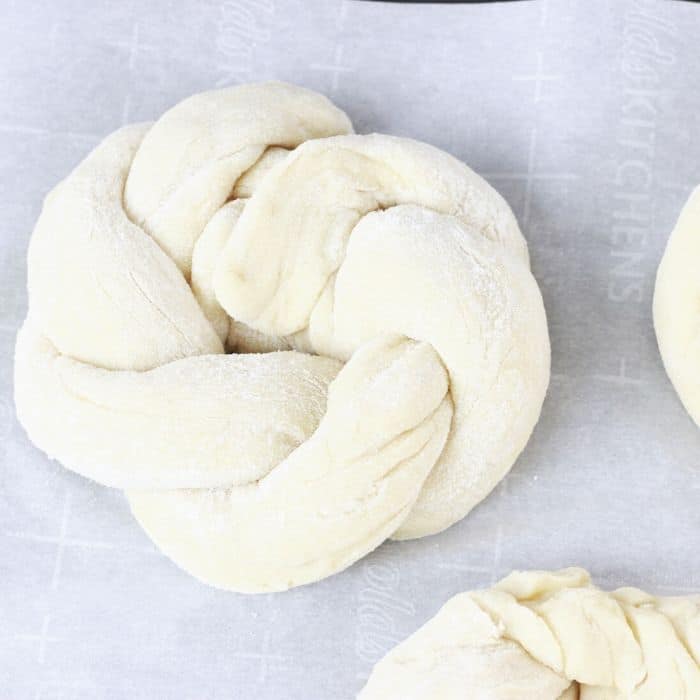 How Do You Shape Easter Bread Rings
I made 3 Easter rings out of my dough and one extra mini one for my son. Shaping your Italian Bread is easy.
After you work over the dough you will cut into 6-8 equal pieces. Then roll out each piece of dough to let it stretch a bit.
Think of it like rolling a big snake out of play-doh. Once you have 2 pieces of bread dough the same length you pinch one end together and then twist the dough.
Once it is fully twisted make a circle. Then place your colored egg in the center.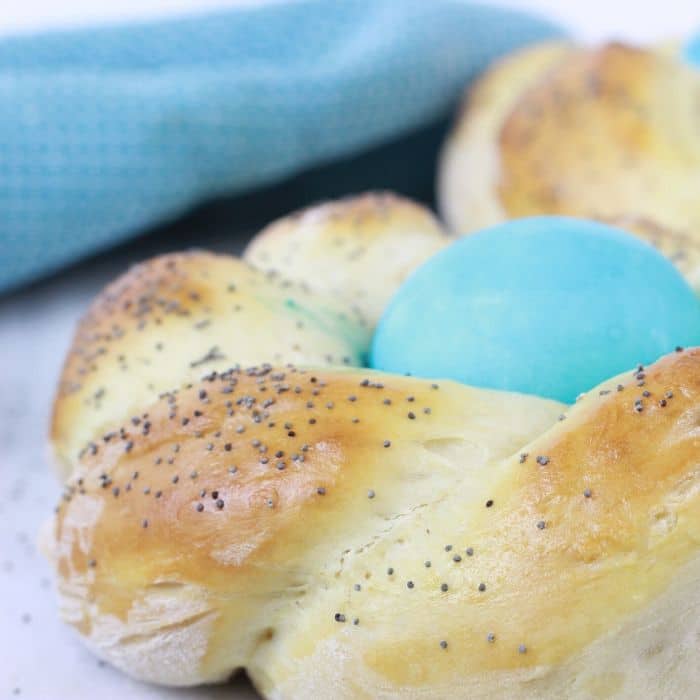 Decorating Easter Italian Bread
For this recipe of Italian bread I reached for poppy seeds. I wanted a very simple look to add a slight pop of color.
Now many recipes you find will use colored sprinkles and some even drizzle on a powdered sugar glaze for added sweetness like a cinnamon roll.
Storing
This bread can store at room temperature for a few hours, or refrigerate. The egg will spoil if left out for more than two hours at a time.
Freezing – This bread will freeze if you don't want to eat it. I just recommend removing the egg before freezing. Then place in a proper container and freeze for 3-4 months. Thaw on the counter or warm in oven or microwave.
FAQs
Do I need an Instant Pot for this recipe?
No, you don't have to have an instant pot to use this recipe. It will just take a bit longer to allow your dough to rise. 
The instant pot when used in the yogurt setting helps to speed up the rising process of the dough. It shaved off sometime but you don't have to have it. 
Are the eggs in the center of Easter bread hard boiled?
If you don't cook the eggs in the center of the Easter bread in advance, you will find it offers a medium-hard texture. 
Now if you want a hard-boiled egg, you can pre-cook eggs to hard-boiled and then use. It will slightly overcook the eggs. So I tend to do the medium-hard eggs. 
Do you eat the eggs in Italian Easter bread?
You can eat the eggs if you would like. If you choose to eat the eggs you need to eat them when fresh off the cooked bread. 
Otherwise, you run the risk of getting sick from eating an egg that has sat out too long. 
Can you proof bread dough in the Instant Pot without yogurt setting?
Unfortunately, you need the warm setting of the yogurt setting. Using the warm on the saute mode will get too hot and ruin your dough.
So for proofing the dough in the Instant Pot you do need the yogurt setting.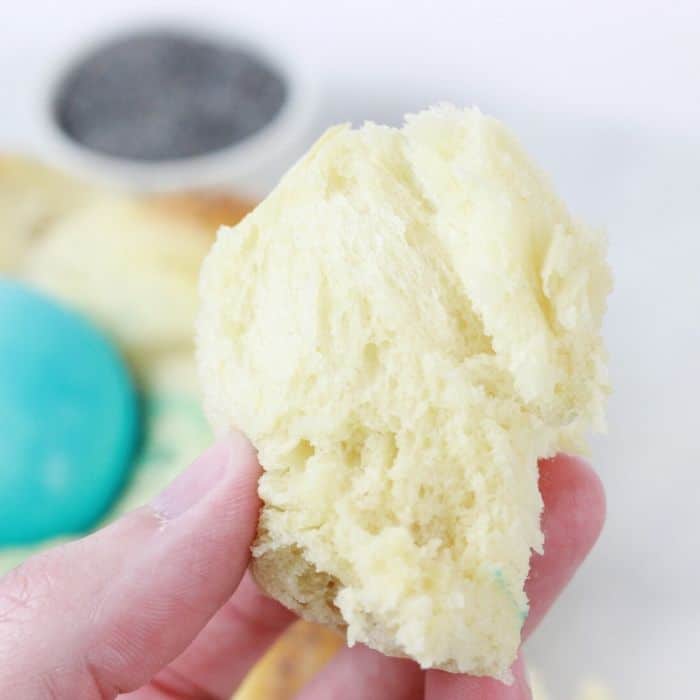 More Instant Pot Bread Recipes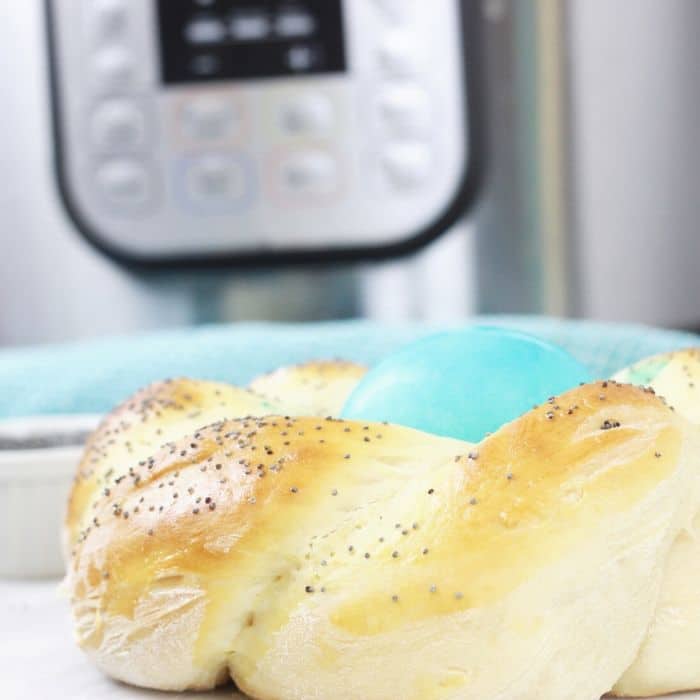 Instant Pot Italian Easter Bread
Servings 21 servings
Instant Pot Italian Easter Bread is a sweet Italian Easter bread that offers a stunning presentation. A tender sweet bread with a colorful Easter egg center.
Ingredients
1 1/4 cup milk
1/3 cup unsalted butter cubed
1 packet active dry yeast
1/8 teaspoon salt
1/2 cup granulated sugar
2 large eggs beaten
4 cups all purpose flour + extra for rolling out
3 dyed Easter eggs can be raw or hard boiled
Egg Wash
1 egg beaten
1 teaspoon water
Instructions
The first thing you want to do is pour your milk and diced butter into a microwave safe container, and heat until it reaches 105 degrees. I did 30 second intervals.

In a larger bowl you will add your sugar, salt, and active dry yeast. Once the milk mixture reaches the right temperature, pour into the sugar mixture, do a quick stir and let sit 5 minutes.

You want to see the yeast begin to foam. This means your yeast is active, and it worked. If it doesn't bubble up, your yeast is dead and it won't work.

Once yeast is active you will begin to slowly add in some of your flour and mix. And then add in your beaten 2 eggs, and finish off with the flour.

When my dough seems pretty mixed and formed and slightly sticky to the touch, I then place the Easter sweet bread dough in a parchment-lined inner Instant Pot pan.

I turn the yogurt setting on for 30 minutes. Place a glass lid on top of the Instant Pot.

Once your dough has doubled in size, lay out on a floured surface. I then knead the bread a bit to remove any sticky texture left on the sweet bread dough.

Form into a rectangle and slice 6-8 lines of dough. Then roll out each dough like a snake and then pinch two pieces of the dough together and twist all the way down. You can see how I did it in my video.

Once twisted, roll into a circle and then lay out on a parchment lined baking pan.

Mix up your egg and water for the egg wash and brush onto the dough, followed by a sprinkle of poppyseeds or even sprinkles. Gently place the colored Easter egg in the center of the rolled up bread. Do not push it down or it will sink.

Preheat oven to 350 degrees and bake 15-18 minutes or until the bread is fully cooked through. If you use raw eggs, they will come out medium-hard texture if you eat them.

Remove the cooked bread from the pan immediately and place on a cooling rack.

Slice or pull apart and enjoy.
Notes
If you don't want to make into circle rings you can cook in a big loaf as well. Each Easter bread ring can serve 6 people.
No Instant Pot Method:
If you don't want to proof the dough in the Instant Pot just follow the directions above. Then place dough in a bowl and cover for 1 hour. And then return to the steps as directed.
Topping: Feel free to skip the poppyseeds and swap with sprinkles.
Nutrition
Serving: 1gCalories: 161kcalCarbohydrates: 24gProtein: 5gFat: 5gSaturated Fat: 2gPolyunsaturated Fat: 2gCholesterol: 62mgSodium: 41mgFiber: 1gSugar: 5g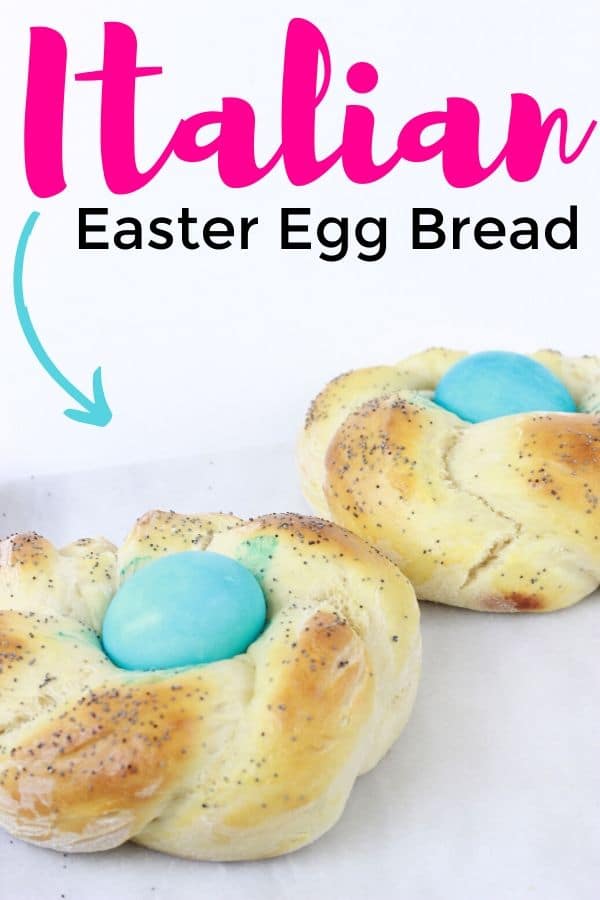 Have you ever tried Italian Easter Bread?
Reader Interactions