Churro cookies are a cinnamon sugar cookie that is swirled on top with a cinnamon buttercream. The ultimate churro dessert you have to try. These are a Crumbl Churro cookie recipe inspiration.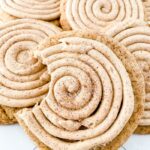 Churro cookies are soft pillowy cinnamon sugar cookie that is then topped with a churro-flavored buttercream frosting that is swirled on. This is a Crumbl cookie company copycat recipe that will win you over.
Jumbo cookies that melt in your mouth! This cinnamon churro cookie is great for parties, family gatherings, bake sales, or gifting to neighbors or co-workers. No matter what the occasion is, these copycat Crumbl cookies are a hit. Try my butterbeer fudge recipe for another tasty dessert.
Another delicious Crumbl cookie recipe, try this turtle cookie! A chocolate cookie, caramel, and of course chocolate and pecans. Or try my Fruity Pebbles cookies for a sweeter cookie fix. Don't wait try this churro Crumbl cookie recipe!
These Churro Cookies Are…
Jumbo Cookies
Homemade Snickerdoodle Style Cookie (with a twist)
Churro Flavors
Crumbl Churro Cookie Recipe
Cinnamon Buttercream Frosting
Great for Bake Sales
Ingredients
Butter – If you use salted omit the salt in the recipe itself. Otherwise, use unsalted butter.
Brown Sugar
Granulated Sugar
Eggs – Room temperature.
Vanilla
Flour – Scooped and leveled.
Baking Soda and Baking Powder
Salt
Cinnamon
Brown Sugar
Powdered Sugar
Heavy Cream
How to Make These Churro Cookies
Full steps on how to make these churro cookies along with measurements are in the printable recipe at the bottom of the post. This is a visual walk-through.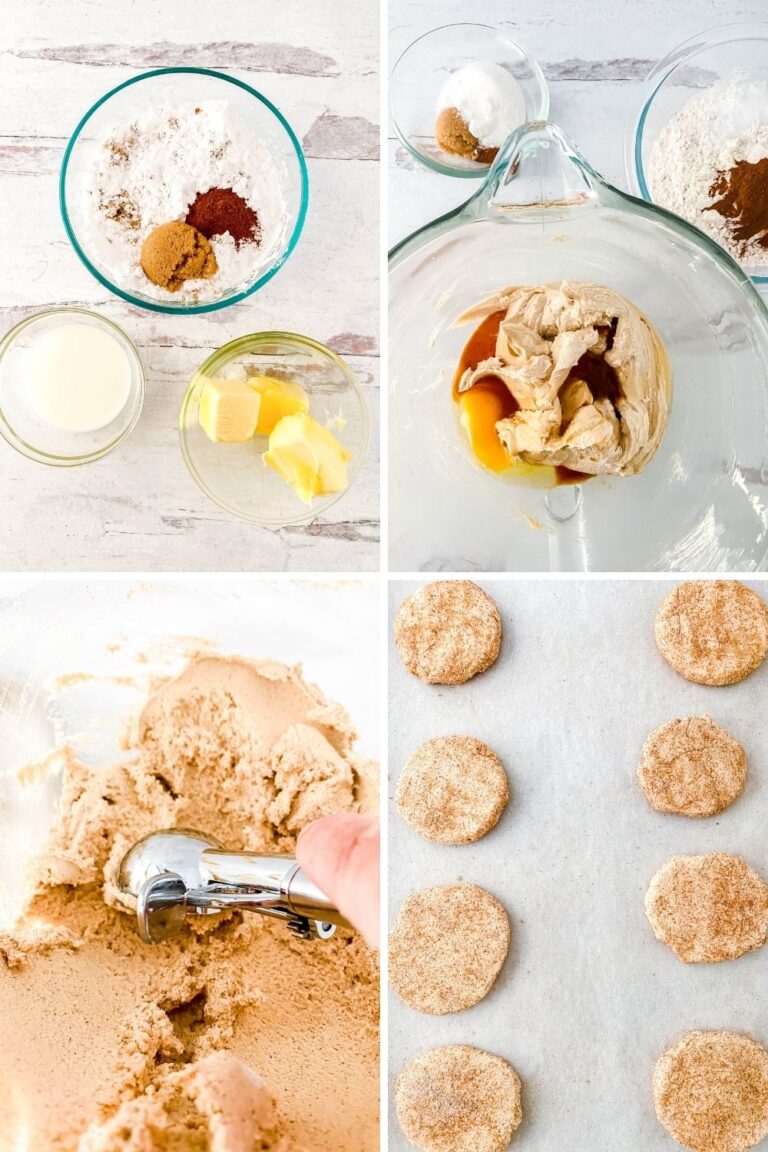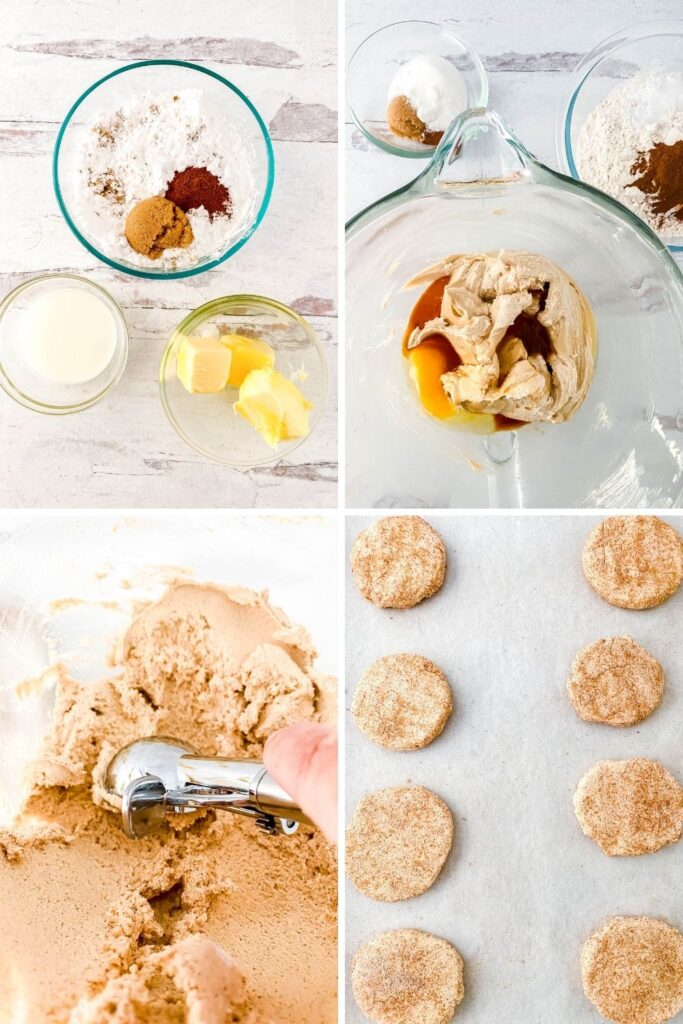 Work on lining your baking sheets with parchment paper or a silicone baking mat. Then preheat the oven and set aside.
Next cream your butter, brown sugar, and granulated sugar for 4-5 minutes till fluffy and lighter in color.
Next, add in your room-temperature eggs one at a time. Then mix in the vanilla.
Now add in the dry ingredients, until combined. Don't overmix the cookie batter.
In a small bowl mix up the brown sugar, cinnamon, and sugar to make the churro cookie topping.
Use a cookie scoop or ice cream scoop and roll it into a ball. Then roll in the cinnamon sugar mixture.
Place the cookies around 2 inches apart. Then press the balls down a bit.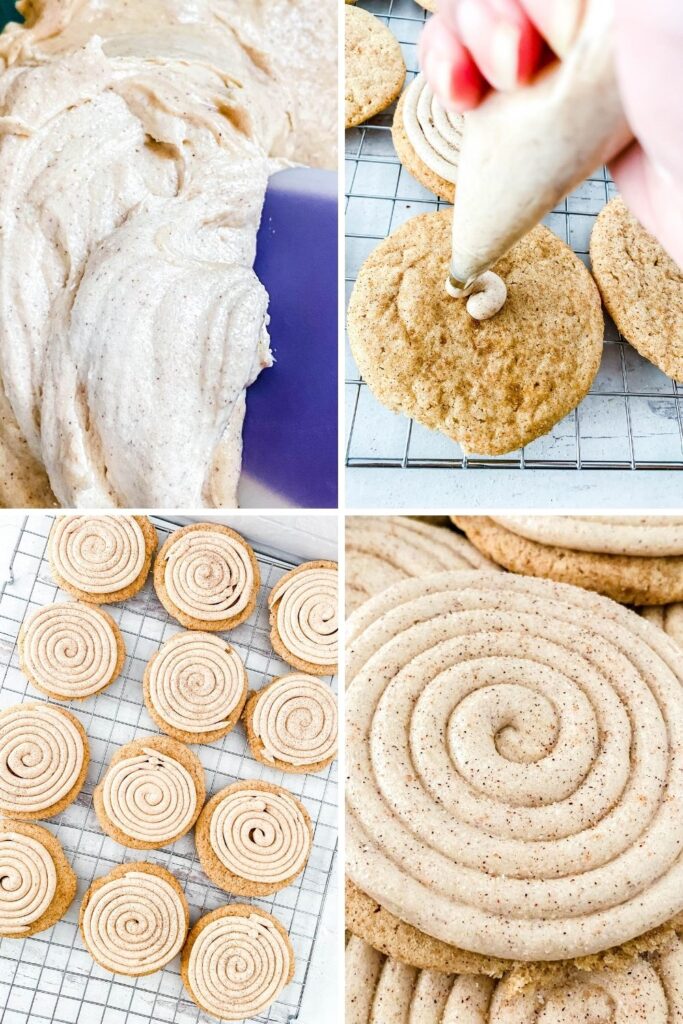 Bake the cookies as directed. Then let them cool on the cookie sheet for 10 minutes, then transfer to the cooling rack.
Make up the buttercream and pour it into the piping bag with a 10 or 12 tip. Start in the center, and pipe in a circle pattern.
Sprinkle on extra cinnamon sugar topping if you want. Or serve them with just frosting.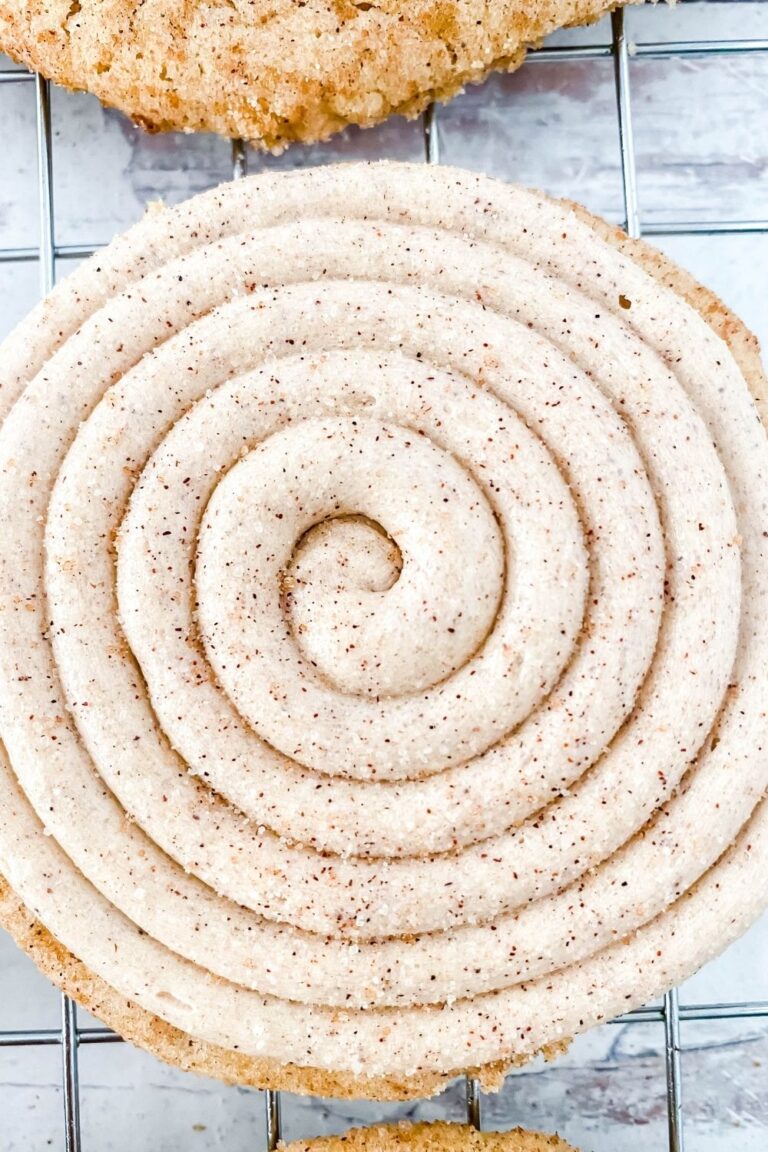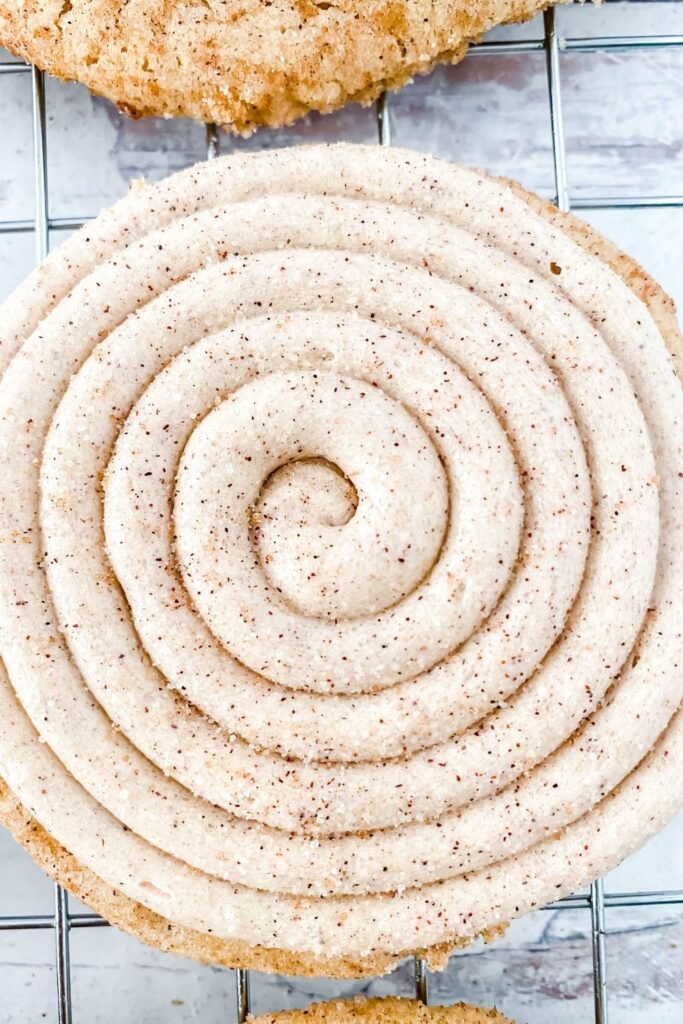 Helpful Tips
Make sure that you allow your butter with the sugar to cream for 5-6 minutes. It is important to create that light and fluffy base for your cookies.
Scoop and level the measuring cups properly when it comes to the flour. Measuring improperly will lead to over-dry or soft cookies. Scooping flour into the measuring cup then use a knife to level off the top.
Room-temperature butter and eggs are key. Softened butter works great for creaming, if you use melted butter the texture of the cookies will not turn out the same.
I used an ice cream scoop to make these Crumbl churro cookies jumbo size. You could also use two scoops of a smaller cookie scoop.
Storing Cookies and Freezing
Storing – These cookies can be stored at room temperature or in the refrigerator in an airtight container. I find that sometimes if left out the buttercream can break down a bit.
So make sure your home is not too hot, or it will affect the buttercream frosting.
Freezing – Go right ahead and freeze any cookies you don't plan to eat right away. Just place in an airtight container. Place parchment paper in between cookie layers to prevent sticking. Freeze cookies for 3-4 months.
Thaw on the counter or in the fridge overnight.
FAQs
Can you freeze churro cookies?
You can freeze churro cookies. Simply place cookies in a single layer in a freezer container or freezer bag. If you do stack place wax paper in between layers of the cookies to prevent sticking.
Are churros Spanish or Mexican?
Churros are from Spain but they eventually made their way to Mexico. This cinnamon and sugar delicious dessert is one that has taken over the whole world.
Do I have to add the frosting to these cookies?
You do not have to add frosting on top of these churro cookies. I personally find the frosting compliments the cookies perfectly, but feel free to leave it off.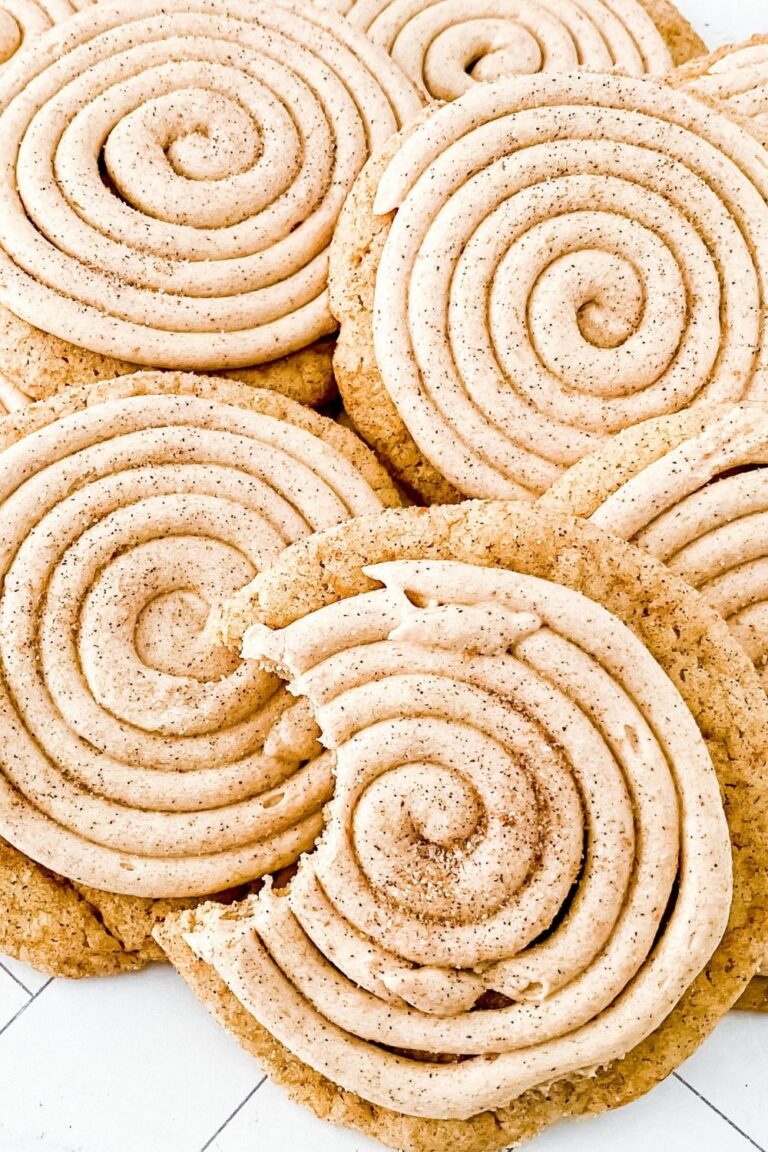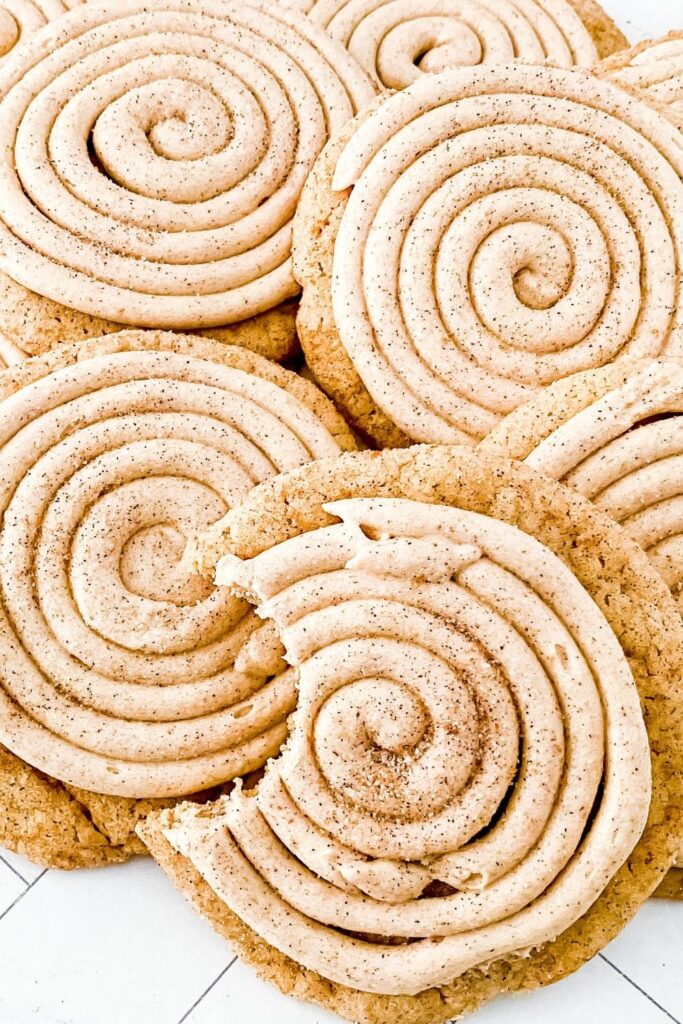 Churro Dessert Recipes
Here you have even more churro desserts to go next to this Crumbl snickerdoodle recipe.
Have you tried the recipe? If so, please leave a star ⭐️⭐️⭐️⭐️⭐️ rating in the recipe card below or drop a comment. Also stay in touch with me through social media by following me on Facebook, Pinterest, or My Facebook Group
Churro Cookies
Servings 14 cookies
Churro cookies are a cinnamon sugar cookie that is swirled on top with a cinnamon buttercream. The ultimate churro dessert you have to try. These are a Crumbl Churro cookie recipe inspiration.
Ingredients
Churro Cookie Ingredients
1 cup unsalted butter room temperature
1/4 cup granulated sugar
1 1/4 cup brown sugar packed
2 large eggs room temperature
1 tablespoon vanilla
1/2 teaspoon salt
1 1/2 teaspoon cinnamon
2 1/2 cups all purpose flour scooped and leveled
1 teaspoons baking powder
1/2 teaspoon baking soda
Cookie Coating
1/3 cup granulated sugar
1 teaspoon cinnamon
1 tablespoon brown sugar
Cinnamon Buttercream Frosting
1/2 cup unsalted butter room temperature
2 1/2 cups powdered sugar
1 1/2 teaspoons cinnamon
2-3 tablespoons heavy cream
1 tablespoon vanilla
Instructions
Cookie Directions
Preheat the oven to 350 degrees. Line baking sheets with parchment paper, grease, or use silicone baking mats.

With a mixer you will cream your softened butter, brown sugar, and granulated sugar for 5-6 minutes or until the cookie base is light and fluffy.

Add in the eggs one at a time, then the vanilla extract.

Now add in the flour, cinnamon, salt, baking soda, and baking powder. Mix until the cookie batter is combined. Don't overmix the batter.

Roll the dough into 14 even cookie balls, I used a cookie scoop.

In a small bowl, add the cinnamon sugar topping, the brown sugar, cinnamon, and sugar.

Roll cookies in the cinnamon mixture and place on baking sheet. Leave around 13-15 minutes.

Remove cookies from oven and let the churro cookies to cool on the baking sheet for 10 minutes. Then remove to the baking rack and cool till fully cooled.
Cinnamon Buttercream
For the buttercream you will beat up the butter and vanilla until creamy.

Add in the powdered sugar a little at a time and cinnamon.

Mix the buttercream needs some extra liquid add in a tablespoon of the heavy cream, and then add extra if you need.

You want the cinnamon buttercream to be light, fluffy, and hold shape if you lift up out of the bowl, it holds on to mixer or spoon.

Add your buttercream frosting into a piping bag, and place a Wilton tip of 10 or 12.
Decorating Churro Cookies
Now you will start in the center of the cookie. Create a tight circle of frosting, that works around to the outside of the cookie.

Lift the piping bag up a bit to allow the frosting to fall onto the cookies. Then if you want dust with extra cinnamon sugar mixture if you want.

Notes
Frosting: You don't have to use all the heavy cream. Or if you find the frosting is too thin add more powdered sugar. Sifting Powdered Sugar: If your powdered sugar has a lot of clumps, sifting can help provide that ultra smooth frosting. Storing Cookies: These cookies can store on the counter at room temperature or in the fridge.
Nutrition
Serving: 1gCalories: 457kcalCarbohydrates: 63gProtein: 4gFat: 22gSaturated Fat: 13gPolyunsaturated Fat: 7gCholesterol: 82mgSodium: 175mgFiber: 1gSugar: 45g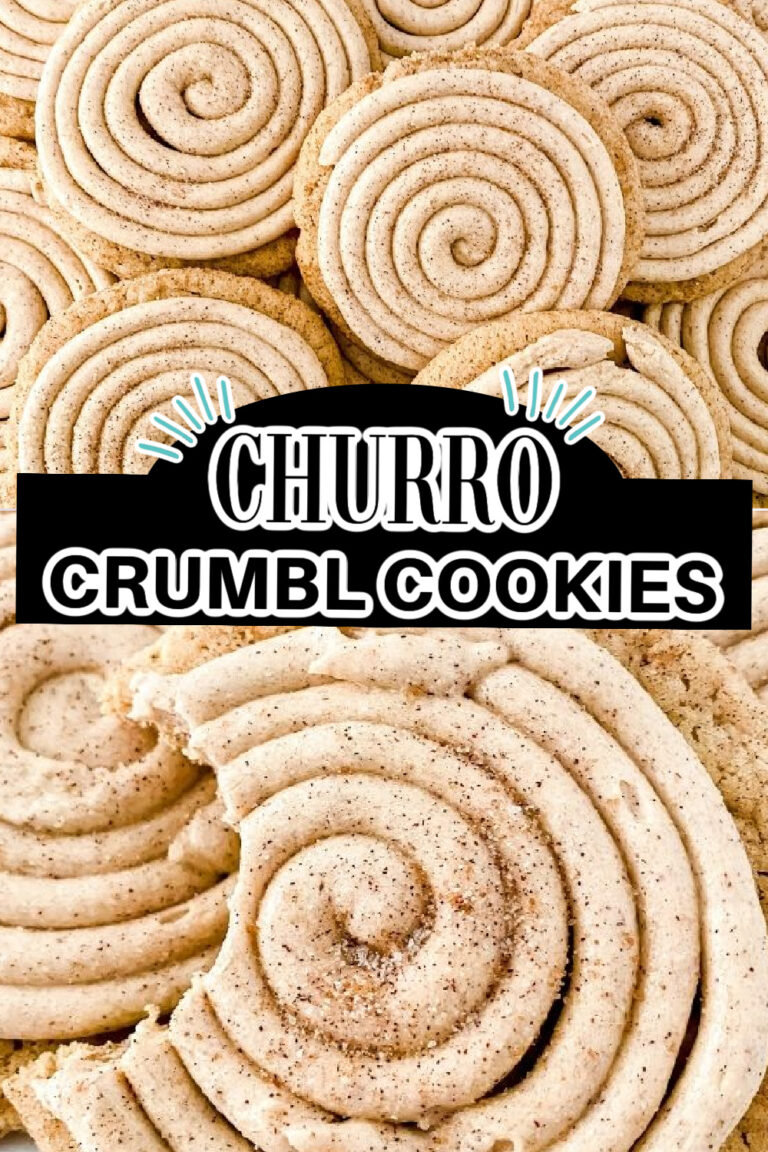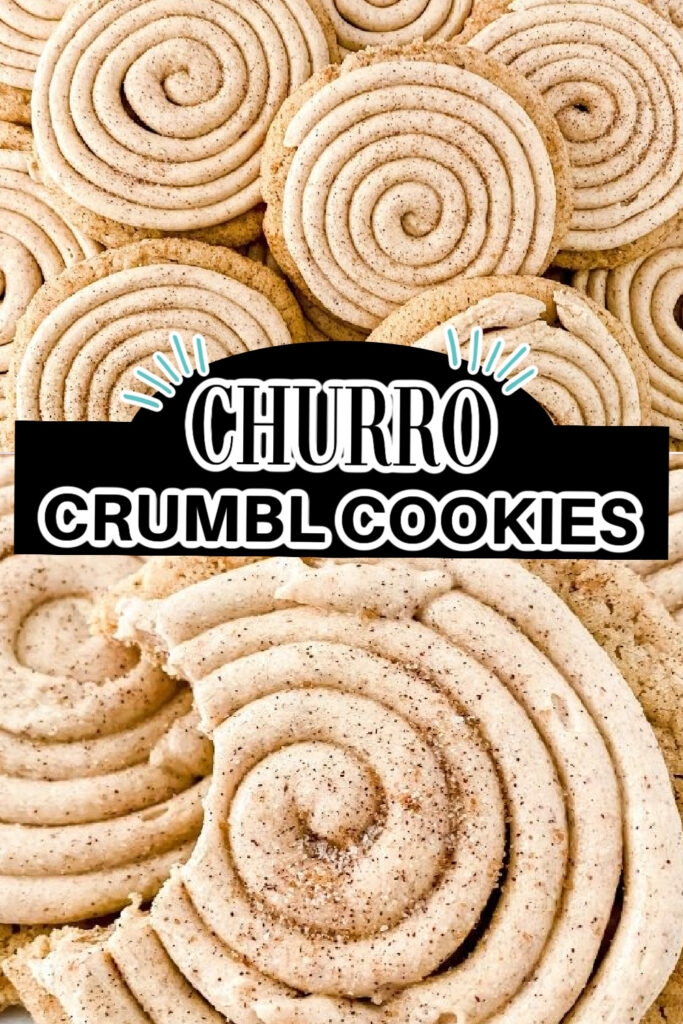 Reader Interactions