Peanut Butter Eggs are an easy homemade version to the classic Reese's peanut butter eggs we know and love. 5 ingredients is all you need. Make these chocolate peanut butter Reese's eggs today.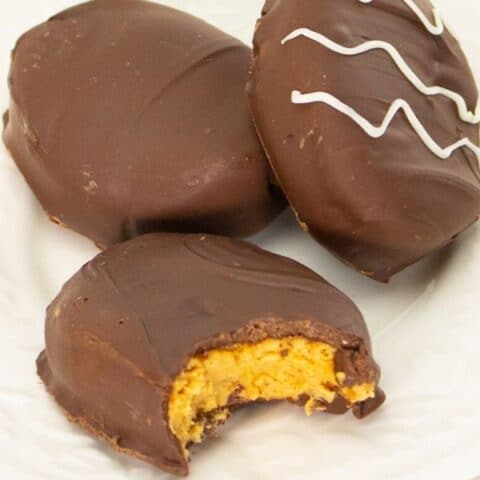 Peanut Butter Eggs that might even be as good as the classic Reese's Peanut Butter Eggs! I know that is a hard task to manage, but I couldn't stop eating these sweet peanut butter filled chocolate eggs.
With just 5 simple ingredients, you'll be chowing down on your very own Peanut Butter Eggs in no time at all.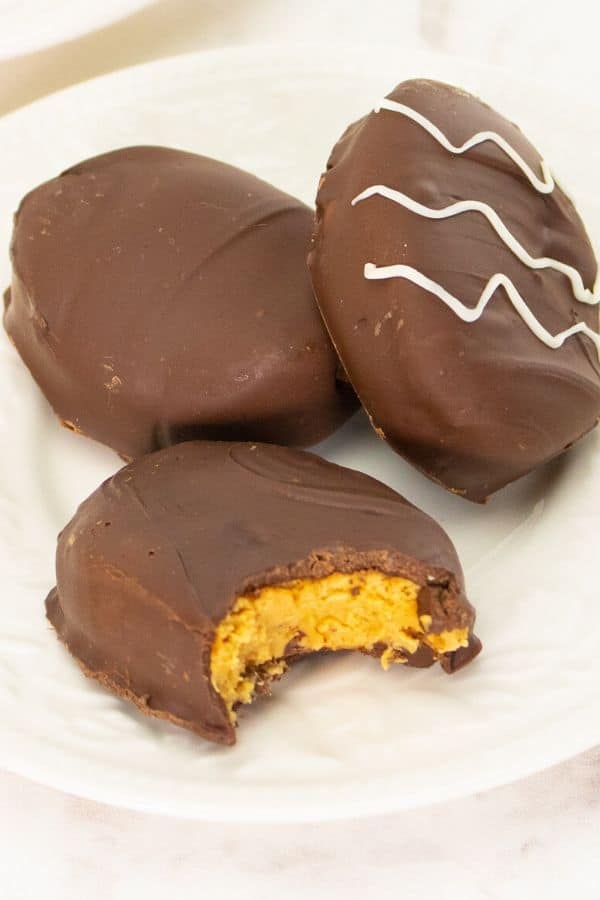 This simple DIY dessert recipe takes little effort on your part but results in huge flavor and taste! It's a simple recipe that will have everyone wanting more.
With Easter coming up quickly, it's time to start thinking about all the fun Easter treats that you're going to bake.
These Peanut Butter Eggs Are….
A Copycat Reese's Peanut Butter Cup Egg
Easy No Bake Easter Recipe
Chocolate And Peanut Butter Flavor
Quick and Easy
A Great Recipe For Easter Peanut Butter Eggs
While anybody can make a cake (try my carrot cake cheesecake cake) or cupcakes, why not try something new this year?
Don't let the name fool you, you can easily make this recipe even if you're new to the baking world!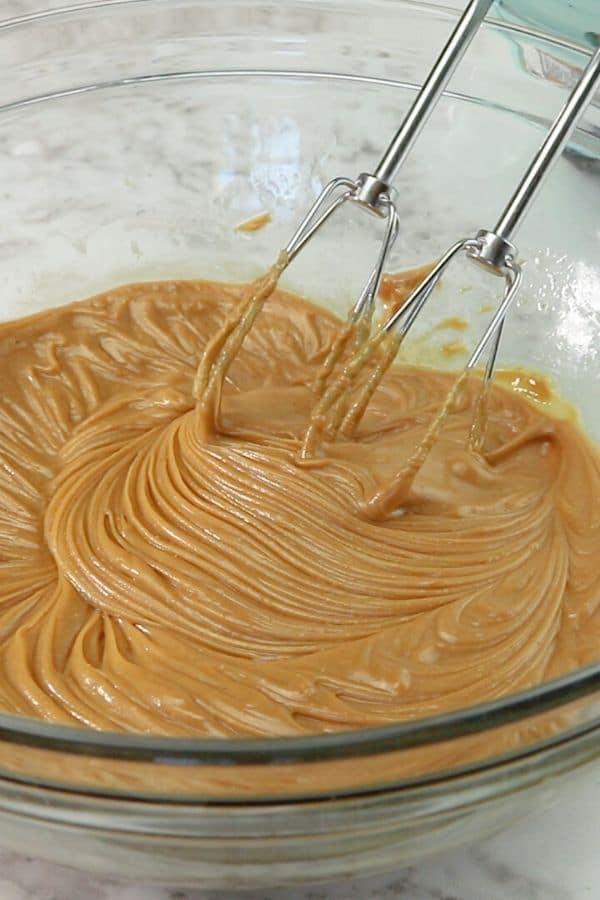 Ingredients
Creamy Peanut Butter
Brown Sugar
Powdered Sugar
Butter
Shortening
Chocolate Chips
Vanilla
How to Make
Full directions for this peanut butter egg recipe are in the printable recipe card at the bottom of the post. This is a quick walk through.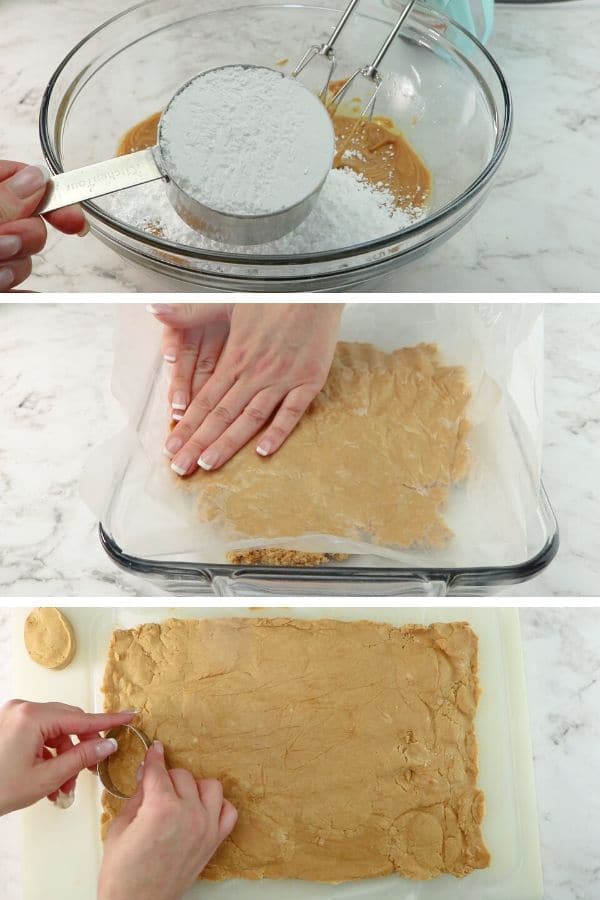 With a mixer blend you peanut butter and brown sugar together until nice and creamy.
Add in your butter followed by the butter and vanilla.
Spread the peanut butter mixture in 9×13 and chill it so it sets nicely.
Use an Easter egg cookie cutter, and then melt chocolate and dip each egg.
Place on parchment paper to set up!
Can I Use Crunchy Peanut Butter?
You can! I just like to use creamy peanut butter because of the texture but crunchy would be just fine as well.
Just know that it's going to take away a bit of the creaminess for the overall recipe but some people may actually like that crunch.
If you're feeling really adventurous you could make up a couple of different batches. See which ones you like the best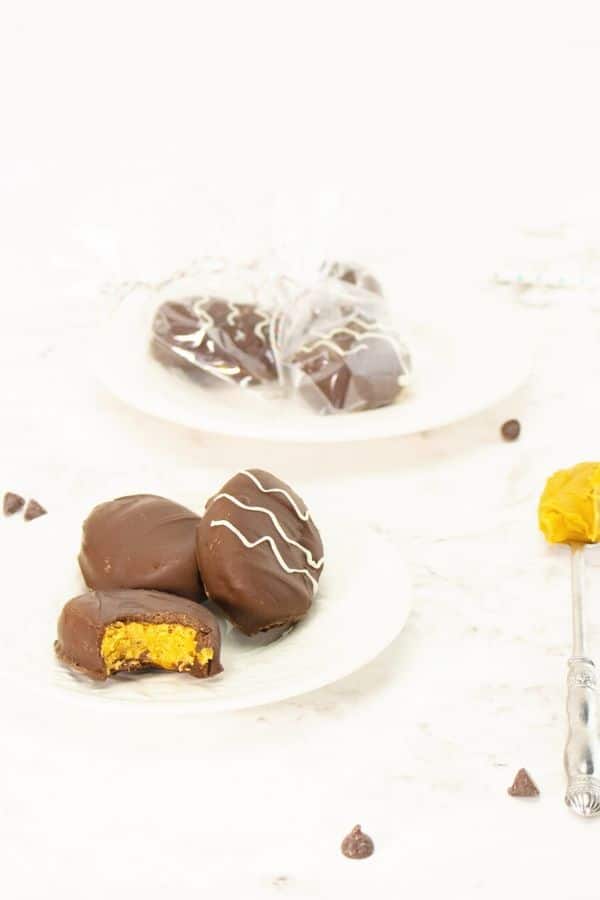 Storing
These Easter no bake peanut butter eggs can be stored at room temperature or in the fridge. Just make sure to place in an airtight container. The chocolate and peanut butter eggs will store for up to a week.
Freezing works as well to extend the life. Place in a single layer in a container. Or use wax paper between layers to prevent sticking. Then freeze for 3-4 months. Thaw on the counter at room temperature or in the fridge overnight.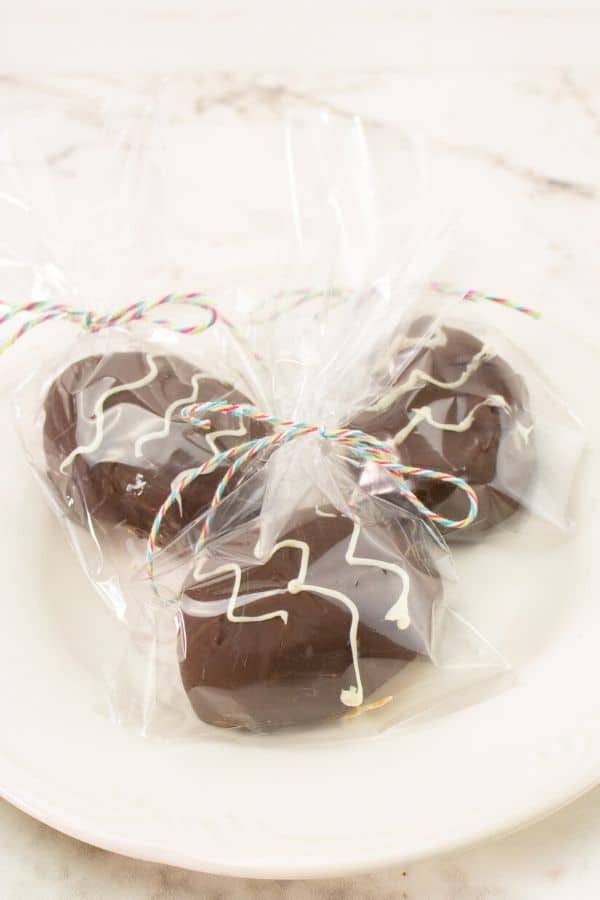 Ways to Share Peanut Butter Eggs
Not everyone likes to bake or has the ability to so these homemade treats are a great gift to give to others as well.
This is especially true during the Easter holiday time when some people may not have any friends or family close that they can rely on.  You can use these snack bags are great for putting a few eggs in it as a treat.
FAQs
Common questions when making these homemade peanut butter eggs.
Can I use white chocolate chips instead?
Feel free to swap chocolate with white chocolate. You will use the same amounts of either chocolate. There will be a definite taste difference in the two chocolates as many people feel that white chocolate is a sweeter chocolate than regular milk chocolate. 
Why is my chocolate not melting?
The key is to melt the first round for 1 minute, then stir. Then after that initial round, you're going to be melting the chocolate in 30-second increments, stirring after each one. Stirring after each one is key or it will seem like it's taking forever to melt. Since the chocolate chips are so small, they don't "appear" melted when you're looking at them so this is why you have to stir them to break them up and make them smooth and melted. 
Can chocolate burn in the microwave?
Chocolate can easily burn in the microwave. You will find that once you get the burn started, your chocolate needs to be tossed. There is no way to bring it back from the flavor of burnt chocolate.
More Easter Recipes
Have you tried the recipe? If so, please leave a star ⭐️⭐️⭐️⭐️⭐️ rating in the recipe card below or drop a comment. Also stay in touch with me through social media by following me on Facebook, Pinterest, or My Facebook Group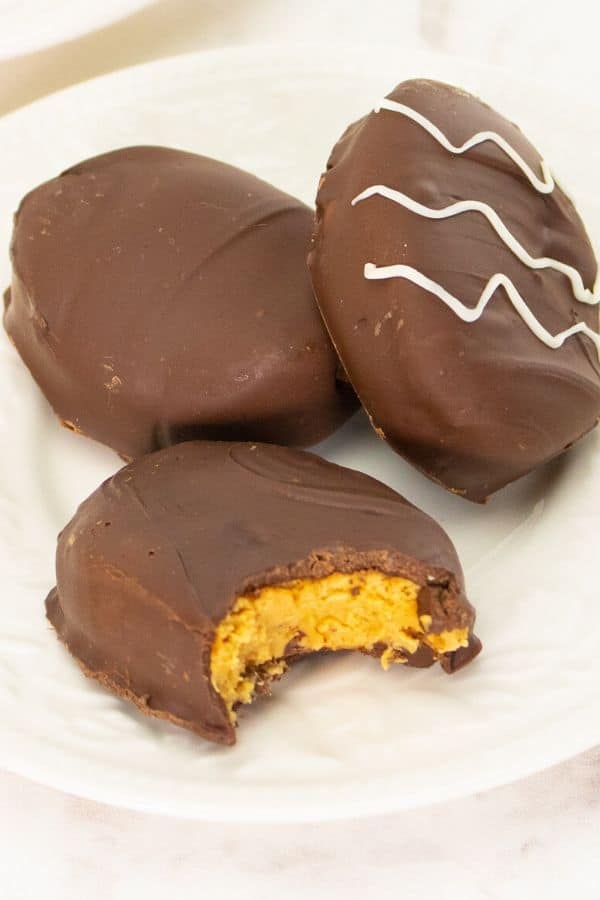 Peanut Butter Eggs
Servings 24
Peanut Butter Eggs are an easy homemade version to the classic Reese's peanut butter eggs we know and love. 5 ingredients is all you need. Make these chocolate peanut butter Reese's eggs today.
Ingredients
3 cups creamy peanut butter I like Jif
1/8 cup of brown sugar
5 cups powdered sugar
1/2 cup unsalted butter melted
1 teaspoon shortening optional
20 ounces chocolate chips – milk white, semi-sweet, or dark chocolate
1/2 teaspoon vanilla extract
Instructions
In a bowl you will work on mixing up your brown sugar and peanut butter until nice and creamy.

Now slowly stir in your melted butter. Give it a good mix.

A little at a time you will begin working in your powdered sugar so that you can get it incorporated. Mix on low so you don't make a mess. Add in your vanilla extract as well.

Take a 9×13 pan and line it with wax paper or parchment paper. Then take your peanut butter filling and press it into the pan.

I used wax paper to help smooth it out for an even layer.

Freeze the peanut butter filling for 1-2 hours.

Remove your pan from the freeze and lift the peanut butter mixture out of the pan and lay on the counter.

Take your Easter egg cookie cutter and work at cutting out your egg shapes.

Try to get your eggs as close as you can so you can use all the peanut butter mixture.

Then re-freeze the Easter egg peanut butter eggs, for another 30 minutes to an hour.

Now you will want to melt your chocolate in the microwave or double boiler.

Once chocolate is melted add in 1 teaspoon of shortening and mix well.

Then dip each peanut butter egg in the chocolate, shaking off excess chocolate. Lay on wax paper and allow eggs to set up.
Notes
Storing – These peanut butter eggs can be stored at room temperature or in the fridge. Place wax paper between layers if you stack them. You can freeze for 4-5 months.
Nutrition
Serving: 1gCalories: 443kcalCarbohydrates: 48gProtein: 9gFat: 28gSaturated Fat: 10gPolyunsaturated Fat: 14gCholesterol: 11mgSodium: 163mgFiber: 3gSugar: 39g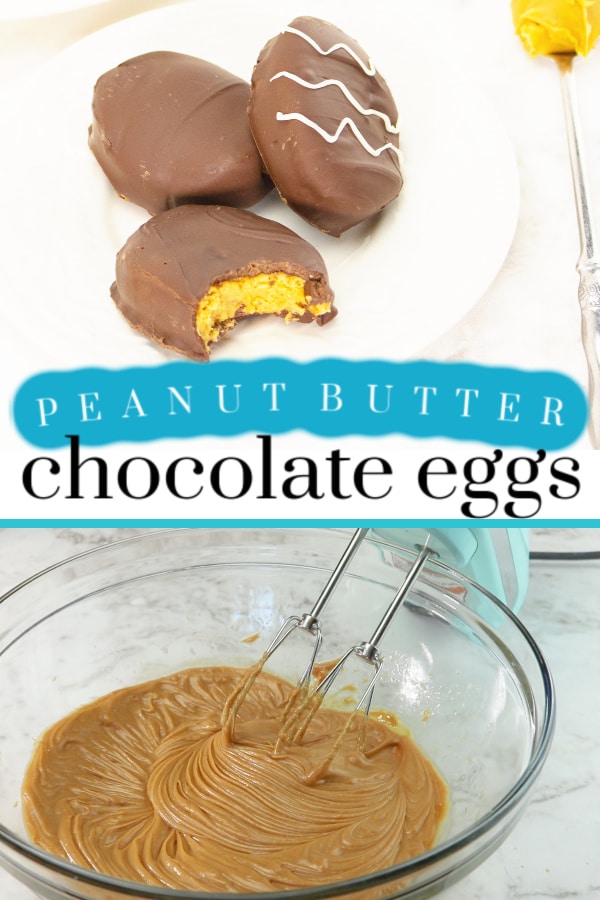 Do you prefer milk chocolate or white chocolate for your peanut butter eggs?
Reader Interactions