Peanut Butter Eggs that might even be as good as the classic Reese's Peanut Butter Eggs! I know that is a hard task to manage, but I couldn't stop eating these sweet peanut butter filled chocolate eggs.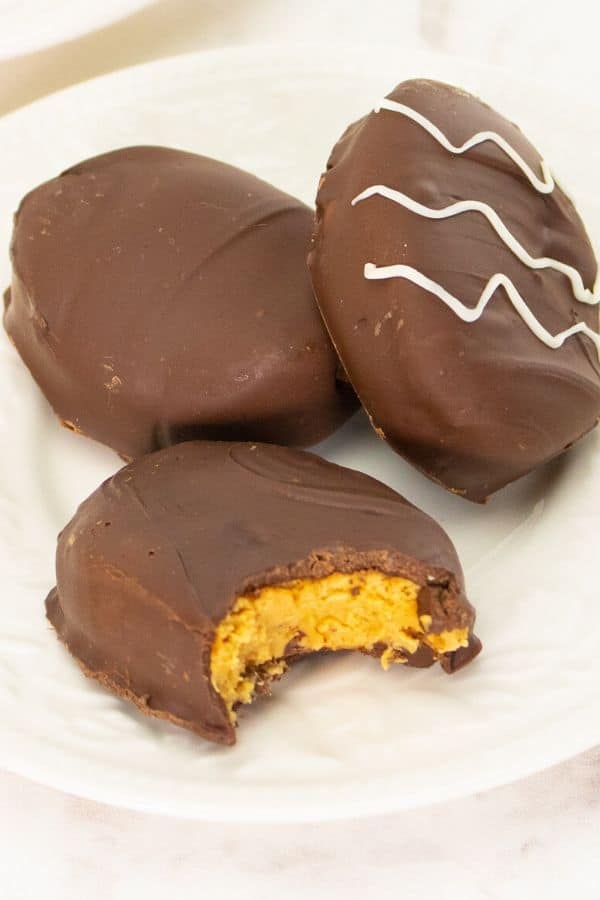 With just 5 simple ingredients, you'll be chowing down on your very own Peanut Butter Eggs in no time at all.
This simple DIY dessert recipe takes little effort on your part but results in huge flavor and taste! It's a simple recipe that will have everyone wanting more.
With Easter coming up quickly, it's time to start thinking about all the fun Easter treats that you're going to bake.
While anybody can make a cake (try my carrot cake cheesecake cake) or cupcakes, why not try something new this year?
Don't let the name fool you, you can easily make this recipe even if you're new to the baking world!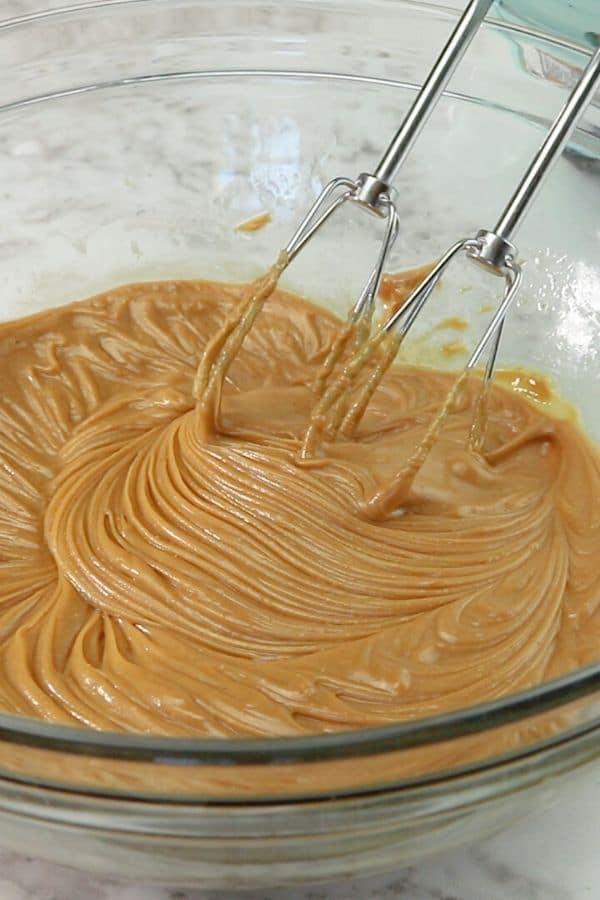 Can I Use Crunchy Peanut Butter?
You can! I just like to use creamy peanut butter because of the texture but crunchy would be just fine as well.
Just know that it's going to take away a bit of the creaminess for the overall recipe but some people may actually like that crunch.
If you're feeling really adventurous you could make up a couple of different batches. See which ones you like the best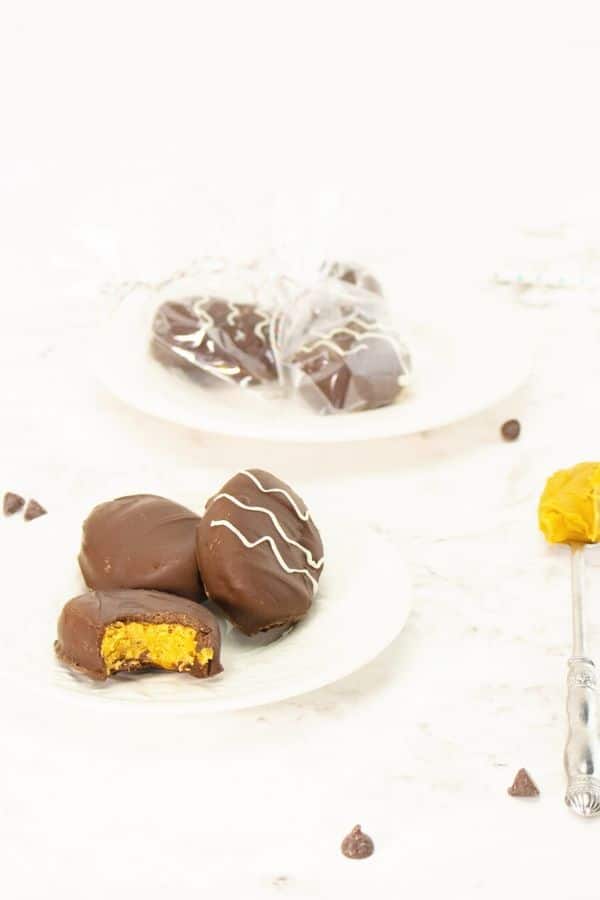 Can I Swap To White Chocolate for Dipping?
You can. Some people are fans of milk chocolate while others prefer the taste of white chocolate.
Even Reese's has been making their own peanut butter eggs for what seems like zillions of years agree because they have options for both!
There will be a definite taste difference in the two chocolates as many people feel that white chocolate is a sweeter chocolate than regular milk chocolate.
The recipe doesn't change at all though if you use white chocolate so there's no need to alter anything on that end.
What happens if my chocolate isn't melting?
If you're having trying getting the chocolate chips to melt, you might need to reread the section on how to melt in the microwave. The key is to melt the first round for 1 minute, then stir.
Then after that initial round, you're going to be melting the chocolate in 30-second increments, stirring after each one.
Stirring after each one is key or it will seem like it's taking forever to melt.
Since the chocolate chips are so small, they don't "appear" melted when you're looking at them so this is why you have to stir them to break them up and make them smooth and melted.
Also, consider using your Instant Pot as a double boiler to melt the chocolate.
Can you burn chocolate in the microwave?
Yes, you can. And once you burn it, you'll have to toss it out and start all over again.
That burnt taste won't go away no matter how hard you try to cover it up.
How to store these Peanut Butter Eggs
The easiest way to store these homemade peanut butter eggs is to put them in the fridge in a sealed container.
Not only with this keep them at an optimal and safe temperature but it will keep the outer layer of chocolate nice and crisp as well.
There is also the option to add them to the freezer for a short period of time as a way to "harden" them up so that when you take a bite, they melt in your mouth a bit and give a whole other texture and taste.
We often do this with some of our desserts and it makes a difference for sure!
Can you freeze peanut butter eggs?
As I mentioned above, you can freeze them for a short amount of time to give them a firmer texture or you can put them in your freezer for several weeks worth of storage so that you can enjoy and eat later.
These homemade peanut butter eggs will store in the freezer for up to 3 months!
If you are going to freeze them, I highly recommend freezing them in smaller freezer-safe baggies that will help one or two. This is just an easier way to practice portion control.
When you're craving one of your delicious homemade peanut butter eggs, just take out the bag that has one or two inside of it from the freezer, let it thaw, and enjoy!
That way you're not thawing out the whole batch at once.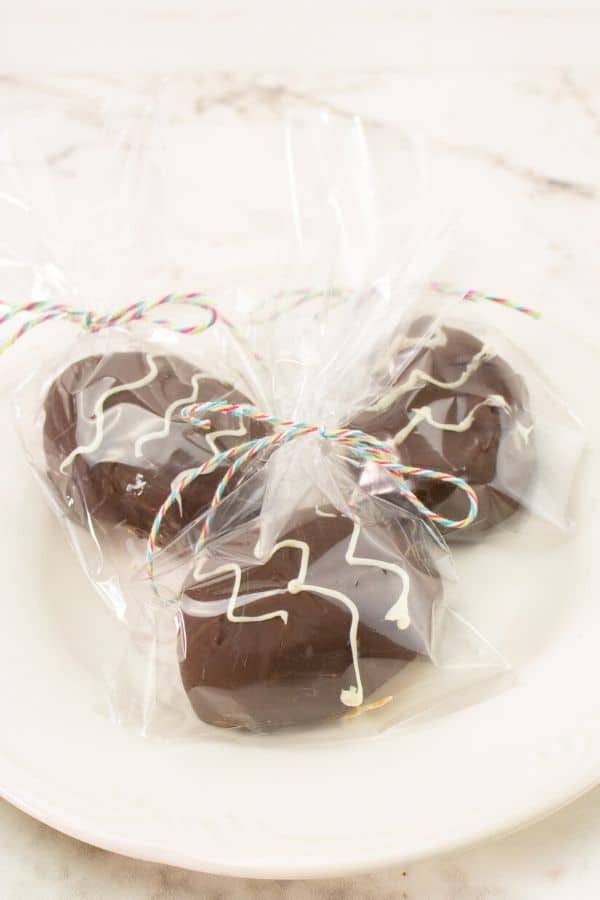 Ways to Share Peanut Butter Eggs
Not everyone likes to bake or has the ability to so these homemade treats are a great gift to give to others as well.
This is especially true during the Easter holiday time when some people may not have any friends or family close that they can rely on.
Make certain that you keep enough to feed you and your family and then make up a batch to give to some of your neighbors or friends.
This simple gesture can go a long way in bringing a smile to someone's face.
Are you ready to get started on this simple recipe? You're going to love it!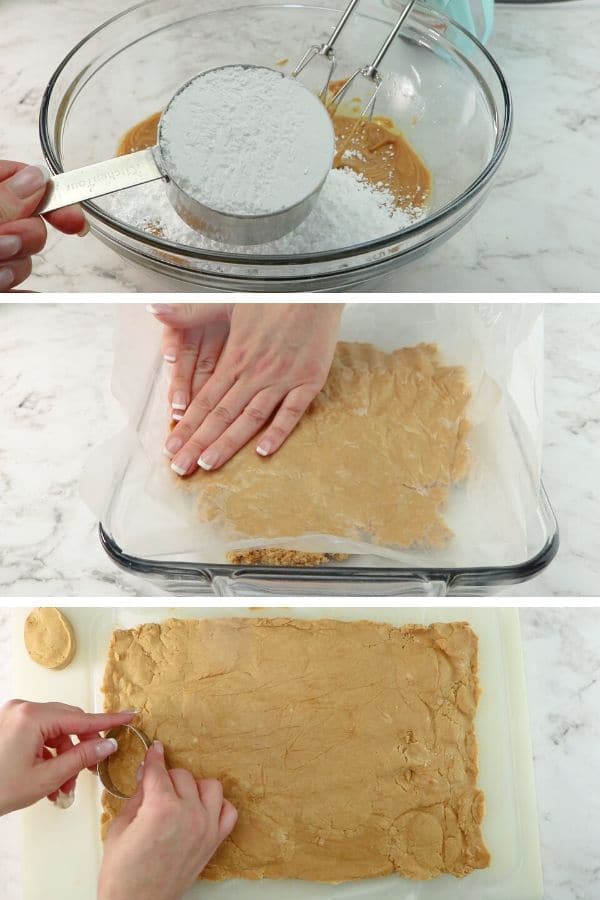 How to Make Peanut Butter Eggs
This recipe is perfect for Spring and the Easter holiday. Once you perfect this recipe, you'll never have to buy any more of them from the store ever again!
Tried this recipe? Make sure to rate ⭐️⭐️⭐️⭐️⭐️ and leave a comment to let me know how you like it! Plus get more Instant Pot Recipes or Home Cooked Recipes Facebook Page on my Facebook. Stay up to date and Follow Me On Pinterest!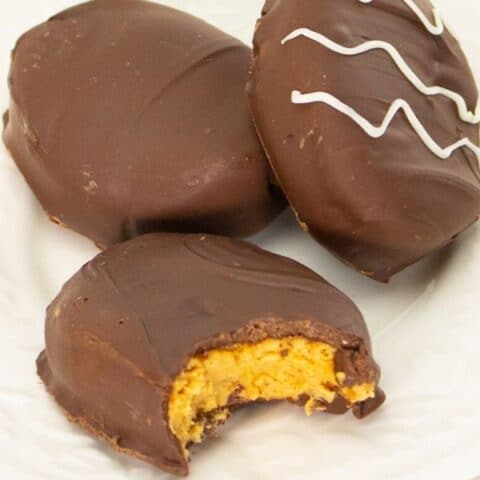 Peanut Butter Eggs
Total Time:
3 hours
30 minutes
Peanut Butter Eggs are an easy homemade version to the classic Reese's peanut butter eggs we know and love. 5 ingredients is all you need.
Ingredients
3 cups creamy peanut butter (I like Jif)
1/8 cup of brown sugar
5 cups powdered sugar
1/2 cup unsalted butter, melted
1 teaspoon shortening (optional)
20 ounces chocolate chips - milk, white, semi-sweet, or dark chocolate
1/2 teaspoon vanilla extract
Instructions
In a bowl you will work on mixing up your brown sugar and peanut butter until nice and creamy.
Now slowly stir in your melted butter. Give it a good mix.
A little at a time you will begin working in your powdered sugar so that you can get it incorporated. Mix on low so you don't make a mess. Add in your vanilla extract as well.
Take a 9x13 pan and line it with wax paper or parchment paper. Then take your peanut butter filling and press it into the pan.
I used wax paper to help smooth it out for an even layer.
Freeze the peanut butter filling for 1-2 hours.
Remove your pan from the freeze and lift the peanut butter mixture out of the pan and lay on the counter.
Take your Easter egg cookie cutter and work at cutting out your egg shapes.
Try to get your eggs as close as you can so you can use all the peanut butter mixture.
Then re-freeze the Easter egg peanut butter eggs, for another 30 minutes to an hour.
Now you will want to melt your chocolate in the microwave or double boiler.
Once chocolate is melted add in 1 teaspoon of shortening and mix well.
Then dip each peanut butter egg in the chocolate, shaking off excess chocolate. Lay on wax paper and allow eggs to set up.
Recommended Products
As an Amazon Associate and member of other affiliate programs, I earn from qualifying purchases.
Nutrition Information:
Yield:

24
Serving Size:

1
Amount Per Serving:
Calories:

443
Total Fat:

28g
Saturated Fat:

10g
Trans Fat:

0g
Unsaturated Fat:

14g
Cholesterol:

11mg
Sodium:

163mg
Carbohydrates:

48g
Fiber:

3g
Sugar:

39g
Protein:

9g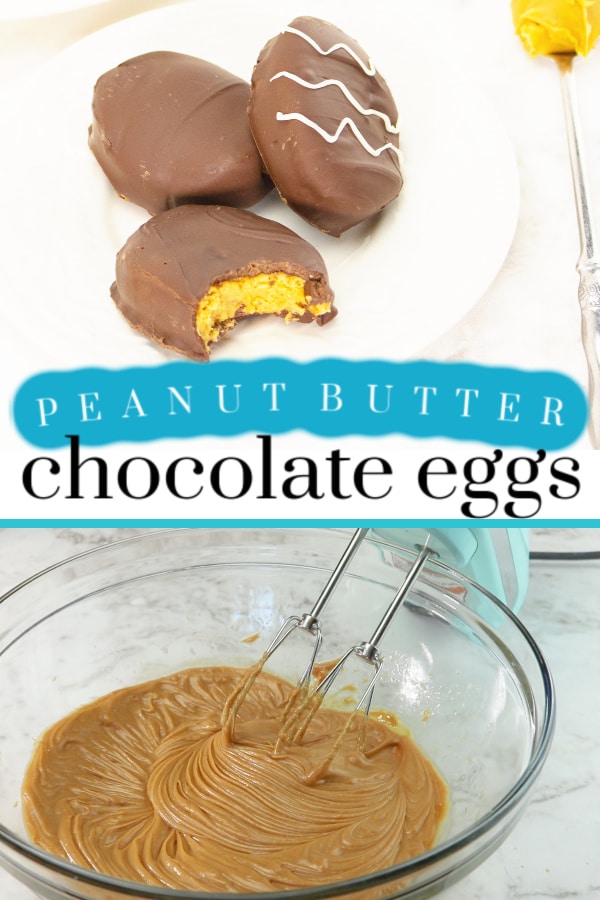 Do you prefer milk chocolate or white chocolate for your peanut butter eggs?