KFC Copycat recipes are always welcome in my world. I am a HUGE fan of KFC, and I love making recipes that are similar to what you can buy in the restaurant. Crispy chicken, zesty coleslaw, creamy macaroni and cheese, and the list goes on. If you are a fan of KFC, check out these easy copycat KFC recipes.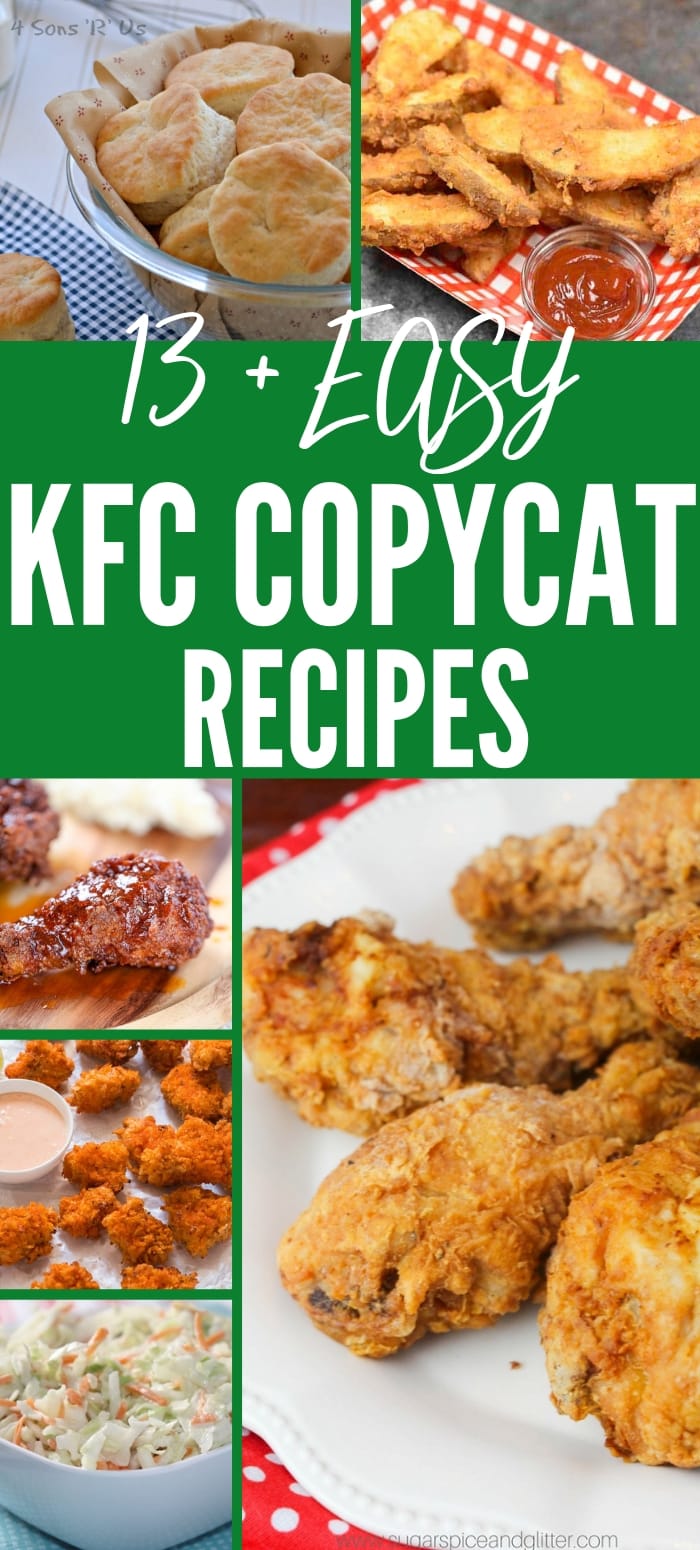 We don't have a KFC in our town, so I don't get to eat there too often. Plus, my husband isn't a huge fan of chicken. WEIRD, I know! For me, I could live off chicken, potatoes, and all things carb filled. So, why not create a nice list of all my favorites and maybe yours too from KFC!
More Tasty Recipes to Try
The Best KFC Copycat Recipes
KFC Copycat Recipes
KFC Copycat Recipes all in one place. From crispy chicken to your favorite sides. A KFC lovers dream. Enjoy all your Kentucky Fried Chicken copycat recipes in the comfort of your own home.

This is my all-time favorite item to buy at KFC. Creamy, crunchy, zesty, and the perfect coleslaw anytime of year.

Photo Credit: sugarspiceandglitter.com

Love the crispy skin on KFC chicken with the juicy and flavorful meat on the inside. This is my go-to recipe for the crunchy KFC chicken!

Photo Credit: myfoodstory.com

If you enjoy the spice, try the spicy popcorn chicken recipe. Pair with your favorite dipping sauce and dive in.

Photo Credit: blessherheartyall.com

I have not tried this yet, but boy does it sound delicous. Tangy, saucy and finger licking good!

Photo Credit: 4sonrus.com

I love their biscuits with the honey drizzled on top. Now you can make KFC biscuits at home for you and your family to enjoy.

Photo Credit: www.bakingbeauty.net

Another spicy option to whip up. Saucy, tangy, and a chicken that truly packs some heat behind it.

Photo Credit: www.budget101.com

This mac and cheese is a similar recipe than what you can order at KFC!

Photo Credit: www.gonnawantseconds.com

I am a fanatic to green beans! Add that salt and pepper on top and the veggie side is a winner. Here is a similar recipe that KFC uses!

Photo Credit: www.saltandlavender.com

Boy oh boy, are the wraps at KFC so tasty! Here is a similar recipe to what you can order.

Photo Credit: copykat.com

I love potato wedges dipped in a hot mustard sauce. When KFC came out with wedges I couldn't wait to try them! Their wedges are so delicious.

Photo Credit: cincyshopper.com

I have never had a pot pie from KFC but I hear they have an incredible flakey crust! This recipe looks very similar to what you can buy!

Photo Credit: www.persnicketyplates.com

Love that tangy, savory, and sweet bbq sauce. Here is a copycat recipe for the bbq sauce of your dreams.

Photo Credit: sporkandbarrel.com

I have heard wonderful things about the gold BBQ sauce. This is sticky, savory, and downright addictive.

I hope you all enjoy these easy KFC copycat recipes! These recipes are easy to make and will give you a taste of that Kentucky Fried Chicken you know and love.
Will These KFC Copycat Recipes Taste Exactly Like KFC
No, they are going to taste very similar but I can't promise they will taste identical. A copycat recipe is something piecing together all the flavors and hoping to come closer to what is being served at the restaurant.
These copycat KFC recipes help give you a taste of your favorite items on the menu at home.

What is your favorite item at KFC?