Keto ribeye deconstructed bowl recipe is one savory dinner. Tender and juicy steak over a scoop of cauliflower mash, with bone broth, and veggies.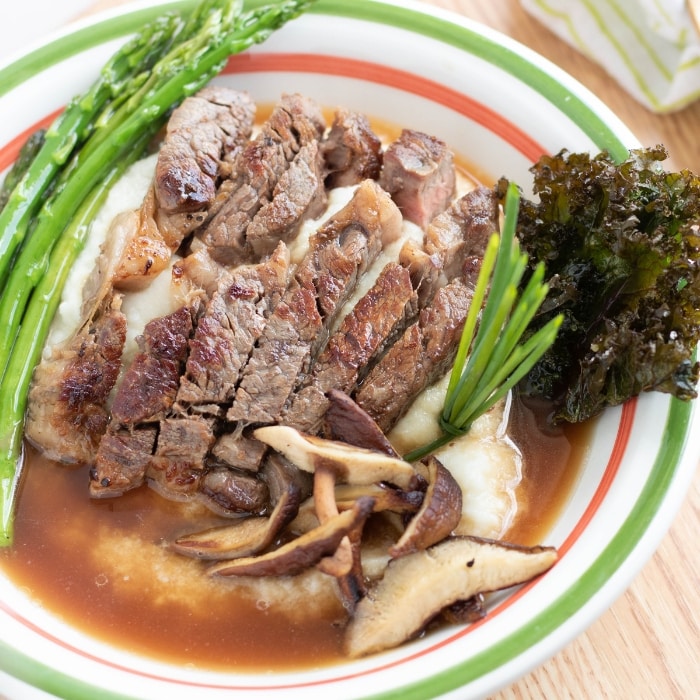 Keto Ribeye Deconstructed bowl is perfect to serve your family or guests. This keto deconstructed bowl is a pan-seared ribeye, that is paired with mashed cauliflower, asparagus, and sauteed shiitake mushrooms. This deconstructed keto steak bowl is going to fuel your body, and make you feel like you are cheating on your keto diet.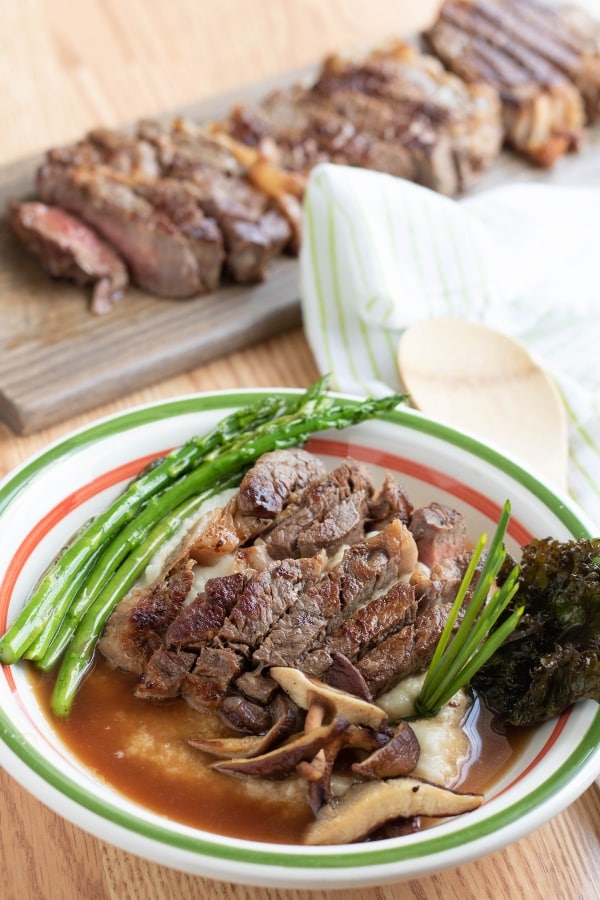 You will find the keto ribeye deconstructed bowl is filled with the healthy fats, that will keep you on track and leave you feeling ready to conquer the rest of the day. Plus the charred kale is a nice pairing to the steak, cauliflower mash, and mushrooms.
More Dinner Ideas
Delicious Keto Ribeye Deconstructed Bowl Recipe
So it looks like an extravagant dinner, right? You might be impressed at how easy this recipe really is. You can also cut a corner and buy pre-made cauliflower mash, and then warm it up and mix with the provolone cheese. I love homemade, but you are very welcome to try store bought if you have a brand you enjoy.

How Do You Cut a Ribeye Steak Against the Grain?
Cutting a ribeye successfully is going against the grain for a tender cut of meat. You need to look to see which way the muscle fibers are aligned within the meat. Slice across the grain, instead of going parallel. If you cut with the grain it can leave your steak a bit tough and less desirable.
What Are the Benefits of Bone Broth
Bone broth is such an incredible ingredient to add or to sip on often. Let me share some of the reasons why you need to give bone broth a try. Make your own bone broth or buy bone broth
at your local store or online. Or you can make your own bone broth.
Rich in nutrients to fuel your body
Helps aid in healthy joints. Bone broth has gelatin.
Reduces inflammation
Helps heal up the gut
Great for weight loss
Can help fight against osteoarthritis
and more
What Is The Difference Between Bone Broth and Stock
Bone broth is stock, but it is unique in how it is made. You cook your bone broth low and slow so the collagen in the joints of the bone releases as it cooks down. That is where all the added nutrients and health benefits come from. You can read many things on bone broth and how it can really help your body all around.
It is a bit thinner but flavorful and full of nutrients. You can use bone broth the same way as any stock. They even sell chicken bone broth
if you prefer that over beef.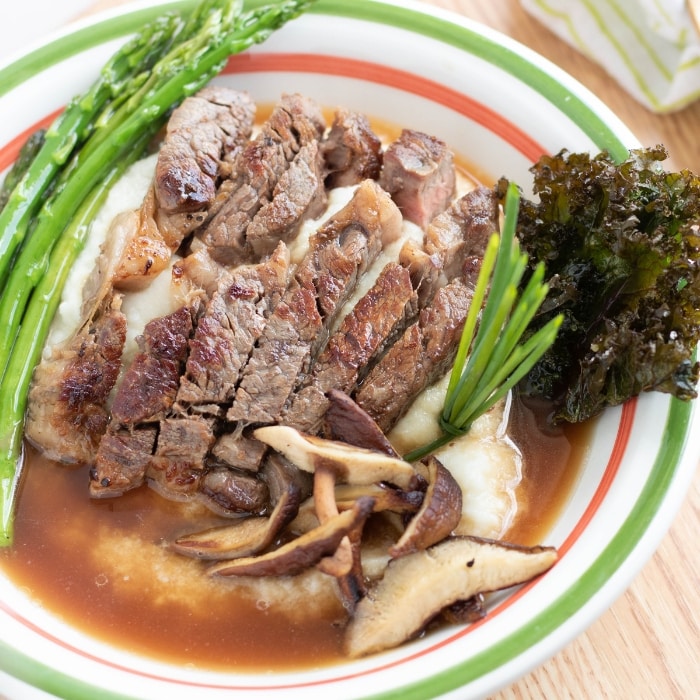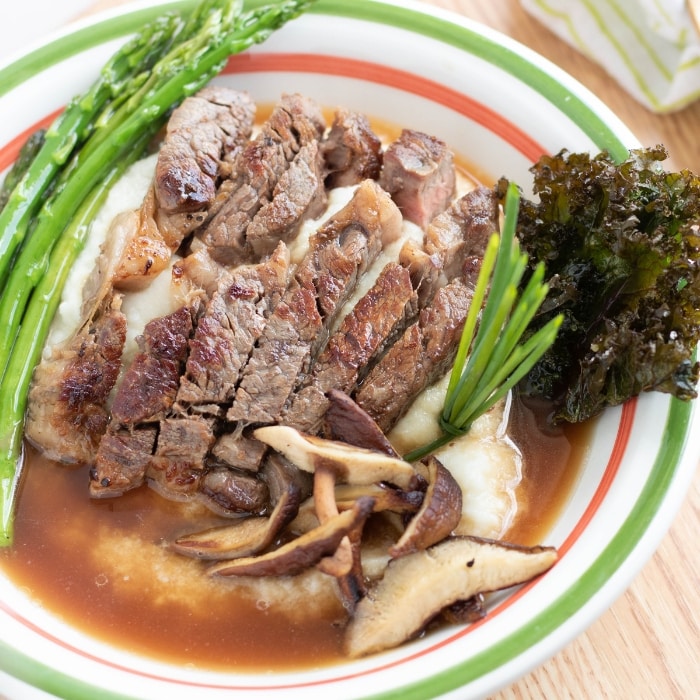 Keto Ribeye Deconstructed Bowl Recipe
Servings 4 bowls
Keto ribeye deconstructed bowl recipe is one savory dinner. Tender and juicy steak over a scoop of cauliflower mash, with bone broth, and veggies.
Ingredients
2 well-marbled ribeyes
6-8 oz. smoked Provolone shredded
32 oz. beef bone broth or stock
head of cauliflower
1 bunch asparagus
1 package fresh shiitakes
1 bunch fresh kale
Olive oil
Butter
Salt and pepper
Instructions
Start by Preheating your oven to 450 degrees.Then steam your cauliflower and mash with the provolone cheese (or buy pre-made mash if you want).

Next toss the kale with 2 tablespoons of olive oil, salt, and pepper to taste.

Bake for 8-10 minutes or until charred. Remove and set aside.

In a cast iron pan add in your seasoned (salt and pepper) ribeyes, and cook in a dab of oil that is hot. Cook for around 2-3 minutes per side or until it is cooked to the doneness you prefer.

Then in a pan saute your mushrooms and asparagus over high heat with 2 tablespoons butter.

Warm up your beef broth in a pan or even the microwave.

To assemble bowls, place your cauliflower mash in the middle of the bowl, top with 1/2 a sliced ribeye, then arrange vegetables around it. Ladle out a cup of the broth and serve.



Nutrition
Serving: 1bowl
Can I Swap Mushrooms Out Of The Keto Ribeye Deconstructed Bowl
Yes! If you are not a fan of any of the vegetables used in the bowl, go ahead and swap it out. If you are sticking to the low carb diet, reach for lower carb vegetables. But, if low carb is not a factor then grab any veggies you like. You can even swap the cauliflower mash with mashed potatoes if you prefer.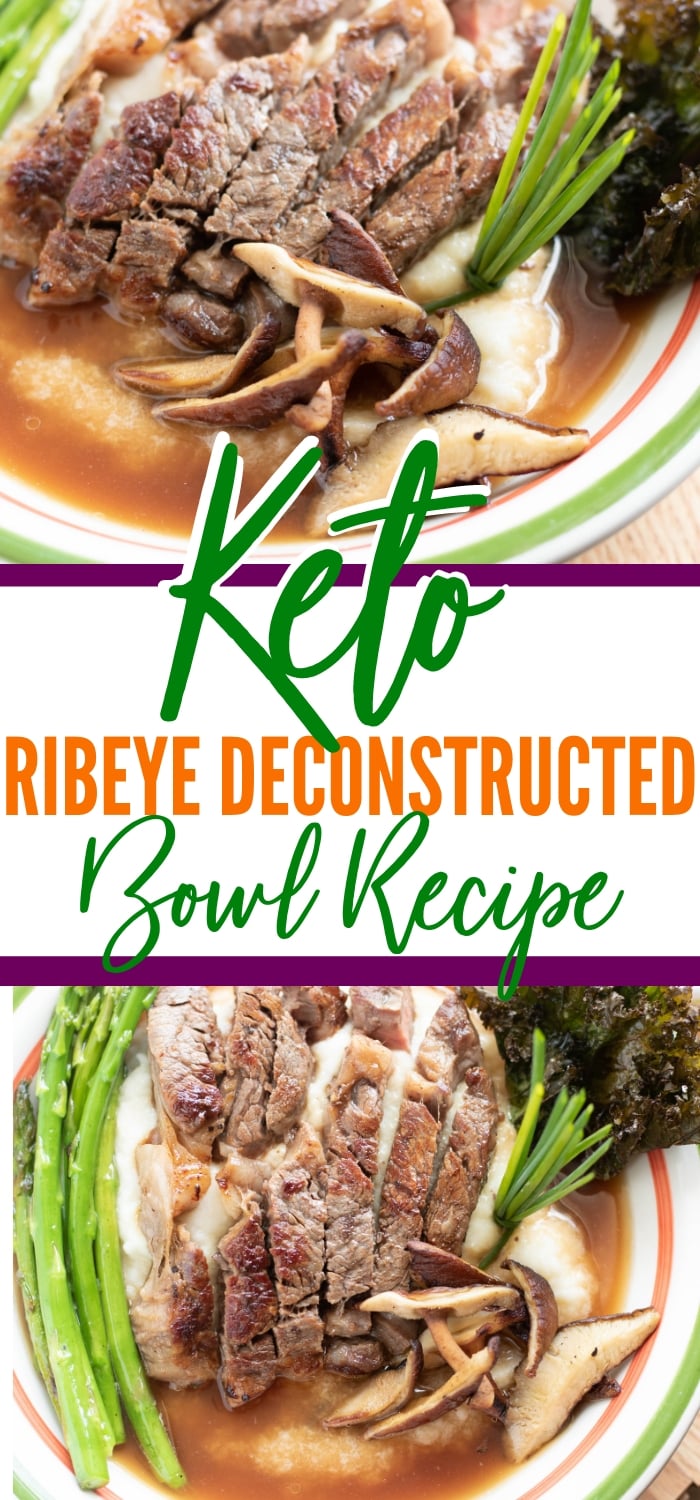 Have you tried a ribeye deconstructed bowl?
Reader Interactions