Instant Pot Pancake Bites are a fun way to dress up breakfast. Make pressure cooker pancake bites in no time! Breakfast never tasted so good.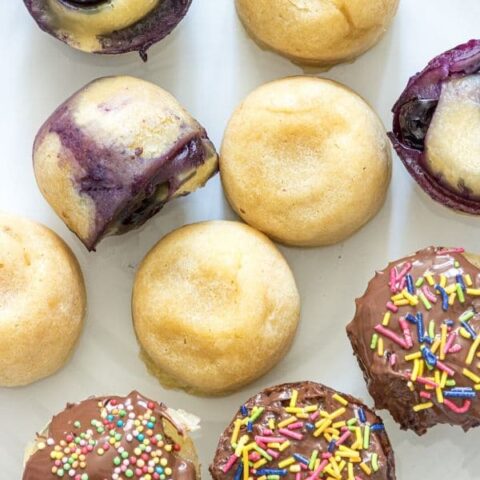 Instant Pot Pancake Bites is a fun way to dress up breakfast or even snack time. I share 3 different ways to whip up these bite-size pancake bites.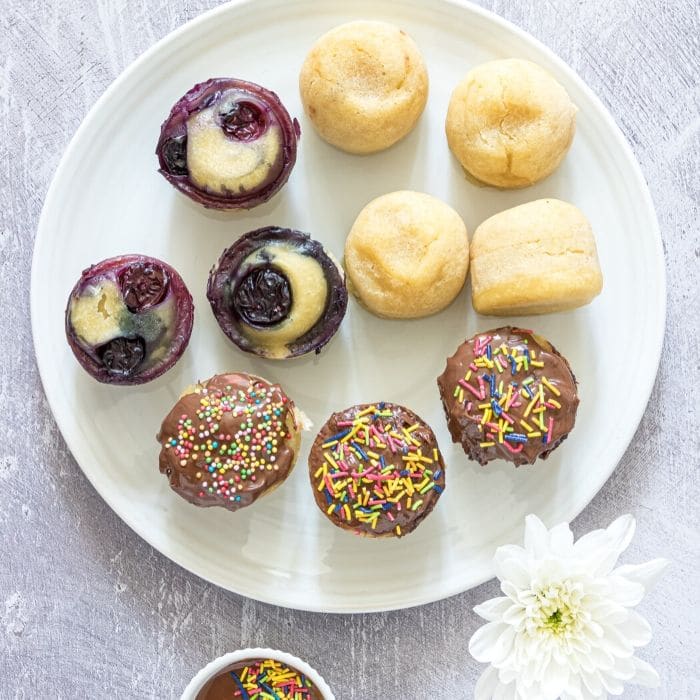 Instant Pot Pancake Bites
The beauty of this recipe is you can make them with pretty much any flavor you would like. This Instant Pot egg bite mold recipe is so simple and great for breakfast or even a mid-day dessert.
Try my Instant Pot apple cider muffins as well for breakfast.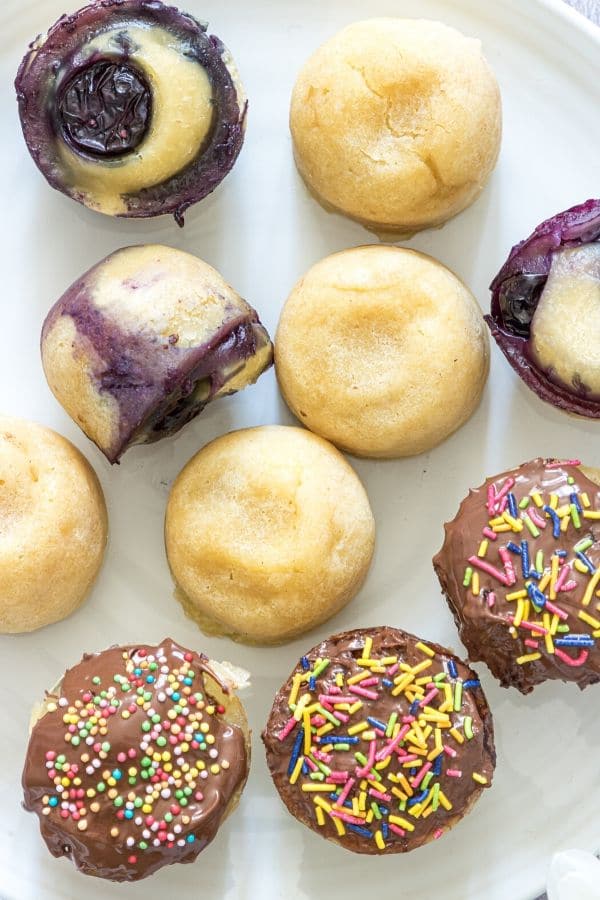 Variations To Pancake Bites
Sprinkle in some colorful sprinkles to batter
Chocolate Chips
Swirl of peanut butter
Dip in chocolate
Add in the fruit of your choice
Etc
Truly you could make this pancake bites recipe a million different ways. I went with Nutella, blueberries and plain. They all were amazing, but the blueberry won over my heart.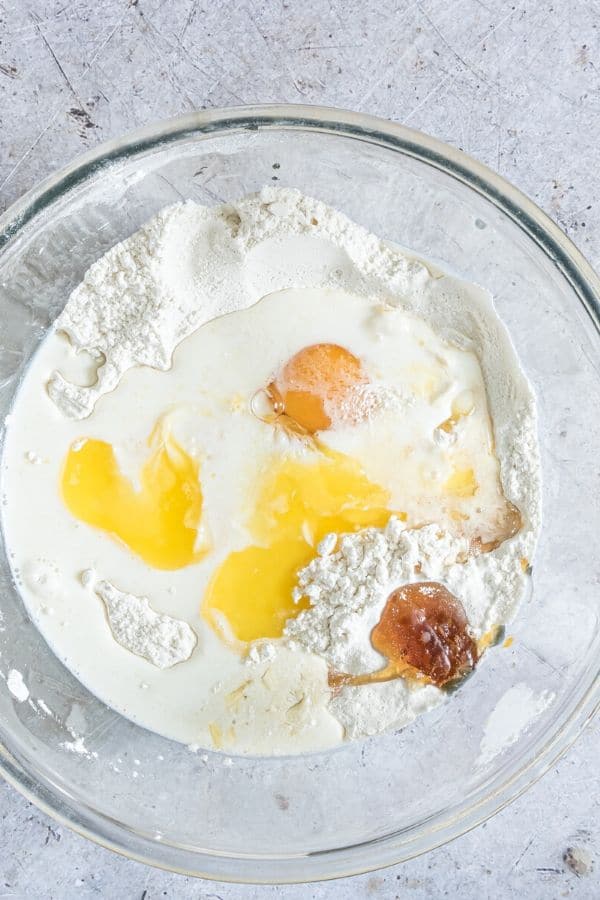 Homemade Pancake Mix
Making a homemade pancake mix is really easy. I love the taste of fresh homemade pancakes so I wanted to make my own mix.
I haven't tried using it with boxed pancake mix, but I am sure it would cook up okay in the egg bite molds. But I can't fully vouch for it as I have not tried that method.
Interested In More Egg Bite Mold Recipes
Do You Cover Egg Bite Molds
If you don't cover your egg bite mold tightly with aluminum foil, condensation will drip in and sog up your pancakes.
You can use the silicone lid to cover your egg bite molds if your mold came with them, or wrap with aluminum foil.
Then use a sling or your trivet to keep your mold out of the water at the bottom of the pressure cooker.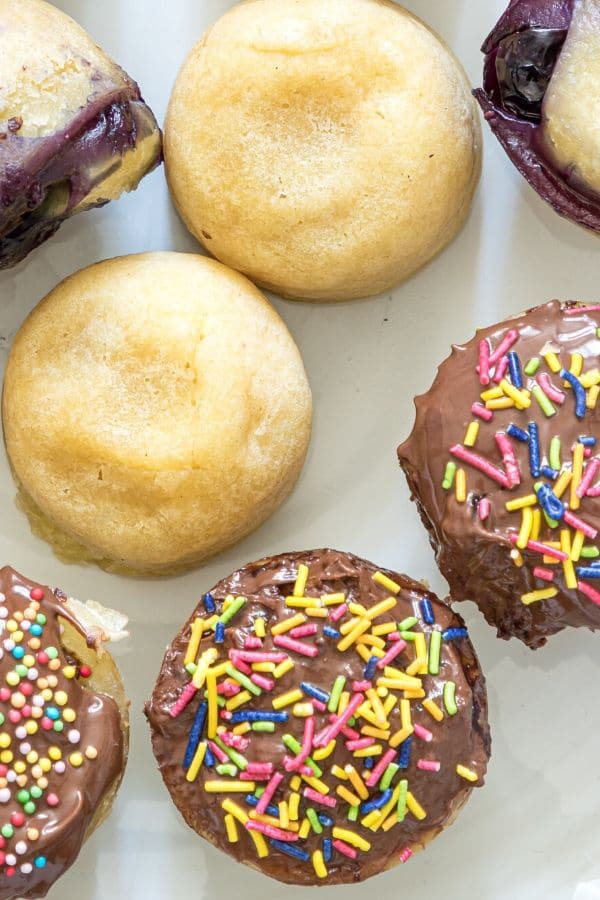 Can You Freeze Pancake Bites
Yes! These pancake bites freeze perfectly. Just allow the bites to cool on a cooling rack. Once cooled place in a freezer bag or even airtight container and store in the freezer for up to three months.
When you are ready, remove from freezer and quick thaw in the microwave, or opt to thaw on the counter or in the fridge.
Then pair with syrup or eat without. These are sweet enough we don't always pair with maple syrup. This is one of my favorite Instant Pot breakfast recipes.
Where to Get Silicone Mold For Pancake Bites
I grabbed my mold online at Amazon. Now some local stores in your area might sell them. Our stores didn't have any so that is why I shop Amazon for all my Instant Pot accessories.
You do need these molds for the pressure cooker pancakes. So consider investing since you can make so many recipes using the molds.
Can I Double The Recipe And Stack Molds
Yes, you sure can. Just make sure each mold is covered well and you can double stack if your Instant Pot has enough room.
I have made double stacks and had no issues at all. Just make sure to not overfill the molds with batter or it can overflow as it cooks and make a mess.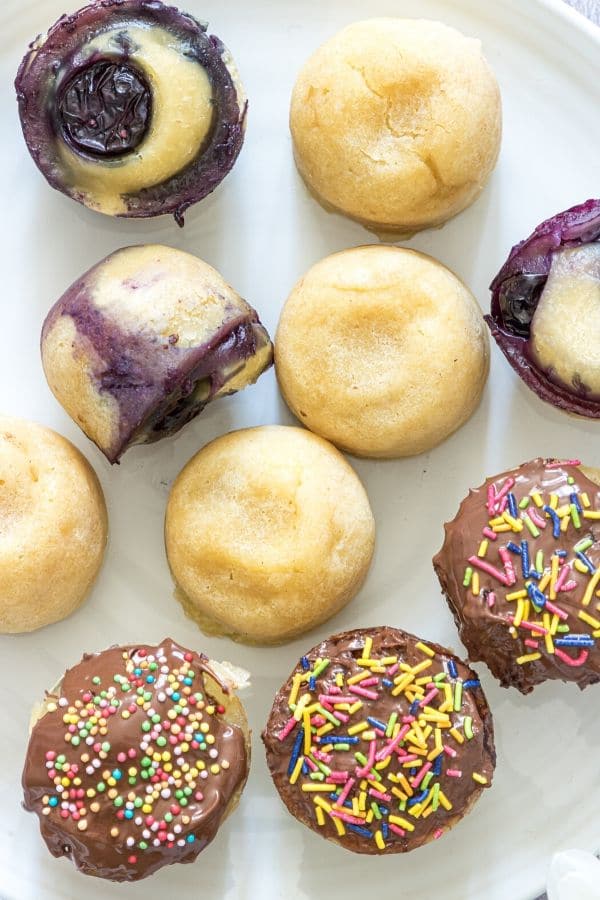 Instant Pot Pancake Bites
Servings 21 pancake bites
Instant Pot Pancake Bites are a fun way to dress up breakfast. Make pressure cooker pancake bites in no time! Breakfast never tasted so good.
Ingredients
2 cups all-purpose flour
3 tablespoon granulated sugar
1 tablespoon baking powder
1/4 teaspoon salt
1 egg large
2 tablespoon melted unsalted butter cooled
1 tablespoon maple
1 1/2 cup milk or milk alternative
1 teaspoon vanilla extract
Blueberries fresh or frozen
3 tablespoon Nutella melted for about 30 seconds in the microwave
Sprinkles optional
Instructions
Start by adding your flour, baking powder, salt , and sugar in a bowl. Then give it a good whisk to incorporate it.

Now you will slowly add in your melted butter that has cooled, milk, vanilla, maple syrup, and egg. Once the batter is incorporated you are set.

Take your silicone mold and spray with cooking spray to prevent sticking.

Now you can add a few blueberries on the bottom of the mold. Add just a little so that you don't overfill.

You can also add in sprinkles to batter, chocolate chips, etc. Get creative but don't go crazy on toppings.

Cover tightly with aluminum foil or your silicone mold lid.

Pour 1 to 1 1/2 cup water in the pressure cooker. Then place your molds in the pressure cooker. You can do 2 stacked.

Seal the lid and make sure the vent is sealed. Cook on high pressure for 8 minutes followed by a natural release of 5 minutes.

Push off the rest of the steam, and then open and carefully remove the bites.

Drizzle with maple syrup and serve!
Notes
Bites will store for up to three days in the fridge. Or you can allow to cool and then freeze them for breakfast on the go. You can add a bit of nutella into the mold or you can dip the nutella on cooked bites like I did and add sprinkles. Make them plain too if you want.
Nutrition
Serving: 1gCalories: 174kcalCarbohydrates: 27gProtein: 5gFat: 5gSaturated Fat: 3gPolyunsaturated Fat: 1gCholesterol: 27mgSodium: 219mgFiber: 1gSugar: 6g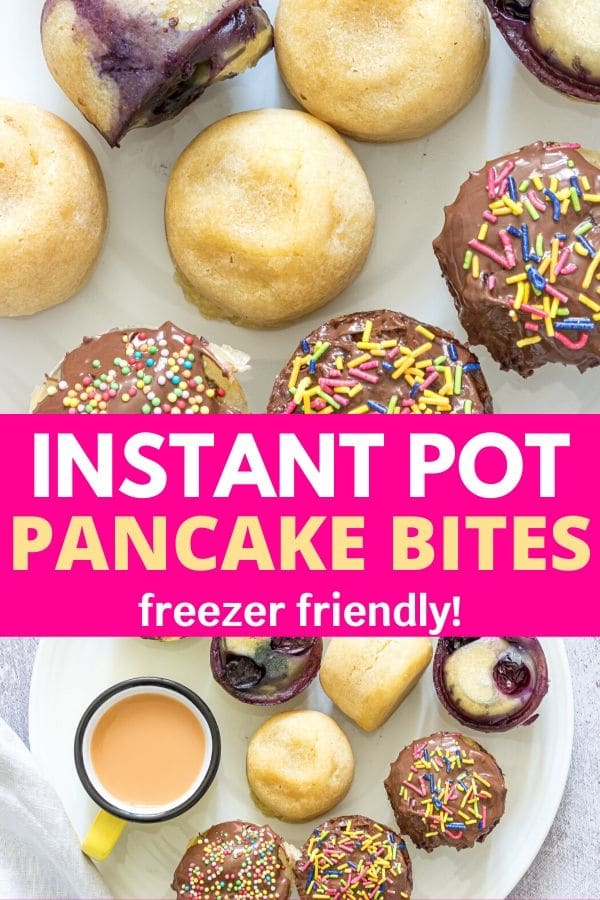 Reader Interactions