Steps on how to make homemade Instant Pot Yogurt. I share how to make Instant Pot Greek yogurt, plain yogurt, and even how to make yogurt without the yogurt button! This is the ultimate yogurt-making guide.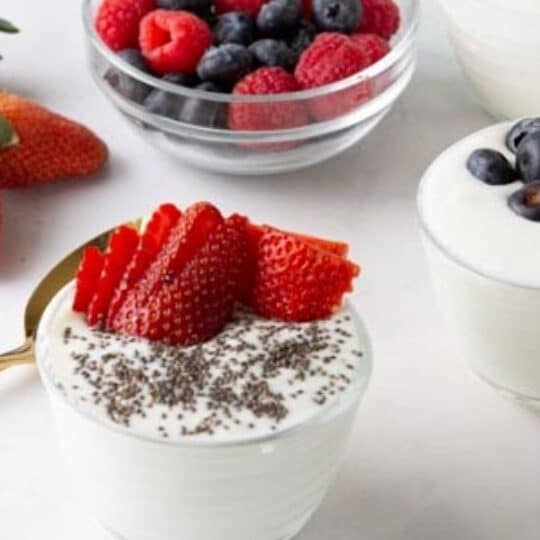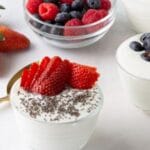 Give this Instant Pot Greek Yogurt a try today! A thick and creamy homemade yogurt that is loaded with protein. Top with some fresh berries, flax seed, granola, or your favorite toppings.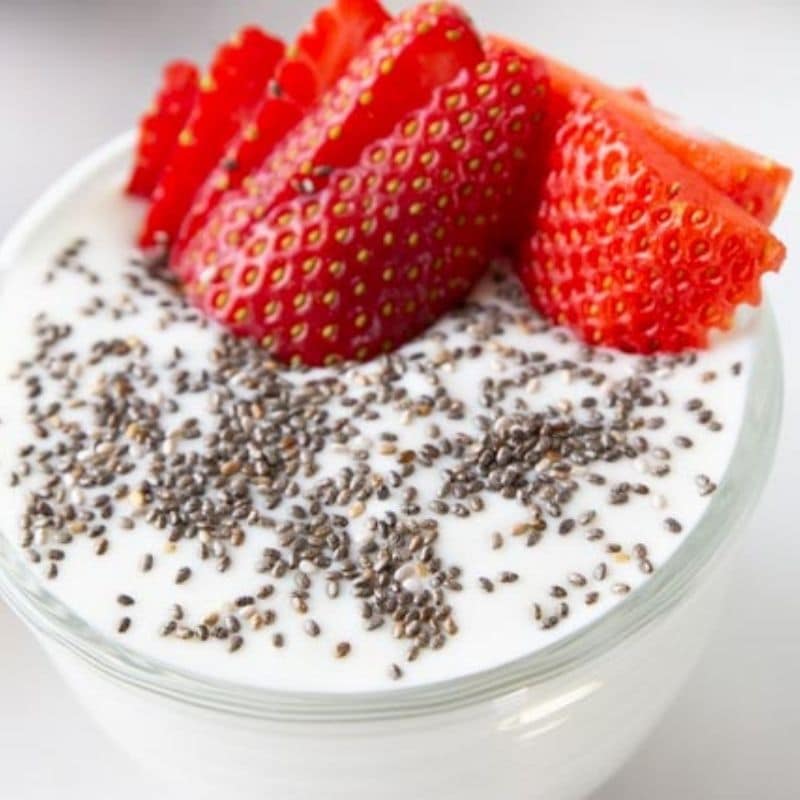 Step by step directions for making yogurt in an electric pressure cooker.
Skip the pricey store-bought yogurt and make my homemade Greek yogurt today. This Greek yogurt in the Instant Pot was so straight forward to make.
Instapot yogurt is a favorite of mine. You can control the tang of your yogurt, which I appreciate.
Why Make This Instant Pot Yogurt..
2 ingredients
Budget-Friendly
Great Flavor
Simple to Make
You can make a thicker yogurt
Made with live culture
You can make it into a flavored yogurt or sweeten
Instant Pot is an easy yogurt maker
Can make regular yogurt and not Greek
I share how to make without the yogurt function
🍨 Ingredients Needed
1/2 Gallon Of Milk
Active Culture Yogurt
🍓 How to Make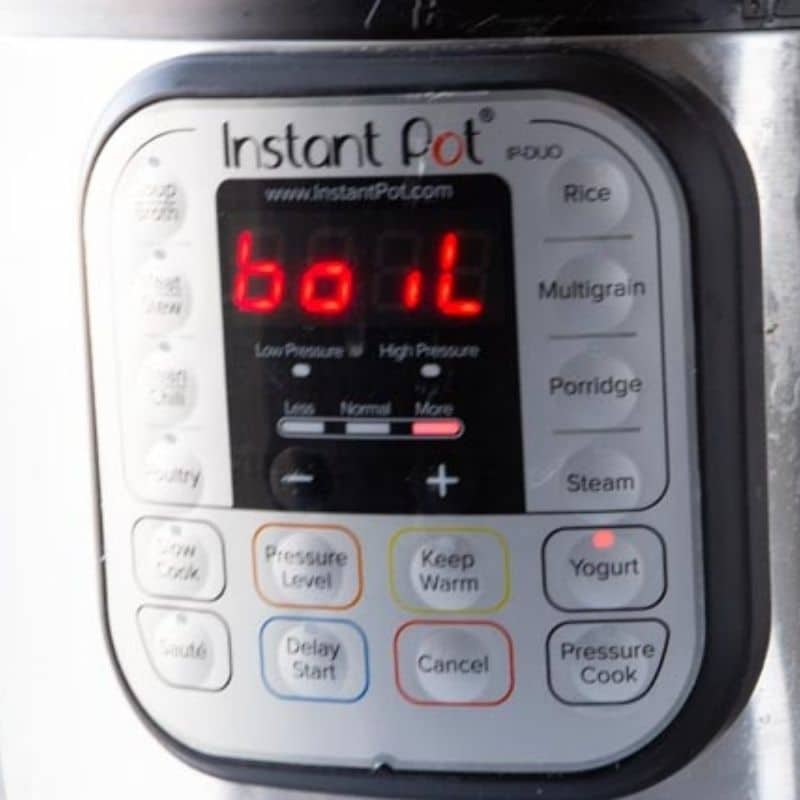 Step 1: First thing you want to do is place your milk in your Instant Pot. Then hit the yogurt button until it reads boil. I found I had to hit my pressure cooker twice.
Step 2: Secondly, Place lid on the Instant Pot and make sure it is venting not sealing.Then let it heat your milk. Once it beeps remove the lid. This takes around 30 minutes.
Use a thermometer and make sure it reads 180-190 degrees. If you find it hasn't reached temp, do the low slow cooker setting and place lid back on for another 15-20 minutes.
Step 3: Thirdly, once the milk has reached temp, turn off the Instant Pot. Then remove the inner pot and place on a cooling rack. Let it sit 5-10 minutes.
Step 4: Allow the milk to cool to 105-115 degrees Fahrenheit. Once it reaches that temp, you will scoop 1 cup out and place in a bowl.
Step 5: Next, stir in 2 tablespoons plus a little extra. Stir in until mixed, and then slowly stir in the rest of the yogurt.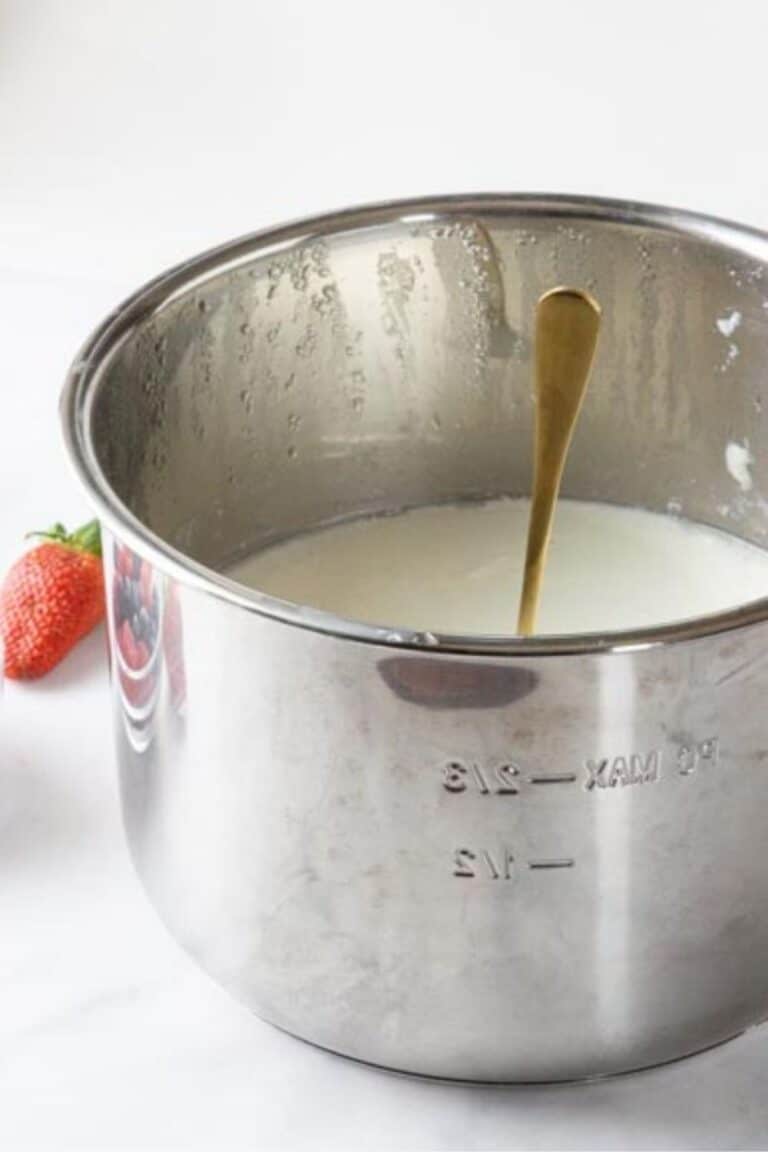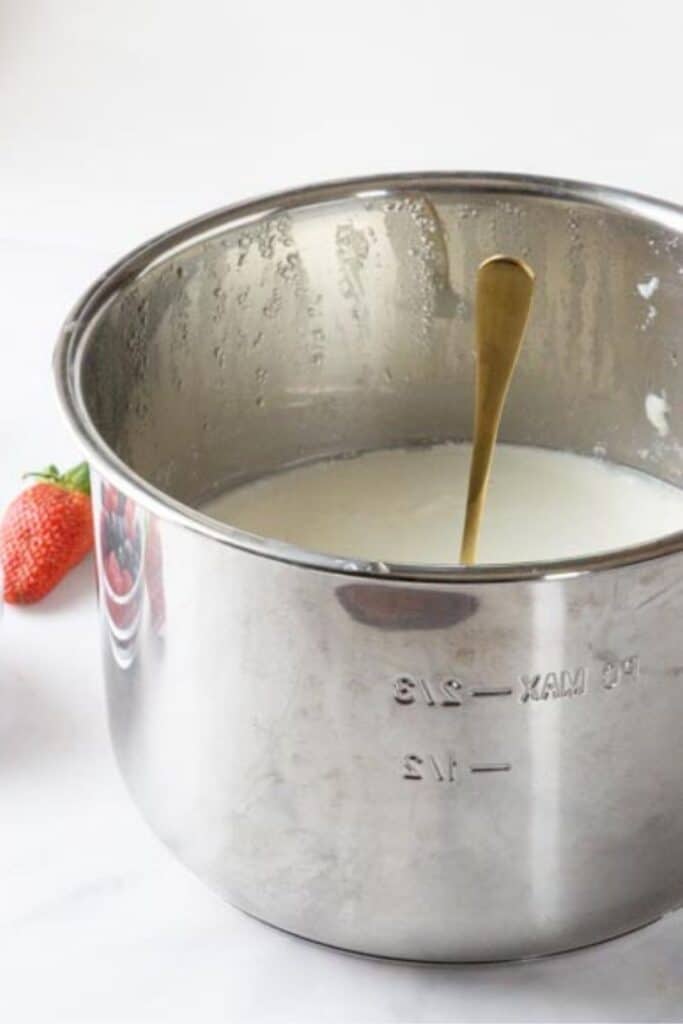 Step 6: Put the pressure cooker lid on, and cook for 8-10 hours on the yogurt setting. Once done, remove and cover with plastic wrap and let it refrigerator overnight.
Finally, serve up your homemade yogurt with your favorite toppings.
Grab my Free Kitchen Conversions Printable! This shows you how many cups are in a quart, pint, etc. A great printable to keep handy for when you need to convert a recipe.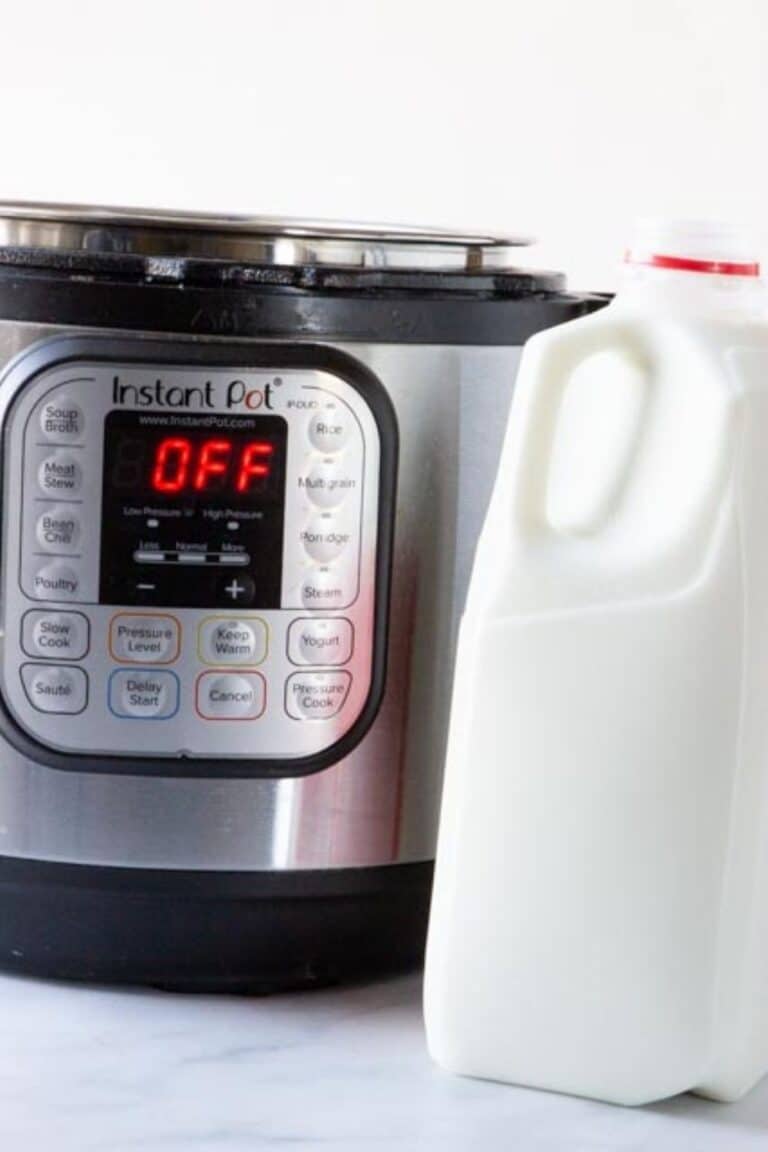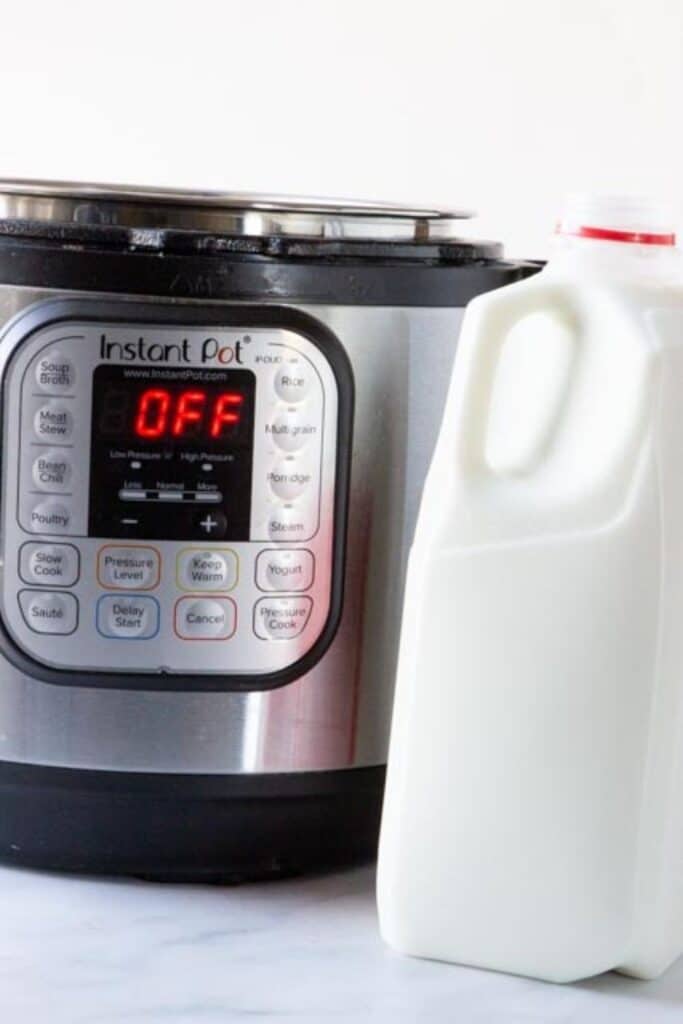 🥣 How to Make Instant Pot Yogurt Without Yogurt Button
Step 1: Pour in your 1/2 gallon of milk into the Instant Pot. You will then place the lid on the pressure cooker, and select the "Keep Warm" button and allow it to sit for 35-45 minutes.
Step 2: At this time place the thermometer in to see the temperature. You want to heat your milk to 180-190 degrees. If you are under that, turn the saute on low.
Step 3: When the milk reaches the 180-190, remove and let it sit to drop down to the 105-115 range of temperature.
Step 4: Remove a cup of the mixture and stir in 4 tablespoons of yogurt. Then slowly add it back into the Instant Pot stirring.
Step 5: Take a towel and place it on your Instant Pot to cover your pot, then place the lid on. The towel will catch condensation on top.
Let the yogurt sit for 8 hours, do not mess with it or open the lid.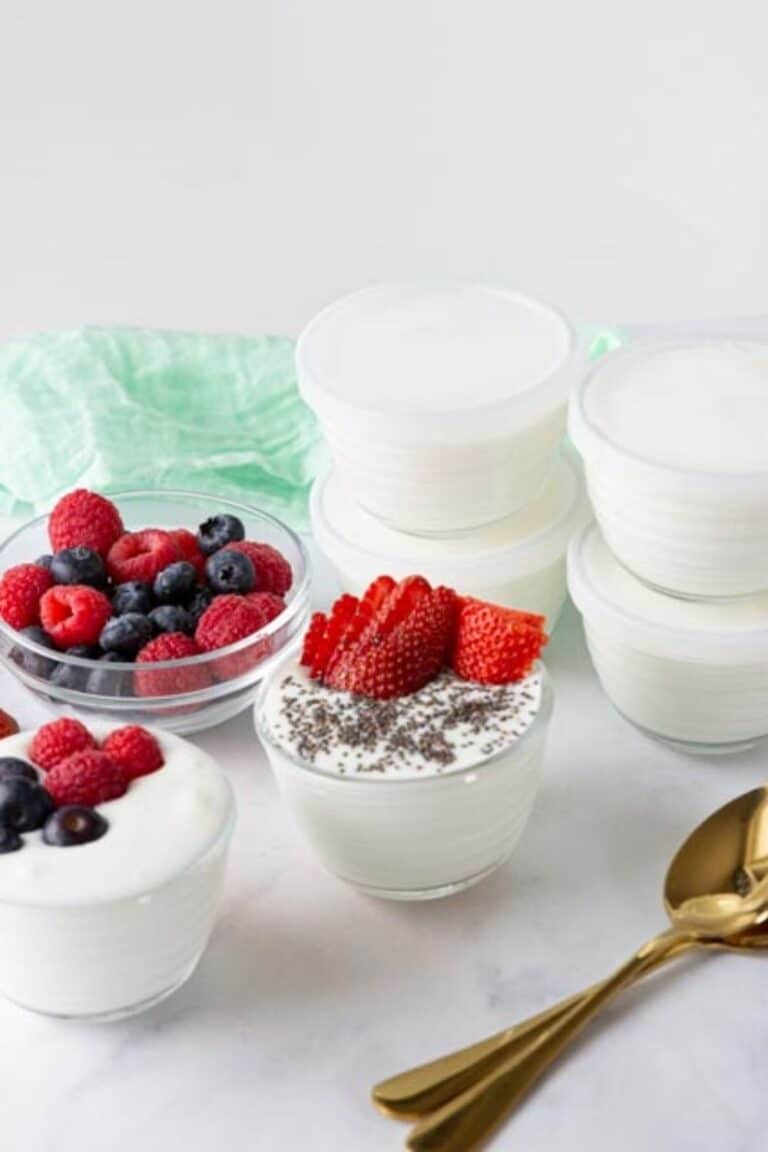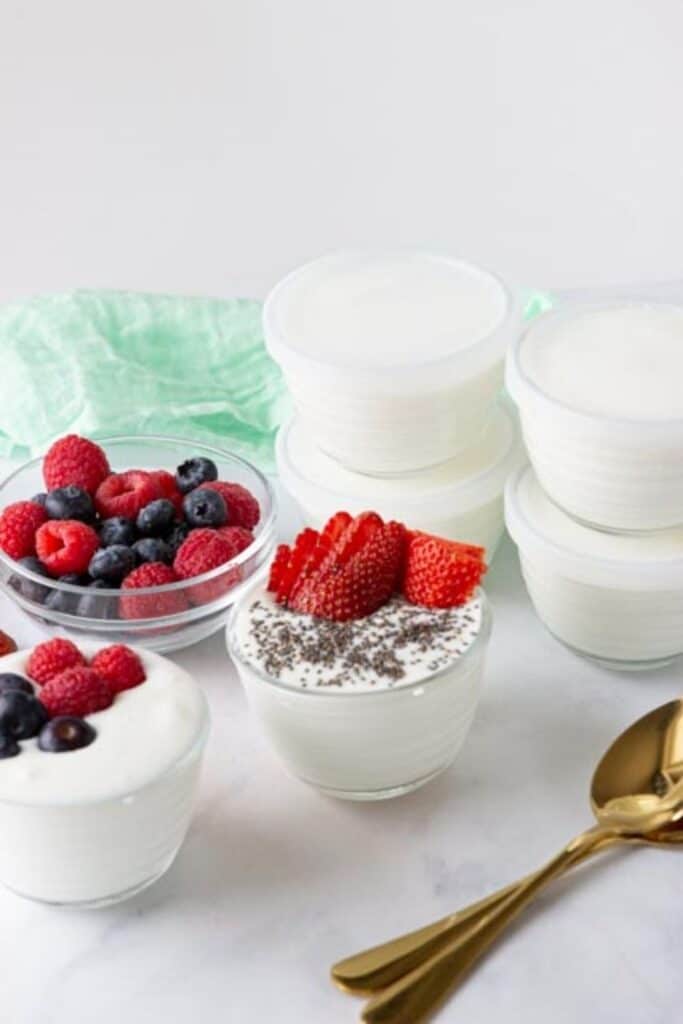 🥄Storage
I love to take my yogurt and store it in single serve glass containers. I actually got these glass containers for Christmas.
You can also store your yogurt in a larger container. I just find if it is a single serve grab and go container we eat it better.
Homemade yogurt will store for 10-14 days in the fridge if you store it properly. Now if you mix in fresh fruit, that will of course, cut down the shelf life.
👩‍🍳 Topping Ideas
🍌 How to Sweeten
Feel free to add on any of your favorite toppings, stir in some agave, honey, or maple syrup.
Stir in as much or as little as you would like to sweeten your yogurt.
📌 Expert Tips And Variations
Make sure to use yogurt with live cultures or it will not work.
You can use a cheesecloth and a colander for straining the yogurt to thicken it more.
It is important to make sure your silicone ring doesn't have an odor and the Instant Pot is sterilized. Or it will take on odor.
Don't scrape the bottom of the pressure cooker as some of the warm milk sticks to the bottom of the pot.
🍒 Recipe FAQs
What does the yogurt button do on the instant pot?
The yogurt button works as a way to heat up your milk slowly to not scorch it. You will find the yogurt button is great at maintaining heat to work at pulling out the protein in the milk.
How long does it take to make yogurt in the instant pot?
Once your milk is ready it will take 8-10 hours for your yogurt to incubate and really work at transforming into a thick and creamy yogurt.
How to make yogurt tangier?
When pressure cooking yogurt, the longer you allow your yogurt to incubate the tangier it will become. So for a lesser tang go for the 8 hour mark. For stronger tangier aim for 9-10 hours.
Which milk is best for making yogurt?
I find cow milk is best. Now, you can make a dairy free yogurt, and it will work. You will essentially make it the same, recipe directions are in the recipe card below.
How can I thicken my yogurt?
Higher fat in the dairy will help for a thicker yogurt. You can also add cream to help thicken the content of the yogurt.
How do you add flavor to homemade yogurt?
It is important to use plain yogurt as the yogurt starter in this recipe. If you want to flavor, once it is done and set up, I have options.

You can stir in agave, honey, or even maple syrup for sweetness. Or stir in fresh fruit or jam to help add sweetness as well.

Or leave the yogurt plain and then flavor as you go.
How much yogurt starter should I use?
I tend to use 2 1/2 or so up to 4 tablespoons as a yogurt starter. You are welcome to adjust to your preference. If you add too much though it will affect the yogurt.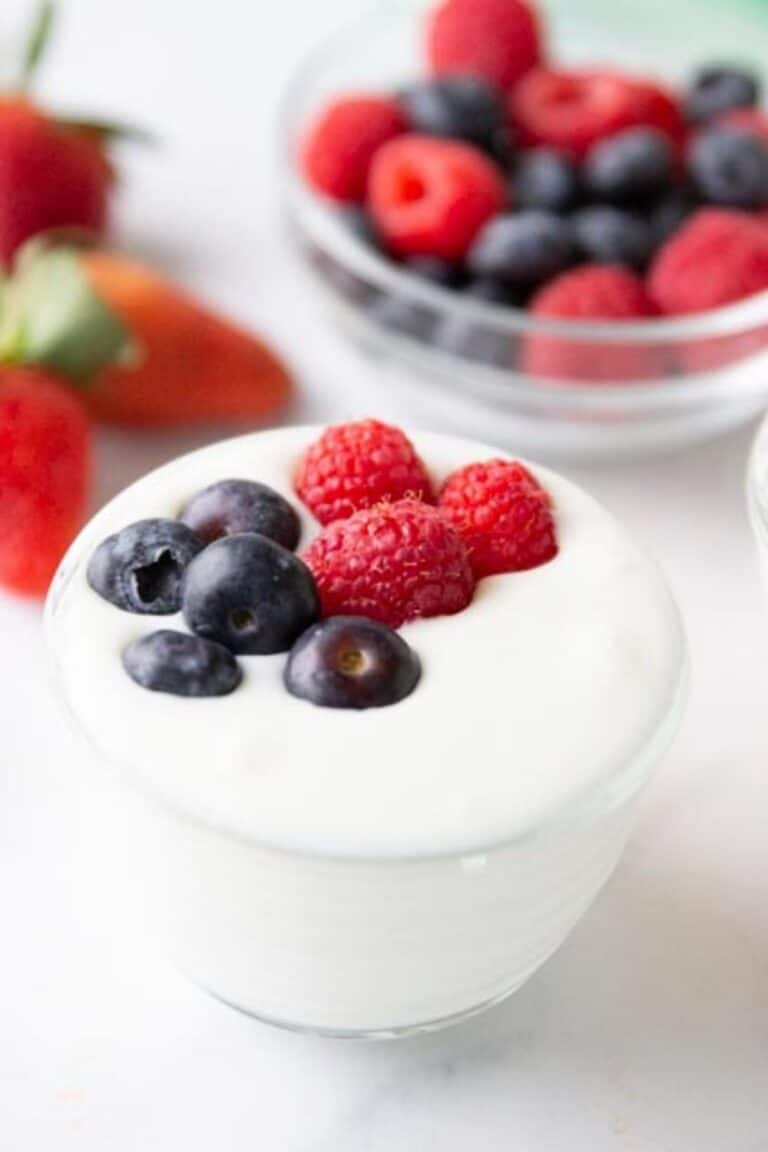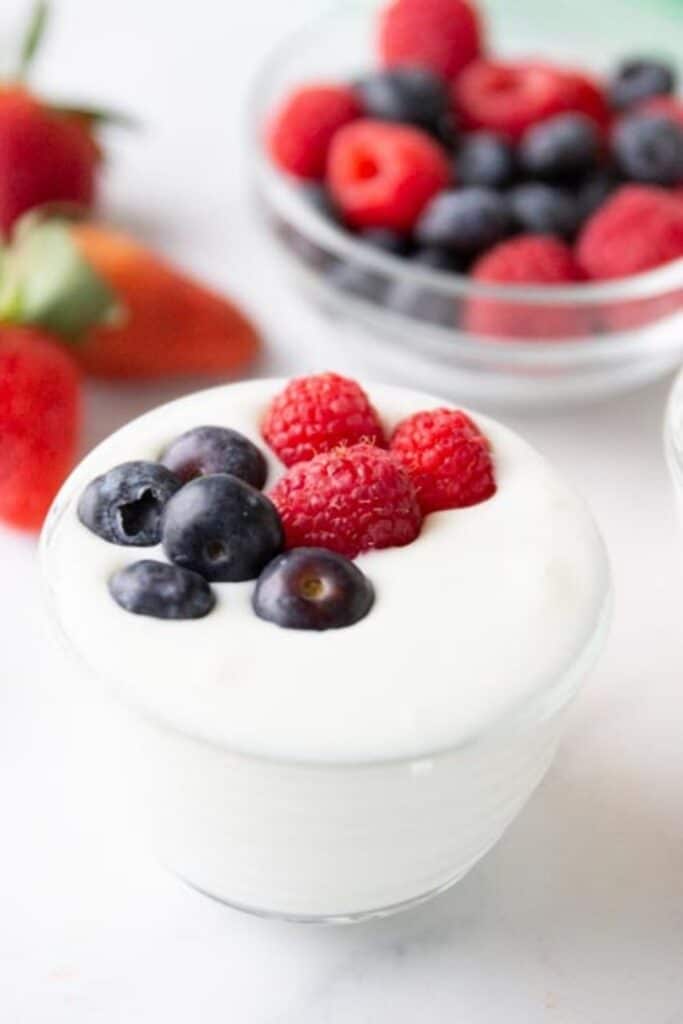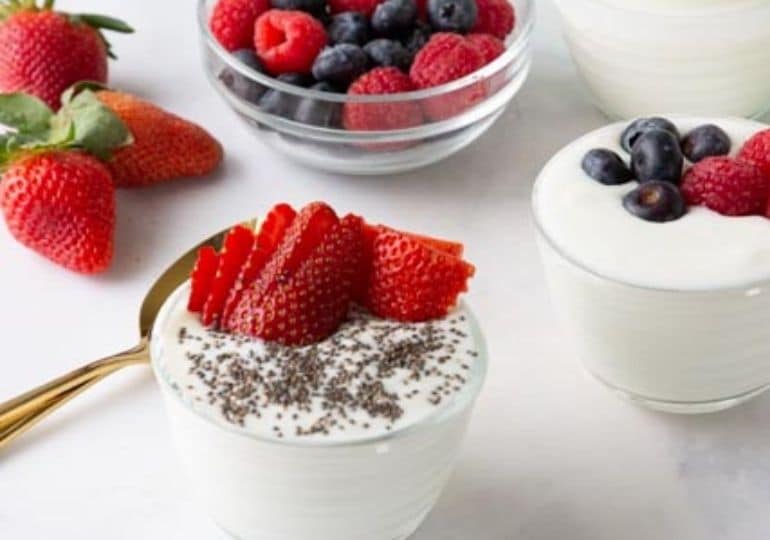 Instant Pot Greek Yogurt Recipe
Servings 16
Steps on how to make homemade Instant Pot Yogurt. I share how to make Instant Pot Greek yogurt, plain yogurt, and even how to make yogurt without the yogurt button! This is the ultimate yogurt-making guide.
Ingredients
1/2 gallon whole milk
2 heaping tablespoons of plain yogurt needs to say active live cultures
Instructions
Pour your milk into the Instant Pot and press the yogurt button until it says boil. I had to push my button twice. Once it does, place the lid on the pressure cooker with the valve open not sealed. This can take 30 minutes to an hour.

Once the timer beeps, head over and use a thermometer to check to ensure the temperature is above 180-190 degrees. This is important to reach this temperature. If it is not warm enough, turn on the slow cooker setting on LOW and cover, and let it sit for 20-40 minutes checking until it reaches proper temp.

Turn off the Instant Pot and let the mixture sit for 5 minutes then remove and place on a cooling rack. I just lifted the whole pan out. You want the mixture to cool to 105 degrees.

Skim off any layer of milk on top. This is when you will mix in yogurt. If you do it when it is too hot it will kill the active culture.

Take a cup and remove around a cup of the milk mixture in a small bowl. Slowly stir in the 2 heaping scoops of the yogurt. Once stirred in, pour it back into the pressure cooker with the remaining milk.

Place back in the Instant Pot. Put the lid on, and hit the yogurt button, and let it cook 8-10 hours. For a tangier yogurt go longer 9-10 hours.

Once done, cover with plastic and refrigerate overnight.

In the morning you have ultra-thick and creamy yogurt!
Notes
The Yogurt Starter needs to say – active live cultures like Lactobacillus bulgaricus or  Streptococcus thermophilus.You can use plain yogurt or Greek yogurt for this recipe.
You need to use plain yogurt as the starter, it can't be flavored.
Almond Milk Yogurt Directions
The directions are the exact same as classic milk. The only difference is you will use 3 tablespoons of yogurt instead of 2. This is for almond milk and almond milk yogurt as the two ingredients.
The texture will be a bit different but slightly softer than stiff, but tastes delicious.
Making Instant Pot Yogurt Without The Button Or Ninja Foodi Yogurt
These directions work for making Ninja Foodi yogurt and Instant Pot yogurt without the button
Pour in the milk and heat until it is 180-190 degrees using the keep warm setting. This can take around 30-45 minutes.
Once hot to 180 remove and place on a cooling rack. Then you will let it cool to 115 degrees.
Remove 1 cup and mix with 3-4 tablespoons yogurt. Then mix well and then incorporate with the remaining mixture.
Place back in the Instant Pot. Place a towel over the top and then place your Instant Pot lid on top of the towel.
Let it sit for 8 hours, the pressure cooker will be off at this time. But with the towel, it will act as an incubator to transform into yogurt.
How to Make Fat Free Instant Pot Yogurt
Use 1/2 cup fat-free milk and 3 1/2 tablespoons of fat-free yogurt with active live cultures in it. Then follow the same steps. Drain off any excess liquid that forms.
Nutrition
Serving: 1gCalories: 75kcalCarbohydrates: 6gProtein: 4gFat: 4gSaturated Fat: 2gPolyunsaturated Fat: 1gCholesterol: 12mgSodium: 54mgSugar: 6g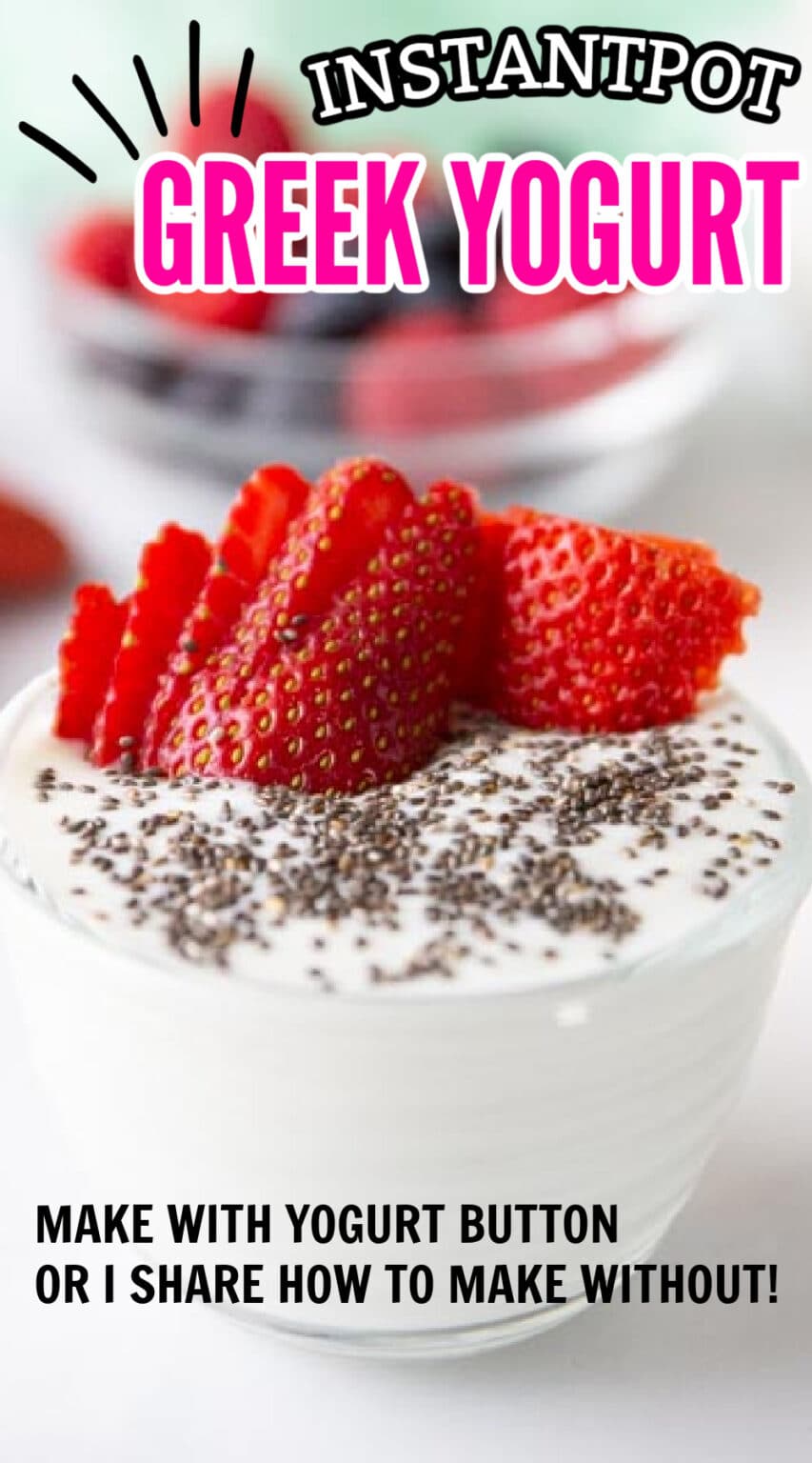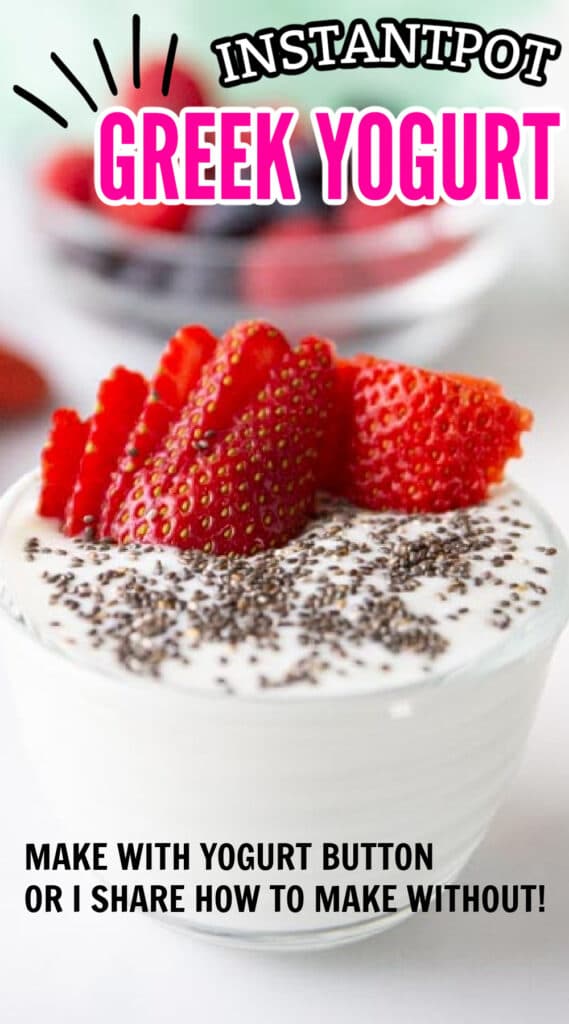 Reader Interactions