Red White And Blue Cake is the perfect Fourth of July cake that is a cheesecake cake recipe. Colorful, bright, and sinfully delicious.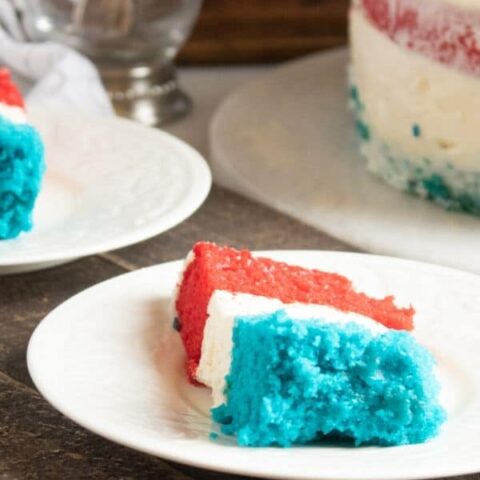 This Red White and Blue Cake is perfect for the upcoming patriotic celebration of the Fourth of July. This Fourth of July cake is a cheesecake cake recipe.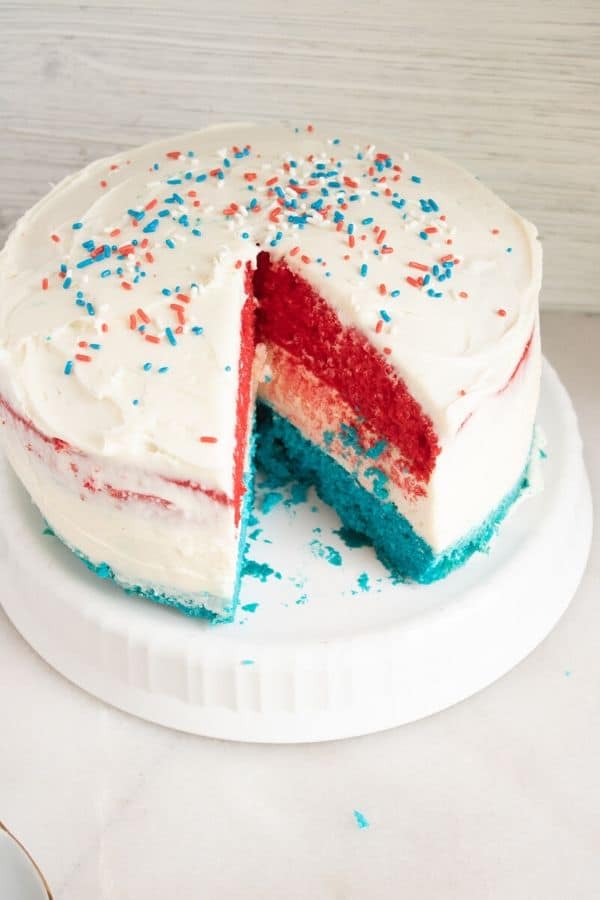 This layered red white and blue cake, is a patriotic cake that will win you over. A festive but delicious cheesecake cake.
I'm a huge fan of cake. Chocolate cake, strawberry cake, lemon cake…you name it. I love them all and am known to whip up a cake out of the blue for really no reason at all.
Try my White Poke Cake recipe that is another great patriotic dessert recipe.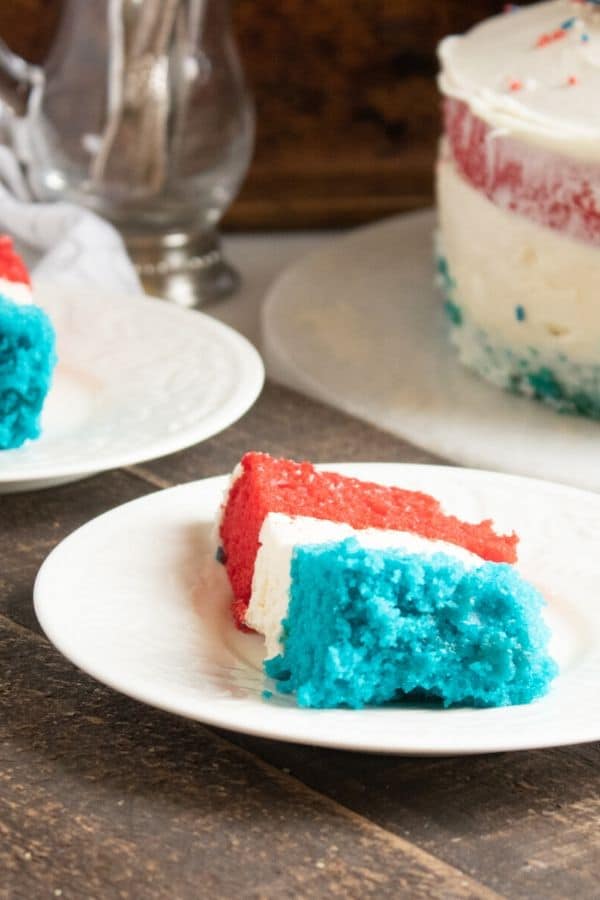 Potluck Or 4th Of July Cake Idea
But this delicious cake is one of my go-to cakes during the summer months and especially during July 4th.
And for good reason, right? Those three colors make for such a beautiful patriotic cake and I just love how fluffy and moist it is.
If you're looking for a no-fail cake that packs an amazing taste, this red white and blue cake is the one for you.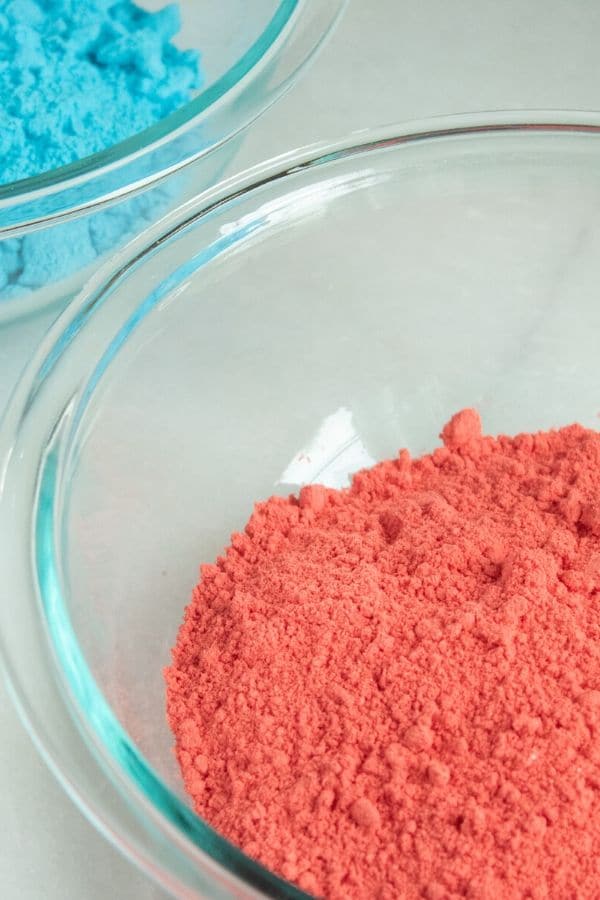 Can I Use Homemade Cake As The Base Of This Cake
You absolutely can. I used cake mixes as a simple way to cut out a few steps but if you have an awesome homemade cake recipe, by all means.
Just make certain to use food coloring in the mixture so that you get those fun pops of red and blue as well!
Could I Change Up The Colors This Cheesecake Cake?
Speaking of the fun colors in this red white and blue cake, you can totally change them up if you want to.
It's as easy as buying other colors of premade cake mix OR making your own homemade cake batter and adding in a tad bit of food coloring.
Since this cake is three layers, you technically have three different colors that you could play with.
Variations To Recipe
Red, white, and green for Christmas
Light pink, light blue, light yellow for Easter
Orange and black for Halloween
Purple and Yellow for Mardi Gras
And the list could go on and on! If you really wanted to get creative, you could even use this patriotic cake as a fun gender-reveal cake too by having the middle cheesecake layer of the cake colored pink or blue.
Then, you'd reveal it to your family and friends as you cut into it and serve up a piece. How much fun would that be?!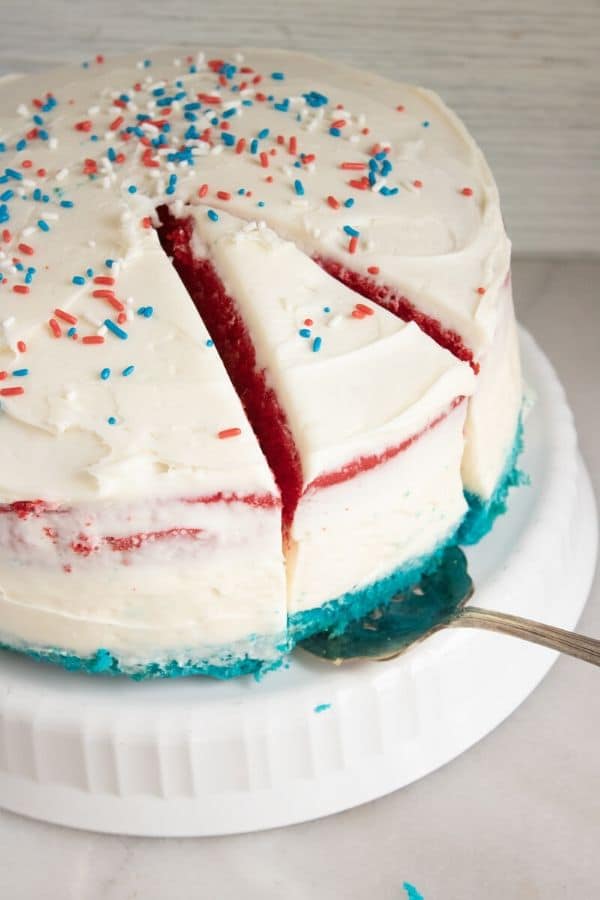 Do You Cook The Cheesecake Layer of This Cheesecake Cake
For this red white and blue cake recipe, you actually don't cook the cheesecake layer in this cake.
You simply add the ingredients together, mix well and then add to the fridge to set for 12 hours. Then, once you're ready to add to the rest of your cake, it's formed and easy to transfer without issues.
Can I Make This Patriotic Cake In Advance
Absolutely. If you're needing to cut down and save some time, you can do certain parts of this patriotic cake in advance.
And technically, the cheesecake layer does have to be made ahead of time so you're already premaking that part of the recipe anyway.
For the other two cake layers, cooking them the day before is fine as well as is making up the frosting. That way on the day that you're wanting to serve it, everything is cooled down and ready to go.
It just saves a bit of extra stress with everything else going on during that moment in time.
How Do I know When the Cakes are Done Baking in the Oven?
This is important! No one wants a dried out or burnt cake. If you're worried about baking your cakes.
I find that the toothpick method (or butter knife) comes through perfectly every time. Once your timer goes off to inform you that your cakes should be done baking, take a toothpick (or butter knife) and insert directly into the middle of the cake.
If it comes out clean, it's done baking. If it comes out with batter on it, your cake needs more time and I would go in 2-minute increments and keep checking regularly after that.
Grab my Free Kitchen Conversions Printable! This shows you how many cups are in a quart, pint, etc. A great printable to keep handy for when you need to convert a recipe.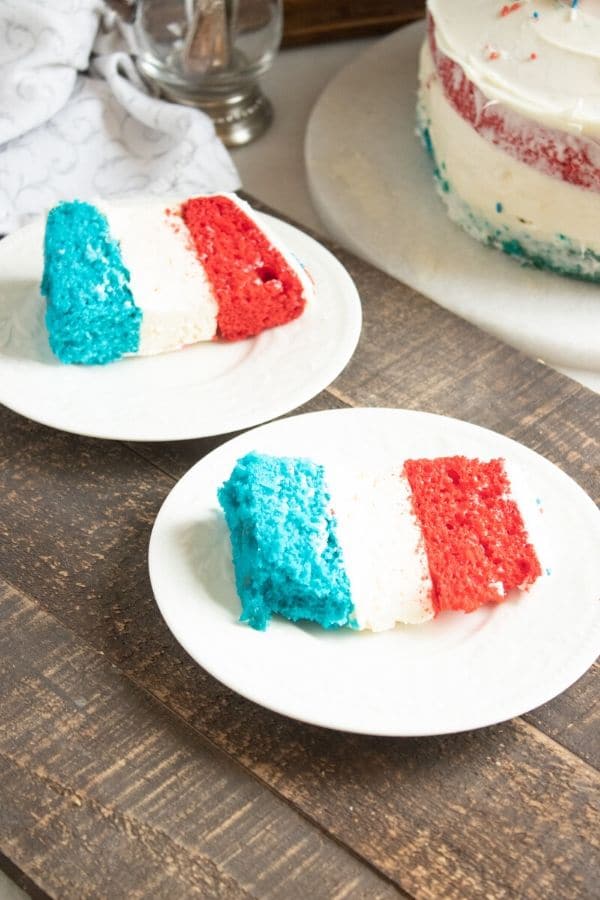 What is the Best Way to Store Leftovers
If you're lucky enough to have leftovers of this cake, I'm totally jealous! There usually isn't a crumb left in sight by the time we get done attacking it!
The best way to store leftovers of this patriotic cake is to have it in a cake container with a lid and keep it in the fridge. Since the middle layer is cheesecake, this cake will have to be kept in the refrigerator at all times.
Just make certain you place it somewhere in the fridge where you can access it easily because I can promise you one thing…these leftover pieces of cake aren't going to last very long!
Are you ready to learn how to make this delicious cake? It's so simple and totally worth your time! The combination of the cake texture and creamy cheesecake is a match made in dessert heaven!
Want To Enjoy More Desserts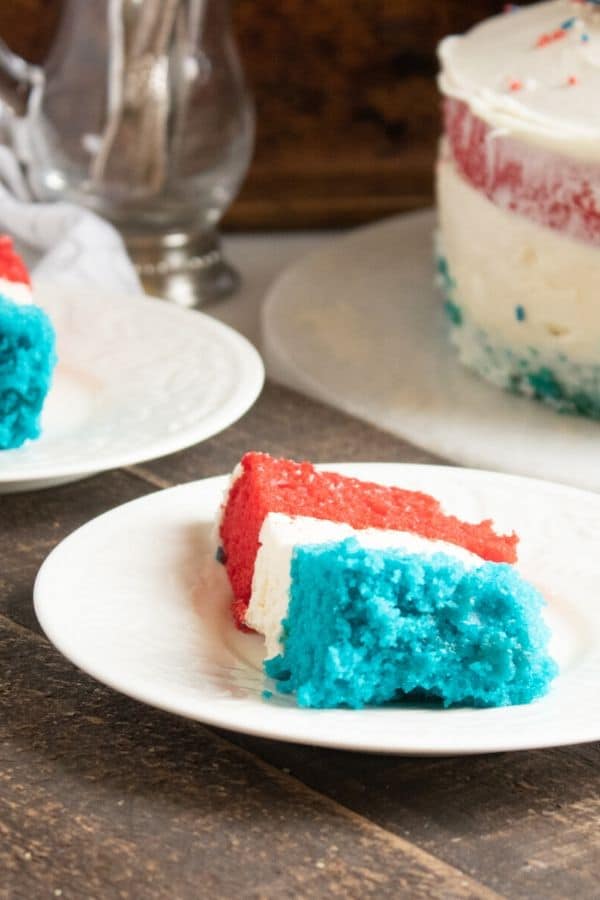 Red White Blue Cake
Servings 10 -12 servings
Red White And Blue Cake is the perfect Fourth of July cake that is a cheesecake cake recipe. Colorful, bright, and sinfully delicious.
Ingredients
Cheesecake Layer
• 3 8 ounce packages cream cheese, softened
• ½ cup granulated sugar
• 2 teaspoons vanilla
• 1 cup heavy whipping cream
Cake Layers
• 1 6.25 ounce package Radiant Red cake mix, baked to package instructions (2 eggs, oil, and water)
• 1 6.25 ounce package Aqua Blue cake mix, baked to package instructions (2 eggs, oil, and water)
Frosting
• 8 ounce packages cream cheese softened
• ½ cup butter softened
• 4 cups powdered sugar
• 2 teaspoons vanilla
Instructions
Start by lining your 8-inch round cake m=pan with parchment paper. You will want to place it on the bottom and sides.

Cream your cream cheese and sugar until smooth. I used a hand mixer for this.

Now in a stand mixer or with hand mixer you will want to whip your heavy cream until it is thick.

Stir your whipped cream into the cheesecake mixture along with the vanilla.

Pour cheesecake into the lined pan and cover and place in the fridge for up to 12 hours or overnight.

Now you will want to start working on your cakes. You will prepare your cake mixes according to the package. You will make 1 red cake and 1 blue cake. Use an 8 inch pan.

Once your cakes are cooled completely you can cover until you are ready to assemble.

Start by layering your cake. Start with either the red or the blue cake layer, and top with cheesecake layer. Now place the other cake on top.

Prepare your frosting by adding your softened cream cheese, butter, vanilla, and slowly add in your powdered sugar. Once creamy liberally apply frosting to the cake.

You can top with sprinkles if you would like.
Notes
Store your cheesecake cake in the fridge, as the cheesecake layer needs to be refrigerated.
Nutrition
Serving: 1gCalories: 537kcalCarbohydrates: 89gProtein: 4gFat: 19gSaturated Fat: 11gPolyunsaturated Fat: 6gTrans Fat: 1gCholesterol: 48mgSodium: 577mgFiber: 1gSugar: 63g
Here are More 4th Of July Desserts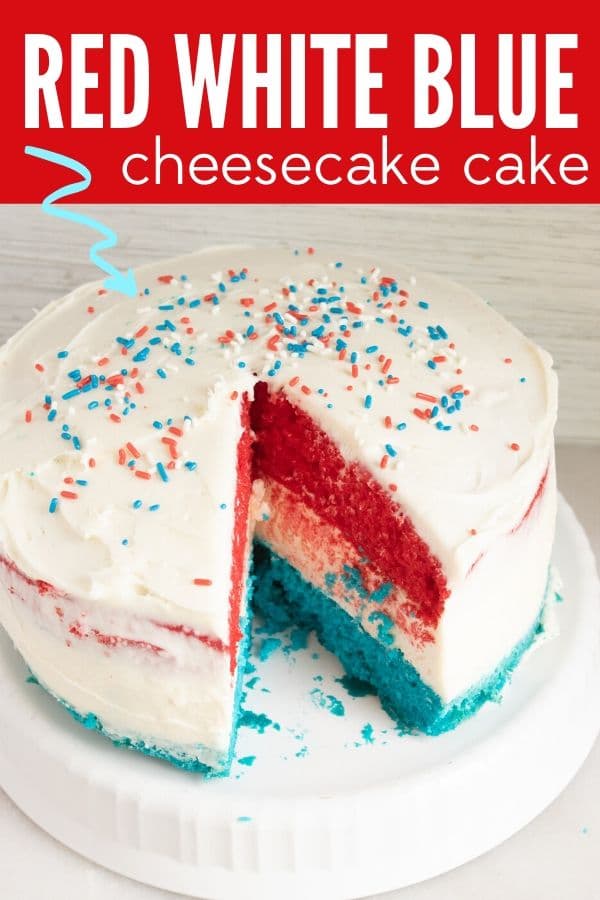 Reader Interactions